| | |
| --- | --- |
| AceNotes Today | Friday, October 5, 2018 |
UE Gives Back on Campus set for October 22
Save the date! UE Gives Back on Campus is set for October 22. Make plans to join your colleagues for a day of volunteering to improve campus. Look for a registration e-mail next week with more information!
Tree removal on front oval
A contractor will be removing a large tree east of the Schroeder School of Business Building during fall break. This is a large tree and will result in some disruption of parking, traffic flow, and sidewalk usage in that area. Please use caution and follow directions of the working crew and heed barricades.
Save the Date: Presidential Inauguration set for March 3, 2019
Please mark your calendars for the inauguration of our 24th president, Christopher M. Pietruszkiewicz, on Sunday, March 3, 2019 at 2:00 p.m.
The formal inauguration will be held at the Victory Theatre in downtown Evansville and will be preceded by a weekend of activities on the University of Evansville campus. More information and a full schedule of events will be made available closer to the event.
Lunch Charlas today
Wanting to practice your Spanish? Join assistant professor of Spanish Edward Curran and associate professor of Spanish Diana Rodríguez Quevedo for lunch, and chat about different topics in Spanish on Wednesdays from noon-1:00 p.m. in the Starbuck's café area in Ridgway University Center. All levels of Spanish welcome. The next Lunch Charlas is today - Wednesday, October 10. Please contact Professor Rodríguez Quevedo at dr130@evansville.edu if you have any questions. ¡Ahí nos vemos!
Submitted by Diana Rodríguez Quevedo dr130@evansville.edu
Movie discussion: "The Immortal Life of Henrietta Lacks"
The campus community is invited to attend a showing of the movie, The Immortal Life of Henrietta Lacks, today - Thursday, October 11 - at 6:30 p.m. in Room 170 in the Schroeder School of Business Building. Following the showing, professors Robert Shelby, Daniel Byrne, John Stamm, and Maggie Stevenson and chief diversity officer LaNeeca Williams will lead a discussion of the movie and its themes.
The movie, starring Oprah Winfrey, is an adaptation of the best-selling book of the same title by Rebecca Skloot. It tells the true story of Henrietta Lacks, whose cells were taken without her knowledge in 1951 and became integral in some of the most important medical breakthroughs in history. It is also the story of Henrietta's children and their path to discovering the truth about their mother and the use of her cells.
This event is sponsored by the Honors Program in conjunction with the 2018 honors freshman common read of The Immortal Life of Henrietta Lacks. On Monday, October 29, two descendants of Henrietta Lacks will be visiting UE to share their story. Please join us for this movie discussion and in reading the book (copies are available in the library) in advance of the Lacks family visit.
Submitted by Jayme Williams jw504@evansville.edu
Engineering Speed Networking
College of Engineering and Computer Science students, don't forget to RSVP for Handshake for Engineering Speed Networking. The event is set for Thursday, October 18, 6:00–8:30 p.m. in Eykamp Hall, Ridgway University Center. Space is limited! Sign up today using the events tab in Handshake.
Submitted by Alison Morris-McDonald am268@evansville.edu
Guest speaker: FBI special agent and forensic accountant Chris Knight
Associate professor of accounting Rania Mousa has invited FBI special agent and forensic accountant Chris Knight to be a guest speaker at Mousa's forensic accounting class TODAY - Wednesday, October 10 - from 4:00-6:00 p.m. in Room 170 (Smythe Hall) in the Schroeder School of Business Building. He will talk about his experiences in conducting criminal and national security investigations. This event is open to all students interested in exploring the newest area in the accounting discipline.
Knight has been working with the FBI since 2004 in its Indianapolis field office's white-collar crime squad. He is a certified public accountant and certified fraud examiner. Knight earned his bachelor's degree in accounting and legal studies from IU's Kelly School of Business, Bloomington, and a master's degree in criminal justice from the University of Cincinnati.
Submitted by Rania Mousa rm190@evansville.edu
CMNH MOD Pizza Giveback Night Oct. 11
Go out for dinner at MOD Pizza on October 11 from 4:00-9:00 p.m. and give back to miracles! Just present this flyer and mention the giveback night at the register and a portion of your bill will go towards the daily miracles found at Children's Miracle Hospitals all across the country.
Submitted by Kelly Nixon kn94@evansville.edu
Holiday Arts and Crafts Sale
The University of Evansville Department of Art and the University of Evansville Friends of Art are pleased to announce their Holiday Art and Crafts Sale. Everyone in the UE community who creates art or crafts is welcome to participate: faculty, staff, students, spouses, children, parents, relatives and friends. This a perfect opportunity to find unusual holiday gifts made by local artists and crafts people.
The sale will be held in the Melvin Peterson Gallery on Thursday, November 29, from 9:00 a.m.-7:00 p.m. Participating artists and craftsmen should plan to drop their work off Wednesday afternoon prior to the sale as vendors do not need to stay with their items. Friends of Art volunteers and gallery staff will be on site to handle the sales.
If you would like to participate or need more information, please contact Joyce Powell before October 8 by e-mail at j.powell0159@gmail.com or by phone at 812-455-0159.
Submitted by Brooksie Smith bs267@evansville.edu
Medicine and Surgery as a Career
Come join the BiSci Club as we welcome back alum Josh Manghelli, DO, to talk about his career as a surgeon. His lecture is planned for today at 6:00 p.m. in Room 124, Koch Center for Engineering and Science.
Submitted by Kelly Nixon kn94@evansville.edu
UE's Annual Chili Bowl Sale Planned for today
The University of Evansville's Clay Club will present its annual Chili Bowl Sale TODAY - Thursday, October 25 - from 11:30 a.m.-1:30 p.m. The event will be outside Hughes Hall, near the East Terrace Lawn across from Ridgway University Center. The rain location is Eykamp Hall, Room 253, and the Class of 1959 Gallery and Lounge in Ridgway University Center.
Chartwells, the food service provider at UE, is co-sponsoring the event and providing chili made by chef Don Brown under the direction of Chris Clay.
For $10, customers can buy a one-of-a-kind ceramic bowl and fill it with chili. Paper containers will be available for those who prefer not to put chili in their newly purchased bowls. Larger bowls from $15-$50 will also be for sale. Some more artistic larger bowls will be sold at a silent auction as well, ranging in price from $60-$100.
The bowls are being made by members of the Clay Club and other UE students, faculty members, staff, alumni, and members of the community.
Half of the proceeds will be donated to the Potter's Wheel, Inner City Mission. The Clay Club officers chose this organization for their work with educating and feeding the less fortunate in the Evansville Community. The rest of the proceeds will be used by the Clay Club to attend conferences, visit museums and galleries, and host visiting artists.
Todd A. Matteson, Clay Club advisor and UE associate professor of art, noted that "a lot of hard work and long hours go into making the bowls. They are all hand crafted on the potter's wheel from a ball of clay. The artist has to center, form, alter, trim, dry, and then fire them, not once, but twice. The entire process is lengthy, but the outcome is a tremendous success. Most of the bowls have been glazed different from one another, but some of the bowls are glazed similarly, so patrons can have matching sets. Each bowl has its own uniqueness."
Lecture on "Higher Education: America's Troubled Dream Machine"
Retired University of Southern Indiana president Linda Bennett, PhD, will give the Stephens-Otterson Lecture at Trinity United Methodist Church on October 14 at 2:00 p.m. She will be discussing "Higher Education: America's Troubled Dream Machine." All those interested in this topic are invited to attend. The church is located at 216 SE Third Street in Evansville.
If you have any questions, please contact Kathy Bartelt, UE associate professor emerita, at kb4@evansville.edu.
Submitted by Kathryn R. Bartelt kb4@evansville.edu
Donate blood!
Donate blood with the American Red Cross on Tuesday, October 16 from 11:30 a.m.-4:30 pm. It will be on campus in Eykamp Hall, Ridgway University Center.
You can sign up now - look for the red and white posters around campus and use the QR code to get to the sign up website. You can check out Newman's instagram @ue_newman for the QR code as well.
If you can't donate, keep an eye out for opportunities to help with organization and advertising as well!
Submitted by Sam Wallisch sw265@evansville.edu
Honors Program students helping our community
On Saturday, September 29, a group of students from HACER, the Honors Program's community service initiative, volunteered their time at Ronald McDonald House and United Caring Services. The students helped with cleaning and preparing food for these organizations. In addition, they presented each organization with a $100 donation made possible through proceeds from Nerd Wars, the annual Honors Program philanthropic trivia competition.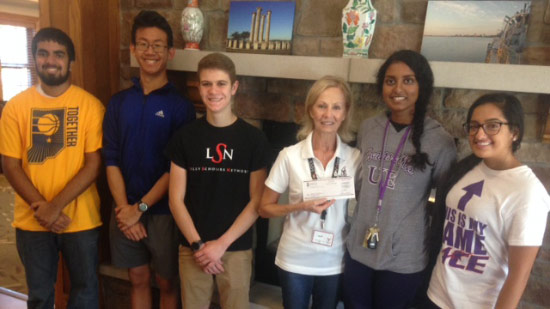 USPS closed on Monday for Columbus Day
The United States Postal Service (USPS) will be closed Columbus Day, Monday, October 8. Please note UE distribution services/mail services (DS/MS) will not be picking up mail from the USPS on Monday, since the Post Office will be completely closed. Any mail picked up from UE areas by DS/MS courier on Monday, October 8, will be transported to Data Mail for metering and mailing on the afternoon of Tuesday, October 9. For mail related questions, please contact mail services at ext. 2197 or mailservices@evansville.edu.
Submitted by Kim Winsett kw83@evansville.edu
UE community invited to International Food Festival
The UE community is invited to attend the International Food Festival at the Islamic Center of Evansville. Several UE students will volunteer and participate in the festival, which is set for Sunday, October 7 from 11:00 a.m.-4:00 p.m. at the Islamic Center on 4200 Grimm Road in Newburgh. The event will offer a variety of different cuisines such as Arabic and Indian food, an international bazaar, and a henna station. The event benefits the Tri-State Food Bank.
Submitted by Summer El-Khodary se111@evansville.edu
Senior nursing class collects donations for Boys and Girls Club
University of Evansville senior nursing students are hosting a project called Holding Your Hand Today, Leading You to a Better Tomorrow at the Boys and Girls Club to promote healthy behaviors of at risk school age children. The students will educate the children regarding resiliency, bullying, life goals, and healthy relationships through various activities. These activities will take place on November 6 at the Boys and Girls Club at 700 Bellemeade Avenue from 4:30-6:30 p.m.
The seniors are asking for donations of toothpaste, soap, deodorant, socks, children's underwear (boys and girls), hats, gloves, scarves, gently used toys, and money to benefit the children. These items can be dropped off at donation boxes in the Dunigan Family School of Nursing office any time before November 6 or at the collection tables in Ridgway University Center on October 15, 16, and 17.
Submitted by Traci Burch tb207@evansville.edu
Flu shots are available!
Flu shots will be given on October 10 and 11 from 2:00-6:00 p.m. in the Employee Health Clinic. All covered on the UE Medical Plan can receive the shot free of charge. Those not covered under the plan can still receive the shot for $20; cash only please. Schedule under AceLink.
Submitted by Ashley Chipps ac375@evansville.edu
Newman needs your help with blood drive sign up tables!
Sign up to help the with the upcoming American Red Cross Blood Drive on campus!
We need volunteers to help with donor sign up at tables in Ridgway University Center on October 10, 11, and 12. As a volunteer, you would be sitting at the tables outside of Cafe Court in Ridgway to help potential donors sign up.
You can use this sign up genius https://bit.ly/2Qo8uiT to sign up for any of the one hour shifts! Shifts range from 11:00 a.m.-7:00 p.m. on all three days, so there are plenty of opportunities and times to help out.
Email Connor Cleary at cc328@evansville.edu with any questions.
Submitted by Sam Wallisch sw265@evansville.edu
Nominate individuals for October Employee Excellence Award
The University of Evansville, in pursuit of excellence in service, wishes to recognize monthly a non-faculty employee displaying records of achievement as a leader. Leadership may be demonstrated in any of the following categories:
• Service to the University community
• Service to students
• Job performance and attitude to fellow employees
One award is presented each month. To be eligible, an employee must be a full-time member of the administration or staff. Nominations are due before the 15th of each month. Nominations are now being accepted for the month of November!
To nominate someone, or to find out more information about the Employee Excellence Award, go to: http://acelink.evansville.edu/Tools/Employee Award/.
Submitted by Lori LeDuc ll138@evansville.edu
UE Bookstore fall break hours
The UE Bookstore will have reduced hours during Fall Break. The store will be closed on Saturday, October 6. On Monday and Tuesday, October 8 and 9, the store will open at 8:30 a.m. and close at 5:00 p.m. The UE Bookstore will resume normal store hours on Wednesday, October 10.
Submitted by Doug Gustwiller dg57@evansville.edu
Over 100 visitors toured Peters-Margedant House on Saturday
On Saturday, September 29, 110 people visited the Peters-Margedant House as part of the Family Weekend celebrations. Archaeology and art history majors who assisted with the tours included Lauren Bray, Emily Billhartz, Emily Newman, Maggie Sullivan, and Kaitlyn Woodworth-Mills. Art history students who helped prepare the house for the tour include Ghadah Alhajji, Al Reem Al Alawi, Suad Alharrasi, Tyler Feduccia, Abigail Goings, Alexa Hopf, Rachel Jones, Boeun (Bonnie) Kim, and Maureen Philibs. Thanks as well to admissions coordinator Jordan Hall for helping to coordinate the preparation of the house.
Apply to be an RA!
The Office of Residence Life is currently accepting applications for resident assistants for the Spring 2019 semester. You can find RA applications on UEngage under Forms or by using this link. Applications are due by October 23 at 11:59 p.m. and applicant interviews will take place October 29-November 1.
Please contact Megan King at mk225@evansville.edu, Karyssa Vasquez at kv54@evansville.edu, or Darrion Culler at dc199@evansville.edu with any questions you may have.
Submitted by Megan King mk225@evansville.edu
Apply for graduation
Attention juniors and seniors! Please make sure that you apply for graduation on MyUE Self-Service. Contact the Office of the Registrar at registrar@evansville.edu with any questions.
Submitted by Ashley Nels an89@evansville.edu
Spring housing cancellation deadline
Students, the deadline to cancel your UE housing contract for the spring semester is October 5. Stop by the residence life office to cancel your housing contract without penalty for the spring semester if you will be:
Attending Harlaxton or studying abroad
In an internship, co-op, or clinical outside of the Evansville area
Moving into a fraternity house
Transferring, withdrawing, or graduating
Requests not falling in the above categories are typically not granted. Requests to move off campus to live with friends or move into an apartment are not sufficient reasons to cancel a UE housing contract. Entering into any other housing agreement or lease with a private landlord will have no effect upon the conditions of your contract with the University of Evansville.
For more information, contact the residence life staff or visit our website - www.evansville.edu/residencelife/housingapplyreturn/cancellationsAndRefunds.cfm.
Submitted by Brian Conner bc32@evansville.edu
CECS to offer UExplore Engineering Program
The College of Engineering and Computer Science is offering a UExplore Engineering Program for high school students. The program is designed to give participants a better understanding of the fields of civil, mechanical, electrical, and computer engineering and computer science through activities, hands-on projects, and tours of local industry.
The sessions in the program are October 15, November 5, November 26, January 21, February 18, March 11, April 1, and April 22. All sessions will be from 6:00-7:15 p.m. in the Koch Center for Engineering and Science on UE's campus.
James Allen, UE associate professor of mechanical and civil engineering, is the advisor for the program. A registered professional engineer in the states of Indiana and Ohio, Allen has extensive work experience in industry. Allen will be assisted with the program by UE engineering students.
The registration fee for the program is $50. Register online at www.evansville.edu/uexploreengineering or contact Kimberly Higgins for more information at 812-488-2661 or kh209@evansville.edu.
Submitted by Kim Higgins kh209@evansville.edu
Taylor awarded grant to help EVSC's Working with Hangers program
The Master of Science in Public Administration program culminates with a two-part grant writing course, instructed by Johnna Denning-Smith. In this course, students select a non-profit agency for a hands-on project. While this is an academic project, one recent graduate, Katherine (Kathy) Taylor was encouraged to actually submit her proposal to a grant-funding agency.
Working with Hangers, the EVSC student clothing resource, Kathy submitted a grant proposal in May to the Vanderburgh Community Foundation. The proposal asked for funds to purchase a commercial washer and dryer to increase onsite laundry facilities, and to purchase an inventory control system to track donations. The application was successful and the grant was awarded on September 19.
Kathy said, "It was amazing to see something that you've worked on in the classroom actually make a difference in the community."
UE Volleyball back home on Friday
It is another busy weekend for the University of Evansville volleyball team as they will play three matches in four days for the second time this season. UE welcomes Southern Illinois and Missouri State to Meeks Family Fieldhouse on Friday and Saturday before making their way to Cedar Falls, Iowa for a Monday night match at UNI; all three contests begin at 7:00 p.m.
Over the weekend, the Aces fell in a pair of conference matches at Illinois State and Bradley; highlighting the contest against the Braves were a 21-kill performance by Rachel Tam and a career-high of 19 digs from Alondra Vazquez.
Junior Rachel Tam added 21 kills to her season tally and starts play this weekend with a total of 302, ranking 5th in the nation. Her 325.5 points in 2018 is sixth in the NCAA while her 736 attempts is 19th. Tam is second in the MVC with her season average of 4.38 kills/game. In the first five MVC matches, Tam has notched 4.06 kills per set including a total of 22 against Loyola and 21 at Bradley. Her 302 kills is 50 more than anyone else in the MVC.
Alondra Vazquez has been making a solid contribution since debuting on September 11 against Tennessee State and has started to excel on the defensive end. Those efforts culminated in her recording 19 digs at Bradley on September 29; she has had three or more digs in each of her nine matches.
Through the opening five MVC matches, Mildrelis Rodriguez continued to help UE in many different ways; through five MVC contests, her 2.78 kills and 2.94 digs are both second on the team.
Friday's opponent will be Southern Illinois, who begins the weekend with a 4-13 mark and is 0-4 in Valley play. The Salukis are led by Maggie Nedoma's 3.54 kills per set with Alayna Martin sitting with 7.84 assists/game.
UE plays host to Missouri State on Saturday evening with the Bears starting play this week with a mark of 8-9 and 1-3 in the league. Amelia Flynn paces the team with 2.95 kills per set while Chloe Rear has posted 8.00 assists/set.
UNI has played a tough schedule so far, but it has paid off with the Panthers defeating a pair of top 15 squads while going 10-6 overall and a perfect 4-0 in the MVC. The Panthers defeated #13 Creighton and #5 Kentucky in their season-opening tournament. Karlie Taylor sits atop the MVC with 4.58 kills per set while Rachel Koop is tops in the league with 11.53 assists.
Softball has eight recognized as NFCA All-American Scholar-Athletes
Eight University of Evansville softball student-athletes were recognized by the National Fastpitch Coaches Association as Easton/NFCA All-America Scholar-Athletes in an announcement by the NFCA.
The Purple Aces also earned Easton/NFCA Academic Team accolades. As a whole, UE finished with a 3.442 GPA, which was 45th in the country.
"We are extremely proud of our ladies' effort in the classroom. Our team really takes pride in their academics and strive for excellence," Aces head coach Mat Mundell said. "The University of Evansville has a long tradition of being one of the top academic universities and our team loves that about UE."
Individuals recognized as All-America Scholar-Athletes were: Kristin Koepke, Jaime Nurrenbern, Olivia Cheatham, Bailee Bostic, Bailee Porter, Allison Daggett, Toni Galas, and Alex Latoria.
Koepke led the way with a perfect 4.0 GPA while Nurrenbern was close behind, finishing the 2017-18 academic year with a 3.97 GPA. Cheatham and Bostic completed last year with GPA's of 3.90 and 3.81, respectively.
UE Athletics announces 2018-19 Men's Basketball Mini-Plans
With basketball season quickly approaching, University of Evansville athletics has announced three mini-plans that will take place throughout the 2018-19 campaign.
First up is a Kentucky Resident Mini-Plan. In this package, you automatically receive the following games:
November 15 vs. Kentucky Wesleyan
November 28 vs. Wyoming
December 15 vs. Jacksonville St.
Plus- one of the following:
January 2 vs. Drake
January 9 vs. Loyola
January 12 vs. Indiana State
There are three price points for this package. Seats in the blue sections as noted in the seating diagram are $80, orange sections at $60, and purple cost $44.
In the Non-Conference Mini-Plan, fans automatically receive a ticket to the December 9 contest versus Ball State. Aside from that game, you have your choice of any of the three other non-conference home games. Prices for this plan are $80 in the blue seats, $60 in orange sections and $44 in purple.
The Conference Mini-Plan gives you the chance to pick any three Missouri Valley Conference home games throughout the season. Cost is $60 for seats in blue, $45 for sections in orange, and $33 for seats in purple.
For more information or to sign up for your mini-plan, contact the UE ticket office at 812-488-ACES.
UE Athletics Hall of Fame announces latest class
Three National Championship men's basketball teams will be entering the University of Evansville Athletics Hall of Fame in January of 2019. Included in the class are the teams from 1959-60, 1963-64 and 1970-71. The 1958-59 and 1964-65 championship squads were previously inducted into the hall.
These three teams will be honored in a banquet on Saturday, January 19, 2019 inside the main ballroom of the DoubleTree Hotel, which is adjacent to the Ford Center. The event is slated to take place following the Purple Aces men's basketball game against Illinois State that afternoon. UE takes on the Redbirds at 1:00 p.m. inside the Ford Center with the Hall of Fame banquet taking place following the game. A cash bar will be available inside the DoubleTree immediately following the game, giving inductees and fans the opportunity to interact.
Dinner will be served at 4:15 p.m. with the festivities beginning at 5:00 p.m. Cost for the banquet and dinner is $50.
Just a year after winning the first National Championship in school history, the 1959-60 team made it 2-for-2, going 25-4 on their way to the championship. After dropping the season opener to Iowa, the team won 10 in a row including wins over Valparaiso and Fresno State. In the season finale, the Aces defeated Chapman by a final score of 90-69 to earn its second championship.
Members of the 1959-60 team included: Tom Boyles, Walter Deal, Larry Erwin, Vince Gwaltney, Tom Hamilton, Mel Lurker, Tom Mulherin, Jim Nossett, Ken Reising, Bob Reisinger, P.M. Sanders, Ed Smallwood, Bill Thurneck and Dale Wise. Smallwood paced the team with 26.1 points and 12.0 rebounds. Wise added a team-high 17.1 rebounds.
Evansville made its return to the championship stage in 1964 as the team went 26-3 with triumphs over New Mexico State, Arizona and Purdue. The team rolled through the NCAA Tournament, with its closest game being a 64-59 win over Southern Illinois in the second round. UE clinched the championship on March 13, 1964, defeating Akron, 72-59.
The 1963-64 team members were: Wayne Boultinghouse, Buster Briley, Paul Bullard, Dave Cox, Larry Denton, Ed Coleman, Ron Eberhard, Dave Green, Russ Grieger, Robert Hermeyer, Larry Humes, Larry Isley, Allen McCutchan, Jerry Sloan, Jim Smith, Sam Watkins and Ed Zausch. Smith was the leading scorer with 15.8 points while Sloan (13.9) and Briley (13.5) were just behind. Sloan paced the team with 11.6 caroms per contest.
Evansville's final College Division National Championship came in 1971. The Aces started the year 4-5, but went on to win 18 of the final 21 games including a 97-82 victory over Old Dominion in the finals to clinch the school's fifth championship.
Team members were: Don Buse, Bob Clayton, John Clayton, Rick Coffey, John Couch, Peter Hughes, Curt John, Bob Keegan, Mike Kern, Greg Martin, James McKissic, Herman Oliver, Dan Paddock, Chaundice Pullom, Rick Smith, Monte Stebbins, Tyrone Towler, John Wellemeyer and Steve Welmer. Wellemeyer led the way with 19.8 points while Buse notched 18.2. Clayton was the top rebounder with 6.7 per game.
All three teams were led by Hall of Fame head coach Arad McCutchan. Paul Beck and Ray Bawel were assistants in 1959-60, Tom O'Brien was an assistant in 1963-64 and Wayne Boultinghouse was the assistant in 1971.
44 News covers Animals Alleviating Anxiety event
Yesterday's Animals Alleviating Anxiety event was covered by 44 News. UE student Muhammad Dajana was interviewed during the event. You can watch a clip of the coverage and the interview here. The mental health awareness ChangeLab team planned the event.
Contribute to AceNotes
To have content considered for inclusion in AceNotes, please submit a Marketing Request Form. Deadline for submission to AceNotes is 10:00 a.m. on the requested date of publication. Only articles concerning UE related/sponsored activities will be accepted. Articles submitted to AceNotes may be edited for length and clarity. Submitter contact information is at the end of each article.