| | |
| --- | --- |
| AceNotes Today | Thursday, October 4, 2018 |
Save the Date: Presidential Inauguration set for March 3, 2019
Please mark your calendars for the inauguration of our 24th president, Christopher M. Pietruszkiewicz, on Sunday, March 3, 2019 at 2:00 p.m.
The formal inauguration will be held at the Victory Theatre in downtown Evansville and will be preceded by a weekend of activities on the University of Evansville campus. More information and a full schedule of events will be made available closer to the event.
Tree removal on front oval
A contractor will be removing a large tree east of the Schroeder School of Business Building during fall break. This is a large tree and will result in some disruption of parking, traffic flow, and sidewalk usage in that area. Please use caution and follow directions of the working crew and heed barricades.
Lot H closed beginning today at 5:00 p.m.
All vehicles must be removed from Lot H by 5:00 p.m., today, Thursday, October 4. The removal of vehicles is necessary so that a contractor can crack seal, coat and restripe the lot during the fall break. The lot will reopen by the late afternoon on Tuesday, October 9 for parking. Vehicles must be moved to "legal" parking places for the permit category held by the driver. The use of Lot O (Armory lot), Lot Q, (general services building), and city side streets (obey parking regulations) are recommended.
Animals Alleviating Anxiety event planned for today
K9 Angels is sponsoring Animals Alleviating Anxiety today - Thursday, October 4 - from 5:00-6:00 p.m. on the East Terrace Lawn next to Ridgway University Center. (Rain location is Eykamp Hall in Ridgway University Center.) Participants will have the opportunity to interact with puppies. The goal of the event is to create awareness about mental health while offering free management skills like animal therapy to the UE community. It is being hosted by the Change Lab/GAP course mental health awareness team.
Submitted by Aisha Tijjani at166@evansville.edu
Learn photography with AMG today!
Today - Thursday, October 4 - Aces Media Group will host the first of four hands-on, informational workshops in media production. This week's topic: photography!
The workshop will meet at 5:00 p.m. in Room 72 (Mac Lab) in the Schroeder School of Business Building. We will cover basic principles of photography and camera operation, then send participants out around campus to get hands-on experience with the cameras. Equipment will be provided.
All majors and experience levels are welcome - you don't have to be a member of AMG to participate! Questions? Contact es260@evansville.edu.
Submitted by Emily Schuster es260@evansville.edu
Guest speaker: FBI special agent and forensic accountant Chris Knight
Associate professor of accounting Rania Mousa has invited FBI special agent and forensic accountant Chris Knight to be a guest speaker at Mousa's forensic accounting class TODAY - Wednesday, October 10 - from 4:00-6:00 p.m. in Room 170 (Smythe Hall) in the Schroeder School of Business Building. He will talk about his experiences in conducting criminal and national security investigations. This event is open to all students interested in exploring the newest area in the accounting discipline.
Knight has been working with the FBI since 2004 in its Indianapolis field office's white-collar crime squad. He is a certified public accountant and certified fraud examiner. Knight earned his bachelor's degree in accounting and legal studies from IU's Kelly School of Business, Bloomington, and a master's degree in criminal justice from the University of Cincinnati.
Submitted by Rania Mousa rm190@evansville.edu
CMNH MOD Pizza Giveback Night Oct. 11
Go out for dinner at MOD Pizza on October 11 from 4:00-9:00 p.m. and give back to miracles! Just present this flyer and mention the giveback night at the register and a portion of your bill will go towards the daily miracles found at Children's Miracle Hospitals all across the country.
Submitted by Kelly Nixon kn94@evansville.edu
Holiday Arts and Crafts Sale
The University of Evansville Department of Art and the University of Evansville Friends of Art are pleased to announce their Holiday Art and Crafts Sale. Everyone in the UE community who creates art or crafts is welcome to participate: faculty, staff, students, spouses, children, parents, relatives and friends. This a perfect opportunity to find unusual holiday gifts made by local artists and crafts people.
The sale will be held in the Melvin Peterson Gallery on Thursday, November 29, from 9:00 a.m.-7:00 p.m. Participating artists and craftsmen should plan to drop their work off Wednesday afternoon prior to the sale as vendors do not need to stay with their items. Friends of Art volunteers and gallery staff will be on site to handle the sales.
If you would like to participate or need more information, please contact Joyce Powell before October 8 by e-mail at j.powell0159@gmail.com or by phone at 812-455-0159.
Submitted by Brooksie Smith bs267@evansville.edu
UE employees invited to Emeriti retirement health care workshops
UE employees are invited to attend one of the informational workshops presented by Emeriti Retirement Health Solutions on Tuesday, October 16 on the second floor of Ridgway University Center in Eykamp Hall, Room 251.
The workshops are scheduled for:
• 9:00 a.m. – 10:00 a.m.: For active employees considering retirement
• 11:00 a.m. – noon: Primarily geared to those already retired or close to retirement
The Emeriti program provides important benefits such as:
• A tax-advantaged way for you to invest and accumulate assets for your future retiree medical expenses.
• A retiree health insurance program for you and your eligible dependents that builds on the foundation of Medicare.
• A tax-free way for you to pay for other qualified out-of-pocket medical expenses in retirement.
A representative from Emeriti and Aetna health insurance will be on campus to provide information about Emeriti and what you need to do to take full advantage of the program. The meetings will cover such topics as why you need to save for retiree health care, the unique tax advantages of the Emeriti Program, and your options available under the program.
For more information about the Emeriti program, please visit: http://www.emeritihealth.org/.
Medicine and Surgery as a Career
Come join the BiSci Club as we welcome back alum Josh Manghelli, DO, to talk about his career as a surgeon. His lecture is planned for today at 6:00 p.m. in Room 124, Koch Center for Engineering and Science.
Submitted by Kelly Nixon kn94@evansville.edu
UE's Annual Chili Bowl Sale Planned for today
The University of Evansville's Clay Club will present its annual Chili Bowl Sale TODAY - Thursday, October 25 - from 11:30 a.m.-1:30 p.m. The event will be outside Hughes Hall, near the East Terrace Lawn across from Ridgway University Center. The rain location is Eykamp Hall, Room 253, and the Class of 1959 Gallery and Lounge in Ridgway University Center.
Chartwells, the food service provider at UE, is co-sponsoring the event and providing chili made by chef Don Brown under the direction of Chris Clay.
For $10, customers can buy a one-of-a-kind ceramic bowl and fill it with chili. Paper containers will be available for those who prefer not to put chili in their newly purchased bowls. Larger bowls from $15-$50 will also be for sale. Some more artistic larger bowls will be sold at a silent auction as well, ranging in price from $60-$100.
The bowls are being made by members of the Clay Club and other UE students, faculty members, staff, alumni, and members of the community.
Half of the proceeds will be donated to the Potter's Wheel, Inner City Mission. The Clay Club officers chose this organization for their work with educating and feeding the less fortunate in the Evansville Community. The rest of the proceeds will be used by the Clay Club to attend conferences, visit museums and galleries, and host visiting artists.
Todd A. Matteson, Clay Club advisor and UE associate professor of art, noted that "a lot of hard work and long hours go into making the bowls. They are all hand crafted on the potter's wheel from a ball of clay. The artist has to center, form, alter, trim, dry, and then fire them, not once, but twice. The entire process is lengthy, but the outcome is a tremendous success. Most of the bowls have been glazed different from one another, but some of the bowls are glazed similarly, so patrons can have matching sets. Each bowl has its own uniqueness."
Donate blood!
Donate blood with the American Red Cross on Tuesday, October 16 from 11:30 a.m.-4:30 pm. It will be on campus in Eykamp Hall, Ridgway University Center.
You can sign up now - look for the red and white posters around campus and use the QR code to get to the sign up website. You can check out Newman's instagram @ue_newman for the QR code as well.
If you can't donate, keep an eye out for opportunities to help with organization and advertising as well!
Submitted by Sam Wallisch sw265@evansville.edu
Trailblazing Astronaut Eileen Collins to Speak at UE's Snyder Lecture on October 17
Trailblazing astronaut Eileen Collins, the first woman to pilot and command an American spacecraft, will be the guest speaker for the University of Evansville's Patricia H. Snyder Lecture in October. The lecture is planned for Wednesday, October 17, at 7:00 p.m., in Eykamp Hall, Ridgway University Center, on UE's campus. The event is free and open to the public thanks to the generosity of the Snyder family.
One of America's most admired women, Col. Collins became the first female to pilot a US spacecraft with the Discovery shuttle flight in 1995, and the first female commander on the 1999 Columbia shuttle flight. In 2005, NASA tapped her to command the space shuttle Discovery's historic "Return to Flight" mission, NASA's first manned flight following the loss of space shuttle Columbia in 2003. While logging 872 hours in space, Collins earned a reputation for coolness under pressure.
Collins will discuss how her career as an astronaut took shape, from her early years in the US Air Force to her ground-breaking experience with NASA. Drawing from her career experiences, she will share valuable insights learned from both her successes and her failures. She will also provide insight into the future of space travel as the world turns to exciting new space frontiers.
The Patricia H. Snyder Concert and Lecture Series was made possible in 1997 through an endowment from the late Patricia H. Snyder, trustee and longtime friend of the University, to bring speakers or performers of renown to Evansville at no cost to the public.
Reservations are encouraged, but a ticket is not required to enter. Save your seat online here.
UE's ACE3 Team in NYC for Unlocking Change Challenge
The University of Evansville's Access to Capital and Expertise for Emerging Entrepreneurs (ACE³) program has been selected as a Driver of Financial Wellbeing national semifinalist in the Unlocking Change Challenge. This nationwide competition seeks to find and support leading social entrepreneurs and innovators across the country. A total of 27 semifinalists were chosen from 107 entrants.
The team is currently in New York for the challenge and are pictured during yesterday morning's NASDAQ opening.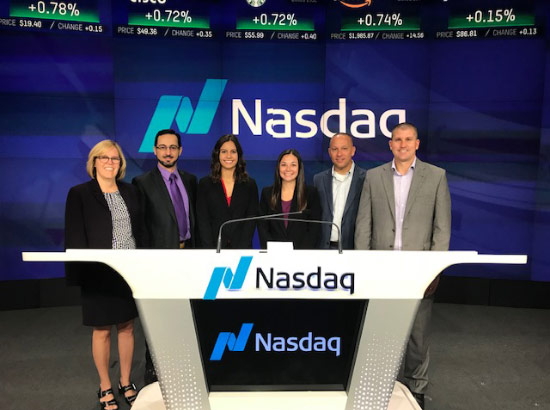 Learn more on our website
UE Ballroom Dance Club and Glenwood students' Cuban dance performance on Eyewitness News
The UE Ballroom Dance Club has been teaching Latin music and dance to Glenwood Leadership Academy students as part of the pilot Mad Hot Ballroom program. The students performed a Cuban salsa routine in costume at UE on Friday. Erin Lewis, associate director of UE's Center for Innovation & Change and owner and operator of Evansville Dancesport Academy, was interviewed by Eyewitness News about performance.
You can watch the interview, along with footage of the dance routine, here on the Tristatehompage website.
This year's pilot Mad Hot Ballroom program is a partnership between Lewis and Angela Paul, Glenwood Leadership Academy's dance instructor. The program came about as the result of a Global Scholar partnership between Lewis and UE assistant professor of music Shawn Teichmer.
USPS closed on Monday for Columbus Day
The United States Postal Service (USPS) will be closed Columbus Day, Monday, October 8. Please note UE distribution services/mail services (DS/MS) will not be picking up mail from the USPS on Monday, since the Post Office will be completely closed. Any mail picked up from UE areas by DS/MS courier on Monday, October 8, will be transported to Data Mail for metering and mailing on the afternoon of Tuesday, October 9. For mail related questions, please contact mail services at ext. 2197 or mailservices@evansville.edu.
Submitted by Kim Winsett kw83@evansville.edu
UE community invited to International Food Festival
The UE community is invited to attend the International Food Festival at the Islamic Center of Evansville. Several UE students will volunteer and participate in the festival, which is set for Sunday, October 7 from 11:00 a.m.-4:00 p.m. at the Islamic Center on 4200 Grimm Road in Newburgh. The event will offer a variety of different cuisines such as Arabic and Indian food, an international bazaar, and a henna station. The event benefits the Tri-State Food Bank.
Submitted by Summer El-Khodary se111@evansville.edu
Senior nursing class collects donations for Boys and Girls Club
University of Evansville senior nursing students are hosting a project called Holding Your Hand Today, Leading You to a Better Tomorrow at the Boys and Girls Club to promote healthy behaviors of at risk school age children. The students will educate the children regarding resiliency, bullying, life goals, and healthy relationships through various activities. These activities will take place on November 6 at the Boys and Girls Club at 700 Bellemeade Avenue from 4:30-6:30 p.m.
The seniors are asking for donations of toothpaste, soap, deodorant, socks, children's underwear (boys and girls), hats, gloves, scarves, gently used toys, and money to benefit the children. These items can be dropped off at donation boxes in the Dunigan Family School of Nursing office any time before November 6 or at the collection tables in Ridgway University Center on October 15, 16, and 17.
Submitted by Traci Burch tb207@evansville.edu
This Week from the Harlaxton Office …
This is a continuation of the new weekly AceNotes updates from the Harlaxton office to keep the UE community informed about what we are up to, where we are traveling to promote Harlaxton, and what is going on with our favorite British manor house, so continue to check with us here each week to see what the US Harlaxton team is up to! This week, we'll include information about what we have going next week as well, since fall break will change up everyone's schedules!
Things are a little slower this week, with just one partner school study abroad fair happening on Wednesday, October 3. Kaylynn Carver, Harlaxton advisor, will travel to Florida Gulf Coast University to represent Harlaxton at that fair this week!
Next week, Kaylynn will be on the road again, to University of Wisconsin-Eau Claire on Tuesday-Wednesday, October 9-10, and Holly Carter, director of Harlaxton College Programs, will travel as well, to Claremont McKenna College in California. Scott Sherman, renowned professor and expert on social innovation and changemaking, is planning to teach at the Harlaxton summer session and lead a Transformative Action Summit at the manor this year.
Though there is a little less travel happening for the Harlaxton team right now, there are certainly a myriad of other projects and events upcoming! Harlaxton orientation classes are in full swing every other week, and in the next few weeks, preparation of immigration letters and pre-departure packets will begin as the departure of our Spring 2019 class gets closer! We have accepted 10 new Harlaxton Ambassadors and hope to get them started with training and working with students after fall break. Additionally, the team is excited to celebrate everything going on with Harlaxton at the Harlaxton Society Gregory Gregory Day event on Thursday, October 11 and the board meeting on Friday, October 12.
Submitted by Kaylynn Carver kc205@evansville.edu
Flu shots are available!
Flu shots will be given on October 10 and 11 from 2:00-6:00 p.m. in the Employee Health Clinic. All covered on the UE Medical Plan can receive the shot free of charge. Those not covered under the plan can still receive the shot for $20; cash only please. Schedule under AceLink.
Submitted by Ashley Chipps ac375@evansville.edu
Newman needs your help with blood drive sign up tables!
Sign up to help the with the upcoming American Red Cross Blood Drive on campus!
We need volunteers to help with donor sign up at tables in Ridgway University Center on October 10, 11, and 12. As a volunteer, you would be sitting at the tables outside of Cafe Court in Ridgway to help potential donors sign up.
You can use this sign up genius https://bit.ly/2Qo8uiT to sign up for any of the one hour shifts! Shifts range from 11:00 a.m.-7:00 p.m. on all three days, so there are plenty of opportunities and times to help out.
Email Connor Cleary at cc328@evansville.edu with any questions.
Submitted by Sam Wallisch sw265@evansville.edu
Nominate individuals for October Employee Excellence Award
The University of Evansville, in pursuit of excellence in service, wishes to recognize monthly a non-faculty employee displaying records of achievement as a leader. Leadership may be demonstrated in any of the following categories:
• Service to the University community
• Service to students
• Job performance and attitude to fellow employees
One award is presented each month. To be eligible, an employee must be a full-time member of the administration or staff. Nominations are due before the 15th of each month. Nominations are now being accepted for the month of November!
To nominate someone, or to find out more information about the Employee Excellence Award, go to: http://acelink.evansville.edu/Tools/Employee Award/.
Submitted by Lori LeDuc ll138@evansville.edu
TIAA individual counseling sessions for October
The TIAA-CREF representative will be on the UE campus for individual counseling sessions on Wednesday, October 17 and Thursday, October 18. To schedule an appointment, call TIAA-CREF at 1-800-732-8353.
Please note that the meeting location has been changed to Room 153 (Eades Music Room), Schroeder School of Business Building.
Submitted by Lori LeDuc ll138@evansville.edu
UE Bookstore fall break hours
The UE Bookstore will have reduced hours during Fall Break. The store will be closed on Saturday, October 6. On Monday and Tuesday, October 8 and 9, the store will open at 8:30 a.m. and close at 5:00 p.m. The UE Bookstore will resume normal store hours on Wednesday, October 10.
Submitted by Doug Gustwiller dg57@evansville.edu
Over 100 visitors toured Peters-Margedant House on Saturday
On Saturday, September 29, 110 people visited the Peters-Margedant House as part of the Family Weekend celebrations. Archaeology and art history majors who assisted with the tours included Lauren Bray, Emily Billhartz, Emily Newman, Maggie Sullivan, and Kaitlyn Woodworth-Mills. Art history students who helped prepare the house for the tour include Ghadah Alhajji, Al Reem Al Alawi, Suad Alharrasi, Tyler Feduccia, Abigail Goings, Alexa Hopf, Rachel Jones, Boeun (Bonnie) Kim, and Maureen Philibs. Thanks as well to admissions coordinator Jordan Hall for helping to coordinate the preparation of the house.
DoD STEM scholarship opportunity
The Department of Defense (DoD) SMART Scholarship Program is an opportunity for students pursuing an undergraduate degree in STEM disciplines to receive a full scholarship and be gainfully employed by the Department of Defense upon degree completion.
SMART Scholars will receive:
• A full tuition scholarship while in school
• An annual stipend
• Summer research internships
• A job after graduating in their STEM field at a cutting edge Department of Defense Facility
Applicants must:
• Be a citizen of the United States and 18 years of age or older
• Have a minimum cumulative GPA of 3.0 on a 4.0 scale
• Be pursuing a technical undergraduate in one of the 21 specified STEM disciplines
Tell your STEM students to visit smartscholarship.org to learn more and apply today!
Deadline to apply is December 1, 2018.
Submitted by Cathleen Wright cw259@evansville.edu
The Habitat House that UE Built! - Week 3 Update
Week 3 at the Habitat House that UE built was an exciting week. All of the walls are up and interior walls are in! In fact, UE has sent so many volunteers that we have helped with both house 499 and house 500! Go Aces!
We are on schedule and will have next Saturday (the 6th) off as the roof goes on the house. We will be back in action on the 13th to continue making progress and helping our homeowner reach her dream of home ownership.
If you would like to volunteer, or if you have any questions, please contact Holly Carter at hc110@evansville.edu.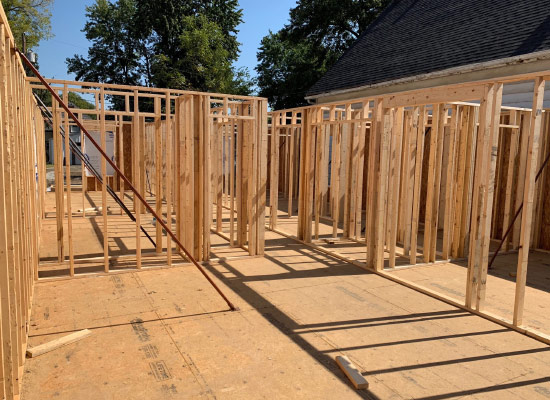 Submitted by Holly Carter hc110@evansville.edu
Fitness Center fall break hours
The Fitness Center fall break hours are:
Friday, October 5: 8:00 a.m.- 7:00 p.m.
Saturday, October 6: Closed
Sunday, October 7: Closed
Monday, October 8: 8:00 a.m.- 7:00 p.m.
Tuesday, October 9: 8:00 a.m.- 7:00 p.m.
Submitted by Lori Adams la87@evansville.edu
UE Homecoming Royalty 2018 nominations
During Homecoming Weekend, we plan to recognize our UE Homecoming Royalty 2018. To be eligible, students must be a full time student and member of the senior class. Nominations may be made by anyone on campus, either a student organization, group of friends, team, roommates, etc.
Please complete this nomination form by Monday, October 1.
UE Homecoming Royalty finalists will be announced at the Pep Rally on Friday, October 26 at 4:30 p.m. on the East Terrace Lawn. The top eight individuals with the most votes will be announced and asked to join us at the Men's Soccer game on Saturday, October 27 at 5:00 p.m. at Arad McCutchan Stadium.
At halftime, the finalists will be announced to the crowd and the two individuals with the most votes will be named our UE Homecoming Royalty 2018.
Following the game, Homecoming Royalty will then lead the crowd in counting down to the Homecoming Firework Show.
Submitted by Megan King mk225@evansville.edu
Taylor awarded grant to help EVSC's Working with Hangers program
The Master of Science in Public Administration program culminates with a two-part grant writing course, instructed by Johnna Denning-Smith. In this course, students select a non-profit agency for a hands-on project. While this is an academic project, one recent graduate, Katherine (Kathy) Taylor was encouraged to actually submit her proposal to a grant-funding agency.
Working with Hangers, the EVSC student clothing resource, Kathy submitted a grant proposal in May to the Vanderburgh Community Foundation. The proposal asked for funds to purchase a commercial washer and dryer to increase onsite laundry facilities, and to purchase an inventory control system to track donations. The application was successful and the grant was awarded on September 19.
Kathy said, "It was amazing to see something that you've worked on in the classroom actually make a difference in the community."
Shannon Bryant named October 2018 Employee of the Month
Shannon Bryant has been named the October 2018 Employee of the Month! Shannon was nominated for her continuing efforts all across campus in making UE a great place for employees and students alike. She is known for her warm and kind spirit in helping students and fellow employees. Shannon serves as a host mom for UE international students, president of UESAA, and various other organizations within the community. She also received a joint award for her work in bringing the electronic golf cart to campus for the recycling department. You can find Shannon in the chemistry department where she works as the administrative assistant. Please help us congratulate Shannon as she is awarded the October 2018 Employee of the Month!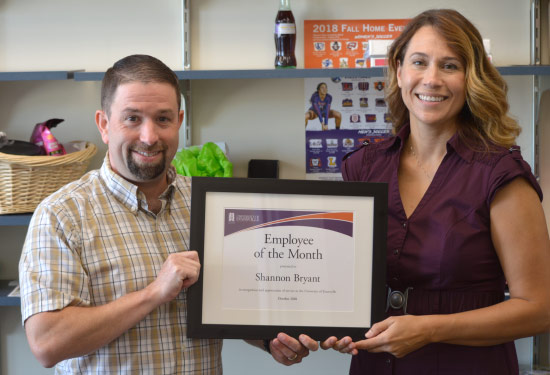 Contribute to AceNotes
To have content considered for inclusion in AceNotes, please submit a Marketing Request Form. Deadline for submission to AceNotes is 10:00 a.m. on the requested date of publication. Only articles concerning UE related/sponsored activities will be accepted. Articles submitted to AceNotes may be edited for length and clarity. Submitter contact information is at the end of each article.