| | |
| --- | --- |
| AceNotes Today | Tuesday, October 2, 2018 |
Save the Date: Presidential Inauguration set for March 3, 2019
Please mark your calendars for the inauguration of our 24th president, Christopher M. Pietruszkiewicz, on Sunday, March 3, 2019 at 2:00 p.m.
The formal inauguration will be held at the Victory Theatre in downtown Evansville and will be preceded by a weekend of activities on the University of Evansville campus. More information and a full schedule of events will be made available closer to the event.
This Week in Music: Debussy100 Festival
From Sunday, September 30 through Tuesday, October 2, The University of Evansville will hold a music festival entitled Debussy100, in honor of 100 years since the death of French composer Claude Debussy. UE will welcome two guest pianists - Paulina Zamora, associate professor of music from the University of Chile, and Catherine Kautsky, chair of keyboard at Lawrence University in Wisconsin.
Zamora is an internationally renowned pianist who recently recorded all of Debussy's 12 Études, and will perform a selection of them at her recital.
Kautsky is a prominent Debussy scholar who recently published a book titled Debussy's Paris: Piano Portraits of the Belle Époque. In addition to playing a recital, Kautsky will be available to sell and autograph her book.
Debussy100 will also feature two masterclasses, a lecture, and a student recital, and will conclude with a Tuesday evening concert by UE faculty. In total, eighteen college and pre-college students will participate, along with fifteen professional musicians.
Admission to all events is free and the public is warmly invited.
A complete schedule is available at www.evansville.edu/debussy100.
Department contact Garnet Ungar, UE professor of music: 812-488-2228, gu2@evansville.edu
Submitted by James Sullivan James Sullivan js820@evansville.edu
UE employees invited to Emeriti retirement health care workshops
UE employees are invited to attend one of the informational workshops presented by Emeriti Retirement Health Solutions on Tuesday, October 16 on the second floor of Ridgway University Center in Eykamp Hall, Room 251.
The workshops are scheduled for:
• 9:00 a.m. – 10:00 a.m.: For active employees considering retirement
• 11:00 a.m. – noon: Primarily geared to those already retired or close to retirement
The Emeriti program provides important benefits such as:
• A tax-advantaged way for you to invest and accumulate assets for your future retiree medical expenses.
• A retiree health insurance program for you and your eligible dependents that builds on the foundation of Medicare.
• A tax-free way for you to pay for other qualified out-of-pocket medical expenses in retirement.
A representative from Emeriti and Aetna health insurance will be on campus to provide information about Emeriti and what you need to do to take full advantage of the program. The meetings will cover such topics as why you need to save for retiree health care, the unique tax advantages of the Emeriti Program, and your options available under the program.
For more information about the Emeriti program, please visit: http://www.emeritihealth.org/.
Medicine and Surgery as a Career
Come join the BiSci Club as we welcome back alum Josh Manghelli, DO, to talk about his career as a surgeon. His lecture is planned for today at 6:00 p.m. in Room 124, Koch Center for Engineering and Science.
Submitted by Kelly Nixon kn94@evansville.edu
Animals Alleviating Anxiety event planned for today
K9 Angels is sponsoring Animals Alleviating Anxiety today - Thursday, October 4 - from 5:00-6:00 p.m. on the East Terrace Lawn next to Ridgway University Center. (Rain location is Eykamp Hall in Ridgway University Center.) Participants will have the opportunity to interact with puppies. The goal of the event is to create awareness about mental health while offering free management skills like animal therapy to the UE community. It is being hosted by the Change Lab/GAP course mental health awareness team.
Submitted by Aisha Tijjani at166@evansville.edu
PT Club meeting today
The second PT Club meeting will be today - Wednesday October 3 - at the Stone Family Center for Health Sciences (downtown). The meeting will start at 5:00 p.m.!
Submitted by McKenzie Hayes mh481@evansville.edu
Muhammad Hassan Dajana (DJ) presents I-House Pakistan
Muhammad Hassan Dajana is an exchange student from Pakistan, who studies civil engineering back home. He loves the community at UE and is very excited about sharing his culture with everyone at I-House Pakistan on October 3. The event is upstairs in Ridgway University Center at 7:00 p.m.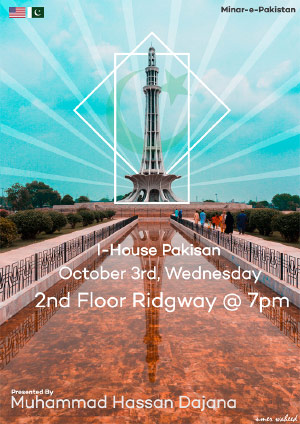 Submitted by Hussam Taj ht70@evansville.edu
Medical Spanish Group
The Medical Spanish Group meets twice a month to practice communication skills in Spanish. These sessions are open to anyone wanting to practice Spanish for medical settings. The next practice session is today, Wednesday, October 3, from 5:30-7:00 p.m. in Room 315 in Graves Hall. Please contact associate professor of Spanish Diana Rodríguez Quevedo at dr130@evansville.edu if you have any questions. ¡Nos vemos el miércoles!
Submitted by Diana Rodríguez Quevedo dr130@evansville.edu
Lunch Charlas today
Wanting to practice your Spanish? Join assistant professor of Spanish Edward Curran and associate professor of Spanish Diana Rodríguez Quevedo for lunch, and chat about different topics in Spanish on Wednesdays from noon-1:00 p.m. in the Starbuck's café area in Ridgway University Center. All levels of Spanish welcome. The next Lunch Charlas is today - Wednesday, October 3. Please contact Professor Rodríguez Quevedo at dr130@evansville.edu if you have any questions. ¡Ahí nos vemos!
Submitted by Diana Rodríguez Quevedo dr130@evansville.edu
Newman Dinner and Discussion: Humane Vitae
Join us at the Newman House today - Wednesday, October 3 - at 5:00 p.m. for Dinner and Discussion! This week, we will be watching the documentary "Sexual Revolution: 50 Years Since Humanae Vitae," sponsored by Professor Jim Ware. All are welcome!
Submitted by Michaela Kunkler mk305@evansville.edu
Pray the Rosary this Thursday!
Austin Hopf and Sister Catherine will be leading a Rosary Prayer Group this Thursday at 10:00 a.m. in Room 264 in the Center for Academic Success in Clifford Memorial Library. All are welcome to join!
Submitted by Sam Wallisch sw265@evansville.edu
Keith Turner to speak at today's Andiron Lecture
The next University of Evansville Andiron Lecture begins at 4:00 p.m. today - Wednesday, October 3 - in Eykamp Hall, Room 252, Ridgway University Center. A social gathering with beverages begins at 3:45 p.m.
Keith Turner will be discussing "Romans 13:1-10 in Ancient Context: Interpretation and Integration in the Public Square."
Turner serves as the John Wesley Minister and assistant chaplain and as assistant program director for the Lilly-funded summer youth theology institute, Open Table, at the University of Evansville. He is a licensed pastor in The United Methodist Church and brings a breadth and depth of experience in preaching and ministry to the Office of Religious Life.
Turner earned his Bachelor of Arts degree in Bible and Theology from Asbury University and his MDiv degree from Asbury Theological Seminary. While at Asbury, Turner was inducted into the International Society of Theta Phi, an academic honors society for exemplary religious scholarship and academic achievement.
In May 2018, the School of Practical Theology at Asbury Theological Seminary awarded him the Stanger Preaching Award for excellence in preaching, both in the crafting and delivery of sermons. He is also a member of the Wesleyan Theological Society.
In Romans 13:1-10, early Christian missionary and leader, Paul of Tarsus, penned a first-century open letter to the Jewish community living in Rome. During a period of socio-political turbulence and in a series of exhortations, Paul admonished, "Every person should place themselves under the authority of the government. (CEB)."
Cultures and governments in the nearly two millennia since these words were penned have used them to justify their right to govern with the expectation of submission from those who are governed. This presentation explores the cultural context prompting Paul's writing with consideration given to its implementation in society today.
For further information, call the series coordinator Annette Parks at 812-488-1070 or the William L. Ridgway College of Arts and Sciences at 812-488-2589.
Donate blood!
Donate blood with the American Red Cross on Tuesday, October 16 from 11:30 a.m.-4:30 pm. It will be on campus in Eykamp Hall, Ridgway University Center.
You can sign up now - look for the red and white posters around campus and use the QR code to get to the sign up website. You can check out Newman's instagram @ue_newman for the QR code as well.
If you can't donate, keep an eye out for opportunities to help with organization and advertising as well!
Submitted by Sam Wallisch sw265@evansville.edu
Trailblazing Astronaut Eileen Collins to Speak at UE's Snyder Lecture on October 17
Trailblazing astronaut Eileen Collins, the first woman to pilot and command an American spacecraft, will be the guest speaker for the University of Evansville's Patricia H. Snyder Lecture in October. The lecture is planned for Wednesday, October 17, at 7:00 p.m., in Eykamp Hall, Ridgway University Center, on UE's campus. The event is free and open to the public thanks to the generosity of the Snyder family.
One of America's most admired women, Col. Collins became the first female to pilot a US spacecraft with the Discovery shuttle flight in 1995, and the first female commander on the 1999 Columbia shuttle flight. In 2005, NASA tapped her to command the space shuttle Discovery's historic "Return to Flight" mission, NASA's first manned flight following the loss of space shuttle Columbia in 2003. While logging 872 hours in space, Collins earned a reputation for coolness under pressure.
Collins will discuss how her career as an astronaut took shape, from her early years in the US Air Force to her ground-breaking experience with NASA. Drawing from her career experiences, she will share valuable insights learned from both her successes and her failures. She will also provide insight into the future of space travel as the world turns to exciting new space frontiers.
The Patricia H. Snyder Concert and Lecture Series was made possible in 1997 through an endowment from the late Patricia H. Snyder, trustee and longtime friend of the University, to bring speakers or performers of renown to Evansville at no cost to the public.
Reservations are encouraged, but a ticket is not required to enter. Save your seat online here.
UE Ballroom Dance Club and Glenwood students' Cuban dance performance on Eyewitness News
The UE Ballroom Dance Club has been teaching Latin music and dance to Glenwood Leadership Academy students as part of the pilot Mad Hot Ballroom program. The students performed a Cuban salsa routine in costume at UE on Friday. Erin Lewis, associate director of UE's Center for Innovation & Change and owner and operator of Evansville Dancesport Academy, was interviewed by Eyewitness News about performance.
You can watch the interview, along with footage of the dance routine, here on the Tristatehompage website.
This year's pilot Mad Hot Ballroom program is a partnership between Lewis and Angela Paul, Glenwood Leadership Academy's dance instructor. The program came about as the result of a Global Scholar partnership between Lewis and UE assistant professor of music Shawn Teichmer.
This Week from the Harlaxton Office …
This is a continuation of the new weekly AceNotes updates from the Harlaxton office to keep the UE community informed about what we are up to, where we are traveling to promote Harlaxton, and what is going on with our favorite British manor house, so continue to check with us here each week to see what the US Harlaxton team is up to! This week, we'll include information about what we have going next week as well, since fall break will change up everyone's schedules!
Things are a little slower this week, with just one partner school study abroad fair happening on Wednesday, October 3. Kaylynn Carver, Harlaxton advisor, will travel to Florida Gulf Coast University to represent Harlaxton at that fair this week!
Next week, Kaylynn will be on the road again, to University of Wisconsin-Eau Claire on Tuesday-Wednesday, October 9-10, and Holly Carter, director of Harlaxton College Programs, will travel as well, to Claremont McKenna College in California. Scott Sherman, renowned professor and expert on social innovation and changemaking, is planning to teach at the Harlaxton summer session and lead a Transformative Action Summit at the manor this year.
Though there is a little less travel happening for the Harlaxton team right now, there are certainly a myriad of other projects and events upcoming! Harlaxton orientation classes are in full swing every other week, and in the next few weeks, preparation of immigration letters and pre-departure packets will begin as the departure of our Spring 2019 class gets closer! We have accepted 10 new Harlaxton Ambassadors and hope to get them started with training and working with students after fall break. Additionally, the team is excited to celebrate everything going on with Harlaxton at the Harlaxton Society Gregory Gregory Day event on Thursday, October 11 and the board meeting on Friday, October 12.
Submitted by Kaylynn Carver kc205@evansville.edu
TIAA individual counseling sessions for October
The TIAA-CREF representative will be on the UE campus for individual counseling sessions on Wednesday, October 17 and Thursday, October 18. To schedule an appointment, call TIAA-CREF at 1-800-732-8353.
Please note that the meeting location has been changed to Room 153 (Eades Music Room), Schroeder School of Business Building.
Submitted by Lori LeDuc ll138@evansville.edu
UE Bookstore fall break hours
The UE Bookstore will have reduced hours during Fall Break. The store will be closed on Saturday, October 6. On Monday and Tuesday, October 8 and 9, the store will open at 8:30 a.m. and close at 5:00 p.m. The UE Bookstore will resume normal store hours on Wednesday, October 10.
Submitted by Doug Gustwiller dg57@evansville.edu
Over 100 visitors toured Peters-Margedant House on Saturday
On Saturday, September 29, 110 people visited the Peters-Margedant House as part of the Family Weekend celebrations. Archaeology and art history majors who assisted with the tours included Lauren Bray, Emily Billhartz, Emily Newman, Maggie Sullivan, and Kaitlyn Woodworth-Mills. Art history students who helped prepare the house for the tour include Ghadah Alhajji, Al Reem Al Alawi, Suad Alharrasi, Tyler Feduccia, Abigail Goings, Alexa Hopf, Rachel Jones, Boeun (Bonnie) Kim, and Maureen Philibs. Thanks as well to admissions coordinator Jordan Hall for helping to coordinate the preparation of the house.
DoD STEM scholarship opportunity
The Department of Defense (DoD) SMART Scholarship Program is an opportunity for students pursuing an undergraduate degree in STEM disciplines to receive a full scholarship and be gainfully employed by the Department of Defense upon degree completion.
SMART Scholars will receive:
• A full tuition scholarship while in school
• An annual stipend
• Summer research internships
• A job after graduating in their STEM field at a cutting edge Department of Defense Facility
Applicants must:
• Be a citizen of the United States and 18 years of age or older
• Have a minimum cumulative GPA of 3.0 on a 4.0 scale
• Be pursuing a technical undergraduate in one of the 21 specified STEM disciplines
Tell your STEM students to visit smartscholarship.org to learn more and apply today!
Deadline to apply is December 1, 2018.
Submitted by Cathleen Wright cw259@evansville.edu
The Habitat House that UE Built! - Week 3 Update
Week 3 at the Habitat House that UE built was an exciting week. All of the walls are up and interior walls are in! In fact, UE has sent so many volunteers that we have helped with both house 499 and house 500! Go Aces!
We are on schedule and will have next Saturday (the 6th) off as the roof goes on the house. We will be back in action on the 13th to continue making progress and helping our homeowner reach her dream of home ownership.
If you would like to volunteer, or if you have any questions, please contact Holly Carter at hc110@evansville.edu.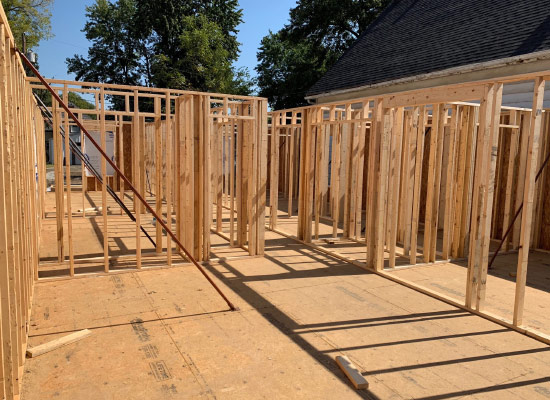 Submitted by Holly Carter hc110@evansville.edu
Interim university chaplain named
The University of Evansville has appointed The Rev. Mark Dicken as a part-time University chaplain. He will serve in the interim period until a search can commence and identify the next full-time University chaplain.
Dicken recently moved back to the area after serving churches in the southern, central and northern regions of Indiana for 32 years including two years as a missionary in Liberia and Sierra Leone.
He is an ordained elder in full connection with the Indiana Conference of the United Methodist Church.
Dicken earned a BA in Political Science from Earlham College, a Juris Doctor at Washington and Lee University, and a Master of Divinity from Christian Theological Seminary. Before answering the call to ministry, he practiced law as a law clerk to the Court of Appeals of Indiana, a deputy prosecutor for Marion County and a partner in an Indianapolis law firm focusing on litigation.
He was a clergy delegate to two General Conferences and three Jurisdictional Conferences of the United Methodist Church and served eight years as chair of the Indiana Conference Board of Trustees. He has served on various boards of directors including a regional hospital, Boy Scouts of America and Habitat for Humanity.
He lives with his wife of 39 years, Barbara Ward Dicken, in Newburgh, Indiana.
"We are excited to welcome Rev. Dicken to the University of Evansville to serve our students and the campus community in this special role. His familiarity with the Evansville area as a pastor, a member of the Neu Chapel Society Board of Directors, and a long-time supporter of religious life at UE will be immensely helpful over the next few months," said executive vice-president of academic affairs and provost, Michael Austin.
Dicken will serve in a part-time capacity and complement the work of assistant chaplain, Rev. Keith Turner. Gieselman will also provide consultant leadership in the interim period.
Fitness Center fall break hours
The Fitness Center fall break hours are:
Friday, October 5: 8:00 a.m.- 7:00 p.m.
Saturday, October 6: Closed
Sunday, October 7: Closed
Monday, October 8: 8:00 a.m.- 7:00 p.m.
Tuesday, October 9: 8:00 a.m.- 7:00 p.m.
Submitted by Lori Adams la87@evansville.edu
Need student volunteer for Ace Purple
A student volunteer is needed to be Ace Purple for a kickoff event for a fundraiser on October 23 from 8:30-10:00 a.m.
The event is for Don's Clayton's Coat-a-Kid and will take place at Fairlawn School in Evansville. It's a great way to give back to the community and get involved in a huge fundraiser!
Submitted by Jessica O'Shaughnessy Jo94@evansville.edu
Free HIV testing
Matthew 25 will be located at the Student Health Center for free HIV testing on Tuesday, October 2, from 9:00-11:00 a.m. No appointment needed.
Submitted by Tara Ulrich tu19@evansville.edu
LOVCIF Scholarship
Are you majoring in a construction related field such as management or civil engineering? Did you graduate from a high school within 100 miles of Evansville? If you meet both of these criteria, you are eligible to apply for the Lower Ohio Valley Construction Industry Fund Scholarship (LOVCIF). Deadline for application is Oct 12, 2018. E-mail cw259@evansville.edu or visit the Office of Financial Aid for an application.
Submitted by Cathleen Wright cw259@evansville.edu
Shannon Bryant named October 2018 Employee of the Month
Shannon Bryant has been named the October 2018 Employee of the Month! Shannon was nominated for her continuing efforts all across campus in making UE a great place for employees and students alike. She is known for her warm and kind spirit in helping students and fellow employees. Shannon serves as a host mom for UE international students, president of UESAA, and various other organizations within the community. She also received a joint award for her work in bringing the electronic golf cart to campus for the recycling department. You can find Shannon in the chemistry department where she works as the administrative assistant. Please help us congratulate Shannon as she is awarded the October 2018 Employee of the Month!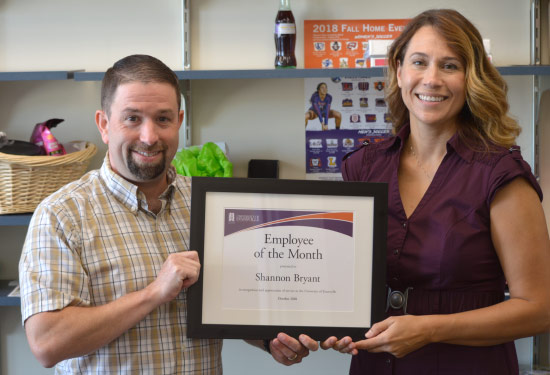 Chaney paces women's golf in day one at Butler
Madison Chaney is tied for fifth place at the halfway mark of the Butler Fall Invitational at Highland Country Club in Indianapolis.
Chaney carded a 6-over 76 in Monday's opening round to enter the final eighteen holes in a top five spot. Sydney Anderson was two strokes behind Chaney with a 78. The senior ranks in a tie for 15th place.
Lexie Sollman also shot in the 70's on Monday, recording a 79 to sit in a tie for 19th. Next up was Sophia Rohleder. The Evansville native finished with an 82 and was followed by Alyssa McMinn's 84. The duo is tied for 32nd and 48th, respectively.
Caitlin O'Donnell took part as an individual and finished Monday's round with an 84.
Evansville had an excellent day as a team, registering a 315. The Purple Aces sit in a tie with Indiana State for third on the team leaderboard. Butler leads the way with a 304 while IUPUI is five shots behind in second.
On the individual side, Mary Parsons, playing as an individual for Indiana University, shot a 2-under 68 and leads the competition by four strokes entering Tuesday's final round of 18.
UE Athletics Hall of Fame announces latest class
Three National Championship men's basketball teams will be entering the University of Evansville Athletics Hall of Fame in January of 2019. Included in the class are the teams from 1959-60, 1963-64 and 1970-71. The 1958-59 and 1964-65 championship squads were previously inducted into the hall.
These three teams will be honored in a banquet on Saturday, January 19, 2019 inside the main ballroom of the DoubleTree Hotel, which is adjacent to the Ford Center. The event is slated to take place following the Purple Aces men's basketball game against Illinois State that afternoon. UE takes on the Redbirds at 1:00 p.m. inside the Ford Center with the Hall of Fame banquet taking place following the game. A cash bar will be available inside the DoubleTree immediately following the game, giving inductees and fans the opportunity to interact.
Dinner will be served at 4:15 p.m. with the festivities beginning at 5:00 p.m. Cost for the banquet and dinner is $50.
Just a year after winning the first National Championship in school history, the 1959-60 team made it 2-for-2, going 25-4 on their way to the championship. After dropping the season opener to Iowa, the team won 10 in a row including wins over Valparaiso and Fresno State. In the season finale, the Aces defeated Chapman by a final score of 90-69 to earn its second championship.
Members of the 1959-60 team included: Tom Boyles, Walter Deal, Larry Erwin, Vince Gwaltney, Tom Hamilton, Mel Lurker, Tom Mulherin, Jim Nossett, Ken Reising, Bob Reisinger, P.M. Sanders, Ed Smallwood, Bill Thurneck and Dale Wise. Smallwood paced the team with 26.1 points and 12.0 rebounds. Wise added a team-high 17.1 rebounds.
Evansville made its return to the championship stage in 1964 as the team went 26-3 with triumphs over New Mexico State, Arizona and Purdue. The team rolled through the NCAA Tournament, with its closest game being a 64-59 win over Southern Illinois in the second round. UE clinched the championship on March 13, 1964, defeating Akron, 72-59.
The 1963-64 team members were: Wayne Boultinghouse, Buster Briley, Paul Bullard, Dave Cox, Larry Denton, Ed Coleman, Ron Eberhard, Dave Green, Russ Grieger, Robert Hermeyer, Larry Humes, Larry Isley, Allen McCutchan, Jerry Sloan, Jim Smith, Sam Watkins and Ed Zausch. Smith was the leading scorer with 15.8 points while Sloan (13.9) and Briley (13.5) were just behind. Sloan paced the team with 11.6 caroms per contest.
Evansville's final College Division National Championship came in 1971. The Aces started the year 4-5, but went on to win 18 of the final 21 games including a 97-82 victory over Old Dominion in the finals to clinch the school's fifth championship.
Team members were: Don Buse, Bob Clayton, John Clayton, Rick Coffey, John Couch, Peter Hughes, Curt John, Bob Keegan, Mike Kern, Greg Martin, James McKissic, Herman Oliver, Dan Paddock, Chaundice Pullom, Rick Smith, Monte Stebbins, Tyrone Towler, John Wellemeyer and Steve Welmer. Wellemeyer led the way with 19.8 points while Buse notched 18.2. Clayton was the top rebounder with 6.7 per game.
All three teams were led by Hall of Fame head coach Arad McCutchan. Paul Beck and Ray Bawel were assistants in 1959-60, Tom O'Brien was an assistant in 1963-64 and Wayne Boultinghouse was the assistant in 1971.
Contribute to AceNotes
To have content considered for inclusion in AceNotes, please submit a Marketing Request Form. Deadline for submission to AceNotes is 10:00 a.m. on the requested date of publication. Only articles concerning UE related/sponsored activities will be accepted. Articles submitted to AceNotes may be edited for length and clarity. Submitter contact information is at the end of each article.