| | |
| --- | --- |
| AceNotes Today | Monday, October 1, 2018 |
Muhammad Hassan Dajana (DJ) presents I-House Pakistan
Muhammad Hassan Dajana is an exchange student from Pakistan, who studies civil engineering back home. He loves the community at UE and is very excited about sharing his culture with everyone at I-House Pakistan on October 3. The event is upstairs in Ridgway University Center at 7:00 p.m.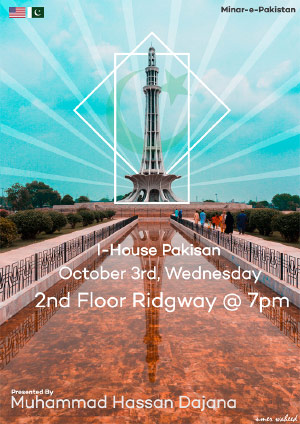 Submitted by Hussam Taj ht70@evansville.edu
Medical Spanish Group
The Medical Spanish Group meets twice a month to practice communication skills in Spanish. These sessions are open to anyone wanting to practice Spanish for medical settings. The next practice session is today, Wednesday, October 3, from 5:30-7:00 p.m. in Room 315 in Graves Hall. Please contact associate professor of Spanish Diana Rodríguez Quevedo at dr130@evansville.edu if you have any questions. ¡Nos vemos el miércoles!
Submitted by Diana Rodríguez Quevedo dr130@evansville.edu
Lunch Charlas today
Wanting to practice your Spanish? Join assistant professor of Spanish Edward Curran and associate professor of Spanish Diana Rodríguez Quevedo for lunch, and chat about different topics in Spanish on Wednesdays from noon-1:00 p.m. in the Starbuck's café area in Ridgway University Center. All levels of Spanish welcome. The next Lunch Charlas is today - Wednesday, October 3. Please contact Professor Rodríguez Quevedo at dr130@evansville.edu if you have any questions. ¡Ahí nos vemos!
Submitted by Diana Rodríguez Quevedo dr130@evansville.edu
UE's Annual Chili Bowl Sale Planned for today
The University of Evansville's Clay Club will present its annual Chili Bowl Sale TODAY - Thursday, October 25 - from 11:30 a.m.-1:30 p.m. The event will be outside Hughes Hall, near the East Terrace Lawn across from Ridgway University Center. The rain location is Eykamp Hall, Room 253, and the Class of 1959 Gallery and Lounge in Ridgway University Center.
Chartwells, the food service provider at UE, is co-sponsoring the event and providing chili made by chef Don Brown under the direction of Chris Clay.
For $10, customers can buy a one-of-a-kind ceramic bowl and fill it with chili. Paper containers will be available for those who prefer not to put chili in their newly purchased bowls. Larger bowls from $15-$50 will also be for sale. Some more artistic larger bowls will be sold at a silent auction as well, ranging in price from $60-$100.
The bowls are being made by members of the Clay Club and other UE students, faculty members, staff, alumni, and members of the community.
Half of the proceeds will be donated to the Potter's Wheel, Inner City Mission. The Clay Club officers chose this organization for their work with educating and feeding the less fortunate in the Evansville Community. The rest of the proceeds will be used by the Clay Club to attend conferences, visit museums and galleries, and host visiting artists.
Todd A. Matteson, Clay Club advisor and UE associate professor of art, noted that "a lot of hard work and long hours go into making the bowls. They are all hand crafted on the potter's wheel from a ball of clay. The artist has to center, form, alter, trim, dry, and then fire them, not once, but twice. The entire process is lengthy, but the outcome is a tremendous success. Most of the bowls have been glazed different from one another, but some of the bowls are glazed similarly, so patrons can have matching sets. Each bowl has its own uniqueness."
Newman Dinner and Discussion: Humane Vitae
Join us at the Newman House today - Wednesday, October 3 - at 5:00 p.m. for Dinner and Discussion! This week, we will be watching the documentary "Sexual Revolution: 50 Years Since Humanae Vitae," sponsored by Professor Jim Ware. All are welcome!
Submitted by Michaela Kunkler mk305@evansville.edu
Keith Turner to speak at today's Andiron Lecture
The next University of Evansville Andiron Lecture begins at 4:00 p.m. today - Wednesday, October 3 - in Eykamp Hall, Room 252, Ridgway University Center. A social gathering with beverages begins at 3:45 p.m.
Keith Turner will be discussing "Romans 13:1-10 in Ancient Context: Interpretation and Integration in the Public Square."
Turner serves as the John Wesley Minister and assistant chaplain and as assistant program director for the Lilly-funded summer youth theology institute, Open Table, at the University of Evansville. He is a licensed pastor in The United Methodist Church and brings a breadth and depth of experience in preaching and ministry to the Office of Religious Life.
Turner earned his Bachelor of Arts degree in Bible and Theology from Asbury University and his MDiv degree from Asbury Theological Seminary. While at Asbury, Turner was inducted into the International Society of Theta Phi, an academic honors society for exemplary religious scholarship and academic achievement.
In May 2018, the School of Practical Theology at Asbury Theological Seminary awarded him the Stanger Preaching Award for excellence in preaching, both in the crafting and delivery of sermons. He is also a member of the Wesleyan Theological Society.
In Romans 13:1-10, early Christian missionary and leader, Paul of Tarsus, penned a first-century open letter to the Jewish community living in Rome. During a period of socio-political turbulence and in a series of exhortations, Paul admonished, "Every person should place themselves under the authority of the government. (CEB)."
Cultures and governments in the nearly two millennia since these words were penned have used them to justify their right to govern with the expectation of submission from those who are governed. This presentation explores the cultural context prompting Paul's writing with consideration given to its implementation in society today.
For further information, call the series coordinator Annette Parks at 812-488-1070 or the William L. Ridgway College of Arts and Sciences at 812-488-2589.
This Week in Music: Debussy100 Festival
From Sunday, September 30 through Tuesday, October 2, The University of Evansville will hold a music festival entitled Debussy100, in honor of 100 years since the death of French composer Claude Debussy. UE will welcome two guest pianists - Paulina Zamora, associate professor of music from the University of Chile, and Catherine Kautsky, chair of keyboard at Lawrence University in Wisconsin.
Zamora is an internationally renowned pianist who recently recorded all of Debussy's 12 Études, and will perform a selection of them at her recital.
Kautsky is a prominent Debussy scholar who recently published a book titled Debussy's Paris: Piano Portraits of the Belle Époque. In addition to playing a recital, Kautsky will be available to sell and autograph her book.
Debussy100 will also feature two masterclasses, a lecture, and a student recital, and will conclude with a Tuesday evening concert by UE faculty. In total, eighteen college and pre-college students will participate, along with fifteen professional musicians.
Admission to all events is free and the public is warmly invited.
A complete schedule is available at www.evansville.edu/debussy100.
Department contact Garnet Ungar, UE professor of music: 812-488-2228, gu2@evansville.edu
Submitted by James Sullivan James Sullivan js820@evansville.edu
Lecture on "Higher Education: America's Troubled Dream Machine"
Retired University of Southern Indiana president Linda Bennett, PhD, will give the Stephens-Otterson Lecture at Trinity United Methodist Church on October 14 at 2:00 p.m. She will be discussing "Higher Education: America's Troubled Dream Machine." All those interested in this topic are invited to attend. The church is located at 216 SE Third Street in Evansville.
If you have any questions, please contact Kathy Bartelt, UE associate professor emerita, at kb4@evansville.edu.
Submitted by Kathryn R. Bartelt kb4@evansville.edu
Donate blood!
Donate blood with the American Red Cross on Tuesday, October 16 from 11:30 a.m.-4:30 pm. It will be on campus in Eykamp Hall, Ridgway University Center.
You can sign up now - look for the red and white posters around campus and use the QR code to get to the sign up website. You can check out Newman's instagram @ue_newman for the QR code as well.
If you can't donate, keep an eye out for opportunities to help with organization and advertising as well!
Submitted by Sam Wallisch sw265@evansville.edu
Interim university chaplain named
The University of Evansville has appointed The Rev. Mark Dicken as a part-time University chaplain. He will serve in the interim period until a search can commence and identify the next full-time University chaplain.
Dicken recently moved back to the area after serving churches in the southern, central and northern regions of Indiana for 32 years including two years as a missionary in Liberia and Sierra Leone.
He is an ordained elder in full connection with the Indiana Conference of the United Methodist Church.
Dicken earned a BA in Political Science from Earlham College, a Juris Doctor at Washington and Lee University, and a Master of Divinity from Christian Theological Seminary. Before answering the call to ministry, he practiced law as a law clerk to the Court of Appeals of Indiana, a deputy prosecutor for Marion County and a partner in an Indianapolis law firm focusing on litigation.
He was a clergy delegate to two General Conferences and three Jurisdictional Conferences of the United Methodist Church and served eight years as chair of the Indiana Conference Board of Trustees. He has served on various boards of directors including a regional hospital, Boy Scouts of America and Habitat for Humanity.
He lives with his wife of 39 years, Barbara Ward Dicken, in Newburgh, Indiana.
"We are excited to welcome Rev. Dicken to the University of Evansville to serve our students and the campus community in this special role. His familiarity with the Evansville area as a pastor, a member of the Neu Chapel Society Board of Directors, and a long-time supporter of religious life at UE will be immensely helpful over the next few months," said executive vice-president of academic affairs and provost, Michael Austin.
Dicken will serve in a part-time capacity and complement the work of assistant chaplain, Rev. Keith Turner. Gieselman will also provide consultant leadership in the interim period.
Fitness Center fall break hours
The Fitness Center fall break hours are:
Friday, October 5: 8:00 a.m.- 7:00 p.m.
Saturday, October 6: Closed
Sunday, October 7: Closed
Monday, October 8: 8:00 a.m.- 7:00 p.m.
Tuesday, October 9: 8:00 a.m.- 7:00 p.m.
Submitted by Lori Adams la87@evansville.edu
Need student volunteer for Ace Purple
A student volunteer is needed to be Ace Purple for a kickoff event for a fundraiser on October 23 from 8:30-10:00 a.m.
The event is for Don's Clayton's Coat-a-Kid and will take place at Fairlawn School in Evansville. It's a great way to give back to the community and get involved in a huge fundraiser!
Submitted by Jessica O'Shaughnessy Jo94@evansville.edu
Free HIV testing
Matthew 25 will be located at the Student Health Center for free HIV testing on Tuesday, October 2, from 9:00-11:00 a.m. No appointment needed.
Submitted by Tara Ulrich tu19@evansville.edu
Apply to be an RA!
The Office of Residence Life is currently accepting applications for resident assistants for the Spring 2019 semester. You can find RA applications on UEngage under Forms or by using this link. Applications are due by October 23 at 11:59 p.m. and applicant interviews will take place October 29-November 1.
Please contact Megan King at mk225@evansville.edu, Karyssa Vasquez at kv54@evansville.edu, or Darrion Culler at dc199@evansville.edu with any questions you may have.
Submitted by Megan King mk225@evansville.edu
Apply for graduation
Attention juniors and seniors! Please make sure that you apply for graduation on MyUE Self-Service. Contact the Office of the Registrar at registrar@evansville.edu with any questions.
Submitted by Ashley Nels an89@evansville.edu
Spring housing cancellation deadline
Students, the deadline to cancel your UE housing contract for the spring semester is October 5. Stop by the residence life office to cancel your housing contract without penalty for the spring semester if you will be:
Attending Harlaxton or studying abroad
In an internship, co-op, or clinical outside of the Evansville area
Moving into a fraternity house
Transferring, withdrawing, or graduating
Requests not falling in the above categories are typically not granted. Requests to move off campus to live with friends or move into an apartment are not sufficient reasons to cancel a UE housing contract. Entering into any other housing agreement or lease with a private landlord will have no effect upon the conditions of your contract with the University of Evansville.
For more information, contact the residence life staff or visit our website - www.evansville.edu/residencelife/housingapplyreturn/cancellationsAndRefunds.cfm.
Submitted by Brian Conner bc32@evansville.edu
UE Homecoming Royalty 2018 nominations
During Homecoming Weekend, we plan to recognize our UE Homecoming Royalty 2018. To be eligible, students must be a full time student and member of the senior class. Nominations may be made by anyone on campus, either a student organization, group of friends, team, roommates, etc.
Please complete this nomination form by Monday, October 1.
UE Homecoming Royalty finalists will be announced at the Pep Rally on Friday, October 26 at 4:30 p.m. on the East Terrace Lawn. The top eight individuals with the most votes will be announced and asked to join us at the Men's Soccer game on Saturday, October 27 at 5:00 p.m. at Arad McCutchan Stadium.
At halftime, the finalists will be announced to the crowd and the two individuals with the most votes will be named our UE Homecoming Royalty 2018.
Following the game, Homecoming Royalty will then lead the crowd in counting down to the Homecoming Firework Show.
Submitted by Megan King mk225@evansville.edu
LOVCIF Scholarship
Are you majoring in a construction related field such as management or civil engineering? Did you graduate from a high school within 100 miles of Evansville? If you meet both of these criteria, you are eligible to apply for the Lower Ohio Valley Construction Industry Fund Scholarship (LOVCIF). Deadline for application is Oct 12, 2018. E-mail cw259@evansville.edu or visit the Office of Financial Aid for an application.
Submitted by Cathleen Wright cw259@evansville.edu
CECS to offer UExplore Engineering Program
The College of Engineering and Computer Science is offering a UExplore Engineering Program for high school students. The program is designed to give participants a better understanding of the fields of civil, mechanical, electrical, and computer engineering and computer science through activities, hands-on projects, and tours of local industry.
The sessions in the program are October 15, November 5, November 26, January 21, February 18, March 11, April 1, and April 22. All sessions will be from 6:00-7:15 p.m. in the Koch Center for Engineering and Science on UE's campus.
James Allen, UE associate professor of mechanical and civil engineering, is the advisor for the program. A registered professional engineer in the states of Indiana and Ohio, Allen has extensive work experience in industry. Allen will be assisted with the program by UE engineering students.
The registration fee for the program is $50. Register online at www.evansville.edu/uexploreengineering or contact Kimberly Higgins for more information at 812-488-2661 or kh209@evansville.edu.
Submitted by Kim Higgins kh209@evansville.edu
Your Mental Health Matters
October is Depression Awareness Month. Depression can include feelings of hopelessness and leave someone feeling sad or empty. If you or someone you know is depressed, speak up. Your mental health matters.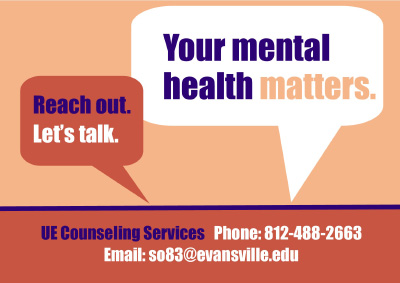 The University of Evansville Counseling Services are available for students to receive free mental health counseling on campus. Their office is located on the second floor of Ridgeway University Center. Appointments can be made by calling 812-488-2663.
Submitted by Carissa Prince cp221@evansville.edu
Rachel Tam leads Aces against Braves
Junior Rachel Tam recorded a game-high 21 kills as the University of Evansville volleyball team came up short at Bradley by a final of 3-0 on Saturday evening.

Tam hit .240 in the match with 21 kills in 50 tries for UE (6-12, 0-5 MVC). Mildrelis Rodriguez and Alondra Vazquez finished with 6 and 5 kills, respectively. Vazquez paced the team with 19 digs while Allana McInnis had 24 assists. Erica Haslag and Hannah Thompson paced the Braves (14-2, 4-0 MVC) with 12 and 11 kills.

Evansville led early in game one with a BU error giving them a 2-1 edge. Bradley notched the next two to take the lead before extending the advantage to seven at 11-4. The Aces slowly made their way back, cutting a 22-17 deficit to just a pair at 22-20 with back-to-back kills from Tam and Kerra Cornist. The Braves regrouped following a time out, scoring the final three to win by a 25-20 score.

In the second game, the Braves posted the first two points and never trailed. UE kept it close with a Tam kill getting her squad within three at 14-11, but BU pushed its lead back out to seven (24-17) before the Aces scored three in a row to make it the final of 25-20.

An excellent start saw UE jump out to an 8-1 lead in the third frame. Tam and Rodriguez notched two kills apiece in the run. Bradley came back with four in a row to make it an 8-5 game, but the Aces stood strong with another Tam kill extending the lead back to five at 15-10. The difference for the Braves came in a 10-3 run gave them a 20-18 edge, their first lead of the set. Evansville fought back to tie it at 22-22 on a Vazquez kill, but the Braves hung on, scoring the last three tallies to clinch the match with a 25-22 triumph.

UE looks to regain its stride when it returns home next weekend to take on Southern Illinois and Missouri State.
UE Athletics introduces Purple Reign Rewards app
The University of Evansville athletics department is proud to announce the new student rewards program - Purple Reign Rewards presented by Old National Bank and powered by SuperFan.
Purple Reign Rewards is for current UE students. It is available on the iTunes App Store and Google Play. Students simply download the app, attend events, obtain points, and spend the points in our prize store Prizes include Aces swag, special offers and gift cards from over 12 restaurants, unique experiences, and more! Search "Purple Reign Rewards" to find the app.
"We are thrilled to partner with SuperFan to offer our students the premier loyalty and fan engagement platform in the industry," UE assistant AD for marketing and fan engagement Scott Peace said. "A huge thank you to Old National Bank for sponsoring our new Purple Reign Rewards Program."
SuperFan is the leading fan loyalty & engagement company in college sports today. It is changing the way your school, team, and alumni association communicate with fans today. Founded in 2011 by two fans themselves, Chris Nowak and Kayla Mount saw schools struggle with attendance at school-wide events, wasting marketing dollars on brand awareness, over-looking potential fans, and an overall lack of fan data.
"We know that our partnership with the University of Evansville will yield lots of excitement this year," says Kayla Mount, Co-Founder and COO of SuperFan. "The fan experience is so important to engaging students, so we look forward to great collaboration with lots of fun outcomes in the near future."
SuperFan was born from necessity to help schools connect with their fans, find out who their fans truly are, engage and reward them, and provide schools with data they never had before to help them market smarter."
Students can download the app for free today on the App Store or Google Play. The first event available for check-in is the men's soccer match against Butler on October 2 at 6:00 p.m. To check-in simply, enter the stadium, check-in on the app any time one hour prior to kick-off until halftime, and earn points!
Contribute to AceNotes
To have content considered for inclusion in AceNotes, please submit a Marketing Request Form. Deadline for submission to AceNotes is 10:00 a.m. on the requested date of publication. Only articles concerning UE related/sponsored activities will be accepted. Articles submitted to AceNotes may be edited for length and clarity. Submitter contact information is at the end of each article.