| | |
| --- | --- |
| AceNotes Today | Friday, September 28, 2018 |
World renowned violinist Tessa Lark visits UE today
Today - Friday, September 28 - the Evansville community is invited to meet world renowned violinist Tessa Lark at an informal session at 4:00 p.m. in Wheeler Concert Hall, Krannert Hall of Music and Art on the University of Evansville campus. Admission is free and open to the public.
Lark will be performing with the Evansville Philharmonic Orchestra on Saturday evening at 7:00 p.m. at the Victory Theater. She will be performing Beethoven's Romance in F Major, Sarasate Zigeunerweisen as well as Love Letter, written by her fiancé, Michael Thurber, that displays her versatility in diverse genres such as bluegrass, hip-hop, jazz, African and rock. Tessa is one of the fastest rising young violinists on the concert scene today.
Lark is recipient of a 2018 Borletti-Buitoni Trust Fellowship and a 2016 Avery Fisher Career Grant, a Silver Medalist in the 9th Quadrennial International Violin Competition of Indianapolis, and winner of the 2012 Naumburg International Violin Competition. She is also the recipient of a career grant from the Leonore Annenberg Fellowship Fund for the Performing and Visual Arts in 2014.
For more information, contact Carol Dallinger, professor of violin in the Department of Music, at cd23@evansville.edu or 812-488-2229.
Submitted by James Sullivan js820@evansville.edu
Family Weekend Sale at the UE Bookstore
The UE Bookstore will have extended hours during Family Weekend (September 28-30) and will offer 15% OFF of all clothing and gifts purchases. Hours will be Friday, September 28 from 8:00 a.m. to 6:00 p.m., Saturday, September 29 from 10:00 a.m. to 4:00 p.m., and a couple of hours – noon to 2:00 p.m. - on Sunday, September 30. Look for some special clearance items as well.
Submitted by Doug Gustwiller dg57@evansville.edu
Memoirist Kelly Sundberg speaking at today's Creative Writing Coffee Hour
Author Kelly Sundberg will read from her work at the University of Evansville Creative Writing Department's Coffee Hour today - September 28. The reading will begin at 4:00 p.m. in the Melvin Peterson Gallery at UE. Sundberg will be reading from her memoir, Goodbye, Sweet Girl, which was published in June 2018. This event is free and open to the public.
Sundburg's essays have appeared in Guernica, Gulf Coast, The Rumpus, Denver Quarterly, Slice Magazine, and others.
Her essay "It Will Look Like a Sunset" was selected for inclusion in Best American Essays 2015, and more of her essays have been listed as notables in the same series.
Sundberg has a PhD in Creative Nonfiction from Ohio University. She has been the recipient of fellowships or grants from Vermont Studio Center, A Room of Her Own Foundation, Dickinson House, and the National Endowment for the Arts.
For more information, contact Paul Bone at pb28@evansville.edu.
UE's Annual Chili Bowl Sale Planned for today
The University of Evansville's Clay Club will present its annual Chili Bowl Sale TODAY - Thursday, October 25 - from 11:30 a.m.-1:30 p.m. The event will be outside Hughes Hall, near the East Terrace Lawn across from Ridgway University Center. The rain location is Eykamp Hall, Room 253, and the Class of 1959 Gallery and Lounge in Ridgway University Center.
Chartwells, the food service provider at UE, is co-sponsoring the event and providing chili made by chef Don Brown under the direction of Chris Clay.
For $10, customers can buy a one-of-a-kind ceramic bowl and fill it with chili. Paper containers will be available for those who prefer not to put chili in their newly purchased bowls. Larger bowls from $15-$50 will also be for sale. Some more artistic larger bowls will be sold at a silent auction as well, ranging in price from $60-$100.
The bowls are being made by members of the Clay Club and other UE students, faculty members, staff, alumni, and members of the community.
Half of the proceeds will be donated to the Potter's Wheel, Inner City Mission. The Clay Club officers chose this organization for their work with educating and feeding the less fortunate in the Evansville Community. The rest of the proceeds will be used by the Clay Club to attend conferences, visit museums and galleries, and host visiting artists.
Todd A. Matteson, Clay Club advisor and UE associate professor of art, noted that "a lot of hard work and long hours go into making the bowls. They are all hand crafted on the potter's wheel from a ball of clay. The artist has to center, form, alter, trim, dry, and then fire them, not once, but twice. The entire process is lengthy, but the outcome is a tremendous success. Most of the bowls have been glazed different from one another, but some of the bowls are glazed similarly, so patrons can have matching sets. Each bowl has its own uniqueness."
Keith Turner to speak at today's Andiron Lecture
The next University of Evansville Andiron Lecture begins at 4:00 p.m. today - Wednesday, October 3 - in Eykamp Hall, Room 252, Ridgway University Center. A social gathering with beverages begins at 3:45 p.m.
Keith Turner will be discussing "Romans 13:1-10 in Ancient Context: Interpretation and Integration in the Public Square."
Turner serves as the John Wesley Minister and assistant chaplain and as assistant program director for the Lilly-funded summer youth theology institute, Open Table, at the University of Evansville. He is a licensed pastor in The United Methodist Church and brings a breadth and depth of experience in preaching and ministry to the Office of Religious Life.
Turner earned his Bachelor of Arts degree in Bible and Theology from Asbury University and his MDiv degree from Asbury Theological Seminary. While at Asbury, Turner was inducted into the International Society of Theta Phi, an academic honors society for exemplary religious scholarship and academic achievement.
In May 2018, the School of Practical Theology at Asbury Theological Seminary awarded him the Stanger Preaching Award for excellence in preaching, both in the crafting and delivery of sermons. He is also a member of the Wesleyan Theological Society.
In Romans 13:1-10, early Christian missionary and leader, Paul of Tarsus, penned a first-century open letter to the Jewish community living in Rome. During a period of socio-political turbulence and in a series of exhortations, Paul admonished, "Every person should place themselves under the authority of the government. (CEB)."
Cultures and governments in the nearly two millennia since these words were penned have used them to justify their right to govern with the expectation of submission from those who are governed. This presentation explores the cultural context prompting Paul's writing with consideration given to its implementation in society today.
For further information, call the series coordinator Annette Parks at 812-488-1070 or the William L. Ridgway College of Arts and Sciences at 812-488-2589.
Parent Weekend Mass and reception!
There will be a Catholic Mass this Sunday, October 30 at 1:00 p.m. in Neu Chapel. Father Godfrey will be the celebrant. We will have a reception afterwards (with snacks) so feel free to stay afterwards and mingle! All are welcome!
Submitted by Sam Wallisch sw265@evansville.edu
SAB Family Weekend Magician Saturday
Join SAB on Saturday, September 29 at 8:00 p.m. in Eykamp Hall in Ridgway University Center for magician Chris Carter. Come be amazed with what Chris Carter is able to do with his mind! Free for UE students and their families!
Submitted by Megan King mk225@evansville.edu
Mindfulness Service in Neu Chapel: Sunday at 9:00 p.m.
Neu Chapel's 9:00 p.m. #StillWokeUE service has been described as "the most beautiful 25 minutes on campus!" Filled with rich poetry, guided meditation, beautiful music led by a string orchestra, and candle lighting, this prayer and mindfulness service is not your average church service. But it is an ideal way to prepare yourself for a new week. All are invited and welcome to attend and participate in this meaningful experience.
Submitted by Keith Turner kt160@evansville.edu
University Worship asks, "Is God in control of everything?"
This Sunday at 9:00 a.m., the Neu Chapel community will continue its #MixedMessages sermon series as we consider the question, "Is God really in control of everything?" Is God some sort of divine micromanager who has a plan for everything? Does everything really happen for a reason? Join us as we consider these important questions together! You won't want to miss it!
Submitted by Keith Turner kt160@evansville.edu
Lecture on "Higher Education: America's Troubled Dream Machine"
Retired University of Southern Indiana president Linda Bennett, PhD, will give the Stephens-Otterson Lecture at Trinity United Methodist Church on October 14 at 2:00 p.m. She will be discussing "Higher Education: America's Troubled Dream Machine." All those interested in this topic are invited to attend. The church is located at 216 SE Third Street in Evansville.
If you have any questions, please contact Kathy Bartelt, UE associate professor emerita, at kb4@evansville.edu.
Submitted by Kathryn R. Bartelt kb4@evansville.edu
International Karaoke Night
Come to the International Club's Karaoke Night to sing along and enjoy some ice cream! No musical talent required. The event is this Saturday, September 29, 6:00-8:00 p.m. in Eykamp Hall, Rooms 253-255, Ridgway University Center.
Submitted by Emile Moura em238@evansville.edu
This Week in Music: Family Weekend Concert and Debussy Festival
Family Weekend Concert
Saturday, September 29, 5:00 p.m.
Ridgway University Center, East Terrace Lawn
During this year's Family Weekend, the music department will present a special concert featuring University Choir, UE Symphony Orchestra, and UE Wind Ensemble. The concert will take place Saturday, September 29, at 5:00 p.m. on the East Terrace Lawn of Ridgway University Center.
University Choir, under the direction of Dennis Malfatti, will kick off the concert with arrangements of Just as the Tide Was Flowing and I'll Fly Away. Chun-Ming Chen will then direct the UE Symphony Orchestra in a performance of selections from Tchaikovsky's Eugene Onegin. The UE Wind Ensemble, directed by Kenneth Steinsultz, will conclude the program with Candide Suite by Leonard Bernstein and The Purple Carnival by Harry Alford. The concert is free and open to the public.
For complete program information, please visit the music department concert calendar.
Debussy100 Music Festival
Sunday, September 30-Tuesday, October 2
From Sunday, September 30 through Tuesday, October 2, The University of Evansville will hold a music festival entitled Debussy100, in honor of the 100 years since the death of French composer Claude Debussy. UE will welcome two guest pianists - Paulina Zamora from the University of Chile and Catherine Kautsky from Lawrence University in Wisconsin.
Zamora is an internationally renowned pianist who recently recorded all of Debussy's 12 Études, and will perform a selection of them at her recital.
Kautsky is a prominent Debussy scholar who recently published a book entitled Debussy's Paris: Piano Portraits of the Belle Époque. In addition to playing a recital, Kautsky will be available to sell and autograph her book. Debussy100 will also feature two masterclasses, a lecture, and a student recital, and will conclude with a Tuesday evening concert by UE faculty. In total, 18 college and pre-college students will participate, along with 15 professional musicians. Admission to all events is free and the public is warmly invited. A complete schedule is available here.
Department Contact: Garnet Ungar, professor of music, University of Evansville, 812-488-2228, gu2@evansville.edu
Submitted by James Sullivan js820@evansville.edu
Trailblazing Astronaut Eileen Collins to Speak at UE's Snyder Lecture on October 17
Trailblazing astronaut Eileen Collins, the first woman to pilot and command an American spacecraft, will be the guest speaker for the University of Evansville's Patricia H. Snyder Lecture in October. The lecture is planned for Wednesday, October 17, at 7:00 p.m., in Eykamp Hall, Ridgway University Center, on UE's campus. The event is free and open to the public thanks to the generosity of the Snyder family.
One of America's most admired women, Col. Collins became the first female to pilot a US spacecraft with the Discovery shuttle flight in 1995, and the first female commander on the 1999 Columbia shuttle flight. In 2005, NASA tapped her to command the space shuttle Discovery's historic "Return to Flight" mission, NASA's first manned flight following the loss of space shuttle Columbia in 2003. While logging 872 hours in space, Collins earned a reputation for coolness under pressure.
Collins will discuss how her career as an astronaut took shape, from her early years in the US Air Force to her ground-breaking experience with NASA. Drawing from her career experiences, she will share valuable insights learned from both her successes and her failures. She will also provide insight into the future of space travel as the world turns to exciting new space frontiers.
The Patricia H. Snyder Concert and Lecture Series was made possible in 1997 through an endowment from the late Patricia H. Snyder, trustee and longtime friend of the University, to bring speakers or performers of renown to Evansville at no cost to the public.
Reservations are encouraged, but a ticket is not required to enter. Save your seat online here.
UE Community invited to Lincolnshire Front Porch Festival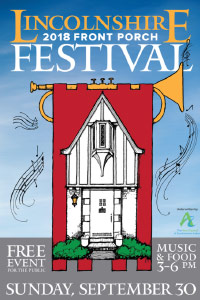 The Lincolnshire Front Porch Festival will take place on Sunday. September 30 from 3:00-6:00 p.m. This close-by neighborhood (College Hwy, S. Willow Road right off of Lincoln Ave) festival will feature live music and food by Pizza Revolution and others. The event is FREE and open to the public, including the entire UE community.
Come by and experience LIVE music and good food in a historic neighborhood. This event is made possible by the United Neighborhoods of Evansville, Greater Lincolnshire Neighborhood Association, and the Arts Council of Southwestern Indiana.
For more information, you may contact Timothy Zifer at tz3@evansville.edu or ext. 2878.
Submitted by Tim Zifer tz3@evansville.edu
Webelos Engineering Pin Day 2018
The College of Engineering and Computer Science will host Webelos Engineering Pin Day on Saturday, October 27. Workshops with activity stations will provide some of the experience required for a Webelos Scout to qualify for an engineering pin. Registration is limited to 200 scouts. Registrations will be taken until the event is full or October 18.
Registration details are available at www.evansville.edu/WebelosEngineeringPinDay.
For further information, contact Kimberly Higgins at kh209@evansville.edu, telephone: 812-488-2651.
Submitted by Kimberly Higgins kh209@evansville.edu
Interim university chaplain named
The University of Evansville has appointed The Rev. Mark Dicken as a part-time University chaplain. He will serve in the interim period until a search can commence and identify the next full-time University chaplain.
Dicken recently moved back to the area after serving churches in the southern, central and northern regions of Indiana for 32 years including two years as a missionary in Liberia and Sierra Leone.
He is an ordained elder in full connection with the Indiana Conference of the United Methodist Church.
Dicken earned a BA in Political Science from Earlham College, a Juris Doctor at Washington and Lee University, and a Master of Divinity from Christian Theological Seminary. Before answering the call to ministry, he practiced law as a law clerk to the Court of Appeals of Indiana, a deputy prosecutor for Marion County and a partner in an Indianapolis law firm focusing on litigation.
He was a clergy delegate to two General Conferences and three Jurisdictional Conferences of the United Methodist Church and served eight years as chair of the Indiana Conference Board of Trustees. He has served on various boards of directors including a regional hospital, Boy Scouts of America and Habitat for Humanity.
He lives with his wife of 39 years, Barbara Ward Dicken, in Newburgh, Indiana.
"We are excited to welcome Rev. Dicken to the University of Evansville to serve our students and the campus community in this special role. His familiarity with the Evansville area as a pastor, a member of the Neu Chapel Society Board of Directors, and a long-time supporter of religious life at UE will be immensely helpful over the next few months," said executive vice-president of academic affairs and provost, Michael Austin.
Dicken will serve in a part-time capacity and complement the work of assistant chaplain, Rev. Keith Turner. Gieselman will also provide consultant leadership in the interim period.
Need student volunteer for Ace Purple
A student volunteer is needed to be Ace Purple for a kickoff event for a fundraiser on October 23 from 8:30-10:00 a.m.
The event is for Don's Clayton's Coat-a-Kid and will take place at Fairlawn School in Evansville. It's a great way to give back to the community and get involved in a huge fundraiser!
Submitted by Jessica O'Shaughnessy Jo94@evansville.edu
Free HIV testing
Matthew 25 will be located at the Student Health Center for free HIV testing on Tuesday, October 2, from 9:00-11:00 a.m. No appointment needed.
Submitted by Tara Ulrich tu19@evansville.edu
Apply to be an RA!
The Office of Residence Life is currently accepting applications for resident assistants for the Spring 2019 semester. You can find RA applications on UEngage under Forms or by using this link. Applications are due by October 23 at 11:59 p.m. and applicant interviews will take place October 29-November 1.
Please contact Megan King at mk225@evansville.edu, Karyssa Vasquez at kv54@evansville.edu, or Darrion Culler at dc199@evansville.edu with any questions you may have.
Submitted by Megan King mk225@evansville.edu
Apply for graduation
Attention juniors and seniors! Please make sure that you apply for graduation on MyUE Self-Service. Contact the Office of the Registrar at registrar@evansville.edu with any questions.
Submitted by Ashley Nels an89@evansville.edu
Spring housing cancellation deadline
Students, the deadline to cancel your UE housing contract for the spring semester is October 5. Stop by the residence life office to cancel your housing contract without penalty for the spring semester if you will be:
Attending Harlaxton or studying abroad
In an internship, co-op, or clinical outside of the Evansville area
Moving into a fraternity house
Transferring, withdrawing, or graduating
Requests not falling in the above categories are typically not granted. Requests to move off campus to live with friends or move into an apartment are not sufficient reasons to cancel a UE housing contract. Entering into any other housing agreement or lease with a private landlord will have no effect upon the conditions of your contract with the University of Evansville.
For more information, contact the residence life staff or visit our website - www.evansville.edu/residencelife/housingapplyreturn/cancellationsAndRefunds.cfm.
Submitted by Brian Conner bc32@evansville.edu
UE Homecoming Royalty 2018 nominations
During Homecoming Weekend, we plan to recognize our UE Homecoming Royalty 2018. To be eligible, students must be a full time student and member of the senior class. Nominations may be made by anyone on campus, either a student organization, group of friends, team, roommates, etc.
Please complete this nomination form by Monday, October 1.
UE Homecoming Royalty finalists will be announced at the Pep Rally on Friday, October 26 at 4:30 p.m. on the East Terrace Lawn. The top eight individuals with the most votes will be announced and asked to join us at the Men's Soccer game on Saturday, October 27 at 5:00 p.m. at Arad McCutchan Stadium.
At halftime, the finalists will be announced to the crowd and the two individuals with the most votes will be named our UE Homecoming Royalty 2018.
Following the game, Homecoming Royalty will then lead the crowd in counting down to the Homecoming Firework Show.
Submitted by Megan King mk225@evansville.edu
CECS to offer UExplore Engineering Program
The College of Engineering and Computer Science is offering a UExplore Engineering Program for high school students. The program is designed to give participants a better understanding of the fields of civil, mechanical, electrical, and computer engineering and computer science through activities, hands-on projects, and tours of local industry.
The sessions in the program are October 15, November 5, November 26, January 21, February 18, March 11, April 1, and April 22. All sessions will be from 6:00-7:15 p.m. in the Koch Center for Engineering and Science on UE's campus.
James Allen, UE associate professor of mechanical and civil engineering, is the advisor for the program. A registered professional engineer in the states of Indiana and Ohio, Allen has extensive work experience in industry. Allen will be assisted with the program by UE engineering students.
The registration fee for the program is $50. Register online at www.evansville.edu/uexploreengineering or contact Kimberly Higgins for more information at 812-488-2661 or kh209@evansville.edu.
Submitted by Kim Higgins kh209@evansville.edu
ICCE Undergraduate Students of the Year Award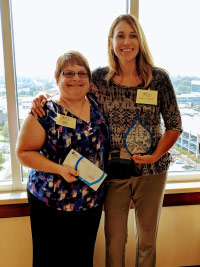 Shannon Bryant and Julie Wilson, recent Organizational Leadership graduates, have been awarded with the Indiana Council of Continuing Education Undergraduate Students of the Year Award.
The two were honored with the award for their efforts in and out of the classroom during a conference Indianapolis.
The criteria for the award is as follows:
Examples of different institutional definitions include: being at least 25 years of age; having interrupted progress toward an educational objective for a minimum of a three-year period after high school; having combined work (loosely defined: could mean single parenting, etc.) and schooling on a continuous basis for a period of several years.
Maintained an academic achievement of a minimum of a "B" average or 3.0 on a 4.0 scale.
Have volunteered or provided other service to campus and/or community; involved in leadership role or had a membership in campus organizations; served in student government, nontraditional or adult student groups; and/or tutored other students needing assistance.
Retains personal characteristics which have helped the nominee overcome challenges to attend and/or complete an educational objective, e.g. associate, baccalaureate, or graduate degree. This criterion should illuminate the effort of nominated students in the light of their achievement and service activities.
Graduated within one year of the award.
Volleyball heads to Illinois State and Bradley
Road play continues for the University of Evansville volleyball team as the Purple Aces head to central Illinois to face Illinois State this evening before heading to Bradley on Saturday. Both matches will begin at 7:00 p.m.
UE played its first three league matches over the last week; the team competed hard in each one, but enters the weekend at 0-3. Highlighting the opening three matches was a 5-set contest at home against Loyola in the opener as Rachel Tam posted 22 kills with Mildrelis Rodriguez finishing with 17.
The start of conference play did not deter the great start to the year for Rachel Tam. In the first three MVC matches, Tam recorded 3.92 kills per frame – including 22 against Loyola; the only difference fo Tam has been her hitting percentage, overall, she is hitting .208, but finished at 0.122 in the first three league matches.
Sophomore Allana McInnis has settled in as UE's top setter and has responded with at least 18 assists in seven of the last eight matches. That included the top match of her college career against Tennessee State, where she had a total of 60 assists in leading UE to a 5-set win; she posted 51 in the MVC opener against Loyola. McInnis continues to play well as a sophomore, notching 6.19 assists per game while recording 16 or more in 11 of the 16 matches; since the NKU match on Sept. 8, she has averaged 7.9 assists per set, a total of 236 over the course of 30 sets.
Illinois State comes into the weekend with a 10-4 overall mark and are 2-0 in the first two league matches with road victories at Missouri State and Southern Illinois. The Redbirds do a nice job of spreading the ball around as six players average between 2 and 3 kills per set; Lexi Varga has the top tally of 2.81; they lead the MVC hitting .246. On defense, Courtney Pence paces the Valley with 5.48 digs per frame.
Bradley has also gotten off to a nice start in 2018, sitting at 12-2 while picking up two road wins in the opening weekend of league play. Erica Haslag is the top offensive player, notching 3.87 kills per set, ranking third in the conference.
Contribute to AceNotes
To have content considered for inclusion in AceNotes, please submit a Marketing Request Form. Deadline for submission to AceNotes is 10:00 a.m. on the requested date of publication. Only articles concerning UE related/sponsored activities will be accepted. Articles submitted to AceNotes may be edited for length and clarity. Submitter contact information is at the end of each article.