| | |
| --- | --- |
| AceNotes Today | Thursday, September 27, 2018 |
Coffee & Careers event today
Come for free coffee and an informal career chat with alumni and friends of the University TODAY - Thursday, September 27 - from 4:00 – 5:00 p.m. in the Phillips Study Alcove (across from WUEV in Ridgway University Center) Learn about their journey to their current job and the skills needed for career success.
Today's focus is on careers ethics, social change, sustainability, and non-profits.
Submitted by Alison Morris-McDonald am268@evansville.edu
UE Theatre begins 2018–19 season with "Iphigenia and Other Daughters"
The University of Evansville Theatre proudly presents its first production of the season, Ellen McLaughlin's Iphigenia and Other Daughters, adapted from the plays Iphigenia in Aulis and Iphigenia in Tauris, by Euripides, and the play Electra, by Sophocles. Iphigenia and Other Daughters is a provocative and daring tale about the roles women assume in the vicious cycle of vengeance and violence. This production opened Friday, September 21 in the May Studio Theatre. There is one more performance - today, September 27 - at 7:30 p.m.
Professor of Theatre Diane Brewer directs Iphigenia and Other Daughters. Department Chair Eric Renschler serves as the scenic designer; Assistant Professor of Theatre Sarah J. Smith is the costume designer; Meaghan Stanley, a junior from Middlebury, Vt., is the lighting designer; Matt McDonald, a senior from Carmel, Ind., serves as the sound designer; Cassy Spaduzzi, a senior from San Antonio, Texas, is the dramaturg, Assistant Professor Janel Miley serves as the Vocal Coach; Lauren Ward, a sophomore from Fort Worth, Texas, is the stage manager; and Mason Wilhite, a senior from San Antonio, Texas, serves as the technical director.
The cast features first-year student Kayleigh Doyle from McKinney, Texas, as Iphigenia; senior Madeline Easley from Overland Park, Kan., as Clytemnestra; senior Amanda Suggs from Cedar Park, Texas, as Chrysothemis; sophomore Fiona Peterson-Quinn from Lincoln, Ind., as Electra; junior Alexander James Hunter from Conifer, Colo., as Orestes; and Chorus members include first-year students Liv Campbell from Kingwood, Texas, Cassandra Dunn from Brattleboro, Vt., Bailey Lomax from Sellersburg, Ind., Stephanie Voteau from St. Louis, Mo., and Kelly Walsh from Hollywood, Fla.
Ticket prices are $11 for adults and $9 for senior adults, students, and UE faculty and staff. UE students may obtain one free student rush ticket beginning at noon on the day of the performance they wish to attend.
SAB Family Weekend Magician Saturday
Join SAB on Saturday, September 29 at 8:00 p.m. in Eykamp Hall in Ridgway University Center for magician Chris Carter. Come be amazed with what Chris Carter is able to do with his mind! Free for UE students and their families!
Submitted by Megan King mk225@evansville.edu
Mindfulness Service in Neu Chapel: Sunday at 9:00 p.m.
Neu Chapel's 9:00 p.m. #StillWokeUE service has been described as "the most beautiful 25 minutes on campus!" Filled with rich poetry, guided meditation, beautiful music led by a string orchestra, and candle lighting, this prayer and mindfulness service is not your average church service. But it is an ideal way to prepare yourself for a new week. All are invited and welcome to attend and participate in this meaningful experience.
Submitted by Keith Turner kt160@evansville.edu
University Worship asks, "Is God in control of everything?"
This Sunday at 9:00 a.m., the Neu Chapel community will continue its #MixedMessages sermon series as we consider the question, "Is God really in control of everything?" Is God some sort of divine micromanager who has a plan for everything? Does everything really happen for a reason? Join us as we consider these important questions together! You won't want to miss it!
Submitted by Keith Turner kt160@evansville.edu
International Karaoke Night
Come to the International Club's Karaoke Night to sing along and enjoy some ice cream! No musical talent required. The event is this Saturday, September 29, 6:00-8:00 p.m. in Eykamp Hall, Rooms 253-255, Ridgway University Center.
Submitted by Emile Moura em238@evansville.edu
Neu Chapel Forum: "Starting a New Reformation," Thursday, 7:00 p.m.
Over 500 years ago, Martin Luther launched the Protestant Reformation, and as a result, global Christianity has never been the same. But since its inception, Christianity has undergone many different reformations. The Neu Chapel community believes the time has come for the Christian Church to undergo a new reformation in our day. In this week's Neu Chapel Forum, we will be discussing what this new reformation might look like. All are welcome to join as we meet this Thursday at 7:00 p.m. in the Class of 59 Gallery in Ridgway University Center!
Submitted by Keith Turner kt160@evansville.edu
Donate blood!
Donate blood with the American Red Cross on Tuesday, October 16 from 11:30 a.m.-4:30 pm. It will be on campus in Eykamp Hall, Ridgway University Center.
You can sign up now - look for the red and white posters around campus and use the QR code to get to the sign up website. You can check out Newman's instagram @ue_newman for the QR code as well.
If you can't donate, keep an eye out for opportunities to help with organization and advertising as well!
Submitted by Sam Wallisch sw265@evansville.edu
Family Weekend Sale at the UE Bookstore
The UE Bookstore will have extended hours during Family Weekend (September 28-30) and will offer 15% OFF of all clothing and gifts purchases. Hours will be Friday, September 28 from 8:00 a.m. to 6:00 p.m., Saturday, September 29 from 10:00 a.m. to 4:00 p.m., and a couple of hours – noon to 2:00 p.m. - on Sunday, September 30. Look for some special clearance items as well.
Submitted by Doug Gustwiller dg57@evansville.edu
Memoirist Kelly Sundberg speaking at today's Creative Writing Coffee Hour
Author Kelly Sundberg will read from her work at the University of Evansville Creative Writing Department's Coffee Hour today - September 28. The reading will begin at 4:00 p.m. in the Melvin Peterson Gallery at UE. Sundberg will be reading from her memoir, Goodbye, Sweet Girl, which was published in June 2018. This event is free and open to the public.
Sundburg's essays have appeared in Guernica, Gulf Coast, The Rumpus, Denver Quarterly, Slice Magazine, and others.
Her essay "It Will Look Like a Sunset" was selected for inclusion in Best American Essays 2015, and more of her essays have been listed as notables in the same series.
Sundberg has a PhD in Creative Nonfiction from Ohio University. She has been the recipient of fellowships or grants from Vermont Studio Center, A Room of Her Own Foundation, Dickinson House, and the National Endowment for the Arts.
For more information, contact Paul Bone at pb28@evansville.edu.
Interim university chaplain named
The University of Evansville has appointed The Rev. Mark Dicken as a part-time University chaplain. He will serve in the interim period until a search can commence and identify the next full-time University chaplain.
Dicken recently moved back to the area after serving churches in the southern, central and northern regions of Indiana for 32 years including two years as a missionary in Liberia and Sierra Leone.
He is an ordained elder in full connection with the Indiana Conference of the United Methodist Church.
Dicken earned a BA in Political Science from Earlham College, a Juris Doctor at Washington and Lee University, and a Master of Divinity from Christian Theological Seminary. Before answering the call to ministry, he practiced law as a law clerk to the Court of Appeals of Indiana, a deputy prosecutor for Marion County and a partner in an Indianapolis law firm focusing on litigation.
He was a clergy delegate to two General Conferences and three Jurisdictional Conferences of the United Methodist Church and served eight years as chair of the Indiana Conference Board of Trustees. He has served on various boards of directors including a regional hospital, Boy Scouts of America and Habitat for Humanity.
He lives with his wife of 39 years, Barbara Ward Dicken, in Newburgh, Indiana.
"We are excited to welcome Rev. Dicken to the University of Evansville to serve our students and the campus community in this special role. His familiarity with the Evansville area as a pastor, a member of the Neu Chapel Society Board of Directors, and a long-time supporter of religious life at UE will be immensely helpful over the next few months," said executive vice-president of academic affairs and provost, Michael Austin.
Dicken will serve in a part-time capacity and complement the work of assistant chaplain, Rev. Keith Turner. Gieselman will also provide consultant leadership in the interim period.
Need student volunteer for Ace Purple
A student volunteer is needed to be Ace Purple for a kickoff event for a fundraiser on October 23 from 8:30-10:00 a.m.
The event is for Don's Clayton's Coat-a-Kid and will take place at Fairlawn School in Evansville. It's a great way to give back to the community and get involved in a huge fundraiser!
Submitted by Jessica O'Shaughnessy Jo94@evansville.edu
Free HIV testing
Matthew 25 will be located at the Student Health Center for free HIV testing on Tuesday, October 2, from 9:00-11:00 a.m. No appointment needed.
Submitted by Tara Ulrich tu19@evansville.edu
Pop-Up Ticket Office
Come by the UE Theatre "Pop-Up Ticket Office" table in Ridgway University Center from noon-2:00 p.m. until Friday, September 28, this week! All UE students may obtain one free ticket for the May Studio production of Iphigenia and Other Daughters with a valid UE ID the day of the performance they would like to attend. In addition, the main ticket office will remain open in its normal location of the Matt Williams Lobby in Shanklin Theatre throughout the process of the reconstruction of Hyde Hall. The main ticket office hours are Monday through Friday, noon-5:00 p.m., and open on weekends of performances from noon to intermission of that show's performance.
Submitted by Sharla Cowden sc75@evansville.edu
UE Shepard Brass performs at Moores Hill
The UE Shepard Brass performed in Carnegie Hall in Moores Hill, Indiana, on Saturday September 22 for Moores Hill's Bicentennial Celebration. UE was invited to participate in the celebration since Moores Hill College was moved to Evansville in 1919 and became Evansville College. Members of Shepard Brass include Timothy Zifer, Kevin Wilson, Emily Britton, Kenneth Steinsultz, Joshua Britton, and Ross Erickson.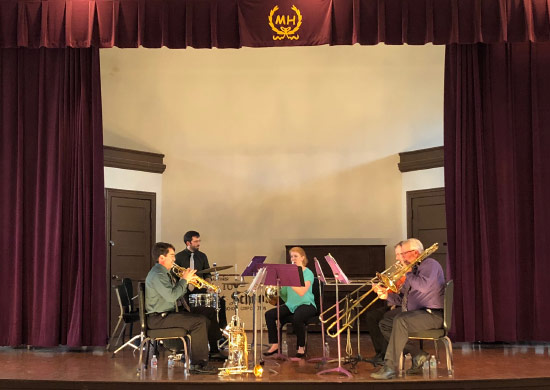 Week 2 in the Habitat House that UE Built!
Week two saw a large group of Aces raising walls on home 499! A group of students, faculty, administrators, staff, and alumni came out to 304 S Bedford to work on raising walls and constructing walls. The rain shortened the day, but not the enthusiasm!
There is a lot more work to be done on the UE built house. We need volunteers every Saturday through October. No experience necessary, just an open heart and open mind! Come out and learn some new skills and make some new friends.
You can sign up to help on UEngage or e-mail hc110@evansville.edu for more information.
\Submitted by Holly Carter hc110@evansville.edu
Still need a textbook?
The UE Bookstore will be starting the return process of unsold textbooks soon. If you still need a text, please stop in the bookstore at your earliest opportunity. We will be returning used books first. If you'd like us to save a copy for you, please let us know so that it will be available to you later. If you have any questions, please contact the Bookstore.
Submitted by Doug Gustwiller dg57@evansville.edu
Now accepting faculty-led study abroad proposal applications
Calling all faculty! Did you know that you have the opportunity at UE to create and lead your own short term program abroad? If you are interested in taking your class global, make sure to fill out a proposal to set up a faculty-led program! Proposal applications can be found on the faculty-led programs page of the study abroad website or in the Study Abroad area on AceLink. We are currently accepting proposals for the 2019-20 academic year.
Proposals are required whether you've run a program multiple times or are hoping to set up something brand new. Applications are due by November 1 and decisions on proposals will be given by the beginning of December. Completed proposals can be e-mailed to studyabroad@evansville.edu. If you have any questions about the proposal application, please contact Greta Becker at gb91@evansville.edu.
Submitted by Greta Becker gb91@evansville.edu
Dallas Koth named MVC Men's Golfer of the Week
For the first time in his young career, University of Evansville men's golfer Dallas Koth was named the Missouri Valley Conference Men's Golfer of the Week on Wednesday. The honor comes on the heels of his efforts over the weekend at Northern Kentucky.
In just his third collegiate event, Koth put forth his best effort, tying for second place at the NKU Fall Collegiate Classic. Koth began the event with a 1-under 70 on Sunday before completing the day with an even 71.
Playing in rainy conditions on Monday, Koth carded a 1-over 72 to finish with a 213, giving him the second place tie while leading the Aces to a 4th place finish.
Koth and the Aces return to play on October 8 at the Tom Tontimonia Invitational in Westlake, Ohio.
Contribute to AceNotes
To have content considered for inclusion in AceNotes, please submit a Marketing Request Form. Deadline for submission to AceNotes is 10:00 a.m. on the requested date of publication. Only articles concerning UE related/sponsored activities will be accepted. Articles submitted to AceNotes may be edited for length and clarity. Submitter contact information is at the end of each article.