| | |
| --- | --- |
| AceNotes Today | Tuesday, September 25, 2018 |
Psychology Azzip Giveback for Ian Manuel is today
Today - Tuesday, September 25 - the Psychology Club will be hosting an Azzip giveback on Green River Road. This giveback is to help fund bringing Ian Manuel to campus as a guest speaker. This flyer or the name of the organization must be presented at the time of check out. Please come support a great cause!
Submitted by Luci Hulsman lh234@evansville.edu
Catholic Relief Services: Student Ambassador Callout Meeting
Migration. Global hunger. Human trafficking. Climate change. The world is facing some of its most serious challenges ever. Just as humanity has contributed to these problems, we have a shared responsibility to help solve them. Learn how you can help create lasting change. Check it out at https://university.crs.org
The Newman Club is hosting a representative from Catholic Relief Services on campus tonight -Tuesday, September 25 - at 7:30 p.m. at Neu Chapel. Swing by before Mass as Beth Knobbe from CRS will have an informal discussion session with anyone interested.
This service-minded group and the leadership training required is being provided from a generous grant from Catholic Relief Services. If you are unable to attend but would like more information, please contact Catholic Campus Minister Jenny Koch at je46@evansville.edu.
Submitted by Michaela Kunkler mk305@evansville.edu
A VERY short sale at the UE Bookstore
The UE Bookstore is offering 20% OFF of all ladies and men's short purchases from Monday, September 24 through Wednesday, September 26. This includes all brands including NIKE, Under Armour, Champion and others. Items already marked down are excluded from this discount. Stop by and look around!
Submitted by Doug Gustwiller dg57@evansville.edu
Tuesday Night Recharge Mass
Join the Newman Club this evening (Tuesday, September 25) at 8:00 p.m. in Neu Chapel to celebrate a Catholic Mass! Fr. Christian Raab will be the celebrant. All are welcome!
Submitted by Michaela Kunkler mk305@evansville.edu
International Karaoke Night
Come to the International Club's Karaoke Night to sing along and enjoy some ice cream! No musical talent required. The event is this Saturday, September 29, 6:00-8:00 p.m. in Eykamp Hall, Rooms 253-255, Ridgway University Center.
Submitted by Emile Moura em238@evansville.edu
Neu Chapel Forum: "Starting a New Reformation," Thursday, 7:00 p.m.
Over 500 years ago, Martin Luther launched the Protestant Reformation, and as a result, global Christianity has never been the same. But since its inception, Christianity has undergone many different reformations. The Neu Chapel community believes the time has come for the Christian Church to undergo a new reformation in our day. In this week's Neu Chapel Forum, we will be discussing what this new reformation might look like. All are welcome to join as we meet this Thursday at 7:00 p.m. in the Class of 59 Gallery in Ridgway University Center!
Submitted by Keith Turner kt160@evansville.edu
Davide Galbusera presents I-House Italy
Davide Galbusera is an exchange student from Italy. He is majoring in international relations. His favorite part of UE is that it a small community with small classes. Davide likes to DJ and is very interested in soccer. He will be sharing more about himself, his country, and culture at I-House Italy tonight on the second floor of Ridgway University Center at 7:00 p.m.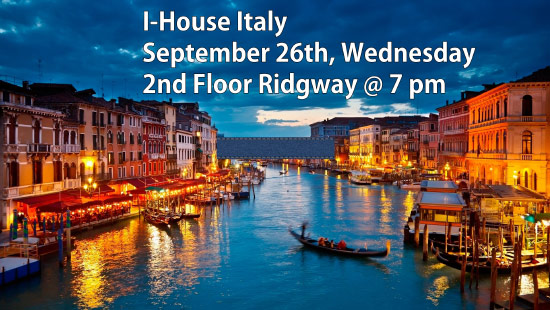 Submitted by Hussam Taj ht70@evansville.edu
Donate blood!
Donate blood with the American Red Cross on Tuesday, October 16 from 11:30 a.m.-4:30 pm. It will be on campus in Eykamp Hall, Ridgway University Center.
You can sign up now - look for the red and white posters around campus and use the QR code to get to the sign up website. You can check out Newman's instagram @ue_newman for the QR code as well.
If you can't donate, keep an eye out for opportunities to help with organization and advertising as well!
Submitted by Sam Wallisch sw265@evansville.edu
SIAM speaker Amanda Kerr
Does the ownership of time-saving household appliances have a positive impact on children's outcomes? Do female inheritance rights impact the educational achievement and labor force participation of children?
These are the questions that will be addressed as assistant professor of economics Amanda Kerr kicks off the semester for SIAM's math speakers.
It will be on Thursday, September 27 in Room 100 in the Koch Center for Engineering and Science at noon. Pizza and drinks will be provided!
Submitted by Stephanie Scholz ss619@evansville.edu
Lunch Charlas today
Wanting to practice your Spanish? Join assistant professor of Spanish Edward Curran and associate professor of Spanish Diana Rodríguez Quevedo for lunch, and chat about different topics in Spanish: Wednesdays from noon-1:00 p.m. in the Starbuck's café area in Ridgway University Center. All levels of Spanish welcome. Lunch Charlas is today - Wednesday, September 26. Please contact Professor Rodríguez Quevedo at dr130@evansville.edu if you have any questions. ¡Ahí nos vemos!
Submitted by Diana Rodríguez Quevedo dr130@evansville.edu
Hablando y cocinando
Want to practice informal Spanish? Come and make Colombian arepas with associate professor of Spanish Diana Rodríguez Quevedo today - Wednesday, September 26 - from 5:00-7:00 p.m. in the Diversity Resource Center at 436 Weinbach Avenue. All levels of Spanish welcome. Please contact Professor Rodríguez Quevedo at dr130@evansville.edu if you have any questions. ¡Nos vemos!
Submitted by Diana Rodriguez Quevedo dr130@evansville.edu
Graduate school fair tomorrow
The Graduate School Fair is set for tomorrow - Wednesday, September 26 - from 1:00-3:00 p.m. in Ridgway University Center
Registered schools:
Campbellsville University
College of Education, Criminal Justice, Human Services and School of Information Technology (CECH) with the University of Cincinnati (UC)
Graduate Accounting Programs (GAP), Kelley School of Business, Indiana University-Bloomington
Indiana Tech
Indiana University School of Law
Indiana University School of Social Work
Indiana University-Purdue University Columbus, MBA program & MA in Mental Health Counseling
IU Lilly Family School of Philanthropy
IU School of Medicine, Biomedical Science Graduate Programs
Murray State University
Southern Illinois University Law
The New School
University of Evansville College of Education and Health Sciences
University of Evansville Department of Physician Assistant Science
University of Illinois College of Business
University of Indianapolis MBA program
University of Louisville Kent School of Social Work, MSSW Program
University of Southern Indiana
Western Kentucky University
Submitted by Alison Morris-McDonald am268@evansville.edu
Crescent Magazine informational meeting
We're looking for writers, photographers, editors and designers to publish the award-winning Crescent magazine next spring! The Crescent is written and designed by students, for students. Learn how you can earn college credit - and even compensation - by becoming a part of our team.
Our informational meeting is at 5:00 p.m. on Thursday, September 27 at Student Publications, located on the second floor of Ridgway University Center. Pizza will be provided to those in attendance.
Please RSVP to ty32@evansville.edu.
Submitted by Tim Young ty32@evansville.edu
Pop-Up Ticket Office
Come by the UE Theatre "Pop-Up Ticket Office" table in Ridgway University Center from noon-2:00 p.m. until Friday, September 28, this week! All UE students may obtain one free ticket for the May Studio production of Iphigenia and Other Daughters with a valid UE ID the day of the performance they would like to attend. In addition, the main ticket office will remain open in its normal location of the Matt Williams Lobby in Shanklin Theatre throughout the process of the reconstruction of Hyde Hall. The main ticket office hours are Monday through Friday, noon-5:00 p.m., and open on weekends of performances from noon to intermission of that show's performance.
Submitted by Sharla Cowden sc75@evansville.edu
UE Shepard Brass performs at Moores Hill
The UE Shepard Brass performed in Carnegie Hall in Moores Hill, Indiana, on Saturday September 22 for Moores Hill's Bicentennial Celebration. UE was invited to participate in the celebration since Moores Hill College was moved to Evansville in 1919 and became Evansville College. Members of Shepard Brass include Timothy Zifer, Kevin Wilson, Emily Britton, Kenneth Steinsultz, Joshua Britton, and Ross Erickson.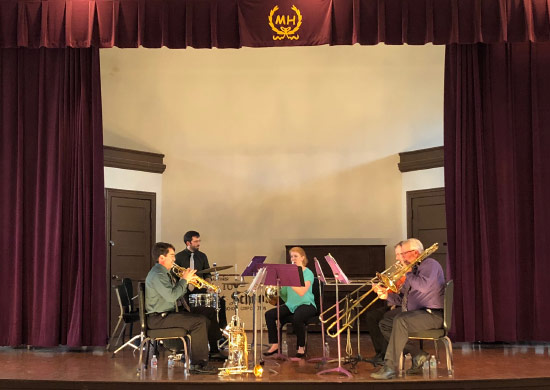 Do you have a prayer request?
Student Christian Fellowship will be having a prayer request table on Monday and Tuesday in Ridgway University Center from 11:00 a.m.-1:00 p.m. We'll be praying for these requests later this week, so please stop by to submit a request and take some candy!
You can also submit a prayer request anonymously through this link:
https://goo.gl/forms/g2Zi9DFrQil4zDqq2.
Submitted by Stephanie Scholz ss619@evansville.edu
Week 2 in the Habitat House that UE Built!
Week two saw a large group of Aces raising walls on home 499! A group of students, faculty, administrators, staff, and alumni came out to 304 S Bedford to work on raising walls and constructing walls. The rain shortened the day, but not the enthusiasm!
There is a lot more work to be done on the UE built house. We need volunteers every Saturday through October. No experience necessary, just an open heart and open mind! Come out and learn some new skills and make some new friends.
You can sign up to help on UEngage or e-mail hc110@evansville.edu for more information.
\Submitted by Holly Carter hc110@evansville.edu
This Week from the Harlaxton Office …
This is a continuation of the new weekly AceNotes updates from the Harlaxton office to keep the UE community informed about what we are up to, where we are traveling to promote Harlaxton, and what is going on with our favorite British manor house, so continue to check with us here each week to see what the US Harlaxton team is up to!
The travel continues this week to Harlaxton partner schools. Kaylynn Carver, Harlaxton advisor, will be at Virginia Wesleyan University representing Harlaxton at the school's study abroad fair on Tuesday, September 25. Holly Carter, director of Harlaxton College programs, and David Green, senior lecturer in British studies at Harlaxton College, will travel to the Indianapolis area for two visits this week as well. On Tuesday, September 25, they will participate in the study abroad fair and dinner at Wabash College in Crawfordsville, then will visit Rose Hulman College, a new partner in Terre Haute interested in Harlaxton's potential for engineers, on Wednesday, September 26.
Before his travels with Carter to fairs this week, David Green will bid the UE campus goodbye on Monday, September 24 at a reception scheduled in the Dunigan Lounge in the Schroeder School of Business Building from 2:00-4:00 p.m. He will return to the UK to continue his sabbatical and research at the end of this week.
On campus, orientation classes for the UE Harlaxton Spring 2019 class continue this week. The spring class as a whole is shaping up well; there are currently 152 students total on the list. Applications for Summer 2019, Fall 2019, and even Spring 2020 are open for students, and faculty applications for the 2020-2021 academic year are open on our website as well!
Submitted by Kaylynn Carver kc205@evansville.edu
Still need a textbook?
The UE Bookstore will be starting the return process of unsold textbooks soon. If you still need a text, please stop in the bookstore at your earliest opportunity. We will be returning used books first. If you'd like us to save a copy for you, please let us know so that it will be available to you later. If you have any questions, please contact the Bookstore.
Submitted by Doug Gustwiller dg57@evansville.edu
TRACES mentors needed
TRACES (Transitional Resources to Achieve Career and Educational Success) is a new collaborative program for EVSC students with disabilities to transition into the work force after graduation. We are looking for mentors to help make this a positive experience. The application to become a mentor can be found here. For more information, e-mail ml182@evansville.edu
Submitted by Mary Lombardo-Graves ml182@evansville.edu
Aces Media Group project application now open!!
Are you or your organization in need of marketing content? Aces Media Group is now accepting project applications! We have a group of incredibly talented and creative UE students who specialize in photography, videography, and graphic design that can create the perfect visual for your marketing campaign.
To fill out the short application, simply search "Aces Media Group" on UEngage, click on the form on our homepage, and submit your information there.
After submitting, a member will contact you to begin work on your project. We are looking forward to working with you! Submit your project needs today!
Submitted by Brea-Anna Mullen bm273@evansville.edu
Now accepting faculty-led study abroad proposal applications
Calling all faculty! Did you know that you have the opportunity at UE to create and lead your own short term program abroad? If you are interested in taking your class global, make sure to fill out a proposal to set up a faculty-led program! Proposal applications can be found on the faculty-led programs page of the study abroad website or in the Study Abroad area on AceLink. We are currently accepting proposals for the 2019-20 academic year.
Proposals are required whether you've run a program multiple times or are hoping to set up something brand new. Applications are due by November 1 and decisions on proposals will be given by the beginning of December. Completed proposals can be e-mailed to studyabroad@evansville.edu. If you have any questions about the proposal application, please contact Greta Becker at gb91@evansville.edu.
Submitted by Greta Becker gb91@evansville.edu
September Pcard Cycle ending
The September Pcard Cycle which began on August 22 ends at midnight on September 21. As of September 23, cardholders may schedule and run the September Cycle report. September transactions may be reconciled in SDG2 until September 28. On September 28, the general ledger Pcard file will be uploaded and cardholders will be locked out of (unable to make changes) posted transactions for the September Cycle.
Submitted by Kim Winsett kw83@evansville.edu
ICCE Undergraduate Students of the Year Award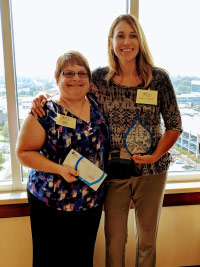 Shannon Bryant and Julie Wilson, recent Organizational Leadership graduates, have been awarded with the Indiana Council of Continuing Education Undergraduate Students of the Year Award.
The two were honored with the award for their efforts in and out of the classroom during a conference Indianapolis.
The criteria for the award is as follows:
Examples of different institutional definitions include: being at least 25 years of age; having interrupted progress toward an educational objective for a minimum of a three-year period after high school; having combined work (loosely defined: could mean single parenting, etc.) and schooling on a continuous basis for a period of several years.
Maintained an academic achievement of a minimum of a "B" average or 3.0 on a 4.0 scale.
Have volunteered or provided other service to campus and/or community; involved in leadership role or had a membership in campus organizations; served in student government, nontraditional or adult student groups; and/or tutored other students needing assistance.
Retains personal characteristics which have helped the nominee overcome challenges to attend and/or complete an educational objective, e.g. associate, baccalaureate, or graduate degree. This criterion should illuminate the effort of nominated students in the light of their achievement and service activities.
Graduated within one year of the award.
Drake trips up UE volleyball, 3-1, in Des Moines
Mildrelis Rodriguez recorded 11 kills, seven digs and two service aces, however, Drake used a late rally to earn a 3-1 win over the University of Evansville volleyball team on Monday evening at the Knapp Center.

Pacing the UE (6-10, 0-3 MVC) offense was Rachel Tam, who had 14 kills. Rodriguez was second with 11. Olivia Goldstein had a strong night on the defensive side, tallying 20 digs. Allana McInnis and Elena Redmond finished the night with 18 and 17 assists, respectively. Drake (12-4, 1-1 MVC) saw three players record double figure kills, led by Cathryn Cheek's total of 17.

Drake got off to a quick start, taking a 5-1 advantage in game one. Evansville got as close as three tallies (7-4) before the Bulldogs were able to pull away for a 25-11 win and a 1-0 match lead.

In the second set, it was the Aces jumping out to the early lead, posting three of the first four points. Drake came back to tie the set up at 5-5 and six ties would ensue, leading to a 10-10 score. That is when the Aces posted two in a row and would never trail again in the set. Elena Redmond, who had four service aces on Friday against Loyola, posted another one before a Rodriguez kill put the Aces up 12-10.

Following a timeout, the Bulldogs got within one, but Evansville scored again and would hang on for the 25-17 win. Joselyn Coronel posted a kill before the defense forced back-to-back errors to cap off the victory.

After the Bulldogs took game three by a score of 25-12, the squads battled it out in the fourth set. An Alondra Vazquez ace, followed by a Tam kill saw UE jump out to a 3-0 lead. The Bulldogs reeled off five in a row to take their first advantage at 5-3. After UE tied it up at 6-6, DU pushed back with four in a row. Just as fast as the Bulldogs went back in front, the Aces came back with six straight points. Two came from Mildrelis Rodriguez, who had a pair of aces.

Both teams battled to the wire, leading to a 20-20 score. That is when Drake made its decisive run, scoring the final five points to take game four, 25-20, while clinching the 3-1 match win.

This weekend, the Aces remain on the road as they travel to Illinois State and Bradley on Friday and Saturday.
Men's golf takes third at NKU
In the final day of the NKU Fall Collegiate Classic, the University of Evansville men's golf team clinched a 4th place finish while Dallas Koth tied for second place on the individual leaderboard at Elks Run Golf Club.
UE scored a 291 in the final day to clinch fourth place, just nine behind winner Robert Morris. RMU finished the event with an 865 while the Aces checked in with a tally of 874.
Koth tied for second place as he carded a 72 in the final round. His 3-round total of 213 was three behind RMU's Chase Miller, who was the medalist. For his effort, Koth was named to the All-Tournament Team.
Evansville clinched three of the top 11 positions with Noah Reese placing second on the team. His final round of 72 saw him take 10th place with a 219. One stroke behind him was Matthew Ladd. His final round total of 75 gave him a 220 for the event, tying him for 11th.
Coming home in a tie for 24th was Spencer Wagner. He was the third UE player to register a 72 on Monday, giving him a total of 226. Jessie Brumley registered a 77 in the last round, totaling a 228 for the weekend.
Gabe Rohleder paced UE's three individuals. Monday's round of 72 saw him tie for 24th with a 226. Tyler Roat tied for 38th with a 234. He had his best round of the weekend on Monday, carding a 75. Robert Waggoner also had his best round of the trip, notching an 81 to take 48th place with a 248.
The Aces have next week off before returning to play at the Tom Tontimonia Invitational in Westlake, Ohio on October 8-9.
Contribute to AceNotes
To have content considered for inclusion in AceNotes, please submit a Marketing Request Form. Deadline for submission to AceNotes is 10:00 a.m. on the requested date of publication. Only articles concerning UE related/sponsored activities will be accepted. Articles submitted to AceNotes may be edited for length and clarity. Submitter contact information is at the end of each article.