| | |
| --- | --- |
| AceNotes Today | Thursday, September 20, 2018 |
CAIR civil rights attorney to speak at UE's Constitution Day Lecture
Carolyn Homer, a civil rights attorney with the Council on American-Islamic Relations (CAIR), will be the guest speaker for this year's Constitution Day lecture at the University of Evansville. The lecture is planned for tonight - Thursday, September 20 - at 7:00 p.m. in Smythe Lecture Hall (Room 170) in the Schroeder School of Business Building. Admission to the lecture, which is part of UE's annual observance of Constitution Day, is free and open to the public.
The topic of Homer's lecture will be "Dissent is Patriotic: How the Constitution Protects Our Civil Rights."
Homer's work focuses on fighting discrimination against American Muslims. She is currently litigating constitutional challenges to the federal terrorist watch list, the presidential travel ban, and state attempts to silence advocacy on behalf of Palestine. CAIR also has a large docket of employment discrimination and prison discrimination cases.
Prior to joining CAIR, Homer worked for five years at the leading international law firm Quinn Emanuel Urquhart & Sullivan on constitutional law and technology cases, on behalf of some of the largest Silicon Valley companies.
Homer is a graduate of Indiana University and George Washington University Law School. She is admitted to practice law in California, the District of Columbia, and the Supreme Court of the United States.
Clare Mathes to speak at UE's Crick Lecture this afternoon
Clare Mathes, associate professor of psychology and neuroscience at Baldwin Wallace University, will be the guest speaker for the University of Evansville's annual Fall Crick Lecture in the Cognitive and Neural Sciences. The lecture is set for TODAY - Thursday, September 20 - at 4:00 p.m. in Room 100 (Vectren Lecture Hall) in the Koch Center for Engineering and Science. This event is free and open to the public.
Mathes will be discussing a rat model of Roux-en-Y gastric bypass surgery and its influence on taste-guided behavior.
A behavioral pharmacologist, Mathes's research focuses on the neurochemistry involved in detecting and enjoying the taste of foods and beverages and how behaviors guided by taste impact eating and body weight status. She uses animal models – primarily rats – to assess these behaviors. Her area of expertise centers around behavior analysis.
Mathes earned her PhD in psychobiology from the University of Florida, and held a postdoctoral fellowship at Florida State University.
Health Professions Club Summer Experience Mixer
Please join the members of the Health Professions Club today - Thursday, September 20 - in Koch 100 at 6:30 PM for the Health Professions Club Summer Experience Mixer.
During this event, we will have a panel of students who have engaged in a variety of health-related pre-professional activities this past summer available to answer any questions you may have. These activities range from scribing and being a patient care tech at local hospitals to researching at various facilities, such as the National Health Institute. This is a great event to network with upperclassmen and learn how to apply for such programs in the future.
Please contact Ruple Jairath with any questions at rj79@evansville.edu.
Submitted by Francie Renschler fr25@evansville.edu
Neu Chapel Forum: Conversation about the Historical Jesus, tonight at 7
The campus community is invited to be a part of a conversation about the historical Jesus. Together, we will consider: Who was Jesus as a figure of history? How was he similar and/or different than other teachers of his day? And what do different faith traditions say about Jesus? All viewpoints and voices are welcome! This exciting conversation will be held on the second floor of Ridgway University Center TONIGHT at 7:00 p.m.
Submitted by Keith Turner kt160@evansville.edu
Security Awareness Week: September 17-21
Security Awareness Week is September 17-21. Activities planned include:
Today - Thursday, September 20
10:00 a.m. – 2:00 p.m. – Lobby of Ridgway University Center
First Aid/CPR display with equipment carried by Security Officers
Security display focusing on Fire Safety.
Students can register for FREE prizes
The drawing for free prizes for students is Friday, September 21 at 3:00 p.m. Prizes will include:
UE LED Flashlight Folding Umbrella
UE Theatre guest artist presents Intimacy & Consent for Classroom & Performance Workshop
UE Theatre guest artist Alexis Black will present an Intimacy & Consent for Classroom & Performance Workshop to theatre students on Saturday, September 22 in the May Studio Theatre from 1:00–3:00 p.m.
Black received her BFA in Performance from Ohio University and her MFA in Theatre Performance Pedagogy with an emphasis in Movement from Virginia Commonwealth University. She is an educator, fight, movement and intimacy director, performer, and director.
Responsible partnering is integral to the acting world, especially when working with physical touch or intimate moments for the stage. Exploring techniques pioneered by Theatrical Intimacy Education and Intimacy Directors International, this workshop will be comprised of two sections: the first focusing on vocabulary, the distinction between permission and consent, and the support of consent work in the classroom, rehearsal and performance. The second half will be a practical exploration of tools utilized to choreograph moments of intimacy for the stage, through observation, discussion, and the use of low-stakes touch such as handshakes or a hug. No touch will be required for this workshop. Additional discussion topics will include: boundaries, psychological safety and best practices and working conditions.
Submitted by Sharla Cowden sc75@evansville.edu
Mindfulness Service in Neu Chapel: Sunday at 9:00 p.m.
As the first wave of papers, exams, and assignments continue to come due, taking time for our own well-being is crucial. This Sunday's #StillWokeUE service (9:00 p.m. in Neu Chapel) will feature meditative music and time for initial, guided meditation. The service lasts about 25 minutes. All are welcome for this beautiful time of preparation for the busy week ahead.
Submitted by Keith Turner kt160@evansville.edu
University Worship begins new sermon series: #MixedMessages
Beginning this Sunday, University Worship in Neu Chapel will begin a new sermon series called #MixedMessages. Oftentimes, the Bible has been used as a weapon to clobber and condemn people. We will be taking a closer look at some of the "controversial texts" of the Bible and consider how they might apply to our lives today. This Sunday, at 9:00 a.m., we will be taking a closer look at Jesus's statement, "I am the way, the truth, and the life." All are welcome and invited to attend!
Submitted by Keith Turner Keith Turner kt160@evansville.edu
UE to recognize International Day of Peace today at 12:15 p.m.
The University of Evansville will observe International Day of Peace with a brief ritual and ringing of the Interfaith Peace Bell today - Friday, September 21 - at 12:15 p.m. The bells which normally ring out from the Olmsted tower will be silent throughout the day on Friday. The Interfaith Peace Bell will be rung by UE's Interfaith Peace Bell stewards Macy Dimmett and Hayley Elliott. People of all religious traditions and worldviews are encouraged to attend as we come together to yearn for peace in the world.
The United Nations General Assembly has declared September 21 to be the International Day of Peace; it is to be observed as a day of global ceasefire and non-violence. The United Nations has invited all Member States, organizations of the United Nations system, regional and non-governmental organizations and individuals to commemorate the day in an appropriate manner, including through education and public awareness, and to cooperate with the United Nations in establishing a global ceasefire.
To inaugurate the day, the Peace Bell is rung at UN Headquarters in New York City. The Peace Bell was presented to the United Nations on June 8, 1954, by the United Nations Association of Japan, in the name of the People of Nippon.
The bell was cast from coins donated by the delegates of sixty nations, participating in the Thirteenth General Conference of United Nation Associations held in Paris in 1951, and from individual contributions of coins and metals. It is a gift and serves as "a reminder of the human cost of war"; the inscription on its side reads, "Long live absolute world peace."
Submitted by Tamara Gieselman tg85@evansville.edu
Campus-wide scavenger hunt now set for this Saturday
Join Student Christian Fellowship for a team photo-scavenger hunt all around campus this Saturday, September 22! Hopefully the weather will cooperate better this time. Come with a team of four or find one when you arrive. We will be meeting in Rademacher's Lounge in Ridgway University Center at 7:00 p.m. to start the scavenger hunt. There will be $10 Amazon gift cards for the winning team. All are welcome. Bring some friends!
Submitted by Natalie Schisler ns149@evansville.edu
Muslim students invited to meet with university chaplain

All Muslim students are invited to meet with the University chaplain Tammy Gieselman on Wednesday, September 26 at 4:00 p.m. in Grabill Lounge, Neu Chapel. (Grabill Lounge is located on the lower level of Neu Chapel). Please plan to attend this important gathering, and bring your UE ID if you still need to sign up for access to the Muslim Prayer Room. Refreshments will be served. For more information, please e-mail tg85@evansville.edu.
Tammy Gieselman tg85@evansville.edu
Free coffee with Career Development - Thursday, September 27
Come for free coffee and an informal career chat with alumni and friends of the University on Thursday, September 27 from 4:00 – 5:00 p.m. in the Phillips Study Alcove (across from WUEV in Ridgway University Center) Learn about their journey to their current job and the skills needed for career success.
This month's focus is on careers ethics, social change, sustainability, and non-profits.
Submitted by Alison Morris-McDonald am268@evansville.edu
ECTE Lecture on teaching and learning today!
Join the Eykamp Center for Teaching Excellence today at 3:00 p.m. in Room 162 in the Schroeder School of Business Building for our September Lecture on Teaching and Learning.
This month's topic is: "Improving Learning Outcomes with Student Engagement Strategies," presented by Lisa Marie Hale, assistant professor of education, and Theresa Price, assistant professor of nursing. They will be sharing engagement approaches they learned at this year's Teaching Professor Conference in Atlanta, as well as leading a discussion on how to integrate these techniques into our classes.
We look forward to seeing you there for good conversations about good teaching!
Submitted by Mari Plikuhn mp168@evansville.edu
Rifle sports and archery with Venturing Crew!
The Venturing Crew is happy to announce that it has another adventure just around the corner!
The next event will be a fall campout at Old Ben Scout Reservation. This will be a short overnight trip from Friday, September 21 to Saturday, September 22
Numerous activities will be packed into these two days, including rifle and shotgun shooting, archery, hanging around a campfire ... and of course eating a ton of awesome food! The cost is $35, and all transportation, gear, and food is provided!
You must be a member of the Venturing Crew to go on this trip. If you did not fill out an application and pay your $25 dues, you will need to sign up before the group departs.
If you would like to attend, please visit the group's table in Ridgway University Center today - Tuesday September 18 - from noon-2:00 p.m. and 6:00-7:00 p.m., and Wednesday from 11:00 a.m.-1:00 p.m., OR RSVP to ef111@evansville.edu
Submitted by Elizabeth Ferguson ef111@evansville.edu
Want to know how to be a good LGBTQ+ ally?
On Monday, September 24, PRIDE will be putting on a presentation about how to be a good ally to the LGBTQ+ community. If you would like to learn more about the topic, are just interested in the organization, or have questions you need answered please come out! See you at 9:00 p.m. in Room 271 in the Schroeder School of Business Building (The room is handicap accessible!)
Submitted by Katie Brown kb362@evansville.edu
Graduate school fair next week
A Graduate School Fair is set for Wednesday, September 26, 1:00-3:00 p.m. in Ridgway University Center
Registered schools:
Campbellsville University
College of Education, Criminal Justice, Human Services and School of Information Technology (CECH) with the University of Cincinnati (UC)
Graduate Accounting Programs (GAP), Kelley School of Business, Indiana University-Bloomington
Indiana Tech
Indiana University School of Law
Indiana University School of Social Work
Indiana University-Purdue University Columbus, MBA program & MA in Mental Health Counseling
IU Lilly Family School of Philanthropy
IU School of Medicine, Biomedical Science Graduate Programs
Murray State University
Southern Illinois University Law
The New School
University of Evansville College of Education and Health Sciences
University of Evansville Department of Physician Assistant Science
University of Illinois College of Business
University of Indianapolis MBA program
University of Louisville Kent School of Social Work, MSSW Program
University of Southern Indiana
Western Kentucky University
Submitted by Alison Morris-McDonald am268@evansville.edu
Reception for Harlaxton faculty visitor today
The Harlaxton office will be hosting a reception for David Green, senior lecturer in British studies and history at Harlaxton College, today - Monday, September 24 - from 2:00-4:00 p.m. in Dunigan Lounge in the Schroeder School of Business Building. Come meet and visit with David Green at this event!
Submitted by Kaylynn Carver kc205@evansville.edu
Self-care Mindfulness: Yoga and Meditation
Self-care Mindfulness: Yoga and Meditation, an event hosted by the Change Lab/ GAP Course Mental Health Awareness Team, is planned for today - Thursday, September 20 - from 5:00-6:00 p.m. on the East Terrace Lawn outside of Ridgway University Center.
The goal of the event is to create awareness about mental health while offering free management skills like yoga and meditation to the UE campus community.
Special guests/ instructors are Mark Goltiao and Megan Sicard.
Submitted by Aisha Tijjani at166@evansville.edu
Change your rental to a purchase
Students who rented a textbook from the UE Bookstore this fall still have the option to change the rental to a purchase of the book. The rental fee that you paid will be applied to the purchase price if you so choose. Just bring your book and the receipt, if you have it, and we'll charge the difference and the book will be yours. Stop in the UE Bookstore.
Submitted by Doug Gustwiller dg57@evansville.edu
Student Interfaith Council being formed - sign up today!
Are you interested in interfaith dialogue, engagement, and travel with other interfaith leaders? Do you care about the future of our religiously diverse society? Would you like to be inspired and join the movement for interfaith cooperation, which seeks to bridge divides across lines of religious and worldview differences?
Want to know more? Please e-mail University chaplain Tammy Gieselman at tg85@evansville.edu.
Submitted by Tammy Gieselman tg85@evansville.edu
UE Homecoming Royalty 2018 nominations
During Homecoming Weekend, we plan to recognize our UE Homecoming Royalty 2018. To be eligible, students must be a full time student and member of the senior class. Nominations may be made by anyone on campus, either a student organization, group of friends, team, roommates, etc.
Please complete this nomination form by Monday, October 1.
UE Homecoming Royalty finalists will be announced at the Pep Rally on Friday, October 26 at 4:30 p.m. on the East Terrace Lawn. The top eight individuals with the most votes will be announced and asked to join us at the Men's Soccer game on Saturday, October 27 at 5:00 p.m. at Arad McCutchan Stadium.
At halftime, the finalists will be announced to the crowd and the two individuals with the most votes will be named our UE Homecoming Royalty 2018.
Following the game, Homecoming Royalty will then lead the crowd in counting down to the Homecoming Firework Show.
Submitted by Megan King mk225@evansville.edu
Aces Media Group project application now open!!
Are you or your organization in need of marketing content? Aces Media Group is now accepting project applications! We have a group of incredibly talented and creative UE students who specialize in photography, videography, and graphic design that can create the perfect visual for your marketing campaign.
To fill out the short application, simply search "Aces Media Group" on UEngage, click on the form on our homepage, and submit your information there.
After submitting, a member will contact you to begin work on your project. We are looking forward to working with you! Submit your project needs today!
Submitted by Brea-Anna Mullen bm273@evansville.edu
Do you know what to recycle at UE?
At UE, you can bring the following to recycle collection areas around campus:
Aluminum: empty cans.
Paper products including: empty cereal boxes, office paper, magazines, newspaper.
Plastic: empty containers with the number 1-7 in the recycling logo.
Books: call for pick up
Cardboard.
Look for the nearest recycle pick up location, and help keep recyclables out of the landfill!
For more information, check out: the UE Recycling Guide.
For pickup of full bins call Housekeeping at ext. 2045 or e-mail housekeeping@evansville.edu.
Submitted by Amber Elkins ae152@evansville.edu
Week One at the Habitat House that UE Built
The UE community came out in force for Week One on the House that UE built for Habitat of Humanity Evansville and sponsored by the Alan and Sharon Braun Family Foundation. Faculty, staff, and students finished the flooring system at 304 South Bedford to be on track to build this home. Prez P and David Green from Harlaxton picked up hammers and helped make the day a success.
If you are interested in participating in the House that UE Built, please sign up on UEngage. We will build every Saturday through October and a few weekdays. No experience needed, just a willing heart and open mind.
Grab your hammers and come out to help!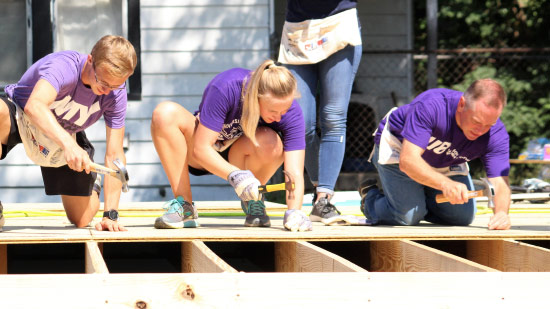 For more information, please contact Holly Carter at hc110@evansville.edu.
Submitted by Holly Carter hc110@evansville.edu.
Vanderburgh Electronics Recycling on September 20-22
The Environmental Sustainability Committee would like to remind folks that on September 20-21, 10 a.m.-4 p.m. and September 22, 8 a.m.-noon, the Vanderburgh County Solid Waste Management District will hold its 2018 Electronics Recycling Days. The event will be at C&I Electronics, located at 1700 Lafayette Avenue in Evansville. The phone number is812-423-9166.
Submitted by Lisa Kretz lk102@evansville.edu
Computer monitors available for $15
The UE Bookstore has a limited quantity of 15-inch adjustable computer monitors available for $15. These are made available through the Office of Technology Services. Monitors were formerly used in campus computer labs and were replaced recently. These are AS IS models and are available to anyone from the campus community on a first come, first served basis. Check them out in the Bookstore or view this photo.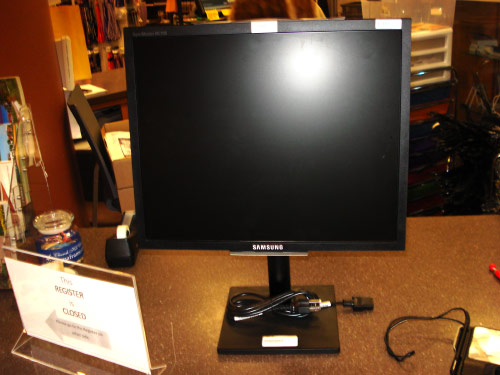 Submitted by Doug Gustwiller dg57@evansville.edu
Contribute to AceNotes
To have content considered for inclusion in AceNotes, please submit a Marketing Request Form. Deadline for submission to AceNotes is 10:00 a.m. on the requested date of publication. Only articles concerning UE related/sponsored activities will be accepted. Articles submitted to AceNotes may be edited for length and clarity. Submitter contact information is at the end of each article.