| | |
| --- | --- |
| AceNotes Today | Wednesday, September 19, 2018 |
Newman Dinner and Discussion: Baptism
Join us at the Newman House today - Wednesday, September 19 - at 5:00 p.m. for Dinner and Discussion! The topic is "Baptism: Forgiveness and an Open Door" and will be led by Fr. Godfrey Mullen! All are welcome!
Submitted by Michaela Kunkle rmk305@evansville.edu
Pamela Oliva presents I-House Honduras
Pamela Oliva is a sophomore who is majoring in accounting and minoring in philosophy at UE. She believes that people at UE are very nice and are always willing to learn about different cultures. Tonight - Wednesday, September 19 - she will be sharing about her culture and country at I-House Honduras happening on the second floor of Ridgway University Center at 7:00 p.m.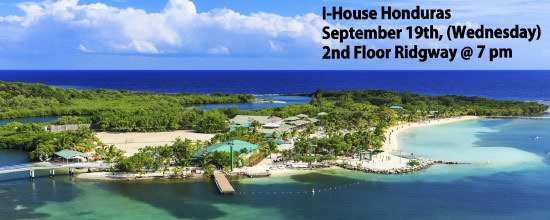 Submitted by Hussam Taj ht70@evansville.edu
Security Awareness Week: September 17-21
Security Awareness Week is September 17-21. Activities planned include:
Today - Wednesday, September 19
10:00 a.m. – 2:00 p.m. – Lobby of Ridgway University Center
Students and employees can register their bicycles with Security
Students can register/alter phone numbers and emails for Ace Alerts
Security staff will offer to engrave any personal property
Students can register for FREE prizes
The drawing for free prizes for students is Friday, September 21 at 3:00 p.m. Prizes will include:
UE LED Flashlight Folding Umbrella
Medical Spanish Group meeting today
The Medical Spanish Group will be meeting twice a month to practice communication skills in Spanish. These sessions are open to anyone wanting to practice Spanish for medical settings. The first practice session is today - Wednesday, September 19 - from 6:00-7:00 p.m. in Room 64 in the Schroeder School of Business Building. Please contact associate professor of Spanish Diana Rodríguez Quevedo at dr130@evansville.edu if you have any questions. ¡Nos vemos el miércoles!
Submitted by Diana Rodríguez Quevedo dr130@evansville.edu
Lunch Charlas: Informal Conversation in Spanish
Wanting to practice your Spanish? Join assistant professor of Spanish Edward Curran and associate professor of Spanish Diana Rodríguez Quevedo for lunch, and chat about different topics in Spanish: Wednesdays from noon-1:00 p.m. in the Starbuck's café area in Ridgway University Center. All levels of Spanish welcome. Lunch Charlas starts today - Wednesday, September 19. Please contact Professor Rodríguez Quevedo at dr130@evansville.edu if you have any questions. ¡Ahí nos vemos!
Submitted by Diana Rodriguez Quevedo dr130@evansville.edu
Campus-wide scavenger hunt now set for this Saturday
Join Student Christian Fellowship for a team photo-scavenger hunt all around campus this Saturday, September 22! Hopefully the weather will cooperate better this time. Come with a team of four or find one when you arrive. We will be meeting in Rademacher's Lounge in Ridgway University Center at 7:00 p.m. to start the scavenger hunt. There will be $10 Amazon gift cards for the winning team. All are welcome. Bring some friends!
Submitted by Natalie Schisler ns149@evansville.edu
Mindfulness Service in Neu Chapel: Sunday at 9:00 p.m.
As the first wave of papers, exams, and assignments continue to come due, taking time for our own well-being is crucial. This Sunday's #StillWokeUE service (9:00 p.m. in Neu Chapel) will feature meditative music and time for initial, guided meditation. The service lasts about 25 minutes. All are welcome for this beautiful time of preparation for the busy week ahead.
Submitted by Keith Turner kt160@evansville.edu
University Worship begins new sermon series: #MixedMessages
Beginning this Sunday, University Worship in Neu Chapel will begin a new sermon series called #MixedMessages. Oftentimes, the Bible has been used as a weapon to clobber and condemn people. We will be taking a closer look at some of the "controversial texts" of the Bible and consider how they might apply to our lives today. This Sunday, at 9:00 a.m., we will be taking a closer look at Jesus's statement, "I am the way, the truth, and the life." All are welcome and invited to attend!
Submitted by Keith Turner Keith Turner kt160@evansville.edu
UE to recognize International Day of Peace today at 12:15 p.m.
The University of Evansville will observe International Day of Peace with a brief ritual and ringing of the Interfaith Peace Bell today - Friday, September 21 - at 12:15 p.m. The bells which normally ring out from the Olmsted tower will be silent throughout the day on Friday. The Interfaith Peace Bell will be rung by UE's Interfaith Peace Bell stewards Macy Dimmett and Hayley Elliott. People of all religious traditions and worldviews are encouraged to attend as we come together to yearn for peace in the world.
The United Nations General Assembly has declared September 21 to be the International Day of Peace; it is to be observed as a day of global ceasefire and non-violence. The United Nations has invited all Member States, organizations of the United Nations system, regional and non-governmental organizations and individuals to commemorate the day in an appropriate manner, including through education and public awareness, and to cooperate with the United Nations in establishing a global ceasefire.
To inaugurate the day, the Peace Bell is rung at UN Headquarters in New York City. The Peace Bell was presented to the United Nations on June 8, 1954, by the United Nations Association of Japan, in the name of the People of Nippon.
The bell was cast from coins donated by the delegates of sixty nations, participating in the Thirteenth General Conference of United Nation Associations held in Paris in 1951, and from individual contributions of coins and metals. It is a gift and serves as "a reminder of the human cost of war"; the inscription on its side reads, "Long live absolute world peace."
Submitted by Tamara Gieselman tg85@evansville.edu
Health Professions Club Summer Experience Mixer
Please join the members of the Health Professions Club today - Thursday, September 20 - in Koch 100 at 6:30 PM for the Health Professions Club Summer Experience Mixer.
During this event, we will have a panel of students who have engaged in a variety of health-related pre-professional activities this past summer available to answer any questions you may have. These activities range from scribing and being a patient care tech at local hospitals to researching at various facilities, such as the National Health Institute. This is a great event to network with upperclassmen and learn how to apply for such programs in the future.
Please contact Ruple Jairath with any questions at rj79@evansville.edu.
Submitted by Francie Renschler fr25@evansville.edu
Muslim students invited to meet with university chaplain

All Muslim students are invited to meet with the University chaplain Tammy Gieselman on Wednesday, September 26 at 4:00 p.m. in Grabill Lounge, Neu Chapel. (Grabill Lounge is located on the lower level of Neu Chapel). Please plan to attend this important gathering, and bring your UE ID if you still need to sign up for access to the Muslim Prayer Room. Refreshments will be served. For more information, please e-mail tg85@evansville.edu.
Tammy Gieselman tg85@evansville.edu
Neu Chapel Forum: Conversation about the Historical Jesus, tonight at 7
The campus community is invited to be a part of a conversation about the historical Jesus. Together, we will consider: Who was Jesus as a figure of history? How was he similar and/or different than other teachers of his day? And what do different faith traditions say about Jesus? All viewpoints and voices are welcome! This exciting conversation will be held on the second floor of Ridgway University Center TONIGHT at 7:00 p.m.
Submitted by Keith Turner kt160@evansville.edu
Free coffee with Career Development - Thursday, September 27
Come for free coffee and an informal career chat with alumni and friends of the University on Thursday, September 27 from 4:00 – 5:00 p.m. in the Phillips Study Alcove (across from WUEV in Ridgway University Center) Learn about their journey to their current job and the skills needed for career success.
This month's focus is on careers ethics, social change, sustainability, and non-profits.
Submitted by Alison Morris-McDonald am268@evansville.edu
ECTE Lecture on teaching and learning today!
Join the Eykamp Center for Teaching Excellence today at 3:00 p.m. in Room 162 in the Schroeder School of Business Building for our September Lecture on Teaching and Learning.
This month's topic is: "Improving Learning Outcomes with Student Engagement Strategies," presented by Lisa Marie Hale, assistant professor of education, and Theresa Price, assistant professor of nursing. They will be sharing engagement approaches they learned at this year's Teaching Professor Conference in Atlanta, as well as leading a discussion on how to integrate these techniques into our classes.
We look forward to seeing you there for good conversations about good teaching!
Submitted by Mari Plikuhn mp168@evansville.edu
Rifle sports and archery with Venturing Crew!
The Venturing Crew is happy to announce that it has another adventure just around the corner!
The next event will be a fall campout at Old Ben Scout Reservation. This will be a short overnight trip from Friday, September 21 to Saturday, September 22
Numerous activities will be packed into these two days, including rifle and shotgun shooting, archery, hanging around a campfire ... and of course eating a ton of awesome food! The cost is $35, and all transportation, gear, and food is provided!
You must be a member of the Venturing Crew to go on this trip. If you did not fill out an application and pay your $25 dues, you will need to sign up before the group departs.
If you would like to attend, please visit the group's table in Ridgway University Center today - Tuesday September 18 - from noon-2:00 p.m. and 6:00-7:00 p.m., and Wednesday from 11:00 a.m.-1:00 p.m., OR RSVP to ef111@evansville.edu
Submitted by Elizabeth Ferguson ef111@evansville.edu
Memoirist Kelly Sundberg speaking at today's Creative Writing Coffee Hour
Author Kelly Sundberg will read from her work at the University of Evansville Creative Writing Department's Coffee Hour today - September 28. The reading will begin at 4:00 p.m. in the Melvin Peterson Gallery at UE. Sundberg will be reading from her memoir, Goodbye, Sweet Girl, which was published in June 2018. This event is free and open to the public.
Sundburg's essays have appeared in Guernica, Gulf Coast, The Rumpus, Denver Quarterly, Slice Magazine, and others.
Her essay "It Will Look Like a Sunset" was selected for inclusion in Best American Essays 2015, and more of her essays have been listed as notables in the same series.
Sundberg has a PhD in Creative Nonfiction from Ohio University. She has been the recipient of fellowships or grants from Vermont Studio Center, A Room of Her Own Foundation, Dickinson House, and the National Endowment for the Arts.
For more information, contact Paul Bone at pb28@evansville.edu.
Graduate school fair next week
A Graduate School Fair is set for Wednesday, September 26, 1:00-3:00 p.m. in Ridgway University Center
Registered schools:
Campbellsville University
College of Education, Criminal Justice, Human Services and School of Information Technology (CECH) with the University of Cincinnati (UC)
Graduate Accounting Programs (GAP), Kelley School of Business, Indiana University-Bloomington
Indiana Tech
Indiana University School of Law
Indiana University School of Social Work
Indiana University-Purdue University Columbus, MBA program & MA in Mental Health Counseling
IU Lilly Family School of Philanthropy
IU School of Medicine, Biomedical Science Graduate Programs
Murray State University
Southern Illinois University Law
The New School
University of Evansville College of Education and Health Sciences
University of Evansville Department of Physician Assistant Science
University of Illinois College of Business
University of Indianapolis MBA program
University of Louisville Kent School of Social Work, MSSW Program
University of Southern Indiana
Western Kentucky University
Submitted by Alison Morris-McDonald am268@evansville.edu
Sigma Alpha Iota Informal Recruitment: September 17-19
Sigma Alpha Iota is a national music fraternity for women. The SAI Beta Epsilon chapter will be hosting informal recruitment on Monday, September 17 through Wednesday, September 19 at 8:30 p.m. in the Krannert Hall of Art and Music. Come for an informative night about the chapter with snacks, games, and more. If you have any questions, e-mail Madeline Cox at mc324@evansville.edu.
Submitted by Madeline Cox mc324@evansville.edu
CAIR civil rights attorney to speak at UE's Constitution Day Lecture
Carolyn Homer, a civil rights attorney with the Council on American-Islamic Relations (CAIR), will be the guest speaker for this year's Constitution Day lecture at the University of Evansville. The lecture is planned for tonight - Thursday, September 20 - at 7:00 p.m. in Smythe Lecture Hall (Room 170) in the Schroeder School of Business Building. Admission to the lecture, which is part of UE's annual observance of Constitution Day, is free and open to the public.
The topic of Homer's lecture will be "Dissent is Patriotic: How the Constitution Protects Our Civil Rights."
Homer's work focuses on fighting discrimination against American Muslims. She is currently litigating constitutional challenges to the federal terrorist watch list, the presidential travel ban, and state attempts to silence advocacy on behalf of Palestine. CAIR also has a large docket of employment discrimination and prison discrimination cases.
Prior to joining CAIR, Homer worked for five years at the leading international law firm Quinn Emanuel Urquhart & Sullivan on constitutional law and technology cases, on behalf of some of the largest Silicon Valley companies.
Homer is a graduate of Indiana University and George Washington University Law School. She is admitted to practice law in California, the District of Columbia, and the Supreme Court of the United States.
UE Theatre begins 2018–19 season with "Iphigenia and Other Daughters"
The University of Evansville Theatre proudly presents its first production of the season, Ellen McLaughlin's Iphigenia and Other Daughters, adapted from the plays Iphigenia in Aulis and Iphigenia in Tauris, by Euripides, and the play Electra, by Sophocles. Iphigenia and Other Daughters is a provocative and daring tale about the roles women assume in the vicious cycle of vengeance and violence. This production opened Friday, September 21 in the May Studio Theatre. There is one more performance - today, September 27 - at 7:30 p.m.
Professor of Theatre Diane Brewer directs Iphigenia and Other Daughters. Department Chair Eric Renschler serves as the scenic designer; Assistant Professor of Theatre Sarah J. Smith is the costume designer; Meaghan Stanley, a junior from Middlebury, Vt., is the lighting designer; Matt McDonald, a senior from Carmel, Ind., serves as the sound designer; Cassy Spaduzzi, a senior from San Antonio, Texas, is the dramaturg, Assistant Professor Janel Miley serves as the Vocal Coach; Lauren Ward, a sophomore from Fort Worth, Texas, is the stage manager; and Mason Wilhite, a senior from San Antonio, Texas, serves as the technical director.
The cast features first-year student Kayleigh Doyle from McKinney, Texas, as Iphigenia; senior Madeline Easley from Overland Park, Kan., as Clytemnestra; senior Amanda Suggs from Cedar Park, Texas, as Chrysothemis; sophomore Fiona Peterson-Quinn from Lincoln, Ind., as Electra; junior Alexander James Hunter from Conifer, Colo., as Orestes; and Chorus members include first-year students Liv Campbell from Kingwood, Texas, Cassandra Dunn from Brattleboro, Vt., Bailey Lomax from Sellersburg, Ind., Stephanie Voteau from St. Louis, Mo., and Kelly Walsh from Hollywood, Fla.
Ticket prices are $11 for adults and $9 for senior adults, students, and UE faculty and staff. UE students may obtain one free student rush ticket beginning at noon on the day of the performance they wish to attend.
Webelos Engineering Pin Day 2018
The College of Engineering and Computer Science will host Webelos Engineering Pin Day on Saturday, October 27. Workshops with activity stations will provide some of the experience required for a Webelos Scout to qualify for an engineering pin. Registration is limited to 200 scouts. Registrations will be taken until the event is full or October 18.
Registration details are available at www.evansville.edu/WebelosEngineeringPinDay.
For further information, contact Kimberly Higgins at kh209@evansville.edu, telephone: 812-488-2651.
Submitted by Kimberly Higgins kh209@evansville.edu
Self-care Mindfulness: Yoga and Meditation
Self-care Mindfulness: Yoga and Meditation, an event hosted by the Change Lab/ GAP Course Mental Health Awareness Team, is planned for today - Thursday, September 20 - from 5:00-6:00 p.m. on the East Terrace Lawn outside of Ridgway University Center.
The goal of the event is to create awareness about mental health while offering free management skills like yoga and meditation to the UE campus community.
Special guests/ instructors are Mark Goltiao and Megan Sicard.
Submitted by Aisha Tijjani at166@evansville.edu
Student Interfaith Council being formed - sign up today!
Are you interested in interfaith dialogue, engagement, and travel with other interfaith leaders? Do you care about the future of our religiously diverse society? Would you like to be inspired and join the movement for interfaith cooperation, which seeks to bridge divides across lines of religious and worldview differences?
Want to know more? Please e-mail University chaplain Tammy Gieselman at tg85@evansville.edu.
Submitted by Tammy Gieselman tg85@evansville.edu
DPT students to conduct balance screenings on October 30
The second year DPT students are looking for volunteers to participate in free balance assessments with follow up training sessions and recommendations. Assessments will be offered at 1:00 p.m. and at 3:00 p.m. on October 30 at the Stone Family Center of Health Sciences, on the third floor in the physical therapy main lab. Each session will last 1.5 hours.
Please wear your exercise shoes and clothing as we will ask you to perform some light exercises. Rest breaks will be provided as needed throughout the session.
The Stone Center is located at 515 Walnut Street in Evansville. Parking is available in the lot next to the Stone Center directly behind the Ford Center. No permit is needed.
To sign up, please go to app.acuityscheduling.com/schedule.php?owner=14180299&appointmentType=8114654. We look forward to meeting you in person.
For more information, contact Jordana Lockwich, PT, DPT, at jl305@evansville.edu or 812-488-2582
Submitted by Jennifer Simon js698@evansville.edu
Aces Media Group project application now open!!
Are you or your organization in need of marketing content? Aces Media Group is now accepting project applications! We have a group of incredibly talented and creative UE students who specialize in photography, videography, and graphic design that can create the perfect visual for your marketing campaign.
To fill out the short application, simply search "Aces Media Group" on UEngage, click on the form on our homepage, and submit your information there.
After submitting, a member will contact you to begin work on your project. We are looking forward to working with you! Submit your project needs today!
Submitted by Brea-Anna Mullen bm273@evansville.edu
Week One at the Habitat House that UE Built
The UE community came out in force for Week One on the House that UE built for Habitat of Humanity Evansville and sponsored by the Alan and Sharon Braun Family Foundation. Faculty, staff, and students finished the flooring system at 304 South Bedford to be on track to build this home. Prez P and David Green from Harlaxton picked up hammers and helped make the day a success.
If you are interested in participating in the House that UE Built, please sign up on UEngage. We will build every Saturday through October and a few weekdays. No experience needed, just a willing heart and open mind.
Grab your hammers and come out to help!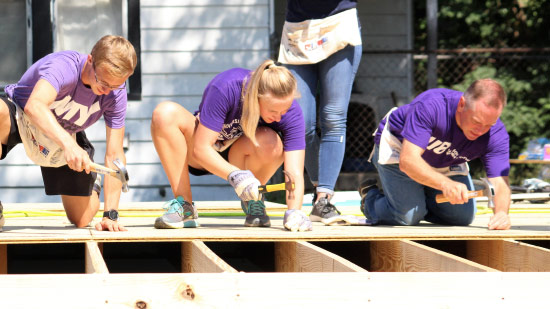 For more information, please contact Holly Carter at hc110@evansville.edu.
Submitted by Holly Carter hc110@evansville.edu.
LOVCIF Scholarship
Are you majoring in a construction related field such as management or civil engineering? Did you graduate from a high school within 100 miles of Evansville? If you meet both of these criteria, you are eligible to apply for the Lower Ohio Valley Construction Industry Fund Scholarship (LOVCIF). Deadline for application is Oct 12, 2018. E-mail cw259@evansville.edu or visit the Office of Financial Aid for an application.
Submitted by Cathleen Wright cw259@evansville.edu
Fall Healthy Behavior Challenge
Earn additional HRA credits by participating in the Fall Healthy Behavior Challenge beginning September 23! To Sign up for the challenge please e-mail ac375@evansville.edu. Those who successfully complete the 8-week challenge will receive $150 in HRA credits.
Submitted by Ashley Chipps ac375@evansville.edu
Have a student diversity project or event you'd like to do at UE or in the local community?
The Office of Diversity Initiatives can provide funding to help support student led diversity projects or events that support the core values of our university. If you have an idea take the time to submit a proposal that will be reviewed by the student Multicultural Advisory Board for funding.
Deadline for the next submission is October 15.
For more information, contact LaNeeca Williams in the Office of Diversity Initiatives.
The application can be found on the website of the Office of Diversity Initiatives under the link "Resources from the Office of Diversity Initiatives."
Submitted by LaNeeca Williams lw161@evansville.edu
Vanderburgh Electronics Recycling on September 20-22
The Environmental Sustainability Committee would like to remind folks that on September 20-21, 10 a.m.-4 p.m. and September 22, 8 a.m.-noon, the Vanderburgh County Solid Waste Management District will hold its 2018 Electronics Recycling Days. The event will be at C&I Electronics, located at 1700 Lafayette Avenue in Evansville. The phone number is812-423-9166.
Submitted by Lisa Kretz lk102@evansville.edu
This Week from the Harlaxton Office …
This fall, the Harlaxton office has a lot going on! We would like to introduce these new weekly AceNotes updates to keep the UE community informed about what we are up to, where we are traveling to promote Harlaxton, and what is going on with our favorite British manor house, so look out each week to see what the US Harlaxton team is up to!
This week will be full of visits to Harlaxton partner schools old and new! Everyone in the Harlaxton office, including David Green, our visitor to UE from the manor, will be on the road this week promoting Harlaxton!
Holly Carter, director of Harlaxton College programs, will be traveling on Tuesday, September 18 to Abilene, Texas (hometown of UE's VP of Marketing and Enrollment Shane Davidson!) to McMurry University, another new partner school. The first McMurry student at Harlaxton attended in Summer 2018 and won the Principal's Award for outstanding student of the term, and we hope that they will continue to send terrific students to Harlaxton.
Carter will then travel to the University of Wisconsin-Platteville Thursday and Friday. UW-Platteville is perhaps Harlaxton's most recent partner, and she will be working with key stakeholders to set up their plan for sending students and faculty to Harlaxton.
In the meantime, Kaylynn Carver, Harlaxton advisor, will visit Berry College, which is located in Mount Berry, Georgia, for their study abroad fair on Tuesday, September 18. Berry College is a newer partner school just starting to send students. Carver and Anna Beth Gillon, Harlaxton Programs intern, will then attend the Western Kentucky University study abroad fair on Wednesday, September 19. WKU has traditionally sent quite a few students to Harlaxton each semester, including Gillon herself a few years ago, so we are excited to visit with them.
Wesley Milner, executive director of international programs, will also travel to Texas this week. On September 20-21, Wes will represent Harlaxton at the study abroad fair at Texas Lutheran University, a longstanding Harlaxton partner school, and will visit the offices of Academic Programs International (API), a study abroad program provider that will start sending students to Harlaxton this year.
David Green will be at Augusta University, yet another new partner school, September 18-21. Augusta, which is actually Holly Carter's alma mater for her undergraduate degree, just signed a partnership agreement with Harlaxton this spring. Their first student just last week applied for Harlaxton summer 2019. Green will be meeting with faculty and honors program directors as well as recruiting students during his visit.
In addition to all the travel, the Harlaxton faculty applications for Fall 2020, Summer 2020, and Spring 2021 are now open! We are excited to announce that we have moved the faculty application process online, so if you are interested in teaching at Harlaxton, you can now apply through our website at studyabroad.evansville.edu. Please contact Holly Carter at hc110@evansville.edu if you have any questions about teaching at Harlaxton, and tune in next week for more visits, spring numbers, and other exciting Harlaxton events happening with our office!
Submitted by Kaylynn Carver kc205@evansville.edu
STD facts and information
Recent reports from the Centers for Disease Control (CDC) show that STD rates in the US are at an all-time high!
The facts:
•15-24 year olds account for half of all new STD infections.
•Chlamydia is the most common STD with almost half of cases reported by women ages 15-24.
• The US has the highest STD rates in the world
•Did you know that condoms are the only birth control that reduces your risk of both pregnancy and STDs, including HIV???
•Did you know that sharing sex toys is another method of STD transmission???
If sexually active, wear a condom ALWAYS, even if you or your partner is using another type of birth control (pill, IUD, etc.), and get tested ANNUALLY!
For testing and treatment:
•See your primary care doctor
•Vanderburgh County Health Department offers confidential testing and treatment (812-435-5683)
•UE Counseling Center offers confidential mental health support
o 812-488-2663
For more information on STDs in young adults, please see the CDC website.
Submitted by Jennifer Hargus jh693@evansville.edu
CECS to offer UExplore Engineering Program
The College of Engineering and Computer Science is offering a UExplore Engineering Program for high school students. The program is designed to give participants a better understanding of the fields of civil, mechanical, electrical, and computer engineering and computer science through activities, hands-on projects, and tours of local industry.
The sessions in the program are October 15, November 5, November 26, January 21, February 18, March 11, April 1, and April 22. All sessions will be from 6:00-7:15 p.m. in the Koch Center for Engineering and Science on UE's campus.
James Allen, UE associate professor of mechanical and civil engineering, is the advisor for the program. A registered professional engineer in the states of Indiana and Ohio, Allen has extensive work experience in industry. Allen will be assisted with the program by UE engineering students.
The registration fee for the program is $50. Register online at www.evansville.edu/uexploreengineering or contact Kimberly Higgins for more information at 812-488-2661 or kh209@evansville.edu.
Submitted by Kim Higgins kh209@evansville.edu
Computer monitors available for $15
The UE Bookstore has a limited quantity of 15-inch adjustable computer monitors available for $15. These are made available through the Office of Technology Services. Monitors were formerly used in campus computer labs and were replaced recently. These are AS IS models and are available to anyone from the campus community on a first come, first served basis. Check them out in the Bookstore or view this photo.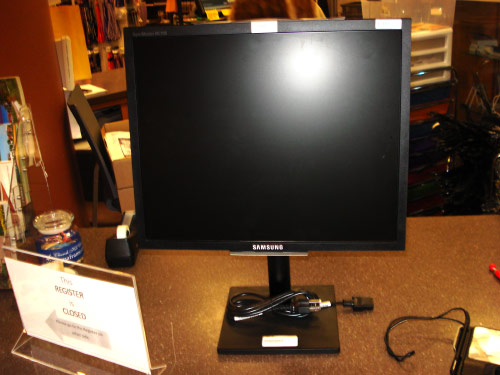 Submitted by Doug Gustwiller dg57@evansville.edu
Review course for Fundamentals of Engineering Exam offered
The University of Evansville College of Engineering and Computer Science has announced dates for the annual review and preparation course for those planning to take the Fundamentals of Engineering Exam.
All classes will be held Thursday evenings beginning at 6:30 p.m. in the Koch Center for Engineering and Science building on the UE campus. Classes are divided into relevance per discipline. Fees are adjusted accordingly.
Civil engineering candidates will attend from September 27 through January 24.
Mechanical engineering and other disciplines candidates will attend from September 27 through November 15.
Electrical and computer engineering candidates will attend October 25 through November 15.
Registration forms and payment must be returned by 4:00 p.m. on Wednesday, September 26.
On campus registrations should be returned to Room 250 in the Koch Center for Engineering and Science.
Community members may obtain registration information by contacting Kimberly Higgins via e-mail at kh209@evansville.edu or phone at 812-488-2651.
Early registration is encouraged as space is limited.
Submitted by Kimberly Higgins kh209@evansville.edu
Math students and professors publish research
Pengcheng Xiao, assistant professor of mathematics, has published two papers with UE students.
The first paper is titled "Revisit Language Modeling Competition and Extinction: A Data-Driven Validation." and is published in the Journal of Applied Mathematics and Physics. Chosila Sutantawibul (physics graduate), Sarah Richie (physics graduate), and Daniela Fuentes-Rivero (math graduate) are the coauthors. This study is an extension work based on math senior seminar project under the supervision of Xiao. UE Global Scholar supports this research publication.
The second paper is titled "A simplification and analysis of the HPA axis model." and is published in Communications in Mathematical Biology and Neuroscience. Adam Lonnberg(math) and Tuan Nguyen, assistant professor of mathematics are the coauthors. This work is funded by the Dr. Guy Banta BMD Summer Research Fellowship and UExplore research grant.
Gieselman appointed director of schools, colleges and universities at United Methodist Church's GBHEM
In her tenth year as the University Chaplain at the University of Evansville, Tamara Gieselman has been appointed the Director of Schools, Colleges, and Universities at the United Methodist Church's General Board of Higher Education and Ministry (GBHEM). In this capacity, she will work with United Methodist colleges and universities worldwide to affirm and accredit them and to coordinate their efforts with those of the Methodist Church. Tammy will bring an extraordinary passion for education, diversity, justice, and interfaith leadership to this new calling, and we are excited for the opportunities she will have. Tammy's last day with us will be Monday, October 15. She leaves behind a rich legacy at UE as a pastor, an educator, and a friend to students and faculty—as well as an important leader in the Evansville interfaith community, where she has been transformative. She will be deeply missed and always remembered, and we will ensure that the work that she has started continues. Congratulations, Tammy!
Submitted by Paula Heldt ph28@evansville.edu
Women's golf improves in final day at Cardinal Classic
Sophomore Sophia Rohleder fired off an impressive 72 in the final round of the Cardinal Classic to help the Purple Aces women's golf squad improve in the team standings at The Players Club in Yorktown.
Rohleder's even round saw her finish the tournament in a tie for 27th place with a 228. Her rounds on Monday finished at 77 and 79. Sydney Anderson was next for Evansville, placing in a tie for 46th with a 235. She carded an 80 on Tuesday.
Lexie Sollman shot her best round of the week, posted a 79 as she finished with a 245. She tied for 70th. Alyssa McMinn was one shot behind Sollman with a 246. She notched an 82 in the final round. Madison Chaney improved greatly as the tournament went along, culminating in a 6-over 78 in the last round of play.
Continuing its dominating performance was the University of Indianapolis. They had the top three individuals on their way to defeating Ball State and Southern Illinois by 35 shots. UIndy notched an 866 as Kennedy Holtsclaw was the medalist with a 213, defeating teammate Pilar Echeverria by three strokes.
UE posted rounds of 320 and 321 in Monday's opening 36, but improved greatly in day two, finishing with a team score of 309. That saw them finish in a tie for 14th place with Central Michigan with a final tally of 950.
The Aces return to action at the Butler Invitational on Oct. 1-2.
Contribute to AceNotes
To have content considered for inclusion in AceNotes, please submit a Marketing Request Form. Deadline for submission to AceNotes is 10:00 a.m. on the requested date of publication. Only articles concerning UE related/sponsored activities will be accepted. Articles submitted to AceNotes may be edited for length and clarity. Submitter contact information is at the end of each article.