| | |
| --- | --- |
| AceNotes Today | Tuesday, September 18, 2018 |
Tuesday Night Recharge Mass
Join the Newman Club on Tuesday, September 18 at 8:00 p.m. in Neu Chapel to celebrate a Catholic Mass! Fr. Steve Lintzenich will be the celebrant. All are welcome!
Submitted by Michaela Kunkler mk305@evansville.edu
Security Awareness Week: September 17-21
Security Awareness Week is September 17-21. Activities planned include:
Today - Tuesday, September 18
10:00 a.m. – 2:00 p.m. – Lobby of Ridgway University Center
Security display on general personal safety, Ace Patrol, and personal property.
Handout information from Counseling Services.
Sgt. Schweickart will be available to discuss Crisis Intervention methods used by Safety and Security Officer.
Students can register for FREE prizes
The drawing for free prizes for students is Friday, September 21 at 3:00 p.m. Prizes will include:
UE LED Flashlight Folding Umbrella
Derek Greenfield speaking at UE today
Derek Greenfield will present "Innovative Strategies for Reaching and Teaching Today's Students" from 1:30-3:30 p.m. TODAY - Tuesday, September 18 - in Eykamp Hall, Rooms 253 and 254, Ridgway University Center for faculty and staff. He will also provide a leadership workshop for students from 6:30-8:30 p.m. in Eykamp Hall, Rooms 253 and 254, Ridgway University Center.
For more information on Derek Greenfield, go to: www.derekgreenfield.com.
For more information about these events, contact Tracey Folden, assistant vice president of academic affairs and Title IX officer, at 812-488-2509 or tf91@evansville.edu
Submitted by Tracey Folden tf91@evansville.edu
Faculty and Staff Photo Exhibit now on display
The 2018 UE Faculty and Staff Photo Exhibit will be open from Tuesday, September 4 through Saturday, October 20 in the Krannert Gallery. Please come by the gallery to view the interesting and thoughtful photography created by your co-workers and UE retirees.
Thirteen photographers from eleven different areas across campus participated this year.
Robert L. (Bob) Young, Schroeder Family School of Business Administration
Doug Cook, Safety & Security
Carol Blair, Safety & Security
Hanns Pieper, Emeritus Faculty
John Metelko, Track and Field/Cross Country
Lynn Penland, Dean Emerita
Holly Carter, Education Abroad/Harlaxton College Programs
Lois D. Patton, Emeritus Faculty
Mari Plikuhn, Law, Politics, & Society
Kristen Strandberg, Music
Mark Valenzuela, Academic Affairs
Cris Hochwender, Biology & Environmental Studies
Nancy Lockyear, Art Department
Submitted by Carol McCraney cm177@evansville.edu
Sigma Alpha Iota Informal Recruitment: September 17-19
Sigma Alpha Iota is a national music fraternity for women. The SAI Beta Epsilon chapter will be hosting informal recruitment on Monday, September 17 through Wednesday, September 19 at 8:30 p.m. in the Krannert Hall of Art and Music. Come for an informative night about the chapter with snacks, games, and more. If you have any questions, e-mail Madeline Cox at mc324@evansville.edu.
Submitted by Madeline Cox mc324@evansville.edu
Muslim students invited to meet with university chaplain

All Muslim students are invited to meet with the University chaplain Tammy Gieselman on Wednesday, September 26 at 4:00 p.m. in Grabill Lounge, Neu Chapel. (Grabill Lounge is located on the lower level of Neu Chapel). Please plan to attend this important gathering, and bring your UE ID if you still need to sign up for access to the Muslim Prayer Room. Refreshments will be served. For more information, please e-mail tg85@evansville.edu.
Tammy Gieselman tg85@evansville.edu
Neu Chapel Forum: Conversation about the Historical Jesus, tonight at 7
The campus community is invited to be a part of a conversation about the historical Jesus. Together, we will consider: Who was Jesus as a figure of history? How was he similar and/or different than other teachers of his day? And what do different faith traditions say about Jesus? All viewpoints and voices are welcome! This exciting conversation will be held on the second floor of Ridgway University Center TONIGHT at 7:00 p.m.
Submitted by Keith Turner kt160@evansville.edu
Free coffee with Career Development - Thursday, September 27
Come for free coffee and an informal career chat with alumni and friends of the University on Thursday, September 27 from 4:00 – 5:00 p.m. in the Phillips Study Alcove (across from WUEV in Ridgway University Center) Learn about their journey to their current job and the skills needed for career success.
This month's focus is on careers ethics, social change, sustainability, and non-profits.
Submitted by Alison Morris-McDonald am268@evansville.edu
Rifle sports and archery with Venturing Crew!
The Venturing Crew is happy to announce that it has another adventure just around the corner!
The next event will be a fall campout at Old Ben Scout Reservation. This will be a short overnight trip from Friday, September 21 to Saturday, September 22
Numerous activities will be packed into these two days, including rifle and shotgun shooting, archery, hanging around a campfire ... and of course eating a ton of awesome food! The cost is $35, and all transportation, gear, and food is provided!
You must be a member of the Venturing Crew to go on this trip. If you did not fill out an application and pay your $25 dues, you will need to sign up before the group departs.
If you would like to attend, please visit the group's table in Ridgway University Center today - Tuesday September 18 - from noon-2:00 p.m. and 6:00-7:00 p.m., and Wednesday from 11:00 a.m.-1:00 p.m., OR RSVP to ef111@evansville.edu
Submitted by Elizabeth Ferguson ef111@evansville.edu
Newman Dinner and Discussion: Baptism
Join us at the Newman House today - Wednesday, September 19 - at 5:00 p.m. for Dinner and Discussion! The topic is "Baptism: Forgiveness and an Open Door" and will be led by Fr. Godfrey Mullen! All are welcome!
Submitted by Michaela Kunkle rmk305@evansville.edu
Pamela Oliva presents I-House Honduras
Pamela Oliva is a sophomore who is majoring in accounting and minoring in philosophy at UE. She believes that people at UE are very nice and are always willing to learn about different cultures. Tonight - Wednesday, September 19 - she will be sharing about her culture and country at I-House Honduras happening on the second floor of Ridgway University Center at 7:00 p.m.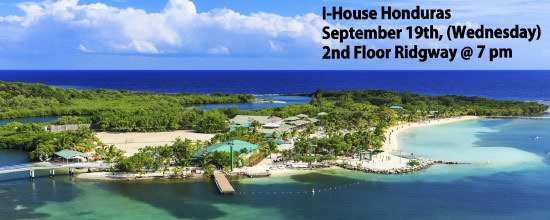 Submitted by Hussam Taj ht70@evansville.edu
Medical Spanish Group meeting today
The Medical Spanish Group will be meeting twice a month to practice communication skills in Spanish. These sessions are open to anyone wanting to practice Spanish for medical settings. The first practice session is today - Wednesday, September 19 - from 6:00-7:00 p.m. in Room 64 in the Schroeder School of Business Building. Please contact associate professor of Spanish Diana Rodríguez Quevedo at dr130@evansville.edu if you have any questions. ¡Nos vemos el miércoles!
Submitted by Diana Rodríguez Quevedo dr130@evansville.edu
Lunch Charlas: Informal Conversation in Spanish
Wanting to practice your Spanish? Join assistant professor of Spanish Edward Curran and associate professor of Spanish Diana Rodríguez Quevedo for lunch, and chat about different topics in Spanish: Wednesdays from noon-1:00 p.m. in the Starbuck's café area in Ridgway University Center. All levels of Spanish welcome. Lunch Charlas starts today - Wednesday, September 19. Please contact Professor Rodríguez Quevedo at dr130@evansville.edu if you have any questions. ¡Ahí nos vemos!
Submitted by Diana Rodriguez Quevedo dr130@evansville.edu
Graduate school fair next week
A Graduate School Fair is set for Wednesday, September 26, 1:00-3:00 p.m. in Ridgway University Center
Registered schools:
Campbellsville University
College of Education, Criminal Justice, Human Services and School of Information Technology (CECH) with the University of Cincinnati (UC)
Graduate Accounting Programs (GAP), Kelley School of Business, Indiana University-Bloomington
Indiana Tech
Indiana University School of Law
Indiana University School of Social Work
Indiana University-Purdue University Columbus, MBA program & MA in Mental Health Counseling
IU Lilly Family School of Philanthropy
IU School of Medicine, Biomedical Science Graduate Programs
Murray State University
Southern Illinois University Law
The New School
University of Evansville College of Education and Health Sciences
University of Evansville Department of Physician Assistant Science
University of Illinois College of Business
University of Indianapolis MBA program
University of Louisville Kent School of Social Work, MSSW Program
University of Southern Indiana
Western Kentucky University
Submitted by Alison Morris-McDonald am268@evansville.edu
STEM Career Day
Employers are seeking you for careers in STEM (science, technology, engineering, and math) fields! A STEM Career Day is planned for Tuesday, September 25 from 11:00 a.m. - 2:00 p.m. in Eykamp Hall, Ridgway University Center.
View these registered employers and valuable information using our app, Career Fair Plus. Just search for Career Fair Plus in the App Store or Google Play Store.
Accuride Wheel End Solutions
Alcoa Corporation
American Structurepoint, Inc.
AstraZeneca
Atmos Energy Corporation
Berry Global, Inc.
Bowen Engineering Corporation
BWX Technologies, Inc.
CHA Consulting, Inc.
Ciholas, Inc.
Continental AG
Cook Medical
Crane Army Ammunition Activity
Cripe
Earle C. Clements JCA
ECS Solutions
Evansville Water and Sewer Utility
GE Appliances, a Haier company
HMC Gears
Janssen & Spaans Engineering, Inc.
Jasper Engines and Transmissions
Kokosing
Lochmueller Group
Marian University with St. Vincent
MasterBrand Cabinets
Metronet
Naval Surface Warfare Center (NSWC), Crane Division
Orr Fellowship
Project Associates, Inc.
RQAW Corporation
Skanska USA, Inc.
TechPointX
UAB School of Medicine
Vectren
Vehicle Service Group (VSG)
Submitted by Alison Morris-McDonald am268@evansville.edu
Propose your own ChangeLab project!
Students, faculty, and staff - do you have an idea to make a difference in your community - or even the world? Propose your own ChangeLab project. Class credit is available for students, and stipends are available for faculty or staff serving as coaches. Submit your idea at the links below no later than Monday, September 17 at noon, Central Time. Spots are limited, apply early!
Faculty should submit their ideas here.
Students should submit their ideas here.
Submitted by Cindy Kelley ck116@evansville.edu
Student Interfaith Council being formed - sign up today!
Are you interested in interfaith dialogue, engagement, and travel with other interfaith leaders? Do you care about the future of our religiously diverse society? Would you like to be inspired and join the movement for interfaith cooperation, which seeks to bridge divides across lines of religious and worldview differences?
Want to know more? Please e-mail University chaplain Tammy Gieselman at tg85@evansville.edu.
Submitted by Tammy Gieselman tg85@evansville.edu
UE Homecoming Royalty 2018 nominations
During Homecoming Weekend, we plan to recognize our UE Homecoming Royalty 2018. To be eligible, students must be a full time student and member of the senior class. Nominations may be made by anyone on campus, either a student organization, group of friends, team, roommates, etc.
Please complete this nomination form by Monday, October 1.
UE Homecoming Royalty finalists will be announced at the Pep Rally on Friday, October 26 at 4:30 p.m. on the East Terrace Lawn. The top eight individuals with the most votes will be announced and asked to join us at the Men's Soccer game on Saturday, October 27 at 5:00 p.m. at Arad McCutchan Stadium.
At halftime, the finalists will be announced to the crowd and the two individuals with the most votes will be named our UE Homecoming Royalty 2018.
Following the game, Homecoming Royalty will then lead the crowd in counting down to the Homecoming Firework Show.
Submitted by Megan King mk225@evansville.edu
DPT students to conduct balance screenings on October 30
The second year DPT students are looking for volunteers to participate in free balance assessments with follow up training sessions and recommendations. Assessments will be offered at 1:00 p.m. and at 3:00 p.m. on October 30 at the Stone Family Center of Health Sciences, on the third floor in the physical therapy main lab. Each session will last 1.5 hours.
Please wear your exercise shoes and clothing as we will ask you to perform some light exercises. Rest breaks will be provided as needed throughout the session.
The Stone Center is located at 515 Walnut Street in Evansville. Parking is available in the lot next to the Stone Center directly behind the Ford Center. No permit is needed.
To sign up, please go to app.acuityscheduling.com/schedule.php?owner=14180299&appointmentType=8114654. We look forward to meeting you in person.
For more information, contact Jordana Lockwich, PT, DPT, at jl305@evansville.edu or 812-488-2582
Submitted by Jennifer Simon js698@evansville.edu
Do you know what to recycle at UE?
At UE, you can bring the following to recycle collection areas around campus:
Aluminum: empty cans.
Paper products including: empty cereal boxes, office paper, magazines, newspaper.
Plastic: empty containers with the number 1-7 in the recycling logo.
Books: call for pick up
Cardboard.
Look for the nearest recycle pick up location, and help keep recyclables out of the landfill!
For more information, check out: the UE Recycling Guide.
For pickup of full bins call Housekeeping at ext. 2045 or e-mail housekeeping@evansville.edu.
Submitted by Amber Elkins ae152@evansville.edu
Week One at the Habitat House that UE Built
The UE community came out in force for Week One on the House that UE built for Habitat of Humanity Evansville and sponsored by the Alan and Sharon Braun Family Foundation. Faculty, staff, and students finished the flooring system at 304 South Bedford to be on track to build this home. Prez P and David Green from Harlaxton picked up hammers and helped make the day a success.
If you are interested in participating in the House that UE Built, please sign up on UEngage. We will build every Saturday through October and a few weekdays. No experience needed, just a willing heart and open mind.
Grab your hammers and come out to help!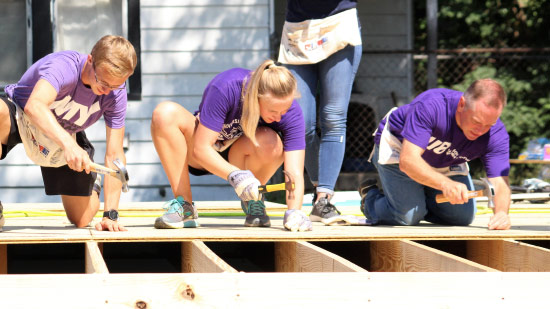 For more information, please contact Holly Carter at hc110@evansville.edu.
Submitted by Holly Carter hc110@evansville.edu.
LOVCIF Scholarship
Are you majoring in a construction related field such as management or civil engineering? Did you graduate from a high school within 100 miles of Evansville? If you meet both of these criteria, you are eligible to apply for the Lower Ohio Valley Construction Industry Fund Scholarship (LOVCIF). Deadline for application is Oct 12, 2018. E-mail cw259@evansville.edu or visit the Office of Financial Aid for an application.
Submitted by Cathleen Wright cw259@evansville.edu
Have a student diversity project or event you'd like to do at UE or in the local community?
The Office of Diversity Initiatives can provide funding to help support student led diversity projects or events that support the core values of our university. If you have an idea take the time to submit a proposal that will be reviewed by the student Multicultural Advisory Board for funding.
Deadline for the next submission is October 15.
For more information, contact LaNeeca Williams in the Office of Diversity Initiatives.
The application can be found on the website of the Office of Diversity Initiatives under the link "Resources from the Office of Diversity Initiatives."
Submitted by LaNeeca Williams lw161@evansville.edu
The Habitat House that UE Built!
UE and Habitat for Humanity Evansville have teamed up to build a home at 304 S. Bedford! This house has been sponsored by the Alan and Sharon Braun Family Foundation, and UE will provide the talent to take it from foundation to new home for a future homeowner.
We are looking for volunteers to both build and provide hospitality (snacks, drinks and lunches) on each of our build days. You can volunteer for all of these on the UEngage system.
Simply login and look for the Habitat Logo for events.
Build days are
Saturday, September 15 - Flooring System
Saturday, September 22 - Framing Walls
Tuesday, September 25 - Framing Walls
Wednesday, September 26 - Framing Walls
Saturday, September 29 - Prepping Trusses
Saturday, October 13 - Siding and Insulation
Tuesday, October 16 - Siding
Wednesday, October 17 -Siding
Saturday, October 20 -Siding and/or Painting
Saturday, October 27 - Painting
No experience necessary! Pick up a hammer and help us build for a better Evansville!
For more information, please contact Holly Carter at hc110@evansville.edu.
Submitted by Holly Carter hc110@evansville.edu
This Week from the Harlaxton Office …
This fall, the Harlaxton office has a lot going on! We would like to introduce these new weekly AceNotes updates to keep the UE community informed about what we are up to, where we are traveling to promote Harlaxton, and what is going on with our favorite British manor house, so look out each week to see what the US Harlaxton team is up to!
This week will be full of visits to Harlaxton partner schools old and new! Everyone in the Harlaxton office, including David Green, our visitor to UE from the manor, will be on the road this week promoting Harlaxton!
Holly Carter, director of Harlaxton College programs, will be traveling on Tuesday, September 18 to Abilene, Texas (hometown of UE's VP of Marketing and Enrollment Shane Davidson!) to McMurry University, another new partner school. The first McMurry student at Harlaxton attended in Summer 2018 and won the Principal's Award for outstanding student of the term, and we hope that they will continue to send terrific students to Harlaxton.
Carter will then travel to the University of Wisconsin-Platteville Thursday and Friday. UW-Platteville is perhaps Harlaxton's most recent partner, and she will be working with key stakeholders to set up their plan for sending students and faculty to Harlaxton.
In the meantime, Kaylynn Carver, Harlaxton advisor, will visit Berry College, which is located in Mount Berry, Georgia, for their study abroad fair on Tuesday, September 18. Berry College is a newer partner school just starting to send students. Carver and Anna Beth Gillon, Harlaxton Programs intern, will then attend the Western Kentucky University study abroad fair on Wednesday, September 19. WKU has traditionally sent quite a few students to Harlaxton each semester, including Gillon herself a few years ago, so we are excited to visit with them.
Wesley Milner, executive director of international programs, will also travel to Texas this week. On September 20-21, Wes will represent Harlaxton at the study abroad fair at Texas Lutheran University, a longstanding Harlaxton partner school, and will visit the offices of Academic Programs International (API), a study abroad program provider that will start sending students to Harlaxton this year.
David Green will be at Augusta University, yet another new partner school, September 18-21. Augusta, which is actually Holly Carter's alma mater for her undergraduate degree, just signed a partnership agreement with Harlaxton this spring. Their first student just last week applied for Harlaxton summer 2019. Green will be meeting with faculty and honors program directors as well as recruiting students during his visit.
In addition to all the travel, the Harlaxton faculty applications for Fall 2020, Summer 2020, and Spring 2021 are now open! We are excited to announce that we have moved the faculty application process online, so if you are interested in teaching at Harlaxton, you can now apply through our website at studyabroad.evansville.edu. Please contact Holly Carter at hc110@evansville.edu if you have any questions about teaching at Harlaxton, and tune in next week for more visits, spring numbers, and other exciting Harlaxton events happening with our office!
Submitted by Kaylynn Carver kc205@evansville.edu
Math students and professors publish research
Pengcheng Xiao, assistant professor of mathematics, has published two papers with UE students.
The first paper is titled "Revisit Language Modeling Competition and Extinction: A Data-Driven Validation." and is published in the Journal of Applied Mathematics and Physics. Chosila Sutantawibul (physics graduate), Sarah Richie (physics graduate), and Daniela Fuentes-Rivero (math graduate) are the coauthors. This study is an extension work based on math senior seminar project under the supervision of Xiao. UE Global Scholar supports this research publication.
The second paper is titled "A simplification and analysis of the HPA axis model." and is published in Communications in Mathematical Biology and Neuroscience. Adam Lonnberg(math) and Tuan Nguyen, assistant professor of mathematics are the coauthors. This work is funded by the Dr. Guy Banta BMD Summer Research Fellowship and UExplore research grant.
Brent Noble named Head Men's and Women's Swimming and Diving Coach
University of Evansville director of athletics Mark Spencer has announced the hiring of Brent Noble as the head men's and women's swimming and diving coach. Noble joins the Purple Aces program from Wabash College where he oversaw his student-athletes break 22 out of 23 school records in his five seasons at the helm.
"Throughout our search process, it became evident that Brent Noble had all of the attributes that we were looking for in our new head coach," Spencer said. "Brent is a quality individual who brings a strong pedigree in the Midwest. He has the ability to bring out the best in student-athletes both in the classroom and in the pool. We are excited to welcome him to the Purple Aces family.
Noble has spent the last five seasons as the head swimming and diving coach at Wabash College and is coming off of a stellar campaign that saw the Little Giants take fourth place at the North Coast Athletic Conference Swimming and Diving Championships. Finishing with 1,154 points, his squad reached the 1,000-point plateau for the fourth time in school history. It was also the highest tally in the history of the Wabash program. Aaron Embree and Hunter Jones received Scholar All-America Honorable Mention Recognition while the team earned Scholar-All-America Team accolades in the spring.
"It's clear that this is a special group of men and women, and I'm very excited to be their next leader," Noble said. "Evansville combines a rigorous academic environment that I can feel very good about recruiting to with the opportunity to compete in Division I athletics, and I feel like that is a really great fit for me at this point in my coaching career."
"I am very thankful to Mark Spencer for the opportunity, and I'm eager to get to work and help to build this program and make the UE community proud."
His Little Giant swimming and diving team placed fifth at the 2017 NCAC Championships. Wabash captured two All-NCAC honors in one- and three-meter diving. Aaron Embree qualified for the second consecutive year for the NCAA Diving Regional.
Wabash placed fourth at the 2016 NCAC Championships, missing the 1,000-point mark by half a point with a score of 999.5. Zechariah Banks captured individual titles in the 100- and 200-yard breaststroke and moved on the 2016 NCAA DIII Championship Meet. Banks captured fifth-place finishes in both events at nationals to earn All-America honors.
His Little Giants finished fourth at the 2015 North Coast Athletic Conference Swimming and Diving Championships with a total of 1,041 points to earn Noble NCAC Men's Coach of the Year honors. The Little Giants topped the 1,000-point mark for the first time since 2008 and became the first team to finish fourth with more than 1,000 points. Wabash swimmers set 14 new school records at the 2015 championships and produced six All-NCAC performances, including an individual NCAC victory by Jack Belford in the 500 freestyle.
Six Wabash swimmers - Carter Adams, Zechariah Banks, Jack Belford, Jake Childress, Elliot Johns, and Chris McGue - qualified for the 2015 NCAA Division III National Championship meet in Texas, the most qualifiers since the Little Giants sent nine to the national meet in 1991. Wabash finished the 2014-15 season with a 5-2 dual-meet record, including a 162-129 home victory over arch-rival DePauw University.
He guided the Little Giants to a successful outing at the 2014 NCAC Swimming and Diving Championships, finishing fourth in the highly-competitive league. The Little Giants sent six swimmers to the "A" finals of the meet with a third-place finish in the 400-yard medley relay. Noble's squad posted 10 school records during the season and 11 NCAA provisional qualifying times.
The youngest head swimming coach in NCAA Division I, he tripled the size of the Sacred Heart roster in his time with the school in 2012-13. His swimmers set nine new school records and every member of the team turned in at least two lifetime-best results in their primary events. His team also excelled in the classroom, earning Scholar All-America team honors by the College Swimming Coaches Association of America.
He earned a bachelor of science degree from Eastern Illinois University in 2009, where he competed for four years as a member of the Panthers' swimming team. He earned academic all-conference honors all four years, and was part of the winning 800-meter relay team at the 2007 Mid-Continent Conference Championships, and made 15 finals appearances in conference championship events throughout his career. Noble is still listed on the top-ten list at Eastern Illinois in the 200- and 400-yard individual medley.
A graduate of Terre Haute South High School in Indiana, he earned varsity letters as a member of the swimming and cross country teams. He is expected to earn a Master's of Science in Kinesiology from Indiana University in December and has studied swim training and techniques at the Indiana University Counsilman Center for the Science of Swimming in addition to his own research to help maximize potential in student-athletes.
His first college coaching experience came when he joined the DePauw University coaching staff in 2010 as an assistant for the men's program. He designed season and weekly training and workout plans, which helped send five swimmers to the NCAA Division III National Championship meet. Noble was hired as a sprint coach for the men's and women's teams at East Carolina University in 2011, where his athletes posted seven school records, three freshmen records, and 14 new individual times on the all-time top-10 list. His swimmers also earned five all-conference selections and produced four NCAA Division I "B" cuts.
Anderson and Rohleder pace UE women in day one
Sydney Anderson and Sophia Rohleder were the top performers for the University of Evansville women's golf team in the first day of the Cardinal Classic at The Players Club.

Sydney Anderson was the Purple Aces' top golfer of the day. She tallied a 77 and 78 on her way to a 155. She is tied for 33rd. Sophia Rohleder finished one behind Anderson with a 156. Her rounds finished at 77 and 79.

Third on the team was Alyssa McMinn. She had an 81 and 83 on her way to a 164. Lexie Sollman was next for UE. After carding an 85 to start the day, she lowered her score to an 81 in round two. Madison Chaney also saw improvement as the day went along. She posted a 93 in the first round and lowered her score by ten strokes to an 83.

The University of Indianapolis leads the team standings by 20 strokes over Ball State. They finished the day with a 574. Evansville is in 15th place, eight behind Purdue Fort Wayne.

Today, the teams will play the final 18 holes.
Contribute to AceNotes
To have content considered for inclusion in AceNotes, please submit a Marketing Request Form. Deadline for submission to AceNotes is 10:00 a.m. on the requested date of publication. Only articles concerning UE related/sponsored activities will be accepted. Articles submitted to AceNotes may be edited for length and clarity. Submitter contact information is at the end of each article.