| | |
| --- | --- |
| AceNotes Today | Monday, September 17, 2018 |
Security Awareness Week: September 17-21
Security Awareness Week is September 17-21. Activities planned include:
Today - Monday, September 17
10:00 a.m.–2:00 p.m., Lobby of Ridgway University Center
"Meet your Security Staff" shown on campus video displays all week.
Security staff will offer to engrave any personal property
Students can register for FREE prizes
The drawing for free prizes for students is Friday, September 21 at 3:00 p.m. Prizes will include:
UE LED Flashlight Folding Umbrella
Faculty and Staff Photo Exhibit now on display
The 2018 UE Faculty and Staff Photo Exhibit will be open from Tuesday, September 4 through Saturday, October 20 in the Krannert Gallery. Please come by the gallery to view the interesting and thoughtful photography created by your co-workers and UE retirees.
Thirteen photographers from eleven different areas across campus participated this year.
Robert L. (Bob) Young, Schroeder Family School of Business Administration
Doug Cook, Safety & Security
Carol Blair, Safety & Security
Hanns Pieper, Emeritus Faculty
John Metelko, Track and Field/Cross Country
Lynn Penland, Dean Emerita
Holly Carter, Education Abroad/Harlaxton College Programs
Lois D. Patton, Emeritus Faculty
Mari Plikuhn, Law, Politics, & Society
Kristen Strandberg, Music
Mark Valenzuela, Academic Affairs
Cris Hochwender, Biology & Environmental Studies
Nancy Lockyear, Art Department
Submitted by Carol McCraney cm177@evansville.edu
Sigma Alpha Iota Informal Recruitment: September 17-19
Sigma Alpha Iota is a national music fraternity for women. The SAI Beta Epsilon chapter will be hosting informal recruitment on Monday, September 17 through Wednesday, September 19 at 8:30 p.m. in the Krannert Hall of Art and Music. Come for an informative night about the chapter with snacks, games, and more. If you have any questions, e-mail Madeline Cox at mc324@evansville.edu.
Submitted by Madeline Cox mc324@evansville.edu
Newman Dinner and Discussion: Baptism
Join us at the Newman House today - Wednesday, September 19 - at 5:00 p.m. for Dinner and Discussion! The topic is "Baptism: Forgiveness and an Open Door" and will be led by Fr. Godfrey Mullen! All are welcome!
Submitted by Michaela Kunkle rmk305@evansville.edu
Pamela Oliva presents I-House Honduras
Pamela Oliva is a sophomore who is majoring in accounting and minoring in philosophy at UE. She believes that people at UE are very nice and are always willing to learn about different cultures. Tonight - Wednesday, September 19 - she will be sharing about her culture and country at I-House Honduras happening on the second floor of Ridgway University Center at 7:00 p.m.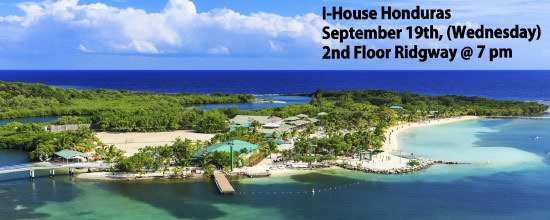 Submitted by Hussam Taj ht70@evansville.edu
Tuesday Night Recharge Mass
Join the Newman Club on Tuesday, September 18 at 8:00 p.m. in Neu Chapel to celebrate a Catholic Mass! Fr. Steve Lintzenich will be the celebrant. All are welcome!
Submitted by Michaela Kunkler mk305@evansville.edu
Memoirist Kelly Sundberg speaking at today's Creative Writing Coffee Hour
Author Kelly Sundberg will read from her work at the University of Evansville Creative Writing Department's Coffee Hour today - September 28. The reading will begin at 4:00 p.m. in the Melvin Peterson Gallery at UE. Sundberg will be reading from her memoir, Goodbye, Sweet Girl, which was published in June 2018. This event is free and open to the public.
Sundburg's essays have appeared in Guernica, Gulf Coast, The Rumpus, Denver Quarterly, Slice Magazine, and others.
Her essay "It Will Look Like a Sunset" was selected for inclusion in Best American Essays 2015, and more of her essays have been listed as notables in the same series.
Sundberg has a PhD in Creative Nonfiction from Ohio University. She has been the recipient of fellowships or grants from Vermont Studio Center, A Room of Her Own Foundation, Dickinson House, and the National Endowment for the Arts.
For more information, contact Paul Bone at pb28@evansville.edu.
Medical Spanish Group meeting today
The Medical Spanish Group will be meeting twice a month to practice communication skills in Spanish. These sessions are open to anyone wanting to practice Spanish for medical settings. The first practice session is today - Wednesday, September 19 - from 6:00-7:00 p.m. in Room 64 in the Schroeder School of Business Building. Please contact associate professor of Spanish Diana Rodríguez Quevedo at dr130@evansville.edu if you have any questions. ¡Nos vemos el miércoles!
Submitted by Diana Rodríguez Quevedo dr130@evansville.edu
Derek Greenfield speaking at UE today
Derek Greenfield will present "Innovative Strategies for Reaching and Teaching Today's Students" from 1:30-3:30 p.m. TODAY - Tuesday, September 18 - in Eykamp Hall, Rooms 253 and 254, Ridgway University Center for faculty and staff. He will also provide a leadership workshop for students from 6:30-8:30 p.m. in Eykamp Hall, Rooms 253 and 254, Ridgway University Center.
For more information on Derek Greenfield, go to: www.derekgreenfield.com.
For more information about these events, contact Tracey Folden, assistant vice president of academic affairs and Title IX officer, at 812-488-2509 or tf91@evansville.edu
Submitted by Tracey Folden tf91@evansville.edu
Lunch Charlas: Informal Conversation in Spanish
Wanting to practice your Spanish? Join assistant professor of Spanish Edward Curran and associate professor of Spanish Diana Rodríguez Quevedo for lunch, and chat about different topics in Spanish: Wednesdays from noon-1:00 p.m. in the Starbuck's café area in Ridgway University Center. All levels of Spanish welcome. Lunch Charlas starts today - Wednesday, September 19. Please contact Professor Rodríguez Quevedo at dr130@evansville.edu if you have any questions. ¡Ahí nos vemos!
Submitted by Diana Rodriguez Quevedo dr130@evansville.edu
STEM Career Day
Employers are seeking you for careers in STEM (science, technology, engineering, and math) fields! A STEM Career Day is planned for Tuesday, September 25 from 11:00 a.m. - 2:00 p.m. in Eykamp Hall, Ridgway University Center.
View these registered employers and valuable information using our app, Career Fair Plus. Just search for Career Fair Plus in the App Store or Google Play Store.
Accuride Wheel End Solutions
Alcoa Corporation
American Structurepoint, Inc.
AstraZeneca
Atmos Energy Corporation
Berry Global, Inc.
Bowen Engineering Corporation
BWX Technologies, Inc.
CHA Consulting, Inc.
Ciholas, Inc.
Continental AG
Cook Medical
Crane Army Ammunition Activity
Cripe
Earle C. Clements JCA
ECS Solutions
Evansville Water and Sewer Utility
GE Appliances, a Haier company
HMC Gears
Janssen & Spaans Engineering, Inc.
Jasper Engines and Transmissions
Kokosing
Lochmueller Group
Marian University with St. Vincent
MasterBrand Cabinets
Metronet
Naval Surface Warfare Center (NSWC), Crane Division
Orr Fellowship
Project Associates, Inc.
RQAW Corporation
Skanska USA, Inc.
TechPointX
UAB School of Medicine
Vectren
Vehicle Service Group (VSG)
Submitted by Alison Morris-McDonald am268@evansville.edu
Trailblazing Astronaut Eileen Collins to Speak at UE's Snyder Lecture on October 17
Trailblazing astronaut Eileen Collins, the first woman to pilot and command an American spacecraft, will be the guest speaker for the University of Evansville's Patricia H. Snyder Lecture in October. The lecture is planned for Wednesday, October 17, at 7:00 p.m., in Eykamp Hall, Ridgway University Center, on UE's campus. The event is free and open to the public thanks to the generosity of the Snyder family.
One of America's most admired women, Col. Collins became the first female to pilot a US spacecraft with the Discovery shuttle flight in 1995, and the first female commander on the 1999 Columbia shuttle flight. In 2005, NASA tapped her to command the space shuttle Discovery's historic "Return to Flight" mission, NASA's first manned flight following the loss of space shuttle Columbia in 2003. While logging 872 hours in space, Collins earned a reputation for coolness under pressure.
Collins will discuss how her career as an astronaut took shape, from her early years in the US Air Force to her ground-breaking experience with NASA. Drawing from her career experiences, she will share valuable insights learned from both her successes and her failures. She will also provide insight into the future of space travel as the world turns to exciting new space frontiers.
The Patricia H. Snyder Concert and Lecture Series was made possible in 1997 through an endowment from the late Patricia H. Snyder, trustee and longtime friend of the University, to bring speakers or performers of renown to Evansville at no cost to the public.
Reservations are encouraged, but a ticket is not required to enter. Save your seat online here.
CAIR civil rights attorney to speak at UE's Constitution Day Lecture
Carolyn Homer, a civil rights attorney with the Council on American-Islamic Relations (CAIR), will be the guest speaker for this year's Constitution Day lecture at the University of Evansville. The lecture is planned for tonight - Thursday, September 20 - at 7:00 p.m. in Smythe Lecture Hall (Room 170) in the Schroeder School of Business Building. Admission to the lecture, which is part of UE's annual observance of Constitution Day, is free and open to the public.
The topic of Homer's lecture will be "Dissent is Patriotic: How the Constitution Protects Our Civil Rights."
Homer's work focuses on fighting discrimination against American Muslims. She is currently litigating constitutional challenges to the federal terrorist watch list, the presidential travel ban, and state attempts to silence advocacy on behalf of Palestine. CAIR also has a large docket of employment discrimination and prison discrimination cases.
Prior to joining CAIR, Homer worked for five years at the leading international law firm Quinn Emanuel Urquhart & Sullivan on constitutional law and technology cases, on behalf of some of the largest Silicon Valley companies.
Homer is a graduate of Indiana University and George Washington University Law School. She is admitted to practice law in California, the District of Columbia, and the Supreme Court of the United States.
UE Theatre begins 2018–19 season with "Iphigenia and Other Daughters"
The University of Evansville Theatre proudly presents its first production of the season, Ellen McLaughlin's Iphigenia and Other Daughters, adapted from the plays Iphigenia in Aulis and Iphigenia in Tauris, by Euripides, and the play Electra, by Sophocles. Iphigenia and Other Daughters is a provocative and daring tale about the roles women assume in the vicious cycle of vengeance and violence. This production opened Friday, September 21 in the May Studio Theatre. There is one more performance - today, September 27 - at 7:30 p.m.
Professor of Theatre Diane Brewer directs Iphigenia and Other Daughters. Department Chair Eric Renschler serves as the scenic designer; Assistant Professor of Theatre Sarah J. Smith is the costume designer; Meaghan Stanley, a junior from Middlebury, Vt., is the lighting designer; Matt McDonald, a senior from Carmel, Ind., serves as the sound designer; Cassy Spaduzzi, a senior from San Antonio, Texas, is the dramaturg, Assistant Professor Janel Miley serves as the Vocal Coach; Lauren Ward, a sophomore from Fort Worth, Texas, is the stage manager; and Mason Wilhite, a senior from San Antonio, Texas, serves as the technical director.
The cast features first-year student Kayleigh Doyle from McKinney, Texas, as Iphigenia; senior Madeline Easley from Overland Park, Kan., as Clytemnestra; senior Amanda Suggs from Cedar Park, Texas, as Chrysothemis; sophomore Fiona Peterson-Quinn from Lincoln, Ind., as Electra; junior Alexander James Hunter from Conifer, Colo., as Orestes; and Chorus members include first-year students Liv Campbell from Kingwood, Texas, Cassandra Dunn from Brattleboro, Vt., Bailey Lomax from Sellersburg, Ind., Stephanie Voteau from St. Louis, Mo., and Kelly Walsh from Hollywood, Fla.
Ticket prices are $11 for adults and $9 for senior adults, students, and UE faculty and staff. UE students may obtain one free student rush ticket beginning at noon on the day of the performance they wish to attend.
Webelos Engineering Pin Day 2018
The College of Engineering and Computer Science will host Webelos Engineering Pin Day on Saturday, October 27. Workshops with activity stations will provide some of the experience required for a Webelos Scout to qualify for an engineering pin. Registration is limited to 200 scouts. Registrations will be taken until the event is full or October 18.
Registration details are available at www.evansville.edu/WebelosEngineeringPinDay.
For further information, contact Kimberly Higgins at kh209@evansville.edu, telephone: 812-488-2651.
Submitted by Kimberly Higgins kh209@evansville.edu
Self-care Mindfulness: Yoga and Meditation
Self-care Mindfulness: Yoga and Meditation, an event hosted by the Change Lab/ GAP Course Mental Health Awareness Team, is planned for today - Thursday, September 20 - from 5:00-6:00 p.m. on the East Terrace Lawn outside of Ridgway University Center.
The goal of the event is to create awareness about mental health while offering free management skills like yoga and meditation to the UE campus community.
Special guests/ instructors are Mark Goltiao and Megan Sicard.
Submitted by Aisha Tijjani at166@evansville.edu
Propose your own ChangeLab project!
Students, faculty, and staff - do you have an idea to make a difference in your community - or even the world? Propose your own ChangeLab project. Class credit is available for students, and stipends are available for faculty or staff serving as coaches. Submit your idea at the links below no later than Monday, September 17 at noon, Central Time. Spots are limited, apply early!
Faculty should submit their ideas here.
Students should submit their ideas here.
Submitted by Cindy Kelley ck116@evansville.edu
Do you know what to recycle at UE?
At UE, you can bring the following to recycle collection areas around campus:
Aluminum: empty cans.
Paper products including: empty cereal boxes, office paper, magazines, newspaper.
Plastic: empty containers with the number 1-7 in the recycling logo.
Books: call for pick up
Cardboard.
Look for the nearest recycle pick up location, and help keep recyclables out of the landfill!
For more information, check out: the UE Recycling Guide.
For pickup of full bins call Housekeeping at ext. 2045 or e-mail housekeeping@evansville.edu.
Submitted by Amber Elkins ae152@evansville.edu
LOVCIF Scholarship
Are you majoring in a construction related field such as management or civil engineering? Did you graduate from a high school within 100 miles of Evansville? If you meet both of these criteria, you are eligible to apply for the Lower Ohio Valley Construction Industry Fund Scholarship (LOVCIF). Deadline for application is Oct 12, 2018. E-mail cw259@evansville.edu or visit the Office of Financial Aid for an application.
Submitted by Cathleen Wright cw259@evansville.edu
Fall Healthy Behavior Challenge
Earn additional HRA credits by participating in the Fall Healthy Behavior Challenge beginning September 23! To Sign up for the challenge please e-mail ac375@evansville.edu. Those who successfully complete the 8-week challenge will receive $150 in HRA credits.
Submitted by Ashley Chipps ac375@evansville.edu
Have a student diversity project or event you'd like to do at UE or in the local community?
The Office of Diversity Initiatives can provide funding to help support student led diversity projects or events that support the core values of our university. If you have an idea take the time to submit a proposal that will be reviewed by the student Multicultural Advisory Board for funding.
Deadline for the next submission is October 15.
For more information, contact LaNeeca Williams in the Office of Diversity Initiatives.
The application can be found on the website of the Office of Diversity Initiatives under the link "Resources from the Office of Diversity Initiatives."
Submitted by LaNeeca Williams lw161@evansville.edu
The Habitat House that UE Built!
UE and Habitat for Humanity Evansville have teamed up to build a home at 304 S. Bedford! This house has been sponsored by the Alan and Sharon Braun Family Foundation, and UE will provide the talent to take it from foundation to new home for a future homeowner.
We are looking for volunteers to both build and provide hospitality (snacks, drinks and lunches) on each of our build days. You can volunteer for all of these on the UEngage system.
Simply login and look for the Habitat Logo for events.
Build days are
Saturday, September 15 - Flooring System
Saturday, September 22 - Framing Walls
Tuesday, September 25 - Framing Walls
Wednesday, September 26 - Framing Walls
Saturday, September 29 - Prepping Trusses
Saturday, October 13 - Siding and Insulation
Tuesday, October 16 - Siding
Wednesday, October 17 -Siding
Saturday, October 20 -Siding and/or Painting
Saturday, October 27 - Painting
No experience necessary! Pick up a hammer and help us build for a better Evansville!
For more information, please contact Holly Carter at hc110@evansville.edu.
Submitted by Holly Carter hc110@evansville.edu
This Week from the Harlaxton Office …
This fall, the Harlaxton office has a lot going on! We would like to introduce these new weekly AceNotes updates to keep the UE community informed about what we are up to, where we are traveling to promote Harlaxton, and what is going on with our favorite British manor house, so look out each week to see what the US Harlaxton team is up to!
This week will be full of visits to Harlaxton partner schools old and new! Everyone in the Harlaxton office, including David Green, our visitor to UE from the manor, will be on the road this week promoting Harlaxton!
Holly Carter, director of Harlaxton College programs, will be traveling on Tuesday, September 18 to Abilene, Texas (hometown of UE's VP of Marketing and Enrollment Shane Davidson!) to McMurry University, another new partner school. The first McMurry student at Harlaxton attended in Summer 2018 and won the Principal's Award for outstanding student of the term, and we hope that they will continue to send terrific students to Harlaxton.
Carter will then travel to the University of Wisconsin-Platteville Thursday and Friday. UW-Platteville is perhaps Harlaxton's most recent partner, and she will be working with key stakeholders to set up their plan for sending students and faculty to Harlaxton.
In the meantime, Kaylynn Carver, Harlaxton advisor, will visit Berry College, which is located in Mount Berry, Georgia, for their study abroad fair on Tuesday, September 18. Berry College is a newer partner school just starting to send students. Carver and Anna Beth Gillon, Harlaxton Programs intern, will then attend the Western Kentucky University study abroad fair on Wednesday, September 19. WKU has traditionally sent quite a few students to Harlaxton each semester, including Gillon herself a few years ago, so we are excited to visit with them.
Wesley Milner, executive director of international programs, will also travel to Texas this week. On September 20-21, Wes will represent Harlaxton at the study abroad fair at Texas Lutheran University, a longstanding Harlaxton partner school, and will visit the offices of Academic Programs International (API), a study abroad program provider that will start sending students to Harlaxton this year.
David Green will be at Augusta University, yet another new partner school, September 18-21. Augusta, which is actually Holly Carter's alma mater for her undergraduate degree, just signed a partnership agreement with Harlaxton this spring. Their first student just last week applied for Harlaxton summer 2019. Green will be meeting with faculty and honors program directors as well as recruiting students during his visit.
In addition to all the travel, the Harlaxton faculty applications for Fall 2020, Summer 2020, and Spring 2021 are now open! We are excited to announce that we have moved the faculty application process online, so if you are interested in teaching at Harlaxton, you can now apply through our website at studyabroad.evansville.edu. Please contact Holly Carter at hc110@evansville.edu if you have any questions about teaching at Harlaxton, and tune in next week for more visits, spring numbers, and other exciting Harlaxton events happening with our office!
Submitted by Kaylynn Carver kc205@evansville.edu
STD facts and information
Recent reports from the Centers for Disease Control (CDC) show that STD rates in the US are at an all-time high!
The facts:
•15-24 year olds account for half of all new STD infections.
•Chlamydia is the most common STD with almost half of cases reported by women ages 15-24.
• The US has the highest STD rates in the world
•Did you know that condoms are the only birth control that reduces your risk of both pregnancy and STDs, including HIV???
•Did you know that sharing sex toys is another method of STD transmission???
If sexually active, wear a condom ALWAYS, even if you or your partner is using another type of birth control (pill, IUD, etc.), and get tested ANNUALLY!
For testing and treatment:
•See your primary care doctor
•Vanderburgh County Health Department offers confidential testing and treatment (812-435-5683)
•UE Counseling Center offers confidential mental health support
o 812-488-2663
For more information on STDs in young adults, please see the CDC website.
Submitted by Jennifer Hargus jh693@evansville.edu
UE employees - sign up to be a Global Family for an international student
Join Global Friends and Families to meet an international student for friendship, support, and cultural sharing. The program matches Evansville families with international students to help students learn more about typical American life and to give families the chance to learn and grow together.
For more information, attend an information session on Monday, September 17 at 4:30 p.m. in Ridgway University Center 219, Beck Conference Room in the Student Life Center. If you can't make it or have other questions, please contact Megan Sicard at ms331@evansville.edu or ext. 2280.
Submitted by Megan Sicard ms331@evansville.edu
CECS to offer UExplore Engineering Program
The College of Engineering and Computer Science is offering a UExplore Engineering Program for high school students. The program is designed to give participants a better understanding of the fields of civil, mechanical, electrical, and computer engineering and computer science through activities, hands-on projects, and tours of local industry.
The sessions in the program are October 15, November 5, November 26, January 21, February 18, March 11, April 1, and April 22. All sessions will be from 6:00-7:15 p.m. in the Koch Center for Engineering and Science on UE's campus.
James Allen, UE associate professor of mechanical and civil engineering, is the advisor for the program. A registered professional engineer in the states of Indiana and Ohio, Allen has extensive work experience in industry. Allen will be assisted with the program by UE engineering students.
The registration fee for the program is $50. Register online at www.evansville.edu/uexploreengineering or contact Kimberly Higgins for more information at 812-488-2661 or kh209@evansville.edu.
Submitted by Kim Higgins kh209@evansville.edu
Computer monitors available for $15
The UE Bookstore has a limited quantity of 15-inch adjustable computer monitors available for $15. These are made available through the Office of Technology Services. Monitors were formerly used in campus computer labs and were replaced recently. These are AS IS models and are available to anyone from the campus community on a first come, first served basis. Check them out in the Bookstore or view this photo.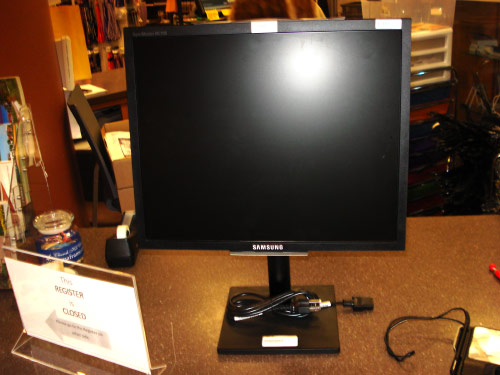 Submitted by Doug Gustwiller dg57@evansville.edu
Review course for Fundamentals of Engineering Exam offered
The University of Evansville College of Engineering and Computer Science has announced dates for the annual review and preparation course for those planning to take the Fundamentals of Engineering Exam.
All classes will be held Thursday evenings beginning at 6:30 p.m. in the Koch Center for Engineering and Science building on the UE campus. Classes are divided into relevance per discipline. Fees are adjusted accordingly.
Civil engineering candidates will attend from September 27 through January 24.
Mechanical engineering and other disciplines candidates will attend from September 27 through November 15.
Electrical and computer engineering candidates will attend October 25 through November 15.
Registration forms and payment must be returned by 4:00 p.m. on Wednesday, September 26.
On campus registrations should be returned to Room 250 in the Koch Center for Engineering and Science.
Community members may obtain registration information by contacting Kimberly Higgins via e-mail at kh209@evansville.edu or phone at 812-488-2651.
Early registration is encouraged as space is limited.
Submitted by Kimberly Higgins kh209@evansville.edu
Math students and professors publish research
Pengcheng Xiao, assistant professor of mathematics, has published two papers with UE students.
The first paper is titled "Revisit Language Modeling Competition and Extinction: A Data-Driven Validation." and is published in the Journal of Applied Mathematics and Physics. Chosila Sutantawibul (physics graduate), Sarah Richie (physics graduate), and Daniela Fuentes-Rivero (math graduate) are the coauthors. This study is an extension work based on math senior seminar project under the supervision of Xiao. UE Global Scholar supports this research publication.
The second paper is titled "A simplification and analysis of the HPA axis model." and is published in Communications in Mathematical Biology and Neuroscience. Adam Lonnberg(math) and Tuan Nguyen, assistant professor of mathematics are the coauthors. This work is funded by the Dr. Guy Banta BMD Summer Research Fellowship and UExplore research grant.
Gieselman appointed director of schools, colleges and universities at United Methodist Church's GBHEM
In her tenth year as the University Chaplain at the University of Evansville, Tamara Gieselman has been appointed the Director of Schools, Colleges, and Universities at the United Methodist Church's General Board of Higher Education and Ministry (GBHEM). In this capacity, she will work with United Methodist colleges and universities worldwide to affirm and accredit them and to coordinate their efforts with those of the Methodist Church. Tammy will bring an extraordinary passion for education, diversity, justice, and interfaith leadership to this new calling, and we are excited for the opportunities she will have. Tammy's last day with us will be Monday, October 15. She leaves behind a rich legacy at UE as a pastor, an educator, and a friend to students and faculty—as well as an important leader in the Evansville interfaith community, where she has been transformative. She will be deeply missed and always remembered, and we will ensure that the work that she has started continues. Congratulations, Tammy!
Submitted by Paula Heldt ph28@evansville.edu
Volleyball completes non-conference schedule
Non-conference play came to a close on Saturday as the University of Evansville volleyball team took on Dayton and Tennessee in the Flyer Invitational. UE fell by scores of 3-0 in both contests.

Dayton picked up a 3-0 win over the Aces to start Saturday's action. Rachel Tam had 15 kills in the match while Allana McInnis notched 24 assists and Alondra Vazuez recorded 12 digs. With the scored tied at 3-3 in the opening frame, the Flyers reeled off seven of the next nine points to take a 10-5 lead. They were able to pull away from that points, winning by a 25-13 final.

Tam played a big part in game two, notching seven kills while hitting .308 as UE played much better. The teams battled to a 5-5 tie before Dayton scored five in a row to take a 10-5 lead. Evansville rallied back to tie it up at 12-12. Vazquez excelled on the serve while Mildrelis Rodriguez had a pair of kills. UE continued to keep it close, but could never get over the hump to take the lead as Dayton won by a 25-19 final.

Evansville continued to battle the Flyers in the third game, but UD went up 10-4. The Aces got within three points at 12-9, but Dayton would lead by as many as eight points on their way to a 25-17 win that clinched the match.

UE faced Tennessee in the second contest of the day, dropping a 3-0 decision. Tam had seven kills while Rodriguez and Elizabeth Giller notched six apiece. Cecilia Thon paced the team with 18 assists while Vazquez added eight more digs to her tally.

A 5-1 start in the opening set saw the Volunteers extend the edge to 10-2. They never looked back in taking a 25-14 win. The opening six points were tied in the second set before UT went up by a 10-7 score. Giller and Rodriguez spearheaded a 3-0 stretch that knotted the game at 10-10. Tennessee slowly began to take control before pulling away late by a final of 25-15.

The Aces continued to give it everything they had in the third game, not letting the Volunteers get too far away in the early going as UT had an 11-8 lead. The difference came in the next portion of the contest as the Vols went on an 8-2 stretch to lead 19-12. The UT lead stood strong from there as they clinched the match with a 25-18 victory in the third set.

Missouri Valley Conference action begins next week for the Aces as they play host to Loyola (Friday) and Valparaiso (Saturday) inside Meeks Family Fieldhouse. Both games start at 7:00 p.m.
Aces men's golf improves in final day at EKU
Jessie Brumley was the top performer on Sunday as the University of Evansville men's golf squad took 13th place in the EKU Intercollegiate.

Brumley carded a 1-under 69 to post the top round of the weekend for the Purple Aces. His effort saw him finish the three rounds with a 224, third on the UE team and tied for 60th overall.

Leading the team was Dallas Koth. After recording scores of 74 and 72 on Saturday, Koth notched a 73 on his way to a 219, tying for 35th. Spencer Wagner finished the tournament one behind Koth with a 220. His final round score checked in at a 75.

Finishing third on the team with a 224 was Burmley while Noah Reese followed him with a 225. Matthew Ladd completed the UE contingent with a 228 after carding a 73 on Sunday, his lowest round of the tournament.

Leading the way for UE's three individuals was Gabe Rohleder. His final round score of 75 put him in a tie for 80th place with a 230. His final tally was tied with Tyler Roat, who posted a 77 in the final 18. Robert Waggoner was the third of the Aces individuals, finishing his three rounds with a 232.

Eastern Michigan took the team championship by ten strokes over Eastern Kentucky. The Eagles finished with a final total of 838 strokes.

Kyle Slattery (SIUE) and Billy Basham (EKU) finished tied for first at the end of 54 holes. Slattery birdied the first hole of a playoff to win the individual title.

Evansville continues play next weekend as they head to Elk Run Golf Club in Batavia, Ohio, for the Northern Kentucky Collegiate Classic. It will take place on Sunday and Monday.
Cardinal Classic up next for women's golf
Early next week, the University of Evansville women's golf team will be back on the course as they will take part in the Cardinal Classic hosted by Ball State.
Set for The Players Club in Yorktown, Ind., the tournament consists of 54 holes with a par of 72 and yardage slated for 6,204. Today, 36 holes will commence with an 8:30 a.m. ET shotgun start. The final 18 holes on Tuesday begin at 9 a.m. ET.
A total of 16 teams will be competing including Ball State, Bowling Green, Bradley, Central Michigan, Cleveland State, Dayton, Evansville, Illinois State, Indiana State, Ohio University, Purdue Fort Wayne, Southern Illinois, Texas A&M-Corpus Christi, UIndy, Western Illinois, Western Michigan along with individuals from Indiana University.
The Purple Aces opened the 2018-19 season last week at the Redbird Invitational in Normal, Ill. Sydney Anderson, a senior transfer from Ball State, paced the team as she earned a 14th place finish. Her founds finished at 76, 76 and 75 as she completed play at +11.
Sophia Rohleder was next up for UE, tying for 31st at 19-over par. Her top round was a 76. Madison Chaney shot a pair of 81's in the opening day before carding a 77 in the final round to finish in a tie for 43rd.
Evansville tied for 9th in the team standings, just three behind 8th place.
Contribute to AceNotes
To have content considered for inclusion in AceNotes, please submit a Marketing Request Form. Deadline for submission to AceNotes is 10:00 a.m. on the requested date of publication. Only articles concerning UE related/sponsored activities will be accepted. Articles submitted to AceNotes may be edited for length and clarity. Submitter contact information is at the end of each article.