| | |
| --- | --- |
| AceNotes Today | Tuesday, September 11, 2018 |
Olmsted bells silenced to commemorate 9/11
"As the 17th anniversary of September 11 approaches, our thoughts are once again with all those who lost loved ones on that tragic morning. We remember the names, faces, and lives of the men, women, and children who were killed, and look for ways to ensure that each and every one of them is not forgotten." - Inscription on the National September 11 Memorial and Museum at the World Trade Center Foundation, Inc.
To commemorate the 17th anniversary of 9/11, the University of Evansville's Olmsted Tower bells are silenced today as we remember all those who lost their lives on September 11, 2001. Flags are also flying at half-staff to observe the occasion and honor those who perished.
UE starts new academic year with strong enrollment
The University of Evansville starts the 2018-19 academic year with an outstanding freshman class representing a 13 percent increase over last year. New Evansville Aces will join a full-time student body of 2,443.
Members of the freshman class represent 29 states and 26 countries, with an increase in domestic ethnic diversity of 16 percent—an all-time high for the university. Additionally, UE received more applications this year than at any other time in the school's history with a 24 percent increase in applications over the previous year.
The number of graduate students at UE increased by 15 percent this year. The new, state-of-the-art Stone Family Center for Health Sciences in downtown Evansville is now home to two of UE's graduate programs—the Doctorate of Physical Therapy and the Physician Assistant program and demonstrates a university commitment to health sciences and our Evansville community.
"The increased interest is a direct reflection of the tremendous academic and experiential opportunities at UE," said President Christopher M. Pietruszkiewicz. "Students want to be a part of the UE experience, and there is a long list of exciting new developments at UE adding to the momentum."
In May, UE was the first university in Indiana and the 47th in the world designated as an Ashoka U Changemaker Campus, which recognizes the school's role as a leader in social innovation. The changemaker culture at UE empowers students to improve the world around them - starting right on campus.
"Come see what the excitement is about," said vice president of enrollment, Shane Davidson. "We tailor campus visits to the individual interest of our prospective students, and we'd love to create a personal visit experience for anyone interested in seeing how UE can transform their life at a cost that is affordable for all students."
Those interested in scheduling a campus tour can contact the Office of Admission at admission@evansville.edu or online at www.evansville.edu/visit.
UE ranked Number 7 Best College in Midwest by U.S. News & World Report
The University of Evansville has been named seventh best college in the Midwest in U.S. News & World Report's annual Best Colleges rankings. UE has risen two spots in this year's overall ranking, and was again named as one of the top 10 value colleges in the Midwest.
The University was also recognized as one of the Most Innovative Schools in the Midwest for the first time. Top college officials from across the country made nominations for this list, selecting institutions known for making the most innovative improvements in curriculum, faculty, campus life, technology, or facilities.
In May 2018, UE was designated as a Changemaker Campus by Ashoka U for its role as a leader in social innovation and changemaking in higher education. UE is the first Changemaker Campus in Indiana.
The University was listed on several other U.S. News & World Report Best Colleges lists this year. UE's Schroeder School of Business was named the number three best undergraduate business school among small private colleges in the nation, with its accounting and finance programs coming in at number one and number two respectively.
The College of Engineering and Computer Science was named the number 25 best undergraduate engineering school in the nation among small private colleges with no doctorate.
The University was also recognized as the number six Best College for Veterans in the Midwest and a Top Midwest School for International Students and remains a Top 10 Best Value college.
"To be recognized nationally on so many levels speaks volumes about the great programs, great people, and great qualities of this University," said Shane Davidson, vice president for enrollment and marketing at UE. "We are especially proud of making the most innovative list - innovation and changemaking are at the heart of the UE experience."
The U.S. News & World Report rankings are designed to help prospective students and their families evaluate college choices. The Best Colleges rankings are available online at www.usnews.com/colleges and will be published in U.S. News & World Report's Best Colleges 2019 guidebook, on newsstands later this month.
Active shooter drill planned for Fall Semester – do you know what to do?
The Evansville Police Department will be conducting an unannounced Active Shooter Drill some time during the fall semester. All members of the campus community are expected to participate in the drill.
Note: No simulated gun-fire will be used. The drill will commence via Ace Alert and the Active Threat Siren notification system.
DURING THE DRILL, PLEASE DO NOT MOVE VEHICLES AND DO NOT CALL 911.
How is campus notified of an active shooter?
A special siren will sound if there is an active threat on the campus. Specific information will be relayed via Ace Alerts text messaging, email, and on-campus computer and phone stations.
RUN, HIDE, FIGHT
Unless there are specific instructions to shelter in place, each individual should determine for themselves if they should Run, Hide, or Fight. This decision should be made after considering the information available at the time.
RUN – If you believe you can safely run away from the danger, law enforcement believes this is the best option.
HIDE – If you cannot run away from the danger, law enforcement encourages individuals to hide from the threat. If a door can be locked, lock the door. If not, consider if there is another way to create a barricade.
FIGHT – If running away or hiding is not an option and the threat is inevitable - don't give up. Fight. Look for make-shift weapons. What can be thrown at the threat that can cause them to become disoriented and disarmed?
View the "Run, Hide, Fight" video here: www.youtube.com/embed/5mzI_5aj4Vs
The Best Preparation
The best preparation is to always consider what options are available given your current location. Where are the exits?
Additional information can be obtained from the Safety and Security Website at www.evansville.edu/safety/emergencyProcedures.cfm.
Faculty Recital: Alanna Keenan and James Sullivan
UE Department of Music faculty Alanna Keenan (soprano) and James Sullivan (double bass) will give a recital tonight - Tuesday, September 11 - at 7:30 p.m. in Wheeler Concert Hall. They will be joined by fellow faculty member Anne Fiedler (piano). The program will feature works by Shostakovich, Gliere, Poulenc, Henze, Rorem, Chanler, and Previn. As always, Tuesday night recitals are free and open to the public.
Submitted by James Sullivan js820@evansville.edu
Tuesday Night Recharge Mass
Join the Newman Club tonight - Tuesday, September 11 - at 8:00 p.m. in Neu Chapel to celebrate a Catholic Mass! UE alum Fr. Chris Forler will be the celebrant. All are welcome!
Submitted by Michaela Kunkler mk305@evansville.edu
Seniors - Wine Down to the Weekend tonight
Seniors - the first senior event of the year has come. You are invited to Wine Down to the Weekend today - Thursday, September 13 - at the Reitz Home Museum and Carriage House from 5:00-7:00 p.m. This event is for seniors only! You must be 21 and bring a valid ID.
There will be live music, an option of wine or beer, and complimentary hors d'oeuvres. Dress casually (jeans are acceptable) and make lasting memories with your senior class. Be sure to bring cash for any alcoholic beverages.
Click here to register or inquire about further details.
Submitted by Cherice Williams cw288@evansville.edu
Neu Chapel Forum discusses reconciliation: Tonight at 7:00 p.m.
The campus community is invited to the Neu Chapel Forum tonight at 7:00 p.m. in the Class of 59 Gallery (Ridgway University Center). We will be discussing the ever-present need for reconciliation, forgiveness, liberation, and identity. This powerful conversation is especially poignant and necessary in a culture wrecked by divisiveness. All are welcome!
Submitted by Keith Turner kt160@evansville.edu
Game Night in Ridgway: Today at 6:00 p.m.
The Office of Religious Life will be hosting another game night in the Class of 59 Gallery in Ridgway University Center this evening at 6:00 p.m. There will be Twister, Giant Jenga, and more! Come prepare for the weekend with some great fun!
Submitted by Keith Turner kt160@evansville.edu
Aces Media Group callout today
Photography, graphic design, video production, filmmaking, and more! If any of these things interest you, come to the Aces Media Group callout meeting to learn about how you can get involved with multimedia production opportunities on campus!
We'll be meeting today - Wednesday, September 12 - at 5:00 p.m. in Room 273 in the Schroeder School of Business Building. If you cannot attend, but are interested in finding out more, please e-mail es260@evansville.edu, or find Aces Media Group on UEngage.
Submitted by Emily Schuster es260@evansville.edu
Frances Enzler retirement party
Please join us on Friday, September 14 from 11:00 a.m.-1:00 p.m. in academic advising to celebrate the many years of service Frances Enzler has served the UE community and students. Clifford Memorial Library.
Submitted by Stacey Shanks ss581@evansville.edu
Ynys Barnard and Alex Watts present I-House UK
Ynys Barnard and Alex Watts are exchange students from the United Kingdom. Back home, Ynys is majoring in classics while Alex is majoring in mechanical engineering. They both love the campus and the international community at UE! They will be sharing more about themselves and their culture at I-House UK tonight - Wednesday, September 12 - at 7:00 p.m. on the second floor of Ridgway University Center.
Submitted by Hussam Taj ht70@evansville.edu
The Diversi-Tea Series on Wednesday nights
Join us for an open discussion on various topics of diversity, while we sip some tea. Discussions will happen each week on Wednesday nights at 7:00 p.m. in Powell Residence Hall.
Topics include: race, sexual and gender expression, mental health, and sexism and stereotypes.
Submitted by Kayla Penister kp178@evansville.edu
Valenzuela breaks tortilla stack world record at #UEChangefest2018
UE's Mark Valenzuela broke the world record for creating the tallest stack of tortillas on Friday, September 7 during #UEChangefest2018. He not only broke the record but then set a new record of 75 centimeters before his tower fell. This was his second attempt at the record.
#UEChangeFest 2018 was held to raise awareness for the positive change we're making in the community and the world.
Propose your own ChangeLab project!
Students, faculty, and staff - do you have an idea to make a difference in your community - or even the world? Propose your own ChangeLab project. Class credit is available for students, and stipends are available for faculty or staff serving as coaches. Submit your idea at the links below no later than Monday, September 17 at noon, Central Time. Spots are limited, apply early!
Faculty should submit their ideas here.
Students should submit their ideas here.
Submitted by Cindy Kelley ck116@evansville.edu
Vanderburgh County Tox-Away Day
UE's environmental, health and safety manager Amber Elkins would like to let the UE Community know about The 2018 Tox Away Day planned for Saturday, September 15. The event is from 9:00 a.m.-1:00 p.m. at the Civic Center parking lot (Ninth and Walnut). This program is for Vanderburgh County households only. For more information, call 812-436-7800. Help dispose of hazardous materials properly, so they don't end up entering local streams and rivers.
Items accepted include motor oil and filters, oil based paint, automotive batteries and fluids, solvents and thinners, antifreeze, household batteries, pesticides and herbicides, mercury thermometers, household cleaners, pool chemicals, fluorescent bulbs and pharmaceuticals.
For a complete list, and for items not accepted, see the Vanderburgh County website: www.evansvillegov.org/city/department/division.php?structureid=259.
Submitted by Amber Elkins ae152@evansville.edu
Review course for Fundamentals of Engineering Exam offered
The University of Evansville College of Engineering and Computer Science has announced dates for the annual review and preparation course for those planning to take the Fundamentals of Engineering Exam.
All classes will be held Thursday evenings beginning at 6:30 p.m. in the Koch Center for Engineering and Science building on the UE campus. Classes are divided into relevance per discipline. Fees are adjusted accordingly.
Civil engineering candidates will attend from September 27 through January 24.
Mechanical engineering and other disciplines candidates will attend from September 27 through November 15.
Electrical and computer engineering candidates will attend October 25 through November 15.
Registration forms and payment must be returned by 4:00 p.m. on Wednesday, September 26.
On campus registrations should be returned to Room 250 in the Koch Center for Engineering and Science.
Community members may obtain registration information by contacting Kimberly Higgins via e-mail at kh209@evansville.edu or phone at 812-488-2651.
Early registration is encouraged as space is limited.
Submitted by Kimberly Higgins kh209@evansville.edu
Strobel at the Evansville Museum
Heidi Strobel, professor of art history and curator of the Peters-Margedant House, is guest essayist for the exhibition "Art Into Life: A Centenary Celebration of the Work of Nanene Queen Engle (1918-2007)." Engle received her bachelor's degree in Art from the University of Evansville (then known as Evansville College) in 1955 and returned to teach art from 1960-61 and 1969-81 at UE. The exhibition is at the Evansville Museum of Art, History, and Science until September 30.
Ralph Larmann receives Best of Show Award
Professor of Art Ralph Larmann received the Best of Show Award for his painting Suspension Valley at the Jasper Community Arts 25th Annual Juried Art Exhibition in the Krempp Gallery at the Jasper Arts Center.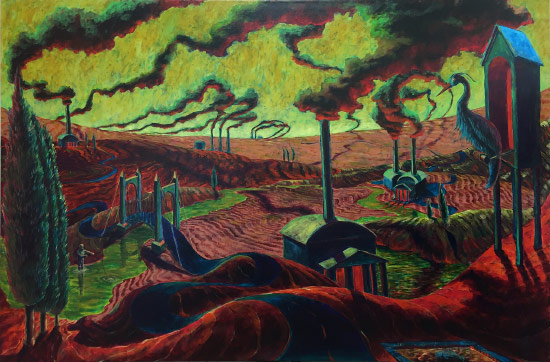 The exhibit includes a wide variety of media and techniques: watercolor, oil, acrylic, prints, photography, collage, sculpture, and graphite. The exhibit consists of two and three-dimensional work. Artists from Indiana and its contiguous states were eligible to apply.
The Juried Show Awards Reception was held on Thursday, September 6. $2,000 in prize monies were awarded in the categories of Best in Show, Award of Excellence, High Honor Award, and five Honorable Mentions.
The work will be part of the exhibition which continues through September 28. The Krempp Gallery, located in the Jasper Arts Center, is open to the public Monday through Friday from 8:30 a.m. - 5:00 p.m., until 7:00 p.m. on Thursdays, and from noon - 3:00 p.m. on Sundays.
Aces volleyball welcomes Tennessee State today
In the final non-conference match home match of the season, the University of Evansville volleyball team welcomes Tennessee State to Meeks Family Fieldhouse for a 6:00 p.m. match today.
UE hosted the Dunn Hospitality Invitational over the weekend, taking on Austin Peay and Northern Kentucky, falling in both matches. Allana McInnis was named to the All-Tournament Team as she recorded an average of 5.83 assists per game.
McInnis led UE with 12 assists against Austin Peay to go along with two digs. She upped her tally against Northern Kentucky, recording 23 helpers and five more digs in three sets of work; her 23 assists were a season high as she picked up the All-Tournament honor.
UE's leading offensive player in the home tournament was Rachel Tam; she continued her stellar season, leading the Purple Aces with 11 kills versus the Governors before adding 19 against the Norse. She averaged 5.0 kills per set over the weekend. She hit an impressive .361 against NKU with 19 kills in 36 tries with just six errors. Tam has five service aces on the season, but three came in an unbelievable stretch against Austin Peay as she recorded three aces in a row.
Mildrelis Rodriguez continued to show her prowess on both sides of the floor for UE, ranking second on the team in kills (3.33/set) and third in digs (2.56/set). Entering last weekend, Rodriguez was 37th in the country with 100 kills while her total of 329 attacks was 13th in the NCAA. Her top match of the season was a 20-kill, 17-dig effort against Gardner-Webb.
Tennessee State stands at 2-7 following their first nine matches of the season; the Tigers have picked up wins over Florida A&M and Grambling. Offensively, TSU is led by Rachel Henderson, who averages 3.03 kills per set. On the defensive side, Gina Rivera Ortiz stands at 4.24 digs per frame.
Anderson earns top 15 finish for UE women
Freshman Sydney Anderson continued her early season success, earning a tie for 14th place as the University of Evansville women's golf team completed the Redbird Invitational on Monday at D.A. Weibring Golf Course.
Anderson carded a 3-over 75 to finish the event with a 227. Her effort was 11 shots over par, good for a 14th place tie. It was a strong effort in her first collegiate match.
Sophia Rohleder was second for the Purple Aces. She had a 79 in round two on her way to a 235. She tied for 31st. Madison Chaney saw a nice improvement in the final round. After two rounds of 81 on Sunday, Chaney posted a solid 77 on Monday to complete the tournament with a 239, tying for 43rd.
Lexie Sollman finished Monday's round with an 80 as she totaled 241 strokes in the three rounds of play. Alyssa McMinn was one stroke behind Sollman with a 242. Newcomer Caitlin O'Donnell finished her first tournament with a score of 272.
Evansville finished in a tie with Loyola for 9th place with a score of 937. The duo was three behind Drake for 8th place. Northern Illinois ran away with the team championship, defeating Eastern Kentucky by 17 strokes. The Huskies completed the tournament with an 882, besting the Colonels, who tallied an 899. NIU's Brielle Ward was the medalist, notching scores of 71, 71 and 70 on her way to a 212. She beat Ball State's Manon Tounalom by five shots.
UE will be back in action on Monday and Tuesday of next week, playing in the Cardinal Classic, which is being hosted by Ball State at Players Club in Yorktown, Ind.
First Responder and Military Appreciation Night at Volleyball game
On Tuesday, September 11, the Purple Aces volleyball team will be playing Tennessee State at 6:00 p.m. inside Meeks Family Fieldhouse. It will be First Responder and Military Appreciation Night. Retired and active members receive two free tickets while additional tickets are just $3. There will be a group recognition for all in attendance between the second and third sets. The first 200 fans at the match receive a free BBQ slider. For more information, call 812-488-ACES.
Contribute to AceNotes
To have content considered for inclusion in AceNotes, please submit a Marketing Request Form. Deadline for submission to AceNotes is 10:00 a.m. on the requested date of publication. Only articles concerning UE related/sponsored activities will be accepted. Articles submitted to AceNotes may be edited for length and clarity. Submitter contact information is at the end of each article.