| | |
| --- | --- |
| AceNotes Today | Monday, September 10, 2018 |
UE ranked Number 7 Best College in Midwest by U.S. News & World Report
The University of Evansville has been named seventh best college in the Midwest in U.S. News & World Report's annual Best Colleges rankings. UE has risen two spots in this year's overall ranking, and was again named as one of the top 10 value colleges in the Midwest.
The University was also recognized as one of the Most Innovative Schools in the Midwest for the first time. Top college officials from across the country made nominations for this list, selecting institutions known for making the most innovative improvements in curriculum, faculty, campus life, technology, or facilities.
In May 2018, UE was designated as a Changemaker Campus by Ashoka U for its role as a leader in social innovation and changemaking in higher education. UE is the first Changemaker Campus in Indiana.
The University was listed on several other U.S. News & World Report Best Colleges lists this year. UE's Schroeder School of Business was named the number three best undergraduate business school among small private colleges in the nation, with its accounting and finance programs coming in at number one and number two respectively.
The College of Engineering and Computer Science was named the number 25 best undergraduate engineering school in the nation among small private colleges with no doctorate.
The University was also recognized as the number six Best College for Veterans in the Midwest and a Top Midwest School for International Students and remains a Top 10 Best Value college.
"To be recognized nationally on so many levels speaks volumes about the great programs, great people, and great qualities of this University," said Shane Davidson, vice president for enrollment and marketing at UE. "We are especially proud of making the most innovative list - innovation and changemaking are at the heart of the UE experience."
The U.S. News & World Report rankings are designed to help prospective students and their families evaluate college choices. The Best Colleges rankings are available online at www.usnews.com/colleges and will be published in U.S. News & World Report's Best Colleges 2019 guidebook, on newsstands later this month.
Active shooter drill planned for Fall Semester – do you know what to do?
The Evansville Police Department will be conducting an unannounced Active Shooter Drill some time during the fall semester. All members of the campus community are expected to participate in the drill.
Note: No simulated gun-fire will be used. The drill will commence via Ace Alert and the Active Threat Siren notification system.
DURING THE DRILL, PLEASE DO NOT MOVE VEHICLES AND DO NOT CALL 911.
How is campus notified of an active shooter?
A special siren will sound if there is an active threat on the campus. Specific information will be relayed via Ace Alerts text messaging, email, and on-campus computer and phone stations.
RUN, HIDE, FIGHT
Unless there are specific instructions to shelter in place, each individual should determine for themselves if they should Run, Hide, or Fight. This decision should be made after considering the information available at the time.
RUN – If you believe you can safely run away from the danger, law enforcement believes this is the best option.
HIDE – If you cannot run away from the danger, law enforcement encourages individuals to hide from the threat. If a door can be locked, lock the door. If not, consider if there is another way to create a barricade.
FIGHT – If running away or hiding is not an option and the threat is inevitable - don't give up. Fight. Look for make-shift weapons. What can be thrown at the threat that can cause them to become disoriented and disarmed?
View the "Run, Hide, Fight" video here: www.youtube.com/embed/5mzI_5aj4Vs
The Best Preparation
The best preparation is to always consider what options are available given your current location. Where are the exits?
Additional information can be obtained from the Safety and Security Website at www.evansville.edu/safety/emergencyProcedures.cfm.
A Capella auditions tonight!
The Minor Setbacks (formerly known as Trebles Without a Cause) is one of UE's gender expansive acapella groups. And we want YOU (yes you) to come audition!
Auditions will be held tonight - Monday, September 10 - at 7:30 p.m. in Krannert 127. Each person auditioning should prepare 30-60 seconds of any song (unaccompanied, of course). Other than that, just be ready to have fun and go with the flow!
If you have any questions, contact Blake Elliott at be80@evansville.edu.
Submitted by Blake Elliott be80@evansville.edu
Introduction to Health Advising Workshop this afternoon
Calling all pre-health students! Is your goal to go to medical, dental, pharmacy, or veterinary school after your time at UE? Come to a workshop to learn about how to get started on your path to becoming a health professional.
A workshop is planned for today - Thursday, September 13 - at 4:00 p.m. in Room 124, Koch Center for Engineering and Science
Please contact Francie Renschler, pre-professional health advisor, with any questions.
Submitted by Francie Renschler fr25@evansville.edu
Best Buddies call out meeting today
Join Best Buddies to make a difference one friendship at a time! The first meeting will be today - September 10 - at 7:00 p.m. in Room 73 in the Schroeder School of Business Building. Our members are paired for a mutually beneficial friendship, between students with and without intellectual developmental disabilities. Our chapter offers at least one planned activity a month, but the paired friendships are encouraged to communicate and hang out more often! Attend the call-out meeting to learn more about the organization and how to get involved.
Submitted by Aimee Savoie as725@evansville.edu
Ynys Barnard and Alex Watts present I-House UK
Ynys Barnard and Alex Watts are exchange students from the United Kingdom. Back home, Ynys is majoring in classics while Alex is majoring in mechanical engineering. They both love the campus and the international community at UE! They will be sharing more about themselves and their culture at I-House UK tonight - Wednesday, September 12 - at 7:00 p.m. on the second floor of Ridgway University Center.
Submitted by Hussam Taj ht70@evansville.edu
Skyzone Trip Friday!
You're invited to go to Skyzone and participate in a FREE glow jump with the Newman Club on Friday, September 14 from 7:00-9:00 p.m.! All are welcome - you do not have to be a part of the Newman Club to join in.
Sign-ups are through UEngage and waivers are required. We will meet in front of Ridgway University Center at 6:45 that evening to take buses over!
Submitted by Sam Wallisch sw265@evansville.edu
Faculty Recital: Alanna Keenan and James Sullivan
UE Department of Music faculty Alanna Keenan (soprano) and James Sullivan (double bass) will give a recital tonight - Tuesday, September 11 - at 7:30 p.m. in Wheeler Concert Hall. They will be joined by fellow faculty member Anne Fiedler (piano). The program will feature works by Shostakovich, Gliere, Poulenc, Henze, Rorem, Chanler, and Previn. As always, Tuesday night recitals are free and open to the public.
Submitted by James Sullivan js820@evansville.edu
Webelos Engineering Pin Day 2018
The College of Engineering and Computer Science will host Webelos Engineering Pin Day on Saturday, October 27. Workshops with activity stations will provide some of the experience required for a Webelos Scout to qualify for an engineering pin. Registration is limited to 200 scouts. Registrations will be taken until the event is full or October 18.
Registration details are available at www.evansville.edu/WebelosEngineeringPinDay.
For further information, contact Kimberly Higgins at kh209@evansville.edu, telephone: 812-488-2651.
Submitted by Kimberly Higgins kh209@evansville.edu
Tuesday Night Recharge Mass
Join the Newman Club tonight - Tuesday, September 11 - at 8:00 p.m. in Neu Chapel to celebrate a Catholic Mass! UE alum Fr. Chris Forler will be the celebrant. All are welcome!
Submitted by Michaela Kunkler mk305@evansville.edu
Valenzuela breaks tortilla stack world record at #UEChangefest2018
UE's Mark Valenzuela broke the world record for creating the tallest stack of tortillas on Friday, September 7 during #UEChangefest2018. He not only broke the record but then set a new record of 75 centimeters before his tower fell. This was his second attempt at the record.
#UEChangeFest 2018 was held to raise awareness for the positive change we're making in the community and the world.
Propose your own ChangeLab project!
Students, faculty, and staff - do you have an idea to make a difference in your community - or even the world? Propose your own ChangeLab project. Class credit is available for students, and stipends are available for faculty or staff serving as coaches. Submit your idea at the links below no later than Monday, September 17 at noon, Central Time. Spots are limited, apply early!
Faculty should submit their ideas here.
Students should submit their ideas here.
Submitted by Cindy Kelley ck116@evansville.edu
Sullivan starts LGBT Chorus
UE music professor James Sullivan is starting an LGBT friendly chorus, called the River Bend Rainbow Chorus, that meets Monday nights, 7:00-8:30 p.m., at Grace and Peace Lutheran Church. The first rehearsal is September 10. Anyone from the UE or Evansville communities who identifies as LGBT or is a straight ally is welcome to join!
Submitted by James Sullivan js820@evansville.edu
College Mentors for Kids is recruiting
College Mentors for Kids is a national organization that connects kids to college students through weekly on-campus activities that inspire growth, confidence, and brighter futures. The chapter here at UE brings kids to campus every week from Joshua Academy that range from 1st to 5th grade. Mentors are paired one-on-one with a student and will go through many activities with each other that focus on community, diversity, and higher education. Mentors participate each Wednesday from 3:30 to 5:30 p.m. Classes that last until 3:50 p.m. or start at 5:00 p.m. can be worked around!

If you are interested in applying, then you can do so here: members.collegementors.org/application.
The deadline for applications is September 14 and interviews follow the next week! If you have any questions, then please reach out to Joe Cook (jc491@evansville.edu) or Paige Hignite (ph89@evansville.edu).
Submitted by Joe Cook jc491@evansville.edu
Health screening sign-ups
Earn HRA credits! Sign-up for your health screening today. Screenings will be held in the Employee Health Center on Sept. 11-14 from 7:00-11:00 am. Please fast for 8-12 hours. Sign-ups are posted on the main page of AceLink. Please do not schedule your screening through the health clinic. Please contact ac375@evansville.edu with questions.
Submitted by Ashley Chipps ac375@evansville.edu
Strobel at the Evansville Museum
Heidi Strobel, professor of art history and curator of the Peters-Margedant House, is guest essayist for the exhibition "Art Into Life: A Centenary Celebration of the Work of Nanene Queen Engle (1918-2007)." Engle received her bachelor's degree in Art from the University of Evansville (then known as Evansville College) in 1955 and returned to teach art from 1960-61 and 1969-81 at UE. The exhibition is at the Evansville Museum of Art, History, and Science until September 30.
Ralph Larmann receives Best of Show Award
Professor of Art Ralph Larmann received the Best of Show Award for his painting Suspension Valley at the Jasper Community Arts 25th Annual Juried Art Exhibition in the Krempp Gallery at the Jasper Arts Center.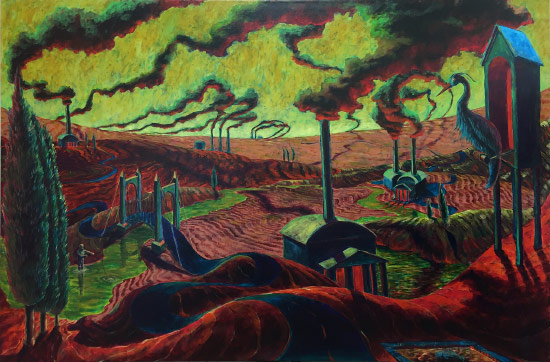 The exhibit includes a wide variety of media and techniques: watercolor, oil, acrylic, prints, photography, collage, sculpture, and graphite. The exhibit consists of two and three-dimensional work. Artists from Indiana and its contiguous states were eligible to apply.
The Juried Show Awards Reception was held on Thursday, September 6. $2,000 in prize monies were awarded in the categories of Best in Show, Award of Excellence, High Honor Award, and five Honorable Mentions.
The work will be part of the exhibition which continues through September 28. The Krempp Gallery, located in the Jasper Arts Center, is open to the public Monday through Friday from 8:30 a.m. - 5:00 p.m., until 7:00 p.m. on Thursdays, and from noon - 3:00 p.m. on Sundays.
Women's golf in top ten after opening day
Sydney Anderson ranks in the top 15 as the University of Evansville women's golf team completed the opening two rounds of the Redbird Invitational at D.A. Weibring Golf Course.

Anderson, a freshman from Columbus, Ind., registered identical rounds of 76 to finish the day at 8 over par with a 152. She ranks 13th. Four behind her is Sophia Rohleder. After carding a 76 in the first round, she finished with an 80 to post a 156 on the day. She is tied for 30th.

Lexie Sollman and Alyssa McMinn each finished the day with a 161. Sollman started with an 85 before improving to a 76 in round two. McMinn's rounds finished at 82 and 79. Madison Chaney notched two scores of 81 to round out the squad. Caitlin O'Donnell played as an individual, completing her two rounds with a 185.

Northern Illinois had three of the top six players and sits atop the team standings with a 583. They are 16 strokes ahead of Eastern Kentucky. Brielle Ward of NIU paces the individuals with a 141. She is one ahead of Lauren Ingle of NIU, who is playing as an individual.

Evansville is tied with Drake for 9th place with scores of 626. The duo is six ahead of 11th place Akron and four behind Ohio University for 8th place.

One round remains today.
Men's golf improves in final day of opener
In the final day of action at the Fuzzy Zoeller Intercollegiate, the University of Evansville men's golf team jumped two spots in the final finishing order, taking 11th place at Champions Pointe Golf Club.

With Saturday's action halted with just over a round of play in the books, the teams finished up round two before playing their final 18 holes on Sunday. Dallas Koth was Evansville's top player as he led the team with a tie for 27th place. He notched scores of 74 and an even 72 on his way to a 219.

Eight behind him were Noah Reese and Jessie Brumley. Reese carded a 72 in the third round to finish with a 227 while Brumley also had a 72 in his second round of action to finish with an identical overall score.

Fourth on the squad was Spencer Wagner. Following scores of 76 and 80, Wagner made a huge leap in the final 18, posting a 72 to finish with a 228. Matthew Ladd also excelled in the final day. After scoring an 85 in the first 18, Ladd tallied scores of 73 and 78 to complete the event with a 236. Gabe Rohleder played as an individual and finished play with a 238.

Southern Illinois took top team and individual honors. The Salukis 3-round total of 836 strokes saw them take the team championship by ten over Indiana University. Matthis Besard of SIU was the medalist. His 207 bested the competition by one shot.

The Purple Aces came home in 11th place with a score of 894. They jumped two positions in the team standings following round one. They were just seven shots outside of the top ten.

Evansville returns to the course next weekend for the Eastern Kentucky Intercollegiate. The tournament takes place on Saturday and Sunday at Arlington Golf Course in Richmond, Kentucky.
McInnis named to All-Tournament Team as Aces host APSU and NKU
Sophomore Allana McInnis earned a spot on the Dunn Hospitality Invitational All-Tournament Team as the University of Evansville volleyball team took on Austin Peay and Northern Kentucky on Saturday inside Meeks Family Fieldhouse.
UE (5-4) fell by a 3-0 final to Austin Peay (7-1) and another 3-0 contest against NKU (5-3). In the other match, the Norse picked up a 3-2 win over the Governors.
The nightcap saw the Aces give it all they had against Northern Kentucky before falling, 3-0. Rachel Tam led everyone with 19 kills while Mildrelis Rodriguez had 11. McInnis paced everyone with 23 assists and Olivia Goldstein had 11 digs. Haley Libs led NKU with 12 kills.
Six ties led to a 6-6 score in game one before NKU took a 10-7 lead. They led by as many as six at 22-16. Evansville made a late rally as a kill from Elizabeth Giller capped off a 4-0 stretch that cut the deficit to a pair. NKU answered back as they finished with the 25-21 win to take a 1-0 lead. Tam posted nine kills in the set.
NKU hit .440 in game two on their way to a 25-15 win. They took a 6-2 lead and quickly extended it to 11-3. Their lead reached 10 at 22-12 before they held that advantage for the final of 25-15.
Tam began game three with two early kills as the Aces took a 4-1 lead. The lead remained at three (8-5) when the Norse rallied to tie it up at 8-8. Tam put the lead back in the hands of the Aces with a kill to give UE a 9-8 edge. The lead would grow to a pair for the Aces at 17-15, but Northern Kentucky rallied back. A pair of UE errors saw them take a 20-18 advantage. From there, they held on for a 25-21 win to clinch the tournament championship.
In the opener for the day, Austin Peay took control in game one, cruising to a 25-9 win. Mildrelis Rodriguez had three kills in the frame. UE quickly regrouped in the second set as a Joselyn Coronel service ace gave the Aces a 5-2 lead. Later, a pair of Governor errors set the Aces lead at 12-8.
Austin Peay battled back, taking a 16-13 lead before freshman Cecilia Thon got the Aces back on track. Her serving helped UE tied it up at 17-17, but the Governors were too much as they pulled away for the 25-19 win.
Evansville put forth its best effort in game three. A Rodrigez kill tied it up at 4-4 before APSU took a 10-6 lead. That is when Rachel Tam accomplished a rare feat. Three service aces in a row, coupled with a kill, helped Evansville tie the game at 11-11 before Kerra Cornist followed with a point of her own to give the Aces a 13-12 lead.
Neither team relented down the stretch as eight more ties led to a 20-20 score. After the Governors posted two in a row, the Aces responded with three-straight points, capped off by a Thon kill. Austin Peay grabbed the momentum back as a Caroline Waite kill helped them record the final three points to take the set, 25-23, while clinching a 3-0 win in the match.
Tam posted 11 kills, tying for the top total in the match. Thon notched eight digs and 11 assists while Allana McInnis posted a team-best 12 helpers.
First Responder and Military Appreciation Night at Volleyball game
On Tuesday, September 11, the Purple Aces volleyball team will be playing Tennessee State at 6:00 p.m. inside Meeks Family Fieldhouse. It will be First Responder and Military Appreciation Night. Retired and active members receive two free tickets while additional tickets are just $3. There will be a group recognition for all in attendance between the second and third sets. The first 200 fans at the match receive a free BBQ slider. For more information, call 812-488-ACES.
Field crew and managers needed - softball team
The University of Evansville Softball team is looking for part-time field crew members to help maintain our field and get it ready for game day! If you have experience or are interested in learning, we would love to hear from you!
We also are looking for someone to be a team manager that will assist with practice. If you have ever played baseball or softball and would be interested, please contact Coach Tarter.
E-mail Coach Tarter with interest in either position at ht73@evansville.edu.
Submitted by Heather Tarter ht73@evansville.edu
Contribute to AceNotes
To have content considered for inclusion in AceNotes, please submit a Marketing Request Form. Deadline for submission to AceNotes is 10:00 a.m. on the requested date of publication. Only articles concerning UE related/sponsored activities will be accepted. Articles submitted to AceNotes may be edited for length and clarity. Submitter contact information is at the end of each article.