| | |
| --- | --- |
| AceNotes Today | Wednesday, September 5, 2018 |
Admission Purple Visit Day today!
The Office of Admission will be welcoming almost 100 families today - Friday, September 7 - for Purple Visit Day. They will be participating in several sessions and classes throughout the day. They will also be joining campus for lunch in Cafe Court at noon. Please welcome the visiting families when you see them!
Flavio Felix and Emile Moura present I-House Brazil
I-House Brazil is happening on Wednesday, September 5 at 7:00 p.m. on the second floor of Ridgway University Center. Emile Moura and Flavio Felix will be presenting this week. Emile is a Junior biology major from Minas Gerais, Brazil, and Felix is a freshman international relations major from Fortaleza, Brazil. They will be presenting about their life back home and also about Brazilian history, culture, and traditions.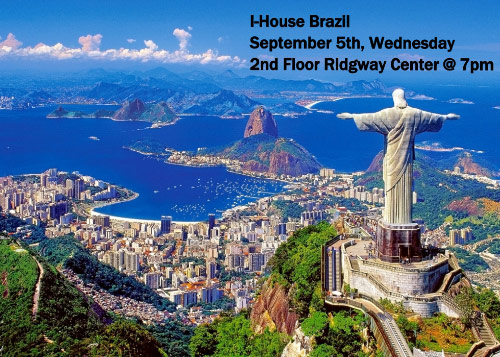 Submitted by Hussam Taj ht70@evansville.edu
SIAM (Math Club) Introduction/Game Night!
Do you like math? Are you interested in joining SIAM? Then come on out for our introduction/game night! It will be held today - Wednesday September 5 - from 5:30-6:30 p.m. in Room 304 in the Koch Center for Engineering and Science. We'll play fun games to get to know each other and learn more about what our SIAM chapter does. Also, FREE PIZZA!
Submitted by Stephanie Scholz ss619@evansville.edu
Join us TODAY for our fall study abroad fair!
Stop by Eykamp Hall, Room 251, Ridgway University Center, between 11:00 a.m.-1:00 p.m. today to find out about all of the different study abroad options available to students! Whether you're interested in a semester, summer, or even a 10-day program, we can help you find the best program for your interests. Both Harlaxton and non-Harlaxton programs will be represented.
Recent Harlaxton returnees can stop by to pick up a small gift and fill out a postcard full of tips and tricks for our outgoing Harlaxton students. This is a great way to impart your best advice! It's also a great opportunity to see how you can go abroad again
And don't forget to enter our raffles! We will have a Harlaxton and non-Harlaxton raffle basket full of treats, so make sure you stop by to enter your name.
If you have any questions, you can e-mail Greta Becker at.gb91@evansville.edu
Submitted by Greta Becker gb91@evansville.edu
"Life of Brian" interfaith viewing and discussion tonight
The study series "The Gospel of the Tenth Rate" begins tonight - September 5 - at 7:00 p.m. in the downstairs lounge of Neu Chapel. The first installment will be a viewing and discussion of the themes found in the film Monty Python's Life of Brian. This series will be open to people of any and all faiths as well as those without faiths. Hope to see you there!
Submitted by Jordan McQuiston jm707@evansville.edu
Newman Club Opening Night
Join us at the Newman House today - Wednesday, September 5 - at 5:00 p.m. for an opening night celebration! There will be games and opportunities to meet the ministry team! We are the house across the street from Olmsted with flags! All are welcome!
Submitted by Michaela Kunkler mk305@evansville.edu
Part-Time Job Fair today
Come by Ridgway University Center today – Wednesday, September 5 - to meet with area employers at the Part-Time Job Fair! The event is from 11:00 a.m. - 1:00 p.m., on the first floor of Ridgway University Center.
- Business casual attire recommended
- Bring many copies of your résumé
Submitted by Alison Morris-McDonald am268@evansville.edu
Canoeing and kayaking at Bluegrass Fish and Wildlife Center!
Kick off the year right with the UE Venturing Crew at its annual canoe trip and cookout at Bluegrass Fishing and Wildlife Area!
The event is FREE and includes food and transportation. All participants need to be a Venturing Crew member. That means you must complete a registration form and pay your annual dues ($25).
If you were unable to sign up for the crew at the open house, please contact the president of Venturing Crew at ef111@evansville.edu.
If you would like to sign up for this event or register for the crew, please visit the group's table on the first floor of Ridgway University Center. They will be taking sign-ups from September 5-7, 11:00 a.m.-2:00 p.m. and 5:00-7:00 p.m.
If you cannot make it to these sign-ups, please contact ef111@evansville.edu.
Submitted by Elizabeth Ferguson ef111@evansville.edu
AXONs bake sale today for conference travel
AXONs, the neuroscience student group, is selling goodies to fund travel to an undergraduate neuroscience conference. Please stop between noon and 2:00 p.m. today -Thursday, September 6 - in Ridgway University Center to purchase some sweets.
Submitted by Lora Becker lb47@evansville.edu
Upcoming graduate school events
Students - are you considering graduate or professional school? UE Center for Career Development is covering the cost of attending four Graduate/Professional School Fairs held in Indiana. All information is at this site: www.evansville.edu/careercenter/students/events.cfm.
First Event - IUPUI Graduate Expo at Indianapolis
September 13
Free transportation plus lunch. A refundable deposit of $10 is required. Restrictions apply see CCD website. Approximately 85 programs attended in 2017.
For more information about the fair and registration go to: graduate.iupui.edu/about/gradoffprogs/expo/student.shtml.
Registration encouraged, not required at: survey.graduate.iu.edu/machform/view.php?id=19294.
To sign up for van, and register with CCD: www.evansville.edu/careercenter/students/eventDetails.cfm?eventId=14655.
UE registration deadline: September 5.
Second Event - Big Ten+ Graduate School Expo at Purdue University
September 30 and October 1
Free transportation/registration fee and overnight stay. A refundable deposit of $20 is required. Restrictions apply see CCD website. Over 110 programs attended in 2017, including Harvard, Stanford, University of Chicago, Vanderbilt, and Duke.
For more information about the fair and mandatory registration, go to: www.purdue.edu/gradschool/gradexpo/student/about.html refundable registration fee.
To sign up for van, hotel, and register with CCD, go to: www.evansville.edu/careercenter/students/eventDetails.cfm?eventId=14662.
UE registration deadline is September 21.
Third Event - Indiana University Law Day at Bloomington, IN
Thursday September 27
Free transportation. A refundable deposit of $10 is required. Restrictions apply see CCD website. Over 115 Law School Programs attended in 2017; the largest law school fair in the U.S.
For more information about the fair go to: hpplc.indiana.edu/law/law-lawday.shtml.
To sign up for van and register with CCD, go to: www.evansville.edu/careercenter/students/eventDetails.cfm?eventId=14660.
UE registration deadline is September 20.
Fourth Event - Midwest Graduate School Summit at Purdue University
October 27, 2018 (Leaving Evansville, October 26 at 3:00 p.m.)
Free transportation/registration fee and overnight stay. A refundable deposit of $20 is required. Restrictions apply see CCD website. Expecting 60 programs for 2018: i.e. Purdue, Notre Dame, The Ohio State, University of Illinois, and Yale.
For more information about the fair and mandatory registration, go to: www.purdue.edu/gradschool/midwestgradsummit/ refundable registration fee.
To sign up for van, hotel and register with CCD, go to: www.evansville.edu/careercenter/students/eventDetails.cfm?eventId=14809.
UE registration deadline is October 20.
Please contact the Center for Career Development with any questions. The office is located in the student life area in Ridgway University Center or call 812 488 1083 or e-mail career@evansville.edu.
Submitted by Alison Morris-McDonald am268@evansville.edu
First Student Congress meeting this afternoon
The first Student Congress meeting of the 2018-19 school year will take place this afternoon (Thursday, September 6) at 5:00 p.m. in Room 170 in the Schroeder School of Business Building. As a reminder, SGA representatives must miss no more than four meetings per semester, in order to establish good standing for the upcoming semester. If the representative for your organization has changed, please e-mail MC326@evansville.edu with the name of the updated representative, so a reminder e-mail may be sent, following the third missed meeting.
Submitted by Michaella Cunningham MC326@evansville.edu
Reception for Bhargavi Bandi is set for today
Please join us to wish Bhargavi Bandi, associate director of data management and recruiting strategies, best wishes as she leaves for her new adventure and thank her for her years of dedication to UE. A reception will be held today -Thursday, September 6 - from 3:00-4:30 p.m. in the Office of Admission lobby, Olmsted Hall 104. Refreshments will be served and all are welcome.
Submitted by Ashley Ross aj53@evansville.edu
Fall Retreat- Faith in College: The Good News
Save the date! September 8th will be a chance to reflect, pray and build community. UE Newman is hosting a fall retreat - right here on our campus! We will start with morning prayer, have group discussion with Professor James Ware with plenty of fun in between. A fun filled day is planned for YOU and will end with a pilgrimage to St. Benedict for Mass and a home-cooked meal from the Parish Council. All students are welcome, regardless of their faith.
All students will receive a free Bible, journal, tote bag, T-shirt and prayer book - all meant to help guide you in your faith life while here at UE! If you are not Catholic, confession and Mass are definitely optional; however, please know you are welcome to attend.
For more details, please contact Catholic campus minister Jenny Koch at je46@evansville.edu to reserve your spot today!
Submitted by Michaela Kunkler mk305@evansville.edu
Catholic Mass on campus
There will be a Catholic Mass this Sunday, September 9, at 1:00 p.m. in Neu Chapel. Father Tyler Tenbarge will be the celebrant. All are welcome!
Submitted by Sam Wallisch sw265@evansville.edu
Erin Lewis and Hannah Jaramillo discuss High School Changemaker Challenge on Local Lifestyles
Erin Lewis, UE associate director for the Center for Innovation & Change, and UE student Hannah Jaramillo joined Ange Humphrey on Local Lifestyles recently to talk about UE's annual High School Changemaker Challenge. When Jaramillo was a senior in high school, she took part in UE's first High School Challenge and her team won the competition. Their winning idea was a CommuniTree, a steel tree powered by solar energy. It will soon be installed at Evansville's new downtown playground, Mickey's Kingdom. You can watch the interview here on the Tristatehompage website.
The deadline to register for this year's High School Changemaker Challenge is Tuesday, September 4.
Vanderburgh County Tox-Away Day
UE's environmental, health and safety manager Amber Elkins would like to let the UE Community know about The 2018 Tox Away Day planned for Saturday, September 15. The event is from 9:00 a.m.-1:00 p.m. at the Civic Center parking lot (Ninth and Walnut). This program is for Vanderburgh County households only. For more information, call 812-436-7800. Help dispose of hazardous materials properly, so they don't end up entering local streams and rivers.
Items accepted include motor oil and filters, oil based paint, automotive batteries and fluids, solvents and thinners, antifreeze, household batteries, pesticides and herbicides, mercury thermometers, household cleaners, pool chemicals, fluorescent bulbs and pharmaceuticals.
For a complete list, and for items not accepted, see the Vanderburgh County website: www.evansvillegov.org/city/department/division.php?structureid=259.
Submitted by Amber Elkins ae152@evansville.edu
Free Otters tickets for tonight's game
Free Otters tickets are available for pick up at the front desk in the Office of Admission in Room 104 in Olmsted Administration Hall. Stop in today between 9:00 a.m.-5:00 p.m. for pickup while tickets last. The Otters game will be tonight, Wednesday, September 5, at 6:35 p.m. at Bosse Field. Otters will be playing their playoff game against the Washington Wild Things.
Submitted by Paige James pj32@evansville.edu
UE Theatre guest artist Wes Grantom directs New York City production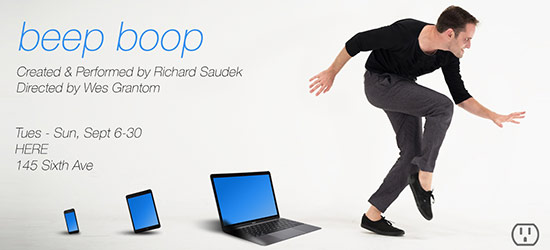 Wes Granton '03 is currently directing "beep boop" for his New York City-based theatre company, Crowded Outlet.
Created by physical comedian Richard Saudek ("Balls!" at 59E59), TV and film composer Jesse Novak ("BoJack Horseman"), and director Wes Grantom ("Eager to Lose" at Ars Nova), "beep boop" is a multimedia clown show carelessly crafted to be both meaningful and meaningless. It's a hilariously twisted romp exploring our obsession with technology and our increasing loneliness in a world with so many ways to connect.
Tickets: http://here.org/shows/detail/2014/
Discount during previews! Use code: BB18
Grantom is currently serving as a guest artist in the Department of Theatre for the semester. He is teaching a class in directing, as well as directing the upcoming musical production of "Spring Awakening."
Submitted by Sharla Cowden sc75@evansville.edu
Diversity Resource Center open
The Diversity Resource Center opened its doors for Fall 2018 on Tuesday, September 4. The center, located at 436 Weinbach Avenue, will be open Monday through Thursday, 9:00 a.m.-8:00 p.m. and from 9:00 a.m.-5:00 p.m. on Friday. The center is open to students, student organizations, and the University of Evansville community as a place for students meet, hold events, or to regroup after each day.
The Diversity Resource Center can be reserved with the use of the following link: www.evansville.edu/offices/diversity/downloads/Diversity-Resource-Center-Space-Request-Form.pdf.
If you have any questions, please feel free to contact. Laneeca Williams, chief diversity officer, at lw161@evansville.edu; or Darrion Culler, assistant director of diversity initiatives, at dc199@evansville.edu.
Submitted by Darrion Culler dc199@evansville.edu
Do you want to build a playground?
Are you looking for a way to make a difference in your community? Volunteer to help build the new Mickey's Kingdom playground, a 20,000 square foot, all accessible playground in downtown Evansville. The build will take place September 14-23 (no build on the 17th). There are three shifts per day. No building experience needed. Sign-up to volunteer at mickeyskingdomdowntownevansville.com or contact Catie Taylor at Ct37@evansville.edu if you have any questions.
Submitted by Catie Taylor Ct37@evansville.edu
Nominate Individuals for the Employee Excellence Award for October
The University of Evansville, in pursuit of excellence in service, wishes to recognize monthly a non-faculty employee displaying records of achievement as a leader. Leadership may be demonstrated in any of the following categories:
• Service to the University community
• Service to students
• Job performance and attitude to fellow employees
One award is presented each month. To be eligible, an employee must be a full-time member of the administration or staff. Nominations are due before the 15th of each month. Nominations are now being accepted for the month of October!
To nominate someone, or to find out more information about the Employee Excellence Award, go to acelink.evansville.edu/Tools/Employee Award/.
Submitted by Lori LeDuc ll138@evansville.edu
TIAA individual counseling sessions for September
The TIAA-CREF representative will be on the UE campus for individual counseling sessions on Tuesday, September 18. To schedule an appointment, call TIAA-CREF at 1-800-732-8353.
Please note that the meeting location has been changed to Room 153, (Eades Music Room) in the Schroeder School of Business Building.
Submitted by Lori LeDuc ll138@evansville.edu
Computer monitors available for $15
The UE Bookstore has a limited quantity of 15-inch adjustable computer monitors available for $15. These are made available through the Office of Technology Services. Monitors were formerly used in campus computer labs and were replaced recently. These are AS IS models and are available to anyone from the campus community on a first come, first served basis. Check them out in the Bookstore or view this photo.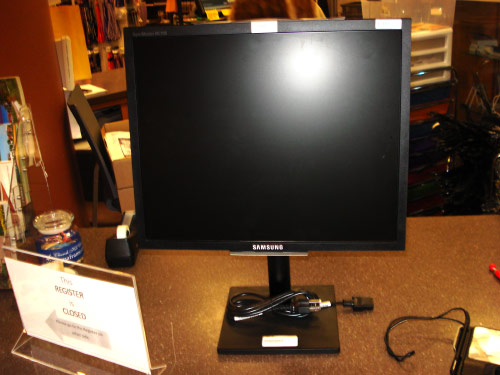 Submitted by Doug Gustwiller dg57@evansville.edu
Writing Center schedule
The Writing Center will be open from Monday, September 10, to Wednesday, December 5.
The center's hours are Monday - Thursday: 10 – 9, and Friday: 10 – 1.
We are finalizing the tutors' schedules, and students should be able to make appointments after Labor Day.
Our staff of peer tutors come from a range of different majors, and all of them love helping students develop as writers. As skilled writers themselves, they are able to assist students with all areas of the writing process, from narrowing a topic to making final revisions.
Professors - please encourage your students to utilize the UE Writing Center for their papers. If you would like to have a representative of the Writing Center visit your class to give a brief presentation of our services, or if you would like to plan a group visit to the center, please e-mail im30@evansville.edu.
Submitted by Ian McDonald im30@evansville.edu
2018-19 President's Club parking decals
Please adhere and proudly display your new 2018-19 President's Club parking decal to your vehicle's front windshield.
Be respectful of our campus visitors; please do not park in labeled Visitor Parking spots throughout campus and Admission's purple-curbed parking spaces in front of Olmsted Admiration Hall on the front oval.
President's Club parking decals are nontransferable. UE's Safety and Security has a list of valid President's Club donors.
The President's Club recognizes alumni, parents, and friends of UE who contribute $1,000 or more annually to any area of the University. The support of these donors provides scholarships for students, enriches our academic programs, supports faculty research, and so much more. The outstanding generosity and loyalty reflect a strong commitment to the University of Evansville.
If you would like more information on the President's Club, please contact the Office of Annual Giving at 812-488-2021 or jj130@evansville.edu.
Submitted by Jennifer Calderone jj130@evansville.edu
Student package delivery notification reminder
Students anticipating package deliveries should monitor their messages from UE distribution services/mail services (DS/MS) before coming over to DS/MS located in the general services building to pick-up packages. DS/MS sends email and text notifications to students for every package received. Students may receive premature delivery notifications from vendors before their packages are received in DS/MS. Students are encouraged to wait until they receive an e-mail and/or text package notification from DS/MS (to ensure the package has been delivered) before coming to DS/MS for package pickup.
Distribution services/mail services regular business hours:
Monday - Fridays, 8:00 a.m. to 5:00 p.m.
For package related questions, contact Michelle Braun at mb485@evansville.edu or ext. 1067.
Submitted by Kim Winsett kw83@evansville.edu
Employee personal packages
Just a friendly reminder, as the start of Fall Semester is upon us. UE distribution services only receives and processes mail and packages that are UE business related. Distribution services does not accept personal packages and mail for UE employees from carriers. For liability reasons, employees should have personal mail and packages delivered to their home address.
Submitted by Kim Winsett kw83@evansville.edu
Shelby presents megachurch research at the annual ASR meeting
Rob Shelby, assistant professor of sociology, presented a paper titled Isomorphic Effects among Modern Megachurches in the U.S. at the annual meeting of the Association for the Sociology of Religion in Philadelphia. Shelby also convened a session on "Clergy Exit and Work."
Full men's basketball schedule is announced
The full 2018-19 schedule for the University of Evansville men's basketball team has now been released. The Purple Aces' non-conference slate was released earlier in the summer while the Missouri Valley Conference slate was recently finalized.
Following the completion of the non-conference games, the Purple Aces open conference play on Wednesday, January 2 against Drake. The Bulldogs finished fourth in the league last season after being chosen to finish 10th. Evansville has won its last six home games against Drake. UE split the season series in 2018. Road play begins three days later with a trip to Illinois State on January 5. ISU was tied with Drake in league play with a 10-8 mark while earning the no. 3 seed in Arch Madness.
In a highly-anticipated contest, UE welcomes Loyola to the Ford Center on Wednesday, January 9. The Ramblers are coming off of their 2018 Final Four run while going 32-6 overall and 15-3 in the Valley. That is followed up with another popular home game as Indiana State heads to Evansville for an afternoon game on January 12. Evansville has won four of the last six home games against the Sycamores.
Road play continues with a midweek contest at Missouri State on January 16. The Bears were seventh in the league last season and will be under the direction of new head coach Dane Ford this season. A big weekend will be on tap when the Aces host Illinois State on Saturday, Jan. 19. It will mark the UE Athletics Hall of Fame weekend. The new class will be unveiled in the coming days.
Evansville will spend the next week in Iowa with a road tilt at Drake on Jan. 23 before a trek to Cedar Falls to play UNI on the 26th. The Panthers finished ninth in the league last season including a 60-50 Arch Madness win over the Purple Aces.
A pair of home games are on tap as the Aces complete the opening month of conference play beginning a contest against Bradley. Last season, the Braves finished conference play at 9-9 while winning 20 games. The quick home stint wraps up on February 2 when Valparaiso comes to town. UE swept the season series against the Crusaders last season.
The Aces stay in the region over the next week of play with its annual trips to Indiana State and Southern Illinois. UE heads to Terre Haute on Wednesday, Feb. 6 before moving on to Carbondale to open its season series against SIU three days later. The Salukis ranked second in the conference last year with an 11-7 mark while going 20-13 overall.
It is back home for Evansville on Feb. 13 against Missouri State before a Sunday contest against UNI on the 17th. Three of UE's final four regular season games are on the road starting with games at Loyola (2/20) and Bradley (2/23). Senior Day for UE will take place on Wednesday, Feb. 27 against SIU. It marks the second season in a row that the Aces final home game has been against the Salukis. Last year, the Aces earned a dominant 75-44 win in the contest. A March 2 trip to Valparaiso will complete the regular season.
The final piece of the UE schedule has also fallen into place as the team has finalized its home games in the Maui Mainland. Evansville welcomes Kentucky Wesleyan to the Ford Center on Nov. 15 before facing Texas Southern at home on the 18th of November.
"Due to NCAA granting waivers to many of the Power 5 opening round host teams, the pool of Division I teams willing to participate in the Mainland portion of the event in Evansville was significantly affected," UE Director of Athletics Mark Spencer said. "Our staff worked diligently with the Maui Mainland to bring two DI games to the Ford Center, but in the timeframe we were presented with, it was just not feasible for us with the season quickly approaching and teams finalizing their schedules."
"We are thrilled to be able to welcome a regional rival to town in Kentucky Wesleyan while Texas Southern has been to four NCAA Tournaments and an NIT in the last five years."
Contribute to AceNotes
To have content considered for inclusion in AceNotes, please submit a Marketing Request Form. Deadline for submission to AceNotes is 10:00 a.m. on the requested date of publication. Only articles concerning UE related/sponsored activities will be accepted. Articles submitted to AceNotes may be edited for length and clarity. Submitter contact information is at the end of each article.