The Honors Program is excited to welcome 56 new freshmen this fall. On Sunday, August 26, these students took part in the annual honors freshman retreat at Audubon State Park. While at Audubon, the freshmen completed a team-building challenge course and played a mini-version of the popular Nerd Wars. Nerd Wars, which takes place every February, is the Honors Program's philanthropic event, pitting student and faculty teams against each other in an exciting battle of knowledge.
The retreat also featured a discussion of the honors freshman common read book, The Immortal Life of Henrietta Lacks by Rebecca Skloot.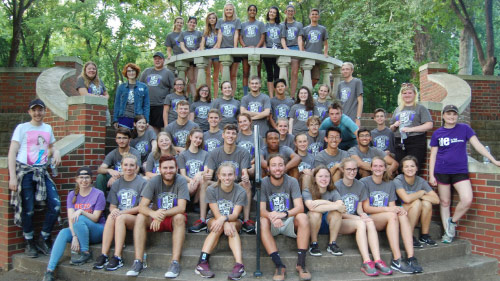 Special thanks to the faculty who shared their expertise during the discussion – associate professor of history Dan Byrne, professor emeritus Dick Connolly, associate professor of philosophy Lisa Kretz, professor of biology Joyce Stamm, and associate professor of psychology Maggie Stevenson.
The Honors Program invites the campus community to join in reading the book in advance of other events taking place this semester, including a campus visit and presentation by members of the Lacks family on October 29.
Submitted by Jayme Williams jw504@evansville.edu