| | |
| --- | --- |
| AceNotes Today | Tuesday, September 4, 2018 |
Admission Purple Visit Day today!
The Office of Admission will be welcoming almost 100 families today - Friday, September 7 - for Purple Visit Day. They will be participating in several sessions and classes throughout the day. They will also be joining campus for lunch in Cafe Court at noon. Please welcome the visiting families when you see them!
Fall Music Faculty Gala concert is tonight
The UE Department of Music's Fall Faculty Gala Concert is tonight - Tuesday September 4 - at 7:30 p.m. in Wheeler Concert Hall. This concert features performances by members of the department's faculty. This concert is free and open to the public.
Exhibit featuring local artists on display in Peterson Gallery
"Complementary Colors," an exhibit by Evansville, Indiana, artists Connie Bell, Nikki Pritchett, and Jan Rhea Unfried will be on display at the University of Evansville's Melvin Peterson Gallery from September 4-October 20. On Thursday, September 6, there will be a reception at 6:30 p.m. for the artists, whose work can be found in homes and businesses across the US and beyond. These events are free and open to the public.
The work of this trio of artists – a mother and two daughters – contrast in style and subject. Similarities lie in the vibrant color they all consistently infuse throughout their many paintings, and when displayed with one another, become "Complementary Colors."
The Melvin Peterson Gallery is located at 1935 Lincoln Avenue on the corner of Lincoln and Weinbach Avenues in Evansville. Gallery hours are Monday, Tuesday, Friday and Saturday from noon-3:00 p.m., and Wednesday and Thursday from noon-6:00 p.m.
For more information, contact 207-650-6073.
Tuesday Night Recharge Mass
Join the Newman Club this evening - Tuesday, September 4 - at 8:00 p.m. in Neu Chapel to celebrate a Catholic Mass! Fr. Christian Raab will be the celebrant. All are welcome!
Submitted by Michaela Kunkler mk305@evansville.edu
Upcoming graduate school events
Students - are you considering graduate or professional school? UE Center for Career Development is covering the cost of attending four Graduate/Professional School Fairs held in Indiana. All information is at this site: www.evansville.edu/careercenter/students/events.cfm.
First Event - IUPUI Graduate Expo at Indianapolis
September 13
Free transportation plus lunch. A refundable deposit of $10 is required. Restrictions apply see CCD website. Approximately 85 programs attended in 2017.
For more information about the fair and registration go to: graduate.iupui.edu/about/gradoffprogs/expo/student.shtml.
Registration encouraged, not required at: survey.graduate.iu.edu/machform/view.php?id=19294.
To sign up for van, and register with CCD: www.evansville.edu/careercenter/students/eventDetails.cfm?eventId=14655.
UE registration deadline: September 5.
Second Event - Big Ten+ Graduate School Expo at Purdue University
September 30 and October 1
Free transportation/registration fee and overnight stay. A refundable deposit of $20 is required. Restrictions apply see CCD website. Over 110 programs attended in 2017, including Harvard, Stanford, University of Chicago, Vanderbilt, and Duke.
For more information about the fair and mandatory registration, go to: www.purdue.edu/gradschool/gradexpo/student/about.html refundable registration fee.
To sign up for van, hotel, and register with CCD, go to: www.evansville.edu/careercenter/students/eventDetails.cfm?eventId=14662.
UE registration deadline is September 21.
Third Event - Indiana University Law Day at Bloomington, IN
Thursday September 27
Free transportation. A refundable deposit of $10 is required. Restrictions apply see CCD website. Over 115 Law School Programs attended in 2017; the largest law school fair in the U.S.
For more information about the fair go to: hpplc.indiana.edu/law/law-lawday.shtml.
To sign up for van and register with CCD, go to: www.evansville.edu/careercenter/students/eventDetails.cfm?eventId=14660.
UE registration deadline is September 20.
Fourth Event - Midwest Graduate School Summit at Purdue University
October 27, 2018 (Leaving Evansville, October 26 at 3:00 p.m.)
Free transportation/registration fee and overnight stay. A refundable deposit of $20 is required. Restrictions apply see CCD website. Expecting 60 programs for 2018: i.e. Purdue, Notre Dame, The Ohio State, University of Illinois, and Yale.
For more information about the fair and mandatory registration, go to: www.purdue.edu/gradschool/midwestgradsummit/ refundable registration fee.
To sign up for van, hotel and register with CCD, go to: www.evansville.edu/careercenter/students/eventDetails.cfm?eventId=14809.
UE registration deadline is October 20.
Please contact the Center for Career Development with any questions. The office is located in the student life area in Ridgway University Center or call 812 488 1083 or e-mail career@evansville.edu.
Submitted by Alison Morris-McDonald am268@evansville.edu
Flavio Felix and Emile Moura present I-House Brazil
I-House Brazil is happening on Wednesday, September 5 at 7:00 p.m. on the second floor of Ridgway University Center. Emile Moura and Flavio Felix will be presenting this week. Emile is a Junior biology major from Minas Gerais, Brazil, and Felix is a freshman international relations major from Fortaleza, Brazil. They will be presenting about their life back home and also about Brazilian history, culture, and traditions.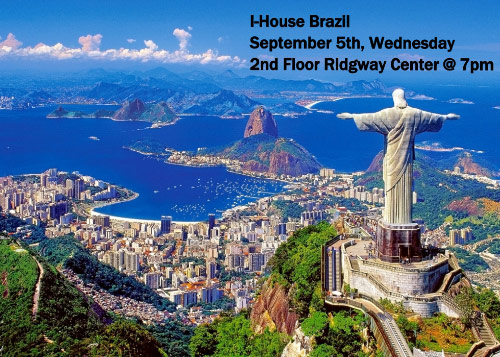 Submitted by Hussam Taj ht70@evansville.edu
First Student Congress meeting this afternoon
The first Student Congress meeting of the 2018-19 school year will take place this afternoon (Thursday, September 6) at 5:00 p.m. in Room 170 in the Schroeder School of Business Building. As a reminder, SGA representatives must miss no more than four meetings per semester, in order to establish good standing for the upcoming semester. If the representative for your organization has changed, please e-mail MC326@evansville.edu with the name of the updated representative, so a reminder e-mail may be sent, following the third missed meeting.
Submitted by Michaella Cunningham MC326@evansville.edu
Reception for Bhargavi Bandi is set for today
Please join us to wish Bhargavi Bandi, associate director of data management and recruiting strategies, best wishes as she leaves for her new adventure and thank her for her years of dedication to UE. A reception will be held today -Thursday, September 6 - from 3:00-4:30 p.m. in the Office of Admission lobby, Olmsted Hall 104. Refreshments will be served and all are welcome.
Submitted by Ashley Ross aj53@evansville.edu
SIAM (Math Club) Introduction/Game Night!
Do you like math? Are you interested in joining SIAM? Then come on out for our introduction/game night! It will be held today - Wednesday September 5 - from 5:30-6:30 p.m. in Room 304 in the Koch Center for Engineering and Science. We'll play fun games to get to know each other and learn more about what our SIAM chapter does. Also, FREE PIZZA!
Submitted by Stephanie Scholz ss619@evansville.edu
Join us on Wednesday, September 5 for our fall study abroad fair!
Stop by Eykamp Hall, Room 251, Ridgway University Center, between 11:00 a.m.-1:00 p.m. on September 5 to find out about all of the different study abroad options available to students! Whether you're interested in a semester, summer, or even a 10-day program, we can help you find the best program for your interests. Both Harlaxton and non-Harlaxton programs will be represented.
Recent Harlaxton returnees can stop by to pick up a small gift and fill out a postcard full of tips and tricks for our outgoing Harlaxton students. This is a great way to impart your best advice! It's also a great opportunity to see how you can go abroad again
And don't forget to enter our raffles! We will have a Harlaxton and non-Harlaxton raffle basket full of treats, so make sure you stop by to enter your name.
If you have any questions, you can e-mail Greta Becker at.gb91@evansville.edu
Submitted by Greta Becker gb91@evansville.edu
"Life of Brian" interfaith viewing and discussion tonight
The study series "The Gospel of the Tenth Rate" begins tonight - September 5 - at 7:00 p.m. in the downstairs lounge of Neu Chapel. The first installment will be a viewing and discussion of the themes found in the film Monty Python's Life of Brian. This series will be open to people of any and all faiths as well as those without faiths. Hope to see you there!
Submitted by Jordan McQuiston jm707@evansville.edu
September 5 - Andiron Lecture at 4:00 p.m. in Eykamp 252
The University of Evansville's annual Andiron Lecture Series for 2018-19 begins at 4:00 p.m., on September 5 in Eykamp Hall, Room 252, in Ridgway University Center. Rachael McGill will be discussing "Poisoned Candy and Peace on Earth: How History Shapes American Holiday Culture." These lectures are free and open to the public.
McGill's lecture will explore how momentous events in American and world history from the 19th century onward have shaped our understanding of holiday culture in the United States. Focusing on Halloween and Christmas. She will trace the historical development behind key sentiments underlying each holiday.
McGill earned her MA in comparative religion from Western Michigan University and her BA degrees in religion and writing from UE. Her primary research interests examine the ongoing development of Western religious adherents' understandings of religious themes, symbols, figures, and history in the face of modernity. She is interested in the complex relationship between religion and popular culture in the US, particularly in the role, portrayal, and influence of religious elements upon mass media.
Other lectures in this series include:
October 3, 4:00 p.m., Eykamp Hall, Room 252, Ridgway University Center
"Romans 13:1-10 in Ancient Context: Interpretation and Integration in the Public Square" – Keith Turner, UE John Wesley Minister and assistant chaplain for the Lilly-funded summer youth theology institute, Open Table.
A licensed pastor in the United Methodist Church, Turner earned his BA in bible and theology from Asbury University and his MDiv degree from Asbury Theological Seminary. The School of Practical Theology at Asbury Theological Seminary awarded him the Stanger Preaching Award for excellence in preaching, both in the crafting and in the delivery of sermons. He is a member of the Wesleyan Theological Society.
November 28, 4:00 p.m., Eykamp Hall, Room 252, Ridgway University Center
"Co-creation of Value Using Logistics and Supply Chain Relationships" – Yolanda Obaze, UE assistant professor of supply chain management.
Obaze earned her BA from Ahmadu Bello University Zaria, Kaduna Nigeria, and her MBA (strategic management and marketing) and PhD degrees from the University of North Texas, Denton, Texas. Her research interests include service systems, complexities and marketing theories, operations and supply chain management, logistics systems, and humanitarian logistics and supply chain management. She is an active member of the Institute for Operations Research and the Management Sciences, Production and Operations Management, South West Decision Sciences Institute, Decision Sciences Institute, and Association of Collegiate Marketing Educators.
February 6, 4:00 p.m., Eykamp Hall, Room 252, Ridgway University Center
"Composing Queer Music: Samuel Barber's Despite and Still" - James Sullivan, UE assistant professor of music theory and double bass.
Sullivan earned his PhD in music theory and DMA and MM in double bass performance from the Eastman School of Music, as well as a BM in double bass performance and a BS in mathematics from Indiana University. His research focuses on rhythm and meter perception in post-tonal music. Sullivan's Andiron Lecture brings together his interest in rhythm and meter with secondary interests in the music of Samuel Barber, queer music theory, and performance and analysis.
March 6, 4:00 p.m., Eykamp Hall, Room 252, Ridgway University Center
"Cautiously Confronting Colonialism: The United States and Decolonizing Africa, 1962-1990" - Daniel Byrne, UE associate professor of history.
Byrne focuses his teaching on United States history since the American Civil War with an emphasis on the United States in the world. He also teaches a seminar on African decolonization, which combines his research in United States foreign policy with the nationalist perspectives on the end of European empires in Africa. His original research focused on the United States response to the Algerian war of independence and has expanded to cover the decolonization of French West Africa.
April 3, 4:00 p.m., Eykamp Hall, Room 252, Ridgway University Center
"War Victim to Gay Hero: Commemorating Lorca in the Absence of His Body" – Edward Curran, UE assistant professor of Spanish.
Curran earned his PhD in Hispanic literature from Cornell University, his MA in Spanish (Language, Literature, and Culture) from UNC Charlotte, and his BA in modern languages from Winthrop University. His teaching and research interests include: twentieth-century Spanish literature, photography, film, monuments, material culture, photography theory and visual studies. His Andiron Lecture examines categories of human remains germane to the Peninsula's mass grave exhumation phenomenon and their representation in photography, monuments, and the plastic arts.
The Andiron Lectures in Liberal Arts and Sciences series is sponsored by the William L. Ridgway College of Arts and Sciences and supported by a generous gift from Donald B. Korb. For more information, call 812-488-1070 or 812-488-2589.
Newman Club Opening Night
Join us at the Newman House today - Wednesday, September 5 - at 5:00 p.m. for an opening night celebration! There will be games and opportunities to meet the ministry team! We are the house across the street from Olmsted with flags! All are welcome!
Submitted by Michaela Kunkler mk305@evansville.edu
Part-time job fair this week
Stop by the Part-Time Job Fair this Wednesday to meet with area employers! The event is planned for Wednesday, September 5, 11:00 a.m. - 1:00 p.m., on the first floor of Ridgway University Center
- Business casual attire recommended
- Bring many copies of your résumé
Submitted by Alison Morris-McDonald am268@evansville.edu
Erin Lewis and Hannah Jaramillo discuss High School Changemaker Challenge on Local Lifestyles
Erin Lewis, UE associate director for the Center for Innovation & Change, and UE student Hannah Jaramillo joined Ange Humphrey on Local Lifestyles recently to talk about UE's annual High School Changemaker Challenge. When Jaramillo was a senior in high school, she took part in UE's first High School Challenge and her team won the competition. Their winning idea was a CommuniTree, a steel tree powered by solar energy. It will soon be installed at Evansville's new downtown playground, Mickey's Kingdom. You can watch the interview here on the Tristatehompage website.
The deadline to register for this year's High School Changemaker Challenge is Tuesday, September 4.
Come one, come all to today's #UEChangefest2018
Join us for #UEChangefest2018 TODAY- Friday, September 7 - from 2:00-4:00 p.m., outside Ridgeway University Center. Come and support Professor Mark Valenzuela as he makes an official attempt to break the world record for the tallest stack of tortillas. There will also be live salsa dance lessons and many more activities to support Changemaker activities and classes. UE will be building home 499 for Habitat for Humanity (purple door and all)! Come sign the 2X4s and put love into the house. We all need some love!
Submitted by Stacey Shanks ss581@evansville.edu
Do you want to build a playground?
Are you looking for a way to make a difference in your community? Volunteer to help build the new Mickey's Kingdom playground, a 20,000 square foot, all accessible playground in downtown Evansville. The build will take place September 14-23 (no build on the 17th). There are three shifts per day. No building experience needed. Sign-up to volunteer at mickeyskingdomdowntownevansville.com or contact Catie Taylor at Ct37@evansville.edu if you have any questions.
Submitted by Catie Taylor Ct37@evansville.edu
Nominate Individuals for the Employee Excellence Award for October
The University of Evansville, in pursuit of excellence in service, wishes to recognize monthly a non-faculty employee displaying records of achievement as a leader. Leadership may be demonstrated in any of the following categories:
• Service to the University community
• Service to students
• Job performance and attitude to fellow employees
One award is presented each month. To be eligible, an employee must be a full-time member of the administration or staff. Nominations are due before the 15th of each month. Nominations are now being accepted for the month of October!
To nominate someone, or to find out more information about the Employee Excellence Award, go to acelink.evansville.edu/Tools/Employee Award/.
Submitted by Lori LeDuc ll138@evansville.edu
TIAA individual counseling sessions for September
The TIAA-CREF representative will be on the UE campus for individual counseling sessions on Tuesday, September 18. To schedule an appointment, call TIAA-CREF at 1-800-732-8353.
Please note that the meeting location has been changed to Room 153, (Eades Music Room) in the Schroeder School of Business Building.
Submitted by Lori LeDuc ll138@evansville.edu
Computer monitors available for $15
The UE Bookstore has a limited quantity of 15-inch adjustable computer monitors available for $15. These are made available through the Office of Technology Services. Monitors were formerly used in campus computer labs and were replaced recently. These are AS IS models and are available to anyone from the campus community on a first come, first served basis. Check them out in the Bookstore or view this photo.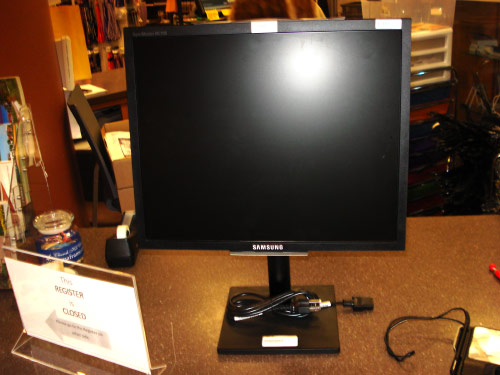 Submitted by Doug Gustwiller dg57@evansville.edu
A good time had by all at Honors Program Freshman Retreat
The Honors Program is excited to welcome 56 new freshmen this fall. On Sunday, August 26, these students took part in the annual honors freshman retreat at Audubon State Park. While at Audubon, the freshmen completed a team-building challenge course and played a mini-version of the popular Nerd Wars. Nerd Wars, which takes place every February, is the Honors Program's philanthropic event, pitting student and faculty teams against each other in an exciting battle of knowledge.
The retreat also featured a discussion of the honors freshman common read book, The Immortal Life of Henrietta Lacks by Rebecca Skloot.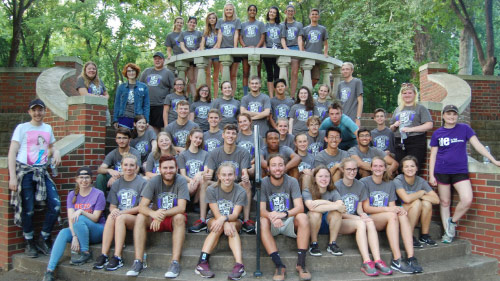 Special thanks to the faculty who shared their expertise during the discussion – associate professor of history Dan Byrne, professor emeritus Dick Connolly, associate professor of philosophy Lisa Kretz, professor of biology Joyce Stamm, and associate professor of psychology Maggie Stevenson.
The Honors Program invites the campus community to join in reading the book in advance of other events taking place this semester, including a campus visit and presentation by members of the Lacks family on October 29.
Submitted by Jayme Williams jw504@evansville.edu
Writing Center schedule
The Writing Center will be open from Monday, September 10, to Wednesday, December 5.
The center's hours are Monday - Thursday: 10 – 9, and Friday: 10 – 1.
We are finalizing the tutors' schedules, and students should be able to make appointments after Labor Day.
Our staff of peer tutors come from a range of different majors, and all of them love helping students develop as writers. As skilled writers themselves, they are able to assist students with all areas of the writing process, from narrowing a topic to making final revisions.
Professors - please encourage your students to utilize the UE Writing Center for their papers. If you would like to have a representative of the Writing Center visit your class to give a brief presentation of our services, or if you would like to plan a group visit to the center, please e-mail im30@evansville.edu.
Submitted by Ian McDonald im30@evansville.edu
College Mentors for Kids is recruiting
College Mentors for Kids is a national organization that connects kids to college students through weekly on-campus activities that inspire growth, confidence, and brighter futures. The chapter here at UE brings kids to campus every week from Joshua Academy that range from 1st to 5th grade. Mentors are paired one-on-one with a student and will go through many activities with each other that focus on community, diversity, and higher education. Mentors participate each Wednesday from 3:30 to 5:30 p.m. Classes that last until 3:50 p.m. or start at 5:00 p.m. can be worked around!

If you are interested in applying, then you can do so here: members.collegementors.org/application.
The deadline for applications is September 14 and interviews follow the next week! If you have any questions, then please reach out to Joe Cook (jc491@evansville.edu) or Paige Hignite (ph89@evansville.edu).
Submitted by Joe Cook jc491@evansville.edu
Call for UExplore research proposals
Students, please consider participating in the UExplore undergraduate research program this semester. The deadline for the Fall Semester student-generated proposals is Thursday, September 13. A digital copy (Word or PDF format) and ten (10) paper copies of your proposal are due in the Office of Academic Affairs to Paula Heldt before the end of the business day of the proposal deadline.
Information about the UExplore program and the proposal template can be found from the UExplore website: www.evansville.edu/undergraduateresearch/.
You can request up to $1000 for hardware and services to support your proposed research project. Proposals from nearly every department on campus have been funded.
Submitted by Doug Stamps ds38@evansville.edu
Review course for Fundamentals of Engineering Exam offered
The University of Evansville College of Engineering and Computer Science has announced dates for the annual review and preparation course for those planning to take the Fundamentals of Engineering Exam.
All classes will be held Thursday evenings beginning at 6:30 p.m. in the Koch Center for Engineering and Science building on the UE campus. Classes are divided into relevance per discipline. Fees are adjusted accordingly.
Civil engineering candidates will attend from September 27 through January 24.
Mechanical engineering and other disciplines candidates will attend from September 27 through November 15.
Electrical and computer engineering candidates will attend October 25 through November 15.
Registration forms and payment must be returned by 4:00 p.m. on Wednesday, September 26.
On campus registrations should be returned to Room 250 in the Koch Center for Engineering and Science.
Community members may obtain registration information by contacting Kimberly Higgins via e-mail at kh209@evansville.edu or phone at 812-488-2651.
Early registration is encouraged as space is limited.
Submitted by Kimberly Higgins kh209@evansville.edu
Now recruiting Harlaxton Ambassadors
Are you a recent Harlaxton alum who loves to share your experience with others? Or do you know a student who fits that description?
The Harlaxton office is currently taking applications for students who want to volunteer as Harlaxton Ambassadors to recruit, prepare, and encourage Harlaxton applicants and to represent Harlaxton at various recruitment events and other campus activities. Harlaxton Ambassadors have the opportunity to develop professional skills, stay connected with Harlaxton, and receive exclusive Harlaxton apparel.
More information and applications are available here on the Harlaxton website
Submitted by Kaylynn Carver kc205@evansville.edu
Health screening sign-ups
Earn HRA credits! Sign-up for your health screening today. Screenings will be held in the Employee Health Center on Sept. 11-14 from 7:00-11:00 am. Please fast for 8-12 hours. Sign-ups are posted on the main page of AceLink. Please do not schedule your screening through the health clinic. Please contact ac375@evansville.edu with questions.
Submitted by Ashley Chipps ac375@evansville.edu
Volleyball continues winning ways against NC Central
Rocio Fortuny and Rachel Tam posted 13 kills each while Mildrelis Rodriguez recorded 12 to help the Purple Aces volleyball team finish off the Phoenix Classic in style with a 3-1 win over North Carolina Central.

"Teamwork. That is what we continue to see with this group of girls. They compensate for each other," Aces head coach Manolo Concepcion explained. "We keep going deep in the roster presenting them with opportunities to contribute when needed and everyone keeps responding. They are used to playing with each other, knowing that the star of the team is the team itself."

"Now we have a couple of days to recover and study ourselves. The intent is to continue learning and growing."

Tam and Fortuny paced the University of Evansville with their 13 kills while Rodriguez notched 12. Cecilia Thon and Allana McInnis tallied 17 and 16 assists, respectively while Elena Redmond posted 12. Olivia Goldstein led the way with 24 digs. Patricia Joseph notched s0069 kills and seven blocks in the contest.

UE (5-2) set the tone early, with a 25-12 win in game one. Up 9-6, the Aces reeled off six in a row as Rodriguez notched two kills and Thon was perfect in her serving. NC Central got back within five at 15-10 before UE finished on a 10-2 run to take a 1-0 match lead.

After the Eagles took game two, 25-18, the Purple Aces were off to the races again with a pair of 25-17 wins in the third and fourth frames to earn a 3-1 win. Game three saw NC Central take a 12-9 lead before UE fought back. A service ace by Rodriguez tied it up at 14-14. That was part of a 6-0 run. Olivia Goldstein then did the serving in a 4-0 stretch that was capped off by a pair of Fortuny kills. That put UE up 22-15. Rodriguez later had the clinching kill to give UE a 2-1 edge.

Early in the fourth set, the Eagles jumped out to a 4-0 lead before UE battled back to tie it at 9-9. Allana McInnis did the serving while Rachel Tam posted three kills in a 10-0 run. McInnis also had an ace in the rally, which gave UE a 17-9 lead. From there, the Aces were able to clinch their second match of the day with a 25-17 win as Patricia Joseph had the winning kill.

Next Saturday, UE welcomes Austin Peay and Northern Kentucky to Meeks Family Fieldhouse for the Dunn Hospitality Tournament. The event will feature a total of three contests on Sept. 8.
Contribute to AceNotes
To have content considered for inclusion in AceNotes, please submit a Marketing Request Form. Deadline for submission to AceNotes is 10:00 a.m. on the requested date of publication. Only articles concerning UE related/sponsored activities will be accepted. Articles submitted to AceNotes may be edited for length and clarity. Submitter contact information is at the end of each article.