| | |
| --- | --- |
| AceNotes Today | Thursday, August 30, 2018 |
Campus Community Celebration set for Thursday, August 30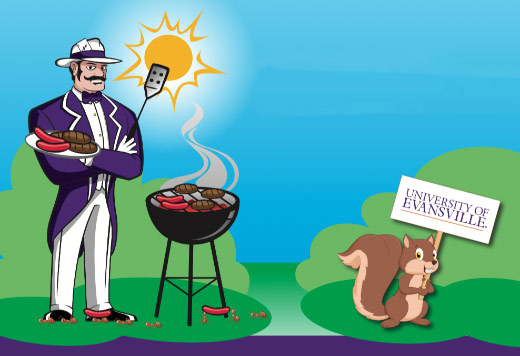 A Campus Community Celebration is planned for Thursday, August 30!
Activities include:
4:00 – 6:00 p.m. Organization Fair on the East Terrace Plaza
4:00 – 6:00 p.m. Volunteer Fair on the Memorial Plaza
4:30 – 6:30 p.m. Campus Community Cookout on the Neu Chapel Lawn (UE identification required*)
6:00 p.m. Meet the Aces Athletics Teams on the East Terrace Lawn
Games and various activities will be available for your fun and entertainment!
(Rain location - Ridgway University Center)
*Faculty, administration, staff and their families, and all members of the student body are invited to attend and celebrate the beginning of a new school year!
Campus visitor parking
The Office of Admission continues to enhance the visit experience for our prospective students in order to make them feel welcome and at home on our campus. We will be continuing to use the special parking signs and purple parking spaces in front of Olmsted Administration Hall that will be personalized to welcome each arriving guest by name. In order to ensure that each visiting guest has a place to park, we're asking for your help to keep the purple spaces open at all times. Please help us communicate this change to all students, faculty, staff, outside guests, and others so that we may make a positive first impression on our visitors.
Thank you for continuing to be an important part of the campus visit experience. We truly appreciate the enthusiasm and cooperation from the entire campus community in making the experience special for each of our visitors.
Sincerely,
Dr. Shane Davidson
VP for Enrollment and Marketing
Conversation on Faith and Science: tonight at 7:00 p.m.
The Neu Chapel Forum is excited to hold a conversation on the relationship between faith and science tonight at 7:00 p.m. in the Class of 59 Gallery in Ridgway University Center. We will discuss how to understand creation stories most authentically while also discussing how the greatness of God can be seen in and through scientific discovery. You won't want to miss this exciting conversation! The campus community is invited to attend.
Submitted by Keith Turner kt160@evansville.edu
Preparing for a health professional school interview
All students preparing for health professional school interviews this fall are welcome to attend "Tips for a Successful Professional School Interview Workshop." The workshop will be presented by Francie Renschler, pre-professional health advisor, on Friday, August 31 at 2:00 p.m. in Room 75, Schroeder School of Business Building
Submitted by Francie Renschler fr25@evansville.edu
Join us on Wednesday, September 5 for our fall study abroad fair!
Stop by Eykamp Hall, Room 251, Ridgway University Center, between 11:00 a.m.-1:00 p.m. on September 5 to find out about all of the different study abroad options available to students! Whether you're interested in a semester, summer, or even a 10-day program, we can help you find the best program for your interests. Both Harlaxton and non-Harlaxton programs will be represented.
Recent Harlaxton returnees can stop by to pick up a small gift and fill out a postcard full of tips and tricks for our outgoing Harlaxton students. This is a great way to impart your best advice! It's also a great opportunity to see how you can go abroad again
And don't forget to enter our raffles! We will have a Harlaxton and non-Harlaxton raffle basket full of treats, so make sure you stop by to enter your name.
If you have any questions, you can e-mail Greta Becker at.gb91@evansville.edu
Submitted by Greta Becker gb91@evansville.edu
Fall Music Faculty Gala
The UE Department of Music Concert Season kicks off with the Fall Faculty Gala on September 4 at 7:30 p.m. in Wheeler Concert Hall. This traditional start to the concert season features performances by members of the department's faculty. The Gala will again be preceded by a dinner sponsored by Friends of UE Music celebrating the start of the academic year in Eykamp Hall in Ridgway University Center for alumni and friends of the department. The dinner begins at 5:45 p.m. Dinner tickets are $25 and include a meal of heavy hors d'oeuvres, dessert, drink ticket, cash bar, and reserved concert seating.
For more information and to purchase dinner tickets, go to www.uealumnionline.com/fallfacultygala or contact the department at 812-488-2754.
Submitted by James Sullivan js820@evansville.edu
Catholic Mass on campus
There will be a Catholic Mass this Sunday, September 2, at 1:00 p.m. in Neu Chapel. Father Alex Zenthoefer will be the celebrant. All are welcome!
Submitted by Sam Wallisch sw265@evansville.edu
Part-time job fair next week
Need a part-time job? Drop by and meet with area employers at the Part-Time Job Fair! The event is planned for Wednesday, September 5, 11:00 a.m. - 1:00 p.m., on the first floor of Ridgway University Center
- Business casual attire recommended
- Bring many copies of your résumé
Submitted by Alison Morris-McDonald am268@evansville.edu
College Mentors for Kids is recruiting
College Mentors for Kids is a national organization that connects kids to college students through weekly on-campus activities that inspire growth, confidence, and brighter futures. The chapter here at UE brings kids to campus every week from Joshua Academy that range from 1st to 5th grade. Mentors are paired one-on-one with a student and will go through many activities with each other that focus on community, diversity, and higher education. Mentors participate each Wednesday from 3:30 to 5:30 p.m. Classes that last until 3:50 p.m. or start at 5:00 p.m. can be worked around!

If you are interested in applying, then you can do so here: members.collegementors.org/application.
The deadline for applications is September 14 and interviews follow the next week! If you have any questions, then please reach out to Joe Cook (jc491@evansville.edu) or Paige Hignite (ph89@evansville.edu).
Submitted by Joe Cook jc491@evansville.edu
Call for UExplore research proposals
Students, please consider participating in the UExplore undergraduate research program this semester. The deadline for the Fall Semester student-generated proposals is Thursday, September 13. A digital copy (Word or PDF format) and ten (10) paper copies of your proposal are due in the Office of Academic Affairs to Paula Heldt before the end of the business day of the proposal deadline.
Information about the UExplore program and the proposal template can be found from the UExplore website: www.evansville.edu/undergraduateresearch/.
You can request up to $1000 for hardware and services to support your proposed research project. Proposals from nearly every department on campus have been funded.
Submitted by Doug Stamps ds38@evansville.edu
Check out "The Immortal Life of Henrietta Lacks" from UE library before the Lacks family visits UE
Copies of the book, The Immortal Life of Henrietta Lacks, are available at the UE Library for all to check out. Grab one before Labor Day weekend!
Members of the Lacks family will visit UE on Monday, October 29 and the campus community is invited. You won't want to miss this.
The Honors Program freshmen read the book for their summer common read and now the Honors Program extends an invitation to everyone on campus to read it. Watch for more events and activities related to themes brought forth in the book to be sponsored this year.
Below is background information on Henrietta Lacks from this website: rebeccaskloot.com/the-immortal-life/
Her name was Henrietta Lacks, but scientists know her as HeLa. She was a poor black tobacco farmer whose cells - taken without her knowledge in 1951 - became one of the most important tools in medicine, vital for developing the polio vaccine, cloning, gene mapping, in vitro fertilization, and more. Henrietta's cells have been bought and sold by the billions, yet she remains virtually unknown, and her family can't afford health insurance.
The book was made into an HBO movie by Oprah Winfrey and Alan Ball; this New York Times bestseller takes readers on an extraordinary journey, from the "colored" ward of Johns Hopkins Hospital in the 1950s to stark white laboratories with freezers filled with HeLa cells, from Henrietta's small, dying hometown of Clover, Virginia, to East Baltimore today, where her children and grandchildren live and struggle with the legacy of her cells. The Immortal Life of Henrietta Lacks tells a riveting story of the collision between ethics, race, and medicine; of scientific discovery and faith healing; and of a daughter consumed with questions about the mother she never knew. It's a story inextricably connected to the dark history of experimentation on African Americans, the birth of bioethics, and the legal battles over whether we control the stuff we're made of.
Winner of several awards, including the 2010 Chicago Tribune Heartland Prize for Nonfiction, the 2010 Wellcome Trust Book Prize, and the American Association for the Advancement of Science's Award for Excellence in Science Writing, the 2011 Audie Award for Best Non-Fiction Audiobook, and a Medical Journalists' Association Open Book Award, The Immortal Life of Henrietta Lacks was featured on over 60 critics' best of the year lists.
Submitted by Cherie Leonhardt CL29@evansville.edu
Fitness Center Labor Day Hours
The Fitness Center will be open this weekend and on Labor Day with the following hours:
Saturday: 11:30 a.m.-5:30 p.m.
Sunday: 11:30 a.m.-5:30 p.m.
Monday: 2:00-10:00 p.m.
Submitted by Lori Adams la87@evansville.edu
Dining hours for Labor Day weekend
Campus dining hours will operate on a modified schedule for Labor Day weekend. Below are the operation times for each location.
Saturday
Café Court: 10:30 a.m.-6:30 p.m.
Rademacher's Café: Closed
Chick-fil-A: Noon-8:00 p.m.
ACE's Place: (Self-serve) 6:00-10:30 a.m.; (staffed) 10:30 a.m.-10:00 p.m.; (self-serve) 10:00 p.m.-midnight
Koch Market: (Self-serve) when building is open
Sunday
Café Court: 10:30 a.m.-6:30 p.m.
Rademacher's Café: Closed
Chick-fil-=A: Closed
ACE's Place: (Self-serve) 6:00-10:30 a.m.; (staffed) 10:30 a.m.-10:00 p.m.; (self-serve) 10:00 p.m.-midnight
Koch Market: (Self-serve) when building is open
Monday
Café Court: 10:30 a.m.-6:30 p.m.
Rademacher's Café: Closed
Chick-fil-=A: Closed
ACE's Place: (Self-serve) 6:00 a.m.-midnight
Koch Market: (Self-serve) When building is open
Submitted by Brian Conner bc32@evansville.edu
2018-19 President's Club parking decals
Please adhere and proudly display your new 2018-19 President's Club parking decal to your vehicle's front windshield.
Be respectful of our campus visitors; please do not park in labeled Visitor Parking spots throughout campus and Admission's purple-curbed parking spaces in front of Olmsted Admiration Hall on the front oval.
President's Club parking decals are nontransferable. UE's Safety and Security has a list of valid President's Club donors.
The President's Club recognizes alumni, parents, and friends of UE who contribute $1,000 or more annually to any area of the University. The support of these donors provides scholarships for students, enriches our academic programs, supports faculty research, and so much more. The outstanding generosity and loyalty reflect a strong commitment to the University of Evansville.
If you would like more information on the President's Club, please contact the Office of Annual Giving at 812-488-2021 or jj130@evansville.edu.
Submitted by Jennifer Calderone jj130@evansville.edu
Seniors!
Seniors - this is an exciting time in our lives. We've made it through excruciating tests, long assignments, and killer deadlines. As we close out this chapter, let's leave a great legacy. The Senior Class Committee (SCC) is about making our last moments at the University count.
If you would like more information about joining SCC, then please e-mail me, Cherice Williams, at cw288@evansville.edu or text 812-205-3953. I'm looking forward to working with you to make our last year at UE one to remember.
Submitted by Cherice Williams cw288@evansville.edu
UE DPT presented guest lecturer Gray Cook, PT, MSPT
The University of Evansville Doctor of Physical Therapy Program recently hosted a featured speaker presentation by Gray Cook, "The ABCs of Movement Correction."
Gray gave a presentation on cutting edge strategies to improve movement patterns, as well as, a hands-on lab session in the brand new Stone Family Center for Health Sciences.
Cook is a practicing physical therapist, an orthopedic certified specialist, a certified strength and conditioning specialist and an RKC kettlebell instructor. He is the founder of Functional Movement Systems, a company that promotes the concept of movement pattern screening and assessment. His work and ideas are at the forefront of fitness, conditioning, injury prevention and rehabilitation. He gives lectures on these topics several weekends each month, worldwide.
Gray received his graduate physical therapy education at the University of Miami School of Medicine with a research focus on orthopedics and sports rehabilitation.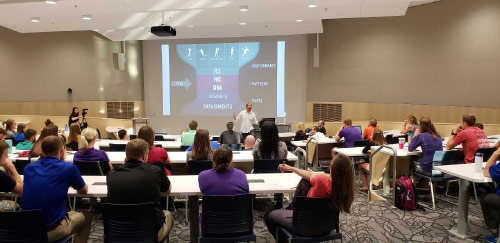 Submitted by Jennifer Simon js698@evansville.edu
Meal plan changes for fall
Students can adjust meal plans for the Fall semester until Friday, August 31 at 5:00 p.m.
Meal plans can be adjusted on WebAdvisor by selecting "Meal Plan Selection" in the students' menu.
Changes will be reflected the next business day. Additional information on meal plans can be found in the Campus Dining section on the Residence Life website – www.evansville.edu/residencelife.
Submitted by Brian Conner bc32@evansville.edu
UE Library introduces Flipster
University of Evansville students, staff, and faculty can now access their favorite digital magazines using Flipster®. Flipster is a next-generation magazine service that allows people to browse digital versions of the latest issues of popular magazines, courtesy of the library.
UE Library has subscribed to Flipster magazines such as The New Yorker, New Republic, The Atlantic and more so patrons have the option of accessing the content at the library or remotely. Magazines can be downloaded to Android™ phones and tablets, Apple® phones and tables, and Kindle Fire tablets for offline reading anytime, anywhere.
Flipster offers an easy, browse-able reading experience. Users can browse magazines by category as well as perform searches for specific periodicals. An online newsstand provides a carousel of the most recent issues, as well as a carousel of all issues allowing for quick access to magazines. The table of contents contains links for quick access to articles of interest and hotlinks within magazines are hyperlinked, opening in separate tabs when clicked. In addition, there is an option to zoom in and out for better readability.
Contact Danielle Williams (dw56#evansville.edu) or visit the libraries website to learn more about accessing the library's digital magazines through Flipster.
Submitted by Danielle Williams dw56@evansville.edu
UE's ACE³ Program named finalist in national competition
The University of Evansville's Access to Capital and Expertise for Emerging Entrepreneurs (ACE³) program has been selected as a Pioneer (finalist) in the Unlocking ¢hange Challenge: Innovations for Financial Wellbeing, Resilience, and Freedom. This nationwide competition seeks to find and support leading social entrepreneurs and innovators across the country.
The ACE³ program was one of 10 finalists chosen out a group of 140 entries. The four Champions (winners) of the challenge will be announced on Oct 3. Each winner will receive $50,000 to support their programs.
Representatives of ACE³ will soon be going to New York to attend the Unlocking ¢hange Challenge event. While there, they will have the opportunity to network, participate in workshops, and discuss the Ace³ program, sponsored by Old National Bank.
The challenge is a collaboration between BNY Mellon, an American worldwide banking and financial services holding company, and Ashoka, the world's largest group of social entrepreneurs and changemakers.
The University of Evansville was recently named a Changemaker Campus by Ashoka U, an Ashoka initiative. UE received the recognition due to its leadership in social innovation and changemaking in higher education. It's one of 50 universities world-wide with this distinction and the first in Indiana.
The ACE³ program is sponsored, funded, and co-managed by Old National Bank and is located in the Schroeder School of Business's Institute for Banking and Finance under the direction of Yasser Alhenawi, UE associate professor of finance. ACE³ manages a $100,000 portfolio, which offers microloans to women, minority, and disadvantaged owned businesses. Students interface with clients, review business plans, and serve as underwriters for loans.
"ACE³ gives students the opportunity to gain invaluable skills and real-world experience while making a positive impact in the community," said Greg Rawski, Schroeder Family Dean,
The Schroeder School of Business is the nation's fastest riser (+38 places) in the 2018 U.S. News & World Report Best Undergraduate Business Programs and is ranked Number 4 among small private business schools nationally.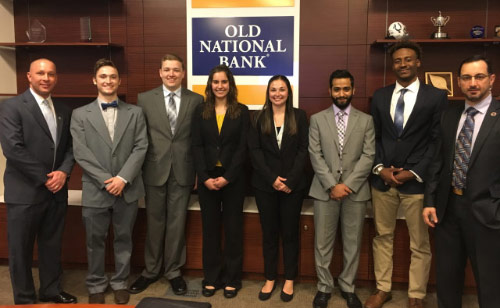 Asher Trockman receives top undergraduate prize in the Student Research Competition
Asher Trockman, an undergraduate in computer science at the University of Evansville and a 2017 member of Carnegie Mellon's Research Experiences for Undergraduates in Software Engineering (REUSE) program, received this year's top undergraduate prize in the Student Research Competition at the International Conference on Software Engineering (ICSE) in Gothenburg, Sweden.
The award, part of the ACM Student Research Competition (SRC) sponsored by Microsoft Research, affords undergraduate and graduate students a unique opportunity to present their original research before a panel of judges and experts. Winners of the competition are invited to participate in the ACM Student Research Competition Grand Finals.
The research was conducted while Trockman was a student in the REUSE program during the summer of 2017, along with Shurui Zhou, Christian Kästner, and Bogdan Vasilescu at the Institute for Software Research and the Socio-Technical Research Using Data Excavation Lab (STRUDEL). The resulting paper, "Adding Sparkle to Social Coding: An Empirical Study of Repository Badges in the npm Ecosystem", was published in the technical track at ICSE and was also presented as part of the ICSE Student Research Competition.
The research examined the reliability of GitHub repository badges for inferring various qualities of open source projects.
DPT Program hosts White Coat Ceremony
The UE Doctor of Physical Therapy Class of 2021 received their white coats on August 21 marking the beginning of professional training and education. These impressive 43 students were selected from a pool of over 400 applicants. We officially welcome them to our UE PT family!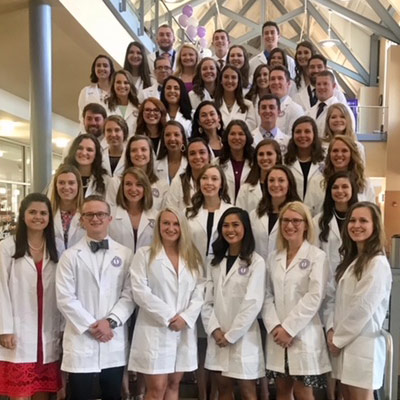 Submitted by Jennifer Simon js698@evansville.edu
Contribute to AceNotes
To have content considered for inclusion in AceNotes, please submit a Marketing Request Form. Deadline for submission to AceNotes is 10:00 a.m. on the requested date of publication. Only articles concerning UE related/sponsored activities will be accepted. Articles submitted to AceNotes may be edited for length and clarity. Submitter contact information is at the end of each article.