| | |
| --- | --- |
| AceNotes Today | Tuesday, August 28, 2018 |
Diminished cooling capacity
Our campus chill water system, which supplies cooling for the majority of campus, is currently running on a temporary chiller unit. Due to this fact, we are experiencing diminished cooling capacity in most campus buildings. We appreciate your patience as we work to get equipment back online and operating at maximum capacity.
If you have any questions or concerns, please call ext. 2775.
Campus Community Celebration set for Thursday, August 30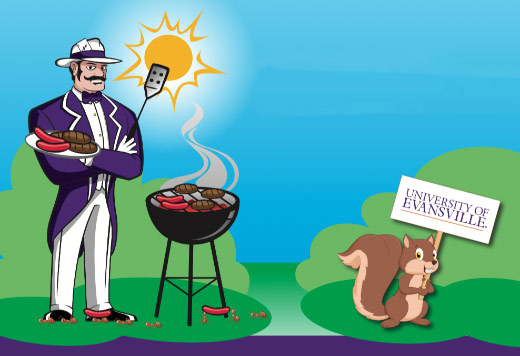 A Campus Community Celebration is planned for Thursday, August 30!
Activities include:
4:00 – 6:00 p.m. Organization Fair on the East Terrace Plaza
4:00 – 6:00 p.m. Volunteer Fair on the Memorial Plaza
4:30 – 6:30 p.m. Campus Community Cookout on the Neu Chapel Lawn (UE identification required*)
6:00 p.m. Meet the Aces Athletics Teams on the East Terrace Lawn
Games and various activities will be available for your fun and entertainment!
(Rain location - Ridgway University Center)
*Faculty, administration, staff and their families, and all members of the student body are invited to attend and celebrate the beginning of a new school year!
Campus visitor parking
The Office of Admission continues to enhance the visit experience for our prospective students in order to make them feel welcome and at home on our campus. We will be continuing to use the special parking signs and purple parking spaces in front of Olmsted Administration Hall that will be personalized to welcome each arriving guest by name. In order to ensure that each visiting guest has a place to park, we're asking for your help to keep the purple spaces open at all times. Please help us communicate this change to all students, faculty, staff, outside guests, and others so that we may make a positive first impression on our visitors.
Thank you for continuing to be an important part of the campus visit experience. We truly appreciate the enthusiasm and cooperation from the entire campus community in making the experience special for each of our visitors.
Sincerely,
Dr. Shane Davidson
VP for Enrollment and Marketing
Want to study creative writing in Ireland next summer?
Interested in studying creative writing in Ireland next summer, earning six hours of credit, and working intimately with a variety of notable writers, editors, and publishers? If so, please join us for a short informational meeting TODAY - Tuesday, August 28 - at 4:00 p.m. in Room 75 in the Schroeder School of Business Building.
We'll talk about what the program includes, costs, and the easy procedure for applying, making your deposit, and securing a spot in the program.
If you can't make the meeting, please feel free to contact Professor Rob Griffith at rg37@evansville.edu or check out the Study Abroad website at www.evansville.edu/studyabroad.
Submitted by Rob Griffith rg37@evansville.edu
Tuesday Night Recharge Mass
Join the Newman Club this evening - Tuesday, August 28 - at 8:00 p.m. in Neu Chapel to celebrate a Catholic Mass! Fr. Christian Raab will be the celebrant. All are welcome!
Submitted by Michaela Kunkler mk305@evansville.edu
Preparing for a health professional school interview
All students preparing for health professional school interviews this fall are welcome to attend "Tips for a Successful Professional School Interview Workshop." The workshop will be presented by Francie Renschler, pre-professional health advisor, on Friday, August 31 at 2:00 p.m. in Room 75, Schroeder School of Business Building
Submitted by Francie Renschler fr25@evansville.edu
I-House Greece
Today is I-House Greece. Theda Soldatou is a junior and she is majoring in theatre Design and technology and pursuing an associate degree in international relations. She is a professional tennis player and she loves dogs. She will be sharing more about herself, her home country, and her culture. Let's have a quick trip to Greece together!
Submitted by Hussam Taj ht70@evansville.edu
Final UE Garden Farmers' Market - August 29
The UE Farmers' Market opens at 8:00 a.m. in Ridgway University Center on Wednesday, August 29. This is the final market, and we have winter squash, summer squash, sweet potatoes, peppers, eggplant, basil, and maybe some honey.
Submitted by William Hemminger bh35@evansville.edu
Fall Retreat- Faith in College: The Good News
Save the date! September 8th will be a chance to reflect, pray and build community. UE Newman is hosting a fall retreat - right here on our campus! We will start with morning prayer, have group discussion with Professor James Ware with plenty of fun in between. A fun filled day is planned for YOU and will end with a pilgrimage to St. Benedict for Mass and a home-cooked meal from the Parish Council. All students are welcome, regardless of their faith.
All students will receive a free Bible, journal, tote bag, T-shirt and prayer book - all meant to help guide you in your faith life while here at UE! If you are not Catholic, confession and Mass are definitely optional; however, please know you are welcome to attend.
For more details, please contact Catholic campus minister Jenny Koch at je46@evansville.edu to reserve your spot today!
Submitted by Michaela Kunkler mk305@evansville.edu
Orr Fellowship recruitment - calling all seniors!
Seniors of all majors are invited to connect with recruiters for the Orr Fellowship, a two year, full-time job opportunity in Indianapolis. More details and the application instructions are available at orrfellowship.org.
The Orr Fellowship will be on campus Thursday, August 30, with an information table in the Schroeder School of Business Building atrium from 10:00 a.m.-noon and an information session in Room 173 in the Schroeder School of Business Building at 12:20 p.m.
For questions about these recruitment activities, please contact Rebecca Oates at ro32@evansville.edu.
Submitted by Rebecca Oakes ro32@evansville.edu
Sign up for Holiday World!
Do you want to sign up to go to Holiday World & Splashin' Safari (amusement and water park) on September 1 (9:00 a.m.-9:00 p.m.)? Then come to the International Club's table in Ridgway University Center today and Wednesday from 11:00 a.m.-1:00 p.m. and 5:00-7:00 p.m. The cost is $20 (cash only) and it includes your ticket and transportation!
Sign-ups are open to any UE student, so tell your friends!
Submitted by Emile Moura em238@evansville.edu
UE DPT presented guest lecturer Gray Cook, PT, MSPT
The University of Evansville Doctor of Physical Therapy Program recently hosted a featured speaker presentation by Gray Cook, "The ABCs of Movement Correction."
Gray gave a presentation on cutting edge strategies to improve movement patterns, as well as, a hands-on lab session in the brand new Stone Family Center for Health Sciences.
Cook is a practicing physical therapist, an orthopedic certified specialist, a certified strength and conditioning specialist and an RKC kettlebell instructor. He is the founder of Functional Movement Systems, a company that promotes the concept of movement pattern screening and assessment. His work and ideas are at the forefront of fitness, conditioning, injury prevention and rehabilitation. He gives lectures on these topics several weekends each month, worldwide.
Gray received his graduate physical therapy education at the University of Miami School of Medicine with a research focus on orthopedics and sports rehabilitation.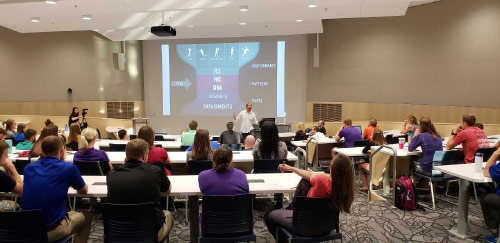 Submitted by Jennifer Simon js698@evansville.edu
Meal plan changes for fall
Students can adjust meal plans for the Fall semester until Friday, August 31 at 5:00 p.m.
Meal plans can be adjusted on WebAdvisor by selecting "Meal Plan Selection" in the students' menu.
Changes will be reflected the next business day. Additional information on meal plans can be found in the Campus Dining section on the Residence Life website – www.evansville.edu/residencelife.
Submitted by Brian Conner bc32@evansville.edu
Now recruiting Harlaxton Ambassadors
Are you a recent Harlaxton alum who loves to share your experience with others? Or do you know a student who fits that description?
The Harlaxton office is currently taking applications for students who want to volunteer as Harlaxton Ambassadors to recruit, prepare, and encourage Harlaxton applicants and to represent Harlaxton at various recruitment events and other campus activities. Harlaxton Ambassadors have the opportunity to develop professional skills, stay connected with Harlaxton, and receive exclusive Harlaxton apparel.
More information and applications are available here on the Harlaxton website
Submitted by Kaylynn Carver kc205@evansville.edu
Welcome back, Harlaxton students!
To all the Harlaxton spring and summer students, welcome back to campus! Please come by the study abroad fair on Wednesday, September 5 from 11:00- a.m.-1:00 p.m. in Eykamp Hall, Ridgway University Center to pick up your returnee gift from the Harlaxton office and learn more about staying involved with study abroad and Harlaxton Society.
Submitted by Kaylynn Carver kc205@evansville.edu
UE Recycling receives new battery operated golf cart
The battery operated golf cart proposed as the winning submission to the inaugural Environmental Sustainability Challenge in Spring 2018 is now on campus and in use by UE Recycling.
UE employees Shannon Bryant and Julie Wilson submitted the proposal as their capstone project for UE's Organizational Leadership program. The capstone project is the culmination of learning experiences from the program.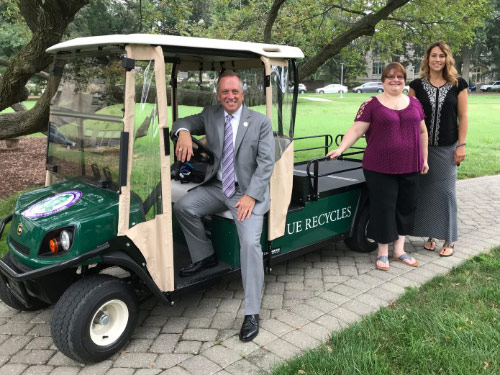 Funds for the challenge were provided through a grant from Siemens Corporation to enhance the environmental sustainability of the UE campus.
"Golf carts are a needed convenience for the recycling and maintenance crews on campus," they said in their proposal. "Gradually transitioning from the gas operated carts to battery will have multiple benefits to UE and the community. Not only will this help to cut down on the purchase of fuels over time, but this also would eliminate carbon emissions. Also, noise pollution would be reduced on campus walkways and paths."
Submissions are now being accepted for the next Environmental Sustainability Challenge.
Bryant and Wilson submitted the grant proposal as part of their senior capstone course for UE's Organizational Leadership program.
Great on-campus job!
The Office of Annual Giving is looking for student callers for the fall Phonathon campaign. This is a paid position with flexible hours, mostly evening. Hourly pay starts at $8.25. Freshman are encouraged to apply and it is not considered work study! If you are interested, please email Erika Johnson at ej51@evansville.edu.
Submitted by Erika Johnson ej51@evansville.edu
The Habitat House that UE Built!
UE and Habitat for Humanity Evansville have teamed up to build a home at 304 S Bedford! This house has been sponsored by the Alan and Sharon Braun Family Foundation, and UE will provide the talent to take it from foundation to new home for a future homeowner.
We are looking for volunteers to both build and provide hospitality (snacks, drinks and lunches) on each of our build days. You can volunteer for all of these on the UEngage system: uengage.evansville.edu/organizations.
Simply login and look for the Habitat Logo for events.
Build days are
Saturday, Sept 15 - Flooring system
Saturday, Sept 22 - Framing walls
Tuesday, Sept 25 - Framing walls
Wednesday, Sept 26 - Framing walls
Saturday, Sept 29 - Prepping trusses
Saturday, October 13 - Siding and Insulation
Tuesday, October 16 - Siding
Wednesday, October 17 - Siding
Saturday, October 20 - Siding and/or painting
Saturday, October 27 - Painting
No experience necessary! Pick up a hammer and help us build for a better Evansville!
For more information, please contact Holly Carter at hc110@evansville.edu.
Submitted by Holly Carter hc110@evansville.edu
UE & USPS closed – Labor Day
This is a reminder that UE and the United States Postal Service will be closed in observance of Labor Day, Monday, September 3. Outgoing mail picked up by UE distribution services/mail services from UE areas on Friday, August 31, will be transported to Data Mail to be metered and processed that evening. For mailing questions, contact mail services at ext. 2197.
Submitted by Kim Winsett kw83@evansville.edu
Student package delivery notification reminder
Students anticipating package deliveries should monitor their messages from UE distribution services/mail services (DS/MS) before coming over to DS/MS located in the general services building to pick-up packages. DS/MS sends email and text notifications to students for every package received. Students may receive premature delivery notifications from vendors before their packages are received in DS/MS. Students are encouraged to wait until they receive an e-mail and/or text package notification from DS/MS (to ensure the package has been delivered) before coming to DS/MS for package pickup.
Distribution services/mail services regular business hours:
Monday - Fridays, 8:00 a.m. to 5:00 p.m.
For package related questions, contact Michelle Braun at mb485@evansville.edu or ext. 1067.
Submitted by Kim Winsett kw83@evansville.edu
Employee personal packages
Just a friendly reminder, as the start of Fall Semester is upon us. UE distribution services only receives and processes mail and packages that are UE business related. Distribution services does not accept personal packages and mail for UE employees from carriers. For liability reasons, employees should have personal mail and packages delivered to their home address.
Submitted by Kim Winsett kw83@evansville.edu
Special invite for UE seniors!
We would like to extend an invitation for our current seniors to join one of our most important giving societies, the President's Club. Seniors can make a gift of $100 and receive membership. PC members are invited to special events, receive preferred seating at public engagements, and are also given a parking decal that will allow for unrestricted parking privileges anywhere on UE's campus with the exception of UE Admission's purple-curbed locations on the Sesquicentennial Oval and handicapped locations.
Tuition to the University of Evansville does not cover the entire cost to run the University, which is why private donations are so crucial. Gifts can be conveniently made online at www.evansville.edu/give. If you have any questions at all about the process of giving or a President's Club membership, please feel free to get in touch with Erika Johnson at ej51@evansville.edu!
Submitted by Erika Johnson ej51@evansville.edu
UE Library introduces Flipster
University of Evansville students, staff, and faculty can now access their favorite digital magazines using Flipster®. Flipster is a next-generation magazine service that allows people to browse digital versions of the latest issues of popular magazines, courtesy of the library.
UE Library has subscribed to Flipster magazines such as The New Yorker, New Republic, The Atlantic and more so patrons have the option of accessing the content at the library or remotely. Magazines can be downloaded to Android™ phones and tablets, Apple® phones and tables, and Kindle Fire tablets for offline reading anytime, anywhere.
Flipster offers an easy, browse-able reading experience. Users can browse magazines by category as well as perform searches for specific periodicals. An online newsstand provides a carousel of the most recent issues, as well as a carousel of all issues allowing for quick access to magazines. The table of contents contains links for quick access to articles of interest and hotlinks within magazines are hyperlinked, opening in separate tabs when clicked. In addition, there is an option to zoom in and out for better readability.
Contact Danielle Williams (dw56#evansville.edu) or visit the libraries website to learn more about accessing the library's digital magazines through Flipster.
Submitted by Danielle Williams dw56@evansville.edu
Asher Trockman receives top undergraduate prize in the Student Research Competition
Asher Trockman, an undergraduate in computer science at the University of Evansville and a 2017 member of Carnegie Mellon's Research Experiences for Undergraduates in Software Engineering (REUSE) program, received this year's top undergraduate prize in the Student Research Competition at the International Conference on Software Engineering (ICSE) in Gothenburg, Sweden.
The award, part of the ACM Student Research Competition (SRC) sponsored by Microsoft Research, affords undergraduate and graduate students a unique opportunity to present their original research before a panel of judges and experts. Winners of the competition are invited to participate in the ACM Student Research Competition Grand Finals.
The research was conducted while Trockman was a student in the REUSE program during the summer of 2017, along with Shurui Zhou, Christian Kästner, and Bogdan Vasilescu at the Institute for Software Research and the Socio-Technical Research Using Data Excavation Lab (STRUDEL). The resulting paper, "Adding Sparkle to Social Coding: An Empirical Study of Repository Badges in the npm Ecosystem", was published in the technical track at ICSE and was also presented as part of the ICSE Student Research Competition.
The research examined the reliability of GitHub repository badges for inferring various qualities of open source projects.
Shelby presents megachurch research at the annual ASR meeting
Rob Shelby, assistant professor of sociology, presented a paper titled Isomorphic Effects among Modern Megachurches in the U.S. at the annual meeting of the Association for the Sociology of Religion in Philadelphia. Shelby also convened a session on "Clergy Exit and Work."
Strobel completed fellowship at Yale Center for British Art
Professor Heidi Strobel just completed a month long visiting scholar fellowship at the Yale Center for British Art. While there, she worked on her manuscript "The Art of Mary Linwood: Embroidery and Cultural Agency in Late Georgian Britain," which will be published by Bloomsbury in 2019. During her fellowship, she presented her research at the Joint Fellows' Seminar, which was cohosted by the Lewis Walpole Library, the Yale Center for British Art, and the Beinecke Rare Book and Manuscript Library.
Volleyball opens home schedule today against SEMO
The second season of play on Lois D. Patton Court inside Meeks Family Fieldhouse commences this evening when the University of Evansville volleyball team welcomes Southeast Missouri State for a 6 p.m. match.
Evansville made it a perfect 6-0 in the last two seasons at the Leatherneck Invitational. UE opened with a 3-2 win over Tennessee Tech before earning a 3-1 win over Fairleigh Dickinson; in the finale, the Aces topped Western Illinois in five sets. Rachel Tam was named the Most Valuable Player in the event while Kerra Cornist and Gabriela dos Santos garnered All-Tournament accolades.
"We can't wait to play in front of our home crowd! The girls have been working really hard, starting with the returners since the beginning of spring, and the newcomers with their smooth transition into the program," Evansville head coach Manolo Concepcion said. "However, more than one game, our focus continues to be on the process of BECOMING. We have 25 more days to grow and develop before MVC, so every rep, every set, and every game matters. We look forward to host our fan base in one of the best volleyball specific facilities in the country."
Rachel Tam had one of the best weekends in program history in leading the Purple Aces to a perfect 3-0 mark and the Leatherneck Invitational Championship. Tam recorded 79 kills in 14 sets of action, an average of 5.64 per set. Just as impressive was her accurate hitting as she finished the weekend at .348. Entering the weekend, Tam's career kills mark was 27, which she broke twice in the opening three matches.
Her unbelievable start saw her open the year with 28 kills in 47 attempts, hitting .489 against Tennessee Tech; after recording 22 kills against FDU, Tam finished the weekend with a career mark of 29 kills against the Leathernecks. She leads the MVC with her kill tally and has a total of 26 more than anyone else in the league. Last year, Tam led the way for the UE offense with 2.78 kills per set.
Known throughout her career as someone who is dependable on offense and defense, Mildrelis Rodriguez did not disappoint in the opening weekend of 2018. Rodriguez finished second on the team in both kills and digs. She tallied 3.21 kills per set with a total of 45 while her 34 digs (2.43/frame) was second only behind Gabriela dos Santos' 5.64. In a home win over Bradley last year, Rodriguez had a great 20-20 performance, notching 21 kills and 22 digs while adding three block assists; it was the first such match for an Evansville player since Brooke Maher in 2010.
Senior Gabriela dos Santos had a great start to her senior campaign while helping the Aces to a 3-0 start as the primary libero. Entering the weekend, her career-high was 21 digs, but she surpassed that in all three weekend matches. Dos Santos recorded 79 digs, an average of 5.64 per set while adding eight service aces over the weekend. Her top mark of 28 digs came in the 3-1 victory over Fairleigh Dickinson.
SEMO heads to Evansville with a perfect 3-0 record as they took the Troy Invitational Championship. The Redhawks earned wins over Southern, Southeastern Louisiana and the host Trojans. Madara Bajare led SEMO with 3.00 kills per set while Claire Ochs paced the offense with 9.44 assists per game.
Contribute to AceNotes
To have content considered for inclusion in AceNotes, please submit a Marketing Request Form. Deadline for submission to AceNotes is 10:00 a.m. on the requested date of publication. Only articles concerning UE related/sponsored activities will be accepted. Articles submitted to AceNotes may be edited for length and clarity. Submitter contact information is at the end of each article.