| | |
| --- | --- |
| AceNotes Today | Monday, August 27, 2018 |
Campus Community Celebration set for Thursday, August 30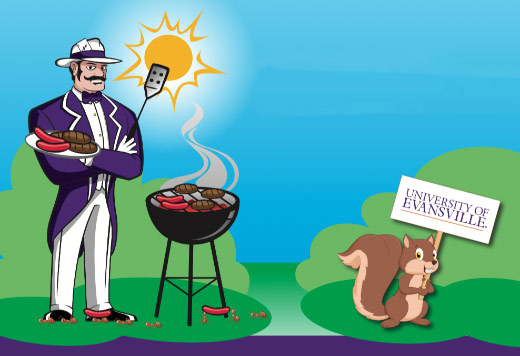 A Campus Community Celebration is planned for Thursday, August 30!
Activities include:
4:00 – 6:00 p.m. Organization Fair on the East Terrace Plaza
4:00 – 6:00 p.m. Volunteer Fair on the Memorial Plaza
4:30 – 6:30 p.m. Campus Community Cookout on the Neu Chapel Lawn (UE identification required*)
6:00 p.m. Meet the Aces Athletics Teams on the East Terrace Lawn
Games and various activities will be available for your fun and entertainment!
(Rain location - Ridgway University Center)
*Faculty, administration, staff and their families, and all members of the student body are invited to attend and celebrate the beginning of a new school year!
Campus visitor parking
The Office of Admission continues to enhance the visit experience for our prospective students in order to make them feel welcome and at home on our campus. We will be continuing to use the special parking signs and purple parking spaces in front of Olmsted Administration Hall that will be personalized to welcome each arriving guest by name. In order to ensure that each visiting guest has a place to park, we're asking for your help to keep the purple spaces open at all times. Please help us communicate this change to all students, faculty, staff, outside guests, and others so that we may make a positive first impression on our visitors.
Thank you for continuing to be an important part of the campus visit experience. We truly appreciate the enthusiasm and cooperation from the entire campus community in making the experience special for each of our visitors.
Sincerely,
Dr. Shane Davidson
VP for Enrollment and Marketing
I-House Greece
Today is I-House Greece. Theda Soldatou is a junior and she is majoring in theatre Design and technology and pursuing an associate degree in international relations. She is a professional tennis player and she loves dogs. She will be sharing more about herself, her home country, and her culture. Let's have a quick trip to Greece together!
Submitted by Hussam Taj ht70@evansville.edu
"Life of Brian" interfaith viewing and discussion tonight
The study series "The Gospel of the Tenth Rate" begins tonight - September 5 - at 7:00 p.m. in the downstairs lounge of Neu Chapel. The first installment will be a viewing and discussion of the themes found in the film Monty Python's Life of Brian. This series will be open to people of any and all faiths as well as those without faiths. Hope to see you there!
Submitted by Jordan McQuiston jm707@evansville.edu
September 5 - Andiron Lecture at 4:00 p.m. in Eykamp 252
The University of Evansville's annual Andiron Lecture Series for 2018-19 begins at 4:00 p.m., on September 5 in Eykamp Hall, Room 252, in Ridgway University Center. Rachael McGill will be discussing "Poisoned Candy and Peace on Earth: How History Shapes American Holiday Culture." These lectures are free and open to the public.
McGill's lecture will explore how momentous events in American and world history from the 19th century onward have shaped our understanding of holiday culture in the United States. Focusing on Halloween and Christmas. She will trace the historical development behind key sentiments underlying each holiday.
McGill earned her MA in comparative religion from Western Michigan University and her BA degrees in religion and writing from UE. Her primary research interests examine the ongoing development of Western religious adherents' understandings of religious themes, symbols, figures, and history in the face of modernity. She is interested in the complex relationship between religion and popular culture in the US, particularly in the role, portrayal, and influence of religious elements upon mass media.
Other lectures in this series include:
October 3, 4:00 p.m., Eykamp Hall, Room 252, Ridgway University Center
"Romans 13:1-10 in Ancient Context: Interpretation and Integration in the Public Square" – Keith Turner, UE John Wesley Minister and assistant chaplain for the Lilly-funded summer youth theology institute, Open Table.
A licensed pastor in the United Methodist Church, Turner earned his BA in bible and theology from Asbury University and his MDiv degree from Asbury Theological Seminary. The School of Practical Theology at Asbury Theological Seminary awarded him the Stanger Preaching Award for excellence in preaching, both in the crafting and in the delivery of sermons. He is a member of the Wesleyan Theological Society.
November 28, 4:00 p.m., Eykamp Hall, Room 252, Ridgway University Center
"Co-creation of Value Using Logistics and Supply Chain Relationships" – Yolanda Obaze, UE assistant professor of supply chain management.
Obaze earned her BA from Ahmadu Bello University Zaria, Kaduna Nigeria, and her MBA (strategic management and marketing) and PhD degrees from the University of North Texas, Denton, Texas. Her research interests include service systems, complexities and marketing theories, operations and supply chain management, logistics systems, and humanitarian logistics and supply chain management. She is an active member of the Institute for Operations Research and the Management Sciences, Production and Operations Management, South West Decision Sciences Institute, Decision Sciences Institute, and Association of Collegiate Marketing Educators.
February 6, 4:00 p.m., Eykamp Hall, Room 252, Ridgway University Center
"Composing Queer Music: Samuel Barber's Despite and Still" - James Sullivan, UE assistant professor of music theory and double bass.
Sullivan earned his PhD in music theory and DMA and MM in double bass performance from the Eastman School of Music, as well as a BM in double bass performance and a BS in mathematics from Indiana University. His research focuses on rhythm and meter perception in post-tonal music. Sullivan's Andiron Lecture brings together his interest in rhythm and meter with secondary interests in the music of Samuel Barber, queer music theory, and performance and analysis.
March 6, 4:00 p.m., Eykamp Hall, Room 252, Ridgway University Center
"Cautiously Confronting Colonialism: The United States and Decolonizing Africa, 1962-1990" - Daniel Byrne, UE associate professor of history.
Byrne focuses his teaching on United States history since the American Civil War with an emphasis on the United States in the world. He also teaches a seminar on African decolonization, which combines his research in United States foreign policy with the nationalist perspectives on the end of European empires in Africa. His original research focused on the United States response to the Algerian war of independence and has expanded to cover the decolonization of French West Africa.
April 3, 4:00 p.m., Eykamp Hall, Room 252, Ridgway University Center
"War Victim to Gay Hero: Commemorating Lorca in the Absence of His Body" – Edward Curran, UE assistant professor of Spanish.
Curran earned his PhD in Hispanic literature from Cornell University, his MA in Spanish (Language, Literature, and Culture) from UNC Charlotte, and his BA in modern languages from Winthrop University. His teaching and research interests include: twentieth-century Spanish literature, photography, film, monuments, material culture, photography theory and visual studies. His Andiron Lecture examines categories of human remains germane to the Peninsula's mass grave exhumation phenomenon and their representation in photography, monuments, and the plastic arts.
The Andiron Lectures in Liberal Arts and Sciences series is sponsored by the William L. Ridgway College of Arts and Sciences and supported by a generous gift from Donald B. Korb. For more information, call 812-488-1070 or 812-488-2589.
Want to study creative writing in Ireland next summer?
Interested in studying creative writing in Ireland next summer, earning six hours of credit, and working intimately with a variety of notable writers, editors, and publishers? If so, please join us for a short informational meeting TODAY - Tuesday, August 28 - at 4:00 p.m. in Room 75 in the Schroeder School of Business Building.
We'll talk about what the program includes, costs, and the easy procedure for applying, making your deposit, and securing a spot in the program.
If you can't make the meeting, please feel free to contact Professor Rob Griffith at rg37@evansville.edu or check out the Study Abroad website at www.evansville.edu/studyabroad.
Submitted by Rob Griffith rg37@evansville.edu
Fall Music Faculty Gala
The UE Department of Music Concert Season kicks off with the Fall Faculty Gala on September 4 at 7:30 p.m. in Wheeler Concert Hall. This traditional start to the concert season features performances by members of the department's faculty. The Gala will again be preceded by a dinner sponsored by Friends of UE Music celebrating the start of the academic year in Eykamp Hall in Ridgway University Center for alumni and friends of the department. The dinner begins at 5:45 p.m. Dinner tickets are $25 and include a meal of heavy hors d'oeuvres, dessert, drink ticket, cash bar, and reserved concert seating.
For more information and to purchase dinner tickets, go to www.uealumnionline.com/fallfacultygala or contact the department at 812-488-2754.
Submitted by James Sullivan js820@evansville.edu
Final UE Garden Farmers' Market - August 29
The UE Farmers' Market opens at 8:00 a.m. in Ridgway University Center on Wednesday, August 29. This is the final market, and we have winter squash, summer squash, sweet potatoes, peppers, eggplant, basil, and maybe some honey.
Submitted by William Hemminger bh35@evansville.edu
Fall Retreat- Faith in College: The Good News
Save the date! September 8th will be a chance to reflect, pray and build community. UE Newman is hosting a fall retreat - right here on our campus! We will start with morning prayer, have group discussion with Professor James Ware with plenty of fun in between. A fun filled day is planned for YOU and will end with a pilgrimage to St. Benedict for Mass and a home-cooked meal from the Parish Council. All students are welcome, regardless of their faith.
All students will receive a free Bible, journal, tote bag, T-shirt and prayer book - all meant to help guide you in your faith life while here at UE! If you are not Catholic, confession and Mass are definitely optional; however, please know you are welcome to attend.
For more details, please contact Catholic campus minister Jenny Koch at je46@evansville.edu to reserve your spot today!
Submitted by Michaela Kunkler mk305@evansville.edu
Exhibit featuring local artists on display in Peterson Gallery
"Complementary Colors," an exhibit by Evansville, Indiana, artists Connie Bell, Nikki Pritchett, and Jan Rhea Unfried will be on display at the University of Evansville's Melvin Peterson Gallery from September 4-October 20. On Thursday, September 6, there will be a reception at 6:30 p.m. for the artists, whose work can be found in homes and businesses across the US and beyond. These events are free and open to the public.
The work of this trio of artists – a mother and two daughters – contrast in style and subject. Similarities lie in the vibrant color they all consistently infuse throughout their many paintings, and when displayed with one another, become "Complementary Colors."
The Melvin Peterson Gallery is located at 1935 Lincoln Avenue on the corner of Lincoln and Weinbach Avenues in Evansville. Gallery hours are Monday, Tuesday, Friday and Saturday from noon-3:00 p.m., and Wednesday and Thursday from noon-6:00 p.m.
For more information, contact 207-650-6073.
Tuesday Night Recharge Mass
Join the Newman Club this evening - Tuesday, August 28 - at 8:00 p.m. in Neu Chapel to celebrate a Catholic Mass! Fr. Christian Raab will be the celebrant. All are welcome!
Submitted by Michaela Kunkler mk305@evansville.edu
Native Plant Sale planned for September 8
The University of Evansville's Native Plant Garden in Koch Courtyard was used as a plant source for species for the Native Plant Sale set for Saturday, September 8 from 9:00 a.m.-2:00 p.m. at the Eykamp Scout Shelter. The sale is hosted by the Southwest Indiana Native Plant and Wildflower Society.
UE's Native Plant Garden provides a venue where over 100 species of native flowers, grasses, shrubs, and trees can be viewed. This native plant diversity has great value for several reasons, including beneficial ecosystem services through improved ecosystem function, support for native insects (including insect herbivores and pollinators), and the food resources to other animals (e.g., birds via seeds and/or prey items). Unfortunately, habitat destruction has led to the loss of wetlands, prairies, and forests, resulting in reduced numbers of native plant species. As one would expect, the loss of floral diversity has caused a reduction in the number of herbivores and pollinators, and a reduction in ecosystem services. The University of Evansville's native plant garden represents one effort to restore native plants.
Come visit the native plant garden throughout the fall. But also, go to the Native Plant Sale on Saturday, September 8, 9:00 a.m.-2:00 p.m. at the Eykamp Scout Shelter. The native plants you grow will be valuable as host plants for butterfly larvae, as well as beneficial to native bee pollinators. Bees are of special note because native bees are in critical need of help because of habitat loss and pesticides. Moreover, bees are wonderfully diverse, partitioning their niche space based on nesting habit, tongue length, and body size/color. Just in Indiana, 416 species of bees occur, including species from 6 different families.
Contact Cris Hochwender (ch81@evansville.edu) if you have any questions about the native plant garden or restoration efforts at UE.
Submitted by Cris Hochwender ch81@evansville.edu
Orr Fellowship recruitment - calling all seniors!
Seniors of all majors are invited to connect with recruiters for the Orr Fellowship, a two year, full-time job opportunity in Indianapolis. More details and the application instructions are available at orrfellowship.org.
The Orr Fellowship will be on campus Thursday, August 30, with an information table in the Schroeder School of Business Building atrium from 10:00 a.m.-noon and an information session in Room 173 in the Schroeder School of Business Building at 12:20 p.m.
For questions about these recruitment activities, please contact Rebecca Oates at ro32@evansville.edu.
Submitted by Rebecca Oakes ro32@evansville.edu
FIJI Hot-tub-a-thon set for today
Phi Gamma Delta will be hosting its annual Hot-tub-a-thon today - Friday, August 31 - from 6:00 p.m. to 12:00 a.m. All proceeds benefit the United Services Organization (USO). Come enjoy some relaxing hot-tubbing, burgers, and cornhole. Please contact Corbin Neu at cn86@evansville.edu to register a group for a one-hour time slot at $50 per group.
Submitted by Corbin Neu cn86@evansville.edu
Come one, come all to today's #UEChangefest2018
Join us for #UEChangefest2018 TODAY- Friday, September 7 - from 2:00-4:00 p.m., outside Ridgeway University Center. Come and support Professor Mark Valenzuela as he makes an official attempt to break the world record for the tallest stack of tortillas. There will also be live salsa dance lessons and many more activities to support Changemaker activities and classes. UE will be building home 499 for Habitat for Humanity (purple door and all)! Come sign the 2X4s and put love into the house. We all need some love!
Submitted by Stacey Shanks ss581@evansville.edu
UE DPT presented guest lecturer Gray Cook, PT, MSPT
The University of Evansville Doctor of Physical Therapy Program recently hosted a featured speaker presentation by Gray Cook, "The ABCs of Movement Correction."
Gray gave a presentation on cutting edge strategies to improve movement patterns, as well as, a hands-on lab session in the brand new Stone Family Center for Health Sciences.
Cook is a practicing physical therapist, an orthopedic certified specialist, a certified strength and conditioning specialist and an RKC kettlebell instructor. He is the founder of Functional Movement Systems, a company that promotes the concept of movement pattern screening and assessment. His work and ideas are at the forefront of fitness, conditioning, injury prevention and rehabilitation. He gives lectures on these topics several weekends each month, worldwide.
Gray received his graduate physical therapy education at the University of Miami School of Medicine with a research focus on orthopedics and sports rehabilitation.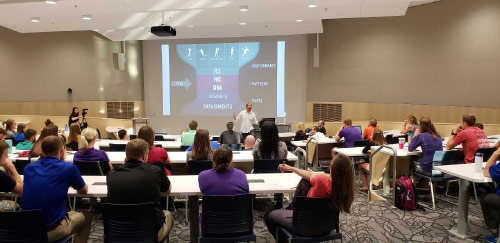 Submitted by Jennifer Simon js698@evansville.edu
Meal plan changes for fall
Students can adjust meal plans for the Fall semester until Friday, August 31 at 5:00 p.m.
Meal plans can be adjusted on WebAdvisor by selecting "Meal Plan Selection" in the students' menu.
Changes will be reflected the next business day. Additional information on meal plans can be found in the Campus Dining section on the Residence Life website – www.evansville.edu/residencelife.
Submitted by Brian Conner bc32@evansville.edu
2018 Faculty/Staff Photo Exhibition
Entries for the 2018 Faculty and Staff Photo Exhibit will be accepted through Friday, August 31. Please take entries to Carol McCraney or Hanns Pieper in the Department of Law, Politics, and Society in the Schroeder School of Business Building (Room 50).
Entries should be matted, framed, and suitable for hanging in Krannert Gallery. Color or black/white images are acceptable. Images in frames up to 20" by 16" in size may be submitted.
Please provide the following information for each entry on the back of the image frame:
Your name
Job title/Department
A title for your image
An estimated $ value for your image (Usually $100)
Photo (including frame) dimensions
Optional: Note if digital or negative
Optional: Note camera type
Entries will be returned in the form that they were submitted at the close of the exhibition.
Submitted by Carol McCraney cm177@evansville.edu
Scholarship opportunity!
The Balanced Man Scholarship is presented to an outstanding male freshman. Prizes include $1,000, $500, and $250 to the top three applicants. Scholarship winners are men that exemplify Sigma Phi Epsilon's values of Virtue, Diligence, and Brotherly Love. Apply online at our website, or at our table in Ridgway University Center from August 22-24!
Submitted by Joshua Isaacs ji35@evansville.edu
Now recruiting Harlaxton Ambassadors
Are you a recent Harlaxton alum who loves to share your experience with others? Or do you know a student who fits that description?
The Harlaxton office is currently taking applications for students who want to volunteer as Harlaxton Ambassadors to recruit, prepare, and encourage Harlaxton applicants and to represent Harlaxton at various recruitment events and other campus activities. Harlaxton Ambassadors have the opportunity to develop professional skills, stay connected with Harlaxton, and receive exclusive Harlaxton apparel.
More information and applications are available here on the Harlaxton website
Submitted by Kaylynn Carver kc205@evansville.edu
Welcome back, Harlaxton students!
To all the Harlaxton spring and summer students, welcome back to campus! Please come by the study abroad fair on Wednesday, September 5 from 11:00- a.m.-1:00 p.m. in Eykamp Hall, Ridgway University Center to pick up your returnee gift from the Harlaxton office and learn more about staying involved with study abroad and Harlaxton Society.
Submitted by Kaylynn Carver kc205@evansville.edu
UE Recycling receives new battery operated golf cart
The battery operated golf cart proposed as the winning submission to the inaugural Environmental Sustainability Challenge in Spring 2018 is now on campus and in use by UE Recycling.
UE employees Shannon Bryant and Julie Wilson submitted the proposal as their capstone project for UE's Organizational Leadership program. The capstone project is the culmination of learning experiences from the program.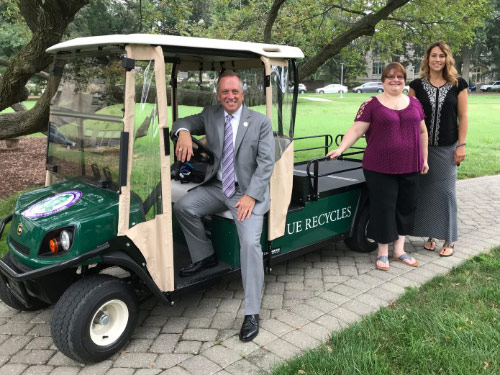 Funds for the challenge were provided through a grant from Siemens Corporation to enhance the environmental sustainability of the UE campus.
"Golf carts are a needed convenience for the recycling and maintenance crews on campus," they said in their proposal. "Gradually transitioning from the gas operated carts to battery will have multiple benefits to UE and the community. Not only will this help to cut down on the purchase of fuels over time, but this also would eliminate carbon emissions. Also, noise pollution would be reduced on campus walkways and paths."
Submissions are now being accepted for the next Environmental Sustainability Challenge.
Bryant and Wilson submitted the grant proposal as part of their senior capstone course for UE's Organizational Leadership program.
Great on-campus job!
The Office of Annual Giving is looking for student callers for the fall Phonathon campaign. This is a paid position with flexible hours, mostly evening. Hourly pay starts at $8.25. Freshman are encouraged to apply and it is not considered work study! If you are interested, please email Erika Johnson at ej51@evansville.edu.
Submitted by Erika Johnson ej51@evansville.edu
The Habitat House that UE Built!
UE and Habitat for Humanity Evansville have teamed up to build a home at 304 S Bedford! This house has been sponsored by the Alan and Sharon Braun Family Foundation, and UE will provide the talent to take it from foundation to new home for a future homeowner.
We are looking for volunteers to both build and provide hospitality (snacks, drinks and lunches) on each of our build days. You can volunteer for all of these on the UEngage system: uengage.evansville.edu/organizations.
Simply login and look for the Habitat Logo for events.
Build days are
Saturday, Sept 15 - Flooring system
Saturday, Sept 22 - Framing walls
Tuesday, Sept 25 - Framing walls
Wednesday, Sept 26 - Framing walls
Saturday, Sept 29 - Prepping trusses
Saturday, October 13 - Siding and Insulation
Tuesday, October 16 - Siding
Wednesday, October 17 - Siding
Saturday, October 20 - Siding and/or painting
Saturday, October 27 - Painting
No experience necessary! Pick up a hammer and help us build for a better Evansville!
For more information, please contact Holly Carter at hc110@evansville.edu.
Submitted by Holly Carter hc110@evansville.edu
UE & USPS closed – Labor Day
This is a reminder that UE and the United States Postal Service will be closed in observance of Labor Day, Monday, September 3. Outgoing mail picked up by UE distribution services/mail services from UE areas on Friday, August 31, will be transported to Data Mail to be metered and processed that evening. For mailing questions, contact mail services at ext. 2197.
Submitted by Kim Winsett kw83@evansville.edu
Special invite for UE seniors!
We would like to extend an invitation for our current seniors to join one of our most important giving societies, the President's Club. Seniors can make a gift of $100 and receive membership. PC members are invited to special events, receive preferred seating at public engagements, and are also given a parking decal that will allow for unrestricted parking privileges anywhere on UE's campus with the exception of UE Admission's purple-curbed locations on the Sesquicentennial Oval and handicapped locations.
Tuition to the University of Evansville does not cover the entire cost to run the University, which is why private donations are so crucial. Gifts can be conveniently made online at www.evansville.edu/give. If you have any questions at all about the process of giving or a President's Club membership, please feel free to get in touch with Erika Johnson at ej51@evansville.edu!
Submitted by Erika Johnson ej51@evansville.edu
Health screening sign-ups
Earn HRA credits! Sign-up for your health screening today. Screenings will be held in the Employee Health Center on Sept. 11-14 from 7:00-11:00 am. Please fast for 8-12 hours. Sign-ups are posted on the main page of AceLink. Please do not schedule your screening through the health clinic. Please contact ac375@evansville.edu with questions.
Submitted by Ashley Chipps ac375@evansville.edu
UE Library introduces Flipster
University of Evansville students, staff, and faculty can now access their favorite digital magazines using Flipster®. Flipster is a next-generation magazine service that allows people to browse digital versions of the latest issues of popular magazines, courtesy of the library.
UE Library has subscribed to Flipster magazines such as The New Yorker, New Republic, The Atlantic and more so patrons have the option of accessing the content at the library or remotely. Magazines can be downloaded to Android™ phones and tablets, Apple® phones and tables, and Kindle Fire tablets for offline reading anytime, anywhere.
Flipster offers an easy, browse-able reading experience. Users can browse magazines by category as well as perform searches for specific periodicals. An online newsstand provides a carousel of the most recent issues, as well as a carousel of all issues allowing for quick access to magazines. The table of contents contains links for quick access to articles of interest and hotlinks within magazines are hyperlinked, opening in separate tabs when clicked. In addition, there is an option to zoom in and out for better readability.
Contact Danielle Williams (dw56#evansville.edu) or visit the libraries website to learn more about accessing the library's digital magazines through Flipster.
Submitted by Danielle Williams dw56@evansville.edu
New York Times available online
Students and staff now have full complimentary access to NYTimes.com and NYT mobile apps, thanks to our school-wide subscription.*
We encourage you to take advantage of the world-class journalism of The New York Times to enrich your educational experience.
NYTimes.com covers a variety of topics with unsurpassed quality and depth through breaking news articles, blogs, videos and interactive features. In addition, you will be able to share content on social networks, save articles of interest, subscribe to email newsletters and set up personalized alerts. Your access to NYTimes.com is available from any location, on or off campus.
Activate your pass for free access to NYTimes.com as follows:
From any location, visit www.NYTimes.com/pass.
Follow the simple instructions. Once activated, your Pass will provide access to NYTimes.com from any location.
Download your free NYT apps: visit nytimes.com/mobile.
Submitted by Danielle Williams dw56@evansville.edu
Strobel completed fellowship at Yale Center for British Art
Professor Heidi Strobel just completed a month long visiting scholar fellowship at the Yale Center for British Art. While there, she worked on her manuscript "The Art of Mary Linwood: Embroidery and Cultural Agency in Late Georgian Britain," which will be published by Bloomsbury in 2019. During her fellowship, she presented her research at the Joint Fellows' Seminar, which was cohosted by the Lewis Walpole Library, the Yale Center for British Art, and the Beinecke Rare Book and Manuscript Library.
DPT Program hosts White Coat Ceremony
The UE Doctor of Physical Therapy Class of 2021 received their white coats on August 21 marking the beginning of professional training and education. These impressive 43 students were selected from a pool of over 400 applicants. We officially welcome them to our UE PT family!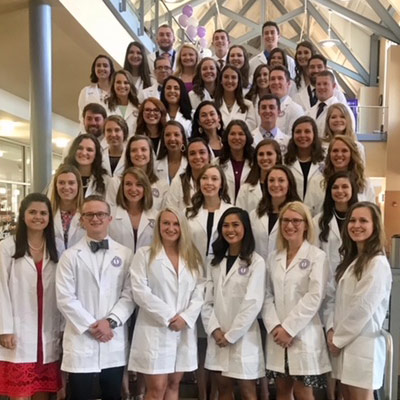 Submitted by Jennifer Simon js698@evansville.edu
Mousa presents at American Accounting Association Annual Conference
Rania Mousa, associate professor of accounting, has presented a new pedagogical approach to demonstrate the use of XBRL technology in filing annual financial reports with the Securities and Exchange Commission (mandated since 2009). A step-by-step filing demonstration was created by Mousa due to the lack of coverage of such methods in accounting textbooks. The filing process can be easily integrated into the instructor materials. The presentation was delivered during the American Accounting Association Annual Conference held in National Harbor, Maryland.
Tam named MVP as Aces finish perfect weekend at WIU
Rachel Tam was named the Most Valuable Player while Kerra Cornist and Gabriela dos Santos earned All-Tournament Team accolades as the University of Evansville volleyball team finished off a perfect weekend with a 3-2 win over Western Illinois in the finale of the Leatherneck Invitational.

Tam reset her career mark with 29 kills to lead all players. Mildrelis Rodirugez notched 14 while Kerra Cornist checked in with 10. Gabriela dos Santos clinched her spot on the All-Tournament Team with 26 digs while Rodriguez notched 16. Cecila Thon continued her strong weekend of play, leading the team in assists for the third match in a row, tallying 24. She also had 10 digs.

"We are proud of the fight and resilience of our girls," Aces head coach Manolo Concepcion said after the match. "They put up a huge effort throughout the entire tournament. The best part is that we have a lot of room to improve and the team is determined to continue to do so."

Tonight's victory did not come easy as Western Illinois opened the night with wins in the opening two sets. The Leathernecks earned a 26-24 win in game one before following it up with a 25-23 triumph in the second. Evansville looked to be in control of the first set, taking a 22-17 lead in a rally that featured a pair of Cornist kills. WIU fought back with a 6-1 run that tied the game at 23-23. A Tam kill put UE in position to win the set, but the Leathernecks punched back before taking the 26-24 win.

Western Illinois played their most dominant set in the second, jumping all the way out to a 16-6 lead. UE fought back with an unbelievable 16-4 run to take a 22-20 lead. Keying that was a 7-0 stretch that saw dos Santos post three service aces in a row. Trailing 22-21, WIU turned the tables with a 4-0 stretch that clinched the set.

The Purple Aces never hung their heads and their efforts paid off with a 27-25 victory in the third stanza. Down 15-14, Evansville scored three in a row thanks to a pair of Tam kills. The Leathernecks made their way back, tying it up at 21-21, but two more kills by Tam and one from Fortuny put UE in position to win the set, up 24-21. The Leathernecks had the answer once again, registering four points in a row to put themselves in position to win the match. Fortunately for UE, a WIU service error tied the set before a Tam kill clinched the 27-25 win.

Game four was another that came down to the final points of the day. Neither team led by more than three tallies and the competitive match led to a 21-21 game. A kill by Tam put the lead back in UE's hands for good before her 26th of the night forced a fifth set and gave UE a 25-23 win.

The deciding game provided highs and lows for each team. WIU had the early advantage, jumping out to a 6-1 lead. Following a timeout, the Aces responded with five in a row to tie the set at 6-6. Two points later, two Leatherneck errors gave UE a 9-7 lead. The Aces cruised from there, pulling away for a 15-11 win to clinch the 3-0 start to the year.

Next up is the 2018 home opener for the Aces as they welcome Southeast Missouri State to Meeks Family Fieldhouse on Tuesday for a 6:00 p.m. match.
Contribute to AceNotes
To have content considered for inclusion in AceNotes, please submit a Marketing Request Form. Deadline for submission to AceNotes is 10:00 a.m. on the requested date of publication. Only articles concerning UE related/sponsored activities will be accepted. Articles submitted to AceNotes may be edited for length and clarity. Submitter contact information is at the end of each article.