| | |
| --- | --- |
| AceNotes Today | Tuesday, August 21, 2018 |
UE professor emeritus Lowell Weller has passed away
University of Evansville professor emeritus Lowell E. Weller, 95, of Evansville, Indiana, passed away Wednesday, August 15, at St. Vincent Hospital.
Weller was born on April 17, 1923. He married Eloise L. Barrick in 1944. During WWII, he left college to serve in the 99th Infantry Battalion and the 474th Infantry Regiment, US Army in the ETO. On his return, he used the GI Bill to finish school. He earned both his Ph.D. and his master of science degree in biochemistry from Michigan State University, and his bachelor of science degree from Bowling Green State University. He was a faculty member at Michigan State University for nine years, engaged in research on plant growth regulators while pursuing graduate degrees.
In 1957, Weller took a job at what was then Evansville College (now the University of Evansville) as an associate professor of chemistry and department chair. Eventually he would become a full professor, and would never relinquish his duties as chair. He retired from UE as a professor emeritus of chemistry in 1989. Weller was an emeritus member of the American Chemical Society and the Royal Society of Chemistry.
He was preceded in death by his parents; wife of 66 years, Eloise; daughter, Donna Marie; and brother, Forest.
Surviving are sons, Ronald A. Weller and Donald E. Weller (Deborah); grandchildren, Andrew E. and Christine E. Weller, Daniel L. Weller, and Sarah A. Weller Pegna (Guillaume); great-grandchild Lilianne D. E. Pegna; and nephew Bruce Weller Graver (Susan).
Funeral Services will be held at 10:00 am on Wednesday, August 22, at Alexander East Chapel, 2115 Lincoln Ave., officiated by Rev. Andy Payton with entombment to follow at Alexander Memorial Park. Friends may visit from 6:00- 8:00 p.m. on Tuesday, August 21 at the funeral home.
In lieu of flowers, memorial contributions may be made to the Lowell and Eloise Weller Scholarship Fund at the University of Evansville, 1800 Lincoln Ave., Evansville, IN 47722.
Condolences may be made online at www.AlexanderEastChapel.com.
Sam Smiley, former director of theatre, passes away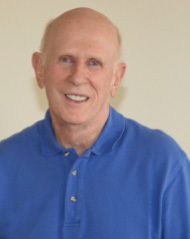 Sam Smiley, well-known playwriting and screenwriting professor, author, actor, theatre director, painter, and poet, passed away August 15, at home in Tucson, Arizona. He was 87.
Smiley served as director of theatre and dean of fine arts at the University of Evansville from 1957-69. He created the theatre program at UE, which remains a top theatre program today. He designed UE's innovative Shanklin Theatre, which opened in 1967. Smiley also created the University of Evansville Theatre Society, which celebrated its 50th anniversary in April of this year. Go here to watch a celebratory video about the Theatre Society's anniversary and an interview with Smiley about its origins.
Smiley is survived by Ann, his wife of almost 66 years; sons Mark (Cathy), Steve (Sally), and Sean; grandchildren Justin (Jackie) Smiley, Sarah (Anthony) Harrison, Austin Smiley, Shavana Smiley, Cody Smiley, Clark Smiley, and Jenny Smiley; and great-grandchildren Laila, Hazel, and Eden Smiley, and Aaron and Liam Harrison.
Smiley was born in Columbus, Indiana, on February 15, 1931. He earned his B.F.A. at Illinois Wesleyan University, his M.F.A. from the University of Iowa, and his Ph.D. from Indiana University. Smiley served as head of the Department of Theatre Arts (1987-88) and director of dramatic writing (1987-93) at the University of Arizona. He was head of dramatic writing at Indiana University (1973-87), and was a professor at the University of Missouri (1969-73). He began his teaching career at Georgia College. He was a popular consultant in communications and writing including work on feature films and television shows.
Smiley published four books. The most famous is Playwriting: The Structure of Action by Yale University Press. Many of the 32 plays he published were performed professionally. He also published a book of poetry and wrote a series for television. He acted in movies including "The Untouchables," "Hoosiers,", and "Terminal Velocity." He appeared in off-Broadway productions in New York. His home is full of his many beautiful paintings, some of which won awards.
He became a member of The College of Fellows of the American Theatre in 1983. He worked with theatres in Paris, Dublin, and Madrid, and in Barcelona, one of his favorite cities.
Smiley possessed a warm, vivacious personality making friends with everyone. He leaves a great influence on students all over the country; many of those students are now professional actors, playwrights, screen writers, or teachers. A dog lover, life-long athlete, and marathon runner, he set the record for 60 and over in the Tucson Marathon. One year he ran the Boston Marathon.
A Memorial Service celebrating his remarkable life is planned for September 15, at 2:00 p.m. in St. Mark's United Methodist Church, 1431 W. Magee Rd., Tucson, Arizona.
In lieu of flowers, please donate to the American Cancer Society or the Humane Society.
Arrangements by Oasis Cremation and Funeral Care. Burial at East Lawn Palms Mortuary and Cemetery.
Campus visitor parking
The Office of Admission continues to enhance the visit experience for our prospective students in order to make them feel welcome and at home on our campus. We will be continuing to use the special parking signs and purple parking spaces in front of Olmsted Administration Hall that will be personalized to welcome each arriving guest by name. In order to ensure that each visiting guest has a place to park, we're asking for your help to keep the purple spaces open at all times. Please help us communicate this change to all students, faculty, staff, outside guests, and others so that we may make a positive first impression on our visitors.
Thank you for continuing to be an important part of the campus visit experience. We truly appreciate the enthusiasm and cooperation from the entire campus community in making the experience special for each of our visitors.
Sincerely,
Dr. Shane Davidson
VP for Enrollment and Marketing
Neu Chapel Forum: Today at 7:00 p.m.
What was known last year as Fireside Chats are now known as the Neu Chapel Forum, which will begin today at 7:00 p.m. in the Class of 59 Gallery on the second floor of Ridgway University Center. The Neu Chapel Forum is a great opportunity to engage your faith more deeply in community. It is not about "what" to believe. It's not about projecting someone else's "truth." It's a springboard for amazing conversation about how faith intersects with everyday live. Snacks will be served! All are welcome to join!
Submitted by Keith Turner kt160@evansville.edu
Coffee with the Chaplain: This afternoon at 3:00 p.m.
Grab your afternoon pick-me-up at Rademacher's Lounge and enjoy some organic, fair trade, fresh brewed conversation with Assistant Chaplain Keith Turner this afternoon at 3:00 p.m. There is no agenda. It's just a time to engage in thoughtful conversation about whatever topic(s) happen to come up. Stay for five minutes or stay for an hour! The campus community is invited and welcome to participate!
Submitted by Keith Turner kt160@evansville.edu
Twister Tournament tonight at 7:00 p.m.
Looking for a great way to unwind (or get wound up) after the first day of classes? All are invited to join the Neu Chapel community for a Twister tournament on the second floor of Ridgway University Center (Class of 59 Gallery) today - Wednesday, August 22 - at 7:00 p.m.! Snacks will be provided. And prizes will be awarded to the top three winners!
Submitted by Keith Turner kt160@evansville.edu
Athletics/ESPN3 student worker call out meeting
Attention UE students: join us for an information session today - Wednesday, August 22 - in Eykamp Hall, Room 252, upstairs in Ridgway University Center at 4:45 p.m. regarding employment with UE athletics and ESPN3. Learn about PAID positions within athletics including, but not limited to: ticket sales, Ace Purple (mascot), on-air broadcast talent, marketing, social media, operations, and video.
Submitted by Scott Peace sp166@evansville.edu
Introducing: Purple Friday Patrol!
Purple Friday Patrol: Wear Purple—Get Prizes!
Be on the lookout for the Purple Friday Patrol every week and sign up here to pass out the purple praise!
On Fridays, we wear purple, and each week, the PFP will reward students to promote school spirit both on campus and online through the use of the hashtag, #UEPurpleFriday.
Purple Friday Patrol: Who are we?
Purple Friday Patrol Teams are made up of members of the campus community including faculty, administrators, and other interested parties, usually from the same department or group.
PFP Teams will sign up for one or more Fridays per semester and the Office of University Relations will supply Purple Swag Packs to the designated PFP Team for the week. PFP Teams are invited to add a personal touch to the swag packs, if desired. (ex. departmental swag, promo for an upcoming event, etc.)
Purple Friday Patrol Teams: What's my responsibility?
1. Sign up for at least one Friday per semester.
2. Visit the office of University Relations in Sampson Hall during the week of your assigned Friday to pick up your Purple Swag Packs
3. Pass out the purple praise. The distribution format is up to you. You can pass out swag packs to the first few purple people you see, or you can stagger the rewards throughout the day. If you'd prefer to reward online participants, you're free to promote on official UE social media accounts.
4. Pics or it didn't happen. Remember, we're trying to promote school spirit both on campus and online through the use of the hashtag, #UEPurpleFriday, so be sure to snap a picture with your purple people. You can either share them online through an official UE social media account if you run one, or send them to Amanda Campbell at uerelations@evansville.edu to post on the main UE social media accounts.

UE Wind Ensemble auditions
The 2018-19 UE Wind Ensemble auditions are this week. The audition schedule is:
Wednesday, August 22, 1:00 - 3:00 p.m.
Wednesday, August 22, 7:30 - 9:30 p.m.
Thursday, August 23, 3:00 - 8:00 p.m.
Auditions are held in Room 103 in the Krannert Hall of Art and Music. Please sign up for an audition on the UE Bands bulletin board, across from FA 103.
For further information, please contact associate professor of music and director of bands Kenneth Steinsultz at ks306@evansville.edu.
Excerpts will be available at: www.evansville.edu/majors/music/ensIntro.cfm.
The audition will consist of prepared excerpts, scales, and sight-reading.
Submitted by Kenneth Steinsultz ks306@evansville.edu
Join UE Orchestras
Students, staff, faculty, and administrators are invited to play in the University Symphony Orchestra and String Chamber Ensemble. The University Symphony Orchestra meets on Monday at 5:30 p.m. and Wednesday at 4:00 p.m. The String Chamber Ensemble meets on Thursday at 4:00 p.m. in the Krannert Hall of Art and Music. If you play a string instrument, join us!
E-mail Chun-Ming Chen, director of orchestral activities, at cc319@evansville.edu for more information.
Submitted by Chun-Ming Chen cc319@evansville.edu
Fitness Center Fall Hours
The Fitness Center Fall hours will start on Wednesday, August 22. The schedule will be:
Monday-Friday: 6:30 am-10:00 pm
Saturday: 11:30 am-5:30 pm
Sunday: 11:30 am-9:00 pm
Fall Fitness Classes will start on Tuesday, September 4.
Submitted by Lori Adams la87@evansville.edu
Health screening sign-ups
Earn HRA credits! Sign-up for your health screening today. Screenings will be held in the Employee Health Center on Sept. 11-14 from 7:00-11:00 am. Please fast for 8-12 hours. Sign-ups are posted on the main page of AceLink. Please do not schedule your screening through the health clinic. Please contact ac375@evansville.edu with questions.
Submitted by Ashley Chipps ac375@evansville.edu
Audition for one of UE'S choirs
Auditions for participation in one of UE's three choirs (University Choir, Mixed Choir, and Women's Chorus) will be held on Tuesday, August 21, and Wednesday, August 22. Come to Krannert Hall of Art and Music Room 104B to sign up for an audition time. Anyone with a love of singing may join the choral program at UE regardless of chosen major. Questions may be directed to Dennis Malfatti, professor of music and director of choral activities, at dm155@evansville.edu or 812-488-2879.
Submitted by Dennis Malfatti dm155@evansville.edu
Welcome Tim Young, student media advisor
The Department of Art would like to welcome Tim Young as the new student media adviser. Young earned his BS in journalism from Ball State University, and his MA in communications from the University of Southern Indiana. He has over 14 years within the journalism industry and most recently was the public relations manager for the Evansville Thunderbolts, creating all multimedia, promotion materials and videos for the team. As the new student media advisor, Young will be assessing current student media operations in the fall semester. Look for the Crescent Magazine to return in the spring semester along with potential new additions to student media. Young replaces Tracy Maurer, who retired in May after 22 years with the University.
Submitted by Brooksie Smith bs267@evansville.edu
UE Bookstore rush hours
The UE Bookstore will have special hours during the weekend before school and the first week of school. They are as follows:
Saturday: August 18,10:00 a.m.-3:00 p.m.
Sunday: August 19, Noon-3:00 p.m.
Monday-Thursday, August 20-23, 9:30 a.m.-6:00 p.m.
The delayed hours on Aug 20-23 will allow us to prep website orders done the day before. Thanks for understanding.
Order your books on the UE Bookstore's new website now and avoid the lines at bookstore.evansville.edu.
Submitted by dg57@evansville.edu
In-House office supply form has been revised
Effective immediately - central receiving is now accepting the newest version of the in-house office supply order form (dated 7/2018) which includes updated pricing. The revised in-house office supply order form is available on the central receiving and purchasing websites in AceLink. Please note that previous versions of the in-house form will no longer be accepted as of August 28. Please e-mail your questions to centralreceiving@evansville.edu or call ext. 1067.
Submitted by Kim Winsett kw83@evansville.edu
Department of Theatre chair Eric Renschler named Arts Educator of the Year
Department of Theatre chair Eric Renschler was named the 2018 Arts Educator of the Year at the Arts Council of Southwestern Indiana's Mayor's Arts Awards, on August 16.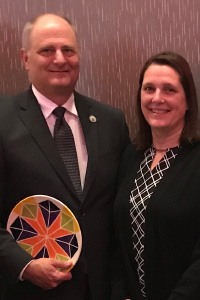 In 2015, Renschler was named the chair of the UE Department of Theatre, after joining the faculty in 2006 as the scenic designer. He returned to his alma mater after nearly twenty years of working on Broadway, Off-Broadway, and on regional and international productions.
His Broadway designs include scenery for Mamaloshen and As Long As You Both Shall Laugh (including a subsequent national tour and PBS special). His Off-Broadway credits include designs at the New York Shakespeare Festival, Circle Repertory Company, Pan-Asian Repertory Theatre, Puerto Rican Traveling Theatre, and The Juilliard School. His regional design credits include Cincinnati Playhouse, Chautauqua Opera, Barrington Stage Company, Merrimack Repertory Theatre, Adirondack Theater Festival, Hangar Theatre, and Seattle Repertory Theatre.
As an associate designer, he worked on over 40 Broadway shows, national tours, and international productions, including The Color Purple, Doubt, Chicago, Who's Afraid of Virginia Woolf, Footloose, Proof, Wonderful Town, The Redwood Curtain, and How the Grinch Stole Christmas.
The UE Center for Innovation and Change named Renschler a 2011 Global Scholar Award-winner. He used his award to expand his experience in the international design arena with a year-long comparative study of national design aesthetics as exhibited through theatrical scenography. He is a former board member for the Arts Council of Southwestern Indiana, a member of the Evansville Historic Preservation Commission, and a frequent grant reviewer for the Indiana Arts Commission.
He holds an MFA in Theatre Design from the University of Michigan and is a member of IATSE (International Alliance of Theatrical Stage Employees) and USA (United Scenic Artists).
Chemistry department presents at Eli Lilly and Company
Roslyn Lampkins, assistant professor of chemistry, and rising sophomore Phil Wittel presented a poster of their research titled "Purine Scaffolds Toward a New Class of Antibacterial Agents Against Gram-Negative Drug Resistant Bacteria" at the recent 2018 Lilly Undergraduate Research Symposium. Rising sophomore Timmy Miller was a co-author on this poster. The symposium serves as a forum for undergraduate institutions across the state of Indiana to share their research with each other and with medicinal and drug discovery scientists at Eli Lilly. Eli Lilly and Company, and UExplore funded this research project.
DeVault, Kassenbrock, and Swenty honored for 25-years of service to UE
Each fall, The University of Evansville honors those who have given 25-years of service to the institution. This year three people were recognized: Sylvia DeVault, Debbie Kassenbrock, and Brian Swenty. Each was recognized and was given an engraved bowl from the University during Fall Conference to show our appreciation for their years of dedication and service.
Sylvia DeVault is a graduate of the University of Evansville. Her very first professional position was at Harlaxton as dean of students during the 1987-88 academic year. She returned to the campus of alma mater in 1993 to serve as director of alumni relations. During her tenure as director, DeVault helped build the alumni volunteer program and the first alumni web site. She also helped develop social media sites. She assisted in the establishment of the UE African American Alumni and Harlaxton Society as alumni associations. Taking a break from her duties as director, DeVault served as a major gifts officer for two years and then returned to the role of director of alumni and parent relations in 2000. In March of this year, she began a new role as corporate and foundation relations officer.
Debbie Kassenbrock began her career at UE in 1993 as an admissions office visit coordinator. She organized private visits for students, road trips, and fly-ins as well as UE prospective coaches. In the year 2000, she became the director of academic advising and the associate registrar. In 2015, Kassenbrock was also appointed as director of the resource center. As director of academic advising, she supervises the Writing Center, supplemental instruction, and tutoring, helps students with time management and study skills and advises new and transfer students. She collaborates with the admission office concerning admitted students' academic inquiries, meets with students to assist them with their appeals to the Admissions and Standards Committee, and speaks at the SOAR and STAR programs. Kassenbrock holds numerous memberships including the Patricia Snyder Speakers Series, UE's Theatre Society, UE's President's Club, and the Purple Aces Club. She is past president of the Office Staff Association and has been recognized as an Outstanding Athletic Advisor.
Brian Swenty began his career at UE as an assistant professor in the mechanical and civil engineering department. Previously, he was director and chief engineer for the Dam and Reservoir Safety Program with the Missouri Department of Natural Resources in Rolla, Missouri. He is currently chair of the mechanical and civil engineering department. Swenty is licensed as a professional engineer in California, Florida, Missouri, Illinois, and Indiana. He is active in the Engineering Accreditation Commission of ABET and the American Society of Civil Engineers. He is well-published and has presented at numerous conferences. Swenty's service to the University is exemplary and includes serving as interim dean in the College of Engineering and Computer Science in 2017 and part of this year as well. He has received the Dean's Outstanding Teaching Award twice. He has also received the UE Alumni Outstanding Teacher Award, the Berger Award for Service, the United Methodist Church Exemplary Teaching Award, and the Distinguished Service Award from Harlaxton College.
Stevenson co-edits and publishes book on issues facing criminal juries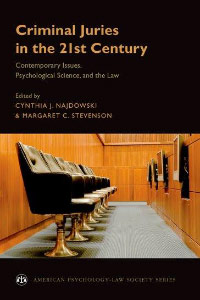 Maggie Stevenson, UE associate professor of psychology, and Cynthia Najdowski, assistant professor at the University at Albany, have co-edited a book that will be published August 20 by Oxford University Press. The book, titled Criminal Juries in the 21st Century: Psychological Science and the Law, is part of the American Psychology-Law Society Series. It can be preordered here.
This book explores the increasingly wide gulf between criminal trial law, procedures, and policy, and what scientific findings have revealed about the human experience of serving as a juror. It provides a unique view of criminal juries with the goal of increasing awareness of a broad range of current issues in great need of theoretical, empirical, and legal attention. It also identifies how social science research can inform law and policy relevant to improving justice within the jury system.
Stevenson has published over 30 peer-reviewed articles and book chapters related to factors that shape juror decision making and the nature of jury deliberations. She also explores perceptions of marginalized individuals, including children and minorities, who enter the legal system, either as victims or as perpetrators of crime. Her research has received grants and awards from divisions of the American Psychological Association.
Najdowski's research explores how social psychological phenomena shape criminal justice interactions in ways that produce miscarriages of justice for minorities, women, and children. Her work has been recognized with several national grants and awards and published in the top-ranked journals in the field of psychology and law.
Rania Mousa takes oath of citizenship
The Schroeder School of Business would like to congratulate Rania Mousa, associate professor of accounting, on receiving her United States citizenship. Rania took her oath of citizenship on August 26, at the war memorial in Indianapolis, Indiana. CONGRATULATIONS, Rania!!
Contribute to AceNotes
To have content considered for inclusion in AceNotes, please submit a Marketing Request Form. Deadline for submission to AceNotes is 10:00 a.m. on the requested date of publication. Only articles concerning UE related/sponsored activities will be accepted. Articles submitted to AceNotes may be edited for length and clarity. Submitter contact information is at the end of each article.