| | |
| --- | --- |
| AceNotes Today | Monday, August 20, 2018 |
UE professor emeritus Lowell Weller has passed away
University of Evansville professor emeritus Lowell E. Weller, 95, of Evansville, Indiana, passed away Wednesday, August 15, at St. Vincent Hospital.
Weller was born on April 17, 1923. He married Eloise L. Barrick in 1944. During WWII, he left college to serve in the 99th Infantry Battalion and the 474th Infantry Regiment, US Army in the ETO. On his return, he used the GI Bill to finish school. He earned both his Ph.D. and his master of science degree in biochemistry from Michigan State University, and his bachelor of science degree from Bowling Green State University. He was a faculty member at Michigan State University for nine years, engaged in research on plant growth regulators while pursuing graduate degrees.
In 1957, Weller took a job at what was then Evansville College (now the University of Evansville) as an associate professor of chemistry and department chair. Eventually he would become a full professor, and would never relinquish his duties as chair. He retired from UE as a professor emeritus of chemistry in 1989. Weller was an emeritus member of the American Chemical Society and the Royal Society of Chemistry.
He was preceded in death by his parents; wife of 66 years, Eloise; daughter, Donna Marie; and brother, Forest.
Surviving are sons, Ronald A. Weller and Donald E. Weller (Deborah); grandchildren, Andrew E. and Christine E. Weller, Daniel L. Weller, and Sarah A. Weller Pegna (Guillaume); great-grandchild Lilianne D. E. Pegna; and nephew Bruce Weller Graver (Susan).
Funeral Services will be held at 10:00 am on Wednesday, August 22, at Alexander East Chapel, 2115 Lincoln Ave., officiated by Rev. Andy Payton with entombment to follow at Alexander Memorial Park. Friends may visit from 6:00- 8:00 p.m. on Tuesday, August 21 at the funeral home.
In lieu of flowers, memorial contributions may be made to the Lowell and Eloise Weller Scholarship Fund at the University of Evansville, 1800 Lincoln Ave., Evansville, IN 47722.
Condolences may be made online at www.AlexanderEastChapel.com.
Campus visitor parking
The Office of Admission continues to enhance the visit experience for our prospective students in order to make them feel welcome and at home on our campus. We will be continuing to use the special parking signs and purple parking spaces in front of Olmsted Administration Hall that will be personalized to welcome each arriving guest by name. In order to ensure that each visiting guest has a place to park, we're asking for your help to keep the purple spaces open at all times. Please help us communicate this change to all students, faculty, staff, outside guests, and others so that we may make a positive first impression on our visitors.
Thank you for continuing to be an important part of the campus visit experience. We truly appreciate the enthusiasm and cooperation from the entire campus community in making the experience special for each of our visitors.
Sincerely,
Dr. Shane Davidson
VP for Enrollment and Marketing
Athletics/ESPN3 student worker call out meeting
Attention UE students: join us for an information session today - Wednesday, August 22 - in Eykamp Hall, Room 252, upstairs in Ridgway University Center at 4:45 p.m. regarding employment with UE athletics and ESPN3. Learn about PAID positions within athletics including, but not limited to: ticket sales, Ace Purple (mascot), on-air broadcast talent, marketing, social media, operations, and video.
Submitted by Scott Peace sp166@evansville.edu
Prologue scheduled prior to Academic Convocation in Neu Chapel
Again this year, incoming students will gather in Neu Chapel on Tuesday morning, August 21, for Prologue, which will serve as an introduction to the University's Academic Convocation. In a brief 15-minute session, students will be offered an introduction to their first University ceremony.
Instead of simply wandering over to Carson Center as individuals, the Class of 2022 will be led by Dr. Mark Valenzuela playing bagpipes, and escorted by UE's Orientation Leaders in their first campus processional, signaling the importance of community, integration, and transitions.
During Prologue, the entering class will rehearse both University hymns in preparation for the Academic Convocation. Theater department chair and professor Eric Renschler will introduce students to the UE Honor Code and the meaning of pledging one's honor in an academic culture as they stand shoulder to shoulder with their peers and face their faculty. Prologue is the first opportunity for new students to learn more about the rich tradition of excellence at UE.
The campus community is invited to attend Prologue, (reserved seating in the Neu Chapel Gallery, upstairs in the loft), which will begin promptly at 8:15 a.m. The procession will commence at 8:30 a.m., leaving from Neu Chapel, passing by the May Studio, past the International Peace Pole, through Memorial Plaza, past the Interfaith Peace Bell, in front of Ridgway University Center and finally arriving at Carson Center. The campus community is also invited to stand near the processional route to wave, clap, and welcome new students as they process toward the beginning of their college career.
Submitted by Tamara Gieselman tg85@evansville.edu
UE's Interfaith Peace Bell will "ring in" the academic year
On Tuesday, August 21, UE will welcome the Class of 2022 and officially "ring in" the new academic year with the ceremonial ringing of the Interfaith Peace Bell from 8:10-8:15 a.m. This inaugural University ritual will remind us all to work for peace in all that we do, and will communicate to incoming students who we are and what we stand for as a campus community. Four UE seniors and Harlaxton Ambassadors - Hayley Elliot, Anna Mundy, Macy Dimmett, and Morgan Woodward - were nominated to serve as the 2018 Fall Interfaith Peace Bell stewards. The campus community is invited to observe the bell-ringing on Tuesday morning.
Submitted by Tamara Gieselman tg85@evansville.edu
Evansville Otters Baseball College Night
The Evansville Otters conclude their series against rival Southern Illinois Miners on College Night on August 23. The Otters want to see college students and staff pack the stands at Bosse Field for the series finale as the Otters make a playoff push! Those with a valid college ID can enter to win one of four $50 VISA gift cards, and those with a valid ID get a free popcorn.
Student groups with a minimum of 15 people can enter to win a $100 contribution to your cause, and a minimum of 25 people can enter win "Bosse Field" for use of your own event! Student groups must pre-register to be eligible. For more information or to register, please contact Elspeth Urbina-Roos at 812-435-8686 or e-mail at eurbina@evansvilleotters.com.
And everyone is invited to wear their favorite school or college apparel and show their school pride!
Stay up-to-date with the Evansville Otters at evansvilleotters.com and follow the Otters on Facebook, Twitter and Instagram!
Tickets for College Night on August 23 are still available by going to evansvilleotters.com or calling 812- 435-8686, or stop by the Evansville Otters Ticket Office located at Bosse Field on 23 Don Mattingly Way in Evansville, Indiana.
Join the Evansville Otters at Bosse Field for all the fun!
FIJI Hot-tub-a-thon set for today
Phi Gamma Delta will be hosting its annual Hot-tub-a-thon today - Friday, August 31 - from 6:00 p.m. to 12:00 a.m. All proceeds benefit the United Services Organization (USO). Come enjoy some relaxing hot-tubbing, burgers, and cornhole. Please contact Corbin Neu at cn86@evansville.edu to register a group for a one-hour time slot at $50 per group.
Submitted by Corbin Neu cn86@evansville.edu
New York Times available online
Students and staff now have full complimentary access to NYTimes.com and NYT mobile apps, thanks to our school-wide subscription.*
We encourage you to take advantage of the world-class journalism of The New York Times to enrich your educational experience.
NYTimes.com covers a variety of topics with unsurpassed quality and depth through breaking news articles, blogs, videos and interactive features. In addition, you will be able to share content on social networks, save articles of interest, subscribe to email newsletters and set up personalized alerts. Your access to NYTimes.com is available from any location, on or off campus.
Activate your pass for free access to NYTimes.com as follows:
From any location, visit www.NYTimes.com/pass.
Follow the simple instructions. Once activated, your Pass will provide access to NYTimes.com from any location.
Download your free NYT apps: visit nytimes.com/mobile.
Submitted by Danielle Williams dw56@evansville.edu
Audition for one of UE'S choirs
Auditions for participation in one of UE's three choirs (University Choir, Mixed Choir, and Women's Chorus) will be held on Tuesday, August 21, and Wednesday, August 22. Come to Krannert Hall of Art and Music Room 104B to sign up for an audition time. Anyone with a love of singing may join the choral program at UE regardless of chosen major. Questions may be directed to Dennis Malfatti, professor of music and director of choral activities, at dm155@evansville.edu or 812-488-2879.
Submitted by Dennis Malfatti dm155@evansville.edu
Welcome Tim Young, student media advisor
The Department of Art would like to welcome Tim Young as the new student media adviser. Young earned his BS in journalism from Ball State University, and his MA in communications from the University of Southern Indiana. He has over 14 years within the journalism industry and most recently was the public relations manager for the Evansville Thunderbolts, creating all multimedia, promotion materials and videos for the team. As the new student media advisor, Young will be assessing current student media operations in the fall semester. Look for the Crescent Magazine to return in the spring semester along with potential new additions to student media. Young replaces Tracy Maurer, who retired in May after 22 years with the University.
Submitted by Brooksie Smith bs267@evansville.edu
UE Bookstore rush hours
The UE Bookstore will have special hours during the weekend before school and the first week of school. They are as follows:
Saturday: August 18,10:00 a.m.-3:00 p.m.
Sunday: August 19, Noon-3:00 p.m.
Monday-Thursday, August 20-23, 9:30 a.m.-6:00 p.m.
The delayed hours on Aug 20-23 will allow us to prep website orders done the day before. Thanks for understanding.
Order your books on the UE Bookstore's new website now and avoid the lines at bookstore.evansville.edu.
Submitted by dg57@evansville.edu
UE grad assumes ISSMA presidency
Bonnie Harmon, a graduate of UE, has been appointed president of the Indiana State School Music Association. She has been a band director and music teacher for 36 years in public schools, including Pike Central High School, Southwestern Hanover High School, and Salem Community Schools of Salem, Indiana. This is her 29th year at Salem, where she has been the chairman of the Middle School Fine Arts Department, co-president of the Salem Classroom Teachers Association, and director of the concert, pep and marching bands in grades 6-12.
DeVault, Kassenbrock, and Swenty honored for 25-years of service to UE
Each fall, The University of Evansville honors those who have given 25-years of service to the institution. This year three people were recognized: Sylvia DeVault, Debbie Kassenbrock, and Brian Swenty. Each was recognized and was given an engraved bowl from the University during Fall Conference to show our appreciation for their years of dedication and service.
Sylvia DeVault is a graduate of the University of Evansville. Her very first professional position was at Harlaxton as dean of students during the 1987-88 academic year. She returned to the campus of alma mater in 1993 to serve as director of alumni relations. During her tenure as director, DeVault helped build the alumni volunteer program and the first alumni web site. She also helped develop social media sites. She assisted in the establishment of the UE African American Alumni and Harlaxton Society as alumni associations. Taking a break from her duties as director, DeVault served as a major gifts officer for two years and then returned to the role of director of alumni and parent relations in 2000. In March of this year, she began a new role as corporate and foundation relations officer.
Debbie Kassenbrock began her career at UE in 1993 as an admissions office visit coordinator. She organized private visits for students, road trips, and fly-ins as well as UE prospective coaches. In the year 2000, she became the director of academic advising and the associate registrar. In 2015, Kassenbrock was also appointed as director of the resource center. As director of academic advising, she supervises the Writing Center, supplemental instruction, and tutoring, helps students with time management and study skills and advises new and transfer students. She collaborates with the admission office concerning admitted students' academic inquiries, meets with students to assist them with their appeals to the Admissions and Standards Committee, and speaks at the SOAR and STAR programs. Kassenbrock holds numerous memberships including the Patricia Snyder Speakers Series, UE's Theatre Society, UE's President's Club, and the Purple Aces Club. She is past president of the Office Staff Association and has been recognized as an Outstanding Athletic Advisor.
Brian Swenty began his career at UE as an assistant professor in the mechanical and civil engineering department. Previously, he was director and chief engineer for the Dam and Reservoir Safety Program with the Missouri Department of Natural Resources in Rolla, Missouri. He is currently chair of the mechanical and civil engineering department. Swenty is licensed as a professional engineer in California, Florida, Missouri, Illinois, and Indiana. He is active in the Engineering Accreditation Commission of ABET and the American Society of Civil Engineers. He is well-published and has presented at numerous conferences. Swenty's service to the University is exemplary and includes serving as interim dean in the College of Engineering and Computer Science in 2017 and part of this year as well. He has received the Dean's Outstanding Teaching Award twice. He has also received the UE Alumni Outstanding Teacher Award, the Berger Award for Service, the United Methodist Church Exemplary Teaching Award, and the Distinguished Service Award from Harlaxton College.
Stevenson co-edits and publishes book on issues facing criminal juries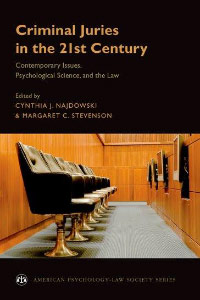 Maggie Stevenson, UE associate professor of psychology, and Cynthia Najdowski, assistant professor at the University at Albany, have co-edited a book that will be published August 20 by Oxford University Press. The book, titled Criminal Juries in the 21st Century: Psychological Science and the Law, is part of the American Psychology-Law Society Series. It can be preordered here.
This book explores the increasingly wide gulf between criminal trial law, procedures, and policy, and what scientific findings have revealed about the human experience of serving as a juror. It provides a unique view of criminal juries with the goal of increasing awareness of a broad range of current issues in great need of theoretical, empirical, and legal attention. It also identifies how social science research can inform law and policy relevant to improving justice within the jury system.
Stevenson has published over 30 peer-reviewed articles and book chapters related to factors that shape juror decision making and the nature of jury deliberations. She also explores perceptions of marginalized individuals, including children and minorities, who enter the legal system, either as victims or as perpetrators of crime. Her research has received grants and awards from divisions of the American Psychological Association.
Najdowski's research explores how social psychological phenomena shape criminal justice interactions in ways that produce miscarriages of justice for minorities, women, and children. Her work has been recognized with several national grants and awards and published in the top-ranked journals in the field of psychology and law.
Rania Mousa takes oath of citizenship
The Schroeder School of Business would like to congratulate Rania Mousa, associate professor of accounting, on receiving her United States citizenship. Rania took her oath of citizenship on August 26, at the war memorial in Indianapolis, Indiana. CONGRATULATIONS, Rania!!
Aces team up with ProRehab to create Purple Fridays
ProRehab and the University of Evansville Athletic Department have teamed up to create a campus and community initiative called "Purple Friday's powered by ProRehab."
The campaign was started as a way to bring a sense of pride on campus, in the City of Evansville and among Aces supporters everywhere to support the university. Every Friday starting on August 24, students, businesses and supporters of the university are encouraged wear purple and post their support with the hashtag #PurpleFriday.
"We want to give a special thank you to our long-time partner, ProRehab, as they become the official sponsor of Purple Friday's," UE Assistant AD for marketing and fan engagement Scott Peace said. "Purple Friday's are something that everyone on campus looks forward to each week and we hope to spread this spirit and sense of pride across our fan base and community."
Throughout the year, prizes will be given out to the person/group that shows the most purple pride. There will also be contests and other interactive events that coincide with Purple Friday's.
"ProRehab is proud to be a supporter of Purple Friday! ProRehab's roots are in the University of Evansville and many of our employees are graduates of UE – which is a big part of the reason why our color is purple," ProRehab Director of Strategic Marketing Gib Riffle explained. "We are looking forward to a strong year supporting the student-athletes and providing medical services for the Athletic Programs. Purple Fridays are a great way to say, "Go Purple Aces"."
Purple Friday's powered by ProRehab is another campaign that was coordinated by Learfield's Purple Aces Sports Properties, the multimedia rights holder for University of Evansville athletics.
UE men's basketball adds two transfers - Sam Cunliffe and Artur Labinowicz
University of Evansville head men's basketball coach Walter McCarty continues to build for the future and took a big step in that direction with the addition of transfers Sam Cunliffe and Artur Labinowicz.
Cunliffe comes to Evansville from the University of Kansas while Labinowicz spent his first two collegiate seasons at Coastal Carolina.
"It is very exciting to add two guys that bring a variety of skills such as shooting and athleticism to our program," McCarty said. "They each will have a year to learn our system, which will pay dividends when they are eligible in 2019."
"We are happy that Sam and Artur chose the University of Evansville to further their careers," McCarty continued.
Sam Cunliffe was a top 50 player in the nation coming out of Rainier Beach High School in Seattle, Washington. He was the Seattle Times Player of the Year as a senior while leading his high school squad to its fourth state championship in five seasons. He began his career at Arizona State where he played in 10 games as a freshman while recording 9.5 points and 4.5 rebounds per game. His top effort at ASU was a 23-point, 10-rebound game against The Citadel.
The 6-6 guard transferred to Kansas, where he was eligible to play in the second semester of the 2017-18 campaign. Cunliffe saw time in 15 games for the Jayhawks as they made a run to the 2018 Final Four. He played just under five minutes per game while appearing in two NCAA tournament contests. Cunliffe will have two years of eligibility at UE.
Labinowicz joins the Purple Aces following two seasons at Coastal Carolina. Following a solid freshman season that saw him post 6.5 points and 3.9 rebounds, he enjoyed great improvement as a sophomore, upping his productivity to 10.8 points and 4.4 caroms.
Last season, the 6-4 guard from Charlotte, N.C. set his career mark with 32 points against Georgia State while draining six 3-pointers. He averaged 27.3 minutes per game as a sophomore. Labinowicz began his high school career at David W. Butler High School and led his team to a 23-4 record. He went on to play at Combine Academy averaging 24 points per game with his top outing being a 37-point game while also posting a triple-double.
Contribute to AceNotes
To have content considered for inclusion in AceNotes, please submit a Marketing Request Form. Deadline for submission to AceNotes is 10:00 a.m. on the requested date of publication. Only articles concerning UE related/sponsored activities will be accepted. Articles submitted to AceNotes may be edited for length and clarity. Submitter contact information is at the end of each article.