| | |
| --- | --- |
| AceNotes Today | Friday, August 17, 2018 |
Campus visitor parking
The Office of Admission continues to enhance the visit experience for our prospective students in order to make them feel welcome and at home on our campus. We will be continuing to use the special parking signs and purple parking spaces in front of Olmsted Administration Hall that will be personalized to welcome each arriving guest by name. In order to ensure that each visiting guest has a place to park, we're asking for your help to keep the purple spaces open at all times. Please help us communicate this change to all students, faculty, staff, outside guests, and others so that we may make a positive first impression on our visitors.
Thank you for continuing to be an important part of the campus visit experience. We truly appreciate the enthusiasm and cooperation from the entire campus community in making the experience special for each of our visitors.
Sincerely,
Dr. Shane Davidson
VP for Enrollment and Marketing
Prologue scheduled prior to Academic Convocation in Neu Chapel
Again this year, incoming students will gather in Neu Chapel on Tuesday morning, August 21, for Prologue, which will serve as an introduction to the University's Academic Convocation. In a brief 15-minute session, students will be offered an introduction to their first University ceremony.
Instead of simply wandering over to Carson Center as individuals, the Class of 2022 will be led by Dr. Mark Valenzuela playing bagpipes, and escorted by UE's Orientation Leaders in their first campus processional, signaling the importance of community, integration, and transitions.
During Prologue, the entering class will rehearse both University hymns in preparation for the Academic Convocation. Theater department chair and professor Eric Renschler will introduce students to the UE Honor Code and the meaning of pledging one's honor in an academic culture as they stand shoulder to shoulder with their peers and face their faculty. Prologue is the first opportunity for new students to learn more about the rich tradition of excellence at UE.
The campus community is invited to attend Prologue, (reserved seating in the Neu Chapel Gallery, upstairs in the loft), which will begin promptly at 8:15 a.m. The procession will commence at 8:30 a.m., leaving from Neu Chapel, passing by the May Studio, past the International Peace Pole, through Memorial Plaza, past the Interfaith Peace Bell, in front of Ridgway University Center and finally arriving at Carson Center. The campus community is also invited to stand near the processional route to wave, clap, and welcome new students as they process toward the beginning of their college career.
Submitted by Tamara Gieselman tg85@evansville.edu
UE's Interfaith Peace Bell will "ring in" the academic year
On Tuesday, August 21, UE will welcome the Class of 2022 and officially "ring in" the new academic year with the ceremonial ringing of the Interfaith Peace Bell from 8:10-8:15 a.m. This inaugural University ritual will remind us all to work for peace in all that we do, and will communicate to incoming students who we are and what we stand for as a campus community. Four UE seniors and Harlaxton Ambassadors - Hayley Elliot, Anna Mundy, Macy Dimmett, and Morgan Woodward - were nominated to serve as the 2018 Fall Interfaith Peace Bell stewards. The campus community is invited to observe the bell-ringing on Tuesday morning.
Submitted by Tamara Gieselman tg85@evansville.edu
Welcome Weekend Worship in Neu Chapel: 9:00 a.m., Sunday
Whether it's Facebook, Twitter, or Instagram, we are all encouraged to #GetWoke. This new academic year, Neu Chapel is encouraging our campus community to have a #WokeFaith as we begin our University Worship #GetWokeUE worship service this upcoming Sunday (August 19) at 9:00 a.m. in Neu Chapel. All are invited and welcome to attend!
Submitted by Keith Turner kt160@evansville.edu
First Mass on Campus this Sunday at 10:30 a.m.
There will be a Catholic Mass on campus in Neu Chapel at 10:30 a.m. on Sunday, August 19. The Newman Club will be having a gathering after the Mass - feel free to come get to know current members and learn more about what the club does!
Submitted by Sam Wallisch sw265@evansville.edu
Evansville Otters Baseball College Night
The Evansville Otters conclude their series against rival Southern Illinois Miners on College Night on August 23. The Otters want to see college students and staff pack the stands at Bosse Field for the series finale as the Otters make a playoff push! Those with a valid college ID can enter to win one of four $50 VISA gift cards, and those with a valid ID get a free popcorn.
Student groups with a minimum of 15 people can enter to win a $100 contribution to your cause, and a minimum of 25 people can enter win "Bosse Field" for use of your own event! Student groups must pre-register to be eligible. For more information or to register, please contact Elspeth Urbina-Roos at 812-435-8686 or e-mail at eurbina@evansvilleotters.com.
And everyone is invited to wear their favorite school or college apparel and show their school pride!
Stay up-to-date with the Evansville Otters at evansvilleotters.com and follow the Otters on Facebook, Twitter and Instagram!
Tickets for College Night on August 23 are still available by going to evansvilleotters.com or calling 812- 435-8686, or stop by the Evansville Otters Ticket Office located at Bosse Field on 23 Don Mattingly Way in Evansville, Indiana.
Join the Evansville Otters at Bosse Field for all the fun!
Monks to create World Peace Sand Mandala at UE
Monks from Tashi Kyil Monastery in Dehra Dun, India, will be in Evansville August 18-23, creating the World Peace Sand Mandala at the University of Evansville. They will be working on the mandala project in the John Wesley Gallery located in the lower level of Neu Chapel. The mandala will take several days to construct and the public is invited to observe their work throughout the week. The schedule for viewing the Sand Mandala is below.
• Sunday, August 19 at noon, Opening Ceremony. Monks will be creating sand mandala until 5:00 p.m.
• Monday, August 20, 10:00 a.m.-5:00 p.m.
• Tuesday, August 21, 10:00 a.m.-5:00 p.m.
• Wednesday, August 22, 10:00a.m.-5:00 p.m.
• Thursday, August 23, 10:00 a.m.-noon
• Thursday, August 23 at noon: Closing ceremony and Sand Mandala deconstruction. Following the closing ceremony, the monks will take the sand mandala to the Ohio River and ceremonially disperse the sand into the river to spread healing energies of the mandala throughout the world.
Feel free to observe the creation of the mandala and spend some time with the monks. The monks are here to teach the Dharma and educate the public about the culture and religion of Tibet. More info at: www.facebook.com/monktour2018.
Submitted by Tamara Gieselman tg85@evansville.edu
Openings on ChangeLab projects still available this semester
There are still a few openings on ChangeLab projects for this semester. These projects provide a great opportunity for students to use their skills to address challenges and opportunities in the real world, and they are open to students of all majors and levels who have an interest and skills to offer.
Students – look for these courses using the CHNG prefix to register.
Advisors – consider recommending these classes for interested students.
• Designing an Anti-Bullying Board Game
CHNG 330 – 3 credits - T/Th 2:45 – 4:00
Work with an experienced game developer to create a board game that addresses bullying amongst kids. Prepare that game for license and sale in the game market.
• Global Innovation Consulting
CHNG 300 – 3 credits - T 2:00 – 5:00
Learn innovation strategies and techniques from an experienced consultant to help companies address relevant challenges. Apply these skills on a project related to the future of health care. (limited to sophomores, juniors, and seniors or by instructor approval)
• Alternative Energy – Puerto Rico
CHNG 310 – 3 credits - T/Th 11:00 – 12:15
Learn from a physics professor how to audit homes and buildings to recommend sustainable energy solutions. Develop and implement recommendations for a school in Puerto Rico.
• Rosedale Neighborhood Revitalization
CHNG 310 – 3 credits - T/Th 9:30 – 11:00
Work with community activists and property developers to create a vision and plans to beautify, strengthen, and revitalize the diverse Rosedale neighborhood adjacent to UE.
More information on these projects can be found at www.evansville.edu/changelab/
Submitted by Jill Griffith jg121@evansville.edu
Audition for one of UE'S choirs
Auditions for participation in one of UE's three choirs (University Choir, Mixed Choir, and Women's Chorus) will be held on Tuesday, August 21, and Wednesday, August 22. Come to Krannert Hall of Art and Music Room 104B to sign up for an audition time. Anyone with a love of singing may join the choral program at UE regardless of chosen major. Questions may be directed to Dennis Malfatti, professor of music and director of choral activities, at dm155@evansville.edu or 812-488-2879.
Submitted by Dennis Malfatti dm155@evansville.edu
Welcome Tim Young, student media advisor
The Department of Art would like to welcome Tim Young as the new student media adviser. Young earned his BS in journalism from Ball State University, and his MA in communications from the University of Southern Indiana. He has over 14 years within the journalism industry and most recently was the public relations manager for the Evansville Thunderbolts, creating all multimedia, promotion materials and videos for the team. As the new student media advisor, Young will be assessing current student media operations in the fall semester. Look for the Crescent Magazine to return in the spring semester along with potential new additions to student media. Young replaces Tracy Maurer, who retired in May after 22 years with the University.
Submitted by Brooksie Smith bs267@evansville.edu
UE Bookstore rush hours
The UE Bookstore will have special hours during the weekend before school and the first week of school. They are as follows:
Saturday: August 18,10:00 a.m.-3:00 p.m.
Sunday: August 19, Noon-3:00 p.m.
Monday-Thursday, August 20-23, 9:30 a.m.-6:00 p.m.
The delayed hours on Aug 20-23 will allow us to prep website orders done the day before. Thanks for understanding.
Order your books on the UE Bookstore's new website now and avoid the lines at bookstore.evansville.edu.
Submitted by dg57@evansville.edu
Annual fire alarm system testing
Johnson Controls is on campus conducting the annual fire alarm system testing. As each building is tested the alarm will intermittently go off. (Since this is just a test of the alarm, there is no need to leave the building when the alarm sounds.) Physical plant and security will know on a daily basis the buildings being tested. The testing will be done between 7:30 a.m.-5:00 p.m. Testing should be completed by Tuesday, August 21. If you have any concerns or schedule conflicts, please contact the physical plant at 812-488-2775.
Submitted by Jayne Schnacke js607@evansville.edu
Becker elected to Honor Society of Phi Kappa Phi Board of Directors
Lora Becker, professor of psychology at the University of Evansville, was recently elected to serve on the board of directors for The Honor Society of Phi Kappa Phi - the nation's oldest and most selective collegiate honor society for all academic disciplines.
The election took place August 4 during the Society's Biennial Convention in Minneapolis, Minnesota.
In this role, Becker will represent the membership of Phi Kappa Phi while also working to support the mission and goals of the Society. She will serve a two-year term during the 2018-2020 biennium.
Becker has been an active leader of Phi Kappa Phi at the local and national levels since 2014. She has held a number of roles within the University of Evansville chapter of Phi Kappa Phi, including president, a position she assumed in 2015. Becker was also chair of the 2016 Biennial Convention Credentials Committee for Phi Kappa Phi and most recently served as chair of the national Bylaws Committee for the 2016-18 biennium.
Becker received her B.S in biology and psychology from Wright State University. She earned her M.A. in psychobiology and Ph.D. in behavioral neuroscience from State University of New York at Binghamton.
Phi Kappa Phi was founded in 1897. Membership is by invitation only to the top 10 percent of seniors and graduate students and 7.5 percent of juniors. Faculty, professional staff and alumni who have achieved scholarly distinction also qualify. Some of the organization's notable members include former President Jimmy Carter, retired NASA astronaut Wendy Lawrence, novelist John Grisham and YouTube co-founder Chad Hurley. Each year, Phi Kappa Phi awards nearly $1 million to outstanding students and members through graduate fellowships, study abroad grants, member and chapter awards, and grants for local, national and international literacy initiatives. For more information, visit www.phikappaphi.org.
Stevenson co-edits and publishes book on issues facing criminal juries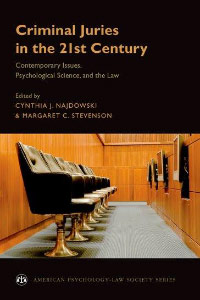 Maggie Stevenson, UE associate professor of psychology, and Cynthia Najdowski, assistant professor at the University at Albany, have co-edited a book that will be published August 20 by Oxford University Press. The book, titled Criminal Juries in the 21st Century: Psychological Science and the Law, is part of the American Psychology-Law Society Series. It can be preordered here.
This book explores the increasingly wide gulf between criminal trial law, procedures, and policy, and what scientific findings have revealed about the human experience of serving as a juror. It provides a unique view of criminal juries with the goal of increasing awareness of a broad range of current issues in great need of theoretical, empirical, and legal attention. It also identifies how social science research can inform law and policy relevant to improving justice within the jury system.
Stevenson has published over 30 peer-reviewed articles and book chapters related to factors that shape juror decision making and the nature of jury deliberations. She also explores perceptions of marginalized individuals, including children and minorities, who enter the legal system, either as victims or as perpetrators of crime. Her research has received grants and awards from divisions of the American Psychological Association.
Najdowski's research explores how social psychological phenomena shape criminal justice interactions in ways that produce miscarriages of justice for minorities, women, and children. Her work has been recognized with several national grants and awards and published in the top-ranked journals in the field of psychology and law.
Rania Mousa takes oath of citizenship
The Schroeder School of Business would like to congratulate Rania Mousa, associate professor of accounting, on receiving her United States citizenship. Rania took her oath of citizenship on August 26, at the war memorial in Indianapolis, Indiana. CONGRATULATIONS, Rania!!
University of Evansville Announces Berger Awards for 2018
University of Evansville professors Laura Dwyer and Robert Dion were honored recently with the 2018 Sydney and Sadelle Berger Awards for Scholarly Activity and Service. They were presented with the awards by Charlie Berger during UE's Fall Conference.
UE associate professor of management Laura Dwyer was given the Berger Award for Scholarly Activity. Dwyer has significantly contributed to the research community. She is a prominent scholar and teacher specializing in the areas of organizational behavior, human resources, decision making, and leadership.
Dwyer has a strong interest in publishing in peer-reviewed pedagogical journals in the areas of business education and higher education. Of particular interest is Dwyer's research titled "Leadership self-efficacy and managers' motivation for leading change." This research has received 416 citations since its publication in 2002 in the Journal of Organizational Behavior.
Dwyer continually shares her knowledge by delivering seminars and workshops at Harvard Business School, Northwestern University, and University of Colorado.
She has received UE's Schroeder School of Business Dean's Service Award, the Dean's Research Award, and the Dean's Teaching Award twice. Dwyer has also received a Teaching Fellows Grant from the Center for Teaching Excellence.
UE professor of political science and chair of law, politics, and society Robert Dion was the recipient of the Berger Award for Service. Dion is committed to serving UE and the community and to promoting diversity and equal rights for all people.
He has been chair of the Evansville-Vanderburgh County Human Relations Commission for several years. He has been a featured speaker at statewide meetings of all Indiana human rights agencies and a delegate to conventions of the International Association of Official Human Rights Agencies. Dion is a longtime member of the Evansville Diversity Distinguished Lecture Series board.
At UE, Dion has received the United Methodist Exemplary Teaching Award and serves on several committees and boards, including the Diversity Lecture Series board and the MLK Day Committee. He chairs UE's Constitution Day committee and works with We the People, a national program dedicated to teaching secondary school students about the US. Constitution.
He is regularly interviewed by local, statewide, national, and international news outlets, including the Wall Street Journal, USA Today, Le Monde, the BBC World Service, The Guardian, and Radio Canada.
UE softball announces fall schedule
Fall softball provides a great opportunity to play a competitive slate while gaining valuable experience heading into the spring season. University of Evansville head softball coach Mat Mundell has announced a strong fall schedule that will get his team on the field to prep for the 2019 campaign.
Included in the fall portion of the schedule is three home dates, three contests against Division I opponents along with a trip to Westfield, Indiana.
Things get started for UE on Sunday, September 16 with a pair of games at the Grand Park Events Center in Westfield, Ind. Located north of Indianapolis, the sports complex has over 20 baseball and softball diamonds. That day, the Purple Aces will take on Ball State in a 1 p.m. ET contest before facing Miami Ohio at 3 p.m. ET.
The remainder of the fall contests will be played at Cooper Stadium in Evansville. On Friday, Sept. 28, the Aces welcome Wabash Valley for a doubleheader beginning at 5 p.m. The next day, Illinois Central College comes to town for a 2 p.m. doubleheader.
On Saturday, October 6, Evansville will face Indiana University in a home doubleheader that begins at 11 a.m. All games are open to the public.
Fall 2018 Schedule
Sept. 16 – vs. Ball State – 1 p.m. ET – Westfield, Ind.
Sept. 16 – vs. Miami Ohio – 3 p.m. ET – Westfield, Ind.
Sept. 28 – vs. Wabash Valley – 5/7 p.m. – Evansville, Ind.
Sept. 29 – vs. Illinois Central College – 2/4 p.m. – Evansville, Ind.
Oct. 6 – vs. Indiana – 11/1 p.m. – Evansville, Ind.
Volleyball home match against IU cancelled
Due to a scheduling error, Indiana University has been forced to cancel the September 4 match against the University of Evansville inside Meeks Family Fieldhouse in Evansville, Ind.
"We are disappointed with how this transpired, but we understand that mistakes do happen," UE Director of Athletics Mark Spencer said. "I have communicated with the IU administration and coaching staff and hope to foster this relationship over future seasons."
IU's contest at UE would have resulted in them having one contest over the NCAA maximum number of allowed competition dates. The error was recently realized by IU university administrators and the cancellation of the match was the only available remedy at this time. With the timing of the announcement, Evansville will be unable to replace the match on their 2018 schedule.
The programs hope to continue their relationship in the near future.
Evansville is set to open the season next weekend in Macomb, Ill. at the Leatherneck Invitational. The home opener will pit the Purple Aces against Southeast Missouri State on Tuesday, August 28 inside Meeks Family Fieldhouse.
Contribute to AceNotes
To have content considered for inclusion in AceNotes, please submit a Marketing Request Form. Deadline for submission to AceNotes is 10:00 a.m. on the requested date of publication. Only articles concerning UE related/sponsored activities will be accepted. Articles submitted to AceNotes may be edited for length and clarity. Submitter contact information is at the end of each article.