| | |
| --- | --- |
| AceNotes Today | Tuesday, July 17, 2018 |
Farmers' Market in Ridgway University Center
Produce from the UE Garden will be available for purchase on Wednesday, July 18, in Ridgway University Center. UE honey and farm fresh eggs are also for sale. Gardeners will start the sale at 8:00 a.m. with tomatoes, eggplant, basil, and peppers for sure.
Submitted by William Hemminger bh35@evansville.edu
Re-Thinking Diversity Summer Series: Dialogue on Race
The next session in the Re-Thinking Diversity Summer Series: Dialogue on Race is titled," Structural Racism and Privilege." The discussion will be facilitated by Valerie Stein, department chair in philosophy and religion. Stein will lead dialogue on unearned and unrecognized advantages, benefits, or rights conferred on people in a dominant group.
The Office of Diversity Initiatives is offering these one-hour sessions that provide an opportunity for interactive dialogue and allow campus participants to think and discuss opportunities to re-think everything you thought you ever knew about race related issues. The sessions will provide solution-oriented steps and strategies as well as resources for participants.
Participants must RSVP to lw161@evansville.edu by 5:00 p.m. on the Monday of the week of the session.
Upcoming sessions are planned for July 18, August 1, and August 8 in Eykamp Hall, Room 253, Ridgway University Center.
Sessions are intended for any campus members and friends (i.e., faculty, staff, students, alumni or administrators). Anyone attending all of the sessions will be given a certificate of completion of diversity and inclusion at UE at the end of the summer sessions.
Submitted by LaNeeca Williams lw161@evansville.edu
UE History Wall and Alumni Board project installed in Ridgway
A permanent display highlighting UE history and traditions was recently installed in the Ridgway University Center in the back hallway leading to the University Bookstore. This project was initiated and sponsored by the UE Alumni Association Board of Directors with art history students researching and writing much of the text. Check it out and learn more about our great tradition.
Submitted by Sylvia DeVault sy5@evansville.edu
Hiring for UE AmeriCorps campus position
Applicants are now being sought for the positon of a ScholarCorps AmeriCorps member at UE. The ScholarCorps AmeriCorps member will be required to complete a minimum 1,700 hours of service from August 6, 2018-July 31, 2019.
The Indiana Commission for Higher Education's ScholarCorps AmeriCorps program engages volunteers in full-time AmeriCorps service. AmeriCorps is a network of national service programs that engage more than 75,000 Americans each year in intensive service to meet critical needs in education, public safety, health, and the environment. Members who successfully complete a minimum 1,700 hours of AmeriCorps service will receive a modest living allowance and are eligible to receive a $5,920 AmeriCorps Education Award. AmeriCorps Education Awards can be used to repay qualified student loans, or pay the cost of attending a qualified institution of higher education.
ScholarCorps AmeriCorps members are placed at select colleges and universities across Indiana and serve as an on-campus resource to freshman and sophomore 21st Century Scholar students enrolled at that institution. The program aims to increase 21st Century Scholar retention and success by providing on-campus programming, direct support and connecting students to various on-campus resources, information and services needed to be successful in college.
Each ScholarCorps AmeriCorps member will be charged with providing Scholars with resources in alignment with four programmatic goal areas including:
Academic performance and persistence
Student engagement and enrichment
Career exploration and preparation
Financial literacy and debt management.
ScholarCorps AmeriCorps members also receive training and professional development and participate in National Days of Service as a member of the statewide AmeriCorps program.
Primary service activities and related tasks:
Increase student retention and success by providing on-campus programming and direct support to 21st Century Scholars
Track and monitor the academic performance of Scholars (mid-term and end of semester) and refer at-risk Scholars to on-campus tutoring, advising and academic support services
Connect Scholars with ongoing job-and career-related exploration resources, including career interest inventories, assessments, career services, job-shadowing and internships through EARN Indiana
Enhance the overall collegiate experience for 21st Century Scholars by providing meaningful networking and social opportunities, leadership development programing and civic engagement activities
Monitor and support Scholar progress toward meeting scholarship eligibility requirements (e.g., 30 credit hour completion, state FAFSA filing deadline, satisfactory academic progress, etc.)
Plan and organize a minimum of two (2) all-Scholar volunteer service projects (e.g., Make a Difference Day, MLK Day of Service, Earth Day, etc.)
Assist in data collection related to volunteer mobilization and Scholar participation for semi-annual progress reports
Participate in ScholarCorps Member trainings, orientation and professional development opportunities (e.g., statewide conferences, trainings, events, etc.)
Please share this information with anyone that might be interested in being an AmeriCorps paid member on the UE Campus. Position starts August 6!
Send inquires to Stacey Shanks ss581@evansville.edu or Angie Dawson at ad5@evansville.edu.
Submitted by Stacey Shanks, ss581@evansville.edu
UE student Tyra Baker earns Gold Badge in coding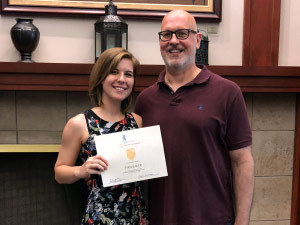 University of Evansville student Tyra Baker of Dillsboro, Indiana, has earned a Gold Badge in coding through a partnership between the Independent Colleges of Indiana and Eleven Fifty Academy. Baker is majoring in economics at UE.
This was the second summer for Smart Launch Tech, a coding program designed for liberal arts students. One hundred percent of the 19 students from 14 private colleges around the state completed the month-long program on June 29, each earning the industry- and state-recognized Gold Badge Certification from Eleven Fifty, headquartered at Launch Fishers.

The students learned the basics of HTML, CSS and Java Script in a four-week boot camp held on the campus of Franklin College during the month of June. They completed assignments demonstrating badge competencies and compiled an e-portfolio, presented at the end of the program. Featured speaker at the Gold Badge award ceremony was Scott Jones, founder of Eleven Fifty and veteran early-stage entrepreneur, inventor, strategist, and venture capitalist.

In addition to coding, students were exposed to the wide range of career possibilities within the tech field, including project and marketing management, data analysis, compliance, security, and design. Students also traveled to Indianapolis tech businesses including High Alpha, Pattern89, Kinney Group, and One Click. During these visits, they had the chance to speak with company leaders and employees and gain exposure to tech working environments and protocols.

Smart Tech Launch was created to marry the technical skills of coding with the problem-solving approach of a liberal arts education.
"Technology alone is not enough," Apple founder Steve Jobs said. "It's technology married with liberal arts, married with the humanities, that yields results that makes our hearts sing."

Funders for this summer's program, made available to students free-of-charge, included ICI, a nonprofit association representing the 30 private, nonprofit colleges and universities in the Hoosier state; Eleven Fifty Academy, a nonprofit dedicated to producing technology and talent; and the Council of Independent Colleges through a venture fund grant. Sustainability planning is now underway.
Kerstein receives ACEC 2018 Young Engineer of Year Award
UE alumna Mary (Dial) Kerstein recently received the American Council of Engineering Companies (ACEC) of Indiana 2018 Young Engineer of the Year Award. ACEC Indiana annually recognizes several individuals for their contributions to the consulting engineering professions. Kerstein received the award for her well-rounded involvement that parallels ACEC Indiana's mission and objectives.
Kerstein is an active member of Women's Transportation Seminar of Greater Indianapolis for four years and currently serves as vice president. Her passion for encouraging young women to go into STEM related fields is why she is a very active member of a number of young professional/education committees in professional and industry organizations, including the Young Professionals Committee for Aviation Indiana and the Education Committees of ACEC Indiana.
Morgan Perry wins research award at NATA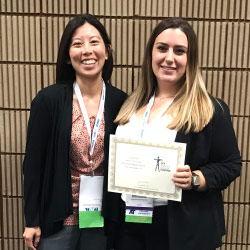 Morgan Perry, recent 2018 graduate of the Master of Science in Athletic Training (MSAT), won the research presentation award at the National Athletic Trainers' Association (NATA) Convention last week.
Morgan's abstract titled "The Risk of Ankle Sprains Based on Arthrometer Measurements: A Longitudinal Study" was selected by NATA's Research and Education Foundation as one of the top four abstracts submitted by a Masters student for this year's meeting. These four students gave their presentation in a special session at NATA in New Orleans, LA and was judged for scientific content and presentation style. '
Being a finalist was a high distinction in itself, but Morgan represented UE impressively by winning the Master's Research Presentation Award.
Morgan's abstract was a part of her graduate research work co-authored by research advisor Kathy Liu, UE professor and director of Masters of Science in Athletic Training Program; biostatistician William McConnell; and Dr. Geoff Gustavsen and professor Thomas Kaminski (both of the University of Delaware).
Morgan has accepted a job as an athletic training intern at Alabama A&M and will be working with their football and track and field programs.
Kretz and Knoester's research receives award
Professor Lisa Kretz and Professor Matthew Knoester's article "Why do young adults vote at low rates? Implications for education" published in Social Studies Research and Practice has been selected by the editorial team as Highly Commended in the 2018 Emerald Literati Awards.
Purple Aces 2018 volleyball schedule unveiled
Following a successful 2017 campaign that saw the University of Evansville volleyball team double its win total from 2016, the Purple Aces look to build on that success as they prepare for the upcoming season.
"UE Volleyball is looking forward to the challenging schedule that we have this year. We have designed a progressive load that will lead us to a very tough and improved MVC," UE head coach Manolo Concepcion said. "Our non-conference schedule is highlighted by four Power 5 games that include home matches against teams like OVC Champion Austin Peay, and for the second year in a row, Big Ten state rival Indiana University (which previously to last year, it had never happened before)."
"Then, to have the opportunity to play not one, but two, possible top 25 teams like Ohio State and Dayton, will prepare us to compete against the higher ranked teams in our conference," he added. "Our goal is to provide our roster with the highest level of play, recognizing that our conference continues to be one of the best in the nation."
Opening the year for the Aces is a trip to Macomb, Ill. for the Leatherneck Invitational on August 24-25. Last year, Evansville also opened the year at the tournament and went a perfect 3-0 on its way to the championship. This year's field includes host Western Illinois, Fairleigh Dickinson and Tennessee Tech.
Home play begins on Tuesday, August 28 with Southeast Missouri State coming to Meeks Family Fieldhouse. The Redhawks earned a 3-2 win over UE last year after the Aces won a 3-2 decision in 2016.
Following the home opener, UE travels to Elon, N.C. for the Phoenix Classic. Taking place on August 31 and September 1, the event features Elon, Gardner-Webb and North Carolina Central. The host Phoenix posted a 16-16 mark in 2016.
Another big home match is on tap Sept. 4 as UE welcomes Indiana University. It marks the third season in a row that the schools have met and the second consecutive home meeting for UE. Last year, the Hoosiers and Aces squared off in the Meeks Family Fieldhouse grand opening. Four days later, the annual Dunn Hospitality Tournament will take place as Austin Peay and Northern Kentucky come to town. The Governors had a strong campaign as they were 30-6 on their way to the Ohio Valley Conference Championship in 2017. They earned the automatic berth to the NCAA Tournament where they played at UCLA in the opening round.
A 4-match homestand comes to an end on Sept. 11 when UE faces Tennessee State. Non-conference play wraps up on Sept. 14-15 when UE heads to Dayton, Ohio to take part in the Flyer Invitational. A stacked field features host Dayton along with Ohio State and Tennessee. Dayton was 23-8 last season and a strong 30-2 in 2016. As part of that season, the Flyers earned the 2016 Dunn Hospitality Invitational championship. OSU is coming off of a 15-16 record last year while the Volunteers were 12-15 in 2017. Evansville took on Tennessee in a home-and-home series in 2014 and 15.
Missouri Valley Conference action commences on Friday, Sept. 21 with a home weekend against Loyola and Valparaiso. Loyola is coming off of a 5-24 record while Valpo enjoyed a 17-16 mark in the inaugural season in the MVC. The first conference road tilt is set for Monday, Sept. 24 with a trip to Des Moines, Iowa to take on Drake. The Bulldogs are coming off of a 23-10 season that saw them go 12-6 in the league.
That weekend, UE heads to central Illinois for road matches at Illinois State and Bradley. The Redbirds went 22-13 and 13-5 in conference play to earn a berth in the National Invitational Volleyball Championship where they topped IUPUI in the opening round. The Braves were 10-22 overall and 3-15 in the league in 2016.
UE is back home on Oct. 5-6 for contests against Southern Illinois and Missouri State. SIU was 6-23 last year while the Bears posted a 28-6 overall mark and a perfect 18-0 league record. The Bears won the conference tournament and advanced to the NCAA Tournament.
Another tough match is on tap on Oct. 8 as UE heads to Cedar Falls, Iowa to take on UNI. The Panthers were 27-9 in 2017 while going 15-3 in conference play. They earned an at-large bid to the NCAA Tournament where the beat Louisville in the first round. The first half of conference play wraps up with a home match against Indiana State (11-21, 8-10 MVC in 2017) on Saturday, Oct. 13.
It is back to the road on the 19th and 20th with contests at Valparaiso and Loyola before the month of October is completed with tilts against Bradley and Illinois State on the 26th and 27th. November begins with three road matches starting with a weekend at Missouri State and SIU on Nov. 2 and 3. The final road matchup takes place in Terre Haute when the Aces face the Sycamores on Friday, Nov. 9.
Regular season action comes to an end on the weekend of the 16th and 17th as UNI and Drake will play inside Meeks Family Fieldhouse.
"Our goal is to provide our roster with the highest level of play, recognizing that our conference continues to be one of the best in the nation," Concepcion said.
A.J. Gaura named Pitching Coach for UE baseball
University of Evansville head baseball coach Wes Carroll has named Anthony (A.J.) Gaura as the new pitching coach for the Purple Aces baseball team.
Gaura makes his way to Evansville after spending the last two seasons at Mississippi State where he played a pivotal role in the Bulldogs' trip to the 2018 NCAA College World Series. After winning the Tallahassee Regional, MSU took two out of three from Vanderbilt in the Super Regional before winning two games in the College World Series in Omaha.
"I am very happy to introduce A.J. Gaura as our new pitching coach. I want to thank everyone involved with this search," Carroll said. "AJ checks all of the boxes in what we were looking for to lead our pitching staff. He is a great addition to our staff and we are ready to get our team back on campus this fall."
In February, Gaura became the Bulldog's volunteer assistant/camp coordinator while also assuming duties of catchers' coach and assistant pitching coach.
He joined MSU in 2016 and worked as a graduate assistant video coordinator before being promoted to MSU's coordinator of player development in the summer of 2017. Gaura was responsible for the organization of all on-campus recruiting, the scholarship and recruiting database and video needs for both player development and advanced scouting.
Gaura's success on the recruiting trail has paid dividends for Mississippi State. His assistance in recruiting the 2018 and 2019 classes resulted in both being ranked 4th in the nation by Perfect Game. His 2020 recruiting class has already been recognized as the #6 class by Perfect Game.
A graduate of Austin Peay, Gaura pitched out of the bullpen for the Governors from 2013-15 after transferring there from Iowa Western Community College. He received his bachelor's degree in business administration from APSU and remained with the program as a volunteer assistant/camp coordinator in 2016.
While continuing his work with the program, he also continued his education, earning a master's of science in management.
Aces baseball represented at the next level
It has been an impressive summer for several University of Evansville baseball alums who are enjoying success at the professional level.
In his sophomore season for with his hometown squad – the Colorado Rockies – Kyle Freeland has pitched at an elite level. With a July 12 start against the Arizona Diamondbacks in the books, Freeland stands with an 8-6 record with a 3.11 ERA. He has posted 92 strikeouts while walking just 38 batters.
He has been a steady arm in the Rockies' rotation, accumulating 12 quality starts in his last 15 games. A quality start in Major League Baseball is defined as a game where the starting pitcher goes at least six innings and allows three earned runs or fewer.
Freeland has done that and much more for Colorado. The southpaw has made 19 starts and has given up more than three earned runs on just two occasions. He has been on a nice roll over the last month, giving up just eight earned runs in 37.1 innings of work.
An even more important statistic in MLB is wins above replacement (WAR). In short, WAR is a baseball stat that summarizes a player's total contribution to their team in just that one stat. As of July 13, Freeland is tied for 13th in all of the MLB in the statistic and tied for 6th among pitchers.
His work has helped the Rockies to a 48-45 mark as the team is just 4 games out of the second wildcard spot in the National League.
Freeland is not the only UE baseball alum to be in the majors this year. Kevin Kaczmarski, the leading hitter in the NCAA in 2015 (batted .465), was called to the majors by the New York Mets on June 22. Kaczmarski graduated from Evansville in 2015 and was drafted by the Mets in the 9th round of the 2015 MLB Draft.
Kaczmarski made his first Major League start against the Philadelphia Phillies on July 9. In four games with the Mets, he drew a walk in six plate appearances. The native of Cary, Ill. earned his call-up with an impressive showing with the Mets AAA squad – the Las Vegas 51s. He batted .363 with 29 hits in 80 at-bats to go along with 8 RBI and 7 walks.
That came on the heels of his 2017 effort that saw him bat .274 in 128 games with the AA Binghamton Rumble Ponies. Kaczmarski was sent back to the AAA squad on July 11.
Kyle Lloyd, who made his MLB debut with the San Diego Padres in 2017, has been with the El Paso Chihuahuas in 2018. The Chihuahuas are the AAA affiliate of the Padres. Lloyd has won three of his seven appearances while striking out 29 batters in 30 innings of work. He has not pitched since being placed on the disabled list on May 8.
Former UE shortstop Eric Stamets has also been at the AAA level this season, playing in 42 games for the Columbus Clippers. The Clippers are in the Cleveland Indians system. Stamets checks in with a .196 average while scoring 11 runs and posting 8 RBI. He has been on the disabled list since June 26. Just before his stint on the DL, Stamets had a 2-4 effort with an RBI, walk and run scored on June 23 versus the Gwinnett Stripers.
Evansville also has a pair of 2017 graduates making their way up the ladder. Pitcher Connor Strain, who was taken by the Los Angeles Dodgers in the 9th round of last year's draft, has been lights out this year. He started the year with the Great Lakes Loons, who are the Dodgers Class A squad. He appeared in 16 games while notching a 1.40 ERA in 25.2 innings of action. Opponents hit just .217 against him.

On July 9, he was rewarded for his efforts and earned a promotion to the Rancho Cucamonga Quakes, who are at the Class A-Advanced level. Strain made his debut with the Quakes on July 10, throwing two scoreless innings while striking out two batters.
Trey Hair was a 34th-round pick in 2017 by the Tampa Bay Rays. He started this season playing for the Rays' Class A Short Season squad – the Hudson Valley Renegades. After betting .471 in four games, he earned a quick promotion to the Class A Full Season team – the Bowling Green Hot Rods.
Playing in nearby Bowling Green, Ky., Hair has seen his success translate to the next level, batting .317 in 16 games and 63 at-bats with the Hot Rods.

Contribute to AceNotes
To have content considered for inclusion in AceNotes, please submit a Marketing Request Form. Deadline for submission to AceNotes is 10:00 a.m. on the requested date of publication. Only articles concerning UE related/sponsored activities will be accepted. Articles submitted to AceNotes may be edited for length and clarity. Submitter contact information is at the end of each article.