| | |
| --- | --- |
| AceNotes Today | Thursday, May 24, 2018 |
Campus closed May 30 due to planned water outage
Due to the ongoing Weinbach Avenue water main upgrade project, there will be two upcoming water outages significantly affecting campus.

The first will be May 23. It will only affect the water supply on Lincoln Avenue east of Weinbach and will last 4-6 hours. There will be no disruption of campus air conditioning with this outage. University buildings to be affected are:
2004 Lincoln (Advancement Services)
University Apartments
Lincoln Park Apartments
Panhellenic Center
Ramona Apartments
Hazeart Apartments
The second water outage will be May 30 and will last 4-8 hours. It will affect the main campus water supply, disrupting distribution of hot and cold domestic water and preventing us from delivering chill water and steam to most of the campus buildings. Because this outage affects the water supply and air-conditioning to such a large portion of campus, the University will be closed May 30.
The facilities department will restore steam, chill water, and domestic cold and hot water once the water main work is complete and all services should be back online the evening of May 30.

For approximately 48 hours after both of these outages, there will be a precautionary boil advisory.
The City of Evansville's position on this states, "While the potential for contamination of the drinking water is unlikely, the Evansville Water Utility is advising customers in the affected area to bring all cooking and drinking water to a complete boil for five (5) minutes before using". During this advisory, showering, clothes washing and handwashing will be allowed, however all affected campus water fountains will be tagged as a precaution."
Eykamp String Quartet and cellist Jenny Farny performing at Wired tonight
The "Coffee and Classics" Series at Wired continues this evening with the Eykamp String Quartet and guest cellist Jenny Farny performing Schubert's beloved String Quintet in C major, D.956. Jenny Farny and Kirsten Jermé will start the concert with cello duos before being joined by violinist Robert Anemone, guest violinist Maria Semes of the Louisville Orchestra, and violist Emily Brandenburg for the double-cello quintet. "Coffee and Classics" is a monthly series at the Wired Venue on select Thursday evenings featuring live classical chamber music in an intimate setting. Doors to the coffee house will open at 6:00 p.m., and the program will begin at 7:00 p.m. There is no admission charge, but donations are appreciated.
Please mark your calendars for the final concert of this season's "Coffee and Classics" Series on June 21, featuring hornist Emily Britton and friends!
WIRED is located at 111 NW 4th Street in downtown Evansville on 4th between Vine and Sycamore near the Old Courthouse.
RE-Thinking Diversity Summer Series: Dialogue on Race Offers First Session June 6
This summer the Office of Diversity Initiatives will offer one-hour session that will provide interactive dialogue to allow
campus participants to think and discuss about how to re-think everything you ever knew about race. The sessions will provide solution-oriented steps and strategies as well as resources for participants.
The first session will be offered on Wednesday, June 6, entitled, "Past to the Present," and participants must RSVP by Monday, June 4. The discussion will center around racism in the United States, its long and appalling past and presented by Rob Shelby, PhD, assistant professor/sociology.
The session will begin at noon at the Diversity Resource Center, 436 Weinbach Avenue (The House with the Purple Door.) Participants are encouraged to bring their lunch but drinks and snacks will also be offered.
Sessions are intended for any campus members and friends (i.e., faculty, staff, students, alumni or administrators). Anyone attending all of the sessions will be given a certificate of completion of Diversity and Inclusion at UE at the end of the summer sessions.
Submitted by LaNeeca Williams lw161@evansville.edu
Thursday afternoon golf outing
The employees of the University of Evansville are again invited to play golf with other UE employees on Thursday afternoons starting May 31 during the summer months. The UE golf outings will be on Thursday afternoons at 3:00 p.m. at Fendrich golf course. You can reserve your tee time by contacting Debbie Kassenbrock in the Center for Academic Advising at dk26@evansville.edu or 812-488-2605 by 10:00 a.m. on the morning of the outing.
Submitted by Debbie Kassenbrock dk26@evansville.edu
UE Students and Alumni Prepare to Dig Jezreel
This Sunday - May 27 - is the first day of the 2018 field season of the Jezreel Expedition, UE's archaeological project in Israel co-directed by Jennie Ebeling, UE associate professor of archaeology, and Norma Franklin, researcher at the University of Haifa Zinman Institute of Archaeology. We are very pleased to have a large group of UE students and alumni with us this season, including archaeology majors Lauren Bray, Abby Ecklund, Millie Hylka, Autumn Koehling, Abigail Miles, Baylee Parten, Steven Rubel, and Maddi Steinsultz, and archaeology alumni Isaac Rainey, Tati Folson, Morgan Davidson, Tim Smith, Katie Mickus, and Hilda Torres. Please follow our progress on Facebook and Instagram!
Submitted by Jennie Ebeling je55@evansville.edu
UE Bookstore Hours
The UE Bookstore will be closed on the following days: May 28 (Memorial Day), May 30 (Campus Wide Close), May 31(Year End Inventory). We will resume normal summer hours on Friday, June 1.
Submitted by Doug Gustwiller dg57@evansville.edu
UE's Open Table theology institute still accepting applications and nominations
The Office of Religious Life at the University of Evansville is again hosting the Lilly Endowment funded Open Table, a weeklong immersion experience for rising high school sophomores, juniors, and seniors, July 15-22. Students will stay in the residence halls on campus, take field trips, participate in theology classes, worship, and dialogue with their peers in small groups. Time and space will be given to thinking and talking about the dramatic story of the Christian tradition, how Christians relate to the other Abrahamic traditions, and how God calls us into the world to make a difference in the lives of others.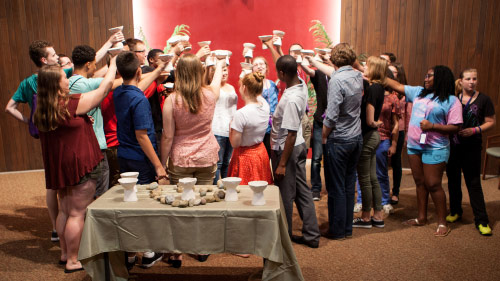 Here is the link to the Open Table website: www.evansville.edu/opentable. Click the white button on the right side of the page to nominate one or more of high school students.
Here is a link to a video we've created, which might help interpret how Open Table can transform lives: https://youtu.be/QAYyLLGett8.
The deadline is fast approaching (June 1) with just a few slots available. If there are students you know should attend, please make your nomination as soon as possible. For more information, please email tg85@evansville.edu.
Submitted by Tamara Gieselman tg85@evansville.edu
UE Health Center Closed May 30
The UE Health Center will be closed on May 30, due to a campus wide water outage. The closure will include both the Student Health Center hours from 8:00 a.m.-noon as well as the Employee Clinic hours 2:00-6:00 p.m. The Health Center will reopen with regular hours of operation for the Employee Clinic on Thursday, May 31 from 7:00-11:00 a.m. and the Student Health Center from 8:00 a.m.-noon. We appreciate your cooperation during this inconvenience.
Aces Place open this summer!
Get your beverages, snacks, and sandwiches this summer at Aces Place. We are open for self-service when Ridgway University Center is open. Use credit or newly purchased Ace Bucks.*
*All Ace Bucks purchased through WebAdvisor as part of a meal plan will not be available to use until August 21. If you would like to purchase Ace Bucks to use this summer at Ace's Place, please visit the Chartwells office. Ace Bucks purchased this summer carry over to the fall semester.
Submitted by Michael Tessier mt28@evansville.edu
Summer Health Screenings
For those enrolled in the HRA Medical Plan, earn HRA credits and qualify for lower medical premium rates by participating in the On-site Wellness Screenings. Screenings will be held June 12, 13, 14, and 15 from 7:00-11:00 a.m. each day in the Employee Health Clinic. Sign up through the main page of AceLink. Remember to fast 8-12 hours on the day of your screening. Contact ac375@evansville.edu with any questions.
May Pcard Cycle is Ending!!
The May Pcard Cycle, which began April 24, ended at midnight on May 21. Cardholders may schedule and run the May Cycle report. May transactions may be reconciled in SDG2 until May 28. On May 28, the general ledger Pcard file will be uploaded and cardholders will be locked out of (unable to make changes) posted transactions for the May Cycle.
Reminder - purchasing procedures for May 2018
As the end of the University's fiscal year approaches on May 31, administrative services and accounting and audit announce the following procedures related to purchases of goods and services during May.
Pcard purchases
Pcard purchases posting on the May statement (cycle end date is May 21) will be paid from FY 2017-18 funds. Most shipments post on your Pcard within three to four business days. However, vendors have up to nine business days to post transactions.
Pcard purchases posting from May 22 through May 31 will be paid from FY 2018-19 (new year) funds, unless the item purchased exceeds $500. Purchases exceeding $500 will be paid from FY 2017-18 funds.
Office Depot orders
Normally, Office Depot orders placed online by 3:00 p.m. for items in stock are delivered the next business day. Upon delivery, the transaction should post on your Pcard within three to four business days.
Office Depot orders received by May 15 will likely post on the May 21 Pcard Cycle and be paid from FY 2017-18 funds.
Office Depot orders placed and received but posting to the Pcard between May 22 and May 31 will be paid from FY 2018-19 funds, unless the items purchased exceed $500. Purchases exceeding $500 will be paid from FY 2017-18 funds.
Purchase Orders
Approved requisitions converted into purchase orders and delivered by May 31 will be paid from FY 2017-18 funds.
Approved requisitions indicating FY 2018-19 written on them in red ink will be processed with a delivery date of June 1 or later.
Backordered purchase orders not delivered by May 31 will be paid from FY 2018-19 funds.
Blanket Orders
All FY 2017-18 blanket orders expire on May 31.
Approved requisitions for FY 2018-19 (new year) blanket orders may now be submitted with June 1, 2018 through May 31, 2019 effective dates.
Backordered blanket purchase order items not delivered by May 31 will be paid from FY 2018-19 funds.
Requisitions for check request
All services completed and items purchased (and on campus) by May 31 must be submitted on a WebAdvisor voucher to accounting and audit by Monday, June 18 to be paid from FY 2017-18 funds. Any pre-May 31st purchases submitted for payment after this date will be charged to FY 2018-19.
Submitted by Kim Winsett kw83@evansville.edu
Thanks for Supporting UEVETS' Spare Change for Warriors Bowling Tournament
UEVETS student veterans organization and the Office of Veterans Affairs would like to thank the campus community for supporting the UEVETS' third annual Spare Change for Warriors charity bowling tournament. The health services administration team comprised of Cesar Guitunga, Dana Owens, Emily Baggett, Nehchal Bedi, Savannah Kern, and Sarah Harness won. Proceeds amounting to $1,670 were donated to Soldier Dogs for Independence, an Evansville organization that trains and places service dogs with veterans in need.
Harlaxton Manor featured in Country Life magazine
Harlaxton Manor was recently featured in Country Life magazine. The article, titled Harlaxton Manor, Lincolnshire: An American evolution, details the architectural history of the house and grounds including the restoration work done by UE. You can read the entire article here.
Women's Basketball signs seven for 2018-19
Head coach Matt Ruffing has announced the addition of seven student-athletes to the University of Evansville women's basketball team for the 2018-19 season.

"This is an exciting recruiting class," said Aces head coach Matt Ruffing. "In this class, our staff sees winners, leaders, shooters, defenders, and rebounders. This group will add much needed versatility to our lineup."

Evansville's crop of signees features six incoming freshmen and a transfer, representing five states including a pair of incoming student-athletes from Indiana and Missouri and single student-athletes coming to Evansville from Florida, Kentucky, and Minnesota.

Joining the Aces for the 2018 season are Tayzha Buck (Red Wing, Minn.), Sydne Caddy (Fernandina Beach, Calif.), A'Niah Griffin (Louisville, Ky.), Anna Newman (Evansville, Ind.), Jada Poland (St. Louis, Mo.), Sydney Tucker (Frankton, Ind.), and Makayla Wallace (Kirkwood, Mo.).

"This seven-member class has a special opportunity to leave a lasting mark on this program," said Ruffing. "Now it's time to get to work!"

The first signee of the 2018 class for the Aces is guard Tayzha Buck. A native of Red Wing, Minn., Buck was named class AAA All-State in Minnesota after a strong senior campaign at Red Wing High School. Buck averaged 14.9 points per game last season for the Wingers.

Another guard joining Evansville is Sydne Caddy. Coming to the Aces from Fernandina Beach High School in Fernandina Beach, Fla., the 5'10" guard averaged 12.2 points per game a season ago at Fernandina Beach High School, adding 4.8 rebounds, 4.0 assists, and 3.0 steals per contest.

Joining the Aces as an incoming freshman is A'Niah Griffin. Hailing from Louisville, Ky., Griffin starred for Louisville Manual High School. Griffin helped lead Manual to the final eight of the Kentucky High School Sports Association Girls Basketball Tournament in 2018.

Traveling just down the road to wear the purple and white is guard Anna Newman. The Evansville North High School product averaged a career-high 18.2 points per contest during her senior campaign in 2017-18, earning her a spot on the Indiana All-Star team. Newman was one of just 13 girls basketball seniors from the state Indiana to be named to the prestigious team. The all-time leading scorer in North High School history, Newman amassed 1,417 points during her career for the Huskies and helped lead North to 64 wins including 20 in 2016-17, a school record.

Following a pair of seasons at North Texas, forward Jada Poland returns to the Midwest. The St. Louis, Mo. native saw three starts for the Mean Green this past season as a sophomore, averaging 2.2 points and 3 rebounds per game, including tying a career-high with 10 boards against Western Kentucky on January 26. In high school, Poland averaged 15.7 points per game in her senior season, while averaging a double-double over her final two prep seasons. Poland continues to hold the Fort Zumwalt High School career women's basketball scoring mark with over 1,400 points.

After a strong prep career, guard Sydney Tucker travels south to join Ruffing's team. A native of Frankton, Ind., Tucker averaged 19.8 points, 4.3 rebounds, 3.2 steals, and 2.1 rebounds in her senior season at Frankton High School where she led the Eagles to an IHSAA semi-state appearance in 2017-18.

A 5'4" point guard, Makayla Wallace is the sixth signee for the Aces. Coming to Evansville from Kirkwood, Mo., Wallace enjoyed a strong senior season with Kirkwood High School as the point guard helped lead the Warriors' to back-to-back Missouri Class 5 girls basketball state championships and three-straight state semifinal appearances.
Change the Play Camp returns to UE in June
With the help of Indianapolis Colts Quarterback Andrew Luck, Riley Children's Health is hosting several camps throughout Indiana this summer, including one at the University of Evansville on June 26!
Not only will kids be active, but they'll also have fun and learn to make good choices when it comes to food, exercise and their wellbeing.
This camp is:
One hour of high-energy fitness and nutrition stations alongside Andrew Luck
Led by a Riley Children's Health team member and local athlete volunteers
Designed for children ages 5 to 13
All camps are free of charge, but are limited to 250 children per session.
Register at rileychildrens.org/evansvillecamp. Camp times are 10:30 a.m. and 12:30 p.m.
Contribute to AceNotes
To have content considered for inclusion in AceNotes, please submit a Marketing Request Form. Deadline for submission to AceNotes is 10:00 a.m. on the requested date of publication. Only articles concerning UE related/sponsored activities will be accepted. Articles submitted to AceNotes may be edited for length and clarity. Submitter contact information is at the end of each article.