| | |
| --- | --- |
| AceNotes Today | Tuesday, May 22, 2018 |
Campus closed May 30 due to planned water outage
Due to the ongoing Weinbach Avenue water main upgrade project, there will be two upcoming water outages significantly affecting campus.

The first will be May 23. It will only affect the water supply on Lincoln Avenue east of Weinbach and will last 4-6 hours. There will be no disruption of campus air conditioning with this outage. University buildings to be affected are:
2004 Lincoln (Advancement Services)
University Apartments
Lincoln Park Apartments
Panhellenic Center
Ramona Apartments
Hazeart Apartments
The second water outage will be May 30 and will last 4-8 hours. It will affect the main campus water supply, disrupting distribution of hot and cold domestic water and preventing us from delivering chill water and steam to most of the campus buildings. Because this outage affects the water supply and air-conditioning to such a large portion of campus, the University will be closed May 30.
The facilities department will restore steam, chill water, and domestic cold and hot water once the water main work is complete and all services should be back online the evening of May 30.

For approximately 48 hours after both of these outages, there will be a precautionary boil advisory.
The City of Evansville's position on this states, "While the potential for contamination of the drinking water is unlikely, the Evansville Water Utility is advising customers in the affected area to bring all cooking and drinking water to a complete boil for five (5) minutes before using". During this advisory, showering, clothes washing and handwashing will be allowed, however all affected campus water fountains will be tagged as a precaution."
UE Community invited to news conference on Ashoka designation and new Center for Innovation & Change
The University will be announcing details of a global recognition as well as the launch of a new Center for Innovation and Change at a news conference TODAY - Tuesday, May 22. The event starts at 2:00 p.m. in the Bernhardt Atrium in the Schroeder School of Business Building. Everyone is invited to attend!
Recently it was announced that UE has been designated by Ashoka U as the first Changemaker Campus in Indiana for its role as a leader in social innovation and changemaking in higher education. UE President Tom Kazee, Evansville Mayor Lloyd Winnecke, UE President-elect Christopher Pietruszkiewicz, and Executive Director of UE's new Center for Innovation and Change Jill Griffin will share details about what this means for the University, its students, and the City of Evansville at the press conference.
Eykamp String Quartet and cellist Jenny Farny performing at Wired tonight
The "Coffee and Classics" Series at Wired continues this evening with the Eykamp String Quartet and guest cellist Jenny Farny performing Schubert's beloved String Quintet in C major, D.956. Jenny Farny and Kirsten Jermé will start the concert with cello duos before being joined by violinist Robert Anemone, guest violinist Maria Semes of the Louisville Orchestra, and violist Emily Brandenburg for the double-cello quintet. "Coffee and Classics" is a monthly series at the Wired Venue on select Thursday evenings featuring live classical chamber music in an intimate setting. Doors to the coffee house will open at 6:00 p.m., and the program will begin at 7:00 p.m. There is no admission charge, but donations are appreciated.
Please mark your calendars for the final concert of this season's "Coffee and Classics" Series on June 21, featuring hornist Emily Britton and friends!
WIRED is located at 111 NW 4th Street in downtown Evansville on 4th between Vine and Sycamore near the Old Courthouse.
RE-Thinking Diversity Summer Series: Dialogue on Race Offers First Session June 6
This summer the Office of Diversity Initiatives will offer one-hour session that will provide interactive dialogue to allow
campus participants to think and discuss about how to re-think everything you ever knew about race. The sessions will provide solution-oriented steps and strategies as well as resources for participants.
The first session will be offered on Wednesday, June 6, entitled, "Past to the Present," and participants must RSVP by Monday, June 4. The discussion will center around racism in the United States, its long and appalling past and presented by Rob Shelby, PhD, assistant professor/sociology.
The session will begin at noon at the Diversity Resource Center, 436 Weinbach Avenue (The House with the Purple Door.) Participants are encouraged to bring their lunch but drinks and snacks will also be offered.
Sessions are intended for any campus members and friends (i.e., faculty, staff, students, alumni or administrators). Anyone attending all of the sessions will be given a certificate of completion of Diversity and Inclusion at UE at the end of the summer sessions.
Submitted by LaNeeca Williams lw161@evansville.edu
UE Bookstore Hours
The UE Bookstore will be closed on the following days: May 28 (Memorial Day), May 30 (Campus Wide Close), May 31(Year End Inventory). We will resume normal summer hours on Friday, June 1.
Submitted by Doug Gustwiller dg57@evansville.edu
UE's Open Table theology institute still accepting applications and nominations
The Office of Religious Life at the University of Evansville is again hosting the Lilly Endowment funded Open Table, a weeklong immersion experience for rising high school sophomores, juniors, and seniors, July 15-22. Students will stay in the residence halls on campus, take field trips, participate in theology classes, worship, and dialogue with their peers in small groups. Time and space will be given to thinking and talking about the dramatic story of the Christian tradition, how Christians relate to the other Abrahamic traditions, and how God calls us into the world to make a difference in the lives of others.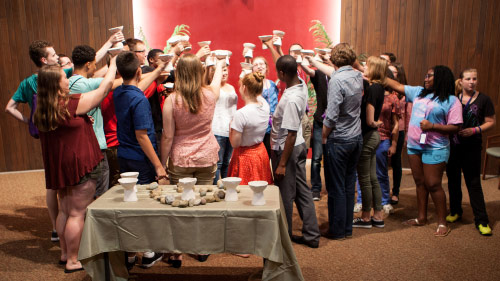 Here is the link to the Open Table website: www.evansville.edu/opentable. Click the white button on the right side of the page to nominate one or more of high school students.
Here is a link to a video we've created, which might help interpret how Open Table can transform lives: https://youtu.be/QAYyLLGett8.
The deadline is fast approaching (June 1) with just a few slots available. If there are students you know should attend, please make your nomination as soon as possible. For more information, please email tg85@evansville.edu.
Submitted by Tamara Gieselman tg85@evansville.edu
Aces Place open this summer!
Get your beverages, snacks, and sandwiches this summer at Aces Place. We are open for self-service when Ridgway University Center is open. Use credit or newly purchased Ace Bucks.*
*All Ace Bucks purchased through WebAdvisor as part of a meal plan will not be available to use until August 21. If you would like to purchase Ace Bucks to use this summer at Ace's Place, please visit the Chartwells office. Ace Bucks purchased this summer carry over to the fall semester.
Submitted by Michael Tessier mt28@evansville.edu
UE Orchestra Calling for Musicians!
University Symphony Orchestra/String Chamber Ensemble Calling for musicians. Students, staff, faculty, and administrators are invited to play in the University Symphony Orchestra and String Chamber Ensemble. The University Symphony Orchestra meets on Monday at 5:30 p.m. and Wednesday at 4 p.m. The String Chamber Ensemble meets on Thursday at 4 p.m. in the Krannert Hall of Fine Arts. Come join us!
E-mail Chun-Ming Chen, director of orchestral activities at cc319@evansville.edu for more information.
Summer Health Screenings
For those enrolled in the HRA Medical Plan, earn HRA credits and qualify for lower medical premium rates by participating in the On-site Wellness Screenings. Screenings will be held June 12, 13, 14, and 15 from 7:00-11:00 a.m. each day in the Employee Health Clinic. Sign up through the main page of AceLink. Remember to fast 8-12 hours on the day of your screening. Contact ac375@evansville.edu with any questions.
May Pcard Cycle is Ending!!
The May Pcard Cycle, which began April 24, ended at midnight on May 21. Cardholders may schedule and run the May Cycle report. May transactions may be reconciled in SDG2 until May 28. On May 28, the general ledger Pcard file will be uploaded and cardholders will be locked out of (unable to make changes) posted transactions for the May Cycle.
Cesar H. Guitunga receives the Guthrie May Award
The Outstanding Senior Service Awards are named for two of the University's most respected alumni, Mabel Dillingham Nenneker and Guthrie May. This year, Cesar H. Guitunga, Jr. was given the Guthrie May Award for outstanding senior man.
Guitunga came to UE from Maputo, Mozambique, and graduated with a Bachelor and Master of Science in Health Services Administration degree. He was a member of UE's soccer team and a volunteer soccer coach at Caze Elementary School. Guitunga was a resident assistant and head resident, an international orientation leader, a member of the International Student Club, and co-host of the International Bazaar. He was appointed student representative on the University Academic Honor Council, and was president/co-chair of recruitment for UNICEF Campus Initiatives. Guitunga also was a human resource intern for Deaconess Health System.
He plans to be an elementary educator, and will attend graduate school at Loyola University Maryland.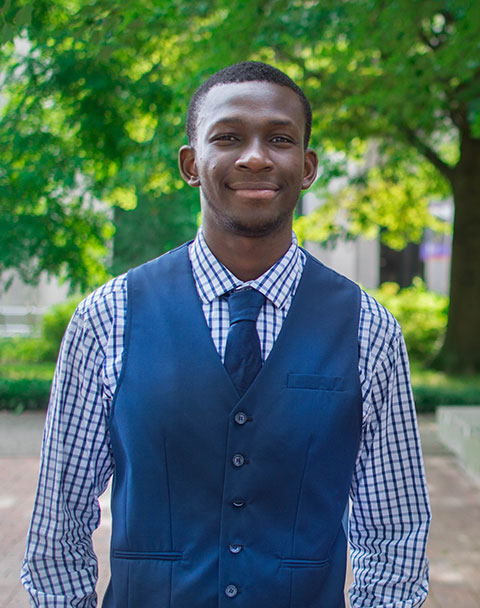 Kristen Fowler awarded Mabel Fillingham Nenneker Award
The Outstanding Senior Service Awards are named for two of the University's most respected alumni, Mabel Dillingham Nenneker and Guthrie May. This year, Kristen M. Fowler received the Mabel Dillingham Nenneker Award for outstanding senior woman.
Fowler graduated with a Bachelor of Science in psychology with minors in neuroscience and ethics. She has a passion to serve others, and credits her UE professors for pushing her to be interdisciplinary in the classroom and in extracurricular activities.
During her time at UE, she has had several internships and been engaged in research. On campus, she was a Phonathon caller, a member of the Chi Omega sorority, the Honors Activities Board, UE Leadership Academy, and vice president for Scholars for Syria. Fowler aspires to be a school psychologist, so she "can impact children in great ways."
In the fall, she will begin working toward her PhD at the University of Tennessee.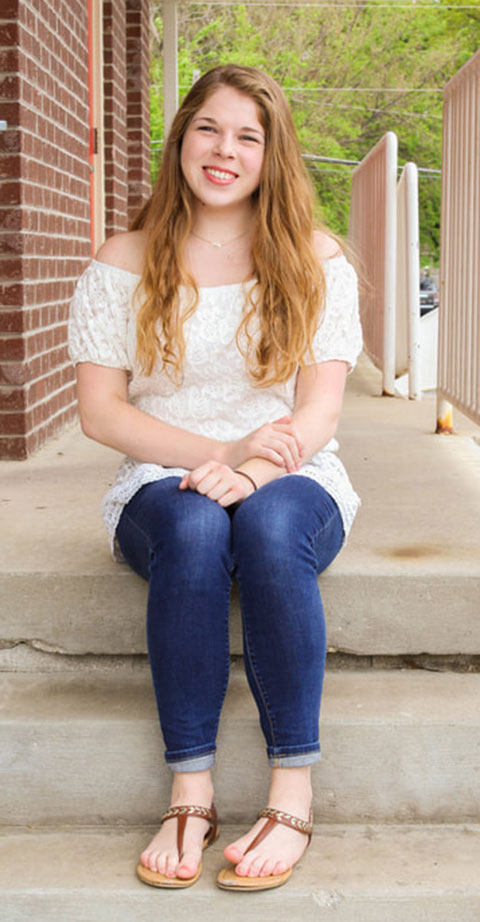 Dave Dwyer awarded Eykamp Prize at 160th Commencement
Through the generosity the Eykamp Family, an award for members of UE faculty was created to recognize those who have displayed extraordinary service to the University.
This year, the Eykamp Prize was awarded to David Dwyer, mathematics professor and chair of the math department.
During his tenure at UE, Dwyer has received the Dean's Teaching Award, the Alumni Association's Outstanding Teacher Award, and the Berger Award for Scholarship.
He secured two NSF grants totaling over $700,000, which funded the development of a textbook that is currently used in the University's calculus sequence. He was instrumental in the decision to create a statistics and data science program, and sought grants to fund its development.
Dwyer has been a member, chair, and co-chair of numerous campus committees. Recently he was a faculty representative on the Presidential Search Committee. Most notably, Dwyer spearheaded the Moonshot group of arts and sciences faculty who have put additional effort into assisting the Office of Admission.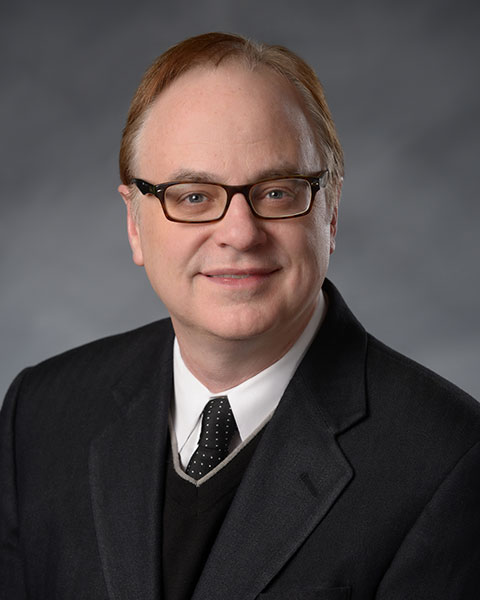 Tony Beavers honored as Outstanding Teacher of the Year at 160th Commencement
The Outstanding Teacher of the Year award honors distinguished service in teaching. Professor of philosophy Anthony Beavers has been named the Alumni Association's Outstanding Teacher of the Year for 2018.
Beavers received a new record number of nominations for this award, not only from students but also from alumni and faculty members. Those nominating him praised his innovative teaching style and his dedication to mentoring students.
Beavers came to UE in 1991 and has served the University not only as a professor but also as a department chair and director of cognitive science.
He earned his Bachelor of Arts and Master of Arts degrees in philosophy from Trinity College and his PhD in philosophy from Marquette University. Beavers has been published over 30 times and has been an invited speaker over 40 times. He has been a campus advisor to three out of six fraternities since beginning his career at UE.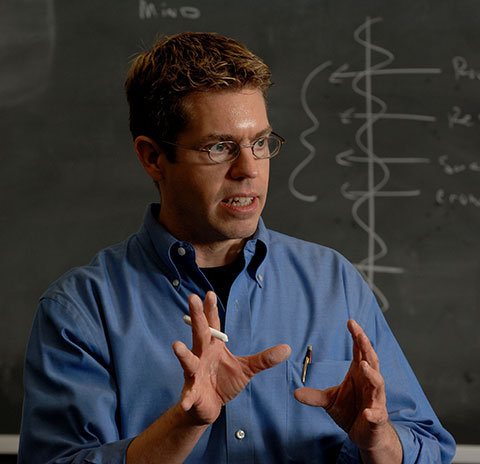 Thanks for Supporting UEVETS' Spare Change for Warriors Bowling Tournament
UEVETS student veterans organization and the Office of Veterans Affairs would like to thank the campus community for supporting the UEVETS' third annual Spare Change for Warriors charity bowling tournament. The health services administration team comprised of Cesar Guitunga, Dana Owens, Emily Baggett, Nehchal Bedi, Savannah Kern, and Sarah Harness won. Proceeds amounting to $1,670 were donated to Soldier Dogs for Independence, an Evansville organization that trains and places service dogs with veterans in need.
Harlaxton Manor featured in Country Life magazine
Harlaxton Manor was recently featured in Country Life magazine. The article, titled Harlaxton Manor, Lincolnshire: An American evolution, details the architectural history of the house and grounds including the restoration work done by UE. You can read the entire article here.
Eryn Gould and Morgan Florey earn NFCA All-Region honors
The National Fastpitch Coaches Association has announced that 389 student-athletes from 164 programs have received 2018 NFCA Division I All-Region accolades.
These awards honor softball student-athletes from the Association's 10 regions with first, second and third-team selections. NFCA member coaches from each respective region voted on the teams, and all the honorees now become eligible for selection to the 2018 NFCA Division I All-American squads.
Earning recognition from the University of Evansville softball team were Eryn Gould and Morgan Florey. Gould was named a utility player to the Mideast Region First Team while Florey was named as a pitcher to the Mideast Region Second Team. This marks the first time the Purple Aces have had two players recognized on the All-Region Team since 2006 when Alicia Laraway and Brittany Herald earned Second Team accolades.
"This is an exciting day for our program to have two players recognized on the NFCA All-Region Team," UE head coach Mat Mundell said. The accolades continue to come in for Eryn. She had one of best offensive season ever for a player at UE, let alone a freshman."
"Morgan continues to improve every season for us in the circle. This recognition helps to validate the season she had," Mundell added. "The big thing for us is we have both players coming back to help lead us next year. It's been awhile since UE had two All-Region players. We hope to carry this momentum going forward."
Gould, who was the 2018 Missouri Valley Conference Freshman of the Year, completed the season batting .377, one of the top five averages in the league. She also led the Valley with 13 doubles.
Florey set the Evansville program record with 303 strikeouts, becoming just one of six in the history of the MVC to reach the 300-strikeout mark. She set a career mark with 26 strikeouts this season against Southern Illinois, the 3rd-highest total in NCAA history.
Change the Play Camp returns to UE in June
With the help of Indianapolis Colts Quarterback Andrew Luck, Riley Children's Health is hosting several camps throughout Indiana this summer, including one at the University of Evansville on June 26!
Not only will kids be active, but they'll also have fun and learn to make good choices when it comes to food, exercise and their wellbeing.
This camp is:
One hour of high-energy fitness and nutrition stations alongside Andrew Luck
Led by a Riley Children's Health team member and local athlete volunteers
Designed for children ages 5 to 13
All camps are free of charge, but are limited to 250 children per session.
Register at rileychildrens.org/evansvillecamp. Camp times are 10:30 a.m. and 12:30 p.m.
Contribute to AceNotes
To have content considered for inclusion in AceNotes, please submit a Marketing Request Form. Deadline for submission to AceNotes is 10:00 a.m. on the requested date of publication. Only articles concerning UE related/sponsored activities will be accepted. Articles submitted to AceNotes may be edited for length and clarity. Submitter contact information is at the end of each article.