| | |
| --- | --- |
| AceNotes Today | Tuesday, May 15, 2018 |
Campus closed May 30 due to planned water outage
Due to the ongoing Weinbach Avenue water main upgrade project, there will be two upcoming water outages significantly affecting campus.

The first will be May 23. It will only affect the water supply on Lincoln Avenue east of Weinbach and will last 4-6 hours. There will be no disruption of campus air conditioning with this outage. University buildings to be affected are:
2004 Lincoln (Advancement Services)
University Apartments
Lincoln Park Apartments
Panhellenic Center
Ramona Apartments
Hazeart Apartments
The second water outage will be May 30 and will last 4-8 hours. It will affect the main campus water supply, disrupting distribution of hot and cold domestic water and preventing us from delivering chill water and steam to most of the campus buildings. Because this outage affects the water supply and air-conditioning to such a large portion of campus, the University will be closed May 30.
The facilities department will restore steam, chill water, and domestic cold and hot water once the water main work is complete and all services should be back online the evening of May 30.

For approximately 48 hours after both of these outages, there will be a precautionary boil advisory.
The City of Evansville's position on this states, "While the potential for contamination of the drinking water is unlikely, the Evansville Water Utility is advising customers in the affected area to bring all cooking and drinking water to a complete boil for five (5) minutes before using". During this advisory, showering, clothes washing and handwashing will be allowed, however all affected campus water fountains will be tagged as a precaution."
Neu Chapel begins Summer Services: Wednesdays at 5:30 p.m.
The Neu Chapel community is excited to announce it will begin holding weekly worship services on Wednesday evenings during the summer at 5:30 p.m. These simple, 30-minute services will include hymns featuring the beautiful Bösendorfer piano, a brief sermon, and Holy Communion. The campus community is welcome and invited to attend!
Submitted by Keith Turner kt160@evansville.edu
Summer Pcard Cardholder Training Schedule
The 2018 summer Pcard cardholder training session calendar is now available on the AceLink Pcard website under Training Materials/Dates to Remember. For questions or to reserve a training spot, contact the Office of Administrative Services at ext. 2941.
Submitted by Kim Winsett kw83@evansville.edu
UE Orchestra Calling for Musicians!
University Symphony Orchestra/String Chamber Ensemble Calling for musicians. Students, staff, faculty, and administrators are invited to play in the University Symphony Orchestra and String Chamber Ensemble. The University Symphony Orchestra meets on Monday at 5:30 p.m. and Wednesday at 4 p.m. The String Chamber Ensemble meets on Thursday at 4 p.m. in the Krannert Hall of Fine Arts. Come join us!
E-mail Chun-Ming Chen, director of orchestral activities at cc319@evansville.edu for more information.
Summer Health Screenings
For those enrolled in the HRA Medical Plan, earn HRA credits and qualify for lower medical premium rates by participating in the On-site Wellness Screenings. Screenings will be held June 12, 13, 14, and 15 from 7:00-11:00 a.m. each day in the Employee Health Clinic. Sign up through the main page of AceLink. Remember to fast 8-12 hours on the day of your screening. Contact ac375@evansville.edu with any questions.
Accounting procedures for summer travel and membership dues
Traveling this summer on UE business with a return date after May 31? Paying membership dues for next fiscal year prior to May 31?
If you pay for any of these expenses before May 31, you will need to contact Lori Harriss (lh177@evansville.edu) in Fiscal Affairs.
If you use WebAdvisor to create a web voucher, you will need to ask for the prepaid account number to be added to your choices.
If you use your Pcard prior to May 31 to pay for next year's travel or membership dues, you will need to email the following information:
1. Vendor name
2. Date of purchase on Pcard
3. Dollar amount charged to Pcard
4. Description and purpose of purchase
5. Account number charged for purchase
These expenses will be charged to your 2018-19 budget funds.
Submitted by Sam Fulkerson
Assistant Chaplain Keith Turner Receives Excellence in Preaching Award
Keith Turner, John Wesley Minister and assistant chaplain, received the Frank Bateman Stanger Senior Preaching Award from Asbury Theological Seminary in Wilmore, Kentucky on May 9. This prestigious award is given to a member of each graduating class who has demonstrated excellence in preaching, both in the crafting and delivery of sermons. Congratulations, Keith!
Pictured: Keith Turner with Dr. Stacy Minger, Associate Professor of Preaching, Asbury Theological Seminary.
UEPA department chair and faculty publish article
An article by University of Evansville physician assistant department chair Michael Roscoe and faculty members Andy Lampkins, Sean Harper, and Gina Niemeier will be featured in the May/June publication of Clinician Reviews. The article is titled "Heart Failure: A Dynamic Approach to Classification and Management."
Cesar H. Guitunga receives the Guthrie May Award
The Outstanding Senior Service Awards are named for two of the University's most respected alumni, Mabel Dillingham Nenneker and Guthrie May. This year, Cesar H. Guitunga, Jr. was given the Guthrie May Award for outstanding senior man.
Guitunga came to UE from Maputo, Mozambique, and graduated with a Bachelor and Master of Science in Health Services Administration degree. He was a member of UE's soccer team and a volunteer soccer coach at Caze Elementary School. Guitunga was a resident assistant and head resident, an international orientation leader, a member of the International Student Club, and co-host of the International Bazaar. He was appointed student representative on the University Academic Honor Council, and was president/co-chair of recruitment for UNICEF Campus Initiatives. Guitunga also was a human resource intern for Deaconess Health System.
He plans to be an elementary educator, and will attend graduate school at Loyola University Maryland.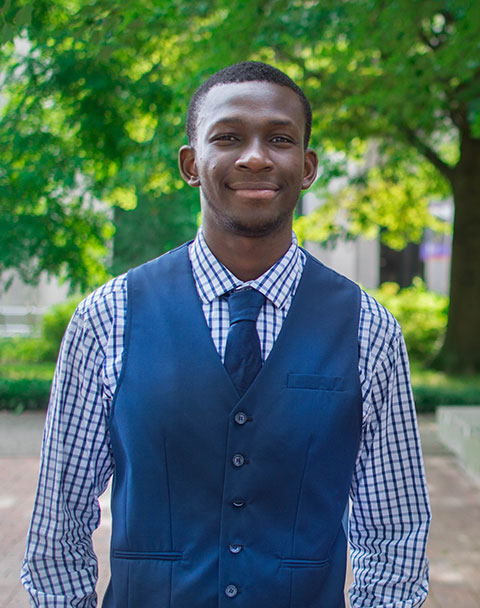 Kristen Fowler awarded Mabel Fillingham Nenneker Award
The Outstanding Senior Service Awards are named for two of the University's most respected alumni, Mabel Dillingham Nenneker and Guthrie May. This year, Kristen M. Fowler received the Mabel Dillingham Nenneker Award for outstanding senior woman.
Fowler graduated with a Bachelor of Science in psychology with minors in neuroscience and ethics. She has a passion to serve others, and credits her UE professors for pushing her to be interdisciplinary in the classroom and in extracurricular activities.
During her time at UE, she has had several internships and been engaged in research. On campus, she was a Phonathon caller, a member of the Chi Omega sorority, the Honors Activities Board, UE Leadership Academy, and vice president for Scholars for Syria. Fowler aspires to be a school psychologist, so she "can impact children in great ways."
In the fall, she will begin working toward her PhD at the University of Tennessee.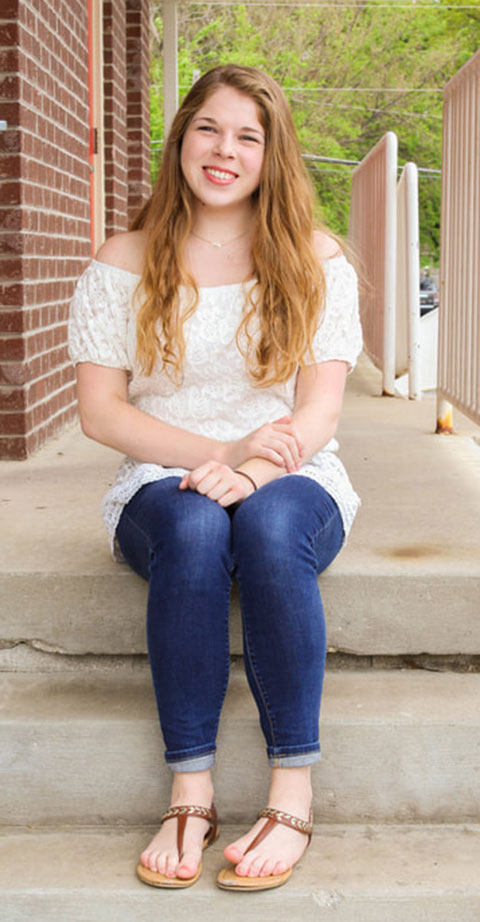 Dave Dwyer awarded Eykamp Prize at 160th Commencement
Through the generosity the Eykamp Family, an award for members of UE faculty was created to recognize those who have displayed extraordinary service to the University.
This year, the Eykamp Prize was awarded to David Dwyer, mathematics professor and chair of the math department.
During his tenure at UE, Dwyer has received the Dean's Teaching Award, the Alumni Association's Outstanding Teacher Award, and the Berger Award for Scholarship.
He secured two NSF grants totaling over $700,000, which funded the development of a textbook that is currently used in the University's calculus sequence. He was instrumental in the decision to create a statistics and data science program, and sought grants to fund its development.
Dwyer has been a member, chair, and co-chair of numerous campus committees. Recently he was a faculty representative on the Presidential Search Committee. Most notably, Dwyer spearheaded the Moonshot group of arts and sciences faculty who have put additional effort into assisting the Office of Admission.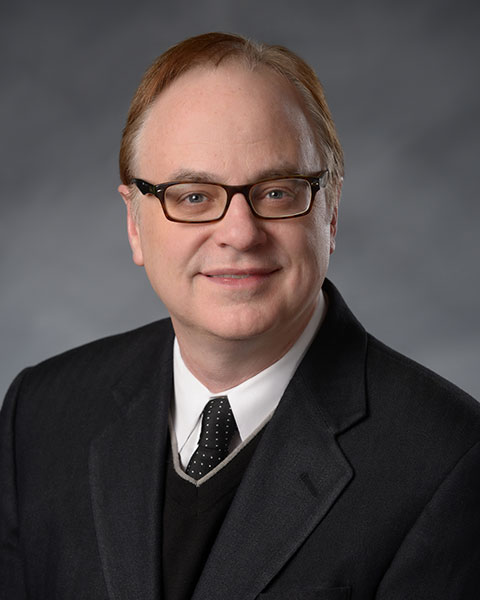 Tony Beavers honored as Outstanding Teacher of the Year at 160th Commencement
The Outstanding Teacher of the Year award honors distinguished service in teaching. Professor of philosophy Anthony Beavers has been named the Alumni Association's Outstanding Teacher of the Year for 2018.
Beavers received a new record number of nominations for this award, not only from students but also from alumni and faculty members. Those nominating him praised his innovative teaching style and his dedication to mentoring students.
Beavers came to UE in 1991 and has served the University not only as a professor but also as a department chair and director of cognitive science.
He earned his Bachelor of Arts and Master of Arts degrees in philosophy from Trinity College and his PhD in philosophy from Marquette University. Beavers has been published over 30 times and has been an invited speaker over 40 times. He has been a campus advisor to three out of six fraternities since beginning his career at UE.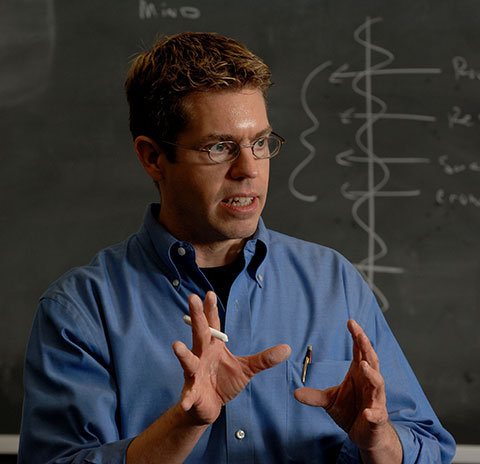 Chepchieng, Aces shine on final day at 2018 MVC Championships
On the final day of competition at the 2018 Missouri Valley Conference Outdoor Track and Field Championships, freshman Stanley Chepchieng's performance in the men's triple jump highlighted a strong day for the Purple Aces in Terre Haute, Ind.
Chepchieng became the first Ace in outdoor track and field history to score points for the team as the Kabarnet, Kenya native earned a seventh-place finish in the men's triple jump. In an event that the freshman had competed in just one time prior to Sunday, Chepchieng recorded a personal-best and the second-best distance in program history with a jump of 13.86 meters, earning the Aces a pair of points.
The second set of points earned by the Aces in the championships came in the men's 4x100 meter relay. Three freshman in Aaron Straight, Kevin Yeung. and Ian Alberts, along with Chepchieng captured a seventh-place finish in a time of 46.90, giving Evansville two more points to add to its tally.
In the women's triple jump, freshman Lizzy Walston led the way for Evansville, finishing in 11th with a jump of 9.87 meters.
A pair of Aces represented Evansville's men in the men's discus as freshman Chris Zapata (39.04 meters) edged junior Ryan Freeman (36.44 meters) as the two finished back-to-back in 15th and 16th, respectively. For the Aces' women, freshman Brittany Corley earned an 18th-place finish in the women's discus with a throw of 34.70 meters.
The Aces' women broke a program record in the women's 4x400 meters as the team of freshmen Lizzy Walston, Lauren Meyer, and Anna Lowry and junior Sienna Crews earned a ninth-place finish in a time of 4:11.20. On the men's side, Evansville also finished in ninth as freshmen Stanley Chepchieng, Ethan Price, and Ian Alberts and sophomore Ricky Hendrix crossed the line in a time of 3:35.74.
For the Aces, UE's men finished in ninth at the MVC Championships, finishing with four team points. In all, both teams combined to break six program records over the course of the three-day championship.
Illinois State captured the MVC women's outdoor track and field championship, holding a 31.5-point margin over Southern Illinois and Indiana State, who tied for second. Northern Iowa earned the MVC men's track and field championship with a total of 170 points, defeating second-place finishing Illinois State by just one point.
Indiana State 14, Evansville 9
The University of Evansville got out to a fast start, however Indiana State's bats proved to be faster in a marathon game, as the Sycamores downed the Purple Aces 14-9 Sunday afternoon at Bob Warn Field, taking the series' rubber match.
"Our offense gave us a chance today on Sunday Funday in the Valley with the series on the line", said Aces Head Coach Wes Carroll. "But from a pitching standpoint, we couldn't get a guy to get hot and get us outs. So we had to keep going to the pen."
The Aces came out swinging, putting up four runs in the opening frame, highlighted by junior second baseman Sam Troyer's three run home run, his second round tripper of the season. Evansville would tack on another tally in the top of the second inning on sophomore left fielder Troy Beilsmith's RBI single left, driving in senior shortstop Stewart Nelson, putting UE out in front 5-0.
After tossing a perfect first inning, sophomore hurler David Ellis ran into trouble in the second, as Indiana State tallied three runs, spearheaded by an RBI single by Roberto Enriquez. Ellis would stay into finish the frame, however his day was over two innings. From there, the Aces went through their entire bullpen, sending 8 relievers to the hill. The Sycamores would put up eleven more tallies on the board.
"We had a tough time with command all day", said Carroll. "And that's unfortunate."
Evansville's bats would battle back, with the second of two RBI singles from freshman third baseman Tanner Craig, a solo home run off the bat of senior first baseman Dalton Horstmeier, then a two-run single from Horstmeier. However, it wasn't enough, as the Aces dropped the five-run decision.
"Our guys were still fighting and competing, and I'm proud of their overall effort", said Carroll. "We just didn't do enough to get a series win on the road in the Valley."
The loss drops the Aces to 10-35 on the season and 2-16 in the Missouri Valley Conference, while Indiana State improves to 26-21 and 8-10 in the MVC.
Evansville is back on the road tonight as they play the back end of their home-and-home series with Belmont.
Contribute to AceNotes
To have content considered for inclusion in AceNotes, please submit a Marketing Request Form. Deadline for submission to AceNotes is 10:00 a.m. on the requested date of publication. Only articles concerning UE related/sponsored activities will be accepted. Articles submitted to AceNotes may be edited for length and clarity. Submitter contact information is at the end of each article.