| | |
| --- | --- |
| AceNotes Today | Wednesday, May 2, 2018 |
End of the Year Sale in UE Bookstore
The UE Bookstore is offering 20% OFF all clothing and gift purchases April 27-May 4 in conjunction with Book Buyback. Discount is off the original price of all items. Get some gear before you go home for the summer.
Submitted by Doug Gustwiller dg57@evansville.edu
Interfaith Baccalaureate Service: Saturday, May 5, 10:00 a.m.
All graduates and their families are invited to attend the 2018 Interfaith Baccalaureate Service this Saturday, May 5 at 10:00 a.m. in Neu Chapel. Baccalaureate is a religious service that gives thanks to God and offers prayer for the graduating class in the context of sacred ceremony. President Kazee will be offering words of wisdom, the University Choir will be singing; Board of Trustee members will be processing with faculty and administrators; and 2018 graduates will be participating in the service. Families are encouraged to arrive early for priority seating.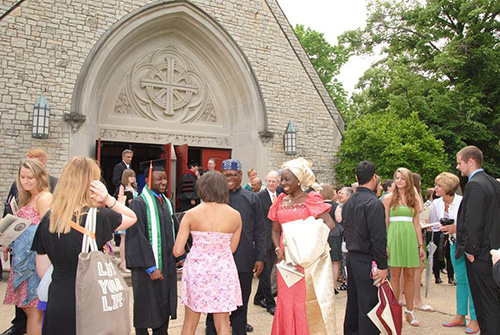 Graduates are invited to participate in the Baccalaureate service by wearing full regalia (cap, gown, and honors cords), and processing with faculty, members of the Board of Trustees, President Kazee, and other distinguished guests.
Graduates, if you have not registered yet, you are invited to do so by going to the Baccalaureate web page so that the appropriate number of seats may be reserved.
UE Commencement Planned for Saturday, May 5
The University of Evansville's 160th Commencement ceremony is planned for Saturday, May 5, at 1:30 p.m. at the Ford Center in downtown Evansville. A total of 487 degrees will be bestowed upon 466 University of Evansville students during the proceedings.
Graduates, if you have family and friends who will be unable to attend, please let them know that they can watch a live stream of the ceremony here: http://www.evansville.edu/live/
A video of the Commencement ceremony will be posted on this page in the coming weeks.
The University traditionally selects a graduating student to deliver the keynote address at spring Commencement and Cesar H. Guitunga Jr. Guitunga was selected to give this year's address. Guitunga came to UE from Maputo, Mozambique, and will graduate with Bachelor of Science and Master of Science degrees in Health Services Administration. He has been very involved in the UE community. As a member of the University's men's soccer team, he successfully balanced his athletic and academic responsibilities. Guitunga was among the top ten student-athletes who have engaged in community service.
Jacob Lutz, UE's Student Government Association president, will also deliver a message to the graduating class. Lutz is graduating with a Bachelor of Science degree in Communication and Multimedia Production.
During the ceremony, honorary Doctor of Humane Letters degrees will be presented to UE president Thomas Kazee and his wife Sharon Kazee and to Don Mattingly.
During his tenure at UE, President Kazee worked tirelessly to elevate the University's stature among private comprehensive liberal arts and sciences institutions. He is known for his passion for and commitment to excellence in education.
Before becoming UE's first lady, Sharon Kazee had already established a distinguished career in education encouraging young and old in the arts. Her commitment to arts and education at UE has been exemplary and enhanced the Evansville community.
Mattingly has enjoyed a long and esteemed career in professional baseball and received numerous awards in recognition of his notable achievements. He has never forgotten his hometown and has given personally and financially to support underprivileged youth organizations and promote sports in the Evansville area through Mattingly Charities.
The University of Evansville Alumni Association's Outstanding Teacher of the Year award, the Eykamp Prize, and the Outstanding Senior Service Awards will also be announced during the ceremony.
Free potluck Changemaking Picnic this afternoon
Join changemakers on campus at the Diversity House (the house with the purple door on Weinbach across from Hughes Hall), this afternoon - Friday, May 4 - from 1:00-3:00 p.m. for a celebratory potluck picnic. If you want to bring something, sign up here! Questions? E-mail Erin Lewis at EL131@evansville.edu.
Submitted by Erin Lewis el131@evansville.edu
Honoring Women Veterans Conference at UE
The ninth annual Honoring Women Veterans Conference is set for Saturday, June 16 from 8:00 a.m. - 4:00 p.m. in Ridgway University Center.
Special guest presentation by Stacy Pearsall, US Air Force Veteran and founder Veterans Portrait Project.
Get the most current information about military benefits.
Complimentary lunch and an afternoon of pampering with facials, manicures, massages, prizes, and more.
Meet fellow women veterans of all ages and branches of service.
Registration by June 1 is required for this FREE event for women veterans and current service members. Go to www.evansville.edu/veteransaffairs to register.
Call Cherie Leonhardt at 812-488-2141 with questions.
Submitted by Cherie Leonhardt CL29@evansville.edu
RSVP for Transitions from Military to College Luncheon and Discussion
UE faculty, administrators, and staff are cordially invited to a luncheon and discussion on the topic of "Transitions from Military to College" sponsored by the UE Office of Veterans Affairs set for Monday, May 7 from 11:00 a.m.-12:30 p.m. in Room 162 of the Schroeder School of Business Building.
Please RSVP by Tuesday, May 1 to Cherie Leonhardt at CL29@evansville.edu along with your meal preference:
1. Muffuletta vegetarian sandwich, house-made chips, side salad, chocolate chip cookie, water.
2. Mediterranean grilled chicken sandwich, house-made chips, side salad, chocolate chip cookie, water.
3. Roasted turkey with spinach and roasted pepper aioli sandwich, side salad, house-made chips, chocolate chip cookie, water.
UE has been an Institution of Higher Learning partner with the U.S. Department of Veterans Affairs since 2009 to provide education benefits through the Post 9/11 GI Bill. Since then, we have seen an increase in student veterans and current service member students. These students bring varied experiences with them to UE. This discussion is for everyone – the experienced working with student veterans, to the not so experienced. Please plan to attend to share your knowledge and bring your questions to the discussion. We hope you will plan to join us for this special opportunity to learn from each other.
Panelist include:
• Jacob Chandler – Current UE graduate student in Health Services Administration, UE VETS student veteran organization president, Army veteran
• Martha Brown - Transition and care management social worker Evansville VA Healthcare Center, licensed clinical social worker
• Mike Roscoe - director/chair/associate professor of physician assistant science at UE, Lieutenant Colonel in the Army National Guard
• Hilary Hillenbrand – Assistant director of financial aid and VA certifying official at UE
Submitted by Cherie Leonhardt CL29@evansville.edu
App created by UE student nominated in Best Social Impact category for 2018 Google Play Awards
An app created by University of Evansville student Willian Mallmann has been nominated in the Best Social Impact category for the 2018 Google Play Awards.
Mallmann's TODXS App is a free mobile application that compiles more than 800 LGBTI+ friendly laws, translated into more accessible language and now made available to the public.
The Google Play Awards celebrate the achievements of the developer community over the past year, by recognizing the best apps and games across nine categories. Each category includes five nominees. Nominees were selected by a panel of experts across the Google Play and product teams based on a criteria set emphasizing app quality, technical performance, innovation, and having a launch or major update in the last 12 months. The winner will be announced during an award ceremony on Monday, May 7.
Mallmann, who is from Brazil, is majoring in communications and business administration at UE.
Senior Changemaker Spotlight - Kiersten Hasenour
Kiersten Hasenour, Psychology and Sociology
Kiersten's work with Scholars for Syria, Student Success Team (and as an academic coach), and with Career Development (as a research assistant on a project in creating better career prep for A&S majors) are geared toward helping and supporting others to maximize their potential. Often thankless work, she provides support behind the scenes that allows many to have the confidence they need to achieve more than they thought possible. Drawing awareness to issues near and far (war and displacement in Syria; stress and struggle of college students; concerns over post-college plans) that people discuss but have little action to change. Kiersten IS the change she wants to see in the world, and in the worlds of those she helps.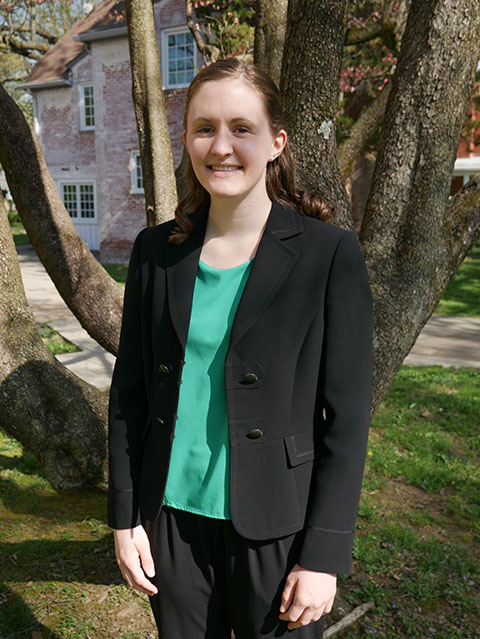 Nominated by Dr. Mari Plikuhn
PowerPoint Template
The PowerPoint template that is located on AceLink under Areas, Marketing and Communications, has been updated. Please use this template when creating PowerPoint presentations in the future. You should no longer use the PowerPoint presentation with IMPACT in the lower right hand corner.
Watch found in Koch Center
A men's watch was found in the second floor men's room in Koch Center, if you lost it, come by the main biology department office in Koch 231.
Habitat for Humanity Evansville and UE announce Purple Crew Signature Program!
Did you enjoy building those yard barns for Barn Blitz?
To continue this collaboration between Habitat and UE, we are pleased to announce the Purple Crew Signature Program!
Purple Crew is a program for all UE students, alumni, faculty and staff to help build houses and earn hours. The goal of Purple Crew is to make UE a visible force for good in the community as Habitat reaches for its goal of 500 homes this year.
How do you get involved?
Simply go to the Habitat website at www.evansvillehabitat.org/volunteer and click on the Volunteer Now banner. Register with Habitat as a volunteer and then select days that you can build. You can also register as a team, so bring your friends, office mates, and colleagues out for a day! It will be a super friendly environment when people know that you are UE Purple Crew! After 15 hours, you get your Purple Crew T-shirt. Another recognizable sign of UE out in the community building houses!
The program is active currently so you can volunteer all summer. We will also have lots of information in the new school year if you are not in Evansville in the summer but want to get involved.
For more information, please contact Holly Carter at hc110@evansville.edu. Remember that you can volunteer with no knowledge of building, we need willing spirits and open minds! Come and learn something new this summer and help others in our community!
P.S - Want to get started? There will be a women's build right here in Evansville on May 9. If 50 women come out to volunteer, Habitat gets a $5000 grant! Grab those hammers!
Submitted by Holly Carter hc110@evansville.edu
Necklace found
A necklace was found recently in the street on Norman Avenue. The chain is silver and it has an initial pendant on it. Please stop by the Office of Publications, Sampson Hall, to claim.
Requests for official excused absences during finals
Please note that the Dean of Students office will not grant official excused absences during finals except for extreme circumstances (i.e.: death of an immediate family member, emergency surgery, etc.). Students who feel they are unable to take a scheduled final exam should work directly with their professors to discuss other possible options.
Need a box?
The UE Bookstore has a limited number of boxes available for students on a first come basis. We will limit two per student until the end of next week if we have a large stock remaining. Just come to the bookstore if you're interested in some moving boxes.
Submitted by Doug Gustwiller dg57@evansville.edu
Student Health Center announces reduced summer hours
The Student Health Center will begin reduced summer hours on Monday, May 7. Hours throughout the summer semester will be Monday-Friday from 8:00 a.m.-noon. There WILL NOT be a nurse practitioner on site throughout the summer semester for students. Please plan accordingly for prescription refills. The Health Center staff want to wish everyone a safe and healthy summer!
Submitted by Ashley Craig ac408@evansville.edu
Improve your UE residential experience - apply for UE Think Tank
If you'd like to improve your residential experience at UE, you should apply for the UE Think Tank!
The Think Tank is a FREE opportunity to have your voice heard. This conference will occur June 22-24 on UE's campus. Residence Life is covering the cost of housing, and RSA is covering the costs for meals and assorted snacks and breakfast items throughout. The only costs on your end are travel to and from campus.
This weekend long conference's goals are to
A) To get student input on different topics related to the residential student experience.
B) To start planning for the 2018-19 school year for Resident Students Association, and ensure a successful kickoff.
C) To allow like-minded students the opportunity to work together on residence life initiatives they deem important between academic years.
D) To provide an opportunity for leadership development, networking, and learning. Applications are due Monday, May 28 with acceptance emails being sent out on June 1. To apply, visit: https://goo.gl/forms/0ns3vf1CJaZQvzhH3.
Rental books due back to UE Bookstore by May 3
Rental books from the Spring semester rented through the UE Bookstore are due back by 5:00 P.M. on Thursday, May 3. Avoid the late fee and return on time before you leave for the summer. Mark your calendars for this reminder.
Submitted by Doug Gustwiller dg57@evansville.edu
Rosary Prayer at 10:00 a.m. on Thursdays
The Newman Club will be offering a 20-minute rosary prayer every Thursday at 10:00 a.m. in the Center for Academic Advising in the Clifford Memorial Library. Students and faculty are welcome. For more information, contact Olivia at ov4@evansville.edu.
Submitted by Carly Walker cw289@evansville.edu
Aces signee Jakub Hall named IndyStar Boys Soccer Player of the Year
After a stellar career at West Lafayette Harrison High School, Jakub Hall, a 2018 signee of the University of Evansville men's soccer team, continues to rack up the accolades. Sunday evening, Hall was named the IndyStar Boys Soccer Player of the Year, awarded to the state's top boys soccer player.
Hall helped lead the Harrison High School Raiders to a 3A State Championship in 2017 as the senior finished tied for most goals with 41, adding 10 assists. Hall's 92 points were tops among all boys soccer players in Indiana. In his career, Hall amassed 78 goals and 34 assists for the Raiders.
Previous to Sunday's honor, Hall was also named Lafayette Journal and Courier Boys Soccer Player of the Year as well as one of four All-American nominees from the state of Indiana.
Edwards to receive EdD in Higher Education and Organization Change
Geoff Edwards, assistant dean of students and director of the Center for Student Engagement, successfully defended his dissertation entitled "The Socially Responsible Activities of Private Colleges and Universities: Lessons in Recruiting an Incoming Class." Geoff will receive his EdD in Higher Education and Organization Change on June, 2, from Benedictine University in Lisle, IL. Congratulations Dr. Edwards!
UE Theatre Society hosts annual student awards dinner
On Thursday, April 26, the University of Evansville Theatre Society hosted its annual student awards dinner. A total of 136 students, faculty, administrators, staff, Theatre Society board members, and adopt-a-parents were in attendance.
The Buddy Barnes Award for Outstanding Freshman went to Lauren Ward, a stage management major from Ft. Worth, Texas.
The Mary Lou Muth Wooley Award for Outstanding Sophomore went to Sidney McCarty, a theatre studies major from Clarksville, Tennessee.
The Mabel Dillingham Nenneker Award for Outstanding Junior went to Bailey Brandvold, a theatre studies major from Great Falls, Montana.
The Jeannie Suhrheinrich Outstanding Senior Award is given to the person who has made the greatest overall contribution to the department over their four-year tenure. This year's award was given to Elizabeth Tredinnick, a design and technology major from Madison, Wisconsin.
The John W. Streetman Young Artist Award is given to an underclassman who exhibits the spirit and attitude of collaboration, commitment, and courage in the classroom and production. This year's award recipient is Alexandra Curren, a junior performance major from McKinney, Texas.
The William A. Gumberts Award honors the single most artistic accomplishment of the year and was awarded to Jacob Sellers, a senior theatre studies major from Fort Branch, Indiana, for his direction of Bertolt Brecht's Mother Courage and Her Children, a May Studio Theatre production.
Ray Lutgring, Dean of the William L. Ridgway College of Arts and Sciences, recognized Christia Ward, retiring associate professor of acting, voice and speech. Eric Renschler, chair of the Department of Theatre, recognized John David Lutz, professor of acting and directing, who, after 53 years, is retiring as the longest-serving faculty member in the history of the University of Evansville.
UE Theatre Society Board President Lori Smith thanked her committee for their work in making the Theatre Society's Golden Anniversary Gala a huge success and noted that the 50-year-old organization is looking forward to continuing their mission to aid the progress of the University of Evansville Theatre by serving as an advocating society in support of all functions of the department, its faculty, and its students.
Dean's Teaching Awards
The academic deans have awarded the Dean's Teaching Awards for 2018-19. The faculty members being honored are:
Andrew Lampkins, associate professor of physician assistant science from the College of Education and Health Sciences;
Suresh Immanuel Selvaraj, associate professor civil engineering from the College of Engineering and Computer Science;
Atefeh Yazdanparast Ardestani, assistant professor of marketing from the Schroeder Family School of Business Administration;
Mark Shifflet, professor of communication from the William L. Ridgway College of Arts and Sciences; and
Adam Salminen, associate professor of mathematics also from the William L. Ridgway College of Arts and Sciences.
Congratulations to our deserving faculty members.
Contribute to AceNotes
To have content considered for inclusion in AceNotes, please submit a Marketing Request Form. Deadline for submission to AceNotes is 10:00 a.m. on the requested date of publication. Only articles concerning UE related/sponsored activities will be accepted. Articles submitted to AceNotes may be edited for length and clarity. Submitter contact information is at the end of each article.