| | |
| --- | --- |
| AceNotes Today | Wednesday, April 25, 2018 |
Psychology student presentations today
Psychology research students will be presenting their semester-long research projects in Room 68 in the Schroeder School of Business Building today - April 25 - from 2:00-4:00 p.m. Please stop by and speak to some of our students about their interesting projects!
Submitted by Sarah Underwood su4@evansville.edu
SAA Give Back Night at Azzip Pizza
Don't want to cook today? Need a study break? SAA has the event for you! Support the Student Alumni Ambassadors as they host a Give Back Night from 11:00 a.m.-9:00 p.m. at the east side Azzip Pizza, located at 2121 North Green River Road.
The University of Evansville Student Alumni Ambassador program will receive 20% of the purchase when the flyer is shown! Show this printed flier or a screen shot from your phone.
Submitted by Nichole Coffey ns50@evansville.edu
Debbie Marshall and Suzanne Bailey retirement celebration
Please come help the nursing department celebrate the retirement of two of our finest. Debbie Marshall and Suzanne Bailey will be retiring at the end of this school year. Come to Graves Hall 240 at 2:00 p.m. this afternoon to help us celebrate their combined years of service to the University and the nursing department.
Submitted by Laura Connors lr23@evansville.edu
2nd Annual Stand Against Racism on Campus
TAKE A STAND WITH YWCA for peace, justice, freedom and dignity for all. JOIN US today - Wednesday, April 25 - outside Ridgway University Center for a day of events. All are welcome to attend and be a part of the day's events.
Event Line-Up:
11:15 a.m. Press Conference and Stand Against Racism Pledge
Noon – 1:00 p.m.: Anti-bias training with business leaders (Eykamp Hall, Room 251) Registration required, free lunch provided)
2:00 – 5:00 p.m.: Community information tables (prizes and giveaways)
3:00 – 4:00 p.m.: Open Mic - Poetry, Monologues, and Passive Poster Protest Display (all are welcome to participate)
4:00 – 5:00 p.m.: Panel discussion with community leaders on racial justice and equality
6:00 – 7:00 p.m.: Robert Jackson, Key Note Speaker - Respect & Compassion For All (Eykamp Hall, Room 251)
In the event of rain, events will move inside Ridgway University Center.
For more information, please e-mail Erika Taylor at etaylor@ywcaevansville.org or LaNeeca Williams at lw161@evansville.edu
Blessing of the Brains tonight at 8:00 p.m.
Come to Neu Chapel tonight at 8:00 p.m. for a 25-minute mass and a special blessing of the brains before finals by Fr. Christian Raab! All are welcome!
Submitted by Gabrielle VanBuskirk gv19@evansville.edu
Lunch and Panel Discussion - Transitions from Military to College
Faculty, administrators, and staff are invited to a luncheon and discussion on the topic of student veterans' transitions from military to college set for Monday, May 7 from 11:00 a.m. - 12:30 p.m. in Room 162 in the Schroeder School of Business Building. Please attend to share your knowledge and bring your questions to the discussion. RSVP for your lunch to Cherie Leonhardt by Tuesday, May 1 at CL29@evansville.edu or 812-488-2141.
Submitted by Cherie Leonhardt CL29@evansville.edu
Tune in for Graduating Senior Spotlight this Sunday!
Be sure to listen to WUEV this Sunday, April 29, from 9:00-11:00 p.m. for Graduating Senior Spotlight! The show will feature four interviews with graduating seniors, along with alternative and classic rock music. WUEV's frequency is 91.5, or you can listen to the show by searching for WUEV within the TuneIn app for mobile devices (works anywhere in the world with a Wi-Fi/data connection).
Submitted by Alice Daum ad209@evansville.edu
Free paper shredding today
Free off-site paper shredding by Piranha Mobile Shredding will return to campus once again today (Reading Study Day) from 10:00 a.m.-1:00 p.m. All UE students, faculty, staff, and alumni can take advantage of this free service by bringing paper to the Piranha truck in Koch Center for Engineering and Science parking lot. Paper will be shredded off-site.
So, if mounds of paper are taking over your office, home, or room, this is the time to gather those old files, receipts, cancelled checks, tax forms, etc. No need to take out the staples or paper clips. Avoid identity theft by having confidential information permanently destroyed.
Please - no telephone books, magazines, or newspapers. Also, please note that there is a 100-pound paper limit per visit (number of visits is not limited).
Submitted by Amber Elkins ae152@evansville.edu
Free obsolete electronics recycling on April 26
Recycle your obsolete electronics on April 26 on Hale loop drive from 10:00 a.m.-1:00 p.m.! Students and employees (faculty, administrators, and staff) can bring the following personal, obsolete electronic equipment to be recycled at no cost:
• LCD displays, LCD TV's and LCD monitors, computers, printers, fax machines, laptops, cell phones, PDAs, cables, circuit boards, connectors, electrical equipment, audio video equipment, DVD players, stereos, radios, calculators, speakers, VCRs. Small quantities of batteries will be accepted.
The following items will NOT be accepted:
• CRT TV's and CRT computer monitors, fluorescent light bulbs (including compact bulbs), refrigerators, freezers, microwaves, stoves, vacuum cleaners, dehumidifiers, leaking batteries and any other items C&I deems unallowable. Electronics owned by the University.
NOTE: The cost of processing CRT TV's and CRT computer monitors has increased significantly, and the University is no longer able to cover these items. However, these items may be brought to C&I Electronics located at 1700 N Lafayette Ave, Evansville, IN 47711, Monday-Friday from 9:00 a.m.-5:00 p.m.
For more information or questions contact Amber Elkin at ae152@evansville.edu or ext. 2697.
Submitted by Amber Elkins ae152@evansville.edu
Reading/Study Day relaxation event
Finals got you stressed?
Counseling and health education, with the help of SAB and SGA, are planning the bi-annual relaxation event on Reading/Study Day. This is a great way for students to de-stress and learn positive coping strategies prior to the start of finals. The event is set for today from 11:00 a.m.-2:00 p.m. in Eykamp Hall, Rooms 253-255, Ridgway University Center.
Participants can enjoy a chair massage, aromatherapy, yoga mats, and other mindfulness activities.
Submitted by Jennifer Hargus jh693@evansville.edu
Reception for Gail Vignola set for today
Please join us in thanking Gail Vignola, Writing Center director and assistant professor of IEC, for her dedicated service to UE as we wish her well in her new endeavors. A reception will be held today - April 27 - from 2:00 to 4:00 p.m. in the Writing Center, Room 253 in the Clifford Library. All are welcome.
Submitted by Paula Heldt ph28@evansville.edu
Baseball Picnic sponsored by SAB
SAB will be holding a picnic for the UE baseball game against USI on August 25. The picnic starts at 5:00 p.m. and will end at the start of the game at 6:00 p.m. There will be free burgers offered to UE students. Come out to support the team and enjoy free food!
Submitted by Allie Winstead aw362@evansville.edu
Farewell gathering for counselors Sylvia Buck and Liz McCormick
Please join the office of student life as we say goodbye to two of our counselors. Counseling director Sylvia Buck will be retiring after many years at the University and Liz McCormick will be moving to Georgia. Eat cake and give them well wishes in the Class of 59 Gallery and Lounge upstairs in Ridgway University Center this afternoon from 2:30-4:00 p.m.
Submitted by Jennifer Hargus jh693@evansville.edu
Enjoy a coffee courtesy of SAB today
To celebrate the end of a great year and gear up for the first full day of finals, enjoy a free cup of coffee, tea, or hot chocolate courtesy of SAB today - Friday, April 27. Stop by Rademacher's Lounge in Ridgway University Center to pick up your free cup anytime between 9:00 a.m.-9:00 p.m. Happy finals!
Submitted by Megan King mk225@evansville.edu
IOTA is the new IDEA: Course Evaluations
Thanks to the 1,484 students who have already responded to the new online course evaluation system called IOTA. Just a friendly reminder that course evaluations will be closed at 11:59 p.m. TODAY!
We value your input! If you have any questions or problems accessing the evaluations through Blackboard, please contact Mark Valenzuela (mv23@evansville.edu) or Amanda Ireland (ai41@evansville.edu).
Call for papers for Andiron Lecture Series 2018-19
UE faculty and administrators as well as members of the Evansville community are invited to submit an abstract for papers on any aspect of their research or expertise for the 2018-19 Andiron Lectures in the Liberal Arts and Sciences. All disciplines and fields of study are welcome to submit proposals.
Please send the following by e-mail:
A 50-word abstract with name, academic affiliation/ occupation, paper title, and contact information to Annette Parks at ap3@evansville.edu (with a Cc to Cheryl Emmons at ce36@evansville.edu). Emmons will forward these to the Andiron Lecture Committee for consideration.
Nominations for off-campus speakers can be sent by e-mail to Parks at ap3@evansville.edu with a Cc to Emmons at ce36@evansville.edu; Emmons will forward them to the Andiron Lecture committee for consideration.
Student Health Center announces reduced summer hours
The Student Health Center will begin reduced summer hours on Monday, May 7. Hours throughout the summer semester will be Monday-Friday from 8:00 a.m.-noon. There WILL NOT be a nurse practitioner on site throughout the summer semester for students. Please plan accordingly for prescription refills. The Health Center staff want to wish everyone a safe and healthy summer!
Submitted by Ashley Craig ac408@evansville.edu
University of Evansville Announces Institute for Public Health
The University of Evansville has announced a new Institute for Public Health, which will facilitate partnerships that provide hands-on experiences to students while addressing community needs in the area of public health.
The mission of the institute is to "cultivate multidisciplinary partnerships among faculty, students, and community members in ways that support the planning and development of evidence-based programs and sound policy."
"The community is where we work," said William McConnell, PhD, JD, MPH, director of the Institute for Public Health at UE. "The institute will provide UE students and faculty a platform to come together with the community to solve real public health issues."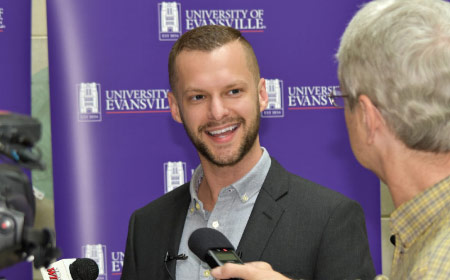 William McConnell, PhD, JD, MPH, director of the Institute for Public Health at UE, was interviewed following the April 24 press conference at the University of Evansville.
The institute's first major project has been leading and collaborating with 11 hospital systems around the state of Indiana to conduct a 39-county Community Health Needs Assessment. Projects like this not only connect the University with communities and leaders in health but also provide a range of opportunities for student and faculty collaboration and research.
In addition to serving area needs, McConnell says this is a great opportunity for collaboration across the university and community.
"The Institute for Public Health will be genuinely interdisciplinary, involving students and faculty members from across the institution," McConnell said. "It is an area that intersects with many of our disciplines - sociology, political science, management, marketing, data science, civil engineering, ethics and social change, and all of our health fields, just to name a few."
"The services offered by the Institute for Public Health are a great addition to the already remarkable collaborative efforts happening at the downtown health science center," said UE president Tom Kazee. "UE's physician assistant and physical therapy programs will be located at the downtown facility, offering numerous opportunities for the institute's involvement in interprofessional education and collaboration."
For more information or to request consultation on a public health issue, please visit the institute's website.
Fitness Finals Week Hours
The Fitness Center hours during finals week will be:
Thursday, April 26-Friday, April 27: 8:00 a.m.-7:00 p.m.
Saturday, April 28-Sunday, April 29: 11:30 a.m.-5:30 p.m.
Monday, April 30-Friday, May 4: 8:00 a.m.-7:00 p.m.
Saturday, May 5-Sunday, May 6: Closed
Submitted by Lori Adams la87@evansville.edu
Improve your UE residential experience - apply for UE Think Tank
If you'd like to improve your residential experience at UE, you should apply for the UE Think Tank!
The Think Tank is a FREE opportunity to have your voice heard. This conference will occur June 22-24 on UE's campus. Residence Life is covering the cost of housing, and RSA is covering the costs for meals and assorted snacks and breakfast items throughout. The only costs on your end are travel to and from campus.
This weekend long conference's goals are to
A) To get student input on different topics related to the residential student experience.
B) To start planning for the 2018-19 school year for Resident Students Association, and ensure a successful kickoff.
C) To allow like-minded students the opportunity to work together on residence life initiatives they deem important between academic years.
D) To provide an opportunity for leadership development, networking, and learning. Applications are due Monday, May 28 with acceptance emails being sent out on June 1. To apply, visit: https://goo.gl/forms/0ns3vf1CJaZQvzhH3.
April Pcard Cycle Ending!
The April Pcard Cycle which began on March 22 will end at midnight on April 23. As of April 25, cardholders may schedule and run the April Cycle report. April transactions may be reconciled in SDG2 until April 30. On April 30, the general ledger Pcard file will be uploaded and cardholders will be locked out of (unable to make changes) posted transactions for the April Cycle.
Submitted by Kim Winsett kw83@evansville.edu
Rosary Prayer at 10:00 a.m. on Thursdays
The Newman Club will be offering a 20-minute rosary prayer every Thursday at 10:00 a.m. in the Center for Academic Advising in the Clifford Memorial Library. Students and faculty are welcome. For more information, contact Olivia at ov4@evansville.edu.
Submitted by Carly Walker cw289@evansville.edu
Financial aid for summer courses
If you are seeking financial aid for summer courses at UE, please complete a summer financial aid application and return to the Office of Financial Aid (Olmsted 116). The application will allow our office to determine the types of aid for which you may be eligible.
Work-Study
On-campus jobs are available for continuing UE students during the summer. You do not need to be eligible for need-based Federal Work-Study during the academic year in order to apply. You may also apply regardless of your enrollment in summer courses. Applications are available within the Student Employment area of WebAdvisor.
Submitted by Amy Sowders as560@evansville.edu
Dr. Marvin E. Hartig Memorial Scholarship applications
Applications are now being accepted for this year's Dr. Marvin E. Hartig Memorial Scholarship. This scholarship is dedicated to the loving memory of Hartig, dean of Evansville College's Evening College in 1967, and administrator for the Center for Advanced Study, director of the Evansville chapter of the American Institute of Banking (AIB), and the international student advisor. In 1974, Hartig was appointed dean of academic services. He retired in 1984 after serving his alma mater for 35 years and passed away in 2007.
This scholarship is awarded each year to a deserving sophomore. Preference will be given to a student working while being enrolled as a full-time student.
International students are encouraged to apply.
Applicants must submit the following to be considered:
1. Completed application

2. In a one page, single spaced, 12 point Verdana font essay, please answer all of these questions:
•What have you learned about yourself as a UE student?
•What do you do for fun when not studying or working?
•Name a special attribute or accomplishment that sets you apart.
•You have done a lot in your short life. In what areas do you think you can improve?
•What are your scholastic and career goals?
•How did you finance your freshman year and how will you finance your sophomore year?
•Why are you a good candidate to receive this scholarship?
•What have you learned about Dr. Hartig, how does he influence or inspire you, and how will you preserve his legacy as recipient of this scholarship?
Please return all materials to the Office of Financial Aid by May 1. Decision will be announced by July 2.
If you have questions, contact Trisha Hawkes, administrative assistant to the Office of Financial Aid, at financialaid@evansville.edu or 812-488-2364.
Submitted by Trisha Hawkes th187@evansville.edu
UE Music Students Win Service and Presser Awards
Rico Martinez is this year's winner of the Music Service Award, and Bailee Bostic is this year's winner of the Presser Award. Martinez is a sophomore majoring in music education, and Bostic is a junior majoring in music therapy.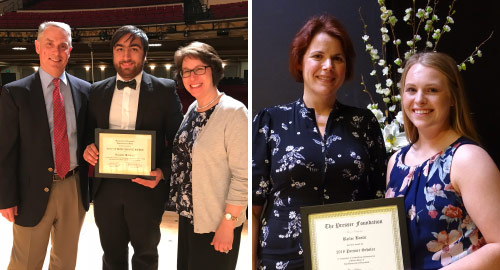 The Music Service Award was established by a supporter of our department in 2014, and is designed to recognize and provide a financial award to a student who has participated in at least three ensembles each semester during an academic year, who has exhibited a positive attitude, and who has been inspiring to others. The student selected for this award must demonstrate dedication, consistent motivation, a high standard of performance and a positive attitude.
The Presser Foundation was formally established in 1939 under various deeds of trust of the late Theodore Presser, who was a respected music teacher and publisher. In the charter of incorporation, The Foundation's purposes are set forth to promote primarily the cause of musical education and musical philanthropy as follows: to provide scholarships for promising students; to increase the value of music education by erecting suitable buildings; and to administer aid to worthy teachers of music in distress.
The student is selected by a vote of the faculty of the department. The winner of the award is selected based on the following requirements:
The award is intended to be a prestigious one recognizing excellence. The student selected should be identified by the music faculty with the choice of the recipient guided solely by consideration of excellence and merit.
The winner receives a scholarship from the Presser Foundation, and is designated as the Music Department's Presser Scholar for the coming year.
RSA Executive Board 2018-19!
The current RSA Executive Board and General Assembly would like to congratulate each of the following students on their election to the RSA Executive Board for the 2018-19 Academic Year. The positions for next year are as follows:
President: Shelby Hoyert
VPACP: Justin Banks
VPSE: Becca Humphrey (Fall) and Lily Renfro (Spring)
NCC/Parliamentarian: Lydia Skaggs
DHI: Divya Uttarwar
Treasurer: Orion Meier
Secretary: Haley Vineyard (Fall) and Madison Smith (Spring)
Please be sure to congratulate each of these wonderful students on their win.
Math students present research at Rose-Hulman
University of Evansville math students Sean Russell and Zeyu Zhang presented research at the 35th Rose-Hulman Undergraduate Mathematics Conference on Saturday, April 21.
Russell's talk is titled: "Variants of the Monty Hall Problem and Battleship." The research project is under the supervision of associate professor of math Adam Salminen.
Zhang's talk is titled: "Smoking Dynamics with Health Education Effect." The research project is under the supervision of assistant professor of math Pengcheng Xiao.
Creative writing student has story accepted for publication
Senior creative writing student Sarah Pfleiderer recently had a short story accepted for publication by Luna Station Quarterly, a magazine that aspires to publish the "vast and varied talents of women-identified speculative fiction writers." Her story will appear in its next issue on June 1.
Whitacre receives Distinguished Senior Award of International Studies
Alexis Whitacre has been awarded the 2017-18 Wesley T. Milner Distinguished Senior Award of International Studies Program. This honor is awarded annually to the outstanding senior majoring in international studies. The award is named for the former director of the International Studies Program, Wesley T. Milner, in honor of his dedication in the IS program at UE for over two decades. Alexis has concentrated her studies in international studies and anthropology. She is always interested in human rights and refugee issues and has studied abroad in England and Morocco. She has been a teaching intern and assistant for professor James Berry's Anthropology 200 World Prehistory course this spring semester. Alexis will be pursuing a PhD degree in Refugee Studies at Indiana University this fall semester.
Student Leadership Awards Announced
The 25th annual Student Leadership Awards Ceremony was held on Thursday, April 25th in Eykamp Hall. The event recognized many student leaders from across campus. The event culminated with the Dean of Students Awards. The 2018 Organization Advisor of the Year was Holly Carter from UE Habitat for Humanity. The Student Organization of the Year was Game Players Society (GPS). The Student Leaders of the Year was awarded to Sydney Winstead. To see those and the rest of the winners, you can see photos on Facebook at UE Center for Student Engagement.
Outstanding Foreign Languages & Cultures Student Awards
The Department of Foreign Languages & Cultures wants to congratulate Michaela Kunkler, Olivia Goldstein, Emily Schuster, and Haley Patterson for their excellent work this year in their Foreign Languages & Cultures courses.
Michaela Kunkler wins the Outstanding Student Award in German
Olivia Goldstein wins the Outstanding Student Award in Spanish
Emily Schuster wins the Outstanding Student Award in French
Haley Patterson wins the Outstanding Student Award in Russian
Family of Sarah Lee Bivin
It is with heavy hearts that we announce the passing of our friend and previous co-worker, Sarah Lee Bivin. She passed away on Monday April 23.
Sarah Lee retired from UE in January 2017 after 18 years of service most recently as the gift records coordinator in the Office of Advancement Services under the development office.
She is survived by her husband, Charlie; daughter, Jenny; and beloved grand-daughter, Jasmine.
Friends may visit the family on Friday, April 27 from 4:00-8:00 p.m. at Alexander North Chapel, 4200 Stringtown Road. A Celebration of Sarah Lee's life will be Saturday, April 28 at 10:30 a.m. at Blue Grass United Methodist Church - Chapel Campus, 14240 Petersburg Road. Friends may visit Saturday from 9:30 a.m. to service time at the church.
Sarah requested no flowers or plants please. If you wish to express your love for her, she requested instead memorial gifts that will help those in need. She deeply loved Blue Grass Church Helping Hands, Loving Hearts Ministry at 14200 Petersburg Rd., Evansville, IN 47725 and United Caring Services at PO Box 1071, Evansville, IN 47706 or a charity of your choosing.
Condolences may be made online at www.AlexanderNorthChapel.com.
Submitted by Katherine Taylor ks6@evansville.edu
Don Riggs and his family
Our deepest sympathy goes out to Don Riggs and his family on the death of his wife Diane. Services were today at 10:00 a.m. at Boone Funeral Home East Chapel. Burial will be in Rose Hill Cemetery. Condolences may be made to the family online at boonefuneralhome.net.
Softball enters final week of home play
The final week of the home schedule is on tap for the University of Evansville softball team, beginning today when the Purple Aces welcome Indiana State to Cooper Stadium for a 6:00 p.m. game.
This weekend, UE will take on Southern Illinois in a 3-game set. Several promotions are on tap on Saturday as T-shirts and cups will be given out; it is also Senior Day and Alumni Weekend.
UE picked up the series win at Valparaiso, taking two out of three games. Morgan Florey led the squad to a 2-0 shutout in the series opener before finishing with a 3-2 win on Sunday; she had 26 strikeouts in the two contests. She also got it going at the plate, batting .44 (4/9) in the 3-game set while Eryn Gould and Toni Galas each checked in hitting .400.
It was just another week at the office for Evansville junior Morgan Florey, who picked up two victories in the circle while tossing three complete games. Her unbelievable season continued as she finished her 20 innings of work with 31 strikeouts and just one walk. After taking the loss in the opener at Indiana State, Florey brought her "A" game at Valpo; in 14 innings of work, she gave up 10 hits, two runs and struck out 26 batters while earning two victories.
In five games of action last week, UE freshman Eryn Gould batted .471 with eight hits in 17 at-bats while leading the Purple Aces to a 3-2 mark. She opened the week in style, going 3-4 with a run scored at Indiana State; game two against the Sycamores saw her go 1-3 while adding two runs and a walk. Her momentum continued into the series at Valparaiso as she posted two more hits in three trips to the plate while scoring her fourth run of the week in game one and wrapped up the week with a hit apiece in the final two contests against the Crusaders.
Last Wednesday, the Aces halted an 8-game losing streak as they defeated Indiana State by a 6-2 final in the second game of a doubleheader in Terre Haute. Evansville plated two runs in the first inning before two more scored in the top half of the sixth when pitcher Jaime Nurrenbern hit a 2-RBI single. After Indiana State plated two in the bottom of the sixth, UE put the icing on the cake with a pair of runs coming from a Morgan Florey single that made it the final of 6-2.
Nurrenbern earned the second win of her career, going the distance while allowing seven hits and just two runs, one of which was earned. In the opener against the Sycamores, the Aces received solo home runs from Lindsay Renneisen and McKenzie Johnson, but a 4-spot by ISU in the bottom of the 5th was the difference in a 6-3 win.
Indiana State stands at 22-22 and 9-10 in MVC action. Leslie Sims continues to lead ISU with a .421 batting average while tying for the team high with 22 runs scored. Bella Peterson, who is batting .364, leads the team with 25 RBI.
Gray earns top 20 finish as Men's Golf concludes MVC Championship
The University of Evansville men's golf team earned a seventh-place finish at the 2018 Missouri Valley Conference Men's Golf Championship at Dalhousie Golf Club in Cape Girardeau, Mo.
Sitting 19-strokes back of sixth-place Valparaiso after the opening day, the Purple Aces put together their best round of the championship on Tuesday. Evansville carded a 304 as a team to give the Aces a three-round total of 936 (324 - 308 - 304), nearly moving UE into sixth as the Aces finished just five strokes shy of the Crusaders. Bradley won the team 2018 MVC Championship with all three rounds under 300, finishing the championship with a team score of 883 (298 - 289 - 296) earning the Braves a 15-stroke advantage over second place finishing Southern Illinois. The Braves' Drake Bushong captured the individual championship with a two-day total of 217 (76 - 69 - 72) as Bradley held the top three positions.
Senior Tyler Gray closed out his Purple Aces career with his best round of the championship on the final day. Gray recorded a one-over 73 in Tuesday's final round placing him in a tie for 19th with a three-round total of 231 (82 - 76 - 73).
Following Gray was freshman Spencer Wagner, who also tallied his best round of the week on Tuesday. After an 81 and 78 in Monday's first two rounds, Wagner finished the championship with a two-over 74 in the final round for a two-day total of 233.
The Aces leader after the first day, sophomore Cameron Weyer earned a 31st-place finish with a final round 80 giving him a three-round total of 235 (82 - 73 - 80). Just two strokes behind Weyer was sophomore Matthew Ladd, who finished in a tie for 33rd with a tournament-total of 273 (79 - 81 - 77) featuring his best round of the week with a 77 on Tuesday.
In the final round, freshman Noah Reese continued to show his consistent improvement. Reese finished in a tie for 38th after carding an 82 and 81 on in the first two rounds on Monday before closing the championship with an 80 in the final round giving him a two-day total of 243 (82 - 81 - 80).
Contribute to AceNotes
To have content considered for inclusion in AceNotes, please submit a Marketing Request Form. Deadline for submission to AceNotes is 10:00 a.m. on the requested date of publication. Only articles concerning UE related/sponsored activities will be accepted. Articles submitted to AceNotes may be edited for length and clarity. Submitter contact information is at the end of each article.