| | |
| --- | --- |
| AceNotes Today | Monday, April 23, 2018 |
Retirement reception for John Lakey and John Felton this afternoon
Please join the Department of Psychology in wishing John Lakey and John Felton, professors of psychology, all the best in their retirement at a reception for them TODAY - Monday, April 23 - from 3:00 - 4:30 p.m. in Hyde Hall 221.
Submitted by Brenda Miller bm24@evansville.edu
This Week in Music: Jazz Band Invitational
On Sunday, April 29, at 4:00 p.m. in Wheeler, the UE Music Department will host several area jazz bands in their 5th Annual Jazz Band Invitational. The concert is free and open to the public.
The featured ensembles are:
University of Evansville Jazz Ensemble I
University of Evansville Jazz Ensemble II
Harrisburg High School Jazz Band
Owen Valley Community High School Jazz Ensemble
Lincoln Trail College Big Band
Olney Central College Jazz Ensemble
Vincennes University Jazz Ensemble
Evansville Vanderburgh School Corporation Honors Jazz Band
University of Southern Indiana Jazz Band
Castle High School 12 O'Clock Jazz Ensemble
Castle High School Wednesday Jazz Band
Castle High School Jazz Bones
Foundry Big Band
Jazz T-shirts, snacks and drinks will be for sale in the lobby to support the UE Jazz Ensembles.
Submitted by James Sullivan js820@evansville.edu
Informal Spanish conversation this afternoon
Spanish students of all levels are welcome to practice with Fulbright Spanish TA Ignacio Benítez.
The next session will be today - Tuesday, April 24 - at 3:00 p.m. at Starbucks in Ridgway University Center. It's a wonderful opportunity to interact informally in Spanish with a native speaker and to meet other students of Spanish. Please contact Ignacio at cl192@evansville.edu if you have any questions. ¡Nos vemos!
Submitted by Ignacio Benitez cl192@evansville.edu
Free paper shredding today
Free off-site paper shredding by Piranha Mobile Shredding will return to campus once again today (Reading Study Day) from 10:00 a.m.-1:00 p.m. All UE students, faculty, staff, and alumni can take advantage of this free service by bringing paper to the Piranha truck in Koch Center for Engineering and Science parking lot. Paper will be shredded off-site.
So, if mounds of paper are taking over your office, home, or room, this is the time to gather those old files, receipts, cancelled checks, tax forms, etc. No need to take out the staples or paper clips. Avoid identity theft by having confidential information permanently destroyed.
Please - no telephone books, magazines, or newspapers. Also, please note that there is a 100-pound paper limit per visit (number of visits is not limited).
Submitted by Amber Elkins ae152@evansville.edu
Institute for Public Health Press Conference today at 11:30 a.m.
You're invited to a press conference to announce the University of Evansville's Institute for Public Health.

Institute for Public Health Press Conference
Today - Tuesday, April 24
11:30 a.m.
Bernhardt Atrium within the Schroeder School of Business Building.

The Institute for Public Health will facilitate partnerships that provide hands-on experiences to students while addressing community needs in the area of public health. Those providing remarks at the press conference will include: Thomas A. Kazee, UE president; Michael Austin, executive vice president for academic affairs; and William McConnell, director of the Institute for Public Health.
Student RC Beverage Red Bull Summer Edition Sampling
Royal Crown (RC) Beverage Company is sponsoring a Red Bull Summer Edition Coconut Berry and Ski Tropical Edition beverage promotional for students on Wednesday, April 25. The event is from 11:30 a.m.-12:30 p.m. (or until all samples are gone) in Ridgway University Center, outside of the secure dining area under the TV monitor. Students - be sure to try a sample on Wednesday!
Submitted by Kim Winsett kw83@evansville.edu
Debbie Marshall and Suzanne Bailey retirement celebration
Please come help the nursing department celebrate the retirement of two of our finest. Debbie Marshall and Suzanne Bailey will be retiring at the end of this school year. Come to Graves Hall 240 at 2:00 p.m. this afternoon to help us celebrate their combined years of service to the University and the nursing department.
Submitted by Laura Connors lr23@evansville.edu
2nd Annual Stand Against Racism on Campus
TAKE A STAND WITH YWCA for peace, justice, freedom and dignity for all. JOIN US today - Wednesday, April 25 - outside Ridgway University Center for a day of events. All are welcome to attend and be a part of the day's events.
Event Line-Up:
11:15 a.m. Press Conference and Stand Against Racism Pledge
Noon – 1:00 p.m.: Anti-bias training with business leaders (Eykamp Hall, Room 251) Registration required, free lunch provided)
2:00 – 5:00 p.m.: Community information tables (prizes and giveaways)
3:00 – 4:00 p.m.: Open Mic - Poetry, Monologues, and Passive Poster Protest Display (all are welcome to participate)
4:00 – 5:00 p.m.: Panel discussion with community leaders on racial justice and equality
6:00 – 7:00 p.m.: Robert Jackson, Key Note Speaker - Respect & Compassion For All (Eykamp Hall, Room 251)
In the event of rain, events will move inside Ridgway University Center.
For more information, please e-mail Erika Taylor at etaylor@ywcaevansville.org or LaNeeca Williams at lw161@evansville.edu
Free obsolete electronics recycling on April 26
Recycle your obsolete electronics on April 26 on Hale loop drive from 10:00 a.m.-1:00 p.m.! Students and employees (faculty, administrators, and staff) can bring the following personal, obsolete electronic equipment to be recycled at no cost:
• LCD displays, LCD TV's and LCD monitors, computers, printers, fax machines, laptops, cell phones, PDAs, cables, circuit boards, connectors, electrical equipment, audio video equipment, DVD players, stereos, radios, calculators, speakers, VCRs. Small quantities of batteries will be accepted.
The following items will NOT be accepted:
• CRT TV's and CRT computer monitors, fluorescent light bulbs (including compact bulbs), refrigerators, freezers, microwaves, stoves, vacuum cleaners, dehumidifiers, leaking batteries and any other items C&I deems unallowable. Electronics owned by the University.
NOTE: The cost of processing CRT TV's and CRT computer monitors has increased significantly, and the University is no longer able to cover these items. However, these items may be brought to C&I Electronics located at 1700 N Lafayette Ave, Evansville, IN 47711, Monday-Friday from 9:00 a.m.-5:00 p.m.
For more information or questions contact Amber Elkin at ae152@evansville.edu or ext. 2697.
Submitted by Amber Elkins ae152@evansville.edu
Reading/Study Day relaxation event
Finals got you stressed?
Counseling and health education, with the help of SAB and SGA, are planning the bi-annual relaxation event on Reading/Study Day. This is a great way for students to de-stress and learn positive coping strategies prior to the start of finals. The event is set for today from 11:00 a.m.-2:00 p.m. in Eykamp Hall, Rooms 253-255, Ridgway University Center.
Participants can enjoy a chair massage, aromatherapy, yoga mats, and other mindfulness activities.
Submitted by Jennifer Hargus jh693@evansville.edu
Hacienda Giveback for Senior Nursing Pinning Ceremony
Please help support the senior nursing class's fundraising efforts for our pinning ceremony by going to the Green River Road Hacienda TODAY - April 24 - from 11:00 a.m.-10:00 p.m. and showing this token to your server! All proceeds will go toward UE's Nursing Pinning Ceremony!
Submitted by Caitlin Day cd165@evansville.edu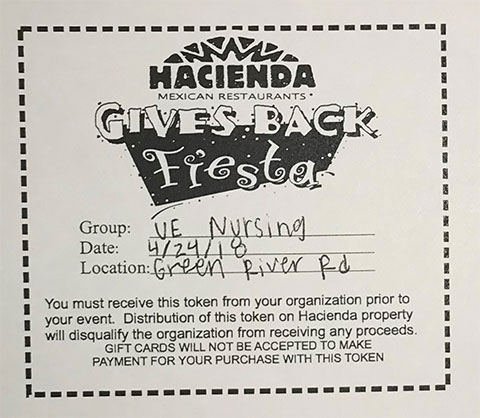 Reception for Gail Vignola set for today
Please join us in thanking Gail Vignola, Writing Center director and assistant professor of IEC, for her dedicated service to UE as we wish her well in her new endeavors. A reception will be held today - April 27 - from 2:00 to 4:00 p.m. in the Writing Center, Room 253 in the Clifford Library. All are welcome.
Submitted by Paula Heldt ph28@evansville.edu
Baseball Picnic sponsored by SAB
SAB will be holding a picnic for the UE baseball game against USI on August 25. The picnic starts at 5:00 p.m. and will end at the start of the game at 6:00 p.m. There will be free burgers offered to UE students. Come out to support the team and enjoy free food!
Submitted by Allie Winstead aw362@evansville.edu
Farewell reception for Ann Baker, Krista Williams, and Ignacio Benitez
Please join the Department of Foreign Languages and Cultures in a farewell reception for Ann Baker, assistant professor of Spanish, Krista Williams, assistant professor of French, and Ignacio Benítez, Fulbright teaching assistant, in Room 120 in Hyde Hall from 11:00 a.m.-1:00 p.m. on April 26.
Baker received her B.A. from Purdue University and her M.A. in Education from the University of Evansville. Her list of activities in service to the department, the University and our community is exceptionally long. Professor Baker began teaching here in 1984 as an adjunct and in 1992, became a full-time faculty member. Please come and celebrate her retirement after 34 years of service to the University of Evansville!
Williams has been at the University of Evansville since 2014, teaching beginning and intermediate language courses, as well as upper-level courses in such topics as phonetics, linguistics, and advanced grammar, in addition to FYS. Her research interests include the definitions of color terms in monolingual dictionaries and their translations in bilingual or multilingual dictionaries, profanity in pidgin and creole languages, and Occitan lexicography. The Department of Foreign Languages and Cultures will miss her energy, enthusiasm, and good cheer. Please join the department in wishing her all the best at the College of Charleston in the Fall!
A native of Uruguay, Benitez, has assisted the Spanish faculty in teaching beginning, intermediate, and upper level Spanish courses this year. Additionally, he has tutored students outside of the classroom to assist professors and has sponsored extracurricular activities to help students improve their speaking skills while broadening their knowledge of Hispanic cultures and customs. Please join the department in thanking him for his work this year!
Submitted by Tammy Johnson tj87@evansville.edu
Farewell gathering for counselors Sylvia Buck and Liz McCormick
Please join the office of student life as we say goodbye to two of our counselors. Counseling director Sylvia Buck will be retiring after many years at the University and Liz McCormick will be moving to Georgia. Eat cake and give them well wishes in the Class of 59 Gallery and Lounge upstairs in Ridgway University Center this afternoon from 2:30-4:00 p.m.
Submitted by Jennifer Hargus jh693@evansville.edu
Administrative service's areas closed for lunch on Tuesday
Please note that the Office of Administrative Services which includes purchasing, Pcard, and distribution services (copy services, mail services, and central receiving) will be closed for a staff luncheon from 11:30 a.m.-1:00 p.m. on Tuesday, May 24, in celebration of Administrative Professional Day this week.
Submitted by Kim Winsett kw83@evansville.edu
Improve your UE residential experience - apply for UE Think Tank
If you'd like to improve your residential experience at UE, you should apply for the UE Think Tank!
The Think Tank is a FREE opportunity to have your voice heard. This conference will occur June 22-24 on UE's campus. Residence Life is covering the cost of housing, and RSA is covering the costs for meals and assorted snacks and breakfast items throughout. The only costs on your end are travel to and from campus.
This weekend long conference's goals are to
A) To get student input on different topics related to the residential student experience.
B) To start planning for the 2018-19 school year for Resident Students Association, and ensure a successful kickoff.
C) To allow like-minded students the opportunity to work together on residence life initiatives they deem important between academic years.
D) To provide an opportunity for leadership development, networking, and learning. Applications are due Monday, May 28 with acceptance emails being sent out on June 1. To apply, visit: https://goo.gl/forms/0ns3vf1CJaZQvzhH3.
UMC seeks Youth and Children's Ministries Coordinator
A United Methodist church in the area is seeking a Youth and Children's Ministries Coordinator who will work with youth and adults to develop ministry programs that enable youth to grow in faith as Christian disciples. This person will champion youth participation in all aspects of church life and spearhead efforts to reach out to area youth. The ideal candidate will be an energetic, faith-filled leader; a good listener and effective communicator; and will have proven abilities in planning and implementing in a collaborative setting. This is a part-time position, approximately 20 hours per week and includes a generous stipend. For more information, please contact University Chaplain Tammy Gieselman at tg85@evansville.edu.
Summer books are ready
Textbooks for the summer sessions for the most part are ready to purchase in the UE Bookstore. There are used, new, rental and eBook options. The textbook area may be blocked off in preparation for Buyback but if you need a book just ask store staff and they'll be happy to help you get your books.
Submitted by Doug Gustwiller dg57@evansville.edu
April Pcard Cycle Ending!
The April Pcard Cycle which began on March 22 will end at midnight on April 23. As of April 25, cardholders may schedule and run the April Cycle report. April transactions may be reconciled in SDG2 until April 30. On April 30, the general ledger Pcard file will be uploaded and cardholders will be locked out of (unable to make changes) posted transactions for the April Cycle.
Submitted by Kim Winsett kw83@evansville.edu
Financial aid for summer courses
If you are seeking financial aid for summer courses at UE, please complete a summer financial aid application and return to the Office of Financial Aid (Olmsted 116). The application will allow our office to determine the types of aid for which you may be eligible.
Work-Study
On-campus jobs are available for continuing UE students during the summer. You do not need to be eligible for need-based Federal Work-Study during the academic year in order to apply. You may also apply regardless of your enrollment in summer courses. Applications are available within the Student Employment area of WebAdvisor.
Submitted by Amy Sowders as560@evansville.edu
Dr. Marvin E. Hartig Memorial Scholarship applications
Applications are now being accepted for this year's Dr. Marvin E. Hartig Memorial Scholarship. This scholarship is dedicated to the loving memory of Hartig, dean of Evansville College's Evening College in 1967, and administrator for the Center for Advanced Study, director of the Evansville chapter of the American Institute of Banking (AIB), and the international student advisor. In 1974, Hartig was appointed dean of academic services. He retired in 1984 after serving his alma mater for 35 years and passed away in 2007.
This scholarship is awarded each year to a deserving sophomore. Preference will be given to a student working while being enrolled as a full-time student.
International students are encouraged to apply.
Applicants must submit the following to be considered:
1. Completed application

2. In a one page, single spaced, 12 point Verdana font essay, please answer all of these questions:
•What have you learned about yourself as a UE student?
•What do you do for fun when not studying or working?
•Name a special attribute or accomplishment that sets you apart.
•You have done a lot in your short life. In what areas do you think you can improve?
•What are your scholastic and career goals?
•How did you finance your freshman year and how will you finance your sophomore year?
•Why are you a good candidate to receive this scholarship?
•What have you learned about Dr. Hartig, how does he influence or inspire you, and how will you preserve his legacy as recipient of this scholarship?
Please return all materials to the Office of Financial Aid by May 1. Decision will be announced by July 2.
If you have questions, contact Trisha Hawkes, administrative assistant to the Office of Financial Aid, at financialaid@evansville.edu or 812-488-2364.
Submitted by Trisha Hawkes th187@evansville.edu
RSA Executive Board 2018-19!
The current RSA Executive Board and General Assembly would like to congratulate each of the following students on their election to the RSA Executive Board for the 2018-19 Academic Year. The positions for next year are as follows:
President: Shelby Hoyert
VPACP: Justin Banks
VPSE: Becca Humphrey (Fall) and Lily Renfro (Spring)
NCC/Parliamentarian: Lydia Skaggs
DHI: Divya Uttarwar
Treasurer: Orion Meier
Secretary: Haley Vineyard (Fall) and Madison Smith (Spring)
Please be sure to congratulate each of these wonderful students on their win.
Math students present research at Rose-Hulman
University of Evansville math students Sean Russell and Zeyu Zhang presented research at the 35th Rose-Hulman Undergraduate Mathematics Conference on Saturday, April 21.
Russell's talk is titled: "Variants of the Monty Hall Problem and Battleship." The research project is under the supervision of associate professor of math Adam Salminen.
Zhang's talk is titled: "Smoking Dynamics with Health Education Effect." The research project is under the supervision of assistant professor of math Pengcheng Xiao.
Creative writing student has story accepted for publication
Senior creative writing student Sarah Pfleiderer recently had a short story accepted for publication by Luna Station Quarterly, a magazine that aspires to publish the "vast and varied talents of women-identified speculative fiction writers." Her story will appear in its next issue on June 1.
Whitacre receives Distinguished Senior Award of International Studies
Alexis Whitacre has been awarded the 2017-18 Wesley T. Milner Distinguished Senior Award of International Studies Program. This honor is awarded annually to the outstanding senior majoring in international studies. The award is named for the former director of the International Studies Program, Wesley T. Milner, in honor of his dedication in the IS program at UE for over two decades. Alexis has concentrated her studies in international studies and anthropology. She is always interested in human rights and refugee issues and has studied abroad in England and Morocco. She has been a teaching intern and assistant for professor James Berry's Anthropology 200 World Prehistory course this spring semester. Alexis will be pursuing a PhD degree in Refugee Studies at Indiana University this fall semester.
Student Leadership Awards Announced
The 25th annual Student Leadership Awards Ceremony was held on Thursday, April 25th in Eykamp Hall. The event recognized many student leaders from across campus. The event culminated with the Dean of Students Awards. The 2018 Organization Advisor of the Year was Holly Carter from UE Habitat for Humanity. The Student Organization of the Year was Game Players Society (GPS). The Student Leaders of the Year was awarded to Sydney Winstead. To see those and the rest of the winners, you can see photos on Facebook at UE Center for Student Engagement.
UEDFLC at North Eastern Modern Languages Association convention
Associate professor of German Lesley C. Pleasant chaired a German and Media Studies panel "Wozu Presse?" and presented her paper "Pushed to Act: Conversations with The New York Times in Uwe Johnson's Jahrestage." The talk analyzed the significance of the frequent inclusions of news stories and pictures from the newspaper as a means to supplement the personal memory project of the protagonist. While on the face of it, it seems that her daily engagement with The New York Times (a) simply keeps her informed about the status quo and its repetition of violence, racism, and failed realizations of potential alternative government structures, and (b) simply replicates on a broader—local, regional, national, and international—scale the blindness of individual memory and perception, the novel posits that the press can provide the impetus to social action precisely by "proving" also that what appears as repetition is "noch nicht das Gleiche."(JT 914)
Assistant professor of French Severine Bates, delivered her talk "Europe or Africa? Finding the new Promised Land in Fatou Diome's Le ventre de l'Atlantique" as part of the "Contemporary Francophone African Women Writers Making Their World" Panel. Her paper focused on Diome's portrayal of the relationship between soccer and the mass media as one of the causes of emigration to Europe (seen as the El Dorado) from her home country, Senegal, another victim of the "muscle drain" (Andreff, 2001). In her novel, Diome denounces the Senegalese youths' obsession with France—an obsession fed by television and fueled by the lies of former migrants and the dream of making it big internationally as a soccer player. This paper showed how, by shifting the Senegalese gaze from the global to the local and by suggesting a more modest and realistic community-based vision of economic success, Diome is able to voice an entire generation's dreams for social and economic change in an Africa presented as the (not so) new Promised Land for the world.
Outstanding Foreign Languages & Cultures Student Awards
The Department of Foreign Languages & Cultures wants to congratulate Michaela Kunkler, Olivia Goldstein, Emily Schuster, and Haley Patterson for their excellent work this year in their Foreign Languages & Cultures courses.
Michaela Kunkler wins the Outstanding Student Award in German
Olivia Goldstein wins the Outstanding Student Award in Spanish
Emily Schuster wins the Outstanding Student Award in French
Haley Patterson wins the Outstanding Student Award in Russian
Assistant professor Todd A. Matteson exhibits artwork
Assistant professor of art Todd A. Matteson has had artwork accepted into the Working Together Exhibition sponsored by the Arts Council of Southwest Indiana and the Evansville Museum of Art. The artwork titled, "Spiral Wandering," is one of his new wall pieces that uses masked off areas of clay body contrasting with a turquoise glaze. The exhibition is open until June 10 at the Evansville Museum of Art.
Aces softball clinches series win over Valparaiso
After jumping out to a 3-0 lead, the University of Evansville softball team was able to hang on for a 3-2 victory over Valparaiso in Sunday's series finale.
UE (14-28, 7-12 MVC) starting pitcher Morgan Florey went the distance and struck out 15 Crusader (18-21, 5-12 MVC) batters. The Purple Aces notched six hits on the day with two coming off the bat of freshman Toni Galas.
"We showed outstanding fight out of our ladies today! This team just never gives up," Aces head coach Mat Mundell said. "Morgan was just dominant in the circle today and was able to neutralize them all day. We really did well this series, we have been so close all season and it is good to break through."
Each team racked up hits in the opening three innings, but the Aces were the first to cross the plate, scoring three times in the top of the fourth.
With one out, Elyse Hickey reached on a Crusader error before advancing to second on a single by Mea Adams. Alex Latoria was hit by a pitch to load the bases and bring up catcher Bailee Bostic. She came through with a single to left field to bring home Hickey for the first run of the game.
Toni Galas was next for UE and singled up the middle to reload the bases and make it a 2-0 game. Eryn Gould made it three RBI singles in a row as her infield single made it 3-0. Following a pitching change, Valparaiso was able to record the final two outs to avoid further damage.
In the bottom of the frame, the Crusaders did their best to erase the UE lead. Following a leadoff double, Valpo loaded the bases with no outs on a hit batter and a walk. Morgan Florey never wavered in the circle and quickly regrouped to strike out the next three batters and keep the Crusaders off the board.
They were finally able to get through in the seventh with a pair of runs. They had the tying run on second, but the 15th strikeout of the day by Florey was the biggest as she clinched the 3-2 Evansville victory.
Next up, the Aces are home for four games this week. UE welcomes Indiana State to Cooper Stadium on Tuesday for a 5:00 p.m. game before playing host to Southern Illinois next weekend in a 3-game set.
Valparaiso 6, Evansville 1
The University of Evansville had a chance to take their first Missouri Valley Conference series of the season Sunday afternoon at Braun Stadium. However, Valparaiso had a similar idea, and they managed to come away with 6-1 series-clinching victory.
Sophomore reliever Nathan Croner (0-2) was pressed into the start on the hill. However, the Crusaders cashed in a pair of runs on the southpaw and loaded up the bases before he could register the second out of the opening frame. Freshman Jace Burke, who pitched a sharp ninth inning in Saturday's 9-8 win, earning a save, came in and put out the fire.
In the top of the second, Burke ran into similar problems, uncorking a wild pitch, allowing another Valparaiso run to tally, putting the Purple Aces in a 3-0 hole.
In the bottom of the frame, senior catcher Andrew Tanous launched his fourth home run of the season over the left field fence, drawing the Aces closer at 3-1.
However, that's all the Evansville offense could muster, as Valparaiso starter Wes Gordon (1-4) combined with reliever Hayden Kissee to keep UE off the scoreboard the rest of the games, as UE fell, 6-1.
The loss drops the Aces to 7-26 and 1-8 in the MVC, while the Crusaders improved to 14-20 and 4-5 in league play.
Evansville is back in action Wednesday, as they play host to their crosstown rivals from the University of Southern Indiana. First pitch from Charles H. Braun Stadium is at 6:00 p.m.
Contribute to AceNotes
To have content considered for inclusion in AceNotes, please submit a Marketing Request Form. Deadline for submission to AceNotes is 10:00 a.m. on the requested date of publication. Only articles concerning UE related/sponsored activities will be accepted. Articles submitted to AceNotes may be edited for length and clarity. Submitter contact information is at the end of each article.