| | |
| --- | --- |
| AceNotes Today | Friday, April 20, 2018 |
Summer Hours begin May 7
The University will begin a modified summer schedule on Monday, May 7 through Friday, August 3. Business hours for the campus will be adjusted during this period to 8:00 a.m. to 4:30 p.m. As always, the area supervisor is responsible for the scheduling decisions that will best meet the University's and their respective department's service requirements. A return to regular business hours will begin on Monday, August 6.
The modified summer work schedule is incumbent on ensuring coverage to service our many constituencies. It is important to maintain our commitment and communication with students and their parents during the summer months. Your assistance in this regard is greatly appreciated.
Melvin M. Peterson Forum Hemminger-Brown Lecture - April 20
The Department of English will host the Melvin M. Peterson Literary Forum Hemminger-Brown Lecture on Friday, April 20, 7:00 p.m., in Harkness Hall, Room 162, Schroeder School of Business Building. Guest speaker Cecilia Tichi, PhD, professor of English at Vanderbilt University, will give a talk on "America's Gilded Age, American Writers' Gold."
Tichi is the Gertrude Conaway Vanderbilt Professor of English and professor of American studies at Vanderbilt University, a past president of the American Studies Association, and the winner of the Jay B. Hubbell Medal for lifetime achievement in American literature. She regularly gives talks at the American Studies Association annual meetings, at colleges and universities, and at book fairs. She has been interviewed on radio and television and has spoken to book clubs, church and synagogue groups, and to large audiences. She held the honorific Chair of Modern Culture at the John W. Kluge Center at the Library of Congress in 2005-07 and in 2012 was been named the Andrew W. Mellon Fellow at the Huntington Library in San Marino, California.
Her 12 books include five mystery novels and nonfiction titles that span American popular culture and social history, from television to country music to the gear-and-girder technology that transformed the environment nationwide in the late 1800s and early 1900s. Her newest book, What Would Mrs. Astor Do? A Complete Guide to the Manners and Mores of the Gilded Age, will be published this fall.
Submitted by Katherine Martyn km283@evansville.edu
University Worship in Neu Chapel: Final Service of the Semester
The campus community is invited to attend the final University Worship service for the academic year this Sunday morning at 11:00 AM in Neu Chapel. This will be a special service in which we give thanks for a wonderful academic year and recognize our graduating seniors with a prayer of blessing for them. As always, we will be having donuts and beverages before and after the service!
Institute for Public Health Press Conference today at 11:30 a.m.
You're invited to a press conference to announce the University of Evansville's Institute for Public Health.

Institute for Public Health Press Conference
Today - Tuesday, April 24
11:30 a.m.
Bernhardt Atrium within the Schroeder School of Business Building.

The Institute for Public Health will facilitate partnerships that provide hands-on experiences to students while addressing community needs in the area of public health. Those providing remarks at the press conference will include: Thomas A. Kazee, UE president; Michael Austin, executive vice president for academic affairs; and William McConnell, director of the Institute for Public Health.
Student RC Beverage Red Bull Summer Edition Sampling
Royal Crown (RC) Beverage Company is sponsoring a Red Bull Summer Edition Coconut Berry and Ski Tropical Edition beverage promotional for students on Wednesday, April 25. The event is from 11:30 a.m.-12:30 p.m. (or until all samples are gone) in Ridgway University Center, outside of the secure dining area under the TV monitor. Students - be sure to try a sample on Wednesday!
Submitted by Kim Winsett kw83@evansville.edu
Zeta Tau Alpha Presents: Rent-A-Puppy
Zeta Tau Alpha will be hosting its annual spring philanthropy, Rent-A-Puppy on Saturday, April 21 from 11:00 a.m.-3:00 p.m. on the Grassy Knoll! Come out and de-stress from finals and exams by playing with puppies in exchange for a small donation. All proceeds go to local humane societies.
Submitted by Allison Boardman ab628@evansville.edu
Debbie Marshall and Suzanne Bailey retirement celebration
Please come help the nursing department celebrate the retirement of two of our finest. Debbie Marshall and Suzanne Bailey will be retiring at the end of this school year. Come to Graves Hall 240 at 2:00 p.m. this afternoon to help us celebrate their combined years of service to the University and the nursing department.
Submitted by Laura Connors lr23@evansville.edu
2nd Annual Stand Against Racism on Campus
TAKE A STAND WITH YWCA for peace, justice, freedom and dignity for all. JOIN US today - Wednesday, April 25 - outside Ridgway University Center for a day of events. All are welcome to attend and be a part of the day's events.
Event Line-Up:
11:15 a.m. Press Conference and Stand Against Racism Pledge
Noon – 1:00 p.m.: Anti-bias training with business leaders (Eykamp Hall, Room 251) Registration required, free lunch provided)
2:00 – 5:00 p.m.: Community information tables (prizes and giveaways)
3:00 – 4:00 p.m.: Open Mic - Poetry, Monologues, and Passive Poster Protest Display (all are welcome to participate)
4:00 – 5:00 p.m.: Panel discussion with community leaders on racial justice and equality
6:00 – 7:00 p.m.: Robert Jackson, Key Note Speaker - Respect & Compassion For All (Eykamp Hall, Room 251)
In the event of rain, events will move inside Ridgway University Center.
For more information, please e-mail Erika Taylor at etaylor@ywcaevansville.org or LaNeeca Williams at lw161@evansville.edu
Free obsolete electronics recycling on April 26
Recycle your obsolete electronics on April 26 on Hale loop drive from 10:00 a.m.-1:00 p.m.! Students and employees (faculty, administrators, and staff) can bring the following personal, obsolete electronic equipment to be recycled at no cost:
• LCD displays, LCD TV's and LCD monitors, computers, printers, fax machines, laptops, cell phones, PDAs, cables, circuit boards, connectors, electrical equipment, audio video equipment, DVD players, stereos, radios, calculators, speakers, VCRs. Small quantities of batteries will be accepted.
The following items will NOT be accepted:
• CRT TV's and CRT computer monitors, fluorescent light bulbs (including compact bulbs), refrigerators, freezers, microwaves, stoves, vacuum cleaners, dehumidifiers, leaking batteries and any other items C&I deems unallowable. Electronics owned by the University.
NOTE: The cost of processing CRT TV's and CRT computer monitors has increased significantly, and the University is no longer able to cover these items. However, these items may be brought to C&I Electronics located at 1700 N Lafayette Ave, Evansville, IN 47711, Monday-Friday from 9:00 a.m.-5:00 p.m.
For more information or questions contact Amber Elkin at ae152@evansville.edu or ext. 2697.
Submitted by Amber Elkins ae152@evansville.edu
Chutney Student Literary Conference, April 21
The Seventh Annual Chutney Student Literary Conference will take place on Saturday, April 21. All are welcome to attend the student panels which are scheduled for 9:30 a.m., 10:45 a.m., and at noon in the Schroeder School of Business Building, Rooms 271 and 272.
The Virginia Grabill and The George Klinger Memorial Writing Prizes will be announced during the last panel session of the conference.
Submitted by Katherine Martyn km283@evansville.edu
Fiji-A Tour set for this Saturday
Phi Gamma Delta's putt-putt philanthropy event benefitting Easterseals Rehabilitation is Saturday, April 21. $10/person. Includes lunch and putt-putt. Noon until midnight.
Submitted by Corbin Neu cn86@evansville.edu
Shanklin Theatre Season closes with The Grapes of Wrath
The University of Evansville Department of Theatre proudly presents its final production of the season, The Grapes of Wrath, by Frank Galati, based on the novel by John Steinbeck, opened Friday, April 13 in Shanklin Theatre. Additional performances are at 7:30 p.m. on April 19, 20, and 21, and at 2:00 p.m. on April 22.
This Tony Award-winning play is an expansive retelling of John Steinbeck's brilliant Pulitzer Prize-winning novel. The riveting tale follows the impoverished Joad family's flight from the Dust Bowl and into the promised land found out West. Full of loss, triumph, and endless struggle, this timeless epic is a celebration of the soaring tenacity of the human spirit.
Ticket prices are $18 for adults and $16 for senior adults, students, and UE faculty and staff. UE students may obtain one free student rush ticket beginning at noon on the day of the performance they wish to attend.
Submitted by Sharla Cowden sc75@evansville.edu
Hacienda Giveback for Senior Nursing Pinning Ceremony
Please help support the senior nursing class's fundraising efforts for our pinning ceremony by going to the Green River Road Hacienda TODAY - April 24 - from 11:00 a.m.-10:00 p.m. and showing this token to your server! All proceeds will go toward UE's Nursing Pinning Ceremony!
Submitted by Caitlin Day cd165@evansville.edu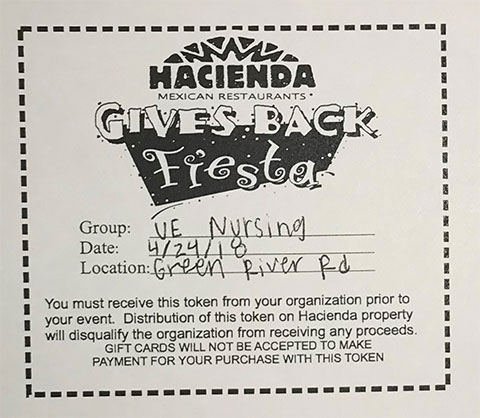 Reception for Gail Vignola set for today
Please join us in thanking Gail Vignola, Writing Center director and assistant professor of IEC, for her dedicated service to UE as we wish her well in her new endeavors. A reception will be held today - April 27 - from 2:00 to 4:00 p.m. in the Writing Center, Room 253 in the Clifford Library. All are welcome.
Submitted by Paula Heldt ph28@evansville.edu
Farewell reception for Ann Baker, Krista Williams, and Ignacio Benitez
Please join the Department of Foreign Languages and Cultures in a farewell reception for Ann Baker, assistant professor of Spanish, Krista Williams, assistant professor of French, and Ignacio Benítez, Fulbright teaching assistant, in Room 120 in Hyde Hall from 11:00 a.m.-1:00 p.m. on April 26.
Baker received her B.A. from Purdue University and her M.A. in Education from the University of Evansville. Her list of activities in service to the department, the University and our community is exceptionally long. Professor Baker began teaching here in 1984 as an adjunct and in 1992, became a full-time faculty member. Please come and celebrate her retirement after 34 years of service to the University of Evansville!
Williams has been at the University of Evansville since 2014, teaching beginning and intermediate language courses, as well as upper-level courses in such topics as phonetics, linguistics, and advanced grammar, in addition to FYS. Her research interests include the definitions of color terms in monolingual dictionaries and their translations in bilingual or multilingual dictionaries, profanity in pidgin and creole languages, and Occitan lexicography. The Department of Foreign Languages and Cultures will miss her energy, enthusiasm, and good cheer. Please join the department in wishing her all the best at the College of Charleston in the Fall!
A native of Uruguay, Benitez, has assisted the Spanish faculty in teaching beginning, intermediate, and upper level Spanish courses this year. Additionally, he has tutored students outside of the classroom to assist professors and has sponsored extracurricular activities to help students improve their speaking skills while broadening their knowledge of Hispanic cultures and customs. Please join the department in thanking him for his work this year!
Submitted by Tammy Johnson tj87@evansville.edu
Farewell gathering for counselors Sylvia Buck and Liz McCormick
Please join the office of student life as we say goodbye to two of our counselors. Counseling director Sylvia Buck will be retiring after many years at the University and Liz McCormick will be moving to Georgia. Eat cake and give them well wishes in the Class of 59 Gallery and Lounge upstairs in Ridgway University Center this afternoon from 2:30-4:00 p.m.
Submitted by Jennifer Hargus jh693@evansville.edu
Fiji-A Tour
Phi Gamma Delta's putt-putt philanthropy event benefitting Easterseals rehabilitation is April 21. The cost is $10/person, including lunch and putt-putt. The event lasts from noon until midnight.
Submitted by Corbin Neu cn86@evansville.edu
Deadline tomorrow for Senior changemaker nominations!
Take three minutes to nominate a graduating senior who freely and effectively innovates for the good of all. Changemaking includes social entrepreneurship, social innovation, service learning, civic engagement, social justice and philanthropy.
All nominations must be made by Tuesday, April 24. The Senior Changemakers will be announced and highlighted during finals week
Please submit the nomination using this form.
Be on the lookout for more exciting things in regards to Changemaking.
Submitted by Lindsay Roberts lr155@evansville.edu
Improve your UE residential experience - apply for UE Think Tank
If you'd like to improve your residential experience at UE, you should apply for the UE Think Tank!
The Think Tank is a FREE opportunity to have your voice heard. This conference will occur June 22-24 on UE's campus. Residence Life is covering the cost of housing, and RSA is covering the costs for meals and assorted snacks and breakfast items throughout. The only costs on your end are travel to and from campus.
This weekend long conference's goals are to
A) To get student input on different topics related to the residential student experience.
B) To start planning for the 2018-19 school year for Resident Students Association, and ensure a successful kickoff.
C) To allow like-minded students the opportunity to work together on residence life initiatives they deem important between academic years.
D) To provide an opportunity for leadership development, networking, and learning. Applications are due Monday, May 28 with acceptance emails being sent out on June 1. To apply, visit: https://goo.gl/forms/0ns3vf1CJaZQvzhH3.
UMC seeks Youth and Children's Ministries Coordinator
A United Methodist church in the area is seeking a Youth and Children's Ministries Coordinator who will work with youth and adults to develop ministry programs that enable youth to grow in faith as Christian disciples. This person will champion youth participation in all aspects of church life and spearhead efforts to reach out to area youth. The ideal candidate will be an energetic, faith-filled leader; a good listener and effective communicator; and will have proven abilities in planning and implementing in a collaborative setting. This is a part-time position, approximately 20 hours per week and includes a generous stipend. For more information, please contact University Chaplain Tammy Gieselman at tg85@evansville.edu.
Summer books are ready
Textbooks for the summer sessions for the most part are ready to purchase in the UE Bookstore. There are used, new, rental and eBook options. The textbook area may be blocked off in preparation for Buyback but if you need a book just ask store staff and they'll be happy to help you get your books.
Submitted by Doug Gustwiller dg57@evansville.edu
Lost prosthetic device that looks like jewelry
Professor Katie Mullins wears prosthetics to keep her fingers straight, but she lost one on campus recently. They look like a V-shaped silver ring. If you have found this recently, please e-mail her at kd60@evansville.edu. Thank you!
Submitted by Katie Mullins kd60@evansville.edu
T-shirt drive for UnCharted International planned for April 16-20
Do you have unwanted T-shirts that you do not want to take home in May? Bring them to Ridgway University Center on Monday, April 16 through Friday, April 20, from 11:00 a.m.-1:00 p.m. The Athletic Training Club will be collecting T-shirts to donate to Uncharted International. These T-shirts will be distributed to orphanages in Myanmar!
Submitted by Hannah Bernhardt hb92@evansville.edu
Dr. Marvin E. Hartig Memorial Scholarship applications
Applications are now being accepted for this year's Dr. Marvin E. Hartig Memorial Scholarship. This scholarship is dedicated to the loving memory of Hartig, dean of Evansville College's Evening College in 1967, and administrator for the Center for Advanced Study, director of the Evansville chapter of the American Institute of Banking (AIB), and the international student advisor. In 1974, Hartig was appointed dean of academic services. He retired in 1984 after serving his alma mater for 35 years and passed away in 2007.
This scholarship is awarded each year to a deserving sophomore. Preference will be given to a student working while being enrolled as a full-time student.
International students are encouraged to apply.
Applicants must submit the following to be considered:
1. Completed application

2. In a one page, single spaced, 12 point Verdana font essay, please answer all of these questions:
•What have you learned about yourself as a UE student?
•What do you do for fun when not studying or working?
•Name a special attribute or accomplishment that sets you apart.
•You have done a lot in your short life. In what areas do you think you can improve?
•What are your scholastic and career goals?
•How did you finance your freshman year and how will you finance your sophomore year?
•Why are you a good candidate to receive this scholarship?
•What have you learned about Dr. Hartig, how does he influence or inspire you, and how will you preserve his legacy as recipient of this scholarship?
Please return all materials to the Office of Financial Aid by May 1. Decision will be announced by July 2.
If you have questions, contact Trisha Hawkes, administrative assistant to the Office of Financial Aid, at financialaid@evansville.edu or 812-488-2364.
Submitted by Trisha Hawkes th187@evansville.edu
Student Leadership Awards Announced
The 25th annual Student Leadership Awards Ceremony was held on Thursday, April 25th in Eykamp Hall. The event recognized many student leaders from across campus. The event culminated with the Dean of Students Awards. The 2018 Organization Advisor of the Year was Holly Carter from UE Habitat for Humanity. The Student Organization of the Year was Game Players Society (GPS). The Student Leaders of the Year was awarded to Sydney Winstead. To see those and the rest of the winners, you can see photos on Facebook at UE Center for Student Engagement.
Results of SGA Elections
Last week, the campus-wide elections for Student Government were held and the results certified by Student Congress. The following were the outcomes of those elections for the 2018-19 academic year.
Academic Fund Board Chairperson: Tristan DeLeon
Student Congress Chief Executive: Trevor Lax
SGA President: McKenna Lewis
Student Elected Trustee (three year term): Annie Stenftenagel
Sullivan Presents at Song Cycles Conference
On Friday, April 20, UE music professor James Sullivan travels to Michigan State University to present at the conference "20th- and 21st-Century Song Cycles for Voice and Piano." His presentation "The Queer Context and Composition of Samuel Barber's 'Despite and Still'" discusses the impact that particularities of Barber's relationship with Gian Carlo Menotti had on Barber's choice of texts for the cycle, as well as his musical setting of them.
Assistant professor Todd A. Matteson exhibits artwork
Assistant professor of art Todd A. Matteson has had artwork accepted into the Working Together Exhibition sponsored by the Arts Council of Southwest Indiana and the Evansville Museum of Art. The artwork titled, "Spiral Wandering," is one of his new wall pieces that uses masked off areas of clay body contrasting with a turquoise glaze. The exhibition is open until June 10 at the Evansville Museum of Art.
Xiao publishes research
Pengcheng Xiao, assistant professor of mathematics, has published a paper in the International Journal of Bifurcations and Chaos(IJBC). IJBC is widely regarded as the leading journal in the exciting field of chaos and nonlinear science. The paper is titled "Seizure Dynamics of Coupled Oscillators with Epileptor Field Model".
The study is the continuous collaboration work with Professor Honghui Zhang at Northwestern Polytechnical University.
Purple Aces Athletics announces establishment of radio network featuring coverage in Tri-State area
University of Evansville unveils for the first time a multi-station radio network announced today by Director of Athletics Mark Spencer. Concurrent with the 2018-19 collegiate athletic season, Purple Aces fans will have the opportunity to hear live game action and the coaches' show for men's basketball, as well as select women's basketball, baseball and soccer games.
The multi-year agreement is in partnership with The Original Company, which owns the five stations encompassing the Purple Aces Radio Network. The respective list of participating stations and programming to be covered are as follows:
· WJPS 107.1 - Evansville/Boonville (*Flagship station)
o All men's basketball games, coaches shows, select baseball and soccer; women's basketball when no conflict

· WAOV 1450/97.7/97.3 – Vincennes
o All men's basketball games, coaches shows

· WRCY 1590/106.7 - Mt. Vernon
o All men's basketball games, coaches shows (not conflicting with Purdue)

· WROY 1460/92.1 - Carmi, IL
o Al men's basketball games, coaches shows

· WYFX 106.7 – Evansville
o All men's basketball coaches shows

"The team at The Original Company and WJPS, Purple Aces' flagship, are excited about the partnership between the University of Evansville and our current and future listeners not only in Evansville, but around the Tri-State Area," said The Original Company President Mark Lange.
Working alongside Spencer and the athletics administration in leading this effort of creating a radio network is Learfield's newly established Purple Aces Sports Properties. The on-campus team is solely dedicated to representing the University of Evansville. All aspects of the multimedia rights relationship between Learfield and the Purple Aces is led by the property's General Manager Brandon McClish.
"The support we've had from Learfield and its Purple Aces Sports Properties team in a short amount of time already has been tremendous, and we couldn't be more pleased to debut a multi-station radio network for our fans for the first time in the history of our athletics programming," said Spencer. "We're incredibly excited to extend our brand through a new platform like this and appreciate The Original Company supporting the Purple Aces."
McClish, an Evansville resident for 15 years, will work with local and regional businesses looking to align with the Purples Aces as part of his role. He is the former director of business development for Evansville-based Empire Contractors, and he also previously served four seasons as director of operations for the Evansville Otters. McClish is a member of the West Side Nut Club and is Chairman of the Ambassadors for the Southwest Indiana Chamber of Commerce.
Evansville is one of nearly 130 collegiate institutions, conferences and arenas represented by Learfield. The company's rich history includes over four decades of developing trusted, long-term relationships with some of the most revered institutions and associations in the world of college sports. Additionally, it titles the Learfield Directors' Cup and offers its partners professional concessions and ticket sales; branding, licensing and trademark consulting; digital and social platform expertise; campus-wide business and sponsorship development.
Aces softball heads to Valparaiso
Missouri Valley Conference play continues for the University of Evansville softball team as they remain on the road this weekend for a 3-game series at Valparaiso.
On Wednesday, the University of Evansville softball team halted an 8-game losing streak as they defeated Indiana State by a 6-2 final in the second game of a doubleheader in Terre Haute.
Evansville plated two runs in the first inning before two more scored in the top half of the sixth when pitcher Jaime Nurrenbern hit a 2-RBI single. After Indiana State plated two in the bottom of the sixth, UE put the icing on the cake with a pair of runs coming from a Morgan Florey single that made it the final of 6-2. Nurrenbern earned the second win of her career, going the distance while allowing seven hits and just two runs, one of which was earned.
In the opener against the Sycamores, the Aces received solo home runs from Lindsay Renneisen and McKenzie Johnson, but a 4-spot by ISU in the bottom of the 5th was the difference in a 6-3 win.
Eryn Gould notched four hits in seven at-bats against ISU while Lindsay Renneisen was 3-6 in the doubleheader with two runs scored.
Valparaiso starts the weekend at 17-19 and are 4-10 in MVC play. Morgan Matalin paces VU with a .297 batting average while Taylor Lawson checks in at .286 while scoring a team-best 24 runs. Jaymee Lawton provides the power numbers, hitting 10 home runs while notching 29 RBI. Kenzie Grossman has a 1.78 ERA in the circle to go along with 10 wins on the season.

Valparaiso at Evansville Baseball
The University of Evansville baseball team is back at home this weekend, looking to crack the Missouri Valley Conference win column against the league's newest member, as Valparaiso comes to town.

The University of Evansville baseball team is hungry for a "w". The Purple Aces are coming off a tough road loss to tenth-ranked Vanderbilt Tuesday night in Nashville, 6-1 the final.
Valparaiso has found it tough sledding so far in 2018, as well, dropping their first two conference series as the newest member of the Missouri Valley Conference, falling to Bradley and Southern Illinois. The Crusaders over Power Five schools Oklahoma and Michigan State.
The Purple Aces will open the series with sophomore right hander Adam Lukas, who has settled into his role as starter after starting the season in the bullpen. While coming off his roughest start of the season against Bradley last Friday (1.1 IP, 5 H, 5 R, 5 ER), Lukas had been impressive in his previous two starts. Against Iowa and Creighton, Lukas went a combined 11 IP, 8 H, 2 R, 2 ER, 13 Ks.
Lukas will be opposed by Jon Tieman, who comes into Friday's series opener with a 3-3 record and a 5.25 ERA.
On Saturday, the Aces send out junior left hander Alex Weigand, who is coming off, arguably his best start, pitching 5.2 innings of shutout work, while holding Bradley to just two hits, striking out five Braves but got a no-decision.
Weigand will be opposed by Trey Ferketic, who comes into his Saturday start with a 4-2 mark and a 4.35 ERA.
Then on Sunday, head coach Wes Carroll hands the ball to freshman Jace Burke. The right hander from Akron, Ohio will be making his eighth appearance and sixth start of the season. He is currently 0-4, with an 8.38 ERA in his first year with Evansville. Last time out, Burke went four innings, giving up four runs, all earned, on four hits against Bradley. He also struck out and walked three batters each.
His counterpart will be Wes Gordon, who is also 0-4 on the season, with a 7.79 ERA.
The University of Evansville Athletic Department will be hosting a pregame tailgates prior to Saturday's game against Valparaiso. New men's head basketball head coach Walter McCarty will throw out the ceremonial pitch that day as well.

Contribute to AceNotes
To have content considered for inclusion in AceNotes, please submit a Marketing Request Form. Deadline for submission to AceNotes is 10:00 a.m. on the requested date of publication. Only articles concerning UE related/sponsored activities will be accepted. Articles submitted to AceNotes may be edited for length and clarity. Submitter contact information is at the end of each article.