| | |
| --- | --- |
| AceNotes Today | Wednesday, April 18, 2018 |
UE softball heads to Terre Haute today for doubleheader
The annual travel partner doubleheader is up next for the University of Evansville softball team as the Purple Aces head to Terre Haute today for a doubleheader. Game one starts at 1:00 p.m. CT while game two begins shortly after 3:00 p.m.
Illinois State earned a series sweep over the Aces last weekend, taking the three games by a total of five runs. Toni Galas registered two hits in four at-bats in Normal while Eryn Gould and Mea Adams went 3-11 to hit .273 in the 3-game set. The pitching staff did well once again, notching a 2.33 ERA. Late rallies by the Redbirds gave them wins in game one and three; on Friday, ISU trailed the opening tilt, 1-0, in the 6th, but plated two runs to take a 2-1 win. ISU also the final contest by a 2-0 margin in the bottom of the 5th, but scored twice in the 5th and 6th frames to take a 4-2 win; in the second game, UE trailed 4-0 but rallied with two runs in the seventh in a 4-2 loss.
With four Valley series remaining, Morgan Florey has already made it a memorable season as she set the program single season mark in strikeouts at Illinois State. Florey sits at 220 and passed the previous record of 216, which was set by Katie Markle in 2005. In the MSU series, Florey posted the 600th strikeout of her career; Florey is just the second in program history to do so, joining Katie Markle on the exclusive list. Florey is on the cusp of joining the top 20 in MVC history as Drake's Jessica Hicks ranks 19th with 653 in her career from 2003-06.
Freshman Toni Galas began her career 0-7 from the plate, but over the last week she began to find her groove. Galas registered three hits in nine trips to the plate; she also picked up her second stolen base on the season.
Evansville is mired in a 7-game losing streak, but that is not indicative to how competitive the team has been. The Aces have lost those 7 games by a total of 11 runs. Three of those contests went to extra innings while six were decided by two runs or less.
Indiana State comes into Wednesday's doubleheader with a mark of 20-19 and 7-7 in the Valley. They took two out of three from Southern Illinois over the weekend after splitting a doubleheader last week at Purdue. Leslie Sims paces the Sycamores with a .414 batting average while Bella Peterson stands at .362. Their staff is led by Arielle Blankenship, who has a 2.93 ERA.
I-House Saudi Arabia
Please join us tonight at 7:00 p.m., upstairs in Ridgway University Center for n I-House presentation on Saudi Arabia. Abdulmajeed Nasib is presenting. We hope to see you there!
Submitted by Alexis Whitacre aw339@evansville.edu
Flute and Guitar Duo Concert
UE Department of Music faculty member Leanne Hampton will be joined by guest guitarist Paulo Oliveira in an eclectic recital on Thursday, April 19, 7:30 p.m., at Wired Coffee House. The recital will feature works by composers from the Americas. The program includes a diverse array of repertoire from Astor Piazzolla's iconic Histoire du Tango to unexpected settings of Bright Size Life by jazz guitarist and composer Pat Metheny. This event is part of the Coffee & Classics chamber music series. The Wired Coffee House & Music Venue is located at 111 NW 4th St, Evansville, Indiana, 47708.
Submitted by Leanne Hampton lh255@evansville.edu
2nd Annual Stand Against Racism on Campus
TAKE A STAND WITH YWCA for peace, justice, freedom and dignity for all. JOIN US today - Wednesday, April 25 - outside Ridgway University Center for a day of events. All are welcome to attend and be a part of the day's events.
Event Line-Up:
11:15 a.m. Press Conference and Stand Against Racism Pledge
Noon – 1:00 p.m.: Anti-bias training with business leaders (Eykamp Hall, Room 251) Registration required, free lunch provided)
2:00 – 5:00 p.m.: Community information tables (prizes and giveaways)
3:00 – 4:00 p.m.: Open Mic - Poetry, Monologues, and Passive Poster Protest Display (all are welcome to participate)
4:00 – 5:00 p.m.: Panel discussion with community leaders on racial justice and equality
6:00 – 7:00 p.m.: Robert Jackson, Key Note Speaker - Respect & Compassion For All (Eykamp Hall, Room 251)
In the event of rain, events will move inside Ridgway University Center.
For more information, please e-mail Erika Taylor at etaylor@ywcaevansville.org or LaNeeca Williams at lw161@evansville.edu
Informal Spanish conversation
Spanish students of all levels are welcome to practice with Fulbright Spanish TA Ignacio Benítez.
The next session will be on Thursday April 19, at 1:00 p.m. in Room 400 in Olmsted Administration Hall. It's a wonderful opportunity to interact informally in Spanish with a native speaker and to meet other students of Spanish. Please contact Ignacio at cl192@evansville.edu if you have any questions. ¡Nos vemos!
Submitted by Ignacio Benitez cl192@evansville.edu
Fiji-A Tour set for this Saturday
Phi Gamma Delta's putt-putt philanthropy event benefitting Easterseals Rehabilitation is Saturday, April 21. $10/person. Includes lunch and putt-putt. Noon until midnight.
Submitted by Corbin Neu cn86@evansville.edu
New to Online Teaching Workshop
A New to Online Teaching Workshop will be held April 26 from 3:00-4:30 p.m. for anyone interested in learning more about teaching in an online environment. This is particularly geared toward those who haven't taught online in the past, but are considering offering an online course in the future. Topics will include creating an effective online class experience, using technology tools for creating course content, and getting started with developing your online class. If interested, please complete the workshop registration and contact Leslie Barton (lb261@evansville.edu) with any questions.
Shanklin Theatre Season closes with The Grapes of Wrath
The University of Evansville Department of Theatre proudly presents its final production of the season, The Grapes of Wrath, by Frank Galati, based on the novel by John Steinbeck, opened Friday, April 13 in Shanklin Theatre. Additional performances are at 7:30 p.m. on April 19, 20, and 21, and at 2:00 p.m. on April 22.
This Tony Award-winning play is an expansive retelling of John Steinbeck's brilliant Pulitzer Prize-winning novel. The riveting tale follows the impoverished Joad family's flight from the Dust Bowl and into the promised land found out West. Full of loss, triumph, and endless struggle, this timeless epic is a celebration of the soaring tenacity of the human spirit.
Ticket prices are $18 for adults and $16 for senior adults, students, and UE faculty and staff. UE students may obtain one free student rush ticket beginning at noon on the day of the performance they wish to attend.
Submitted by Sharla Cowden sc75@evansville.edu
Farewell reception for Ann Baker, Krista Williams, and Ignacio Benitez
Please join the Department of Foreign Languages and Cultures in a farewell reception for Ann Baker, assistant professor of Spanish, Krista Williams, assistant professor of French, and Ignacio Benítez, Fulbright teaching assistant, in Room 120 in Hyde Hall from 11:00 a.m.-1:00 p.m. on April 26.
Baker received her B.A. from Purdue University and her M.A. in Education from the University of Evansville. Her list of activities in service to the department, the University and our community is exceptionally long. Professor Baker began teaching here in 1984 as an adjunct and in 1992, became a full-time faculty member. Please come and celebrate her retirement after 34 years of service to the University of Evansville!
Williams has been at the University of Evansville since 2014, teaching beginning and intermediate language courses, as well as upper-level courses in such topics as phonetics, linguistics, and advanced grammar, in addition to FYS. Her research interests include the definitions of color terms in monolingual dictionaries and their translations in bilingual or multilingual dictionaries, profanity in pidgin and creole languages, and Occitan lexicography. The Department of Foreign Languages and Cultures will miss her energy, enthusiasm, and good cheer. Please join the department in wishing her all the best at the College of Charleston in the Fall!
A native of Uruguay, Benitez, has assisted the Spanish faculty in teaching beginning, intermediate, and upper level Spanish courses this year. Additionally, he has tutored students outside of the classroom to assist professors and has sponsored extracurricular activities to help students improve their speaking skills while broadening their knowledge of Hispanic cultures and customs. Please join the department in thanking him for his work this year!
Submitted by Tammy Johnson tj87@evansville.edu
Farewell gathering for counselors Sylvia Buck and Liz McCormick
Please join the office of student life as we say goodbye to two of our counselors. Counseling director Sylvia Buck will be retiring after many years at the University and Liz McCormick will be moving to Georgia. Eat cake and give them well wishes in the Class of 59 Gallery and Lounge upstairs in Ridgway University Center this afternoon from 2:30-4:00 p.m.
Submitted by Jennifer Hargus jh693@evansville.edu
Retirement reception for Robert Morse
Please join the Department of Electrical Engineering and Computer Science Department in extending best wishes to Bob Morse, professor of computer science, on his retirement at a reception on Thursday, April 19. The event will be from 2:00-4:00 p.m. in the Class of 1959 Gallery and Lounge in Ridgway University Center. Refreshments will be served.
Submitted by Vicky Hasenour vh12@evansville.edu
Deadline tomorrow for Senior changemaker nominations!
Take three minutes to nominate a graduating senior who freely and effectively innovates for the good of all. Changemaking includes social entrepreneurship, social innovation, service learning, civic engagement, social justice and philanthropy.
All nominations must be made by Tuesday, April 24. The Senior Changemakers will be announced and highlighted during finals week
Please submit the nomination using this form.
Be on the lookout for more exciting things in regards to Changemaking.
Submitted by Lindsay Roberts lr155@evansville.edu
Sign up TODAY! Bowling fun and win proceeds for your favorite charity!
There are only a few lanes left! Sign-up your team for UEVETS' Spare Change for Warriors charity bowling tournament benefiting Soldier Dogs for Independence, plus win money for YOUR team's favorite charity.
• Saturday, April 21 at 1:00 p.m. at River City Recreation
• Up to five people per team
• Winning team decides half of charity proceeds
• FUN!
To sign up your team, contact Jacob Chandler at jc571@evansville.edu or call 812-568-6548.
Submitted by Cherie Leonhardt CL29@evansville.edu
Need some Group or Department Gear?
Did you know the UE Bookstore can supply imprinted or embroidered clothing items for groups or departments on campus? We can do as few as 12 of a garment with the logo you want. Items included but not limited to include jackets, polos, quarter zips, and more. We're an approved licensed vendor of UE trademarks as well. Next time you need something give the UE Bookstore a chance.
Orr Fellowship - post grad opportunities
When: Thursday, April 19 at 12:20 p.m.
Where: Room 172, Schroeder School of Business Building
Please RSVP to ro32@evansville.edu
Orr Fellowship is the ultimate post-grad experience. Fellows are recruited from the top seniors at universities in Indiana and Ohio (but candidates from any school are welcome), with an average acceptance rate of 6%. Converging in Indianapolis, these talented graduates join vibrant companies in positions that create a foundation for career success. In addition to full time employment, Orr Fellows participate in a unique curriculum designed to challenge, develop and propel them toward a career of excellence. With two years that are jam-packed with executive mentorship, growing a strong network, and acquiring new skills, each Fellow stars in his or her own success story.
Submitted by Rebecca Oates ro32@evansville.edu
Rosary Prayer at 10:00 a.m. on Thursdays
The Newman Club will be offering a 20-minute rosary prayer every Thursday at 10:00 a.m. in the Center for Academic Advising in the Clifford Memorial Library. Students and faculty are welcome. For more information, contact Olivia at ov4@evansville.edu.
Submitted by Carly Walker cw289@evansville.edu
T-shirt drive for UnCharted International planned for April 16-20
Do you have unwanted T-shirts that you do not want to take home in May? Bring them to Ridgway University Center on Monday, April 16 through Friday, April 20, from 11:00 a.m.-1:00 p.m. The Athletic Training Club will be collecting T-shirts to donate to Uncharted International. These T-shirts will be distributed to orphanages in Myanmar!
Submitted by Hannah Bernhardt hb92@evansville.edu
Financial aid for summer courses
If you are seeking financial aid for summer courses at UE, please complete a summer financial aid application and return to the Office of Financial Aid (Olmsted 116). The application will allow our office to determine the types of aid for which you may be eligible.
Work-Study
On-campus jobs are available for continuing UE students during the summer. You do not need to be eligible for need-based Federal Work-Study during the academic year in order to apply. You may also apply regardless of your enrollment in summer courses. Applications are available within the Student Employment area of WebAdvisor.
Submitted by Amy Sowders as560@evansville.edu
Dr. Marvin E. Hartig Memorial Scholarship applications
Applications are now being accepted for this year's Dr. Marvin E. Hartig Memorial Scholarship. This scholarship is dedicated to the loving memory of Hartig, dean of Evansville College's Evening College in 1967, and administrator for the Center for Advanced Study, director of the Evansville chapter of the American Institute of Banking (AIB), and the international student advisor. In 1974, Hartig was appointed dean of academic services. He retired in 1984 after serving his alma mater for 35 years and passed away in 2007.
This scholarship is awarded each year to a deserving sophomore. Preference will be given to a student working while being enrolled as a full-time student.
International students are encouraged to apply.
Applicants must submit the following to be considered:
1. Completed application

2. In a one page, single spaced, 12 point Verdana font essay, please answer all of these questions:
•What have you learned about yourself as a UE student?
•What do you do for fun when not studying or working?
•Name a special attribute or accomplishment that sets you apart.
•You have done a lot in your short life. In what areas do you think you can improve?
•What are your scholastic and career goals?
•How did you finance your freshman year and how will you finance your sophomore year?
•Why are you a good candidate to receive this scholarship?
•What have you learned about Dr. Hartig, how does he influence or inspire you, and how will you preserve his legacy as recipient of this scholarship?
Please return all materials to the Office of Financial Aid by May 1. Decision will be announced by July 2.
If you have questions, contact Trisha Hawkes, administrative assistant to the Office of Financial Aid, at financialaid@evansville.edu or 812-488-2364.
Submitted by Trisha Hawkes th187@evansville.edu
Yazdanparast's paper to be published
Atefeh Yazdanparast, assistant professor of marketing, has had a paper accepted for publication in the Journal of Consumer Marketing. The paper titled "Moral Foundations and Judgment: Conceptualizing Boundaries," draws on moral foundation theory and norm activation model and follows an interdisciplinary literature review to integrate extant knowledge on morality, moral judgment, and consumer behavior. The research identifies cultural, individual, and situational factors that influence moral judgments and decision making.
2018-19 Global Scholars announced
The Institute for Global Enterprise is pleased to announce the Global Scholars for the 2018-19 academic year. Congratulations to Su Jin Jeong, assistant professor of public health; Chuck Meacham, professor of theatre; and Pengcheng Xiao, assistant professor of mathematics. Each scholar will receive a travel allowance to aid in their projects.
Su Jin Jeong will develop a program of research and student exchange comparing postpartum maternal and infant care in Korea vs. the US.
Chuck Meacham will utilize his skills and expertise from theatre to work with Habitat for Humanity Global Village projects.
Pengcheng Xiao will integrate math education from UE to Beijing.
As Global Scholars, the recipients of this award will engage in scholarship, curriculum development, and activities related to preparing our students and community for global leadership, citizenry, and success. The Global Scholars program is supported by the John H. Schroeder Global Scholar Endowed Fund and the Lilly Endowment.
Submitted by Cindy Kelley ck116@evansville.edu
Honor Society of Nursing inducts new members
The University of Evansville Eta Lambda Chapter of Sigma Theta Tau International Honor Society of Nursing inducted new members in a ceremony April 8. Inductees included Traci Burch, Megan Dunn, Jacob Grisham, Kaitlyn Ingle, Danielle Lopiccolo, and Rachel Patch. Graduating senior members, Courtney Coverdale and Kasey Rein, assisted with the induction of new members. Professor Deborah Marshall gave the keynote address. The mission of Sigma Theta Tau International is advancing world health and celebrating nursing excellence in scholarship, leadership, and service.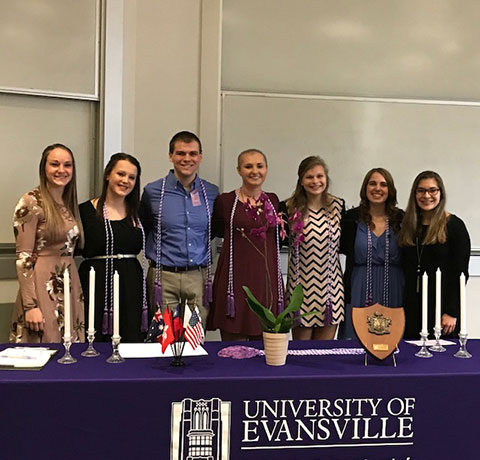 Xiao publishes research
Pengcheng Xiao, assistant professor of mathematics, has published a paper in the International Journal of Bifurcations and Chaos(IJBC). IJBC is widely regarded as the leading journal in the exciting field of chaos and nonlinear science. The paper is titled "Seizure Dynamics of Coupled Oscillators with Epileptor Field Model".
The study is the continuous collaboration work with Professor Honghui Zhang at Northwestern Polytechnical University.
Evansville 1, Vanderbilt 6
Behind strong pitching, the University of Evansville baseball team kept things tight with tenth ranked Vanderbilt, however the Purple Aces couldn't catch the Commodores on the scoreboard, falling in Nashville, Tennessee, 6-1, Tuesday night.
Junior starting pitcher Austin Allinger looked sharp in pitching the opening of the frames, allowing just one hit while tossing a pair of scoreless innings.
Allinger would give way to freshman reliever Austin Ruesch, who got a pair of quick outs to open the third inning. However, the third out of the frame proved to be tougher to get. After giving up a two out double to Connor Kaiser, Ruesch got tagged on a two-strike pitch by Vandy's leading home run hitter, Ethan Paul, giving the Commodores an early 2-0 lead. That would be Ruesch's lone mistake, as he kept Vanderbilt off the scoreboard for the next two innings.
Sophomore reliever Nathan Croner would take over for Ruesch in the sixth, and would get into hot water immediately, hitting the leadoff batter, then walking another, putting a pair aboard with nobody out. Croner would bounce back to get the next two outs, and appeared to be on his way to getting out of the jam. Then, Jayson Gonzalez snuck a single through the left side of the infield, tallying a pair of insurance runs, putting UE in a 4-0 hole.
Meanwhile, the Aces bats struggled to break through in the runs column. That is until the seventh inning. It began with sophomore outfielder Troy Beilsmith drawing a leadoff walk. Next, senior first baseman Dalton Horstmeier singled to right-center, sending Beilsmith to third. Then, senior designated hitter Travis Tokarek, playing in his first game in a month due to injury, drove in Beilsmith with a ground out to first base, putting the Aces on the scoreboard.
However, Evansville would draw no closer and the Commodores would add to their pad in eighth with Ethan Paul's second round tripper of the game. Vanderbilt would tack on another in the frame, going onto take a 6-1 decision.
The loss drops the Aces to 6-24, while Vandy improves to 23-14. The University of Evansville baseball team is back in action Friday night at home against the newest member of the Missouri Valley Conference, Valparaiso. First pitch for game one of the series is set for 6 p.m. at Charles H. Braun Stadium.
Aces finish 10th at MVC Championship
The University of Evansville women's golf team closed out the 2018 Missouri Valley Conference Championship with a 10th-place finish at Sand Creek Station Golf Course in Newton, Kan.
The Purple Aces finished the tournament with a team score of 310 in the third round for a three-day total of 961 (332 - 319 - 310). Missouri State captured the MVC Championship with a three-round total of 887, besting second-place finishing UNI by 14strokes. Winning the individual championship was Missouri State's Rachel Johnson who recorded a three-round total of 215 (75 - 73 - 67).
Madison Chaney remained consistent on the final day of competition as the junior finished in a tie for 33rd with a tournament total of 236 (76 - 80 - 80). Just one stroke behind Chaney was freshman Sophia Rohleder, who concluded her first MVC Championship with a 75 in the final round. Rohleder tallied an 87 in the first round, but responded with back-to-back 75s to close out the tournament in 36th with a three-round total of 237.
In her final collegiate round, senior Giulia Mallmann carded the best round of her Purple Aces career with a two-over 74 in Tuesday's final round, the best round by an Ace at the championship. Previous to Tuesday, Mallmann's best round in her career was a 77. Mallmann concluded the 2018 MVC Championship with a three-round total of 245 (85 - 86 - 74), earning her a 44th-place finish.
Following Mallmann were Minka Gill and Lexie Sollman who finished in 49th and 50th, respectively. Gill tallied her best round of the tournament on Tuesday with an 81, giving Gill a tournament-total of 254 (84 - 89 - 81). Sollman finished up the tournament with an 86 in Tuesday's final round as the sophomore completed the championship with a three-round total of 256 (92 - 78 - 86).
Contribute to AceNotes
To have content considered for inclusion in AceNotes, please submit a Marketing Request Form. Deadline for submission to AceNotes is 10:00 a.m. on the requested date of publication. Only articles concerning UE related/sponsored activities will be accepted. Articles submitted to AceNotes may be edited for length and clarity. Submitter contact information is at the end of each article.