| | |
| --- | --- |
| AceNotes Today | Tuesday, April 17, 2018 |
Passive Poster Protest tonight at the Diversity House
This evening at the Diversity Resource Center (Diversity House) at 436 Weinbach Avenue, campus members will have the opportunity to be a part of the YWCA's Stand Against Racism on campus, Wednesday, April 25.
The campus members can design a poster that they would use in any protest or march to signify their support for the issue. The campus member chooses their own movement and designs their own poster as a part of what is being called a Passive Poster Protest.
The posters will be displayed on April 25 as a part of Stand Against Racism with information about the protest or march.
All supplies will be provided as well as pizza. All campus members are invited to participate. The event begins at 6:00 p.m. and will end at 9:00 p.m.
Submitted by LaNeeca Williams lw161@evansville.edu
AZZIP Giveback today to benefit DPT Class 2021
Please join us at the AZZIP on North Green River Road today - Tuesday, April 17 - to help raise money to benefit the Doctorate of Physical Therapy Class of 2021. Stop by any time between 11:00 a.m.-9:00 p.m. and enjoy some yummy food (just make sure you tell them you are there for the giveback). Thank you in advance!
Submitted by Kendall Turner kt131@evansville.edu
This Week in Music: Ensemble Concerts, Opera, and Student Recitals
String Ensemble
Thursday, April 19, 6:00 p.m., Wheeler Concert Hall
The University of Evansville String Ensemble, under the direction of Chun-Ming Chen, will present a concert on Thursday, April 19, at 7:30 p.m. in Wheeler Concert Hall. The program will feature string quartets by Glass and Dvorak, as well as movements from Respighi's Antiche Danze ed Arie per Liuto, Suite No. 3. The concert is free and open to the public.
For more information, visit the music department concert calendar.
Schmidt Opera Series – The Merry Widow
Friday, April 20 and Saturday, April 21, 7:30 p.m., Wheeler Concert Hall
The University of Evansville Opera, under the direction of Alanna Keenan, will present Franz Lehár's operetta The Merry Widow on Friday, April 20 and Saturday, April 21, at 7:30 p.m. The performance will be held in Wheeler Concert Hall in the Krannert Fine Arts Building on the University of Evansville campus. The operetta tells the story of a wealthy widow, Hanna Glawari, and the many men who attempt to win her love. The production is filled with dancing and popular tunes of its time and is perfect for first-time opera goers and aficionados alike.
Tickets are $10 for the general public and are free for University of Evansville students and employees with a UE ID. Tickets can be purchased at the door or by calling the music department office at 488-2754.
The performance is underwritten by a grant from the William E. Schmidt Foundation.
For more information, visit the music department concert calendar.
Woodwind Ensembles
Sunday, April 22, 2:30 p.m., Wheeler Concert Hall
The University of Evansville woodwind ensembles will present a combined concert on Sunday, April 22, at 2:30 p.m. in Wheeler Concert Hall. The Clarinet Ensemble, under the direction of Thomas Josenhans, will open the program with works by Mozart, Dobrinescu, and Spikes. The Saxophone Quartet, under the direction of Shawn Teichmer, will present works by Rivier and Lane, with Joshua Britton as guest trombonist. The Flute Ensemble, under the direction of Leanne Hampton, will close the concert with a work by Handel and some fun arrangements of Super Mario Brothers music and Despacito. Ross Erickson will be featured as guest percussionist. The concert is free and open to the public.
For more information, visit the music department concert calendar.
Kantorei and Women's Chorus
Sunday, April 22, 6:00 p.m., Neu Chapel
The University of Evansville Kantorei and Women's Chorus, under the direction of Dennis Malfatti and accompanied by Melanie Baker, will present a combined concert on Sunday, April 22, at 6:00 p.m. in Neu Chapel. The program will feature a wide range of styles, with music by Tallis, Bach, Mendelssohn, Rutter, and others. The concert is free and open to the public.
For more information, visit the music department concert calendar.
Brass and Percussion Chamber Recital
Sunday, April 22, 7:30 p.m., Wheeler Concert Hall
The University of Evansville Trumpet Ensemble, Low Brass Ensemble, and Percussion Ensemble will present a combined concert on Sunday, April 22, at 7:30 p.m. in Wheeler Concert Hall. The program will feature a variety of works, ranging from Bruckner and Bartok to Hoagy Carmichael and others. The concert is free and open to the public.
For more information, visit the music department concert calendar.
Student Recitals
April 21, 1:00 p.m., First Presbyterian Church – Sr. Catherine Duenne (organ)
April 21, 2:30 p.m., Wheeler – Michael Kmiecik (guitar)
April 21, 4:00 p.m., Wheeler – Emma Lundquist (flute) and Logan Tsuji (trumpet)
Submitted by James Sullivan js820@evansville.edu
Free obsolete electronics recycling on April 26
Recycle your obsolete electronics on April 26 on Hale loop drive from 10:00 a.m.-1:00 p.m.! Students and employees (faculty, administrators, and staff) can bring the following personal, obsolete electronic equipment to be recycled at no cost:
• LCD displays, LCD TV's and LCD monitors, computers, printers, fax machines, laptops, cell phones, PDAs, cables, circuit boards, connectors, electrical equipment, audio video equipment, DVD players, stereos, radios, calculators, speakers, VCRs. Small quantities of batteries will be accepted.
The following items will NOT be accepted:
• CRT TV's and CRT computer monitors, fluorescent light bulbs (including compact bulbs), refrigerators, freezers, microwaves, stoves, vacuum cleaners, dehumidifiers, leaking batteries and any other items C&I deems unallowable. Electronics owned by the University.
NOTE: The cost of processing CRT TV's and CRT computer monitors has increased significantly, and the University is no longer able to cover these items. However, these items may be brought to C&I Electronics located at 1700 N Lafayette Ave, Evansville, IN 47711, Monday-Friday from 9:00 a.m.-5:00 p.m.
For more information or questions contact Amber Elkin at ae152@evansville.edu or ext. 2697.
Submitted by Amber Elkins ae152@evansville.edu
Informal Spanish conversation
Spanish students of all levels are welcome to practice with Fulbright Spanish TA Ignacio Benítez.
The next session will be on Thursday April 19, at 1:00 p.m. in Room 400 in Olmsted Administration Hall. It's a wonderful opportunity to interact informally in Spanish with a native speaker and to meet other students of Spanish. Please contact Ignacio at cl192@evansville.edu if you have any questions. ¡Nos vemos!
Submitted by Ignacio Benitez cl192@evansville.edu
Melvin M. Peterson Forum Hemminger-Brown Lecture - April 20
The Department of English will host the Melvin M. Peterson Literary Forum Hemminger-Brown Lecture on Friday, April 20, 7:00 p.m., in Harkness Hall, Room 162, Schroeder School of Business Building. Guest speaker Cecilia Tichi, PhD, professor of English at Vanderbilt University, will give a talk on "America's Gilded Age, American Writers' Gold."
Tichi is the Gertrude Conaway Vanderbilt Professor of English and professor of American studies at Vanderbilt University, a past president of the American Studies Association, and the winner of the Jay B. Hubbell Medal for lifetime achievement in American literature. She regularly gives talks at the American Studies Association annual meetings, at colleges and universities, and at book fairs. She has been interviewed on radio and television and has spoken to book clubs, church and synagogue groups, and to large audiences. She held the honorific Chair of Modern Culture at the John W. Kluge Center at the Library of Congress in 2005-07 and in 2012 was been named the Andrew W. Mellon Fellow at the Huntington Library in San Marino, California.
Her 12 books include five mystery novels and nonfiction titles that span American popular culture and social history, from television to country music to the gear-and-girder technology that transformed the environment nationwide in the late 1800s and early 1900s. Her newest book, What Would Mrs. Astor Do? A Complete Guide to the Manners and Mores of the Gilded Age, will be published this fall.
Submitted by Katherine Martyn km283@evansville.edu
Chutney Student Literary Conference, April 21
The Seventh Annual Chutney Student Literary Conference will take place on Saturday, April 21. All are welcome to attend the student panels which are scheduled for 9:30 a.m., 10:45 a.m., and at noon in the Schroeder School of Business Building, Rooms 271 and 272.
The Virginia Grabill and The George Klinger Memorial Writing Prizes will be announced during the last panel session of the conference.
Submitted by Katherine Martyn km283@evansville.edu
I-House Saudi Arabia
Please join us tonight at 7:00 p.m., upstairs in Ridgway University Center for n I-House presentation on Saudi Arabia. Abdulmajeed Nasib is presenting. We hope to see you there!
Submitted by Alexis Whitacre aw339@evansville.edu
New to Online Teaching Workshop
A New to Online Teaching Workshop will be held April 26 from 3:00-4:30 p.m. for anyone interested in learning more about teaching in an online environment. This is particularly geared toward those who haven't taught online in the past, but are considering offering an online course in the future. Topics will include creating an effective online class experience, using technology tools for creating course content, and getting started with developing your online class. If interested, please complete the workshop registration and contact Leslie Barton (lb261@evansville.edu) with any questions.
Shanklin Theatre Season closes with The Grapes of Wrath
The University of Evansville Department of Theatre proudly presents its final production of the season, The Grapes of Wrath, by Frank Galati, based on the novel by John Steinbeck, opened Friday, April 13 in Shanklin Theatre. Additional performances are at 7:30 p.m. on April 19, 20, and 21, and at 2:00 p.m. on April 22.
This Tony Award-winning play is an expansive retelling of John Steinbeck's brilliant Pulitzer Prize-winning novel. The riveting tale follows the impoverished Joad family's flight from the Dust Bowl and into the promised land found out West. Full of loss, triumph, and endless struggle, this timeless epic is a celebration of the soaring tenacity of the human spirit.
Ticket prices are $18 for adults and $16 for senior adults, students, and UE faculty and staff. UE students may obtain one free student rush ticket beginning at noon on the day of the performance they wish to attend.
Submitted by Sharla Cowden sc75@evansville.edu
Retirement reception for Robert Morse
Please join the Department of Electrical Engineering and Computer Science Department in extending best wishes to Bob Morse, professor of computer science, on his retirement at a reception on Thursday, April 19. The event will be from 2:00-4:00 p.m. in the Class of 1959 Gallery and Lounge in Ridgway University Center. Refreshments will be served.
Submitted by Vicky Hasenour vh12@evansville.edu
Sign up TODAY! Bowling fun and win proceeds for your favorite charity!
There are only a few lanes left! Sign-up your team for UEVETS' Spare Change for Warriors charity bowling tournament benefiting Soldier Dogs for Independence, plus win money for YOUR team's favorite charity.
• Saturday, April 21 at 1:00 p.m. at River City Recreation
• Up to five people per team
• Winning team decides half of charity proceeds
• FUN!
To sign up your team, contact Jacob Chandler at jc571@evansville.edu or call 812-568-6548.
Submitted by Cherie Leonhardt CL29@evansville.edu
Venturing Crew Executive Board Applications Open
Venturing Crew Applications for the executive board are now open. They will be open until April 18. This is a great opportunity to make friendships, get involved on and off campus, do more with the crew, and build leadership skills while being a great resume builder. No prior crew or leadership experience is necessary.
Follow this link to apply. Please email Sidney Winstead at sw228@evansville.edu if you have any questions.
Need some Group or Department Gear?
Did you know the UE Bookstore can supply imprinted or embroidered clothing items for groups or departments on campus? We can do as few as 12 of a garment with the logo you want. Items included but not limited to include jackets, polos, quarter zips, and more. We're an approved licensed vendor of UE trademarks as well. Next time you need something give the UE Bookstore a chance.
Graduates take note
May graduates are reminded to make sure they try on their purchased cap and gown well before graduation to make sure everything fits. If you need changes come to the UE Bookstore. Those students who have not purchased their cap and gown should do so in the UE Bookstore promptly.
Submitted by Doug Gustwiller dg57@evansville.edu
COMM 380 ONLINE in Summer II
Would one class that fulfills several general education requirements and teaches you valuable life skills interest you? Do you want to reduce your course load during the regular fall or spring semesters? How would you like to take such a course NO MATTER WHERE you plan to be this summer?
If you answered yes to any of these questions, you should consider enrolling in COMM 380 ONLINE (Intercultural Communication) offered in Summer Session II.
COMM 380 meets criteria for General Education Outcome 9 (Understanding of Core Concepts of Society, Human Behavior, and Civic Knowledge) and Overlay Component A (Global Diversity: International Component).
For more information, contact professor emeritus of communication Dean Thomlison at dt4@evansville.edu.
Submitted by Dean Thomlison dt4@evansville.edu
Rosary Prayer at 10:00 a.m. on Thursdays
The Newman Club will be offering a 20-minute rosary prayer every Thursday at 10:00 a.m. in the Center for Academic Advising in the Clifford Memorial Library. Students and faculty are welcome. For more information, contact Olivia at ov4@evansville.edu.
Submitted by Carly Walker cw289@evansville.edu
Financial aid for summer courses
If you are seeking financial aid for summer courses at UE, please complete a summer financial aid application and return to the Office of Financial Aid (Olmsted 116). The application will allow our office to determine the types of aid for which you may be eligible.
Work-Study
On-campus jobs are available for continuing UE students during the summer. You do not need to be eligible for need-based Federal Work-Study during the academic year in order to apply. You may also apply regardless of your enrollment in summer courses. Applications are available within the Student Employment area of WebAdvisor.
Submitted by Amy Sowders as560@evansville.edu
Yazdanparast's paper to be published
Atefeh Yazdanparast, assistant professor of marketing, has had a paper accepted for publication in the Journal of Consumer Marketing. The paper titled "Moral Foundations and Judgment: Conceptualizing Boundaries," draws on moral foundation theory and norm activation model and follows an interdisciplinary literature review to integrate extant knowledge on morality, moral judgment, and consumer behavior. The research identifies cultural, individual, and situational factors that influence moral judgments and decision making.
Ebeling receives grant to support the Jezreel Expedition
Jennie Ebeling, associate professor of archaeology and co-director of the Jezreel Expedition, was awarded a grant from the Rust Family Foundation to support the analysis and publication of artifacts excavated at Jezreel 2013-17. The Rust Family Foundation funds projects that use primary archaeological evidence to answer major questions about cultural development throughout the world. Ebeling and colleagues in Germany, Israel, and the UK will use this grant to fund geochemical and petrographic analyses of basalt artifacts and geological samples as they continue to study the uniquely large and diverse ground stone artifacts assemblage at the site.
2018-19 Global Scholars announced
The Institute for Global Enterprise is pleased to announce the Global Scholars for the 2018-19 academic year. Congratulations to Su Jin Jeong, assistant professor of public health; Chuck Meacham, professor of theatre; and Pengcheng Xiao, assistant professor of mathematics. Each scholar will receive a travel allowance to aid in their projects.
Su Jin Jeong will develop a program of research and student exchange comparing postpartum maternal and infant care in Korea vs. the US.
Chuck Meacham will utilize his skills and expertise from theatre to work with Habitat for Humanity Global Village projects.
Pengcheng Xiao will integrate math education from UE to Beijing.
As Global Scholars, the recipients of this award will engage in scholarship, curriculum development, and activities related to preparing our students and community for global leadership, citizenry, and success. The Global Scholars program is supported by the John H. Schroeder Global Scholar Endowed Fund and the Lilly Endowment.
Submitted by Cindy Kelley ck116@evansville.edu
Honor Society of Nursing inducts new members
The University of Evansville Eta Lambda Chapter of Sigma Theta Tau International Honor Society of Nursing inducted new members in a ceremony April 8. Inductees included Traci Burch, Megan Dunn, Jacob Grisham, Kaitlyn Ingle, Danielle Lopiccolo, and Rachel Patch. Graduating senior members, Courtney Coverdale and Kasey Rein, assisted with the induction of new members. Professor Deborah Marshall gave the keynote address. The mission of Sigma Theta Tau International is advancing world health and celebrating nursing excellence in scholarship, leadership, and service.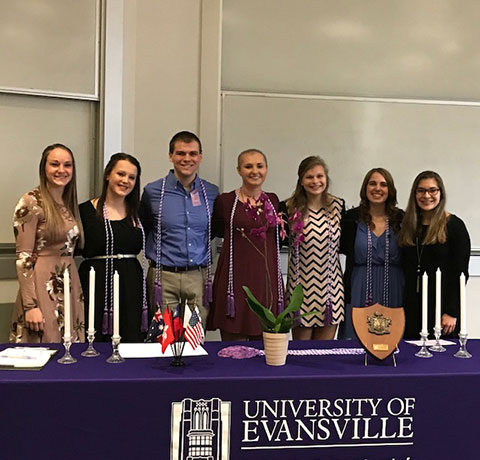 Evansville/Vanderbilt Baseball Preview
The University of Evansville baseball team heads down to Nashville Tuesday night for their annual match-up with Vanderbilt. The Commodores hold the all-time series edge, 33-16. Vanderbilt has taken the last two meetings, 7-4 in 2017 and 9-8 in a 12 inning affair, in 2016. The last time the University of Evansville won in the series came in 2015, where they took an 8-3 decision in Nashville.
The Purple Aces will look to put the brakes on a 12 game losing streak. The Purple Aces are coming off a three-game sweep at the hands of Bradley at home this past weekend.
As for Vanderbilt, the Commodores are coming off a winning weekend at home against Ole Miss, taking two of three from the Rebels, including back-to-back 8-7 slugfests in a doubleheader on Sunday.
First pitch between the Aces and Commodores is at 6:30 p.m. at Vanderbilt's Hawkins Field in Nashville. The game will be available on television on SEC Plus. The game will also be broadcast on WUEV 91.5-FM radio.
Contribute to AceNotes
To have content considered for inclusion in AceNotes, please submit a Marketing Request Form. Deadline for submission to AceNotes is 10:00 a.m. on the requested date of publication. Only articles concerning UE related/sponsored activities will be accepted. Articles submitted to AceNotes may be edited for length and clarity. Submitter contact information is at the end of each article.