| | |
| --- | --- |
| AceNotes Today | Monday, April 16, 2018 |
UE's Pep and Vim Annual Day of Giving a huge success!
Because of YOU, together we achieved and surpassed all three Pep and Vim Day of Giving challenges presented to us by the Alumni Board of Directors!
The Alumni Board of Directors donated a total of $25,000 to UE's annual fund when we reached 1000 donors. On Friday we surpassed this goal with an estimated total of 1055 donors (gifts are still being processed, final donor count will be posted later this week).
We could not have accomplished this without the collective effort of our campus, alumni, friends, corporations and parents of the University. There was a terrific sense of community pride on campus today. I hope you felt it as well. When united, we can do great things.
Thank you for your support and participation on UE's Pep and Vim Annual Day of Giving and Philanthropy Week.
Best,
President Kazee
Campese to speak on neuroscience of learned emotions
The Department of Psychology and Neuroscience would like to invite the campus community to a talk by Vincent Campese about "Identifying Mechanisms of Control Using Avoidance." The lecture is set for today - Monday, April 16 - at 4:00 p.m. in Room 170 in the Schroeder School of Business Building. Campese is a postdoctoral fellow at New York University's Center for Neural Science. His work with Joseph LeDoux has explored the neuroscience behind memory and learning.
For decades, Pavlovian fear conditioning has been an effective model for how aversive memories are formed and expressed. A major goal of this work is to identify mechanisms that suppress these memories in order to develop better treatments for disorders of fear and anxiety. While popular exposure-based interventions, such as extinction, can reduce aversive reactions (e.g., freezing), they do so only transiently. Using an aversive Pavlovian-instrumental transfer procedure, avoidance learning was shown to more effectively reduce aversive reactions and permit adaptive coping. Furthermore, this shift from passive to active responding was found to depend on changes to cue-elicited noradrenergic transmission between the amygdala and brain stem resulting from avoidance learning.
Submitted by Elizabeth Hennon Peters eh82@evansville.edu
Vandagriff to discuss statistical modeling and Affordable Care Act
The Department of Mathematics invites the campus community to attend a talk by UE alumnus Alan Vandagriff at 4:00 p.m. today - Monday, April 16 - in Koch Center 101. Alan will discuss how statistical modeling is used to help health insurers improve their financial performance and patient care under the Affordable Care Act.
Alan graduated from UE in 2014 with a degree in applied mathematics, specializing in actuarial science. He is an actuarial analyst with Milliman in Chicago.
I-House Saudi Arabia
Please join us tonight at 7:00 p.m., upstairs in Ridgway University Center for n I-House presentation on Saudi Arabia. Abdulmajeed Nasib is presenting. We hope to see you there!
Submitted by Alexis Whitacre aw339@evansville.edu
AZZIP Giveback today to benefit DPT Class 2021
Please join us at the AZZIP on North Green River Road today - Tuesday, April 17 - to help raise money to benefit the Doctorate of Physical Therapy Class of 2021. Stop by any time between 11:00 a.m.-9:00 p.m. and enjoy some yummy food (just make sure you tell them you are there for the giveback). Thank you in advance!
Submitted by Kendall Turner kt131@evansville.edu
This Week in Music: Ensemble Concerts, Opera, and Student Recitals
String Ensemble
Thursday, April 19, 6:00 p.m., Wheeler Concert Hall
The University of Evansville String Ensemble, under the direction of Chun-Ming Chen, will present a concert on Thursday, April 19, at 7:30 p.m. in Wheeler Concert Hall. The program will feature string quartets by Glass and Dvorak, as well as movements from Respighi's Antiche Danze ed Arie per Liuto, Suite No. 3. The concert is free and open to the public.
For more information, visit the music department concert calendar.
Schmidt Opera Series – The Merry Widow
Friday, April 20 and Saturday, April 21, 7:30 p.m., Wheeler Concert Hall
The University of Evansville Opera, under the direction of Alanna Keenan, will present Franz Lehár's operetta The Merry Widow on Friday, April 20 and Saturday, April 21, at 7:30 p.m. The performance will be held in Wheeler Concert Hall in the Krannert Fine Arts Building on the University of Evansville campus. The operetta tells the story of a wealthy widow, Hanna Glawari, and the many men who attempt to win her love. The production is filled with dancing and popular tunes of its time and is perfect for first-time opera goers and aficionados alike.
Tickets are $10 for the general public and are free for University of Evansville students and employees with a UE ID. Tickets can be purchased at the door or by calling the music department office at 488-2754.
The performance is underwritten by a grant from the William E. Schmidt Foundation.
For more information, visit the music department concert calendar.
Woodwind Ensembles
Sunday, April 22, 2:30 p.m., Wheeler Concert Hall
The University of Evansville woodwind ensembles will present a combined concert on Sunday, April 22, at 2:30 p.m. in Wheeler Concert Hall. The Clarinet Ensemble, under the direction of Thomas Josenhans, will open the program with works by Mozart, Dobrinescu, and Spikes. The Saxophone Quartet, under the direction of Shawn Teichmer, will present works by Rivier and Lane, with Joshua Britton as guest trombonist. The Flute Ensemble, under the direction of Leanne Hampton, will close the concert with a work by Handel and some fun arrangements of Super Mario Brothers music and Despacito. Ross Erickson will be featured as guest percussionist. The concert is free and open to the public.
For more information, visit the music department concert calendar.
Kantorei and Women's Chorus
Sunday, April 22, 6:00 p.m., Neu Chapel
The University of Evansville Kantorei and Women's Chorus, under the direction of Dennis Malfatti and accompanied by Melanie Baker, will present a combined concert on Sunday, April 22, at 6:00 p.m. in Neu Chapel. The program will feature a wide range of styles, with music by Tallis, Bach, Mendelssohn, Rutter, and others. The concert is free and open to the public.
For more information, visit the music department concert calendar.
Brass and Percussion Chamber Recital
Sunday, April 22, 7:30 p.m., Wheeler Concert Hall
The University of Evansville Trumpet Ensemble, Low Brass Ensemble, and Percussion Ensemble will present a combined concert on Sunday, April 22, at 7:30 p.m. in Wheeler Concert Hall. The program will feature a variety of works, ranging from Bruckner and Bartok to Hoagy Carmichael and others. The concert is free and open to the public.
For more information, visit the music department concert calendar.
Student Recitals
April 21, 1:00 p.m., First Presbyterian Church – Sr. Catherine Duenne (organ)
April 21, 2:30 p.m., Wheeler – Michael Kmiecik (guitar)
April 21, 4:00 p.m., Wheeler – Emma Lundquist (flute) and Logan Tsuji (trumpet)
Submitted by James Sullivan js820@evansville.edu
New to Online Teaching Workshop
A New to Online Teaching Workshop will be held April 26 from 3:00-4:30 p.m. for anyone interested in learning more about teaching in an online environment. This is particularly geared toward those who haven't taught online in the past, but are considering offering an online course in the future. Topics will include creating an effective online class experience, using technology tools for creating course content, and getting started with developing your online class. If interested, please complete the workshop registration and contact Leslie Barton (lb261@evansville.edu) with any questions.
Shanklin Theatre Season closes with The Grapes of Wrath
The University of Evansville Department of Theatre proudly presents its final production of the season, The Grapes of Wrath, by Frank Galati, based on the novel by John Steinbeck, opened Friday, April 13 in Shanklin Theatre. Additional performances are at 7:30 p.m. on April 19, 20, and 21, and at 2:00 p.m. on April 22.
This Tony Award-winning play is an expansive retelling of John Steinbeck's brilliant Pulitzer Prize-winning novel. The riveting tale follows the impoverished Joad family's flight from the Dust Bowl and into the promised land found out West. Full of loss, triumph, and endless struggle, this timeless epic is a celebration of the soaring tenacity of the human spirit.
Ticket prices are $18 for adults and $16 for senior adults, students, and UE faculty and staff. UE students may obtain one free student rush ticket beginning at noon on the day of the performance they wish to attend.
Submitted by Sharla Cowden sc75@evansville.edu
Farewell reception for Ann Baker, Krista Williams, and Ignacio Benitez
Please join the Department of Foreign Languages and Cultures in a farewell reception for Ann Baker, assistant professor of Spanish, Krista Williams, assistant professor of French, and Ignacio Benítez, Fulbright teaching assistant, in Room 120 in Hyde Hall from 11:00 a.m.-1:00 p.m. on April 26.
Baker received her B.A. from Purdue University and her M.A. in Education from the University of Evansville. Her list of activities in service to the department, the University and our community is exceptionally long. Professor Baker began teaching here in 1984 as an adjunct and in 1992, became a full-time faculty member. Please come and celebrate her retirement after 34 years of service to the University of Evansville!
Williams has been at the University of Evansville since 2014, teaching beginning and intermediate language courses, as well as upper-level courses in such topics as phonetics, linguistics, and advanced grammar, in addition to FYS. Her research interests include the definitions of color terms in monolingual dictionaries and their translations in bilingual or multilingual dictionaries, profanity in pidgin and creole languages, and Occitan lexicography. The Department of Foreign Languages and Cultures will miss her energy, enthusiasm, and good cheer. Please join the department in wishing her all the best at the College of Charleston in the Fall!
A native of Uruguay, Benitez, has assisted the Spanish faculty in teaching beginning, intermediate, and upper level Spanish courses this year. Additionally, he has tutored students outside of the classroom to assist professors and has sponsored extracurricular activities to help students improve their speaking skills while broadening their knowledge of Hispanic cultures and customs. Please join the department in thanking him for his work this year!
Submitted by Tammy Johnson tj87@evansville.edu
Retirement reception for Robert Morse
Please join the Department of Electrical Engineering and Computer Science Department in extending best wishes to Bob Morse, professor of computer science, on his retirement at a reception on Thursday, April 19. The event will be from 2:00-4:00 p.m. in the Class of 1959 Gallery and Lounge in Ridgway University Center. Refreshments will be served.
Submitted by Vicky Hasenour vh12@evansville.edu
Sign up TODAY! Bowling fun and win proceeds for your favorite charity!
There are only a few lanes left! Sign-up your team for UEVETS' Spare Change for Warriors charity bowling tournament benefiting Soldier Dogs for Independence, plus win money for YOUR team's favorite charity.
• Saturday, April 21 at 1:00 p.m. at River City Recreation
• Up to five people per team
• Winning team decides half of charity proceeds
• FUN!
To sign up your team, contact Jacob Chandler at jc571@evansville.edu or call 812-568-6548.
Submitted by Cherie Leonhardt CL29@evansville.edu
RSA nominations for executive board open!
The Resident Students Association (RSA) is currently in the nomination phase of their election season. Nominations will be open until Wednesday, April 18 and elections will be held at the General Assembly meeting April 18 at 4:00 p.m. in the Schroeder Boardroom of the library. Anyone who lives on campus is welcome to nominate a student or students who live on campus for an executive position and may attend the General Assembly meeting on the 18th to vote. If you have questions, please feel free to reach out to the RSA president (tw172@evansville.edu) or secretary (ls280@evansville.edu).
Submitted by Lydia Skaggs ls280@evansville.edu
Venturing Crew Executive Board Applications Open
Venturing Crew Applications for the executive board are now open. They will be open until April 18. This is a great opportunity to make friendships, get involved on and off campus, do more with the crew, and build leadership skills while being a great resume builder. No prior crew or leadership experience is necessary.
Follow this link to apply. Please email Sidney Winstead at sw228@evansville.edu if you have any questions.
Need some Group or Department Gear?
Did you know the UE Bookstore can supply imprinted or embroidered clothing items for groups or departments on campus? We can do as few as 12 of a garment with the logo you want. Items included but not limited to include jackets, polos, quarter zips, and more. We're an approved licensed vendor of UE trademarks as well. Next time you need something give the UE Bookstore a chance.
Accounting procedures for summer travel and membership dues
Traveling this summer on UE business with a return date after May 31? Paying membership dues for next fiscal year prior to May 31?
If you pay for any of these expenses before May 31, you will need to contact Lori Harriss (lh177@evansville.edu) in Fiscal Affairs.
If you use WebAdvisor to create a web voucher, you will need to ask for the prepaid account number to be added to your choices.
If you use your Pcard prior to May 31 to pay for next year's travel or membership dues, you will need to email the following information:
1. Vendor name
2. Date of purchase on Pcard
3. Dollar amount charged to Pcard
4. Description and purpose of purchase
5. Account number charged for purchase
These expenses will be charged to your 2018-19 budget funds.
Submitted by Sam Fulkerson
Orr Fellowship - post grad opportunities
When: Thursday, April 19 at 12:20 p.m.
Where: Room 172, Schroeder School of Business Building
Please RSVP to ro32@evansville.edu
Orr Fellowship is the ultimate post-grad experience. Fellows are recruited from the top seniors at universities in Indiana and Ohio (but candidates from any school are welcome), with an average acceptance rate of 6%. Converging in Indianapolis, these talented graduates join vibrant companies in positions that create a foundation for career success. In addition to full time employment, Orr Fellows participate in a unique curriculum designed to challenge, develop and propel them toward a career of excellence. With two years that are jam-packed with executive mentorship, growing a strong network, and acquiring new skills, each Fellow stars in his or her own success story.
Submitted by Rebecca Oates ro32@evansville.edu
INVS ISTEP Testing on Campus Tomorrow
The Indiana Virtual School will be conducting ISTEP testing on campus tomorrow, April 17 in Eykamp Hall 253, Ridgway University Center. Please direct any families to Eykamp, if needed.
Submitted by Emily Wilderman ew159@evansville.edu
Course Evaluations: IOTA is the new IDEA
Starting Monday, April 16, through Wednesday, April 25, the UE campus will begin using a new, on-line system for course evaluations called IOTA. Students in classes that are being evaluated will receive an email from Patti Thompson at IOTA with instructions on how to access the evaluations through Blackboard. The evaluations can be completed on any mobile device using Firefox, Edge, Chrome, and other browsers. If you use Internet Explorer, please use version 11 or higher and enable "cookies". The survey will consist of three open-ended questions and several multiple choice questions. The entire survey should only take between 5 to 10 minutes to complete. We appreciate your thoughtful feedback. It will be very helpful in understanding what helps you learn in your courses and what could be improved. If you have any questions, please contact Mark Valenzuela (mv23@evansville.edu) or Amanda Ireland (ai41@evansville.edu).
Submitted by Mark Valenzuela mv23@evansville.edu
Copies of 2017 LinC available
If anyone wants a copy of the award-winning 2017 LinC, copies can be picked up outside of student publications, second floor Ridgway University Center, while supplies last.
Submitted by Tracy Maurer tm2@evansville.edu
Graduates take note
May graduates are reminded to make sure they try on their purchased cap and gown well before graduation to make sure everything fits. If you need changes come to the UE Bookstore. Those students who have not purchased their cap and gown should do so in the UE Bookstore promptly.
Submitted by Doug Gustwiller dg57@evansville.edu
COMM 380 ONLINE in Summer II
Would one class that fulfills several general education requirements and teaches you valuable life skills interest you? Do you want to reduce your course load during the regular fall or spring semesters? How would you like to take such a course NO MATTER WHERE you plan to be this summer?
If you answered yes to any of these questions, you should consider enrolling in COMM 380 ONLINE (Intercultural Communication) offered in Summer Session II.
COMM 380 meets criteria for General Education Outcome 9 (Understanding of Core Concepts of Society, Human Behavior, and Civic Knowledge) and Overlay Component A (Global Diversity: International Component).
For more information, contact professor emeritus of communication Dean Thomlison at dt4@evansville.edu.
Submitted by Dean Thomlison dt4@evansville.edu
T-shirt drive for UnCharted International planned for April 16-20
Do you have unwanted T-shirts that you do not want to take home in May? Bring them to Ridgway University Center on Monday, April 16 through Friday, April 20, from 11:00 a.m.-1:00 p.m. The Athletic Training Club will be collecting T-shirts to donate to Uncharted International. These T-shirts will be distributed to orphanages in Myanmar!
Submitted by Hannah Bernhardt hb92@evansville.edu
Financial aid for summer courses
If you are seeking financial aid for summer courses at UE, please complete a summer financial aid application and return to the Office of Financial Aid (Olmsted 116). The application will allow our office to determine the types of aid for which you may be eligible.
Work-Study
On-campus jobs are available for continuing UE students during the summer. You do not need to be eligible for need-based Federal Work-Study during the academic year in order to apply. You may also apply regardless of your enrollment in summer courses. Applications are available within the Student Employment area of WebAdvisor.
Submitted by Amy Sowders as560@evansville.edu
Dr. Marvin E. Hartig Memorial Scholarship applications
Applications are now being accepted for this year's Dr. Marvin E. Hartig Memorial Scholarship. This scholarship is dedicated to the loving memory of Hartig, dean of Evansville College's Evening College in 1967, and administrator for the Center for Advanced Study, director of the Evansville chapter of the American Institute of Banking (AIB), and the international student advisor. In 1974, Hartig was appointed dean of academic services. He retired in 1984 after serving his alma mater for 35 years and passed away in 2007.
This scholarship is awarded each year to a deserving sophomore. Preference will be given to a student working while being enrolled as a full-time student.
International students are encouraged to apply.
Applicants must submit the following to be considered:
1. Completed application

2. In a one page, single spaced, 12 point Verdana font essay, please answer all of these questions:
•What have you learned about yourself as a UE student?
•What do you do for fun when not studying or working?
•Name a special attribute or accomplishment that sets you apart.
•You have done a lot in your short life. In what areas do you think you can improve?
•What are your scholastic and career goals?
•How did you finance your freshman year and how will you finance your sophomore year?
•Why are you a good candidate to receive this scholarship?
•What have you learned about Dr. Hartig, how does he influence or inspire you, and how will you preserve his legacy as recipient of this scholarship?
Please return all materials to the Office of Financial Aid by May 1. Decision will be announced by July 2.
If you have questions, contact Trisha Hawkes, administrative assistant to the Office of Financial Aid, at financialaid@evansville.edu or 812-488-2364.
Submitted by Trisha Hawkes th187@evansville.edu
Ebeling receives grant to support the Jezreel Expedition
Jennie Ebeling, associate professor of archaeology and co-director of the Jezreel Expedition, was awarded a grant from the Rust Family Foundation to support the analysis and publication of artifacts excavated at Jezreel 2013-17. The Rust Family Foundation funds projects that use primary archaeological evidence to answer major questions about cultural development throughout the world. Ebeling and colleagues in Germany, Israel, and the UK will use this grant to fund geochemical and petrographic analyses of basalt artifacts and geological samples as they continue to study the uniquely large and diverse ground stone artifacts assemblage at the site.
2018-19 Global Scholars announced
The Institute for Global Enterprise is pleased to announce the Global Scholars for the 2018-19 academic year. Congratulations to Su Jin Jeong, assistant professor of public health; Chuck Meacham, professor of theatre; and Pengcheng Xiao, assistant professor of mathematics. Each scholar will receive a travel allowance to aid in their projects.
Su Jin Jeong will develop a program of research and student exchange comparing postpartum maternal and infant care in Korea vs. the US.
Chuck Meacham will utilize his skills and expertise from theatre to work with Habitat for Humanity Global Village projects.
Pengcheng Xiao will integrate math education from UE to Beijing.
As Global Scholars, the recipients of this award will engage in scholarship, curriculum development, and activities related to preparing our students and community for global leadership, citizenry, and success. The Global Scholars program is supported by the John H. Schroeder Global Scholar Endowed Fund and the Lilly Endowment.
Submitted by Cindy Kelley ck116@evansville.edu
Honor Society of Nursing inducts new members
The University of Evansville Eta Lambda Chapter of Sigma Theta Tau International Honor Society of Nursing inducted new members in a ceremony April 8. Inductees included Traci Burch, Megan Dunn, Jacob Grisham, Kaitlyn Ingle, Danielle Lopiccolo, and Rachel Patch. Graduating senior members, Courtney Coverdale and Kasey Rein, assisted with the induction of new members. Professor Deborah Marshall gave the keynote address. The mission of Sigma Theta Tau International is advancing world health and celebrating nursing excellence in scholarship, leadership, and service.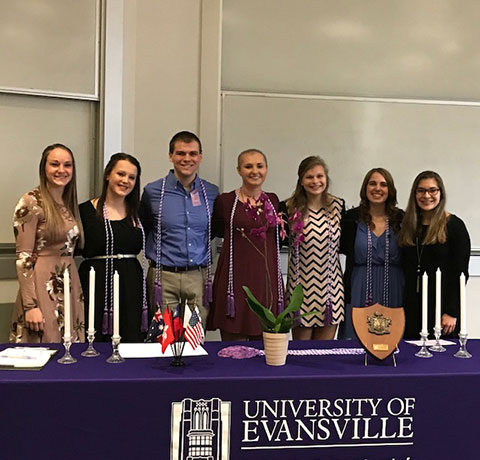 Xiao publishes research
Pengcheng Xiao, assistant professor of mathematics, has published a paper in the International Journal of Bifurcations and Chaos(IJBC). IJBC is widely regarded as the leading journal in the exciting field of chaos and nonlinear science. The paper is titled "Seizure Dynamics of Coupled Oscillators with Epileptor Field Model".
The study is the continuous collaboration work with Professor Honghui Zhang at Northwestern Polytechnical University.
Staff Employee of the Year is Lori Johnson!!
Lori Johnson was presented with the Employee of the Year Award by Dr. Kazee at the Staff Recognition Dinner on Wednesday, April 11, 2018. The 2018 Staff Employee of the Year is an excellent example of what UE is all about. She is encouraging to the whole community of employees, current students and future students. She is known for being helpful in any situation, kind and extremely hard-working. She is a problem-solver and will always help find a solution. She has earned the nickname, "SACM Mom" (Saudi Arabia Cultural Mission) from her endeavors in assisting International students with all of their needs. She is a pleasure to work with whether over the phone or in person and a very worthy recipient of this year's award. Please join us in congratulations to Lori Johnson from the Registrar Office as 2018 Staff Employee of the Year!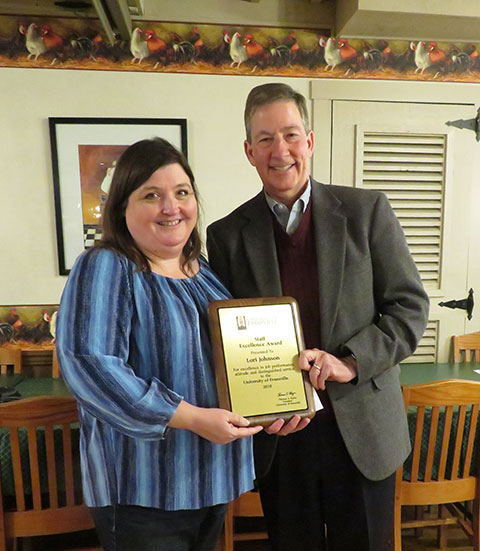 Other staff employees recognized at the annual dinner were:
Five-year Service Award
Cynthia Felts (School of Health Sciences)
Darren (Ken) Miller (Administrative Services)
Andrew Nichols (Grounds)
Janice Kidder (Department of Physical Therapy)
Wendy Marx (Institutional Advancement)
Sarah O'Leary (Counseling & Health Education)
Robert Mettle (Grounds)
10-year Service Award
Carol McCraney (Law, Politics and Society)
Tina Hurt (Office of Admission)
Cynthia Kelley (Institute for Global Enterprise)
Gloria Spencer (Accounting and Audit)
Kimberly Flowers (Adult Education)
Serena Browning (University Libraries)
15-year Service Award
Timothy Meny – Physical Plant
25-year Service Award
Amy Brunty – University Libraries
Cynthia Simmons - Marketing
Retirement recognition was presented to Ken McGinnis (Physical Plant). Pam Young (Exercise Science) and Donna Jones (Office of Development) were not present but recognized also.
UE Volleyball signs three for next season
University of Evansville head volleyball coach Manolo Concepcion has announced the signing of three student-athletes to National Letters of Intent to play for the Purple Aces starting next season.
Concepcion's signing class consists of Cecilia Thon, Elaine Alondra Vazquez and Vernanderse Patricia Joseph.
Thon is a native of Puerto Rico and will be a setter at UE. A multi-sport athlete, Thon was her team MVP in volleyball and softball three years in a row while also earning the accolade on one occasions in Track and Field. Thon earned a spot on the All-Star Team in volleyball on four occasions and was a 3-time participant in softball. She was an All-Star at the 2014 Jeep Volleyball Tournament and the 2017 Spring Challenge.
Coach Concepcion on Thon: Ceci is a dynamic player with an incredible volleyball IQ and ability to manage the game. One of those athletes that makes every repetition look like the most important one Coming from parents that have been athletes at the highest level (her dad is a former MLB player and her mom a former volleyball pro player), as well as her siblings, have allowed her to develop an advanced understanding towards what it takes to commit to excellence. Plus, she is an exemplary student that brings in one of the best academic backgrounds that we have had.
Elaine Alondra Vazquez also comes to Evansville from Puerto Rico. She is in outside hitter. Since 2017, Vazquez has been a member of the Puerto Rico Junior National Team. In the High School National Championships last season, she earned the awards for best attacker and best passer. Vazquez helped her team win the 2017 Jeep National Championship and earned MVP honors in the tournament. Her squads won a pair of Junior High School National Championships (2014 and 2016) while earning a Club National Championship in 2015 and a High School National Championship in 2017.
Coach Concepcion on Vazquez: Alondra will add tremendous depth to the Outside Hitter position. Her ball control presents an interesting perspective for our program, as she will not only be an offensive weapon for us, but also someone that could play 6 rotations with effectiveness and efficiency. She is an all-around player that is capable of impacting the game in many areas. One of the most impressive aspects about her is that she has been a winner everywhere she has played at; so she brings the drive and competitiveness to do what it takes to get the job done.
Vernanderse Patricia Joseph makes her way to UE from Hutchinson Community College where she is a middle/right side. She is a native of Haiti. She has enjoyed an impressive career at the JUCO level as she was a National Qualifier in both track and volleyball. Her team was a regional champion in 2017. In high school, she won the Wendy's Heisman Award in 2016 while earning numerous accolades in volleyball, track/field and basketball.
Coach Concepcion on Joseph: Patricia is an athletic player with a track and field background: a factor that has contributed with her explosive power, vertical leap, and range. She is someone that provide us with the opportunity to have a 3rd Middle in the Right Side, or use her as a pure middle. She is a fast-pace type of hitter, which will fit perfectly with the offense that Thon, Redmond, and McInnis will be in charge of running. Joseph also brings an intangible that we love for our locker room and on the court environment: high energy and passion.
Men's basketball finalizes coaching staff
The first coaching staff is now complete as University of Evansville head men's basketball coach Walter McCarty has announced the hiring of Todd Lickliter and Matthew Graves as assistant coaches.
"Our program is very blessed and fortunate to add two assistants with head coaching experience," McCarty said. "Todd and Matthew are both great teachers of the game and will do a great job of helping our guys grow on and off the court. The success of your program is all about surrounding yourself with great people and we have done just that with Todd and Matthew, as well as Terrence Commodore and Logan Baumann."
Todd Lickliter is a coach who is synonymous with basketball in Indiana. A 1979 graduate of Butler University, Lickliter began his college coaching career with the Bulldogs as an assistant in 1988 before rejoining the staff in 1999. He was promoted to the head coach at Butler in 2001 and enjoyed immediate success.
In his first season at the helm, he directed the Bulldogs to a then-school record of 26 victories and its third Horizon League regular season championship in a row. His squad also reached the Associated Press Top 25 for the first time in 53 years. Lickliter's success only got better as he led Butler to a pair of Sweet 16 appearance in 2003 and 2007.
His top honor came in 2007 as he was named the National Association of Basketball Coaches (NABC) National Coach of the Year. He left the program with the top three single-season win totals in school history. Lickliter became the head coach at the University of Iowa in 2007 and also led the program at Marian University in 2012. In his second season with the Knights, he led them to the most conference wins in school history along with the #1 scoring defense in NAIA Division II. After leaving Marian, he joined the Boston Celtics as a scout.
"The opportunity to have someone with the experience of Todd Lickliter next to me in my first season as a head coach is very exciting," McCarty said. "With all of the experience he has had as a head coach, he will be invaluable to myself and our team. He has a great basketball mind and is a wonderful teacher of the game."
Matthew Graves joins the Purple Aces staff after a 5-year stint as the head coach at the University of South Alabama. In his stint with the Jaguars, he changed the culture of the program, resulting in the best GPA for the program in five years in just his first season as head coach. Over his first three campaigns at USA, Graves saw them improve their win total each season.
Graves directed Augustine Rubit to the school and Sun Belt Conference records in rebounding while becoming the first USA player to earn All-Sun Belt recognition on four occasions. His second season saw the program earn its first conference tournament win in three seasons.
Prior to his time with the Jaguars, Graves spent 17 years at Butler University as a student-athlete and coach. In 2001, he joined Todd Lickliter's BU staff as coordinator of basketball operations. After two seasons, he was promoted to an assistant coach before being named the associate head coach in 2010 by Brad Stevens.
With Graves on staff, the Bulldogs made a national tournament in each of his last eight seasons along with eight seasons in a row with 20+ victories. His coaching career at Butler was highlighted by a pair of appearances in the NCAA Tournament Championship Game in 2010 and 2011.
As a student-athlete at Butler, Graves was a member of the 1997 team that made the NCAA Tournament for the first time in 35 years. He was the team MVP as he led the Horizon League in free throw shooting while earning a nod on the All-Tournament Team with his 18-point performance in the championship game. Off the court, he was named to the GTE Academic All-District V Team while garnering an academic all-league selection.
"Matthew is another coach who brings a lot of great things to our program; he will help us to do things the right way," McCarty explained. "He a good recruiter that will bring in guys that this community will be proud of. Matthew is another guy who has spent a lot of time with Todd (Lickliter) and Brad (Stevens) and brings that same type of experience."
Florey sets single-season UE strikeout mark against Redbirds
University of Evansville starting pitcher Morgan Florey tossed another complete game, but four late runs pushed Illinois State to a 4-2 win over the Purple Aces softball team on Saturday at Marian Kneer Stadium.
Florey pitched well for UE (11-26, 4-10 MVC), striking out 10 batters. In doing so, she broke the program record for strikeouts in a season as her current tally of 220 broke the mark of 216 set by Katie Markle in 20015.
The junior cruised through the first four innings, allowing just one Redbird (17-23, 8-5 MVC) hit. The UE offense did its job with a single run in the first and third to take a 2-0 lead. Eryn Gould, who had two hits on the day, did it all in the opening frame. The freshman hit a leadoff single before stealing second. After moving to third on a groundout, Gould scored the first run of the game on a Florey single.
Some more leadoff production resulted the Aces second run of the game in the third inning. Mea Adams hit a double to start the inning and scored when Lindsay Renneisen followed it up with a double of her own.
Illinois State's offense was limited to one hit through four innings, but found their groove in the fifth and sixth innings, pushing two runs home in both frames to take a 4-2 lead. Down to its final three outs, the Aces fought to the end. Toni Galas led the 7th off with a bunt single and moved to third as Gould doubled down the right field line. After getting the first out, ISU made a pitching change and was able to avoid the jam and take the 4-2 win.
UE had eight hits in the game with Gould and Galas posting two apiece. ISU scored its four runs on just five hits.
Indiana State is next up for the Aces as the squads will play a Wednesday doubleheader in Terre Haute.
Chepchieng paces Aces as records fall at APSU Invitational
Stanley Chepchieng led the way for the Purple Aces as the University of Evansville men's and women's track and field teams continued their record-setting ways at the Austin Peay Invitational on Friday in Clarksville, Tenn.
In all, Evansville set eight program records on the day including seven on the women's side and one for the Purple Aces' men.
The most impressive performance of the day came in the men's triple jump as Stanley Chepchieng earned the event victory. Chepchieng captured the event win with a distance of 13.79 meters, besting the second-place finisher by .79 meters and earning his first event victory in his collegiate career.
In the women's 100 meter dash, Nikki Hutchcraft and Monica Watkins finished just two-tenths of a second from one another. Hutchcraft earned a 20th-place finish with a time of 13.06 seconds while Watkins crossed the line in 21st in a time of 13.26. Also competing in the 100 meter dash for the Aces was Crimson Jones, who earned a 32-place finish in a time of 14.73. On the men's side, Aaron Straight earned a 23rd-place finish with a time of 11.88.
Watkins continued to perform well for the Aces in the women's 200 meter dash, as the freshman led Evansville in the event with a 35th-place finish, crossing the line in a time of 27.35. Following Watkins was JBess Ruby, who finished in a time of 30.49 in 50th-place and Holli Buretta, who completed the race in 52nd place in a time of 33.14.
For the Aces' men in the 400 meter dash, junior Everett Plocek finished in 24th with a time of 54.45. The Purple Aces had three competitors in the women's 400 meters, led by freshman Lizzy Walston. Walston earned a 21st-place finish with a time of 1:04.63, while Tess Hupe finished just a second-and-a-half behind Walston in a time of 1:06.13 in 22nd-place. Also in the women's 400 meters for Evansville was Ruby, who finished in 29th-place in a time of 1:12.36.
Junior Sienna Crews paced Evansville in the women's 800 meters, finishing in ninth in a time of 2:25.44. Following Crews were Lauren Meyer (2:33.17) in 18th, Sarah Poltrack (2:34.61) in 21st, and Lexi Sutherland (2:55.96) in 34th. In the men's 800 meters, Stanley Chepchieng led the Aces' contingent with an eighth-place finish in a time of 1:58.27. Following Chepchieng was Ricky Hernandez, who crossed the line in 31st in a time of 2:08.98.
Crews continued to lead the Aces' contingent in the women's 1500 meters with a 17th-place, crossing the finish line in a time of 5:14.71. Freshman Izzy Dawson earned the second-best finish for the Aces' as Dawson earned a 22nd-place finish in a time of 5:23.91. In the men's 1500 meters, Jonathan Newby (4:46.94) and Grant Mangan (4:53.72) finished in 27th and 28th, respectively, while Dawson Hood earned a 30th-place finish in a time of 4:57.05.
In the men's 5000 meters, freshman Timmy Miller was the lone Aces runner, finishing in 24th in a time of 17:33.26.
In the women's 100 meter hurdles, Samantha Bittner finished in 14th-place in a time of 17.03.
Bittner set a program record in the women's 400-meter hurdles, besting her own mark by .36 seconds, finishing in 10th place with a time of 1:15.79.
Evansville saw another program record fall as Anna Lowry improved on her own program-best performance in the 3,000 meter steeplechase. Lowry bested her program record by more than 18 seconds, earning a podium finish in second-place with a time of 12:04.2. One of the top performances of the day for the Aces' men came in the men's 3,000 meter steeplechase as freshman Ethan Price earned a podium finish with a second-place finish in a time of 10:05.5. Following Price was fellow freshman Kalen Ochs who crossed the finish line in sixth in a time of 10:55.4.
The Purple Aces earned a seventh-place finish in the men's 4x100 meter relay, as Evansville finished in a time of 47.62. In the women's 4x100 meter relay, Evansville earned a sixth-place finish with a time of 52.90 seconds.
Continuing the relay theme, the Aces finished in fourth in the women's 4x400 meter relay, crossing the line in a time of 4:23.29. In the men's 4x400 meter relay, the Aces grabbed a fourth-place finish in a time of 3:34.99.
Freshman Ian Alberts led the Aces in the men's pole vault competition. Alberts finished in second with a height of 3.86 meters, while fellow freshman Kevin Yeung finished in fourth, reaching a height of 3.56 meters.
For the third-straight week freshman Kylie Hasenour set Evansville's program record in the women's long jump. Hasenour earned a 21st-place finish with a distance of 3.89 meters. Coming up just shy of a program record was Stanley Chepchieng, who jumped to a distance of 6.49 meters earning him a sixth-place finish in the men's long jump competition. Also competing in the long jump, Yeung finished in 13th-place with a distance of 5.23 meters.
Lizzy Walston continued the record-setting day for Evansville's women with a distance of 10.23 meters, earning the freshman an eighth-place finish.
Corley improved on her program record in the women's shot put, as she recorded a distance of 9.55 meters, grabbing the freshman an 18th-place finish. In the men's shot put, junior Ryan Freeman led the Evansville contingent with a ninth-place finish with a distance of 12.88 meters. Following Freeman were Clay Doty (11.34 meters) and Chris Zapata (10.60 meters) who finished in 16th and 17th, respectively.
For the second time on the day, Corley set a program record in the women's discus. Corley smashed her program record by more than nine meters, finishing in fourth-place with a distance of 40.48 meters. On the men's side, Chris Zapata led the way with a distance of 37.09 meters, finishing in 11th. Recording a distance of 34.28 meters was Freeman who finished in 14th, while Doty finished in 22nd with a distance of 25.63 meters.
Another program record fell for the Aces in the women's javelin as Nikki Hutchcraft bested the program record by more than six meters with a distance of 23.29 meters, earning the freshman an eighth-place finish. Following Hutchcraft was Corley, who finished in 15th with a distance of 21.70 meters. Evansville's men saw their first program of the day fall in the men's javelin as Freeman bested the previous program record by more than four meters, finishing in 10th with a distance of 38.35 meters. Just over a meter behind Freeman was Doty, who grabbed a 12th place finish with a throw of 37.01 meters, while Plocek (34.10 meters), Alberts (34.03 meters), and Alton Hoops (30.29 meters) finished in 15th, 16th, and 19th, respectively.
Chaney one stroke off the lead after first round at MVC Championship
Junior Madison Chaney carded a four-over 76 to put her one stroke off the lead in a tie for sixth, leading the University of Evansville women's golf team after a frigid opening round of the 2018 Missouri Valley Conference Championship at Sand Creek Station Golf Course in Newton, Kan.
Starting her opening round at hole 13, Chaney opened the tournament five over after the first six holes, but bounced back to record three birdies to close out the round. As a team, the Purple Aces sit in 10th in the tournament after an opening-round 332. Missouri State leads the tournament following a 305 in the first round of the championship.
Following Chaney were a pair of Aces separated by just a stroke in freshman Minka Gill and senior Giulia Mallmann. Gill concluded the first round with an 84, earning the freshman a share of 40th, Mallmann recorded an 85 in the opening round, placing her in a tie for 42nd. Gill birdied the par five second much like Chaney as the Kokomo, Ind. native marked a 38 on the front nine, adding a 46 on the back nine in the first round.
Closing the opening round in a tie for 47th was freshman Sophia Rohleder. The Evansville native tallied a pair of birdies in the first round en route to an 87. In a tie for 49th after the first round is sophomore Lexie Sollman. Sollman carded a 92 in the opening round after shooting 44 on the front nine and 48 on the back nine.
The second round of the MVC Championship begins with tee times at holes No. 1 and 10 starting at 10:30 a.m.
Bradley 14, Evansville 3
After battling Bradley through four tight innings, the University of Evansville baseball team couldn't keep up, as the Braves bats exploded to take a 14-3 victory in the series finale, Sunday afternoon at Charles H. Braun Stadium.
Purple Aces freshman starting pitcher Jace Burke (0-4) pitched a scoreless opening frame, however Bradley would get to him in the second inning. Back-to-back singles and a one-out walk loaded up the bases for the Braves. The right-hander appeared to be working his way out of the jam, striking out Eli Rawlinson. However, one strike away from ending the threat, Burke got touched up for a two-run single by Keaton Rice, putting Bradley out in front early. Burke would strike out Luke Shadid capping the inning.
Evansville would respond in the fourth frame, breaking through against Braves starting pitcher Sam Lund. With two outs in the books, sophomore center fielder Kenton Crews began the rally with a single left. Freshman designated hitter Tanner Craig followed that up with a single to right, pushing Crews over to third. Then, junior right fielder Matt Jones drove in Crews with the Aces' third straight single, putting UE on the board, 2-1.
However, the joy was short-lived. Bradley would put the first two runners aboard with a single and a walk, combined with a passed ball, putting runners on the corners. That would chase Burke from the game, as senior reliever Hunter Porterfield came in in relief. However, his luck was no better, as a Derek Bangert grounder bounced off the third base umpire, loading up the bases. Next, Porterfield uncorked a wild pitch, bringing in Luke Mangieri, pushing the Braves lead to 3-1. Next, Andy Shadid singled in Andrew Ivelia, making it 4-1 Bradley. Another wild pitch by Porterfield brought in Bangert with the third run of the inning, and the Aces were in a 5-2 hole.
Porterfield would give way to senior reliever Jimmy Ward in the sixth. After hitting Luke Shadid with a pitch, Ward got tagged for an RBI triple by Luke Mangieri, driving up the Braves lead to 6-1.
The following inning would see Bradley explode at the plate, as relievers Nathan Croner, Dalton Horstmeier and David Ellis couldn't put the Braves uprising down before eight runs crossed the plate on seven hits, and when the smoke cleared, Evansville was down 14-1.
Facing being run-ruled, the Aces bats came back in the bottom of the seventh, led by junior second baseman Sam Troyer's RBI double down the left field line. Senior third baseman Stewart Nelson would draw Evansville closer with an RBI ground out, tallying sophomore shortstop Craig Shepherd. However, that's as close as the Aces would get, as the game ended in the seventh on a Dalton Horstmeier strikeout.
The loss drops Evansville to 6-23, while Bradley improves to 20-9.
The Purple Aces next head down to Nashville for an out of conference showdown with Vanderbilt of the SEC, Tuesday at 6:30 p.m. CT.
Contribute to AceNotes
To have content considered for inclusion in AceNotes, please submit a Marketing Request Form. Deadline for submission to AceNotes is 10:00 a.m. on the requested date of publication. Only articles concerning UE related/sponsored activities will be accepted. Articles submitted to AceNotes may be edited for length and clarity. Submitter contact information is at the end of each article.