| | |
| --- | --- |
| AceNotes Today | Thursday, April 12, 2018 |
Bike Race 2018 moved to Friday afternoon
With the prediction that the Tri-State area will have thunderstorms and heavy rainfall over the weekend, Bike Race 2018 has been moved to Friday afternoon as part of the annual Purplepalooza festivities.
The women's race will begin at 3:30 p.m. on H-Lot and the men's race will begin at approximately 5:00 p.m.
Food will be grilled and served to spectators at 5:00 p.m. on the south lawn of Black Beauty field. No outside containers or bags will be permitted in the south lawn area.
Purplepalooza, sponsored by SAB, will begin at 7:00 p.m. on the Ridgway East Terrace Lawn. Games, food, entertainment and prizes will be on display from 7:00 -11:00 p.m. Please come out and enjoy these two annual events.
Submitted by Geoff Edwards ge21@evansville.edu
Do you know all 166 Named Spaces on Campus?
It takes an entire community of people who believe in the mission and work of the University to continue to support the University with their monetary gifts.
Day 4 of philanthropy week we celebrate the donors who make the University the special place it is by donating their financial gifts. Without donor student scholarships would not be possible nor would the 166 spaces on campus named in honor, memory, and recognition of the faculty, staff, alumni, parents, and friends of the University who ensure that the University of Evansville campus is a vibrant, leading edge liberal arts institution.
Today as you walk around campus, take a moment to see who made that space possible! Without those names on plaques throughout our campus many of the buildings where classes and offices are housed would not exist.
Submitted by Cameron Cool cc253@evansville.edu
Stop and Say Thanks
Students – stop by the philanthropy week table and sign a thank you card for a donor. The goal is to receive 500 signed cards in only one week! Visit the table in Ridgway University Center between 11:00 a.m. - 1:00 p.m.
Submittted by Cameron Cool cc253@evansville.edu
Tree Planting/Retirement Reception Sunday!
The Office of Academic Affairs invites you to join us for this year's Tree Planting/Retirement Reception on Sunday, April 15th at 1:00. The tree will be planted just west of Memorial Plaza with the reception immediately following in the Class of '59 Galley, Ridgway University Center. Those being honored at this year's event are Ann Baker, Suzanne Bailey, John Felton, John Lakey, John David Lutz and Robert Morse.
Vandagriff to discuss statistical modeling and Affordable Care Act
The Department of Mathematics invites the campus community to attend a talk by UE alumnus Alan Vandagriff at 4:00 p.m. today - Monday, April 16 - in Koch Center 101. Alan will discuss how statistical modeling is used to help health insurers improve their financial performance and patient care under the Affordable Care Act.
Alan graduated from UE in 2014 with a degree in applied mathematics, specializing in actuarial science. He is an actuarial analyst with Milliman in Chicago.
Tri-State Ensemble Festival
Join us tomorrow, April 12, for the first ever University of Evansville Tri-State Ensemble Festival at the Old National Events Plaza. Local high school bands and choirs will come to perform and have an opportunity to work with members of the Department of Music faculty. Ensembles represented include the Forest Park High School Choir (9:15 am), Harrison High School Band (10:00), Southridge High School Choir (10:45), South Knox High School Band (11:30), Paoli Jr./Sr. High School Choir (12:15 pm), Bosse High School Band (1:00), and Booneville High School Choir (1:45).
This project is made possible through the support of the Indiana Arts Commission, the Vanderburgh Community Foundation, a partner of the Community Foundation Alliance, Inc., and the National Endowment for the Arts, a federal agency. Our thanks to all those helping to make this event possible.

UE Bookstore Outdoor Clearance Sale
Weather permitting the UE Bookstore will have some clearance items for sale outside the store on the west side of Ridgway University Center. Items include but are not limited to sport tee shirts, shorts, and other clothing items. The event starts at 10:00 a.m. and runs until 2:00 p.m. (or later!)
Submitted by Doug Gustwiller dg57@evansville.edu
Today's Honors Program project presentations
The Honors Program project presentations continue today in Koch Center 101. Please see below the schedule of today's presenters.
Thursday, April 12
3:00–3:45 p.m.
• Humza Khan, Biochemistry - "Catalysis of Cross-Coupling and Homocoupling Reactions of Aryl Halides Utilizing Ni(0), Ni(I), and Ni(II) Precursors"
• Michael Mannchen, Chemistry - "Stereochemical Control via a 1,3-Dithiane Group: A Look into Auxiliary Performance and the Theory of Asymmetric Induction"
4:15-5:00 p.m.
• Bailey Smith, Elementary Education - "A Comparison and Analysis of Pedagogies in Nepal, Peru, Israel, and Japan"
• McKala Troxler, Art Education / English Education - "Art Kits – The Key to Improving Art Education in Low Income Schools"
The honors project represents the culmination of the honors experience and provides an opportunity for students to explore an area about which they are passionate. The honors project may consist of a research project, thesis, or creative work.
Special thanks are extended to all faculty, advisors, and others who have supported the honors students in their educational achievements.
Submitted by Jayme Williams jw504@evansville.edu
PurplePalooza is tomorrow!
Join SAB for one of the biggest events of the year - PurplePalooza - on Friday, April 13 starting at 6:00 p.m.! Free for all UE students, faculty, staff, and community members. The night will include concerts, inflatables, a rock wall, raffles, food trucks, and so much more. See you there!
Submitted by Megan King mk225@evansville.edu
Night Church Service: The Best Kept Secret On Campus?
Every week, the Neu Chapel community gathers for a 20-minute prayer service on Sunday nights at 9:00 p.m. in Neu Chapel. This beautiful service has been described as "the best kept secret on campus." But we do not want it to be a secret! All are welcome and invited to attend this time of reflection and prayer. Our Night Prayer service is an ideal way to prepare one's inner self for the coming week ahead! So why not give it a try this Sunday? Hope to see you there!
Submitted by Keith Turner kt160@evansville.edu
University Worship in Neu Chapel: Sunday at 11:00 a.m.
The campus community is invited to University Worship this Sunday at 11:00 a.m. in Neu Chapel. We will continue our Easter celebration by continuing our conversation on how blind faith is not an option, because the risen Christ opens the minds of the disciples. All are welcome to attend this meaningful service complete with donuts and coffee before and after the service!
Submitted by Keith Turner kt160@evansville.edu
Crick Lecture Friday - Cameron Buckner on "Deep Learning"
Cameron Buckner (University of Houston) will give the final Crick lecture of the 2017-18 school year this Friday, April 13 at 4:00 p.m. in Room 100, Koch Center for Engineering and Science. Buckner has published and presented work on a variety of topics involving artificial intelligence, non-human animal cognition, learning and behavior, and the philosophy of science. The talk is open to the public.
Title: Empiricism without Magic: Transformational Abstraction in Deep-Learning Neural Networks
Abstract: Unless you have been living under a rock for the last few years, you have heard about the incredible recent achievements of deep neural networks. These artificial intelligence methods seem to achieve "superhuman" performance on new domains weekly, from beating grandmasters at the ancient Chinese game of Go to driverless navigation to automated image classification to winning at video games, to name just a few. However, it has proven difficult to explain how or why deep neural networks perform so well. In philosophy of mind, empiricists like Locke and Hume argued that complex cognition is based on information derived from sensory experience, often appealing to a faculty of abstraction. Rationalists have frequently complained, however, that they never adequately explained how this faculty of abstraction actually works, charging that abstraction is just empiricist "magic". In this talk, I tie these two problems together, to the mutual benefit of both disciplines. I argue that the engineering tweaks that distinguish deep networks from their shallower forebears explains how they (and the brain) implement a form of hierarchical processing that I call "transformational abstraction". Transformational abstraction iteratively converts sensory-based representations of category exemplars into more generic formats that are increasingly tolerant to "nuisance variation", one of the main systematic challenges that cognition must overcome to reliably succeed in the natural world. I here illustrate the power of transformational abstraction through a series of examples, including classic philosophical conundrums from Locke and Hume as well as more contemporary applications like Go strategy and abstract arts."
Submitted by Derek Jones dj4@evansville.edu
Conversation on the Bible and Same-Sex Marriage: Thursday at 7:00 p.m.
The campus community is invited and welcome to attend our final Fireside Chat for the Spring semester this Thursday at 7:00 p.m. in the second floor gallery of Ridgway University Center as we discuss "The Bible and Same-Sex Marriage." Our special guest for the evening will be Emma Loane, youth pastor at Newburgh United Methodist Church. Together we will discuss what many believe to be a controversial topic in an environment of respect and understanding with the vision for human wholeness guiding our conversation. All are welcome! Hope to see you there!
Submitted by Keith Turner kt160@evansville.edu
Farewell reception for Ann Baker, Krista Williams, and Ignacio Benitez
Please join the Department of Foreign Languages and Cultures in a farewell reception for Ann Baker, assistant professor of Spanish, Krista Williams, assistant professor of French, and Ignacio Benítez, Fulbright teaching assistant, in Room 120 in Hyde Hall from 11:00 a.m.-1:00 p.m. on April 26.
Baker received her B.A. from Purdue University and her M.A. in Education from the University of Evansville. Her list of activities in service to the department, the University and our community is exceptionally long. Professor Baker began teaching here in 1984 as an adjunct and in 1992, became a full-time faculty member. Please come and celebrate her retirement after 34 years of service to the University of Evansville!
Williams has been at the University of Evansville since 2014, teaching beginning and intermediate language courses, as well as upper-level courses in such topics as phonetics, linguistics, and advanced grammar, in addition to FYS. Her research interests include the definitions of color terms in monolingual dictionaries and their translations in bilingual or multilingual dictionaries, profanity in pidgin and creole languages, and Occitan lexicography. The Department of Foreign Languages and Cultures will miss her energy, enthusiasm, and good cheer. Please join the department in wishing her all the best at the College of Charleston in the Fall!
A native of Uruguay, Benitez, has assisted the Spanish faculty in teaching beginning, intermediate, and upper level Spanish courses this year. Additionally, he has tutored students outside of the classroom to assist professors and has sponsored extracurricular activities to help students improve their speaking skills while broadening their knowledge of Hispanic cultures and customs. Please join the department in thanking him for his work this year!
Submitted by Tammy Johnson tj87@evansville.edu
This Week in Music: Choir Concert, Ensemble Fest, faculty recital, Rite of Spring, and student recitals
University Choir, Mixed Choir and Kantorei
Today - Tuesday, April 10, 7:30 p.m., Neu Chapel
The University of Evansville University Choir, Mixed Choir, and Kantorei, under the direction of Dennis Malfatti, will present a performance of Haydn's Theresienmesse and selections from Mendelssohn's Sechs Lieder, Op. 59 today -Tuesday, April 10 - at 7:30 pm in Neu Chapel. The concert will feature Andrea Drury, Alanna Keenan, Benjamin Smith, and Eric McCluskey as soloists, as well as several faculty playing in the chamber orchestra. The concert is free and open to the public.
For more information, visit the music department concert calendar.
Tri-State Ensemble Fest
Thursday, April 12, 9:00 a.m.-5:00 p.m., Old National Events Plaza
The Department of Music will host the first ever Tri-State Ensemble Festival at the Old National Events Plaza on Thursday, April 12. Local high school bands and choirs will come in for the day and perform for University of Evansville music faculty. After each performance the UE faculty will rehearse with each ensemble. Performances begin at 9:15am and will last until approximately 5:00pm. This event is free and open to the public.
Faculty Recital: Ion-Alexandru Malaimare
Friday, April 13, 7:30 p.m., Wheeler Concert Hall
University of Evansville music faculty and Eykamp String Quartet violinist Ion-Alexandru Malaimare will present a faculty recital on Friday, April 13 at 7:30 p.m. in Wheeler Concert Hall. The program will feature works by Beethoven, Bartok, Enescu, Ravel, Dinicu, and Hisaishi. He will be joined by pianist Catalin Dima. The recital is free and open to the public.
For more information, visit the music department concert calendar.
Rite of Spring
Saturday, April 14, 6:00 p.m., Eykamp Hall, Ridgway University Center
The Friends of UE Music invite you to join us for this year's Rite of Spring on Saturday, April 14 in Eykamp Hall, Ridgway University Center. The evening will feature drinks, dinner, student performances, a silent auction, swing music, and dancing!
For more information and reservations, visit www.evansville.edu/riteofspring. Book your tickets by April 12 at noon!
6:00 p.m. - Cocktails
6:45 p.m. - Dinner
7:30 p.m. - Musical Program
8:00 p.m. - Jazz and dancing with the UE Jazz ensemble
You may also purchase tickets for only the swing dance portion of the evening for $10 at the door or by contacting Timothy J. Zifer(tz3@evansville.edu).
Student Recitals
April 14, 1:00 p.m., Wheeler Concert Hall – Melanie Baker (piano)
April 14, 2:30 p.m., Wheeler Concert Hall – Kaitlyn Lowe (cello) and Abbie Jasper-Brown (clarinet)
April 14, 4:0 0 p.m., Wheeler Concert Hall – Adam Smith (voice)
April 15, 1:00 p.m., Wheeler Concert Hall – Samantha Waddell (piano)
April 15, 2:30 p.m., Wheeler Concert Hall – Alexis Howey (voice)
Submitted by James Sullivan js820@evansville.edu
Tuition exchange/tuition remission info sessions
Want to know more about tuition exchange and tuition remission? Come to an information session in Eykamp Hall, Room 253, Ridgway University Center, on Thursday, April 12 at 1:30 p.m.
Kenton Hargis will talk about the admission process, Paula Heldt will explain how tuition exchange works, and Cathleen Wright will talk about the new tuition remission policies and forms.
Submitted by Cathleen Wright cw259@evansville.edu
Free Coffee & Careers event today
Attend Coffee & Careers today for free coffee and an informal chat with alumni and friends of the University. Learn about their journey to their current job and the skills needed for career success. This week's focus is on careers in human resources. The event is from 4:00-5:00 p.m. on the second floor of Ridgway University Center, across from WUEV.
Submitted by Alison Morris-McDonald am268@evansville.edu
Fitness Center Hours For Bike Race
Due to upcoming Bike Race,the Fitness Center will be open from 6:30am to 2:00pm Friday, April 13th. Normal hours on Saturday, April 14th.
UE's Delta Sigma Pi Presents Business Leadership Awards
The University of Evansville's Schroeder Family School of Business Administration's chapter of Delta Sigma Pi bestowed its annual business awards on Tuesday, April 3. Mike Ciholas, founder and president of the high-tech research and engineering firm Ciholas, Inc., received the Business Leader of the Year award. Koch Enterprises, Inc. was named the Business of the Year. Trevor Gregory, a UE graduate, received the Young Business Leader of the Year award.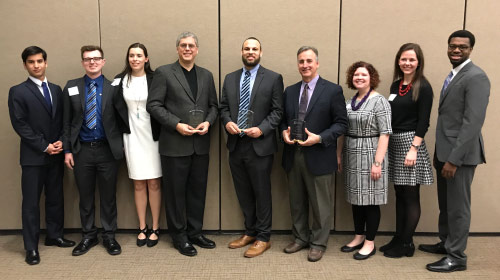 Ciholas earned his bachelor's degree in physics and minors in mathematics and computer science from Centre College, and his master's degree in electrical engineering and computer science from the Massachusetts Institute of Technology (MIT). He spent two years on a robotics startup, and two more years as a network hardware engineer for the Computer Science Laboratory at MIT. Ciholas was also a part-time consultant, designing electronic devices for clients. He later became a full-time consultant, moved to Newburgh, Indiana, in 1995 and continued his consultant work. He hired his first employee in 1999. The business now has 35 employees – many of whom are graduates of UE's College of Engineering and Computer Science.
Koch Enterprises, Inc. began business in 1873 as the George Koch Son Tin Shop in Evansville. Now in its 145th year of operation, the company is overseen by fifth-generation family member Kevin Koch. Kevin's father, Robert L. Koch II, is still very active in the company and serves as chair of the board. Over the years, the business has expanded and diversified into a total of seven separate businesses while its headquarters have remained in Evansville. Koch Enterprises is the parent company to Gibbs Die Casting Corporation, Uniseal, Inc., Audubon Metals LLC, Brake Supply Co. Inc., Koch Air LLC, George Koch Sons, LLC and Southwestern Communications, Inc. It is listed among Indiana's top 10 private companies by Indiana Business Journal.
Trevor Gregory is an assurance manager with PricewaterhouseCoopers, a multi-national professional services network ranked among the largest and most prestigious accounting services firms. He earned his bachelor's degree in accounting in 2010 from UE and his master's degree in accounting from IU-Kelley School of Business in 2011. Gregory serves UE as a member of the Alumni Board, Indianapolis Purple Aces Club Board, and UE Connect. He belongs to the American Institute of Certified Public Accountants, National Association of Black Accountants, Indiana CPA Society, and Association of Certified Fraud Examiners.
Delta Sigma Pi is a professional fraternity organized to foster the study of business in universities; to encourage scholarship, social activity, and the association of students for their mutual advancement by research and practice; to promote a closer affiliation between the commercial world and students of commerce; and to further a higher standard of commercial ethics and culture and the civic and commercial welfare of the community.
PurplePalooza moved forward to 6:00 p.m. on Friday
Join SAB for one of the biggest events on campus, PurplePalooza on Friday, April 13 starting at 6:00 pm. Note - the event has been moved forward an hour due to potential for inclement weather later that night. The evening will still consist of inflatables, concerts, a rock wall, food trucks, raffle prizes, and so much more! Best part, everything is FREE!! Can't wait to see you there.
Submitted by Megan King mk225@evansville.edu
Course Evaluations: IOTA is the new IDEA
Starting Monday, April 16, through Wednesday, April 25, the UE campus will begin using a new, on-line system for course evaluations called IOTA. Students in classes that are being evaluated will receive an email from Patti Thompson at IOTA with instructions on how to access the evaluations through Blackboard. The evaluations can be completed on any mobile device using Firefox, Edge, Chrome, and other browsers. If you use Internet Explorer, please use version 11 or higher and enable "cookies". The survey will consist of three open-ended questions and several multiple choice questions. The entire survey should only take between 5 to 10 minutes to complete. We appreciate your thoughtful feedback. It will be very helpful in understanding what helps you learn in your courses and what could be improved. If you have any questions, please contact Mark Valenzuela (mv23@evansville.edu) or Amanda Ireland (ai41@evansville.edu).
Submitted by Mark Valenzuela mv23@evansville.edu
Copies of 2017 LinC available
If anyone wants a copy of the award-winning 2017 LinC, copies can be picked up outside of student publications, second floor Ridgway University Center, while supplies last.
Submitted by Tracy Maurer tm2@evansville.edu
Graduates take note
May graduates are reminded to make sure they try on their purchased cap and gown well before graduation to make sure everything fits. If you need changes come to the UE Bookstore. Those students who have not purchased their cap and gown should do so in the UE Bookstore promptly.
Submitted by Doug Gustwiller dg57@evansville.edu
Cast your votes in the study abroad photo contest!
Over the past few weeks the study abroad office has collected photos from UE students who have recently been abroad, and now it's up to you to pick your favorites! There are four different photo categories: Artistic Eye, Fabulous Food, Great Outdoors, and Harlaxton. You can view the photos submitted for these categories under "albums" on our Facebook page at www.facebook.com/uestudyabroad/. The photo from each category that receives the most likes will be the winner of that category. Voting will end at 4:00 p.m. on April 18, so make sure you are liking and sharing your favorites!
Submitted by Greta Becker gb91@evansville.edu
New Chapel outreach efforts continue!
Throughout the month of April, the Neu Chapel community is excited to partner with Patchwork Central, a non-profit organization in downtown Evansville whose goal is to make a positive impact in the lives of children in our area through tutoring and mentorship programs. Patchwork Central also offers a daily hospitality ministry for persons without homes, offering them a cup of coffee, a hot shower, and hygiene supplies. For the remainder of this month, Neu Chapel will collect travel-sized bottles of shampoo and body wash to give to Patchwork Central. You may leave your contribution in the lobby of the chapel. Thank you in advance for your generosity!
Submitted by Keith Turner kt160@evansville.edu
COMM 380 ONLINE in Summer II
Would one class that fulfills several general education requirements and teaches you valuable life skills interest you? Do you want to reduce your course load during the regular fall or spring semesters? How would you like to take such a course NO MATTER WHERE you plan to be this summer?
If you answered yes to any of these questions, you should consider enrolling in COMM 380 ONLINE (Intercultural Communication) offered in Summer Session II.
COMM 380 meets criteria for General Education Outcome 9 (Understanding of Core Concepts of Society, Human Behavior, and Civic Knowledge) and Overlay Component A (Global Diversity: International Component).
For more information, contact professor emeritus of communication Dean Thomlison at dt4@evansville.edu.
Submitted by Dean Thomlison dt4@evansville.edu
Did you forget your paintings?
Some of those participating at the recent Paint with a Pal event forgot their paintings. If you forgot your painting, or someone you know did, please e-mail dh221@evansville.edu and they will make sure you get them.
Submitted by Donald James Hubbard dh221@evansville.edu
Rosary Prayer at 10:00 a.m. on Thursdays
The Newman Club will be offering a 20-minute rosary prayer every Thursday at 10:00 a.m. in the Center for Academic Advising in the Clifford Memorial Library. Students and faculty are welcome. For more information, contact Olivia at ov4@evansville.edu.
Submitted by Carly Walker cw289@evansville.edu
T-shirt drive for UnCharted International planned for April 16-20
Do you have unwanted T-shirts that you do not want to take home in May? Bring them to Ridgway University Center on Monday, April 16 through Friday, April 20, from 11:00 a.m.-1:00 p.m. The Athletic Training Club will be collecting T-shirts to donate to Uncharted International. These T-shirts will be distributed to orphanages in Myanmar!
Submitted by Hannah Bernhardt hb92@evansville.edu
Purchasing procedures announced for May 2018
As the end of the University's fiscal year approaches on May 31, administrative services and accounting and audit announce the following procedures related to purchases of goods and services during May.
Pcard purchases
Pcard purchases posting on the May statement (cycle end date is May 21) will be paid from FY 2017-18 funds. Most shipments post on your Pcard within three to four business days. However, vendors have up to nine business days to post transactions.
Pcard purchases posting from May 22 through May 31 will be paid from FY 2018-19 (new year) funds, unless the item purchased exceeds $500. Purchases exceeding $500 will be paid from FY 2017-18 funds.
Office Depot orders
Normally, Office Depot orders placed online by 3:00 p.m. for items in stock are delivered the next business day. Upon delivery, the transaction should post on your Pcard within three to four business days.
Office Depot orders received by May 15 will likely post on the May 21 Pcard Cycle and be paid from FY 2017-18 funds.
Office Depot orders placed and received but posting to the Pcard between May 22 and May 31 will be paid from FY 2018-19 funds, unless the items purchased exceed $500. Purchases exceeding $500 will be paid from FY 2017-18 funds.
Purchase Orders
Approved requisitions converted into purchase orders and delivered by May 31 will be paid from FY 2017-18 funds.
Approved requisitions indicating FY 2018-19 written on them in red ink will be processed with a delivery date of June 1 or later.
Backordered purchase orders not delivered by May 31 will be paid from FY 2018-19 funds.
Blanket Orders
All FY 2017-18 blanket orders expire on May 31.
Approved requisitions for FY 2018-19 (new year) blanket orders may now be submitted with June 1, 2018 through May 31, 2019 effective dates.
Backordered blanket purchase order items not delivered by May 31 will be paid from FY 2018-19 funds.
Requisitions for check request
All services completed and items purchased (and on campus) by May 31 must be submitted on a WebAdvisor voucher to accounting and audit by Monday, June 18 to be paid from FY 2017-18 funds. Any pre-May 31st purchases submitted for payment after this date will be charged to FY 2018-19.
Submitted by Kim Winsett kw83@evansville.edu
Staff Employee of the Year is Lori Johnson!!
Lori Johnson was presented with the Employee of the Year Award by Dr. Kazee at the Staff Recognition Dinner on Wednesday, April 11, 2018. The 2018 Staff Employee of the Year is an excellent example of what UE is all about. She is encouraging to the whole community of employees, current students and future students. She is known for being helpful in any situation, kind and extremely hard-working. She is a problem-solver and will always help find a solution. She has earned the nickname, "SACM Mom" (Saudi Arabia Cultural Mission) from her endeavors in assisting International students with all of their needs. She is a pleasure to work with whether over the phone or in person and a very worthy recipient of this year's award. Please join us in congratulations to Lori Johnson from the Registrar Office as 2018 Staff Employee of the Year!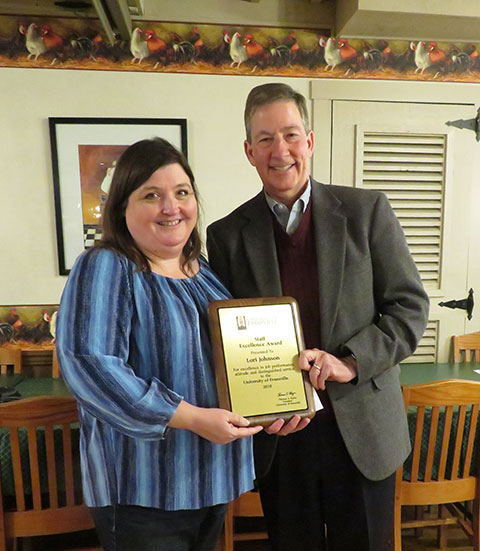 Other staff employees recognized at the annual dinner were:
Five-year Service Award
Cynthia Felts (School of Health Sciences)
Darren (Ken) Miller (Administrative Services)
Andrew Nichols (Grounds)
Janice Kidder (Department of Physical Therapy)
Wendy Marx (Institutional Advancement)
Sarah O'Leary (Counseling & Health Education)
Robert Mettle (Grounds)
10-year Service Award
Carol McCraney (Law, Politics and Society)
Tina Hurt (Office of Admission)
Cynthia Kelley (Institute for Global Enterprise)
Gloria Spencer (Accounting and Audit)
Kimberly Flowers (Adult Education)
Serena Browning (University Libraries)
15-year Service Award
Timothy Meny – Physical Plant
25-year Service Award
Amy Brunty – University Libraries
Cynthia Simmons - Marketing
Retirement recognition was presented to Ken McGinnis (Physical Plant). Pam Young (Exercise Science) and Donna Jones (Office of Development) were not present but recognized also.
Fire Fighting Robot Team wins 1st and 3rd at firefighting robot international competition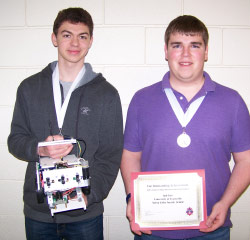 The University of Evansville competed this past weekend, April 6-9, in the Firefighting Robot International Robot competition at Trinity College in Harford, CT. Seventy teams from around the world including China, Israel, Indonesia, New Jersey, New York, Pennsylvania (to name a few) competed and were challenged to program a robot to navigate a model home in search of a fire, represented by a burning candle, and then extinguish the fire. The robot was required to watch out for walls, furniture, animals, and other obstacles.
Team Isaiah Frey and Jacob Stratman (both electrical engineering students) placed third with their robot "Spit Fire."
Frey and Stratman competed in the Versa Valve Challenge while at the competition. This challenge required a unique robot to complete two successful runs while using a Versa Valve. They placed first in their division!
Congratulations to the UE Team!
LinC wins ICPA competition
For the 18th consecutive year, the 2017 LinC has won the Indiana Collegiate Press Association's "Yearbook of the Year" award and staff members also won numerous individual awards. Design awards went to 2017 graduate MaKayla Seifert. Photography awards went to Seifert, junior Natalie Christy, senior Lizzie Tredinnick and 2017 graduates Brenna Kincaid, Kyle Wilson and Rebecca Eimer. Writing awards went to 2017 graduates Brittany McFadden and former student Rachel Torres.
Crescent Magazine places second in ICPA competition
Members of the Crescent Magazine staff won numerous individual awards and the magazine placed second behind Notre Dame in this year's Indiana Collegiate Press Association annual competition. Winning awards for writing were: seniors Jesse Robkin, Trevor Richardson, Patrick Roque, Matt Reed, Lea Arnold and Oli Ross-Musick; sophomores Lydia Maxwell, Dallas Carter, Melanie Aliff and Lily Renfro; and 2016 graduate Kristen Buhrmann. Design awards went to junior Ling Lin and 2017 graduates Kayla Seifert and Sydney Blessinger. Photography awards went to freshman Jeff Tarala, sophomore Bryton McKinley, senior Enita Ugen and 2017 graduate Brenna Kincaid.
Skyhawks defeat Aces softball in 14-inning marathon
In the longest game in the history of Bettye Giles Field, UT Martin outlasted the University of Evansville softball team to take a 3-2 win in 14 innings in Martin, Tenn.
Evansville (11-23) posted seven hits on the day, led by Brittany Hay. The senior hit a home run and brought both runs in for the Purple Aces. Elyse Hickey went 1-4 on the day and walked twice. UE pitched extremely well in the contest with starter Jaime Nurrenburn giving up an unearned run in five innings. Morgan Florey tossed three innings of 1-run ball while Ashleigh Downing went the final 5 1/3 and gave up just four hits and a run.
Leading UT Martin (20-22) was Savannah Dodson, who had three hits in six plate appearances.
The pitchers had the upper hand early on with the first hit of the day coming in the third inning as UT Martin posted the first knock of the game. Evansville recorded its first two hits in the top of the fourth and plated the first run of the day.
Mea Adams led off with a bunt single before Lindsay Renneisen followed with a bunt single of her own. Eryn Gould flew out to center to advance the runners to second and third to bring Brittany Hay to the plate. In a great play, Hay brought Adams home on a squeeze play to give the Aces the lead.
UT Martin tied it up in the bottom half of the fifth one a Rachel Williams RBI single. Her hit scored Paige Clark, who singled to lead off the innings.
A pair of solo home runs changed the complexion of the game, sending it into extra innings. The Skyhawks took a 2-1 lead in the bottom of the 6th on a Gracyn McBride solo shot, but Hay tied it right back up in the seventh. Her team-leading 7th home run of the season knotted the score at 2-2 and sent the game into extra frames.
In the top of the 13th, the Aces looked to score the go ahead run, but interference was called and negated the run. An inning later, the Skyhawks grabbed the walk-off win on an RBI single from Aalia Bivens.
UE is on the road this weekend, traveling to Normal, Ill. for a 3-game set at Illinois State.
Contribute to AceNotes
To have content considered for inclusion in AceNotes, please submit a Marketing Request Form. Deadline for submission to AceNotes is 10:00 a.m. on the requested date of publication. Only articles concerning UE related/sponsored activities will be accepted. Articles submitted to AceNotes may be edited for length and clarity. Submitter contact information is at the end of each article.