| | |
| --- | --- |
| AceNotes Today | Wednesday, April 11, 2018 |
Bike Race 2018 moved to Friday afternoon
With the prediction that the Tri-State area will have thunderstorms and heavy rainfall over the weekend, Bike Race 2018 has been moved to Friday afternoon as part of the annual Purplepalooza festivities.
The women's race will begin at 3:30 p.m. on H-Lot and the men's race will begin at approximately 5:00 p.m.
Food will be grilled and served to spectators at 5:00 p.m. on the south lawn of Black Beauty field. No outside containers or bags will be permitted in the south lawn area.
Purplepalooza, sponsored by SAB, will begin at 7:00 p.m. on the Ridgway East Terrace Lawn. Games, food, entertainment and prizes will be on display from 7:00 -11:00 p.m. Please come out and enjoy these two annual events.
Submitted by Geoff Edwards ge21@evansville.edu
Donuts for Donors
Last fiscal year, 67% of our employees gave back to UE! That is amazing support from within our campus community. Donut Bank donuts will be delivered around campus as a special thank you to our campus donors!
Submitted by Cameron Cool cc253@evansville.edu
Honors Program project presentations continue today
The Honors Program project presentations continue today in Koch Center 101. Please see below the schedule of today's presenters.
Wednesday, April 11
3:00–4:00 p.m.
• Nicholas Bingaman, Applied Mathematics - "Effects of the Affordable Care Act on Healthcare in the US"
• Lauren Roberts, Chemistry - "The Potential Role of Phytoestrogen Metabolism by 11-??-Hydroxysteroid Dehydrogenase Type 1 on Sex Specific Associated Pathologies"
• Shane Bentsen, Chemistry - "Modeling the Dynamics of an Imine Compound"
4:00–4:45 p.m.
• Megan Morris, Athletic Training-"Overtraining and Burnout in Athletes"
• Kendra Mehling, Public Health - "Saving Syria: Targeting Resilience Factors in Children"
The honors project represents the culmination of the honors experience and provides an opportunity for students to explore an area about which they are passionate. The honors project may consist of a research project, thesis, or creative work.
Special thanks are extended to all faculty, advisors, and others who have supported the honors students in their educational achievements.
Submitted by Jayme Williams jw504@evansville.edu
Softball to play at UT Martin this afternoon
Originally scheduled to be a doubleheader, the University of Evansville and UT Martin will tangle in a single game this afternoon at 3:00 p.m. in Martin, Tenn.
Evansville played well in its weekend series against Missouri State, but dropped its three contests by a total of five runs. The Bears rallied for a 4-1 win in nine innings in the opener of the series on Friday before pushing across the winning run in the eighth frame of game two. MSU clinched the series sweep on Saturday with a 4-3 win as they scored twice in the top of the 7th inning.
Morgan Florey had another nice weekend of action for the Purple Aces, racking up 22 strikeouts in 16 innings of action. On Saturday, she struck out the side in the first inning and, in doing so, reached 600 for her career. She became just the second player in program history to reach the mark.
At the plate, Mea Adams was UE's top hitter. Adams registered four hits in 10 at-bats while walking twice, recording an RBI and scoring a run. In Friday's series opener, Adams went 1-3 from the plate with a walk and a run scored. She had a big game in the second contest of the doubleheader, notching two hits in four at-bats with an RBI and another walk. Her single in the seventh inning sent the game to extras, plating the tying run. She finished with another 1-3 effort on Saturday.
Freshman Jaime Nurrenbern made her presence known in game two against the Bears. She entered the game with her team trailing by three runs, but kept the Bears at bay as the Aces made their comeback before falling in extras. She tossed five innings and allowed just two runs, one earned, on two hits. She also posted a double and walk in the game while batting.
UT Martin enters the game with a 19-22 mark and are 4-6 through their first ten Ohio Valley Conference matchups. The Skyhawks are led by Jodie Duncan, who is batting .323 while Alli Fulcher checks in at .308. They use their speed on base as their biggest weapon, racking up 88 stolen bases as a team in 2018. With 2.15 stolen bases per game, they rank 10th in the nation.
I-House/BSU collaboration - My House: Exploring Diversity and Culture within the US
Please join us tonight at 7:00 p.m., upstairs in Ridgway University Center, for a collaboration event with I-House and the Black Student Union! This special I-House presentation is titled "My House: Exploring Diversity and Culture within the U.S." DaLisa McCallum, Deja Johnson, and Lindsay Sullivan from the Black Student Union will present on growing up black in America.
Submitted by Megan Sicard ms331@evansville.edu
Dinner and Discussion welcomes Dr. Rosario today
The Newman Center welcomes Dr. Rosario today at 5:00 p.m. Dr. Rosario is a local doctor who has specialized in end-of-life issues, transgender issues, and much more. His talk is about his pilgrimage to Santiago de Compostela. All are welcome and dinner will be provided!
Submitted by Breanne Buerster bb261@evansville.edu
Beekeeping in Medieval Europe to be topic of today's UE History Lecture
The annual Spring Lecture hosted by the Department of History at the University of Evansville is today - Wednesday, April 11 - at 4:00 p.m. in Harkness Hall (room 162), in the Schroeder School of Business Building. The event is free and open to the public.
The topic of this year's lecture is "Beekeeping in Medieval Europe." Jason Hardgrave, associate professor and the history department chair at the University of Southern Indiana, will be the speaker.
Hardgrave earned his bachelor's and master's degrees in history from the University of Wyoming and his PhD from the University of Kansas. He is a Phi Alpha Theta faculty mentor and regional coordinator for Indiana History Day.
Hardgrave's initial research interests were focused on the late medieval legal system in Venice, Italy. His more recent areas of research have been beekeeping and the wax trade in medieval Europe. Hardgrave has been a beekeeper for seven years.
For further information, contact the event coordinator Annette Parks at ap3@evansville.edu or 812-488-1070.
Submitted by Katherine Martyn km283@evansville.edu
Senior Reading planned for today
Our graduating creative writing majors will read from their poetry and prose, at the Coffee Hour Senior Reading event held in Eykamp Hall, Room 252, Ridgway University Center at 4:00 p.m. today, Wednesday, April 11.
The faculty will announce the winners of the Virginia Grabill Writing Awards and one selected senior will receive the George Klinger Memorial Prize for the creative writing department. Please join us for a delightful and often moving send-off to our graduating seniors.
Night Church Service: The Best Kept Secret On Campus?
Every week, the Neu Chapel community gathers for a 20-minute prayer service on Sunday nights at 9:00 p.m. in Neu Chapel. This beautiful service has been described as "the best kept secret on campus." But we do not want it to be a secret! All are welcome and invited to attend this time of reflection and prayer. Our Night Prayer service is an ideal way to prepare one's inner self for the coming week ahead! So why not give it a try this Sunday? Hope to see you there!
Submitted by Keith Turner kt160@evansville.edu
University Worship in Neu Chapel: Sunday at 11:00 a.m.
The campus community is invited to University Worship this Sunday at 11:00 a.m. in Neu Chapel. We will continue our Easter celebration by continuing our conversation on how blind faith is not an option, because the risen Christ opens the minds of the disciples. All are welcome to attend this meaningful service complete with donuts and coffee before and after the service!
Submitted by Keith Turner kt160@evansville.edu
Crick Lecture Friday - Cameron Buckner on "Deep Learning"
Cameron Buckner (University of Houston) will give the final Crick lecture of the 2017-18 school year this Friday, April 13 at 4:00 p.m. in Room 100, Koch Center for Engineering and Science. Buckner has published and presented work on a variety of topics involving artificial intelligence, non-human animal cognition, learning and behavior, and the philosophy of science. The talk is open to the public.
Title: Empiricism without Magic: Transformational Abstraction in Deep-Learning Neural Networks
Abstract: Unless you have been living under a rock for the last few years, you have heard about the incredible recent achievements of deep neural networks. These artificial intelligence methods seem to achieve "superhuman" performance on new domains weekly, from beating grandmasters at the ancient Chinese game of Go to driverless navigation to automated image classification to winning at video games, to name just a few. However, it has proven difficult to explain how or why deep neural networks perform so well. In philosophy of mind, empiricists like Locke and Hume argued that complex cognition is based on information derived from sensory experience, often appealing to a faculty of abstraction. Rationalists have frequently complained, however, that they never adequately explained how this faculty of abstraction actually works, charging that abstraction is just empiricist "magic". In this talk, I tie these two problems together, to the mutual benefit of both disciplines. I argue that the engineering tweaks that distinguish deep networks from their shallower forebears explains how they (and the brain) implement a form of hierarchical processing that I call "transformational abstraction". Transformational abstraction iteratively converts sensory-based representations of category exemplars into more generic formats that are increasingly tolerant to "nuisance variation", one of the main systematic challenges that cognition must overcome to reliably succeed in the natural world. I here illustrate the power of transformational abstraction through a series of examples, including classic philosophical conundrums from Locke and Hume as well as more contemporary applications like Go strategy and abstract arts."
Submitted by Derek Jones dj4@evansville.edu
Conversation on the Bible and Same-Sex Marriage: Thursday at 7:00 p.m.
The campus community is invited and welcome to attend our final Fireside Chat for the Spring semester this Thursday at 7:00 p.m. in the second floor gallery of Ridgway University Center as we discuss "The Bible and Same-Sex Marriage." Our special guest for the evening will be Emma Loane, youth pastor at Newburgh United Methodist Church. Together we will discuss what many believe to be a controversial topic in an environment of respect and understanding with the vision for human wholeness guiding our conversation. All are welcome! Hope to see you there!
Submitted by Keith Turner kt160@evansville.edu
Farewell reception for Ann Baker, Krista Williams, and Ignacio Benitez
Please join the Department of Foreign Languages and Cultures in a farewell reception for Ann Baker, assistant professor of Spanish, Krista Williams, assistant professor of French, and Ignacio Benítez, Fulbright teaching assistant, in Room 120 in Hyde Hall from 11:00 a.m.-1:00 p.m. on April 26.
Baker received her B.A. from Purdue University and her M.A. in Education from the University of Evansville. Her list of activities in service to the department, the University and our community is exceptionally long. Professor Baker began teaching here in 1984 as an adjunct and in 1992, became a full-time faculty member. Please come and celebrate her retirement after 34 years of service to the University of Evansville!
Williams has been at the University of Evansville since 2014, teaching beginning and intermediate language courses, as well as upper-level courses in such topics as phonetics, linguistics, and advanced grammar, in addition to FYS. Her research interests include the definitions of color terms in monolingual dictionaries and their translations in bilingual or multilingual dictionaries, profanity in pidgin and creole languages, and Occitan lexicography. The Department of Foreign Languages and Cultures will miss her energy, enthusiasm, and good cheer. Please join the department in wishing her all the best at the College of Charleston in the Fall!
A native of Uruguay, Benitez, has assisted the Spanish faculty in teaching beginning, intermediate, and upper level Spanish courses this year. Additionally, he has tutored students outside of the classroom to assist professors and has sponsored extracurricular activities to help students improve their speaking skills while broadening their knowledge of Hispanic cultures and customs. Please join the department in thanking him for his work this year!
Submitted by Tammy Johnson tj87@evansville.edu
Shanklin Theatre season closes with The Grapes of Wrath
The University of Evansville Department of Theatre's final production of the season, The Grapes of Wrath, by Frank Galati, based on the novel by John Steinbeck, opens Friday, Apr. 13, at 7:30 p.m., in Shanklin Theatre. Additional performances are at 7:30 p.m. on April 14, 19, 20, 21, and at 2:00 p.m. on April 15 and 22.
This Tony Award-winning play is an expansive retelling of John Steinbeck's brilliant Pulitzer Prize-winning novel. The riveting tale follows the impoverished Joad family's flight from the Dust Bowl and into the promised land found out West. Full of loss, triumph, and endless struggle, this timeless epic is a celebration of the soaring tenacity of the human spirit.
Professor John David Lutz directs The Grapes of Wrath. Department Chair Eric Renschler serves as the scenic designer; Hilary Rubio, a senior from San Antonio, Texas, is the costume designer; Renée Voteau, a senior from St. Louis, Mo., is the lighting designer; Serenity Rowland, a sophomore from Durham, N.C., is the sound designer; Bailey Brandvold, a junior from Great Falls, Mont., is the dramaturg; Emma Blevins, a senior from San Antonio, Texas, is the stage manager; and Professor Chuck Meacham serves as the technical director.
The cast features senior Joseph W. Schwalb, from Milwaukee, Wis., as Tom Joad; senior Aaron Gonner, from Dubuque, Iowa, as Jim Casy; sophomore Shannon White, from Rockwall, Texas, as Ma Joad; junior Isaac Baker, from Bowling Green, Ky., as Pa Joad; junior Gina DeLise, from Woodstock, Ga., as Rose of Sharon, senior Davis Brinker, from Minneapolis, Minn., as Uncle John, and freshman Jackson Pitt, from McKinney, Texas, as Al Joad.
Ticket prices are $18 for adults and $16 for senior adults, students, and UE faculty and staff. Made possible by a generous grant from the Arts Council of Southwestern Indiana, all high school, students can obtain free tickets by going to the University of Evansville Theatre Ticket Office. UE students may obtain one free student rush ticket beginning at noon on the day of the performance they wish to attend.
Tickets may be purchased by calling 812-488–2031, Monday through Friday, noon-5:00 p.m.
Swing Dance Fundraiser Tickets
The University of Evansville Jazz Ensemble will be performing traditional swing dance music on Saturday, April 14 at 8:00 p.m. in Eykamp Hall, Ridgway University Center. You may come to listen or get on the dance floor and swing the night away. Tickets are $10 and can be purchased at the door or by contacting Timothy Zifer at tz3@evansville.edu. All ticket proceeds will benefit the Department of Music fund raising efforts. A silent auction and cash bar will be available. Come SWING with us!
Free Coffee & Careers event planned for Thursday
Attend Coffee & Careers during the afternoon of Thursday, April 12 for free coffee and an informal chat with alumni and friends of the University. Learn about their journey to their current job and the skills needed for career success. This week's focus is on careers in human resources. The event is from 4:00-5:00 p.m. on the second floor of Ridgway University Center, across from WUEV.
Submitted by Alison Morris-McDonald am268@evansville.edu
Mark Your Calendars - PurplePalooza April 13
PurplePalooza is back again! Join SAB on Friday, April 13 from 7:00-11:00 p.m. for an evening full of inflatables, rock climbing, food trucks, a professional beatboxer, UE student musicians, raffle prizes, customizable license plates, and so much more. Free for all UE students and Evansville community members. Come help celebrate UE's Annual Day of Giving and Greek Week as well as kick off Bike Race weekend with SAB at this event.
Submitted by Megan King mk225@evansville.edu
Copies of 2017 LinC available
If anyone wants a copy of the award-winning 2017 LinC, copies can be picked up outside of student publications, second floor Ridgway University Center, while supplies last.
Submitted by Tracy Maurer tm2@evansville.edu
McCarty names three to UE coaching staff
University of Evansville head men's basketball coach Walter McCarty has announced the hiring of three individuals to his first coaching staff with the Purple Aces.
McCarty has tabbed Terrence Commodore and Chris Sparks as Assistant Coaches while adding Logan Baumann as the director of basketball operations. The final assistant coach spot will be announced soon.
Commodore comes to Evansville following a 3-year stint at his alma mater - Eastern Kentucky. He joined the Colonels' staff as the video coordinator/director of player personnel in 2015-16 before spending the last two seasons as an assistant coach.
In his first season on the EKU staff, Commodore helped to develop some of the top talent in the Ohio Valley Conference. Nick Mayo was a first team All-OVC player for the second season in a row in 2016-17 while he also directed freshman Asante Gist to the OVC All-Newcomer Team that season.
From 2007-11, he worked at the University of Kentucky as a graduate assistant/program assistant. In his time at UK, the Wildcats made the Elite 8 in 2010 and the Final Four in 2011. His responsibilities included on-campus recruiting, film breakdown, player development and assisting with scouting reports. He assisted in the recruiting process of former Wildcat players John Wall, Eric Bledsoe, DeMarcus Cousins, Brandon Knight, and Darius Miller.
A 2007 graduate of EKU, Commodore received his bachelor's degree in physical education with an emphasis in sports administration. He completed his master's degree in sports leadership from Kentucky in 2011.
"I am excited to add Terrence to our staff; he is a tenacious, exciting young coach," McCarty said. "Being from Kentucky and having an extensive background there, he really gives us a good presence in this region. Terrence is a savvy recruiter; a real go-getter. He truly loves the game and will be great with our guys."
Chris Sparks brings over 17 years of coaching experience to the UE program. He comes to Evansville after spending time as the North American director at Australia Basketball Travellers. This organization provides North American coaching expertise to basketball coaches from Australia by bringing them to the United States and giving them a full week of exposure to college and professional basketball coaching.
During a stint as an assistant coach at Utah Valley, his Wolverine squad went 20-12 and 13-3 in the Western Athletic Conference on their way to the regular-season title and a berth in the NIT in 2014. He brings great experience in the region, having worked for four seasons as an assistant coach at Valparaiso under head coach Homer Drew. The Crusaders won 20+ games and advanced to the postseason in two of those seasons.
Before his coaching stop at Valpo, Sparks was the head coach for the Canterbury Rams of the New Zealand National Basketball League for two years. He was named a Coach of the Year finalist by Basketball New Zealand in 2006. In 2008, he was also the head coach for the undefeated Athletes in Action team tour of Poland. He was a volunteer assistant coach for the organization between 2001 and 2005.
Sparks enjoyed a storied 3-year career with the Valparaiso basketball team, advancing to the NCAA Tournament on three occasions, including the 1998 Sweet 16. He was inducted into the Valparaiso University Hall of Fame in 2009 as part of the 1997-98 Sweet 16 squad. His college playing career started at Vincennes University, which finished in sixth place in the 1997 NJCAA National Tournament. He earned a B.S. in Business Management from Valparaiso in 2000.
"Chris is a relentless recruiter who has so many connections that will really help our program," Coach McCarty explained. "He is a great evaluator and teacher who knows the game. Chris will help our players and team in its development. His presence will make us better."
Logan Baumann will serve as the Purple Aces director of basketball operations. He worked on the staff at the University of Louisville for the past three seasons, most recently as the Senior Director of Video Operations. He started his career as the Assistant Video Coordinator with the Cardinals.
Baumann earned his bachelor's degree in economics from UofL in 2015 and was a student manager during his college career. During the Cardinals' 2013 NCAA Championship season, Baumann transitioned from a manager to a walk on, playing in one game during that year. He averaged 17.3 points per game in his senior season at Ohio County High School in Hartford, Ky., and was the 2012 Third Region Player of the Year.
"Logan brings a wealth of experience and energy to our program," McCarty said. "He is the first one here and the last one to leave each day. Logan helps us in so many ways and is very well-respected around the industry. I am very excited about what he brings to the staff."
Cast your votes in the study abroad photo contest!
Over the past few weeks the study abroad office has collected photos from UE students who have recently been abroad, and now it's up to you to pick your favorites! There are four different photo categories: Artistic Eye, Fabulous Food, Great Outdoors, and Harlaxton. You can view the photos submitted for these categories under "albums" on our Facebook page at www.facebook.com/uestudyabroad/. The photo from each category that receives the most likes will be the winner of that category. Voting will end at 4:00 p.m. on April 18, so make sure you are liking and sharing your favorites!
Submitted by Greta Becker gb91@evansville.edu
New Chapel outreach efforts continue!
Throughout the month of April, the Neu Chapel community is excited to partner with Patchwork Central, a non-profit organization in downtown Evansville whose goal is to make a positive impact in the lives of children in our area through tutoring and mentorship programs. Patchwork Central also offers a daily hospitality ministry for persons without homes, offering them a cup of coffee, a hot shower, and hygiene supplies. For the remainder of this month, Neu Chapel will collect travel-sized bottles of shampoo and body wash to give to Patchwork Central. You may leave your contribution in the lobby of the chapel. Thank you in advance for your generosity!
Submitted by Keith Turner kt160@evansville.edu
COMM 380 ONLINE in Summer II
Would one class that fulfills several general education requirements and teaches you valuable life skills interest you? Do you want to reduce your course load during the regular fall or spring semesters? How would you like to take such a course NO MATTER WHERE you plan to be this summer?
If you answered yes to any of these questions, you should consider enrolling in COMM 380 ONLINE (Intercultural Communication) offered in Summer Session II.
COMM 380 meets criteria for General Education Outcome 9 (Understanding of Core Concepts of Society, Human Behavior, and Civic Knowledge) and Overlay Component A (Global Diversity: International Component).
For more information, contact professor emeritus of communication Dean Thomlison at dt4@evansville.edu.
Submitted by Dean Thomlison dt4@evansville.edu
Did you forget your paintings?
Some of those participating at the recent Paint with a Pal event forgot their paintings. If you forgot your painting, or someone you know did, please e-mail dh221@evansville.edu and they will make sure you get them.
Submitted by Donald James Hubbard dh221@evansville.edu
Update Facebook Profile with UE Pep and Vim filter
Update your Facebook Profile with our UE Pep and Vim filter
Access through computer:
Click on 'Update Profile Picture'
Click Add Frame
Select UE Pep and Vim Filter
Access through phone:
Click on 'Edit' on Profile Picture
Select 'Add Frame'
Either search 'UE Pep and Vim Filter' or scroll down and it will pop up
Graduating seniors wanted for brief radio interview
WUEV is looking for graduating seniors to give a 1-2 minute interview about their time at UE. Whether you have an interesting memory from Harlaxton, want to recognize a professor for inspiring you, or have just been looking for an opportunity to talk about the cool job you landed, we want to hear from you! Interviews will be scheduled at the interviewees' convenience and will air on April 29 between 9:00-11:00 p.m. Please contact ad209@evansville.edu if you are interested in being interviewed.
Submitted by Alice Daum ad209@evansville.edu
Removal of vehicles for Bike Race
All vehicles must be removed from Lot H by 5:00 p.m. on April 11. Vehicles remaining in the lot after this time may be towed. The removal of vehicles is necessary so that the lot can be prepared for the bike race, which will be on Saturday, April 14. Vehicles must be moved so the lot can be re-striped and time trials can be held.
The lot will be reopened for parking by Sunday morning at the latest. Vehicles must be moved to legal parking places for the permit category held by the driver. The use of Lot O, by the armory, and Lot Q, by the general services building, is recommended.
Photographer on Campus April 9-11
The Office of Marketing and Communications will have a photographer on campus for a photo shoot Monday, April 9, through Wednesday, April 11. UE students and faculty have always been very cooperative and accommodating during previous shoots. As a result, many great photos have been taken for the University's website and publications. Kim McDonald will try to notify faculty in advance if photos will be taken in a particular class; however, weather may force the shoot inside, and it is possible that last minute requests will be made. If faculty members know that they will be giving a test or do not wish to have their class photographed any of these days, please inform Kim McDonald at ext. 2683 or km117@evansville.edu and the classroom will be avoided.
Rosary Prayer at 10:00 a.m. on Thursdays
The Newman Club will be offering a 20-minute rosary prayer every Thursday at 10:00 a.m. in the Center for Academic Advising in the Clifford Memorial Library. Students and faculty are welcome. For more information, contact Olivia at ov4@evansville.edu.
Submitted by Carly Walker cw289@evansville.edu
Benefit Open Enrollment
During the period of March 28 through April 11, benefit-eligible employees may enroll or make changes in the University's health, life, long term disability, and dental insurance, and ACES flexible spending account benefit plans. It is the only chance for benefit-eligible employees to enroll or make changes until the next open enrollment period unless you have a qualifying change in status.
Please review the documents in the Open Enrollment section of the MyUE portal at: https://bit.ly/2GcdKph, beginning with the open enrollment memo, for important announcements, reminders, and changes which will occur June 1 to the University's benefits.
We will once again utilize an on-line enrollment process, eliminating all paper enrollment forms for health, life, dental, and long term disability insurance, as well as the ACES flexible spending account. This will ensure the accuracy of your enrollment elections and maintain records electronically regarding your current and future participation.
Enrollment/changes to your TIAA and Emeriti VEBA Trust retirement plan salary deferrals will continue to be processed on paper forms available in the Office of Human Resources. Therefore, you do not need to re-enroll in the TIAA or Emeriti retirement plans. ALL benefit eligible employees (including those who do not want to make any changes to their current coverage) must enter their elections by April 11.
Please review the open enrollment memo and On-Line Benefit Enrollment Documents on the HR Area of the MyUE portal, which should answer many of the questions you might have about this system.
Please contact the Office of Human Resources at ext. 2943 with any questions.
2018-19 Margery Florence Kahn Scholarship application available
Applications for the 2018-19 Margery Florence Kahn Scholarship are now available.
It was the desire of the donor, Margery Florence Kahn, that her scholarship be awarded to "dedicated and conscientious students who exhibit a true passion for their chosen fields of study, and who, in the opinion of the members of the University of Evansville faculty, are likely to bring the same enthusiasm into the performance of their jobs or the practice of the professions which they will pursue following graduation."
All University of Evansville full-time undergraduate students who will be juniors or seniors in 2018-19 may apply. An essay of about 300 words must accompany the application, along with two to five faculty recommendation letters.
Applications are available from the Office of Financial Aid (Olmsted Hall 116).
Completed applications and recommendation letters should be returned to the Office of Financial Aid by April 15.
You may also request application materials by e-mailing financialaid@evansville.edu.
Questions may be directed to the Office of Financial Aid via e-mail or by phone at 812-488-2364.
Submitted by Trisha Hawkes th187@evansville.edu
Financial aid for summer courses
If you are seeking financial aid for summer courses at UE, please complete a summer financial aid application and return to the Office of Financial Aid (Olmsted 116). The application will allow our office to determine the types of aid for which you may be eligible.
Work-Study
On-campus jobs are available for continuing UE students during the summer. You do not need to be eligible for need-based Federal Work-Study during the academic year in order to apply. You may also apply regardless of your enrollment in summer courses. Applications are available within the Student Employment area of WebAdvisor.
Submitted by Amy Sowders as560@evansville.edu
Dr. Marvin E. Hartig Memorial Scholarship applications
Applications are now being accepted for this year's Dr. Marvin E. Hartig Memorial Scholarship. This scholarship is dedicated to the loving memory of Hartig, dean of Evansville College's Evening College in 1967, and administrator for the Center for Advanced Study, director of the Evansville chapter of the American Institute of Banking (AIB), and the international student advisor. In 1974, Hartig was appointed dean of academic services. He retired in 1984 after serving his alma mater for 35 years and passed away in 2007.
This scholarship is awarded each year to a deserving sophomore. Preference will be given to a student working while being enrolled as a full-time student.
International students are encouraged to apply.
Applicants must submit the following to be considered:
1. Completed application

2. In a one page, single spaced, 12 point Verdana font essay, please answer all of these questions:
•What have you learned about yourself as a UE student?
•What do you do for fun when not studying or working?
•Name a special attribute or accomplishment that sets you apart.
•You have done a lot in your short life. In what areas do you think you can improve?
•What are your scholastic and career goals?
•How did you finance your freshman year and how will you finance your sophomore year?
•Why are you a good candidate to receive this scholarship?
•What have you learned about Dr. Hartig, how does he influence or inspire you, and how will you preserve his legacy as recipient of this scholarship?
Please return all materials to the Office of Financial Aid by May 1. Decision will be announced by July 2.
If you have questions, contact Trisha Hawkes, administrative assistant to the Office of Financial Aid, at financialaid@evansville.edu or 812-488-2364.
Submitted by Trisha Hawkes th187@evansville.edu
Fire Fighting Robot Team wins 1st and 3rd at firefighting robot international competition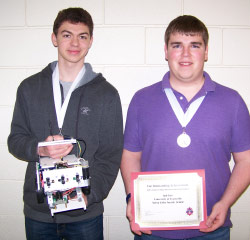 The University of Evansville competed this past weekend, April 6-9, in the Firefighting Robot International Robot competition at Trinity College in Harford, CT. Seventy teams from around the world including China, Israel, Indonesia, New Jersey, New York, Pennsylvania (to name a few) competed and were challenged to program a robot to navigate a model home in search of a fire, represented by a burning candle, and then extinguish the fire. The robot was required to watch out for walls, furniture, animals, and other obstacles.
Team Isaiah Frey and Jacob Stratman (both electrical engineering students) placed third with their robot "Spit Fire."
Frey and Stratman competed in the Versa Valve Challenge while at the competition. This challenge required a unique robot to complete two successful runs while using a Versa Valve. They placed first in their division!
Congratulations to the UE Team!
LinC wins ICPA competition
For the 18th consecutive year, the 2017 LinC has won the Indiana Collegiate Press Association's "Yearbook of the Year" award and staff members also won numerous individual awards. Design awards went to 2017 graduate MaKayla Seifert. Photography awards went to Seifert, junior Natalie Christy, senior Lizzie Tredinnick and 2017 graduates Brenna Kincaid, Kyle Wilson and Rebecca Eimer. Writing awards went to 2017 graduates Brittany McFadden and former student Rachel Torres.
Crescent Magazine places second in ICPA competition
Members of the Crescent Magazine staff won numerous individual awards and the magazine placed second behind Notre Dame in this year's Indiana Collegiate Press Association annual competition. Winning awards for writing were: seniors Jesse Robkin, Trevor Richardson, Patrick Roque, Matt Reed, Lea Arnold and Oli Ross-Musick; sophomores Lydia Maxwell, Dallas Carter, Melanie Aliff and Lily Renfro; and 2016 graduate Kristen Buhrmann. Design awards went to junior Ling Lin and 2017 graduates Kayla Seifert and Sydney Blessinger. Photography awards went to freshman Jeff Tarala, sophomore Bryton McKinley, senior Enita Ugen and 2017 graduate Brenna Kincaid.
UE names Ying Shang as Dean of College of Engineering and Computer Science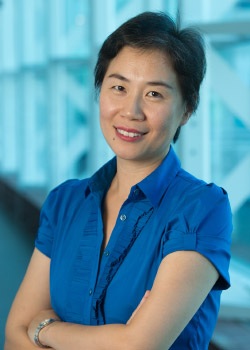 The University of Evansville has announced that Ying Shang, PhD, has been named as the University's new dean of the College of Engineering and Computer Science. Shang is the first woman to serve as the dean of the CECS at UE and will begin her new duties in August. Currently, she is chair of electrical and computer engineering at Southern Illinois University in Edwardsville.
"I am so impressed with the University's dedication to excellence in education," said Shang. "I look forward to leading and working collaboratively with UE faculty, staff, and students. I hope to bring extra energy and innovative ideas to the University's College of Engineering and Computer Science. Together we will make UE an even better place in the future."
Shang earned her PhD and MS degrees in electrical engineering from the University of Notre Dame, and her BS in control engineering from Shandong University. Her research areas include discrete-event systems, max-plus linear systems, and hybrid systems with applications in queueing networks, manufacturing systems, and transportation networks.
"I am excited by the expertise and perspective that Dr. Shang will bring to the College of Engineering and Computer Science," said Michael Austin, executive vice president for academic affairs at UE. "Her enthusiasm, vision, and keen insight will make her a great addition to the University."
Shang has published more than 25 papers in journals and conference proceedings and delivered numerous invited presentations. During a sabbatical leave, Shang was a visiting professor at the University of Angers in France working on high-throughput screening research in drug discovery.
During Shang's term as SIUE's computer science department chair, she fostered faculty growth in teaching and research, improved communication, secured ABET accreditation, established industrial partnerships, and created a process of launching entrepreneurial incubator/accelerator for startups to help Southern Illinois.
Shang also served as faculty advisor for SIUE's Society of Women Engineers Student Chapter and led the organization in recruiting more female students. She served as a role model for female engineering students and initiated the first annual Introduce a Girl to Engineering event.
UE Designated as Ashoka U Changemaker Campus
The University of Evansville has been designated as a Changemaker Campus by Ashoka U for its role as a leader in social innovation and changemaking in higher education.
UE will join the Changemaker Campus Network—a dynamic, global community of students, staff, administrators, faculty and community partners who share inspiration, connections and a commitment to broaden the reach and impact of social innovation and changemaking around the world. The recognition is the outcome of a rigorous 18-month selection process which included a full campus ecosystem scan, detailed planning and reporting for a three day site visit in October 2017, and a final panel presentation in April 2018.
According to Ashoka U officials, students need interdisciplinary, entrepreneurial and solutions-oriented skillsets to succeed in today's complex world that is changing at an accelerating pace.
The Ashoka U site visit team noted initiatives such as ChangeLab (formerly GAP), the Changemaker Challenge, cross-campus commitment to social innovation, and the city's intense involvement in as prime examples of a campus that exhibits the very essence of changemaking.
Ashoka U is an initiative of Ashoka, the world's largest network of social entrepreneurs and changemakers. The program recognizes colleges and universities globally that have embedded social innovation and changemaking into their culture, programming and operations and are committed to partnering in the network to make social innovation and changemaking the new norm across higher education. Since 2008, over 40 universities around the world have received this designation.
"This is a tremendous honor for the University and a reinforcement of the kind of value that our students and programs add to the community," said Michael Austin, executive vice president for academic affairs at UE. "this is something we have been working on for years, under the leadership of Dr. Jill Griffin and the cross-disciplinary Change Team that she directs."
The Ashoka U Changemaker Campus Network is a dynamic, global network of leading colleges and universities who commit to advancing social innovation and changemaking across their institution and beyond. From admissions and the curriculum, to career services and alumni engagement, these colleges and universities set the bar for social innovation and changemaking in higher education. The Changemaker Campus Network includes over 40 colleges and universities from around the world including Brown, UC San Diego, Arizona State University, Miami Dade College, University of Northampton, Ryerson University, Simon Fraser University, and Tecnológico de Monterrey – Campus Guadalajara.
Learn more on Ashoka U's website here: http://ashokau.org/
Education students recognized at IACTE recognition ceremony
Three School of Education students were recognized at the Indiana Association of Colleges for Teacher Education (IACTE) luncheon on Friday, April 6. The recipients were Mackenzie McClarney, special education, Jennifer Riedford, Spanish education, and Bailey Smith, elementary education. These individuals received awards during the organization's Outstanding Future Educators banquet at the Ritz Charles in Carmel, Indiana. The School of Education is proud of these outstanding students!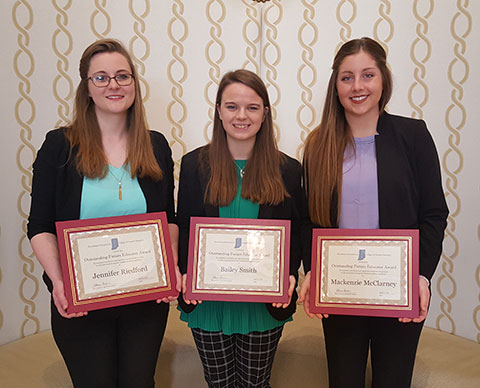 Mechanical engineering professor and student have paper accepted for publication
UE associate professor/mechanical and civil engineering Peter L. Schmidt, PE, and his co-author Philip Lax, a UE student, have had their paper accepted for presentation at the 125th annual conference of the American Society for Engineering Education.
The paper is titled: "Use of computer coding to teach design in a mechanics course, resulting in an implementation of a kinematic mechanism design tool using PYTHON."
The conference will be held in Salt Lake City in June of this year. The paper documents the implementation of a new assignment structure in a mechanics' course, highlighting an exemplary submission by the co-author. The peer reviewed paper will also be published in the conference proceedings.
Murray State 8, Evansville 3
The big inning once again spoiled a big rally, as the University of Evansville baseball team fell to Murray State for the second time in as many weeks, 8-3, at Charles Braun Stadium, on a cold, crisp Tuesday night.
The Racers grabbed the early lead on Purple Aces starting pitcher Alex Weigand, as sophomore infielder Davis Sims sent an RBI single to center in the opening frame, driving in Gavin Wehby for the opening run of the game, making it 1-0 Murray State.
Weigand would make it through the third inning without giving up another tally. Then, the junior southpaw turned the ball over to David Ellis. After pitching a clean fourth frame, the sophomore right hander ran into trouble. First, Wehby led off the inning by hitting a triple down the right field line. Ellis followed that up by issuing a free pass to Brandon Gutlzer, putting a pair on with no outs. Sims then returned to the plate and lifted a sacrifice fly to right, bringing in Wehby, making it 2-0 Racers. The very next batter, Ramsey Scott, drilled a double to right-center of Ellis, driving in Gutzler, and the Aces were in a 3-0 hole. Ellis would exit, bringing in junior Hunter Porterfield, who closed out the inning with a strike out.
As for the Evansville offense, it was stymied by Murray State hurler Luke Brown through the first four frames. Then came the fifth inning, and the Aces bats came to life. Senior third baseman Stewart Nelson drew a one out walk, followed by junior second baseman Sam Troyer sending a single to center. Then, the two base runners worked a brilliant double steal to get into scoring position. From there, the Aces' leading hitter, Troy Beilsmith, lived up to his title, delivering a two run single, drawing UE within 1 at 3-2. That would chase Brown from the game. Peyton Hayes would come out of the bullpen and issue a walk to senior first baseman Dalton Horstmeier, then uncorked a wild pitch, and suddenly Beilsmith was sitting on third base, still with just one out. Freshman right fielder Evan Aders then grounded out to second base, driving in Beilsmith with the equalizer.
However, the deadlock wouldn't last long, as Porterfield returned to the hill and gave up an RBI single to left to Gavin Wehby. Next. Brandon Gutzler would tag Porterfield for a run scoring single, pushing the Murray State lead to five. Then, Davis Sims continued a big night, launching a two-run double to left-center, making it 7-3 Racers. That would end Porterfield's night.
Freshman right hander Austin Ruesch would close out the sixth as well as the game, going 3 2/3 innings, allowing just one run, on two hits, while striking out a career-high eight batters. However, Evansville couldn't get on the scoreboard again, and fell 8-3.
The loss dropped the Aces to 6-20 on the season, while Murray State improved to 17-13.
Evansville is back in action at home Friday night to open a three game Missouri Valley Conference series against Bradley. First pitch for game one is 6:00 p.m.
Men's Golf closes regular season with fifth-place finish
The University of Evansville men's golf team earned a fifth-place finish at the Tennessee State Big Blue Intercollegiate at The Presidents Reserve course at Hermitage Golf Club in Old Hickory, Tenn.
Evansville recorded a 300 in the final round on Tuesday after opening the intercollegiate with rounds of 296 and 291 on Monday. The Purple Aces three-round total of 887 was a stroke ahead of Detroit Mercy who finished in sixth. UT - Martin led the tournament wire-to-wire, concluding the intercollegiate with a two-day total of 856 (287 - 287 - 282).
For the first time in his collegiate career, freshman Spencer Wagner led the way for Evansville in a tournament. Wagner recorded his best single round as a Purple Ace with a one-over 72 in the final round of the intercollegiate, giving the freshman a three-round total of 220 (73 - 75 - 72), placing Wagner in a tie for 17th.
Senior Tyler Gray followed just a stroke behind Wagner with a three-round total of 221 (73 - 72 - 76) as Gray finished the intercollegiate in a tie for 22nd.
Finishing in a tie for 30th was the Aces' duo of Noah Reese and Cameron Weyer. Both Reese and Weyer finished the tournament with totals of 225 as Reese opened the intercollegiate with rounds of 75 and 71 before recording a 79 on Tuesday, while Weyer remained consistent throughout the tournament, carding 75s in all three rounds.
Competing as an individual, Jessie Brumley finished in a tie for 44th after tallying back-to-back 76s on the first day before carding a 79 in the final round of Tuesday.
Matthew Ladd concluded the intercollegiate with a 77 in the final round, placing him in a tie for 44th. Ladd finished the three-round tournament with a total of 232 (82 - 73 - 77).
Closing the tournament in a tie for 58th was junior Gabe Rohleder who competed as an individual and totaled a two-day score of 238 (75 - 80 - 83). Just two strokes behind Rohleder was another individual in sophomore Robert Waggoner who closed the intercollegiate with a final-round 79 to give him a three-round total of 240 (84 - 77 - 79) and put him in a tie for 64th.
Evansville has a weekend off from competition before competing in the MVC Championship in Cape Girardeau, Mo., on April 23 and 24.
Contribute to AceNotes
To have content considered for inclusion in AceNotes, please submit a Marketing Request Form. Deadline for submission to AceNotes is 10:00 a.m. on the requested date of publication. Only articles concerning UE related/sponsored activities will be accepted. Articles submitted to AceNotes may be edited for length and clarity. Submitter contact information is at the end of each article.