| | |
| --- | --- |
| AceNotes Today | Tuesday, April 10, 2018 |
Ice Cream Social Tonight
Pep and Vim Philanthropy Week Ice Cream Social TONIGHT at 5:30 p.m. Class of 1959 Gallery and Lounge second floor of Ridgway University Center. Two places named for the person and class members who helped make the Ridgway University Center possible almost ten years ago. Come for free ice cream and learn more about how UE Alumni and Friends give of their time, talents, and treasures to UE. #UEPepandVim #TrueandLoyal
Submitted by Cameron Cool cc253@evansville.edu
Today's Honors Program project presentations
The Honors Program project presentations continue today in Koch Center 101. Please see below the schedule of today's presenters.
Tuesday, April 10
3:00-4:00 p.m.
• Emily Magary, Music Therapy: "Patient X: Re-Imagining Life with Music Therapy"
• Alexandra Zurawicki, Neuroscience: "Growing in Faith Through Science"
• Philip Lax, Mechanical Engineering: "Effects on Collector Efficiency of a Thermosiphon-Powered Solar Water Heater from Variations in Reservoir Tank Shape"
4:00– 5:00 p.m.
• Anna Ahrens, Archaeology: "She Digs It: An Archaeology Television Show Highlighting Women in the Field"
• Elizabeth Niedbala, Writing / History: "Summer in the City: The Detroit Riots of 1967"
• Stuart Pyclik, History / Economics: "Economic Warfare: Blockades of the World Wars"
The honors project represents the culmination of the honors experience and provides an opportunity for students to explore an area about which they are passionate. The honors project may consist of a research project, thesis, or creative work.
Special thanks are extended to all faculty, advisors, and others who have supported the honors students in their educational achievements.
Submitted by Jayme Williams jw504@evansville.edu
Informal Spanish conversation today!
Spanish students of all levels are welcome to practice with Fulbright Spanish TA Ignacio Benítez. The next session will be today - April 10 - at 3:00 p.m., at Starbucks in Ridgway University Center. It's a wonderful opportunity to interact informally in Spanish with a native speaker and to meet other students of Spanish. Please contact Ignacio at cl192@evansville.edu if you have any questions. ¡Nos vemos!
Submitted by Ignacio Benitez cl192@evansville.edu
This Week in Music: Choir Concert, Ensemble Fest, faculty recital, Rite of Spring, and student recitals
University Choir, Mixed Choir and Kantorei
Today - Tuesday, April 10, 7:30 p.m., Neu Chapel
The University of Evansville University Choir, Mixed Choir, and Kantorei, under the direction of Dennis Malfatti, will present a performance of Haydn's Theresienmesse and selections from Mendelssohn's Sechs Lieder, Op. 59 today -Tuesday, April 10 - at 7:30 pm in Neu Chapel. The concert will feature Andrea Drury, Alanna Keenan, Benjamin Smith, and Eric McCluskey as soloists, as well as several faculty playing in the chamber orchestra. The concert is free and open to the public.
For more information, visit the music department concert calendar.
Tri-State Ensemble Fest
Thursday, April 12, 9:00 a.m.-5:00 p.m., Old National Events Plaza
The Department of Music will host the first ever Tri-State Ensemble Festival at the Old National Events Plaza on Thursday, April 12. Local high school bands and choirs will come in for the day and perform for University of Evansville music faculty. After each performance the UE faculty will rehearse with each ensemble. Performances begin at 9:15am and will last until approximately 5:00pm. This event is free and open to the public.
Faculty Recital: Ion-Alexandru Malaimare
Friday, April 13, 7:30 p.m., Wheeler Concert Hall
University of Evansville music faculty and Eykamp String Quartet violinist Ion-Alexandru Malaimare will present a faculty recital on Friday, April 13 at 7:30 p.m. in Wheeler Concert Hall. The program will feature works by Beethoven, Bartok, Enescu, Ravel, Dinicu, and Hisaishi. He will be joined by pianist Catalin Dima. The recital is free and open to the public.
For more information, visit the music department concert calendar.
Rite of Spring
Saturday, April 14, 6:00 p.m., Eykamp Hall, Ridgway University Center
The Friends of UE Music invite you to join us for this year's Rite of Spring on Saturday, April 14 in Eykamp Hall, Ridgway University Center. The evening will feature drinks, dinner, student performances, a silent auction, swing music, and dancing!
For more information and reservations, visit www.evansville.edu/riteofspring. Book your tickets by April 12 at noon!
6:00 p.m. - Cocktails
6:45 p.m. - Dinner
7:30 p.m. - Musical Program
8:00 p.m. - Jazz and dancing with the UE Jazz ensemble
You may also purchase tickets for only the swing dance portion of the evening for $10 at the door or by contacting Timothy J. Zifer(tz3@evansville.edu).
Student Recitals
April 14, 1:00 p.m., Wheeler Concert Hall – Melanie Baker (piano)
April 14, 2:30 p.m., Wheeler Concert Hall – Kaitlyn Lowe (cello) and Abbie Jasper-Brown (clarinet)
April 14, 4:0 0 p.m., Wheeler Concert Hall – Adam Smith (voice)
April 15, 1:00 p.m., Wheeler Concert Hall – Samantha Waddell (piano)
April 15, 2:30 p.m., Wheeler Concert Hall – Alexis Howey (voice)
Submitted by James Sullivan js820@evansville.edu
Conversation on the Bible and Same-Sex Marriage: Thursday at 7:00 p.m.
The campus community is invited and welcome to attend our final Fireside Chat for the Spring semester this Thursday at 7:00 p.m. in the second floor gallery of Ridgway University Center as we discuss "The Bible and Same-Sex Marriage." Our special guest for the evening will be Emma Loane, youth pastor at Newburgh United Methodist Church. Together we will discuss what many believe to be a controversial topic in an environment of respect and understanding with the vision for human wholeness guiding our conversation. All are welcome! Hope to see you there!
Submitted by Keith Turner kt160@evansville.edu
I-House/BSU collaboration - My House: Exploring Diversity and Culture within the US
Please join us tonight at 7:00 p.m., upstairs in Ridgway University Center, for a collaboration event with I-House and the Black Student Union! This special I-House presentation is titled "My House: Exploring Diversity and Culture within the U.S." DaLisa McCallum, Deja Johnson, and Lindsay Sullivan from the Black Student Union will present on growing up black in America.
Submitted by Megan Sicard ms331@evansville.edu
Dinner and Discussion welcomes Dr. Rosario today
The Newman Center welcomes Dr. Rosario today at 5:00 p.m. Dr. Rosario is a local doctor who has specialized in end-of-life issues, transgender issues, and much more. His talk is about his pilgrimage to Santiago de Compostela. All are welcome and dinner will be provided!
Submitted by Breanne Buerster bb261@evansville.edu
Swing Dance Fundraiser Tickets
The University of Evansville Jazz Ensemble will be performing traditional swing dance music on Saturday, April 14 at 8:00 p.m. in Eykamp Hall, Ridgway University Center. You may come to listen or get on the dance floor and swing the night away. Tickets are $10 and can be purchased at the door or by contacting Timothy Zifer at tz3@evansville.edu. All ticket proceeds will benefit the Department of Music fund raising efforts. A silent auction and cash bar will be available. Come SWING with us!
Paper Recycling & Free Document Shredding
Need papers shredded? Bring them to the free Piranha Mobile Shredding Event on campus on Thursday, April 26 (Reading Study Day) between 10:00 a.m. and 1:00 p.m. in the parking lot behind Koch Center.
Remember: Paper that contains personal information such as names, addresses, phone numbers, etc. cannot be placed directly into a recycling bin or trash container. It must be properly disposed of by one of the following methods:
1) Shredding the papers with personal information into a bag and then placing the bag of shredded paper in the recycling container.
2) Placing the papers with personal information in a secure (locked) Piranha shredding container in your area.
Thank you for recycling and helping us prevent identity theft by properly disposing of personal information!
During the free shredding event, you can bring paper from home! The limit is 100 lbs. per visit. Visits are unlimited during the event.
Bowling fun and win proceeds for your favorite charity!
Sign-up your team for UEVETS' Spare Change for Warriors charity bowling tournament benefiting Soldier Dogs for Independence, plus win money for YOUR team's favorite charity!
• Saturday, April 21 at 1:00 p.m. at River City Recreation
• 5 people per team
• Winning team decides half of charity proceeds
• FUN!
To sign up your team, contact Jacob Chandler at jc571@evansville.edu or call 812-568-6548.
Tuition exchange/tuition remission info sessions
Want to know more about tuition exchange and tuition remission? Come to an information session in Eykamp Hall, Room 253, Ridgway University Center, on Thursday, April 12 at 1:30 p.m.
Kenton Hargis will talk about the admission process, Paula Heldt will explain how tuition exchange works, and Cathleen Wright will talk about the new tuition remission policies and forms.
Submitted by Cathleen Wright cw259@evansville.edu
Beekeeping in Medieval Europe to be topic of today's UE History Lecture
The annual Spring Lecture hosted by the Department of History at the University of Evansville is today - Wednesday, April 11 - at 4:00 p.m. in Harkness Hall (room 162), in the Schroeder School of Business Building. The event is free and open to the public.
The topic of this year's lecture is "Beekeeping in Medieval Europe." Jason Hardgrave, associate professor and the history department chair at the University of Southern Indiana, will be the speaker.
Hardgrave earned his bachelor's and master's degrees in history from the University of Wyoming and his PhD from the University of Kansas. He is a Phi Alpha Theta faculty mentor and regional coordinator for Indiana History Day.
Hardgrave's initial research interests were focused on the late medieval legal system in Venice, Italy. His more recent areas of research have been beekeeping and the wax trade in medieval Europe. Hardgrave has been a beekeeper for seven years.
For further information, contact the event coordinator Annette Parks at ap3@evansville.edu or 812-488-1070.
Submitted by Katherine Martyn km283@evansville.edu
Senior Reading planned for today
Our graduating creative writing majors will read from their poetry and prose, at the Coffee Hour Senior Reading event held in Eykamp Hall, Room 252, Ridgway University Center at 4:00 p.m. today, Wednesday, April 11.
The faculty will announce the winners of the Virginia Grabill Writing Awards and one selected senior will receive the George Klinger Memorial Prize for the creative writing department. Please join us for a delightful and often moving send-off to our graduating seniors.
Free Coffee & Careers event planned for Thursday
Attend Coffee & Careers during the afternoon of Thursday, April 12 for free coffee and an informal chat with alumni and friends of the University. Learn about their journey to their current job and the skills needed for career success. This week's focus is on careers in human resources. The event is from 4:00-5:00 p.m. on the second floor of Ridgway University Center, across from WUEV.
Submitted by Alison Morris-McDonald am268@evansville.edu
Cast your votes in the study abroad photo contest!
Over the past few weeks the study abroad office has collected photos from UE students who have recently been abroad, and now it's up to you to pick your favorites! There are four different photo categories: Artistic Eye, Fabulous Food, Great Outdoors, and Harlaxton. You can view the photos submitted for these categories under "albums" on our Facebook page at www.facebook.com/uestudyabroad/. The photo from each category that receives the most likes will be the winner of that category. Voting will end at 4:00 p.m. on April 18, so make sure you are liking and sharing your favorites!
Submitted by Greta Becker gb91@evansville.edu
New Chapel outreach efforts continue!
Throughout the month of April, the Neu Chapel community is excited to partner with Patchwork Central, a non-profit organization in downtown Evansville whose goal is to make a positive impact in the lives of children in our area through tutoring and mentorship programs. Patchwork Central also offers a daily hospitality ministry for persons without homes, offering them a cup of coffee, a hot shower, and hygiene supplies. For the remainder of this month, Neu Chapel will collect travel-sized bottles of shampoo and body wash to give to Patchwork Central. You may leave your contribution in the lobby of the chapel. Thank you in advance for your generosity!
Submitted by Keith Turner kt160@evansville.edu
Did you forget your paintings?
Some of those participating at the recent Paint with a Pal event forgot their paintings. If you forgot your painting, or someone you know did, please e-mail dh221@evansville.edu and they will make sure you get them.
Submitted by Donald James Hubbard dh221@evansville.edu
Graduating seniors wanted for brief radio interview
WUEV is looking for graduating seniors to give a 1-2 minute interview about their time at UE. Whether you have an interesting memory from Harlaxton, want to recognize a professor for inspiring you, or have just been looking for an opportunity to talk about the cool job you landed, we want to hear from you! Interviews will be scheduled at the interviewees' convenience and will air on April 29 between 9:00-11:00 p.m. Please contact ad209@evansville.edu if you are interested in being interviewed.
Submitted by Alice Daum ad209@evansville.edu
Removal of vehicles for Bike Race
All vehicles must be removed from Lot H by 5:00 p.m. on April 11. Vehicles remaining in the lot after this time may be towed. The removal of vehicles is necessary so that the lot can be prepared for the bike race, which will be on Saturday, April 14. Vehicles must be moved so the lot can be re-striped and time trials can be held.
The lot will be reopened for parking by Sunday morning at the latest. Vehicles must be moved to legal parking places for the permit category held by the driver. The use of Lot O, by the armory, and Lot Q, by the general services building, is recommended.
Attention May 2018 graduates!
If you are graduating in May and have earned a military honorable discharge or a general discharge under honorable conditions, are on active duty, in active drilling status, or are an ROTC cadet, please notify Cherie Leonhardt in the Office of Veterans Affairs at CL29@evansville.edu or call 488-2141 ASAP. The Office of Veterans Affairs and UE VETS have a special graduation gift for you!
Photographer on Campus April 9-11
The Office of Marketing and Communications will have a photographer on campus for a photo shoot Monday, April 9, through Wednesday, April 11. UE students and faculty have always been very cooperative and accommodating during previous shoots. As a result, many great photos have been taken for the University's website and publications. Kim McDonald will try to notify faculty in advance if photos will be taken in a particular class; however, weather may force the shoot inside, and it is possible that last minute requests will be made. If faculty members know that they will be giving a test or do not wish to have their class photographed any of these days, please inform Kim McDonald at ext. 2683 or km117@evansville.edu and the classroom will be avoided.
Rosary Prayer at 10:00 a.m. on Thursdays
The Newman Club will be offering a 20-minute rosary prayer every Thursday at 10:00 a.m. in the Center for Academic Advising in the Clifford Memorial Library. Students and faculty are welcome. For more information, contact Olivia at ov4@evansville.edu.
Submitted by Carly Walker cw289@evansville.edu
Benefit Open Enrollment
During the period of March 28 through April 11, benefit-eligible employees may enroll or make changes in the University's health, life, long term disability, and dental insurance, and ACES flexible spending account benefit plans. It is the only chance for benefit-eligible employees to enroll or make changes until the next open enrollment period unless you have a qualifying change in status.
Please review the documents in the Open Enrollment section of the MyUE portal at: https://bit.ly/2GcdKph, beginning with the open enrollment memo, for important announcements, reminders, and changes which will occur June 1 to the University's benefits.
We will once again utilize an on-line enrollment process, eliminating all paper enrollment forms for health, life, dental, and long term disability insurance, as well as the ACES flexible spending account. This will ensure the accuracy of your enrollment elections and maintain records electronically regarding your current and future participation.
Enrollment/changes to your TIAA and Emeriti VEBA Trust retirement plan salary deferrals will continue to be processed on paper forms available in the Office of Human Resources. Therefore, you do not need to re-enroll in the TIAA or Emeriti retirement plans. ALL benefit eligible employees (including those who do not want to make any changes to their current coverage) must enter their elections by April 11.
Please review the open enrollment memo and On-Line Benefit Enrollment Documents on the HR Area of the MyUE portal, which should answer many of the questions you might have about this system.
Please contact the Office of Human Resources at ext. 2943 with any questions.
Financial aid for summer courses
If you are seeking financial aid for summer courses at UE, please complete a summer financial aid application and return to the Office of Financial Aid (Olmsted 116). The application will allow our office to determine the types of aid for which you may be eligible.
Work-Study
On-campus jobs are available for continuing UE students during the summer. You do not need to be eligible for need-based Federal Work-Study during the academic year in order to apply. You may also apply regardless of your enrollment in summer courses. Applications are available within the Student Employment area of WebAdvisor.
Submitted by Amy Sowders as560@evansville.edu
LinC wins ICPA competition
For the 18th consecutive year, the 2017 LinC has won the Indiana Collegiate Press Association's "Yearbook of the Year" award and staff members also won numerous individual awards. Design awards went to 2017 graduate MaKayla Seifert. Photography awards went to Seifert, junior Natalie Christy, senior Lizzie Tredinnick and 2017 graduates Brenna Kincaid, Kyle Wilson and Rebecca Eimer. Writing awards went to 2017 graduates Brittany McFadden and former student Rachel Torres.
Crescent Magazine places second in ICPA competition
Members of the Crescent Magazine staff won numerous individual awards and the magazine placed second behind Notre Dame in this year's Indiana Collegiate Press Association annual competition. Winning awards for writing were: seniors Jesse Robkin, Trevor Richardson, Patrick Roque, Matt Reed, Lea Arnold and Oli Ross-Musick; sophomores Lydia Maxwell, Dallas Carter, Melanie Aliff and Lily Renfro; and 2016 graduate Kristen Buhrmann. Design awards went to junior Ling Lin and 2017 graduates Kayla Seifert and Sydney Blessinger. Photography awards went to freshman Jeff Tarala, sophomore Bryton McKinley, senior Enita Ugen and 2017 graduate Brenna Kincaid.
UE names Ying Shang as Dean of College of Engineering and Computer Science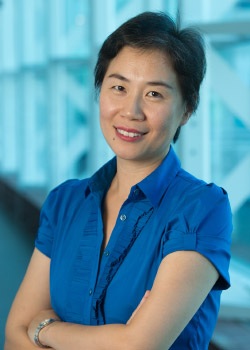 The University of Evansville has announced that Ying Shang, PhD, has been named as the University's new dean of the College of Engineering and Computer Science. Shang is the first woman to serve as the dean of the CECS at UE and will begin her new duties in August. Currently, she is chair of electrical and computer engineering at Southern Illinois University in Edwardsville.
"I am so impressed with the University's dedication to excellence in education," said Shang. "I look forward to leading and working collaboratively with UE faculty, staff, and students. I hope to bring extra energy and innovative ideas to the University's College of Engineering and Computer Science. Together we will make UE an even better place in the future."
Shang earned her PhD and MS degrees in electrical engineering from the University of Notre Dame, and her BS in control engineering from Shandong University. Her research areas include discrete-event systems, max-plus linear systems, and hybrid systems with applications in queueing networks, manufacturing systems, and transportation networks.
"I am excited by the expertise and perspective that Dr. Shang will bring to the College of Engineering and Computer Science," said Michael Austin, executive vice president for academic affairs at UE. "Her enthusiasm, vision, and keen insight will make her a great addition to the University."
Shang has published more than 25 papers in journals and conference proceedings and delivered numerous invited presentations. During a sabbatical leave, Shang was a visiting professor at the University of Angers in France working on high-throughput screening research in drug discovery.
During Shang's term as SIUE's computer science department chair, she fostered faculty growth in teaching and research, improved communication, secured ABET accreditation, established industrial partnerships, and created a process of launching entrepreneurial incubator/accelerator for startups to help Southern Illinois.
Shang also served as faculty advisor for SIUE's Society of Women Engineers Student Chapter and led the organization in recruiting more female students. She served as a role model for female engineering students and initiated the first annual Introduce a Girl to Engineering event.
UE Designated as Ashoka U Changemaker Campus
The University of Evansville has been designated as a Changemaker Campus by Ashoka U for its role as a leader in social innovation and changemaking in higher education.
UE will join the Changemaker Campus Network—a dynamic, global community of students, staff, administrators, faculty and community partners who share inspiration, connections and a commitment to broaden the reach and impact of social innovation and changemaking around the world. The recognition is the outcome of a rigorous 18-month selection process which included a full campus ecosystem scan, detailed planning and reporting for a three day site visit in October 2017, and a final panel presentation in April 2018.
According to Ashoka U officials, students need interdisciplinary, entrepreneurial and solutions-oriented skillsets to succeed in today's complex world that is changing at an accelerating pace.
The Ashoka U site visit team noted initiatives such as ChangeLab (formerly GAP), the Changemaker Challenge, cross-campus commitment to social innovation, and the city's intense involvement in as prime examples of a campus that exhibits the very essence of changemaking.
Ashoka U is an initiative of Ashoka, the world's largest network of social entrepreneurs and changemakers. The program recognizes colleges and universities globally that have embedded social innovation and changemaking into their culture, programming and operations and are committed to partnering in the network to make social innovation and changemaking the new norm across higher education. Since 2008, over 40 universities around the world have received this designation.
"This is a tremendous honor for the University and a reinforcement of the kind of value that our students and programs add to the community," said Michael Austin, executive vice president for academic affairs at UE. "this is something we have been working on for years, under the leadership of Dr. Jill Griffin and the cross-disciplinary Change Team that she directs."
The Ashoka U Changemaker Campus Network is a dynamic, global network of leading colleges and universities who commit to advancing social innovation and changemaking across their institution and beyond. From admissions and the curriculum, to career services and alumni engagement, these colleges and universities set the bar for social innovation and changemaking in higher education. The Changemaker Campus Network includes over 40 colleges and universities from around the world including Brown, UC San Diego, Arizona State University, Miami Dade College, University of Northampton, Ryerson University, Simon Fraser University, and Tecnológico de Monterrey – Campus Guadalajara.
Learn more on Ashoka U's website here: http://ashokau.org/
Education students recognized at IACTE recognition ceremony
Three School of Education students were recognized at the Indiana Association of Colleges for Teacher Education (IACTE) luncheon on Friday, April 6. The recipients were Mackenzie McClarney, special education, Jennifer Riedford, Spanish education, and Bailey Smith, elementary education. These individuals received awards during the organization's Outstanding Future Educators banquet at the Ritz Charles in Carmel, Indiana. The School of Education is proud of these outstanding students!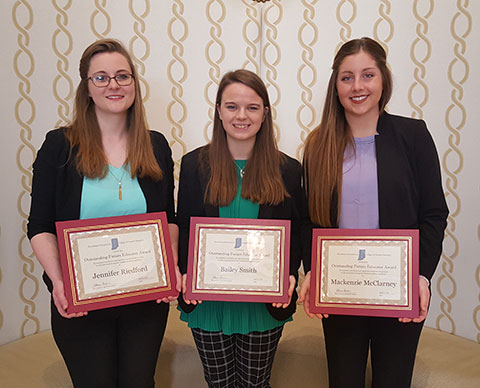 Mechanical engineering professor and student have paper accepted for publication
UE associate professor/mechanical and civil engineering Peter L. Schmidt, PE, and his co-author Philip Lax, a UE student, have had their paper accepted for presentation at the 125th annual conference of the American Society for Engineering Education.
The paper is titled: "Use of computer coding to teach design in a mechanics course, resulting in an implementation of a kinematic mechanism design tool using PYTHON."
The conference will be held in Salt Lake City in June of this year. The paper documents the implementation of a new assignment structure in a mechanics' course, highlighting an exemplary submission by the co-author. The peer reviewed paper will also be published in the conference proceedings.
Women's Golf earns seventh-place finish in final regular season tournament
In its last tournament of the regular season, the University of Evansville women's golf team captured a seventh-place finish at the Indiana State Spring Invitational at Country Club of Terre Haute in Terre Haute, Indiana.
Evansville carded a final-round 332 to place the Purple Aces in seventh in the 10-team field with a team score of 655 (323 - 332). Loyola captured the team title at the invitational, recording a 304 on the final day to total a two-round score of 614 (310 - 304), edging UNI by a single-stroke.
Junior Madison Chaney paced Evansville in the invitational, concluding the tournament with a two-day total of 159. After opening the tournament with a first-round 78, Chaney tallied an 81 on the final day to finish in a tie for 19th.
Following Chaney was freshman Sophia Rohleder, who finished in a tie for 36th with a two-round total of 165 (81-84). Just one stroke back of Rohleder was senior Giulia Mallmann, who remained consistent throughout the invitational with back-to-back rounds of 83 for a two-round total of 166.
Improving on her opening round, sophomore Lexie Sollman notched an 84 in the final round to place her in a tie for 44th with a two-day total of 170 (86 - 84). Finishing in 52nd was freshman Minka Gill who completed the tournament with a second-day 92 for an invitational total of 173 (81 - 92).
Evansville opens the postseason on Sunday, April 15 through Tuesday, April 17 at the MVC Championship in Newton, Kansas.

Contribute to AceNotes
To have content considered for inclusion in AceNotes, please submit a Marketing Request Form. Deadline for submission to AceNotes is 10:00 a.m. on the requested date of publication. Only articles concerning UE related/sponsored activities will be accepted. Articles submitted to AceNotes may be edited for length and clarity. Submitter contact information is at the end of each article.