| | |
| --- | --- |
| AceNotes Today | Thursday, April 5, 2018 |
Today - True and Loyal Trivia at 5:30 in Cafe Court
The first 50 students to participate in True and Loyal Trivia will get a free T-shirt! Winner gets a free Papa John's pizza delivered anytime anywhere. You do not have to have a meal plan to participate: tell the cashier you are there to play trivia. #uepepandvim #trueandloyal
Submitted by Cameron Cool cc253@evansville.edu
Fireside Chat discusses "Lost Books of the Bible" tonight at 7:00
From "Bel and the Dragon" to the "Gospel of Judas," there are many books that are not included in most Bibles. But why? Join our Fireside Chat tonight at 7:00 p.m. on the second floor of Ridgway University Center as we discuss "The Hidden Prophets: Exploring the Lost Books of the Bible." It is sure to be an exciting and engaging conversation! All are welcome and invited to attend!
Submitted by Keith Turner kt160@evansville.edu
Chi Omega Q'doba Giveback today
Chi Omega Chi Epsilon is hosting a Giveback night at Q'doba to celebrate its Founder's Day today - April 5 - from 5:00-9:00 p.m. Show this flier when you pay! All proceeds will benefit the Chi Omega National Foundation.
Submitted by Austyn Stierwalt as765@evansville.edu
Scholars for Syria's 2018 Spring Speaker Series
The topic of the Scholars for Syria's 2018 Spring Speaker Series lecture today - Thursday, April 5 - will be "Immigration and Syria: Foundations and Consequences of the American Ethnic Hierarchy." The lecture begins at 6:00 p.m. in Room 162 in the Schroeder School of Business Building. The event is free and open to the public. The speaker will be UE assistant professor of sociology Rob Shelby.
Shelby will present the idea that Syrian refugees, like many minority groups before, encounter prejudice and discrimination as widespread negative perceptions persist in American social consciousness. Shelby earned his PhD from the University of Louisville in applied sociology, his graduate degrees in sociology from Western Illinois University and communications from Trinity International University. He earned his undergraduate degree in youth ministry and biblical studies from Trinity International University.
The audience will be invited to engage in conversation with Shelby and UE Syrian students in attendance at the lecture.
For more information on the speaker series, contact 812-488-2218.
Tuition exchange/tuition remission info sessions
Want to know more about tuition exchange and tuition remission? Come to an information session in Eykamp Hall, Room 253, Ridgway University Center, on Thursday, April 12 at 1:30 p.m.
Kenton Hargis will talk about the admission process, Paula Heldt will explain how tuition exchange works, and Cathleen Wright will talk about the new tuition remission policies and forms.
Submitted by Cathleen Wright cw259@evansville.edu
Visit the Lincoln Boyhood National Memorial!
On Saturday, April 21, students will be visiting the nearby Lincoln Boyhood National Memorial. This event is completely free, and transportation will be included. We will leave at 8:00 a.m. and arrive back to campus by noon. Please RSVP if you would like to attend this awesome field trip!
Submitted by Alex Russo ar281@evansville.edu
UE Habitat Barn Blitz is this Saturday!
After months of behind-the-scenes planning and many weekends building all of the necessary components, UE Habitat Barn Blitz is finally happening this Saturday, April 7! On behalf of everyone on the Barn Blitz committee, thank you for all of the support we have received throughout this journey. None of this could have been done without you.
Feel free to come out and join us this Saturday at the Evansville Habitat for Humanity headquarters (560 E. Diamond Avenue) to show your support! Building starts at 9:30 a.m. and will likely go until about 2:00 p.m., and we'd love to have some morale!
Submitted by Greta Becker gb91@evansville.edu
Buffalo Wild Wings Giveback planned for April 6!
The ChangeLab group, Yellow Earth, will be hosting a giveback night at the Buffalo Wild Wings on Pearl Drive from 10:30 a.m.-12:00 a.m.! Stop by for some delicious food!
Submitted by Kat Marcussen km348@evansville.edu
Easter Prayer Service in Neu Chapel: Sunday at 9:30 p.m.
One of the great promises of Easter is light shines in the darkness and the darkness cannot overtake the light. In the stillness of the night, all are welcome to offer their prayers this Sunday at 9:30 p.m. in Neu Chapel at this brief, 20 minute "Night Prayer" service complete with silence, candle lighting, music, and readings.
Submitted by Keith Turner kt160@evansville.edu
University Worship in Neu Chapel: Blind Faith Is Not an Option
The Easter celebration is not just a single day on the calendar but rather a 50-day season of celebration. University Worship will be celebrating Easter this Sunday at 11:00 a.m. in Neu Chapel, where we will hear the familiar story of "Doubting Thomas" and consider how "Blind Faith is Not An Option." All are invited to don their Easter outfit once again and worship with the Neu Chapel community! As always, donuts and coffee will be available before and after the worship service.
Submitted by Keith Turner kt160@evansville.edu
Honors Program project presentations next week
The Honors Program invites you to attend the Honors Program Project Presentations on April 9-13. The honors project represents the culmination of the honors experience and provides an opportunity for students to explore an area about which they are passionate. The honors project may consist of a research project, thesis, or creative work.
Twenty-six Honors Program students will be presenting their projects during this event. Presentations will take place in Koch Center 101 from 3:00-5:00 p.m. each day next week. Watch AceNotes next week for a detailed schedule of presenters and their topics. We hope you will join us to hear the fascinating work that this year's honors students have completed.
Submitted by Jayme Williams jw504@evansville.edu
TIAA individual counseling sessions for April
The TIAA-CREF representative will be on the UE campus for individual counseling sessions on April 18 and 19. To schedule an appointment, call TIAA-CREF at 1-800-732-8353.
Please note that the meeting location has been changed to Room 153 (Eades Music Room.), Schroeder School of Business Building
Submitted by Lori LeDuc ll138@evansville.edu
Milkshakes for Miracles
On Friday, April 6 from 7:00-10:00 p.m., you can enjoy milkshakes as we dance the night away to help the kids! A ticket grants you admission to the Sock Hop and a milkshake with opportunity to purchase additional shakes.
Submitted by Kelly Nixon kn94@evansville.edu
Minute to Win It Games
Students - stop by the Pep and Vim Philanthropy Week tables next week to sign a thank you card for alumni who donated to support student scholarships, learn more about how philanthropy impacts UE, and play fun Minute to Win It games.
Submitted by Cameron James Cool cc253@evansville.edu
Take CHEM 118 online summer session I
Principles of Chemistry (CHEM 118) with lab will be offered online this summer session I, starting May 14. Lecture videos can be accessed anywhere and anytime. Labs will meet on campus only one day per week. This course satisfies the General Education outcome 8.
Please contact Dr. Tod at tt92@evansville.edu with any questions.
Submitted by Todsapon Thananatthanachon tt92@evansville.edu
PHSA celebrates National Public Health Week
This week is National Public Health Week and the Public Health Student Association (PHSA) is celebrating! A table will be set up in Ridgway University Center on Friday, April 6 from 11:00 a.m.- 1:00 p.m. Representatives from the AIDS Resource Group will be there to give information about HIV/AIDS, and members of PHSA will be there to discuss other public health issues that are relevant and important to ensure the health of our populations. So please join us!
Submitted by Su Jin Jeong sj117@evansville.edu
UE welcomes PT exchange students from Taiwan
Two international students from Taiwan, Yen-Chun (Ryan) Luan and Jou-Hsin (Ariel) Ting, are visiting UE for a 4-week exchange experience. They will attend one of the first year DPT courses, PT421/521 Patient Management I: Musculoskeletal with DPT class 2020. In addition, they will complete a total of 60 hours of clinical observation in two local clinical sites. They will also work with student volunteers in Ace Care and ACErcise during their stay. Both Yen-Chun and Jou-Hsin are seniors from National Yang-Ming University, Taipei, Taiwan. UE will be the last rotation of their clinical training before they graduate with a bachelor degree in physical therapy in June 2018. They will have a presentation on clinical experience in Taiwan at 11:30 a.m., April 19 in Cokes lecture hall (Room 126), Hyde Hall. Please join us for the presentation.
Submitted by Jennifer Simon js698@evansville.edu
This Friday - April 6 - is the last day to withdraw with a "W"
This Friday - April 6 - is the last day to drop a class for this spring with a "W". NO EXCEPTIONS.
Drop slips are available in the registrar's office and you must have all required signatures. Please note - if you are dropping below 12 credit hours you must also obtain stamps from the financial aid office and student accounts.
Do not wait until the last minute as advisors may not be readily available due to SOAR on Friday.
If you have any questions, contact the registrar's office.
Submitted by Teresa Haller th227@evansville.edu
Benefit Open Enrollment
During the period of March 28 through April 11, benefit-eligible employees may enroll or make changes in the University's health, life, long term disability, and dental insurance, and ACES flexible spending account benefit plans. It is the only chance for benefit-eligible employees to enroll or make changes until the next open enrollment period unless you have a qualifying change in status.
Please review the documents in the Open Enrollment section of the MyUE portal at: https://bit.ly/2GcdKph, beginning with the open enrollment memo, for important announcements, reminders, and changes which will occur June 1 to the University's benefits.
We will once again utilize an on-line enrollment process, eliminating all paper enrollment forms for health, life, dental, and long term disability insurance, as well as the ACES flexible spending account. This will ensure the accuracy of your enrollment elections and maintain records electronically regarding your current and future participation.
Enrollment/changes to your TIAA and Emeriti VEBA Trust retirement plan salary deferrals will continue to be processed on paper forms available in the Office of Human Resources. Therefore, you do not need to re-enroll in the TIAA or Emeriti retirement plans. ALL benefit eligible employees (including those who do not want to make any changes to their current coverage) must enter their elections by April 11.
Please review the open enrollment memo and On-Line Benefit Enrollment Documents on the HR Area of the MyUE portal, which should answer many of the questions you might have about this system.
Please contact the Office of Human Resources at ext. 2943 with any questions.
Purchasing procedures announced for May 2018
As the end of the University's fiscal year approaches on May 31, administrative services and accounting and audit announce the following procedures related to purchases of goods and services during May.
Pcard purchases
Pcard purchases posting on the May statement (cycle end date is May 21) will be paid from FY 2017-18 funds. Most shipments post on your Pcard within three to four business days. However, vendors have up to nine business days to post transactions.
Pcard purchases posting from May 22 through May 31 will be paid from FY 2018-19 (new year) funds, unless the item purchased exceeds $500. Purchases exceeding $500 will be paid from FY 2017-18 funds.
Office Depot orders
Normally, Office Depot orders placed online by 3:00 p.m. for items in stock are delivered the next business day. Upon delivery, the transaction should post on your Pcard within three to four business days.
Office Depot orders received by May 15 will likely post on the May 21 Pcard Cycle and be paid from FY 2017-18 funds.
Office Depot orders placed and received but posting to the Pcard between May 22 and May 31 will be paid from FY 2018-19 funds, unless the items purchased exceed $500. Purchases exceeding $500 will be paid from FY 2017-18 funds.
Purchase Orders
Approved requisitions converted into purchase orders and delivered by May 31 will be paid from FY 2017-18 funds.
Approved requisitions indicating FY 2018-19 written on them in red ink will be processed with a delivery date of June 1 or later.
Backordered purchase orders not delivered by May 31 will be paid from FY 2018-19 funds.
Blanket Orders
All FY 2017-18 blanket orders expire on May 31.
Approved requisitions for FY 2018-19 (new year) blanket orders may now be submitted with June 1, 2018 through May 31, 2019 effective dates.
Backordered blanket purchase order items not delivered by May 31 will be paid from FY 2018-19 funds.
Requisitions for check request
All services completed and items purchased (and on campus) by May 31 must be submitted on a WebAdvisor voucher to accounting and audit by Monday, June 18 to be paid from FY 2017-18 funds. Any pre-May 31st purchases submitted for payment after this date will be charged to FY 2018-19.
Submitted by Kim Winsett kw83@evansville.edu
Chelsea Gaddis awarded SOL Education Abroad Scholarship
Chelsea Gaddis has received the SOL Education Abroad scholarship! Chelsea is an international studies and Spanish major and will be studying abroad in Costa Rica this summer. She also studied abroad at Harlaxton during the Spring 2017 semester. She says her semester at Harlaxton was a big help to her international studies major and influenced her decision to continue traveling and to go somewhere warmer next time!
When it comes to her trip to Costa Rica, Chelsea is "most excited about advancing my Spanish skills and being immersed in a new culture. Costa Rica will be my first experience with Latin America and will give me a glimpse of the rich cultures it has to offer."
This trip will definitely relate to her Spanish major and hopefully her future career!
"After graduation, my goal is to become a certified Spanish interpreter and to use my skills working with an international non-profit organization or in political relations."
If you'd like to learn more about the program Chelsea is going abroad on, you can read about it on the SOL Education Abroad website. If you're interested in studying on a similar program, you can contact the study abroad office at 812-488-1085 or e-mail studyabroad.evansville.edu.
Submitted by Greta Becker gb91@evansville.edu
Dennis Malfatti publishes featured article in the Choral Journal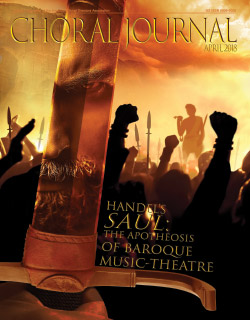 An article by associate professor of music and director of choral activities Dennis Malfatti was the featured cover article in the April 2018 edition of the Choral Journal.
The article is titled "Handel's Saul: The Apotheosis of Baroque Music-Theater."
The Choral Journal is the peer reviewed journal of the American Choral Directors Association. With over 22,000 members, the American Choral Directors Association is the primary professional organization for choral musicians and scholars.
Schroeder seniors achieve 93rd percentile on Major Field Test; Accounting seniors 99th
The Schroeder School of Business seniors placed at the 93rd percentile on the Major Field Test (MFT). Over 500+ business programs take the MFT nationally. Schroeder accounting students scored at the 99th percentile on the accounting section of the exam. Schroeder is ranked #4 nationally among small private universities by the 2018 US News & World Report.
Shane Davidson elected group chair of NAC&U EMO group
Chief financial officers and enrollment management officers from NAC&U gathered at Belmont University in March to discuss tuition trends and other issues in higher education, share challenges and best practices, and move forward with collaborations that will bring greater value to their students.
Following presentations from guest speakers Matt Hamill from NACUBO and Bill Hall and Brad Griesbach of Applied Policy Research, CFOs and EMOs spent an afternoon discussing various issues during roundtable sessions. On the last morning the groups sought to advance the conversation on facilitating graduate school admissions for NAC&U undergraduates who meet admission requirements.
The EMO group elected Shane Davidson, vice president of enrollment management at the University of Evansville, as the new group chair. Dr. Davidson succeeds Bill Bisset, vice president of enrollment management at Manhattan College, who served as the inaugural chair of the EMO group.
North Central College in Naperville, IL, will host the CFO-EMO meeting in March 2019.
Math seniors and professor have paper accepted for publication
Math seniors Keenen Cates, Zeyu Zhang, and Calvin Dailey, and Pengcheng Xiao, assistant professor of mathematics, have had a paper accepted for publication in the Journal of Data Science. This study is an extension work based on math senior seminar project under the supervision of Xiao.
The paper is titled" Can Emoticons be used to predict sentiment? " Getting a machine to understand the meaning of language is a largely important goal to a wide variety of fields, from advertising to entertainment. This work focuses on YouTube comments from the top two hundred trending videos as a source of user text data. Previous Sentiment Analysis Models focus on using hand-labelled data or predetermined lexicons. The goal is to train a model to label comment sentiment with emoticons by training on other user-generated comments containing emoticons. Naive Bayes and Recurrent Neural Network models are both investigated and implemented in this study, and the validation accuracies for Naive Bayes model and Recurrent Neural Network model are found to be .548 and .812.
Congratulations and best wishes to our wonderful math seniors!
Changes announced as UE softball preps for big weekend
A full slate of schedule changes has been announced as the University of Evansville softball team prepares for a big MVC weekend against Missouri State at Cooper Stadium.
Thursday's contest at Butler has been canceled due to the weather in Indianapolis. The weekend home Missouri Valley Conference series against the Bears has now been moved to Friday and Saturday due to the anticipated weather in town on Sunday.
Friday's doubleheader will begin at 1:00 p.m. inside Cooper Stadium while the start time for Saturday will be determined.
Evansville won its second MVC series in a row over the weekend, taking two out of three from Loyola in its first conference road series of the season. Morgan Florey picked up two more wins in the circle while Brittany Hay went 5-10 in the series. Florey has picked up the win in each of her last four appearances as she helped UE to a 4-3 win in the series opener and a 7-1 triumph in Saturday's rubber match. Ashleigh Downing and Jaime Nurrenbern pitched very well in a 2-0 loss in game two on Friday, allowing just six hits in the contest. UE stands at 11-19 overall and an even 4-4 in the Valley.
Brittany Hay entered the UNI series mired in a 3-25 slump at the plate, lowering her season average to .234, since then, Hay has put together a 5-game hit streak while raising her average to .266. She has scored six runs over the streak and excelled at Loyola, going 5-10. Hay has been at her best in clutch moments as her two home runs in the streak have proven to be the difference in a pair of UE victories - her homer in game one at Loyola gave the Aces some much needed insurance in a 4-3 win while the long ball against UNI came with the game tied in the bottom of the 5th inning. She continues to lead the team with her six home runs and 22 RBI.
Freshman Lindsay Renneisen has been producing at the plate when it matters the most; Renneisen is batting .264 on the season, but has upped that tally significantly in MVC play. Through eight league games, she is batting .320 with eight hits in 25 trips to the plate. Since March 9, the Louisville native has seen her average rise from .204 to .264.
Renneisen, along with fellow freshman Eryn Gould, have started each game this season. Allison Daggett and Elyse Hickey have seen action in 28 games apiece in 2018.
Starting pitcher Morgan Florey has earned the win in each of her last four appearances in the circle for the Aces, taking two wins apiece against UNI and Loyola. In six league starts this season, she has allowed just 12 runs, eight earned, in 39 innings of work; that translates to a 1.44 ERA. The last four appearances have seen her go 4-0 while allowing three earned runs in 25 innings. Florey is 4th in the NCAA with 177 strikeouts while ranking sixth in strikeouts per seven innings with 10.7.
Missouri State comes into the series with a 20-14 mark and are just ahead of the Aces in the league standings at 5-4. The Bears dropped two out of three games to UNI last weekend. Darian Frost paces the Bears with a .337 average while Kaitlin Beason is just behind at .333. In the circle, pitchers Erin Griesbauer, Steffany Dickerson and Holly Kelley have combined to win 17 games while each has an ERA at 2.72 or under.
Contribute to AceNotes
To have content considered for inclusion in AceNotes, please submit a Marketing Request Form. Deadline for submission to AceNotes is 10:00 a.m. on the requested date of publication. Only articles concerning UE related/sponsored activities will be accepted. Articles submitted to AceNotes may be edited for length and clarity. Submitter contact information is at the end of each article.