| | |
| --- | --- |
| AceNotes Today | Tuesday, April 3, 2018 |
Announcing UE's 24th President: Christopher M. Pietruszkiewicz
The University of Evansville has appointed Christopher M. Pietruszkiewicz (petra-skev-ich) as the 24th president of the institution.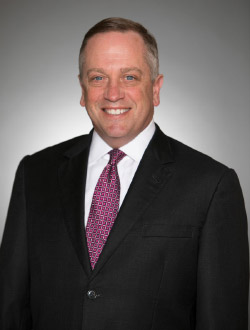 Pietruszkiewicz, who currently serves as dean and professor of law at Stetson University's College of Law, was chosen for the position after an exhaustive nationwide search. The presidential search committee was led by UE trustee Sally Rideout, and the Board of Trustees elected Pietruszkiewicz in a formal vote yesterday morning. He will assume his duties on July 1, replacing current UE president Thomas A. Kazee who will retire in May after eight years of service to the University.
"Throughout the process, we were impressed by the pool of candidates interested in serving UE – a group with diverse experiences and backgrounds," said Rideout. "Pietruszkiewicz's comprehensive understanding of the overall institutional operation and his successful leadership of taking Stetson's independently operating College of Law through a time of great change made him stand out. The committee believes his vision and leadership style are a strong match for the University of Evansville and our entire community."
Pietruszkiewicz has served as dean and professor of law at Stetson University College of Law for six years. The College of Law is geographically located three hours from the undergraduate campus and is autonomous in managing its $40 million annual budget. As dean, Pietruszkiewicz has been closely involved with all faculty, administration, and operations. Under his leadership, Stetson's College of Law contributed more than 30,000 hours of service to the community, and alumni support has increased by 39 percent.
At Stetson University College of Law, Pietruszkiewicz led through the transformation of the market in which law schools have seen a tremendous downturn in enrollment and many have closed. He was able to right-size the budget to meet lower enrollment targets, maintain admission quality standards, and focus on the right programs to ensure highly employable graduates.
"I am delighted to join the University of Evansville community and look forward to working together with an exceptional faculty and outstanding staff to provide an education of distinction," Pietruszkiewicz said. "From an international experience ranked number 1 in the country, to 96 percent of students participating in real-world externship experiences, to 94 percent graduating with meaningful jobs or graduate school awaiting them, I am eager to build on the tremendous success of UE. There is so much more we will do together."
Stetson University is a liberal arts based institution with professional schools and approximately 1000 more undergraduates than UE. Pietruszkiewicz served on the cabinet at Stetson, where they dealt with all undergraduate and graduate school issues.
He began his academic career at George Mason University School of Law, where he was an adjunct professor of law. He joined the faculty of the Louisiana State University Paul M. Hebert Law Center in 2001 and became vice chancellor for business and financial affairs in 2007. He earned a Bachelor of Science degree at the University of Scranton, a J.D. at Loyola University New Orleans College of Law, and a Master of Laws (LL.M.) in taxation at Georgetown University Law Center in Washington, D.C
Pietruszkiewicz is married to Siobhan (sha-von) Pietruszkiewicz, a licensed clinical worker with over a decade of experience writing and implementing grants for state agencies and local nonprofits. She has taught social work courses at Louisiana State University for undergraduate and graduate students as well as law students. The Pietruszkiewiczs have two children: Ryan, age 12; and John, age 8.
Read the full press release to learn more about our president-elect.
This Week in Music: UE Orchestra presents faculty soloists
UE Orchestra Presents Faculty Soloists
Today - Tuesday, April 3, 7:30 p.m.
Victory Theatre
The University of Evansville Orchestra will present an all-Beethoven concert today - Tuesday, April 3, - at 7:30 pm. The concert will be held at Victory Theatre, located at 600 Main St, Evansville, Indiana. The concert is free and open to the public.
UE faculty soloists Robert Anemone, violin, Kirsten Jermé, cello, and Garnet Ungar, piano, will join the orchestra in the rarely-heard Triple Concerto, following a performance of the Coriolan Overture. The concert will be conducted by UE assistant professor/director of orchestral activities Chun-Ming Chen.
Following the concert, the orchestra will embark on a four-concert tour of high schools in Tennessee.
Student Recitals
Wheeler Concert Hall
April 7, 2:30 p.m., Wheeler – Abbie Jasper-Brown (clarinet)
April 8, 1:00 p.m,.,Wheeler – Madeline Cox (voice) and Darwi Sandleben (voice)
April 8, 2:30 p.m., Wheeler – Taylor Farlin (viola)
April 8, 4:00 p.m., Wheeler – Michelle Nuti
Submitted by James Sullivan js820@evansville.edu
Change of location for today's Andiron Lecture
The location of the Andiron Lecture planned for today - Wednesday, April 4 - has been changed to Room 170 (Smythe Lecture Hall), Schroeder School of Business Building. The event begins at 4:00 p.m. with a social gathering with beverage at 3:45 p.m.
The speaker will be Robert Shelby, assistant professor of sociology. His topic will be "Modern American Megachurches – Kaiju Religion?"
Shelby earned his PhD in applied sociology from the University of Louisville. He holds Master of Arts degrees in sociology from Western Illinois University and in communication and culture from Trinity International University. He earned a Bachelor of Arts in youth ministry and biblical studies from Trinity International University. He specializes in the sociology of complex organizations, race and ethnic relations, and community organization. His research examines complex organizational structures germane to large Protestant churches. As an applied sociologist, Shelby has conducted program evaluations at prominent multi-sited megachurches. One study determined how "small groups" programming contributed to social cohesion for church attendees at Crossing Church (57th largest church in 2016). Another study consisted of a program process evaluation of a new member program at Southeast Christian Church (10th largest church in 2016).
American megachurches (Protestant Christian Churches with 2,000 attendees) have been compared to for-profit corporations, shopping malls, and even amusement parks. However, other than the dominance of its physical buildings (kaiju) and views on a range of social issues, little is known of its organizational structure. The present research examines the theoretical, empirical, and methodological approach of organizational density dependence theory (i.e., how the density of a population of organizations gains legitimacy, leading to establishment of more of the same, and whether competition curtails growth). Study hypotheses relating to legitimacy and competition effects were mostly unsupported by the findings; megachurch density was a broadly significant predictor. These findings suggest that megachurches operate differently than for-profit businesses. The study results also suggest that modern American megachurches require ongoing research using organizational theories.
For further information, call the series coordinator Annette Parks at 812-488-1070 or the William L. Ridgway College of Arts and Sciences at 812-488-2589.
Submitted by: Cheryl Emmons, ce36@evansville.edu
Fireside Chat discusses "Lost Books of the Bible" tonight at 7:00
From "Bel and the Dragon" to the "Gospel of Judas," there are many books that are not included in most Bibles. But why? Join our Fireside Chat tonight at 7:00 p.m. on the second floor of Ridgway University Center as we discuss "The Hidden Prophets: Exploring the Lost Books of the Bible." It is sure to be an exciting and engaging conversation! All are welcome and invited to attend!
Submitted by Keith Turner kt160@evansville.edu
TIAA individual counseling sessions for April
The TIAA-CREF representative will be on the UE campus for individual counseling sessions on April 18 and 19. To schedule an appointment, call TIAA-CREF at 1-800-732-8353.
Please note that the meeting location has been changed to Room 153 (Eades Music Room.), Schroeder School of Business Building
Submitted by Lori LeDuc ll138@evansville.edu
Chi Omega Q'doba Giveback today
Chi Omega Chi Epsilon is hosting a Giveback night at Q'doba to celebrate its Founder's Day today - April 5 - from 5:00-9:00 p.m. Show this flier when you pay! All proceeds will benefit the Chi Omega National Foundation.
Submitted by Austyn Stierwalt as765@evansville.edu
Sign up for weekend trip!
Want to visit a cool city and interact with students from all over the world? Sign up for the International Club's trip to Indianapolis on April 7!
The $20 price includes transportation, breakfast, one meal in Indianapolis, and activities! Payment is due when you sign up and is non-refundable
Sign-up today - Wednesday, April 5 - at one of the student organization tables on the first floor of Ridgway University Center.
Note: SPOTS ARE LIMITED so sign up soon!
Submitted by Duy Nhan Cao dc179@evansville.edu
Senior Reading planned for today
Our graduating creative writing majors will read from their poetry and prose, at the Coffee Hour Senior Reading event held in Eykamp Hall, Room 252, Ridgway University Center at 4:00 p.m. today, Wednesday, April 11.
The faculty will announce the winners of the Virginia Grabill Writing Awards and one selected senior will receive the George Klinger Memorial Prize for the creative writing department. Please join us for a delightful and often moving send-off to our graduating seniors.
Buffalo Wild Wings Giveback April 6th!
The ChangeLab group, Yellow Earth, will be hosting a giveback night at the Buffalo Wild Wings on Pearl Drive from 10:30 a.m.-12:00 a.m.! Stop by for some delicious food!
RSVP for Staff Appreciation Dinner
Each staff employee and their guest are invited to attend the Staff Appreciation Dinner at the Log Inn on Wednesday, April 11. The social hour (cash bar and appetizers) begins at 6:00 p.m. and the dinner will begin at 7:00 p.m. Please join Dr. Kazee in the presentation of staff service awards and for the presentation of the Staff Employee of The Year Award.
Please RSVP to the Office of Human Resources no later than Wednesday, April 4. Feel free to contact Lori LeDuc at ext. 2943 if you have any questions.
Martin Luther King Remembrance Ceremony on Wednesday, April 4
Please join us on Wednesday, April 4, at 6:30 p.m. in Neu Chapel as we commemorate the 50th anniversary of the assassination of Dr. Martin Luther King, Jr.
There will be a short program of readings and musical selections, followed by a moment of silence at 7:05 p.m. – the precise moment when Dr. King lost his life in Memphis in 1968. This event is free and open to the public. It is being sponsored by the Department of Law, Politics, and Society, the Black Student Union, the Office of the University Chaplain, and the Office of Diversity Initiatives, along with other community partners. Help us to honor this incredible civil rights leader, reflect on his important legacy, and consider ways that we can continue to work toward his dream of equal rights for all people.
Submitted by: Robert Dion, rd35@evansville.edu
UE Theatre Society celebrates golden anniversary
The University of Evansville Theatre Society is celebrating its 50th anniversary this year. Join in the celebration during the Gilt By Association gala held at the Old National Atrium, 1 Main St., on Friday, April 6.
At 6:30 p.m., enjoy cocktails with music by After Hours and at 7:30 p.m., dinner catered by Just Rennie's. After dinner, there will be a silent and live auction facilitated by Curran Miller Auction/Realty, which includes the Great White Way Package with a backstage tour and two house seats to Broadway's "Hamilton: An American Musical," high tea at The Palm Court at The Plaza, airfare, and a $500 hotel voucher.
The gala is open to both society members and non-members. Tickets can be purchased by calling the Theatre Department office. Non-members tickets cost $125 and member tickets cost $100.
Guests can also purchase a Spotlight Table for $1,200, which includes seating for eight, two bottles of wine, a party favor for each guest, and an individual or business name prominently displayed on the table.
Corporate Presenting Sponsor: Old National Bank.
Corporate Producing Sponsors: Berry Global, Woods Printing, Ligature Creative Group, Total Title Services, 21st Century Healthcare.
For more information on the Gilt by Association gala or the UE Theatre Society, please call 812-488-2747 or visit www.uealumnionline.com/UETSociety50.
Submitted by Sharla Cowden sc75@evansville.edu
Teke Towers takes place today
Can you build the biggest and best tower? Come find out at TKE's newest philanthropy, Teke Towers! Compete solo or with a team of friends against the whole University to see who can create the strongest and tallest tower out of the provided materials. All proceeds will be donated to St. Jude Children's Research Hospital. Teke Towers will take place from 5:00-8:00 p.m. TODAY - April 4 - just across from Chick-fil-A.
Submitted by Kenneth Rusk kr187@evansville.edu
Scholars for Syria's 2018 Spring Speaker Series
The topic of the Scholars for Syria's 2018 Spring Speaker Series lecture today - Thursday, April 5 - will be "Immigration and Syria: Foundations and Consequences of the American Ethnic Hierarchy." The lecture begins at 6:00 p.m. in Room 162 in the Schroeder School of Business Building. The event is free and open to the public. The speaker will be UE assistant professor of sociology Rob Shelby.
Shelby will present the idea that Syrian refugees, like many minority groups before, encounter prejudice and discrimination as widespread negative perceptions persist in American social consciousness. Shelby earned his PhD from the University of Louisville in applied sociology, his graduate degrees in sociology from Western Illinois University and communications from Trinity International University. He earned his undergraduate degree in youth ministry and biblical studies from Trinity International University.
The audience will be invited to engage in conversation with Shelby and UE Syrian students in attendance at the lecture.
For more information on the speaker series, contact 812-488-2218.
NACURH application deadline extended
UE will be sending a delegation to the National Affiliation of College and University Residence Halls (NACURH) Conference on May 25-28 at the University of Arizona, Tempe. The deadline to submit an application to attend has been extended to 11:59 on Wednesday, April 4. The cost of attending is free. You can find the application here.
This event will have thousands of delegates from all over the country and the world in attendance. Needless to say, this conference would allow for unique experiences to learn, travel, network, grow as a person, and bring back new and exciting information that could be used to improve our own university.
If you have any questions, feel free to e-mail Josh Baty at jb621@evansville.edu.
Submitted by Josh Baty jb621@evansville.edu
UE welcomes PT exchange students from Taiwan
Two international students from Taiwan, Yen-Chun (Ryan) Luan and Jou-Hsin (Ariel) Ting, are visiting UE for a 4-week exchange experience. They will attend one of the first year DPT courses, PT421/521 Patient Management I: Musculoskeletal with DPT class 2020. In addition, they will complete a total of 60 hours of clinical observation in two local clinical sites. They will also work with student volunteers in Ace Care and ACErcise during their stay. Both Yen-Chun and Jou-Hsin are seniors from National Yang-Ming University, Taipei, Taiwan. UE will be the last rotation of their clinical training before they graduate with a bachelor degree in physical therapy in June 2018. They will have a presentation on clinical experience in Taiwan at 11:30 a.m., April 19 in Cokes lecture hall (Room 126), Hyde Hall. Please join us for the presentation.
Submitted by Jennifer Simon js698@evansville.edu
This Friday - April 6 - is the last day to withdraw with a "W"
This Friday - April 6 - is the last day to drop a class for this spring with a "W". NO EXCEPTIONS.
Drop slips are available in the registrar's office and you must have all required signatures. Please note - if you are dropping below 12 credit hours you must also obtain stamps from the financial aid office and student accounts.
Do not wait until the last minute as advisors may not be readily available due to SOAR on Friday.
If you have any questions, contact the registrar's office.
Submitted by Teresa Haller th227@evansville.edu
Letter writing campaign to abolish capital punishment and solitary confinement
In response to the Anthony Ray Hinton lecture in October and the Honors Program common read of Just Mercy: A Story of Justice and Redemption, the Honors Common Read Task Force is conducting a letter writing campaign addressing issues in the legal system on the state level. To open this campaign to the entire campus, the honors students have reserved a table in Ridgway University Center from 11:00 a.m.-1:00 p.m. on April 3. Pre-written letters have been created for students to sign and materials for sending the letters will be provided. If you feel compelled to partake in this campaign or even just discuss your views on the issues being addressed, then please stop by.
Questions, please contact Evan Barnett at eb232@evansville.edu.
Submitted by Cherie Leonhardt CL29@evansville.edu
2018/19 tuition remission now available
The 2018-2019 tuition remission forms are now available in the Office of Human Resources. You may also access the forms on the Human Resources page on MyUE at https://bit.ly/2GiJr0i, under the benefits tab.
Please contact the Office of Human Resources at ext. 2943 if you have any questions.
Submitted by Lori LeDuc LL138@evansville.edu
You're invited to shop the Columbia Sportswear Employee Store!
The Columbia Sportswear Company has invited all University of Evansville employees to shop at their exclusive employee store from March 30-April 22. The invitation, which is required to shop, is located on MyUE Human Resources Department https://bit.ly/2GcdKph under Employee Discounts. The store hours and address can be found on the invitation. Happy shopping!
Submitted by Lori LeDuc ll138@evansville.edu
Building Your Professional Image – EXED 090 fall 2018
Are you career/internship ready? Do you have your professional documents in order - résumé, cover letter? Can you present yourself effectively in your 30-second oral résumé? Are you ready for the all-important interview? EXED 090: Building Your Professional Image will help you be prepared and feel confident in your new professional role. EXED 090 offers six sections for fall 2018; two sections each on Monday through Wednesday evening. Need an extra credit? EXED 090 now has the option of one credit or zero credit. Register today for this informative and all-important course taught by UE alumni professionals.
Submitted by Linda Wulf lw8@evansville.edu
Graduation is coming
Graduation will be here very soon. If you still need a cap and gown and/or graduation announcements, please stop by the UE Bookstore to allow yourself time to get everything by graduation. Contact the bookstore for questions.
Submitted by Doug Gustwiller dg57@evansville.edu
Financial aid for summer courses
If you are seeking financial aid for summer courses at UE, please complete a summer financial aid application and return to the Office of Financial Aid (Olmsted 116). The application will allow our office to determine the types of aid for which you may be eligible.
Work-Study
On-campus jobs are available for continuing UE students during the summer. You do not need to be eligible for need-based Federal Work-Study during the academic year in order to apply. You may also apply regardless of your enrollment in summer courses. Applications are available within the Student Employment area of WebAdvisor.
Submitted by Amy Sowders as560@evansville.edu
Shane Davidson elected group chair of NAC&U EMO group
Chief financial officers and enrollment management officers from NAC&U gathered at Belmont University in March to discuss tuition trends and other issues in higher education, share challenges and best practices, and move forward with collaborations that will bring greater value to their students.
Following presentations from guest speakers Matt Hamill from NACUBO and Bill Hall and Brad Griesbach of Applied Policy Research, CFOs and EMOs spent an afternoon discussing various issues during roundtable sessions. On the last morning the groups sought to advance the conversation on facilitating graduate school admissions for NAC&U undergraduates who meet admission requirements.
The EMO group elected Shane Davidson, vice president of enrollment management at the University of Evansville, as the new group chair. Dr. Davidson succeeds Bill Bisset, vice president of enrollment management at Manhattan College, who served as the inaugural chair of the EMO group.
North Central College in Naperville, IL, will host the CFO-EMO meeting in March 2019.
Professor Tiffany Griffith selected by NEA
Professor Tiffany Griffith has been asked by the National Endowment for the Arts to serve again as an expert reader of Icelandic for this year's NEA translation fellowships.
Contribute to AceNotes
To have content considered for inclusion in AceNotes, please submit a Marketing Request Form. Deadline for submission to AceNotes is 10:00 a.m. on the requested date of publication. Only articles concerning UE related/sponsored activities will be accepted. Articles submitted to AceNotes may be edited for length and clarity. Submitter contact information is at the end of each article.