The University of Evansville has appointed Christopher M. Pietruszkiewicz (petra-skev-ich) as the 24th president of the institution.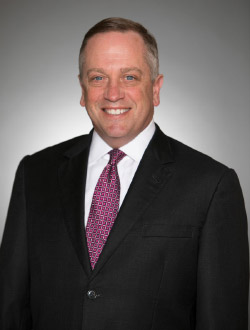 Pietruszkiewicz, who currently serves as dean and professor of law at Stetson University's College of Law, was chosen for the position after an exhaustive nationwide search. The presidential search committee was led by UE trustee Sally Rideout, and the Board of Trustees elected Pietruszkiewicz in a formal vote yesterday morning. He will assume his duties on July 1, replacing current UE president Thomas A. Kazee who will retire in May after eight years of service to the University.
"Throughout the process, we were impressed by the pool of candidates interested in serving UE – a group with diverse experiences and backgrounds," said Rideout. "Pietruszkiewicz's comprehensive understanding of the overall institutional operation and his successful leadership of taking Stetson's independently operating College of Law through a time of great change made him stand out. The committee believes his vision and leadership style are a strong match for the University of Evansville and our entire community."
Pietruszkiewicz has served as dean and professor of law at Stetson University College of Law for six years. The College of Law is geographically located three hours from the undergraduate campus and is autonomous in managing its $40 million annual budget. As dean, Pietruszkiewicz has been closely involved with all faculty, administration, and operations. Under his leadership, Stetson's College of Law contributed more than 30,000 hours of service to the community, and alumni support has increased by 39 percent.
At Stetson University College of Law, Pietruszkiewicz led through the transformation of the market in which law schools have seen a tremendous downturn in enrollment and many have closed. He was able to right-size the budget to meet lower enrollment targets, maintain admission quality standards, and focus on the right programs to ensure highly employable graduates.
"I am delighted to join the University of Evansville community and look forward to working together with an exceptional faculty and outstanding staff to provide an education of distinction," Pietruszkiewicz said. "From an international experience ranked number 1 in the country, to 96 percent of students participating in real-world externship experiences, to 94 percent graduating with meaningful jobs or graduate school awaiting them, I am eager to build on the tremendous success of UE. There is so much more we will do together."
Stetson University is a liberal arts based institution with professional schools and approximately 1000 more undergraduates than UE. Pietruszkiewicz served on the cabinet at Stetson, where they dealt with all undergraduate and graduate school issues.
He began his academic career at George Mason University School of Law, where he was an adjunct professor of law. He joined the faculty of the Louisiana State University Paul M. Hebert Law Center in 2001 and became vice chancellor for business and financial affairs in 2007. He earned a Bachelor of Science degree at the University of Scranton, a J.D. at Loyola University New Orleans College of Law, and a Master of Laws (LL.M.) in taxation at Georgetown University Law Center in Washington, D.C
Pietruszkiewicz is married to Siobhan (sha-von) Pietruszkiewicz, a licensed clinical worker with over a decade of experience writing and implementing grants for state agencies and local nonprofits. She has taught social work courses at Louisiana State University for undergraduate and graduate students as well as law students. The Pietruszkiewiczs have two children: Ryan, age 12; and John, age 8.
Read the full press release to learn more about our president-elect.