| | |
| --- | --- |
| AceNotes Today | Monday, March 26, 2018 |
Study abroad info session and pizza party today
An ISEP representative will be on campus today - Monday, March 26 - to talk about study abroad opportunities for UE students. We are having a pizza party information session at 5:00 p.m. in Room 273, Schroeder School of Business Building. If you are considering going abroad through ISEP or just want to learn more, come join us! We hope to have students who have already applied through ISEP at the event as well so they can answer any questions you have too. RSVP for the event here.
Submitted by Greta Becker gb91@evansville.edu
SIAM speaker to discuss applying statistics to ecology
UE biology professor Cris Hochwender will be the SIAM speaker today - March 28 - from noon-1:00 p.m. in room 100, Koch Center for Engineering and Science. The topic will be "Applying Statistics to Ecology." There will be FREE pizza.
Hochwender's abstract:
"Applying Statistical Tools to Ecological Data Sets: Fundamental Strategies to Avoid Mistakes"
Research scientists often have excellent credentials in their subject area, but they often have limited experience with experimental design and statistical analyses. Hochwender will discuss a few fundamental principles used when making decisions regarding appropriate statistical analysis (within a general linear model framework and given the design of the experiment). Using published examples where incorrect analyses were used, as well as other published examples where experimental questions were correctly analyzed, he will demonstrate the need for statistical competency, at least in the realm of ecology.
Submitted by Samarth Sheth ss651@evansville.edu
This Week in Music: Eykamp String Quartet in Recital
The Eykamp String Quartet will present a recital tonight at 7:30 pm in Wheeler Concert Hall. The program will feature Smetana's String Quartet No. 1 ("From my Life"), Schubert's Quartettsatz in C minor, and Janacek's String Quartet No. 2 ("Intimate Letters"). The concert is free and open to the public.
Eykamp String Quartet members include Robert Anemone, Nica Malaimare, Emily Brandenburg, and Kirsten Jermé. The Eykamp String Quartet is made possible by the special underwriting of Rita, Richard, and Dorothy Eykamp, friends of the University of Evansville and the Evansville Philharmonic.
For complete program information, visit the music department concert calendar.
Submitted by: James Sullivan, js820@evansville.edu
UE Alumni Spotlight Artist Event to feature Janice Greene
The University of Evansville is planning an Alumni Spotlight Artist event for Janice Greene on March 29 in the Melvin Peterson Gallery. A reception for Greene is set for 6:30 p.m., followed by a presentation at 7:00 p.m. Some of her work will also be on display. This event, which is free and open to the public, is being sponsored by UE Friends of Art.
Greene attended the Louisville School of Art and received her BFA and MAA from UE. She retired from the Evansville Vanderburgh Public Library in 2013 after 41 years as a graphic designer and exhibits coordinator. She taught figure drawing and printmaking at UE and is past-president of the Artist Collaborative, Henderson Society of Art, and the American Association of University Women, Evansville Branch.
Her art includes prints, drawings, mixed media, and artist-made books. The images she creates are related to landscape and nature: representational or abstract. Her surroundings are a constant influence: nature, and the urban and natural landscape. She is interested in textures, layers, reflective surfaces and their relationship with each other. Often she combines printmaking with other materials. Her recent works consist of watercolor, ceramic and handmade paper. Greene's work has been exhibited in competitive, invitational and group shows in New York City, Seattle, New Hampshire, Indiana, Kentucky, Illinois, Australia and New Zealand.
She has received many awards including the Evansville Artist Guild Brian Daves Award, Best of Show in the 94 Artist Collaborative Exhibition, the 2007 Arts Council of Southwestern Indiana "Artist of the Year" Award and the Phenomenal Women of USI & the Community Award: Women Inspiring Hope & Possibility in 2004. In 1983, along with four other artists, she received an Indiana Arts Commission Grant for the "Handmade Book Project."
Greene's work is represented in private and corporate collections, including UE, Old National Bank, Solarbron Pointe, Deaconess Hospital, and the Swope Museum. She is represented by the Begley Art Source, New Harmony Gallery of Contemporary Art, and The Rumjahn Gallery and Framery.
For more information, please call 812-488-2043.
Mark Your Calendars - PurplePalooza April 13
PurplePalooza is back again! Join SAB on Friday, April 13 from 7:00-11:00 p.m. for an evening full of inflatables, rock climbing, food trucks, a professional beatboxer, UE student musicians, raffle prizes, customizable license plates, and so much more. Free for all UE students and Evansville community members. Come help celebrate UE's Annual Day of Giving and Greek Week as well as kick off Bike Race weekend with SAB at this event.
Submitted by Megan King mk225@evansville.edu
UE Orchestra to present faculty soloists
The University of Evansville Orchestra will present an all-Beethoven concert on Tuesday, April 3, at 7:30 pm. The concert will be held at Victory Theatre, located at 600 Main St, Evansville, Indiana. The concert is free and open to the public.
UE faculty soloists Robert Anemone, violin, Kirsten Jermé, cello, and Garnet Ungar, piano, will join the orchestra in the rarely-heard Triple Concerto, following a performance of the Coriolan Overture. The concert will be conducted by UE assistant professor/director of orchestral activities Chun-Ming Chen.
Following the concert, the orchestra will embark on a four-concert tour of high schools in Tennessee.

For more information, please call 812-488-2881 or e-mail cc319@evansville.edu.
Nursing department presents program on "Sex on Campus"
UE nursing students will be presenting the "Sex on Campus" program on sexual health today - Tuesday, March 27 - from 5:00-6:00 p.m. in Eykamp Hall, Room 251, Ridgway University Center. This program, which is sponsored by the office of health education and wellness, will highlight an important issue on college campuses. The program focuses on education about STIs and HIV and the very real risk that this presents for students.
Submitted by Jennifer Hargus jh693@evansville.edu
2018 People's Choice Award, UE Student Art Exhibition
The recipient of this award will be announced at the conclusion of the UE Student Exhibition. All those who visit the Melvin Peterson Gallery to view the Student Exhibition have an opportunity to vote once for their favorite piece of artwork. The votes will be tabulated at the end of the Exhibition and the winner announced at that time.
*~* Visit the Melvin Peterson Gallery and VOTE! *~*
GAP has a new name - Look for ChangeLab to register
Students registering for Fall GAP classes should look for CHNG in the registration system or when talking with advisors. GAP is now ChangeLab. Courses available for fall can be found on the webpage at www.evansville.edu/changelab. Questions? Contact Erin Lewis at EL131.
Preferred Purple Parking- Reserved for Campus Visitors
Over the next several weeks, the Office of Admission will be welcoming many campus visitors to the University of Evansville, many of the students being high school seniors trying to make their final decision. In order to provide them the best experience possible, we ask that you refrain from parking in the preferred purple parking outside of Olmsted. We would like to reserve all purple parking spots solely for our visitors. Thank you for helping us ensure our visitors have a wonderful experience on campus with a VIP parking opportunity.
Fitness Center Easter Break Hours
The hours for the Fitness Center during Easter Break are:
Wednesday, March 28: 6:30 a.m.-7:00 p.m.
Thursday, March 29: 8:00 a.m.-7:00 p.m.
No Open Swim in the evening
Friday, March 30, Saturday, March 31 and Sunday, April 1: Closed
Submitted by Lori Adams la87@evansville.edu
PRIDE's annual drag show needs you!
UE PRIDE's annual drag show is set for Saturday April 7 at 7:00 p.m. in Eykamp Hall, Ridgway University Center. We are still looking for student performers so if you or a friend are interested, please e-mail UE PRIDE at uepride@gmail.com. Group and individual performances are welcome!
Submitted by Katie Brown kb362@evansville.edu
2018-19 Margery Florence Kahn Scholarship application available
Applications for the 2018-19 Margery Florence Kahn Scholarship are now available.
It was the desire of the donor, Margery Florence Kahn, that her scholarship be awarded to "dedicated and conscientious students who exhibit a true passion for their chosen fields of study, and who, in the opinion of the members of the University of Evansville faculty, are likely to bring the same enthusiasm into the performance of their jobs or the practice of the professions which they will pursue following graduation."
All University of Evansville full-time undergraduate students who will be juniors or seniors in 2018-19 may apply. An essay of about 300 words must accompany the application, along with two to five faculty recommendation letters.
Applications are available from the Office of Financial Aid (Olmsted Hall 116).
Completed applications and recommendation letters should be returned to the Office of Financial Aid by April 15.
You may also request application materials by e-mailing financialaid@evansville.edu.
Questions may be directed to the Office of Financial Aid via e-mail or by phone at 812-488-2364.
Submitted by Trisha Hawkes th187@evansville.edu
Financial aid for summer courses
If you are seeking financial aid for summer courses at UE, please complete a summer financial aid application and return to the Office of Financial Aid (Olmsted 116). The application will allow our office to determine the types of aid for which you may be eligible.
Work-Study
On-campus jobs are available for continuing UE students during the summer. You do not need to be eligible for need-based Federal Work-Study during the academic year in order to apply. You may also apply regardless of your enrollment in summer courses. Applications are available within the Student Employment area of WebAdvisor.
Submitted by Amy Sowders as560@evansville.edu
Outstanding Senior Service Award nominations
Do you know a senior deserving of the highest award given by UE? Ten finalists will be honored at a luncheon in May and one male and one female will be given this award at commencement. Selection is based on academic achievement, demonstrated leadership, and potential for future contribution to society.
The Guthrie May and Mabel Dillingham Nenneker Outstanding Senior Service Awards nominations will be accepted March 12-April 3.
You can nominate deserving seniors by sending an e-mail to the student or students you wish to nominate using the following format:

TO: _______________________
CC: cb131@evansville.edu
Subject: You have been nominated for the Outstanding Senior Service Award
Dear ________________
I have nominated you for the Guthrie May and Mabel Dillingham Nenneker Outstanding Senior Service Award. This is one of the highest awards given to students by the University of Evansville. Ten finalists will be honored at a luncheon in May and one male and one female will be given this award at commencement. Selection is based on academic achievement, demonstrated leadership, and potential for future contribution to society.
To accept this nomination please go to this link: https://www.surveymonkey.com/r/OSSA2018.
You will be asked to provide a personal statement and upload a current copy of your resume.
Applications must be submitted to the Office of the Dean of Students by April 3.
Questions can be referred to Dana Clayton at DeanofStudents@evansville.edu 812-488-2500.
Please copy cb131@evansville.edu on all forms that you forward to your nominees.
Applications must be submitted to the Office of the Dean of Students by April 3.
Submitted by Carleen Barnes cb131@evansville.edu

Dr. Marvin E. Hartig Memorial Scholarship applications
Applications are now being accepted for this year's Dr. Marvin E. Hartig Memorial Scholarship. This scholarship is dedicated to the loving memory of Hartig, dean of Evansville College's Evening College in 1967, and administrator for the Center for Advanced Study, director of the Evansville chapter of the American Institute of Banking (AIB), and the international student advisor. In 1974, Hartig was appointed dean of academic services. He retired in 1984 after serving his alma mater for 35 years and passed away in 2007.
This scholarship is awarded each year to a deserving sophomore. Preference will be given to a student working while being enrolled as a full-time student.
International students are encouraged to apply.
Applicants must submit the following to be considered:
1. Completed application

2. In a one page, single spaced, 12 point Verdana font essay, please answer all of these questions:
•What have you learned about yourself as a UE student?
•What do you do for fun when not studying or working?
•Name a special attribute or accomplishment that sets you apart.
•You have done a lot in your short life. In what areas do you think you can improve?
•What are your scholastic and career goals?
•How did you finance your freshman year and how will you finance your sophomore year?
•Why are you a good candidate to receive this scholarship?
•What have you learned about Dr. Hartig, how does he influence or inspire you, and how will you preserve his legacy as recipient of this scholarship?
Please return all materials to the Office of Financial Aid by May 1. Decision will be announced by July 2.
If you have questions, contact Trisha Hawkes, administrative assistant to the Office of Financial Aid, at financialaid@evansville.edu or 812-488-2364.
Submitted by Trisha Hawkes th187@evansville.edu
Cirino hired as consultant on film
Mark Cirino has been hired as literature consultant on the forthcoming cinematic adaptation of Across the River and into the Trees, starring Pierce Brosnan and Isabella Rossellini. This film, directed by Martin Campbell, is a dramatization of Ernest Hemingway's 1950 novel. Cirino will assist the cast and crew in their attempts to film the only Hemingway novel that has never been made into a movie. Filming begins in Venice, Italy, on April 23. Cirino is an associate professor of English and the Melvin M. Peterson Endowed Chair in English.
Strobel presents research at conference
Heidi Strobel, associate professor of art history, recently attended the 49th annual American Society for Eighteenth-Century Studies conference. While at the conference, Strobel presented on her current research on British textile artist Mary Linwood (1755-1845) and chaired a session on women, portraiture, and place.
UE faculty, alumni, & sports residents lead performance testing at MLB Spring Training
University of Evansville and ProRehab sports physical therapy residents and faculty members recently performed the preseason screening of the St. Louis Cardinals Major League Baseball team in Jupiter, Florida.
The team was led by associate professor of physical therapy Phil Plisky '98 and assistant professor of physical therapy Kyle Matsel '11, as well as current sports residents Logan Wager and Logan Blair '17. They were invited by UE alum and former PT faculty member Robert Butler '09 who is the director of player performance. Thomas Knox '09, Cardinals' team physical therapist also participated in the screening.
The screening involves specific tests and an injury risk algorithm developed and researched by Phil Plisky, associate professor of physical therapy, and Kyle Kiesel, professor and chair. This injury prevention model is used by a wide variety of high school, college and professional sports teams as well as the US Military.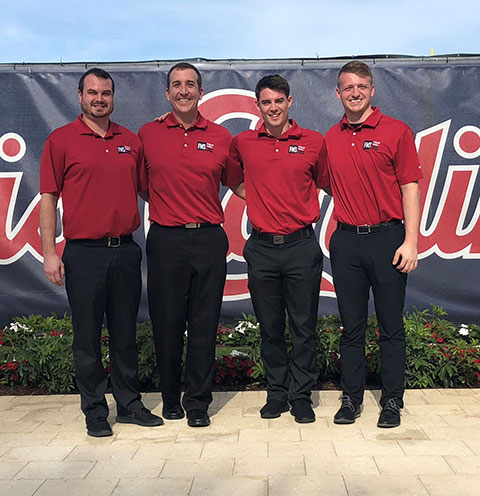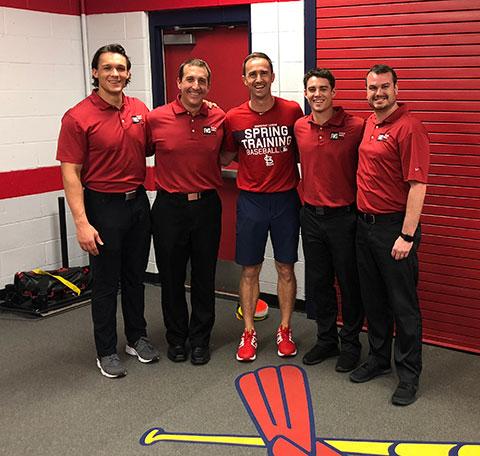 Submitted by: Jennifer Simon, js698@evansville.edu
56th Annual Juried Student Art Exhibition Award Recipients 2018
Best in Show Purchase Award- This piece will become property of the UE Permanent Collection
Ling Lin Interior Space
1st Place Award of Excellence-
Michelle Mikuscova Sometimes I Sits and Think, and Sometimes I Just Sits
2nd Place Award of Excellence-
Anna Brough Prisma Pop in Red
3rd Place Award of Excellence-
Anna Brough Lucy- It Goes Without Saying
Melvin Peterson Award-
Jessica Pemberton The Look
Gumbert's Award-
Michelle Mikuscova
Dorothea Schechte Award-
Emilee Johnson
Amanda Straeffer
Dean Long Award-
Lizzie Tredinnick Veiled Lady
Les Miley Award-
Annie Stenftenagel Polaroid
Emeriti Faculty Ward-
Chelsie Walker '50's Cruisin'
Pund Award-
Tommy Housman Willful Blindness
Merit Award-
Elizabeth Freck Jaded
Merit Award-
Emilee Johnson Mom's Garden
Merit Award-
Michaela Kunkler Gothic Glass
Merit Award-
Amanda Straffer Ancient Pasts
Merit Award-
Tommy Housman Willful Blindness
Merit Award-
Evan Barnett Flumen Identitatis
We would like to congratulate all the winners and students who had work accepted into the show. We sincerely applaud the hard work and talents of all our students.
The 2018 Student Art Exhibition will be on display in the Melvin Peterson Gallery until April 7th.
Submitted by: Brooksie Smith, bs267@evansville.edu
ACE3 Student Success
Students in the Access to Capital and Expertise for Emerging Entrepreneurs (ACE3) program have closed on a $10,000 loan extended to a local entrepreneur who is launching her own salon. This program is an experiential learning program through the Institute for Banking and Finance (IBF) with funding provided by Old National Bank. Students participating in the program this year are Hadi Dahhas, Elizabeth Day, Jake Gould, Chris Hartzell, Gabriel James and Jordan Voges. These students have gained academic and professional training from Jeff Bone, vice president at Old National Bank and Yasser Alhenawi, associate professor of finance and director of the IBF.
University of Evansville baseball team earns doubleheader split with OCU
On a day that saw rain clouds move in almost from first pitch, the University of Evansville baseball team earned a doubleheader split with Oakland City University, ending a six game skid.
In the first game of the twin bill, the Purple Aces and Mighty Oaks staged a pitcher's duel between senior right hander Jimmy Ward and OCU's Caleb Wagner, with both pitchers taking a shutout into the fifth frame of a seven inning affair.
That's when the UE offense broke through. Sophomore slugger Troy Beilsmith got the Aces on the scoreboard first with an RBI double to the gap in left-center, scoring sophomore shortstop Craig Shepherd for the long-awaited icebreaker. Sophomore center fielder Kenton Crews followed that up with a two-run double down the left field line, tallying both Beilsmith and junior third baseman Sam Troyer, putting Evansville up 3-0 after five complete.
That's the way it would remain until the final frame, when Ward walked the lead-off batter, then giving way to senior reliever Hunter Porterfielder, who proceeded to give up a single and walk to load up the bases.
With the lead in danger, Aces head coach Wes Carroll turned to freshman right hander Austin Ruesch, who induced back-to-back RBI sacrifice flyouts, as the Mighty Oaks drew within one. However, Ruesch would get Austin Morris to fly out to right to end the game in favor of Evansville, 3-2. Ward picked up the win, his first of the season, while Ruesch earned his first collegiate save.
Game two of the twin bill saw the rain finally settle in, and Oakland City seize the early advantage on a pair of errors from the Aces middle infielders. Throwing mishaps from Sam Troyer and Cooper Trinkle in the first and second innings, respectively, put Evansville in an early 2-0 hole. Reed Farmer continued the second inning assault on Aces junior left hand starter Alex Weigand, doubling in a pair, and when the smoke cleared, the Aces were down 4-0.
UE would bounce back to drive in a pair, highlighted by Tanner Craig's run-scoring single in the third, as Evansville halved the OCU lead to 4-2 after three.
However, Oakland City would erupt for four more tallies in the fourth, as Tyler Stoltz drove in a run on a single to shortstop, followed by a two-run rip through the right side of the infield by Jenrick Rivera, chasing Weigand from the game. Nathan Croner would come into replace the junior southpaw, and the Mighty Oaks would tally another on a double steal, tallying Stoltz on the steal of home.
Down 8-4 in the final frame, the Aces would attempt a late inning rally. Freshman infielder Tanner Craig would get the ball rolling for Evansville with an RBI double to the gap in right-center. Senior Dalton Horstmeier would then come up with a clutch two-our RBI rip down the right field line, scoring Craig, drawing the Aces within two.
However, the rally runs out of steam there, as junior outfielder Nate Reeder flew out to right-center to end the game, as Evansville fell 8-6. They're now 6-12 on the season. Oakland City is now 7-13.
Up next for Evansville is a midweek encounter on the road against Southern Illinois-Edwardsville on Tuesday. First pitch is at 6:00 p.m.
UE softball sweeps doubleheader over UNI
Eryn Gould, Brittany Hay and Morgan Florey were the stars of the day, pacing the University of Evansville softball team to a doubleheader sweep of UNI on Sunday at Cooper Stadium. Evansville won both games by a final of 6-2.
Gould notched six hits in seven at-bats while scoring five runs for the Purple Aces (9-18, 2-3 MVC) while Hay hit a 3-run home run in game two that broke a scoreless tie. Florey threw a total of 11 innings on the day, allowing just seven hits and one earned run.
"This was a good series for us, I am really proud of the girls for keeping their focus through all of the weather that we had this weekend," UE head coach Mat Mundell said. "Our offense played great, even our outs were hard hit balls. We got runners on and were able to get them in. Defensively, we played great and Morgan and Ashleigh did a nice job of keeping UNI's hitters off balance in the circle."
Today's sweep gave UE its first series win over the Panthers since 2013. In the previous 11 games against UNI entering the day, the Aces were 2-9.
UNI recorded three hits in the first inning, but Aces starter Morgan Florey was able to limit the damage to just one run, which came on a Courtney Krodinger single.
In the bottom of the inning, UE was able to plate two runs. Eryn Gould led off with a double before advancing to third on a Brittany Hay groundout. Next up was Lindsay Renneisen, who delivered a triple to right center field to score Gould. Renneisen gave the Aces the lead, scoring when Florey reached on an error.
Evansville threatened in the second, loading the bases with no outs, but UNI's Brooke Craig forced a double play that helped her get out of the frame unscathed. UE was able to push a run through in the third when Florey crossed home plate on UNI's second error of the day. The top half of the fourth saw UNI get that run right back with an unearned run.
For the third time, the Aces added a run on the scoreboard. Gould notched her second hit of the day and came home on a UNI error that came on a Renneisen hit. Evansville picked up some more breathing room in the sixth when Elyse Hickey delivered a 2-RBI double with the bases loaded to make it a 6-2 game.
Florey picked up her fifth win of the season. She gave up three hits in the first, but did not allow a single one for the remainder of the contest. Gould was a perfect 3-3 with three runs scored and a walk while Renneisen notched a pair of hits.
Just as they did in game one, the Panthers grabbed an early lead in the first frame of the second contest, but Evansville followed suit as Eryn Gould led the bottom of the first off with her third home run of the season to knot the score at 1-1. Renneisen would later score on a wild pitch to give the Aces their first lead. Jaclyn Spencer notched an RBI single in the third, which tied the game at 2-2.
Things would remain that way until the fifth frame when Brittany Hay delivered her team-leading fifth home run of the season. Bailee Porter and Eryn Gould scored on the play. Some insurance was added in the sixth as Bailee Bostic singled through the right side to bring home pinch runner Mea Adams to make it the final of 6-2. Florey picked up her second win of the day while Gould posted three more hits.
A trip to Loyola awaits the Purple Aces next weekend as UE faces the Ramblers in Chicago.
Contribute to AceNotes
To have content considered for inclusion in AceNotes, please submit a Marketing Request Form. Deadline for submission to AceNotes is 10:00 a.m. on the requested date of publication. Only articles concerning UE related/sponsored activities will be accepted. Articles submitted to AceNotes may be edited for length and clarity. Submitter contact information is at the end of each article.