| | |
| --- | --- |
| AceNotes Today | Friday, March 23, 2018 |
Welcome Men's Basketball Coach Walter McCarty Tonight at 5:30 Celebration
You're invited!
New men's basketball head coach Walter McCarty will be introduced at a celebration tonight at 5:30 p.m. inside Meeks Family Fieldhouse and presented by German American Bank. This is open to the public.
Yesterday, Director of Athletics Mark Spencer announced that Evansville native and current Boston Celtics assistant coach Walter McCarty has agreed to terms to become the next head men's basketball coach for the Purple Aces.
"I could not be more thrilled with the amount of interest we had in our head coaching position, but it became very evident that Walter McCarty was 100% the right man for the job," Spencer said. "His personality, experience and infectious energy really set him apart. Nobody would have been able to sell Evansville to recruits like Walter McCarty."
McCarty has been on the staff of the Boston Celtics since 2013, working with head coach Brad Stevens. From 2007-2010, he was an assistant under Rick Pitino at the University of Louisville and spent the 2010-11 campaign working on Jim O'Brien's staff with the Indiana Pacers.
"This is an exciting time for the University of Evansville. We are pleased to welcome Walter McCarty to the Purple Aces family," UE President Dr. Tom Kazee said. "Throughout the interview process, Walter stood out as the candidate that fit best at our university and our goals. His energy and vision were unparalleled."
A native of Evansville, McCarty was a standout at Harrison High School before attending the University of Kentucky in 1993. He played a pivotal role in the 1996 National Championship team that went 34-2, averaging 11.3 points per game. Upon his graduation from UK, McCarty was selected by the New York Knicks with the 19th pick in the 1996 NBA Draft. In a professional career that spanned 10 seasons, McCarty spent time with the Knicks, Celtics, Phoenix Suns and Los Angeles Clippers.
Cafe Moore this Friday
This Friday Moore Hall is putting on Cafe Moore, which will take place at 7pm! There will be lots of good food, including international snacks. Come perform or view beautiful artwork and amazing talent!
Easter Egg Hunt Coming Next Week - Follow for Prizes!
The University of Evansville Alumni Association will be hosting a twitter scavenger hunt around campus next week. There will be clues for each day and there will be prizes inside the eggs!
Check Ace Notes daily and follow the Office of Alumni and Parent Relations on Twitter @UEAlumni to watch for clues! #uepepandvim #trueandloyal

UE Alumni Spotlight Artist Event to feature Janice Greene
The University of Evansville is planning an Alumni Spotlight Artist event for Janice Greene on March 29 in the Melvin Peterson Gallery. A reception for Greene is set for 6:30 p.m., followed by a presentation at 7:00 p.m. Some of her work will also be on display. This event, which is free and open to the public, is being sponsored by UE Friends of Art.
Greene attended the Louisville School of Art and received her BFA and MAA from UE. She retired from the Evansville Vanderburgh Public Library in 2013 after 41 years as a graphic designer and exhibits coordinator. She taught figure drawing and printmaking at UE and is past-president of the Artist Collaborative, Henderson Society of Art, and the American Association of University Women, Evansville Branch.
Her art includes prints, drawings, mixed media, and artist-made books. The images she creates are related to landscape and nature: representational or abstract. Her surroundings are a constant influence: nature, and the urban and natural landscape. She is interested in textures, layers, reflective surfaces and their relationship with each other. Often she combines printmaking with other materials. Her recent works consist of watercolor, ceramic and handmade paper. Greene's work has been exhibited in competitive, invitational and group shows in New York City, Seattle, New Hampshire, Indiana, Kentucky, Illinois, Australia and New Zealand.
She has received many awards including the Evansville Artist Guild Brian Daves Award, Best of Show in the 94 Artist Collaborative Exhibition, the 2007 Arts Council of Southwestern Indiana "Artist of the Year" Award and the Phenomenal Women of USI & the Community Award: Women Inspiring Hope & Possibility in 2004. In 1983, along with four other artists, she received an Indiana Arts Commission Grant for the "Handmade Book Project."
Greene's work is represented in private and corporate collections, including UE, Old National Bank, Solarbron Pointe, Deaconess Hospital, and the Swope Museum. She is represented by the Begley Art Source, New Harmony Gallery of Contemporary Art, and The Rumjahn Gallery and Framery.
For more information, please call 812-488-2043.
Barn Blitz Building during UE Gives Back
This Saturday will be a big component building day for UE Habitat Barn Blitz as a part of UE Gives Back. The build will take place at 531 Rotherwood Avenue (next to the Center for Adult Education) from 10:00 a.m.-4:00 p.m. Anyone who is interested in building is welcome to come out and participate! You can register for one of the shifts through Get Connected or just show up when you can!
Submitted by Greta Becker gb91@evansville.edu
UE Engineering Excellence Day set for Saturday
UE's annual Engineering Excellence Day is set for this Saturday - March 24 - from 11:00 a.m.-2:00 p.m. on the first floor of the Ridgway University Center This event is free and open to the public.
Projects designed and built by teams of UE engineering student will be on display outside Ridgway University Center. The students will be on hand to explain how their projects were designed and created.
The students will also be presenting "Real Talk" from 1:30-2:00 p.m. in Vectren Lecture Hall, Room 100, in the Koch Center for Engineering and Science. During this activity, prospective students, parents, and anyone with an interest in engineering can find out what it is like to be an engineering student at UE.
Palm Sunday Worship in Neu Chapel
The campus community is invited to observe Palm Sunday this Sunday at 11:00 a.m. in Neu Chapel. Together, we will recount the last days of Jesus. There will be beautiful music featuring the Neu Chapel organs. All are welcome to observe this sacred day of the Christian year. As always, coffee and donuts will be available before and after the service!
Submitted by Keith Turner kt160@evansville.edu
Busy Persons Retreat
Next week, the Newman Student Center for Catholic Campus Ministry is offering a laid-back approach to retreats - a four-day retreat on campus on YOUR schedule. Participants will schedule meetings with a spiritual director from Monday-Wednesday for about 30 minutes a day. Spiritual directors are trained to focus on the problems and issues students are having in college. They can meet early or stay late - it is up to you! All participants will receive instructions for prayer, a booklet to guide their four-day journey and other essentials, compliments of the Newman Club Ministry.
The retreat officially begins on Sunday, March 25 with dinner at 6:00 p.m. At that dinner, participants will plan their week with their spiritual director. Students also have the option to attend the Diocesan Chrism Mass on Tuesday at 5:30 p.m. with a dinner at Turoni's to follow. All activities are free of charge this year.
If you are interested in signing up or have other questions about how this may fit into your schedule this year, please e-mail Catholic campus minister Jenny Koch at je46@evansville.edu or call/text her at 812-454-0062.
Submitted by Gabrielle VanBuskirk gv19@evansville.edu
Study abroad info session and pizza party today
An ISEP representative will be on campus today - Monday, March 26 - to talk about study abroad opportunities for UE students. We are having a pizza party information session at 5:00 p.m. in Room 273, Schroeder School of Business Building. If you are considering going abroad through ISEP or just want to learn more, come join us! We hope to have students who have already applied through ISEP at the event as well so they can answer any questions you have too. RSVP for the event here.
Submitted by Greta Becker gb91@evansville.edu
Engineering Excellence Day
Want to check out what The College of Engineering has been up to? Come to the first floor of Ridgway University Center on Saturday, March 24 from 11:00 a.m.-2:00p.m. and see what we've got! You'll get to check out senior projects and legacy projects, talk to the people behind the scenes, and hang out and have some refreshments with some of the engineers as they discuss what they are passionate about.
If you have any questions, please e-mail Amanda Aders at aa415@evansville.edu. We hope to see you there for a great time on UE's Annual Engineering Excellence Day.
Amanda Aders aa415@evansville.edu
Lunch with the Aces returns in April
One of the most popular yearly events for the University of Evansville athletics department returns in 2018 as Lunch with the Aces will be held on Friday, April 13 at Meeks Family Fieldhouse on the UE campus.
Highlighting the day is keynote speaker Scott Shreffler. The 1993 graduate of UE was inducted into the Purple Aces Athletics Hall of Fame in 2004 and had has jersey retired in January of 2018.
The event goes from 11:00 a.m.-1:00 p.m. on the 13th. Early registration is $30 while seats will be $35 after April 9 and at the door. Corporate tables cost $350 and include eight seats plus two student-athletes seated at your table. There is also the option to provide lunch for a student-athlete for just $10.
Marx BBQ will once again cater the event with food being available for the duration. The program, which includes a video presentation and the keynote speaker, begins at 12:30 p.m. A student-athlete will be seated at each table.
A half post and silent auction will provide additional opportunities at the lunch.
You can register now at this link: www.uealumnionline.com/AcesLunch18. For more information, call 812-488-ACES.
Nursing department presents program on "Sex on Campus"
UE nursing students will be presenting the "Sex on Campus" program on sexual health today - Tuesday, March 27 - from 5:00-6:00 p.m. in Eykamp Hall, Room 251, Ridgway University Center. This program, which is sponsored by the office of health education and wellness, will highlight an important issue on college campuses. The program focuses on education about STIs and HIV and the very real risk that this presents for students.
Submitted by Jennifer Hargus jh693@evansville.edu
Twitter scavenger hunt
The University of Evansville Alumni Association will be hosting a twitter scavenger hunt around campus next week. There will be clues each day and there will be prizes inside the eggs!
Submitted by Cameron James Cool cc253@evansville.edu
2018 People's Choice Award, UE Student Art Exhibition
The recipient of this award will be announced at the conclusion of the UE Student Exhibition. All those who visit the Melvin Peterson Gallery to view the Student Exhibition have an opportunity to vote once for their favorite piece of artwork. The votes will be tabulated at the end of the Exhibition and the winner announced at that time.
*~* Visit the Melvin Peterson Gallery and VOTE! *~*
GAP has a new name - Look for ChangeLab to register
Students registering for Fall GAP classes should look for CHNG in the registration system or when talking with advisors. GAP is now ChangeLab. Courses available for fall can be found on the webpage at www.evansville.edu/changelab. Questions? Contact Erin Lewis at EL131.
Preferred Purple Parking- Reserved for Campus Visitors
Over the next several weeks, the Office of Admission will be welcoming many campus visitors to the University of Evansville, many of the students being high school seniors trying to make their final decision. In order to provide them the best experience possible, we ask that you refrain from parking in the preferred purple parking outside of Olmsted. We would like to reserve all purple parking spots solely for our visitors. Thank you for helping us ensure our visitors have a wonderful experience on campus with a VIP parking opportunity.
PRIDE's annual drag show needs you!
UE PRIDE's annual drag show is set for Saturday April 7 at 7:00 p.m. in Eykamp Hall, Ridgway University Center. We are still looking for student performers so if you or a friend are interested, please e-mail UE PRIDE at uepride@gmail.com. Group and individual performances are welcome!
Submitted by Katie Brown kb362@evansville.edu
RecycleMania - last two weeks
The 2018 RecycleMania tournament is down to the final two weeks! The competition, which encourages waste reduction and recycling on campuses nationwide, ends March 31.
UE is one of many schools participating this year. UE will compete in several weight-based categories that measure recycling and waste reduction per capita, as well as overall campus recycling weights as a percentage of total waste generated.
RecycleMania is about more than simply winning. It is a time to engage the entire campus community in awareness and action to reduce waste, recycle more, and protect the environment. More information can be found at www.recyclemania.org.
Submitted by Amber Elkins ae152@evansville.edu
UE Theatre holding campus-wide auditions for "It Can't Happen Here"
Casting Call: Auditions open to ALL.
The University of Evansville Department of Theatre is hosting a reading of "It Can't Happen Here" by Sinclair Lewis and John Moffitt. This play follows a politician who defeats FDR by promising a return to patriotism and traditional values and ultimately creates a totalitarian administration based on fear and intimidation.
Not a theatre major? No worries! This opportunity is open to ALL members of the campus community. Come audition for a chance to perform with associate professor of history Daniel Byrne, Annie Stenftenagel, and Ryan De Hoff.
Directed by 2001 UE Theatre alumna Amy Attaway, participants will engage in an accelerated rehearsal process on March 24 and 25, join a special event on March 26, and perform for the campus on March 27.
Auditions
When: Saturday, March 24, 10:00 a.m.
Where: Hyde 124
What to Prepare: Be ready to read sides (scenes) from the play
Rehearsals
When: Saturday, March 24, 3:00–7:00 p.m.
Sunday, March 25, 10:00 a.m.-1:00 p.m. and 2:00-6:00 p.m.
Where: Hyde 124
Pre-Show Event: "Happening Here! An Interactive Event"
When: Monday, March 26, 7:00-9:00 p.m.
Where: Eykamp 251, Ridgeway University Center
Reading
When: Tuesday, March 27, 7:00 p.m.
Where: Shanklin Theatre
Pre-Show Event Details
"Happening Here! An Interactive Event" Based on the play by Sinclair Lewis and John Moffitt, "It Can't Happen Here"
Do today's political arguments frustrate you? Are you longing for opportunities to explore multiple points of view about the health of our democracy? Join us for two events organized by UE students who are dedicated to encouraging civic engagement and creating dialogue through theatre.
Presented in conjunction with a reading of "It Can't Happen Here," the first event (Happening Here!) will provoke dialogue about current events without ever focusing on Donald Trump or Nancy Pelosi. Instead, we will look at our own opinions through the lens of a fictional version of history in which an underdog candidate wins an election and uses fear and intimidation to create a totalitarian administration. Meet the real-life characters who inspired the play. Learn from experts - including President Kazee and your favorite professors - who can help us talk to each other about the similarities and differences between that fictional world and our own. And, of course, win prizes!
And, if you return to hear the reading of the play on Tuesday, March 27, you may even win a bigger prize.
Submitted Sharla Cowden sc75@evansville.edu
2018-19 Margery Florence Kahn Scholarship application available
Applications for the 2018-19 Margery Florence Kahn Scholarship are now available.
It was the desire of the donor, Margery Florence Kahn, that her scholarship be awarded to "dedicated and conscientious students who exhibit a true passion for their chosen fields of study, and who, in the opinion of the members of the University of Evansville faculty, are likely to bring the same enthusiasm into the performance of their jobs or the practice of the professions which they will pursue following graduation."
All University of Evansville full-time undergraduate students who will be juniors or seniors in 2018-19 may apply. An essay of about 300 words must accompany the application, along with two to five faculty recommendation letters.
Applications are available from the Office of Financial Aid (Olmsted Hall 116).
Completed applications and recommendation letters should be returned to the Office of Financial Aid by April 15.
You may also request application materials by e-mailing financialaid@evansville.edu.
Questions may be directed to the Office of Financial Aid via e-mail or by phone at 812-488-2364.
Submitted by Trisha Hawkes th187@evansville.edu
BIOL 100 online
Are you interested in taking a non-major's biology course with a lab this summer to fulfill one of your scientific literacy general education requirements? Then take BIOL 100 D01 – Fundamentals of Biology during Summer I (May 14-June 16). Please contact Dale Edwards at de3@evansville.edu for more details.
Submitted by Dale Edwards de3@evansville.edu
Financial aid for summer courses
If you are seeking financial aid for summer courses at UE, please complete a summer financial aid application and return to the Office of Financial Aid (Olmsted 116). The application will allow our office to determine the types of aid for which you may be eligible.
Work-Study
On-campus jobs are available for continuing UE students during the summer. You do not need to be eligible for need-based Federal Work-Study during the academic year in order to apply. You may also apply regardless of your enrollment in summer courses. Applications are available within the Student Employment area of WebAdvisor.
Submitted by Amy Sowders as560@evansville.edu
Hygiene items needed for area shelters
Senior Kate Hannon has recently been selected as a 2018 500 Festival Princess and is hoping to collect 500 hygiene items to donate to area shelters. She will be in Ridgway University Center from 2:00-4:00 p.m. on Friday, March 16, Monday, March 19, and Friday, March 23, at a table to provide information on the 500 Festival Princess Program. She will also have a bin to collect hygiene items. Please stop by if you have any questions or would like to make a donation or contact kh299@evansville.edu!
Submitted by Kathryn R Hannon kh299@evansville
Call for Nominations: Dean of Students Leadership Awards
Nominations are now being accepted for consideration of The Howard S. Rosenblatt "Dean of Students Leadership Awards." These awards will be presented at the 25th Annual Leadership Awards Reception scheduled for April 19 at 7:00 p.m. Invitations will be prepared by the Center for Student Engagement.
Awards are presented in the following categories:
• Student Organization Advisor of the Year
• Student Organization of the Year
• Student Leader of the Year
Over 80 percent of UE students participate in at least one student organization or program. These organizations are successful because of the commitment of the student leaders and the advisors who give freely of their time and support. The recipients of these awards are selected based on their commitment to the University of Evansville as well as the development and success of their efforts within their chosen student organization.
The deadline for nominations is March 23.
Click on this link to submit your nomination.
If you have any questions, please contact the vice president for student affairs/dean of students office at 812-488-2500 or by e-mail via cb131@evansville.edu.
Thank you in advance for celebrating our student leaders' achievements!
Submitted by Carleen Barnes cb131@evansville.edu
Dr. Marvin E. Hartig Memorial Scholarship applications
Applications are now being accepted for this year's Dr. Marvin E. Hartig Memorial Scholarship. This scholarship is dedicated to the loving memory of Hartig, dean of Evansville College's Evening College in 1967, and administrator for the Center for Advanced Study, director of the Evansville chapter of the American Institute of Banking (AIB), and the international student advisor. In 1974, Hartig was appointed dean of academic services. He retired in 1984 after serving his alma mater for 35 years and passed away in 2007.
This scholarship is awarded each year to a deserving sophomore. Preference will be given to a student working while being enrolled as a full-time student.
International students are encouraged to apply.
Applicants must submit the following to be considered:
1. Completed application

2. In a one page, single spaced, 12 point Verdana font essay, please answer all of these questions:
•What have you learned about yourself as a UE student?
•What do you do for fun when not studying or working?
•Name a special attribute or accomplishment that sets you apart.
•You have done a lot in your short life. In what areas do you think you can improve?
•What are your scholastic and career goals?
•How did you finance your freshman year and how will you finance your sophomore year?
•Why are you a good candidate to receive this scholarship?
•What have you learned about Dr. Hartig, how does he influence or inspire you, and how will you preserve his legacy as recipient of this scholarship?
Please return all materials to the Office of Financial Aid by May 1. Decision will be announced by July 2.
If you have questions, contact Trisha Hawkes, administrative assistant to the Office of Financial Aid, at financialaid@evansville.edu or 812-488-2364.
Submitted by Trisha Hawkes th187@evansville.edu
UE offers British studies minor and British studies certificate
UE is excited to announce that a British Studies Minor and a British Studies Certificate will be offered beginning the fall of 2018.
The British studies minor requires 18 credit hours. The course (ID H282/H382/H382H – The British Experience from the Celts to the Present Day) is a required six credit hour course. The course will be listed as BRIT H282/H382/H382H in the fall. This course is taken at Harlaxton. The remaining 12 credit hours are from elective courses taken at Harlaxton or UE.
The British Studies Certificate requires 12 credit hours. The course (ID H282/H382/H382H – The British Experience from the Celts to the Present Day) is a required six credit hour course. The course will be listed as BRIT H282/H382/H382H in the fall. This course is taken at Harlaxton. The remaining six credit hours are from elective courses taken at Harlaxton or UE.
For questions concerning the minor or certificate, contact Edward Bujak at ebujak@harlaxton.ac.uk.
British studies minor and certificate currently approved courses:
Required BRIT H282/H382/H382H The British Experience from the Celts to the Present Day
Elective ARTH H378 British Romantic Art
Elective ARTH H379 Art & Architecture in Victorian Britain
Elective ARTH H383 Medieval Art
Elective ARTH H387 English Art & Architecture
Elective ARTH H388 English Art & Architecture
Elective EDUC H498 Field Experience in English Schools
Elective ENGL 231 Masterpieces of British Literature I
Elective ENGL 232 Masterpieces of British Literature II
Elective ENGL 233 Masterpieces of British Literature III
Elective ENGL 300 Early English Writers
Elective ENGL 350 Shakespeare
Elective ENGL 351 The British Novel
Elective ENGL 370 The Age of Enlightenment
Elective ENGL 375 The Romantic Movement
Elective ENGL 380 The Victorian Period
Elective ENGL 385 The Twentieth Century
Elective HIST 318 The First World War
Elective HIST 319 The Second World War
Elective HIST 381 Modern Britain
Elective HIST 383 Modern Scotland
Elective HIST 385 Ireland and the Irish Diaspora
Elective HIST H491 Independent Study - Medieval History
Elective ID 235 Sacred Architecture and its Liturgy
Elective ID H280 Cultural Capitals
Elective ID H290 Britain and Europe
Elective PSCI H385 Modern British Politics
Elective REL 250 John Wesley and … Methodists
Submitted by Paula Heldt ph28@evansville.edu
UE faculty, alumni, & sports residents lead performance testing at MLB Spring Training
University of Evansville and ProRehab sports physical therapy residents and faculty members recently performed the preseason screening of the St. Louis Cardinals Major League Baseball team in Jupiter, Florida.
The team was led by associate professor of physical therapy Phil Plisky '98 and assistant professor of physical therapy Kyle Matsel '11, as well as current sports residents Logan Wager and Logan Blair '17. They were invited by UE alum and former PT faculty member Robert Butler '09 who is the director of player performance. Thomas Knox '09, Cardinals' team physical therapist also participated in the screening.
The screening involves specific tests and an injury risk algorithm developed and researched by Phil Plisky, associate professor of physical therapy, and Kyle Kiesel, professor and chair. This injury prevention model is used by a wide variety of high school, college and professional sports teams as well as the US Military.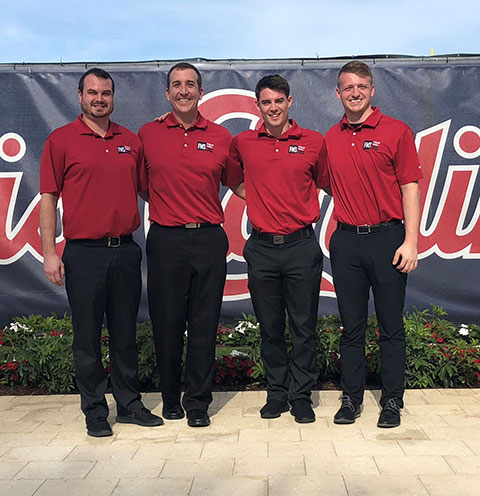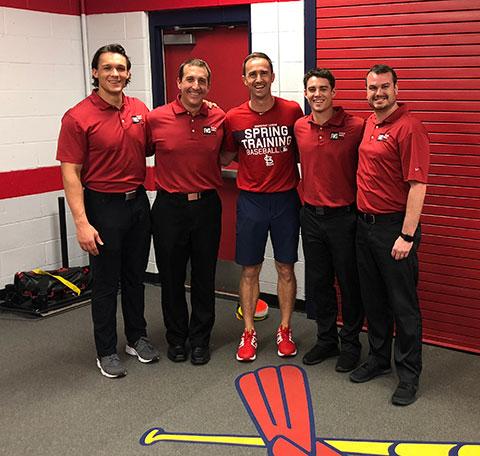 Submitted by: Jennifer Simon, js698@evansville.edu
56th Annual Juried Student Art Exhibition Award Recipients 2018
Best in Show Purchase Award- This piece will become property of the UE Permanent Collection
Ling Lin Interior Space
1st Place Award of Excellence-
Michelle Mikuscova Sometimes I Sits and Think, and Sometimes I Just Sits
2nd Place Award of Excellence-
Anna Brough Prisma Pop in Red
3rd Place Award of Excellence-
Anna Brough Lucy- It Goes Without Saying
Melvin Peterson Award-
Jessica Pemberton The Look
Gumbert's Award-
Michelle Mikuscova
Dorothea Schechte Award-
Emilee Johnson
Amanda Straeffer
Dean Long Award-
Lizzie Tredinnick Veiled Lady
Les Miley Award-
Annie Stenftenagel Polaroid
Emeriti Faculty Ward-
Chelsie Walker '50's Cruisin'
Pund Award-
Tommy Housman Willful Blindness
Merit Award-
Elizabeth Freck Jaded
Merit Award-
Emilee Johnson Mom's Garden
Merit Award-
Michaela Kunkler Gothic Glass
Merit Award-
Amanda Straffer Ancient Pasts
Merit Award-
Tommy Housman Willful Blindness
Merit Award-
Evan Barnett Flumen Identitatis
We would like to congratulate all the winners and students who had work accepted into the show. We sincerely applaud the hard work and talents of all our students.
The 2018 Student Art Exhibition will be on display in the Melvin Peterson Gallery until April 7th.
Submitted by: Brooksie Smith, bs267@evansville.edu
Stevenson and students present research and win awards at professional psychology conference
UE psychology majors Tess Hupe, Jordan Buechler, Roopa Pandit, Emily Denne (alum), Taylor Petty (alum), Evan McCracken (alum), Sarah Malik (alum), and Colleen Bader (alum), and associate professor Margaret Stevenson recently attended a professional psychology conference, The American Psychology and Law Society (AP-LS, Division 41 of the American Psychological Association). There, they presented a total of six talks and two poster research presentations and won several research awards.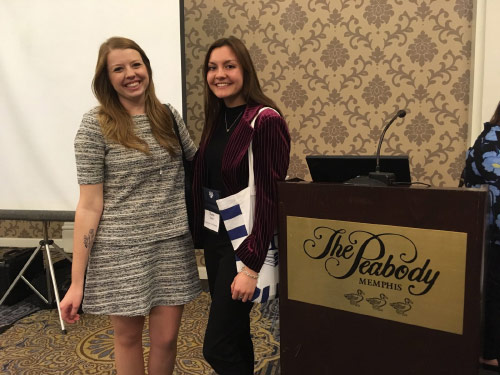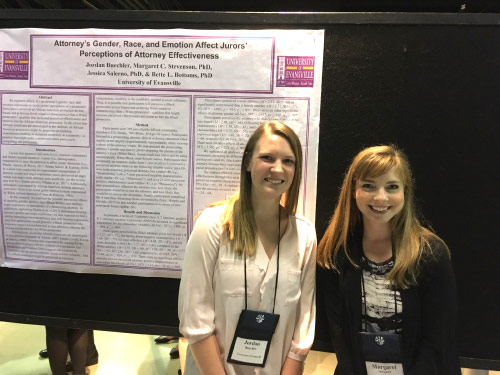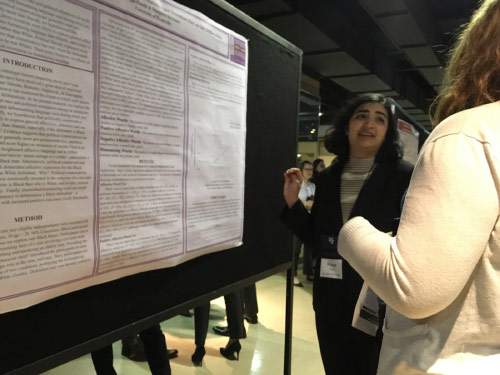 Research awards
Jordan Buechler's senior honors thesis research was presented and was awarded the "APLS Outstanding Student Presentation in Legal Research Award." The presentation was titled "Attorney's Gender, Race, and Emotion Affect Jurors' Perceptions of Attorney Effectiveness."
Tess Hupe's senior thesis research, titled "The Impact of Compassion Fatigue on Teacher's Intentions to Report Child Abuse" was presented and was also awarded the "APLS Outstanding Student Paper Award" and the "AP-LS Student Travel Award."
Research presentations
Margaret Stevenson co-chaired the symposium with Evan McCracken, entitled "Gender, Psychology, and Law," and presented a talk within the symposium titled "Juror Gender Differences in Expressed Emotion during Deliberation: Applying a Social Appraisal Framework," co-authored by Evan McCracken, Taylor Petty, and Jordan Buechler.
Evan McCracken also presented a talk within this symposium session, titled "Masculinity Harassment and Men's Objectification Perpetration: Masculinity as a Key Mechanism and Implications for Title IX."
Sarah Malik also had a presentation in this symposium titled "Perceptions of Transgender Sexual Assault Victims."
Emily Denne presented a talk, titled "Understanding Compassion Fatigue as a Predictor of Child Custody Case Judgments," co-authored by Taylor Petty and Margaret Stevenson.
Colleen Bader also presented a talk, titled "Gender Differences in Individuals' Anticipated Negative and Positive Reactions to Police Officers."
Roopa Pandit presented a poster, titled "Exploring Interactive Effects of Political Orientation and Defendant Race on Jury Deliberations," co-authored by Margaret Stevenson.
Finally, Kristen Fowler will be presenting a research presentation at the Association for Psychological Science (APS) Conference in San Francisco this May.
These research projects were funded by multiple UE undergraduate research grants, and grants through the American Psychology and Law Society. Travel for the students was funded in part by UE's Academic Fund Board.
Richardson to present ethics paper at CogSci conference
UE student Aaron Richardson has been accepted to present his research on robot ethics at the Midwest Undergraduate Conference on Cognitive Science at Indiana University on April 7. His research, "Parenthood Ethics as a Metaphor for the Ethics of Robotic Personhood," appropriately integrates his interests as a triple major in philosophy, cognitive science, and ethics and social change. In his presentation, he will argue that our moral obligations toward artificial persons should be analogous to the moral obligations parents have towards their children. Richardson's research is being conducted as a philosophy internship under the supervision of Anthony Beavers, professor of philosophy and director of the Cognitive Science Modeling Lab.
Evansville Baseball Schedule Change
With their mid-week match-ups lost to Mother Nature's early spring freeze, and day-long deluge forecasted for Saturday, the University of Evansville baseball team has moved up its doubleheader with Oakland City to Friday afternoon, with Game One's first pitch set for 3 p.m. and Game Two to follow.
The Purple Aces will start senior right hander Jimmy Ward on the hill in the first game of the twinbill, then send left hander Alex Weigand to face the Mighty Oaks in the nightcap.
Evansville Head Coach Wes Carroll's squad comes into tomorrow's doubleheader at 5-11, while Oakland City's bench boss T-Ray Fletcher's Mighty Oaks are 6-13. The Aces hold the all-time series edge, having won 25 of the 27 times the two teams have met
Contribute to AceNotes
To have content considered for inclusion in AceNotes, please submit a Marketing Request Form. Deadline for submission to AceNotes is 10:00 a.m. on the requested date of publication. Only articles concerning UE related/sponsored activities will be accepted. Articles submitted to AceNotes may be edited for length and clarity. Submitter contact information is at the end of each article.