| | |
| --- | --- |
| AceNotes Today | Monday, March 19, 2018 |
Staff and Administrator Information Session for 2018-19 Changes
We have scheduled an informational session TODAY - Monday, March 19 - at 2:00 p.m. in Eykamp Hall, Room 251, Ridgway University Center, to provide information on changes to our health insurance plan for 2018-19, prior to open enrollment meetings, which are scheduled for the last week of March. In addition, updates regarding salary increases and other fringe benefits for 2018-19 will be discussed. Donna Teague, vice president of fiscal affairs and administration, will be presenting the information in this session.
This meeting is for UE staff and administrators only.
For more information, please contact Emily Wilderman, UE Staff and Administrator Assembly president, at ew159@evansville.edu.
Mother Courage and Her Children in UE's May Studio Theatre
The University of Evansville Department of Theatre opens Bertolt Brecht's Mother Courage and Her Children, adapted by Tony Kushner, Monday, March 19, at 7:30 p.m., in the May Studio Theatre. The show continues with performances at 7:30 p.m. on March 20-24, as well as at 2:00 p.m. on Sunday, March 25.
Through the ruins of war, the indomitable Mother Courage carries her family and her wagon full of goods, incessantly struggling to compromise the roles of both mother and businesswoman. Brilliant frustration, black comedy, and tragic loss ensue. Widely considered to be Brecht's best work, Mother Courage and her Children tells the story of a woman fighting for life in a world dependent on death.
UE student Jake Sellers serves as director of the production. The cast includes UE students Davis Cowart; Ethan A. Davenport, Trevor Guyton, Liam Johnson, Hannah Mattingly, Fiona Peterson-Quinn, Jack Russel, Hannah Stevens, Claire Tumey, Blake Ware, and Braden Wilkerson. The creative team includes UE students Cassy Spaduzzi, scenic design; Becca Updyke, costume design; Baxter Pitt, projection design; Sidney McCarty, sound design; Renée Voteau, dramaturg; and Melia Schnefke, stage manager. Lighting design is by UE assistant professor of theatre Stephen Boulmetis.
Tickets are $11 for adults and $9 for senior adults, students, and UE faculty and staff. UE students may pick up their free student rush ticket beginning at noon on the day of the performance they wish to attend. Seating is limited and patrons are encouraged to make reservations by calling 812-488-2031, Monday through Friday, noon-5:00 p.m.
UE Ethics Lecture to discuss "Islam and Challenge of E Pluribus Unum"
The University of Evansville's ninth annual William R. Connolly Ethics Lecture is Monday, March 19. The event, which is free and open to the public, will start at 7:00 p.m. in Smythe Lecture Hall (Room 170), Schroeder School of Business Building. William Rory Dickson, assistant professor of Islamic religion and culture at the University of Winnipeg, is the guest lecturer. His topic will be "Islam and the Challenge of E Pluribus Unum."
The Latin phrase E Pluribus Unum, or "Out of many, One," was the de facto American motto from 1782 until 1956. Rooted in ancient Greek philosophy, the motto is based upon the Pythagorean ideal of friendship, wherein the love of the other unifies the friends as one. The motto's profound social meaning is the possibility of a genuine unity forged across the borders of identity. Many observers argue that drawing together peoples of diverse religious, cultural, racial, economic, and ideological identities into a common solidarity remains the great challenge of America. This talk is premised on the question: what might Islam have to contribute to this perpetual and timely challenge? How might Islam's rich intellectual tradition provide us with conceptual tools to navigate the contemporary social issue of making one out of many?
Dickson completed a joint-PhD in religious studies at Wilfrid Laurier University and the University of Waterloo, with a specialization in Islamic Studies. As a SSHRC Doctoral Fellow, he attended the University of Toronto and the University of Copenhagen's Graduate Research School in Damascus, Syria. His research focuses on contemporary Islam in general, and Islamic mysticism (Sufism) in particular. His first book, Living Sufism in North America: Between Tradition and Transformation, explores the ways in which Sufi leaders in North America negotiate Sufisms to Islam, authority, and gender. Dickson is currently preparing a manuscript with Meena Sharify-Funk for an innovative introductory text on Sufism, while continuing a number of research projects on contemporary Islam. He has traveled throughout the Middle East, including Syria, Egypt, and Morocco.
This lecture series is sponsored by UE's ethics program, Department of Philosophy and Religion.
For more information, contact Lisa Kretz, director of the ethics program at UE, at lk102@evansville.edu.
This Week in Music: Scholars for Syria, Jazz Society, and Student Recitals
Scholars for Syria Presents Mariela Shaker, violin
Thursday, March 22, 7:00 p.m., Wheeler Concert Hall
The University of Evansville Department of Music, Scholars for Syria, and Friends of UE Music invite you to join them in an evening of music and humanity! Guest artist and Syrian violinist Mariela Shaker performs a recital with UE faculty pianist professor Garnet Ungar.
Mariela Shaker is from Aleppo, Syria, and she started playing the violin at the age of 10. She left Syria at age 22 in 2013 after receiving a scholarship to study music performance at Monmouth College in Illinois, and was later awarded a full scholarship for her master's in music performance at DePaul University.
In June 2015, Mariela performed at the Kennedy Center and was named a Champion of Change for World Refugees by President Obama. Recent engagements also include the International Rescue Committee to perform for Queen Rania of Jordan in 2016.
Mariela will receive the Anne Frank Award and perform at their gala in New York City in June 2018. She has also been performing and speaking with UNHCR worldwide as a high-profile supporter.
This talented artist uses music to build bridges, promote peace, and raise awareness for the plight of the Syrian people, using her music and her voice to support her fellow refugees in need. Her performance at UE will be followed by a presentation on advocacy for refugees. We sincerely hope you can join us for this exciting and enlightening evening of music and humanity!
The program is free and open to the public.
Evansville Jazz Society International Jazz Summit
Sunday, March 25, 4:00pm, Wheeler Concert Hall
On Sunday, March 25, legendary American jazz performer, pianist Phil DeGreg, will present his Jazz Quartet on the Jazz Guest Artist Concert Series. For this concert, Phil and the group will be joined by one of England's most outstanding jazz musicians, saxophonist Alan Barnes. The concert will take place in Wheeler Concert Hall at 4:00 p.m.
A former member of the Woody Herman Orchestra, Phil DeGreg has long been regarded as one of the most outstanding jazz pianists. A graduate of the University of North Texas and a long-time faculty member at the Cincinnati Conservatory of Music, Phil has collaborated with all the major jazz artists of recent decades. He is highly respected as a soloist, leader, and recording artist.
Alan Barnes is widely recognized as one of England's most influential jazz artists. He has led his groups in more than 30 recordings, and is in demand all over the European continent.
The concert is sponsored by the Evansville Jazz Society and the University of Evansville. Admission is $15 for adults, $10 for Evansville Jazz Society members, and $5 for students.
This promises to be one of the most exciting performances ever presented on this long-standing concert series.
Student Recitals
March 24, 2:30 p.m., Wheeler – Amanda Mackey (violin)
March 24, 4:00 p.m., Wheeler – Emily Magary (violin)
Submitted by James Sullivan js820@evansville.edu
I-House Uruguay
Please join us this evening at 7:00 p.m., upstairs in Ridgway University Center for an I-House presentation on Uruguay. Ignacio Benitez will be presenting. We hope to see you there!
Submitted by Alexis Whitacre aw339@evansville.edu
Lunch with the Aces returns in April
One of the most popular yearly events for the University of Evansville athletics department returns in 2018 as Lunch with the Aces will be held on Friday, April 13 at Meeks Family Fieldhouse on the UE campus.
Highlighting the day is keynote speaker Scott Shreffler. The 1993 graduate of UE was inducted into the Purple Aces Athletics Hall of Fame in 2004 and had has jersey retired in January of 2018.
The event goes from 11:00 a.m.-1:00 p.m. on the 13th. Early registration is $30 while seats will be $35 after April 9 and at the door. Corporate tables cost $350 and include eight seats plus two student-athletes seated at your table. There is also the option to provide lunch for a student-athlete for just $10.
Marx BBQ will once again cater the event with food being available for the duration. The program, which includes a video presentation and the keynote speaker, begins at 12:30 p.m. A student-athlete will be seated at each table.
A half post and silent auction will provide additional opportunities at the lunch.
You can register now at this link: www.uealumnionline.com/AcesLunch18. For more information, call 812-488-ACES.
Tomorrow at 2:00 p.m.: State of our Union: Insights from Political Science – An American Politics Panel Discussion
Through a collaboration with the Patricia H. Snyder Lecture Series and the Department of Law, Politics, and Society, UE presents a panel discussion tomorrow, March 20, in recognition of President Tom Kazee's career as both president and political scientist:
State of our Union: Insights from Political Science – An American Politics Panel Discussion
2:00 p.m., Eykamp Hall, Room 252, Ridgway University Center, University of Evansville
Dr. Robert Dion, Chair, Department of Law, Politics and Society, University of Evansville
Dr. Marvin Overby, Professor, American Politics, University of Missouri
Dr. Patrick Sellers, Professor, Political Science, Davidson College
Kazee will moderate the panel discussion and contribute his own personal insights as a political scientist. Professors Overby and Sellers are well-regarded scholars of American politics as well as former students of Kazee.
This is one session in a day-long series of events both on campus and in the community. Learn more about the full day of events online here.
After-the-auction sale today
The Office of Safety and Security will be having an after-the-auction sale for items that were not picked up, or were left over from the sale. The sale will be today - March 21 - from 9:30 a.m.-1:30 p.m., in Ridgway University Center lobby.
Submitted by Carol Blair cb336@evansville.edu
Nursing department presents program on "Sex on Campus"
UE nursing students will be presenting the "Sex on Campus" program on sexual health today - Tuesday, March 27 - from 5:00-6:00 p.m. in Eykamp Hall, Room 251, Ridgway University Center. This program, which is sponsored by the office of health education and wellness, will highlight an important issue on college campuses. The program focuses on education about STIs and HIV and the very real risk that this presents for students.
Submitted by Jennifer Hargus jh693@evansville.edu
TOMORROW: Snyder Lecture Series to Feature Senator Lugar and President Kazee
The University of Evansville will present a keynote conversation between former Indiana Senator Richard Lugar and UE President Thomas A. Kazee for the Spring 2018 Patricia H. Snyder Concert and Lecture Series TOMORROW, March 20, 2018 at 7:00 p.m.
The conversation, titled "State of our Union: Making Sense of Current Affairs," will be held in Eykamp Hall within Ridgway University Center on the UE campus and doors will open at 6:30 p.m.
This event is free and open to the public and guests will be seated on a first-come first-served basis. Reserve your seat online here.
This event is presented in partnership with the University of Evansville Department of Law, Politics, and Society as part of an all-day series of current events and political science events and discussions, in honor of the retirement of Dr. Thomas Kazee and his academic career as a political scientist.
The Patricia H. Snyder Concert and Lecture Series was made possible in 1997 through an endowment from the late Patricia H. Snyder, trustee and longtime friend of University, to bring speakers or performers of renown to Evansville at no cost to the public.
Find this event on Facebook for updates and reminders.
For event questions, please contact snyder@evansville.edu.
2018-19 Margery Florence Kahn Scholarship application available
Applications for the 2018-19 Margery Florence Kahn Scholarship are now available.
It was the desire of the donor, Margery Florence Kahn, that her scholarship be awarded to "dedicated and conscientious students who exhibit a true passion for their chosen fields of study, and who, in the opinion of the members of the University of Evansville faculty, are likely to bring the same enthusiasm into the performance of their jobs or the practice of the professions which they will pursue following graduation."
All University of Evansville full-time undergraduate students who will be juniors or seniors in 2018-19 may apply. An essay of about 300 words must accompany the application, along with two to five faculty recommendation letters.
Applications are available from the Office of Financial Aid (Olmsted Hall 116).
Completed applications and recommendation letters should be returned to the Office of Financial Aid by April 15.
You may also request application materials by e-mailing financialaid@evansville.edu.
Questions may be directed to the Office of Financial Aid via e-mail or by phone at 812-488-2364.
Submitted by Trisha Hawkes th187@evansville.edu
Robert Dion attends hearing on voting rights in Indiana
Robert Dion, department chair for Law, Politics, and Society, was in Indianapolis recently to attend a public meeting examining the status of voting rights in Indiana.
The meeting was convened by the Indiana State Advisory Committee to the U.S. Commission on Civil Rights, of which Dion is a member.
Over the course of a full day, the committee heard testimony from government officials, policy advocates, legal experts, and academics regarding the civil rights implications of the current electoral process in the Hoosier state. A complete report of their findings will be submitted later this year, along with policy recommendations.
Professor Dion was recently elected to another term as the chairperson of the Evansville-Vanderburgh County Human Relations Commission, which is the local agency that investigates and resolves claims of discrimination. He is the longest-serving chair of any local human rights commission in Indiana.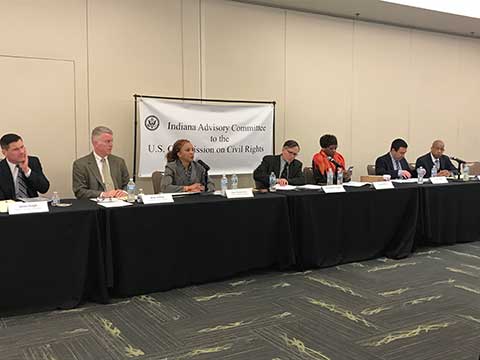 Faculty Regalia Rentals
Faculty who need regalia rented for May's graduation should contact the UE Bookstore as soon as possible. Rental orders will be sent to the rental agency soon.
Submitted by: Doug Gustwiller
EXSS Career Forum
The EXSS Club and Career Development are putting on the annual EXSS Career Forum Wednesday, March 21.
The forum will be from 6:00-8:00 p.m. in Room 170 (Smythe Lecture Hall), Schroeder Family School of Business Building.
There will be panelists from different organizations in our area who will come to share their experiences. This event will be a great opportunity for everyone who would like to make acquaintances with the local health care professionals.
Students are expected to RSVP as soon as possible here.
Attendees are asked to dress business-casual. All EXSS students are advised to attend.
Submitted by: Aimee Savoie
Attention students and Advisors: GAP has a new name!
Students registering for fall GAP classes should look for CHNG in the registration system or when talking with advisors. GAP is now ChangeLab. Courses available for fall can be found at www.evansville.edu/ChangeLab. Questions? Contact Erin Lewis at EL131
Hygiene items needed for area shelters
Senior Kate Hannon has recently been selected as a 2018 500 Festival Princess and is hoping to collect 500 hygiene items to donate to area shelters. She will be in Ridgway University Center from 2:00-4:00 p.m. on Friday, March 16, Monday, March 19, and Friday, March 23, at a table to provide information on the 500 Festival Princess Program. She will also have a bin to collect hygiene items. Please stop by if you have any questions or would like to make a donation or contact kh299@evansville.edu!
Submitted by Kathryn R Hannon kh299@evansville
Harlaxton stoles in bookstore
The UE Bookstore now stocks Harlaxton graduation stoles that you can purchase if so desired. They sell for $30. We suggest you purchase early for graduation as stock may be limited.
Submitted by Doug Gustwiller dg57@evansville.edu
University of Evansville Theatre announces auditions for child actors
The University of Evansville Theatre will hold auditions at 5:30 p.m., Tuesday, March 20, for child actors. The available role is for a small boy, aged 7 to 10 years, in the Theatre's upcoming production of The Grapes of Wrath, by Frank Galati, based on the novel by John Steinbeck, and directed by Professor John David Lutz.
Auditions will be held in Shanklin Theatre. The child actor should be available to begin evening rehearsals March 22 through performances ending April 22.
Questions should be directed to Sharla Cowden, managing director, at 812-488-2747 or by e-mail at theatre@evansville.edu.
Mid-term election voter registration in Ridgway this week!
The League of Women Voters will have a table in Ridgway University Center from 10:30 a.m.-1:30 p.m. on Monday-Thursday this week to help get students registered and informed for the upcoming mid-term elections.
Primaries are starting across the country, and we want to make sure our UE students, faculty, and staff are prepared!
Submitted by Jackie Luedtke jl295@evansville.edu
Call for Nominations: Dean of Students Leadership Awards
Nominations are now being accepted for consideration of The Howard S. Rosenblatt "Dean of Students Leadership Awards." These awards will be presented at the 25th Annual Leadership Awards Reception scheduled for April 19 at 7:00 p.m. Invitations will be prepared by the Center for Student Engagement.
Awards are presented in the following categories:
• Student Organization Advisor of the Year
• Student Organization of the Year
• Student Leader of the Year
Over 80 percent of UE students participate in at least one student organization or program. These organizations are successful because of the commitment of the student leaders and the advisors who give freely of their time and support. The recipients of these awards are selected based on their commitment to the University of Evansville as well as the development and success of their efforts within their chosen student organization.
The deadline for nominations is March 23.
Click on this link to submit your nomination.
If you have any questions, please contact the vice president for student affairs/dean of students office at 812-488-2500 or by e-mail via cb131@evansville.edu.
Thank you in advance for celebrating our student leaders' achievements!
Submitted by Carleen Barnes cb131@evansville.edu
Reserve a room in a different residence hall
The process for students to select a room in any residence hall for next year takes place Monday, March 19, 9:00-10:30 p.m. in Eykamp Hall, Ridgway University Center. If you are interested in reserving a room for next year in a residence hall different than the one you currently live in, go to Eykamp Hall at that day and time. The building staff will be ready to assist you.
Submitted by Brian Conner bc32@evansville.edu
Dr. Marvin E. Hartig Memorial Scholarship applications
Applications are now being accepted for this year's Dr. Marvin E. Hartig Memorial Scholarship. This scholarship is dedicated to the loving memory of Hartig, dean of Evansville College's Evening College in 1967, and administrator for the Center for Advanced Study, director of the Evansville chapter of the American Institute of Banking (AIB), and the international student advisor. In 1974, Hartig was appointed dean of academic services. He retired in 1984 after serving his alma mater for 35 years and passed away in 2007.
This scholarship is awarded each year to a deserving sophomore. Preference will be given to a student working while being enrolled as a full-time student.
International students are encouraged to apply.
Applicants must submit the following to be considered:
1. Completed application

2. In a one page, single spaced, 12 point Verdana font essay, please answer all of these questions:
•What have you learned about yourself as a UE student?
•What do you do for fun when not studying or working?
•Name a special attribute or accomplishment that sets you apart.
•You have done a lot in your short life. In what areas do you think you can improve?
•What are your scholastic and career goals?
•How did you finance your freshman year and how will you finance your sophomore year?
•Why are you a good candidate to receive this scholarship?
•What have you learned about Dr. Hartig, how does he influence or inspire you, and how will you preserve his legacy as recipient of this scholarship?
Please return all materials to the Office of Financial Aid by May 1. Decision will be announced by July 2.
If you have questions, contact Trisha Hawkes, administrative assistant to the Office of Financial Aid, at financialaid@evansville.edu or 812-488-2364.
Submitted by Trisha Hawkes th187@evansville.edu
UE offers British studies minor and British studies certificate
UE is excited to announce that a British Studies Minor and a British Studies Certificate will be offered beginning the fall of 2018.
The British studies minor requires 18 credit hours. The course (ID H282/H382/H382H – The British Experience from the Celts to the Present Day) is a required six credit hour course. The course will be listed as BRIT H282/H382/H382H in the fall. This course is taken at Harlaxton. The remaining 12 credit hours are from elective courses taken at Harlaxton or UE.
The British Studies Certificate requires 12 credit hours. The course (ID H282/H382/H382H – The British Experience from the Celts to the Present Day) is a required six credit hour course. The course will be listed as BRIT H282/H382/H382H in the fall. This course is taken at Harlaxton. The remaining six credit hours are from elective courses taken at Harlaxton or UE.
For questions concerning the minor or certificate, contact Edward Bujak at ebujak@harlaxton.ac.uk.
British studies minor and certificate currently approved courses:
Required BRIT H282/H382/H382H The British Experience from the Celts to the Present Day
Elective ARTH H378 British Romantic Art
Elective ARTH H379 Art & Architecture in Victorian Britain
Elective ARTH H383 Medieval Art
Elective ARTH H387 English Art & Architecture
Elective ARTH H388 English Art & Architecture
Elective EDUC H498 Field Experience in English Schools
Elective ENGL 231 Masterpieces of British Literature I
Elective ENGL 232 Masterpieces of British Literature II
Elective ENGL 233 Masterpieces of British Literature III
Elective ENGL 300 Early English Writers
Elective ENGL 350 Shakespeare
Elective ENGL 351 The British Novel
Elective ENGL 370 The Age of Enlightenment
Elective ENGL 375 The Romantic Movement
Elective ENGL 380 The Victorian Period
Elective ENGL 385 The Twentieth Century
Elective HIST 318 The First World War
Elective HIST 319 The Second World War
Elective HIST 381 Modern Britain
Elective HIST 383 Modern Scotland
Elective HIST 385 Ireland and the Irish Diaspora
Elective HIST H491 Independent Study - Medieval History
Elective ID 235 Sacred Architecture and its Liturgy
Elective ID H280 Cultural Capitals
Elective ID H290 Britain and Europe
Elective PSCI H385 Modern British Politics
Elective REL 250 John Wesley and … Methodists
Submitted by Paula Heldt ph28@evansville.edu
Paul Bone publishes poem
Creative writing professor Paul Bone recently published a poem, "And the Elder Shall Serve the Younger," in the winter issue of The Hopkins Review. You can read the poem here.
Catie Taylor Recognized by IACAC President for Contributions to 2018 Conference
Catie Taylor, associate director of admission, serves as the program chair for the Indiana Association for College Admission Counseling. Among her many contributions to the organization, Catie most recently created the schedule for the entire IACAC Congress event held in February. She planned sessions and scheduled panelists and speakers for this gathering of higher education leadership from across the state of Indiana.
"It's wonderful to have prominent leadership from the UE campus in such an influential position on the IACAC board," said Kenton Hargis, director of Admission. "Catie's hard work within the organization is a direct reflection of the outstanding work ethic she brings with her on a daily basis to our team and to this institution."
Catie was specially recognized by the IACAC president, Christopher Gage, in the March edition of his President's Corner newsletter. "I also need to take this opportunity to once again thank all the volunteers who worked to ensure the membership had a great professional development experience," he said. "As soon as we closed the annual conference, Catie was fast at work preparing for Conference 2019."
Great work, Catie!
UE's Greek-Speaking Dog performs at conference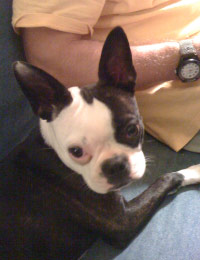 In an academic first, the University of Evansville's own "Greek-Speaking Dog," well-known for her visits to Professor James Ware's ancient Greek classes, has performed at a scholarly conference. In a private gathering of scholars attending the Central States meeting of the Society of Biblical Literature, the linguistically precocious pet demonstrated her knowledge of ancient Greek language, history, and science. In her most well-received exhibition, she revealed her knowledge of the ancient Greek mathematician Archimedes' famous formula when, at the mention of "pi r squared," she promptly executed a rapid and complete circle. In return for her performance, the Greek-Speaking Dog received general applause, a biscuit, and an invitation to next year's conference.
Thanks to the Campus Community for making Nerd Wars a success!
Thank you for making our Honors Program Nerd Wars event a success! Attendees and spectators enjoyed fun and food sponsored by funds from the Student Government Association.
Prizes were awarded to the winning student team, We Have The High Ground, and the winning faculty/administrator/staff team, Army Ants.
The Nerd Wars trophy grand prize went to Army Ants, the team with the most total points. The $650 generated from the event will be used for Honors Program community service initiatives.
Submitted by Aditi Sood as783@evansville.edu
Aces earn duals victories at Stan Lyons Invitational
With a pair of strong performances in the pole vault, Ian Alberts and Kevin Yeung helped lead the University of Evansville men's track and field team to four dual victories while the Aces' women's track and field teams grabbed four dual victories as well at the Stan Lyons Invitational on Saturday in Indianapolis.
Evansville's men captured dual victories over Dayton, Indiana, Northern Kentucky, and Wright State, while the Purple Aces' women earned dual wins over Dayton, Loyola Chicago, IUPUI, and Indiana.
Evansville showcased its best performance of the day in the men's pole vault competition. Ian Alberts earned the victory in the competition with a height of 3.55 meters, while Kevin Yeung followed his teammate with a second-place finish with a height of 3.10 meters. The individual event victory is the Aces first in men's or women's track and field during the indoor and outdoor seasons since 1985.
In the Aces' first meet of the outdoor season, Evansville set five program records with four coming on the women's side and the men setting one record.
The invitational opened with the javelin and shot put competitions. Participating for the first time in the javelin in program history, the Aces' men and women each set program records.
The Aces' men had five competitors in the javelin with Everett Plocek setting a UE record with a throw of 34.02 meters, earning a fourth-place finish. Also participating in the javelin for Evansville's men were Ryan Freeman (33.09 m) in fifth, Clay Doty (32.82 m) in sixth, Chris Zapata (21.83 m) in seventh, and Alton Hoops (20.49 m) in eighth.
On the women's side, the program record was set by Brittany Corley with a throw of 17.23 meters, finishing in ninth. Also competing for the Aces' women was Tess Hupe who finished just behind Corley in 10th with a throw of 14.09 meters.
In the women's shot put, Corley set her second program record of the day with a throw of 8.68 meters, earning an eighth-place finish. On the men's side, Freeman led the way for the Aces, finishing in second with a throw of 12.47 meters. Also competing in the shot put for the Aces' men were Zapata (10.82 m) in fifth and Doty (10.11 m) in sixth.
Records continued to be set in the women's long jump as Kylie Hasenour set an Evansville record with a distance of 3.40 meters, earning her a fifth-place finish.
On the men's side, Stanley Chepchieng paced Evansville with a sixth-place finish with a jump of 5.82 meters, while Kevin Yeung finished in seventh with a distance of 5.56 meters.
Field events continued with the women's triple jump as Lizzy Walston set a program record with a distance of 9.89 meters, grabbing a second-place finish.
The 4x100 meter relays opened action on the track for the day. In the women's 4x100 meter relay, Evansville finished fourth among the five-team field as the Aces team of Lizzy Walston, JBess Ruby, Kylie Hasenour, and Nikki Hutchcraft completed the relay in a time of 54.28. The Aces' men earned a second-place finish in the relay as the team of Ian Alberts, Kevin Yeung, Aaron Straight, and Everett Plocek crossed the line in a time of 48.50.
In the women's 1500 meters, Anna Lowry led the way for the Aces, finishing in 32nd with a time of 5:10.88, while fellow Ace Lauren Meyer crossed the line in 43rd with a time of 5:21.99. On the men's side, Tucker Dawson paced Evansville with a 27th-place finish in a time of 4:34.87, while Timmy Miller (4:39.04) and Grant Mangan (5:03.27) finished in 29th and 32nd, respectively.
The record-setting day continued in the women's 100-meter hurdles as Samantha Bittner set the Evansville program record with a time of 17.45, earning a ninth-place finish.
In the men's and women's 400 meters, Tess Hupe and Everett Plocek led the way for Evansville. Hupe paced the Aces' women with a ninth-place finish in a time of 1:04.30, while Kylie Hasenour earned a 13th-place finish with a time of 1:08.34. On the men's side, Plocek was the lone Evansville finisher as he finished in a time of 55.02 in sixth place.
Evansville continued to see success in the men's and women's 100 meter dash. In the women's sprint, Nikki Hutchcraft was the highest finishing Ace, crossing the line in ninth in 13.32 seconds as Monica Watkins (13.82) finished just a half second behind Hutchcraft in 10th and Holli Buretta (16.02) and Taylor Williams (16.97) finished in 20th and 21st, respectively. For the Aces' men, Aaron Straight was the lone Evansville competitor in the event finishing in ninth with a time of 12.22 seconds.
Sienna Crews led the way for Evansville in the women's 800 meters with a seventh-place finish in a time of 2:22.81, just over four seconds off the leader. Also in the women's field for the Aces were Sarah Poltrack (2:37.98) in 20th. For the Aces' men, Stanley Chepchieng captured a top 10 place finish with a time of 2:02.16 while Ethan Price finished just over two second behind Chepchieng in 12th-place with a time of 2:04.31. Rounding out the Aces' runners in the 800 was Jonathan Newby who crossed the line in 24th in a time of 2:22.78.
In the women's 200-meter dash, Watkins paced the Aces with an 18th-place finish in a time of 28.40, while JBess Ruby came home in 23rd, crossing the line in 30.41 seconds. On the men's side, Straight (24.90) led Evansville with a 12th place finish, followed by Yeung (27.20) in 13th.
The lone Ace competing in the women's 3000 meters, Izzy Dawson earned a 35th-place finish in a time of 12.09.91 while Kalen Ochs (10:00.69) and Dawson Hood (10:07.16) ran in the men's 3000 meters for Evansville, finishing in 16th and 17th, respectively.
In the women's 4x400 meter relay, the Aces' team of Lowry, Crews, Walston, and Hupe led Evansville to a ninth-place finish in a time of 4:25.33. For the Aces' men, Chepchieng, Ethan Price, Plocek, and Alberts finished sixth in a time of 3:47.17.
Evansville is next in action on March 23 and 24 at Southern Illinois in Carbondale, Illinois.
Gould notches two hits in series finale
Freshman Eryn Gould posted a pair of hits as the University of Evansville softball team dropped the series finale to Drake by a final of 3-0 at Cooper Stadium on Sunday morning.
Gould finished with two of the Purple Aces (7-18, 0-3 MVC) four hits on the day. Lindsay Renneisen and Elyse Hickey notched the other two. Morgan Florey struck out ten batters in the circle for UE. Drake (19-9, 3-0 MVC) saw Nicole Newman give up two hits in three innings in the win while Nicole Timmons got the save. Kelsey Wright notched two RBI in the game.
Morgan Florey set the tone early, striking out the side in the top of the first while throwing a perfect three innings. Over that span, the only two hits of the game belonged to UE freshman Eryn Gould.
That changed in the fourth when Mandi Roemmich recorded the first hit for the Bulldogs on a bunt single. She would score on a Macy Johnson hit to give them the lead. Drake continued to put runners on base, loading the diamond with no outs. Florey battled back, getting a pop out and a fielder's choice that saw a runner thrown out at home. She got the final out of the frame on another fly ball to limit the damage to one run.
Evansville struggled to get runners on base against Bulldog starter Nicole Newman, but took advantage when Drake made a pitching change in the bottom of the fourth. Freshmen Lindsay Renneisen and Elyse Hickey each singled to left to open the inning. Entering in relief, pitcher Nicole Timmons got the next three batters out to keep UE off the board.
In the top of the sixth, Kelsey Wright delivered a 2-RBI double that gave the Bulldogs some breathing room as they clinched the 3-0 win.
Valley play continues next weekend when Northern Iowa makes its way to Cooper Stadium for a 3-game set against the Aces.
UE Baseball: Evansville 3, Iowa 4
Determined to avoid back to back sweeps, the University of Evansville baseball took the fight to their Hawkeye State hosts, playing even or ahead of them for much of the game. However, a late inning Iowa rally sent the Purple Aces home 4-3 losers Sunday afternoon, at Duane Banks Field in Iowa City.
The Aces came out swinging in the opening frame. as a lead-off walk by Troy Beilsmith was cashed in on an RBI double to the gap in left-center from red-hot freshman third baseman Tanner Craig, which gave Evansville its first lead in more than a week.
Meanwhile, sophomore relief pitcher Adam Lukas, making his first-ever start, made only one mistake, which Iowa's Kyle Crowl made him pay for with a game-tying solo home run over the left field wall in the second inning. However, from there, Lukas gave head coach Wes Carroll everything he wanted to see from the young hurler.
The game remained a 1-1 ball game until the top of the sixth, when Evansville junior outfielder Nate Reeder delivered a a clutch two-out RBI single to left, which scored senior first baseman Dalton Horstmeier with the go-ahead run, making it 2-1 UE.
With the lead in hand, the Aces brought usual starter Alex Weigand out of the bullpen to start the sixth frame. The junior left hander pitched a perfect inning, then came out for the seventh. Weigand would run into trouble there, putting the game-tying run in scoring position. Weigand would give way to senior set-up man Ryan Brady, who had been on rest for more than a week. Hawkeye freshman pinch hitter Zach Pettigrew greeted him with comebacker up the middle, which plated the equalizer, though heads up defense by UE caught Pettigrew trying to take second, ending the inning.
Knotted at 2 in the eighth, the Hawkeyes would put two aboard on Brady with no outs. Brady would give way to Dalton Horstmeier, who mover over from first base to the pitcher's mound. Tyler Cropley and Kyle Crowley would each tag Horstmeier for RBI singles, taking the lead for the first time in the game, 4-2.
The Aces staged a rally in the final frame, which began with a lead-off triple by Nate Reeder. Sophomore shortstop Craig Shepherd would cash him in on a ground out to shortstop, drawing UE within one. Troy Beilsmith would proceed to get hit by a pitch, then Kenton Crews singled to put the tying run in scoring position. However, Tanner Craig struck out, then Andrew Tanous flew out to right to end the game, as the Aces fell to 5-11 on the season. Iowa improves to 11-6.
The Aces are back in action Tuesday night at home against the University of Tennessee-Martin. First pitch from Braun Stadium is at 6:00 pm.
Contribute to AceNotes
To have content considered for inclusion in AceNotes, please submit a Marketing Request Form. Deadline for submission to AceNotes is 10:00 a.m. on the requested date of publication. Only articles concerning UE related/sponsored activities will be accepted. Articles submitted to AceNotes may be edited for length and clarity. Submitter contact information is at the end of each article.