| | |
| --- | --- |
| AceNotes Today | Monday, March 5, 2018 |
Emergency Tone Testing
The University will be testing a new emergency tone alert system on Wednesday, March 7 beginning at 10:00 a.m. The tone will be distinctively different so there will be no confusion with the fire alarm system (which has a loud, ear piercing, consistent beat). It will also not be at full volume so as not to disrupt the daily operation of the campus.
Heads up - UE Gives Back Spring is coming!
UE Gives Back Spring, a campus wide day of volunteering, will take place on Saturday, March 24. If you want to give back to the Evansville community, you can sign up for a volunteer activity on Get Connected. The deadline to sign up is March 20, and a free T-shirt is provided!
Any questions can be directed to Jackie Luedtke at jl295@evansville.edu or 812-488-1115.
Submitted by Jackie Luedtke jl295@evansville.edu
Immigration Panel Discussion: Thursday in Neu Chapel
The Neu Chapel is excited to partner with the BRIDGE group (Building Respect and Integrity in Diverse Greater Evansville) in hosting an interfaith panel discussion on immigration in the United States. The panel will consist of Royal Gearhart, a US immigration attorney, local business owner Abraham Brown, and UE's own Rachel Brown from the Department of Philosophy and Religion and Mohammad Azarian from the Department of Mathematics.
This event will focus on the current immigration system, the "push and pull" that drives immigration, and what we as a community and persons of faith can do to take action on behalf of our global neighbors.
This Interfaith Immigration Panel Discussion will be this Thursday at 7:00 p.m. in Neu Chapel. All are welcome and invited to attend!
Submitted by Keith Turner kt160@evansville.edu
Four week study on sexuality and the church begins March 7
The Indiana Conference of The United Methodist Church is sponsoring intentional discussions throughout the state of Indiana centered around sexuality and the art of listening to better understand differing perspectives. These guided discussions will use the book, "Is It Time? Helping Laity and Clergy Discuss Homosexuality One Question at a Time," by Adolf Hansen, theologian-in-residence at St. Luke's UMC in Indianapolis. The book offers case studies and questions that explore human sexuality as participants engage in open dialogue in an atmosphere of mutual respect. The conversations are set to address the importance of compassion and empathy as we engage in conversation about human sexuality and the Church.
University chaplain Tammy Gieselman and conference superintendent Mitch Gieselman will be co-hosting the discussion series on campus beginning Wednesday, March 7 from noon-1:30 p.m., in Eykamp Hall, Rooms 251 and 252, Ridgway University Center. The campus community is invited to attend. We hope it will be a time of rich dialogue for everyone. Students who participate will be given a copy of the Hansen book at no charge. Complimentary food and beverages will also be available during the discussion time. The series is scheduled for four consecutive Wednesdays: March 7, 14, 21, and 28.
For more information, e-mail tg85@evansville.edu.
Submitted by Tammy Gieselman tg85@evansville.edu
TIAA individual counseling sessions for March
The TIAA-CREF representative will be on the UE campus for individual counseling sessions on March 20 and 23. To schedule an appointment, call TIAA-CREF at 1-800-732-8353.
Please note that the meeting location has been changed to Room 153 (Eades Music Room) in the Schroeder School of Business Building.
Submitted by Lori LeDuc ll138@evansville.edu
UE hosting day-long political science mini-conference - March 20
A partnership between the University of Evansville's Patricia H. Snyder Concert and Lecture Series and UE's Department of Law, Politics, and Society will bring to the community a series of stimulating conversations about the contemporary political scene and the challenges it presents. Scheduled events highlighted below will culminate in an evening conversation with Former Indiana Senator Richard Lugar and President Thomas A. Kazee. The day-long series of events are in recognition of Kazee's career as both president and political scientist.
The following events are free and open to the public on Tuesday, March 20:
State of our Union: Insights from Political Science – An American Politics Panel Discussion
2:00 p.m., Eykamp Hall, Room 252, Ridgway University Center, University of Evansville
• Dr. Robert Dion, Chair, Department of Law, Politics and Society, University of Evansville
• Dr. Marvin Overby, Professor, American Politics, University of Missouri
• Dr. Patrick Sellers, Professor, Political Science, Davidson College
Kazee will moderate the panel discussion and contribute his own personal insights as a political scientist. Professors Overby and Sellers are well-regarded scholars of American politics as well as former students of Kazee.

State of our Union: Making Sense of Current Affairs
7:00 p.m., Eykamp Hall, Ridgway University Center, University of Evansville
A keynote conversation between Senator Lugar and President Kazee for the Spring 2018 Patricia H. Snyder Concert and Lecture Series. Seats may be reserved online.
While on campus, Senator Lugar will also engage UE students in an invitation-only session titled, "State of our Union: Leaders of Tomorrow – A Student Conversation with Senator Lugar."
Other events include a conversation between President Kazee and University of Southern Indiana President Linda Bennett at the Rotary Club of Evansville's noon luncheon. The focus will be "The Changing Landscape in Higher Education." Evansville Mayor Lloyd Winnecke will moderate the conversation. Information on obtaining seats can be found online at www.evansvillerotary.com.
The Patricia H. Snyder Concert and Lecture Series was made possible in 1997 through an endowment from the late Patricia H. Snyder, trustee and longtime friend of University, to bring speakers or performers of renown to Evansville at no cost to the public.
For event questions, please contact snyder@evansville.edu.
March 20 Snyder Lecture Series to feature Senator Lugar and President Kazee
The University of Evansville will present a keynote conversation between former Indiana Senator Richard Lugar and UE President Thomas A. Kazee for the Spring 2018 Patricia H. Snyder Concert and Lecture Series on March 20 at 7:00 p.m.
The conversation, titled "State of our Union: Making Sense of Current Affairs," will be held in Eykamp Hall within Ridgway University Center on the UE campus and doors will open at 6:30 p.m.
This event is free and open to the public and guests will be seated on a first-come first-served basis. Reserve your seat online here.
This event is presented in partnership with the University of Evansville Department of Law, Politics, and Society as part of an all-day series of current events and political science events and discussions, in honor of the retirement of Dr. Thomas Kazee and his academic career as a political scientist.
The Patricia H. Snyder Concert and Lecture Series was made possible in 1997 through an endowment from the late Patricia H. Snyder, trustee and longtime friend of University, to bring speakers or performers of renown to Evansville at no cost to the public.
Find this event on Facebook for updates and reminders.
For event questions, please contact snyder@evansville.edu.
New UE Habitat Barn Blitz Build Days added
There are two new component building days for UE Habitat Barn Blitz. On Friday, March 9 and Saturday, March 10 from 10:00 a.m.-4:00 p.m., students, faculty, staff, and alumni are welcome to come and help build components for the backyard barns. Building will be taking place at 531 Rotherwood Avenue (next to the Center for Adult Education).
You can sign up for a shift on the UE Habitat Component Build Days - Spring Break page or come out whenever you can. If you have any questions, please contact Holly Carter at hc110@evansville.edu.
Submitted by Greta Becker gb91@evansville.edu
Library hours during spring break
Library hours during spring break are as follows:
Friday, March 2 -- 7:45 a.m. – 5:00 p.m.
Saturday-Sunday, March 3-4 -- CLOSED
Monday-Friday, March 5-9 -- 8:00 a.m. – 5:00 p.m.
Saturday, March 10 -- CLOSED
Sunday, March 11 -- 3:00 p.m. – 12:00 a.m.
After-hours resume on March 11. Please contact Meg Atwater-Singer at ma35@evansville.edu or ext. 2487) with questions.
Submitted by Meg Atwater-Singer ma35@evansville.edu
Tax Form 1095-C now available
Employee's that consented to receive Form 1095-C electronically may now log onto self-service through Webadvisor and access your 2017 form. If you consented electronically, the form will not be mailed to you.
For those that did not consent to receive the form electronically, the document has been sent for mail processing and delivery to your home address.
Submitted by Samantha Scott sf127@evansville.edu
UE surplus property
Good news! Does your department needs something that doesn't have to be brand new like a piece of furniture or equipment? Check out the new surplus (property disposal) website on AceLink Areas at acelink.evansville.edu/Areas/PropertyDisposal/ and let your need be known.
Once on the website, click on the "Wish List Email Request for Surplus Property" link to complete the request, copy and paste it into an e-mail to centralreceiving@evansville.edu. Surplus requests will be matched to surplus property as it becomes available on a first come, first served basis.
Be sure to check out the new website for additional information.
Submitted by Kim Winsett kw83@evansville.edu
Malfatti publishes Handel article
Associate professor of music and director of choral activities Dennis Malfatti's article on Handel's Saul is the featured cover article for the April 2018 edition of the Choral Journal. The Choral Journal goes to all members of the American Choral Directors Association, which has about 22,000 members.
Amy Esche named the March 2018 Employee of the Month!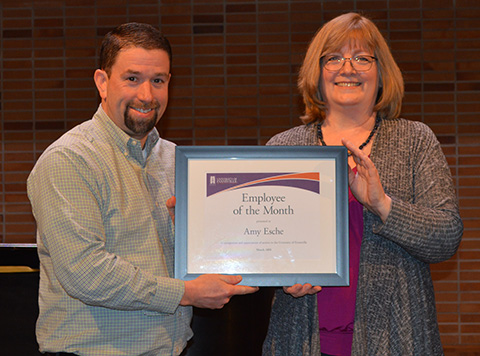 Amy Esche, senior administrative assistant in the music department, has been named the March 2018 Employee of the Month. Amy handles scheduling, fields phone calls from the community, organizes complex bookkeeping, assists faculty and students with varying needs, ensures concert programs are printed properly, and many other countless duties. She is a strong asset to the music department with her courteous, cheerful personality. Amy is known for stepping out of her job description to accomplish whatever task is presented to her in order to provide helpful, creative solutions to students and faculty. What the music department truly appreciates about Amy is how she makes herself available to the needs of her co-workers despite what task she may be working on at the time. Amy is a team-player not only for the music department, but for the whole University.
Baseball wins 6-3 Sunday afternoon
The University of Evansville baseball team worked the brooms on Western Illinois, completing the three game sweep of the Leathernecks, winning 6-3 Sunday afternoon at Braun Stadium.
"I thought we really played good baseball all weekend", said University of Evansville head coach Wes Carroll. "It started on the mound for us. Our arms did an outstanding job for us."
The Purple Aces (4-5) got the jump on Western Illinois in the opening frame, as senior catcher Andrew Tanous hit a hot shot at third base, allowing sophomore infielder Troy Beilsmith to tally the icebreaker. That would be the only run Evansville would score in the first four innings.
However, that appeared to be enough for sophomore starting pitcher David Ellis, who continued Evansville's weekend-long shutout streak over the Leathernecks in the early innings, pushing it 22 frames overall.
The game remained a 1-0 affair until the fifth, when Grant Hannant led off the inning with a single to center, advanced to second on an Ellis balk, then stole third. That would end Ellis' day, as he gave way to freshman relief pitcher Jace Burke. Freshman pinch hitter Caleb Jacobs lifted a sac-fly to center, bringing in Hannant for Western Illinois' first run of the weekend, tying the game at 1. Ellis would be charged with the run. For the day, the sophomore would go four innings, giving up just two hits while walking one and striking out one.
Evansville made sure the deadlock wouldn't last long, as senior outfielder Dalton Horstmeier launched a two run double down the left field line, scoring freshman infielder Tanner Craig, giving the Aces back the lead. Junior infielder Sam Troyer followed that up with a bunt single, tallying Horstmeier for the insurance run, making it 3-1 Evansville.
Western Illinois would battle back, scoring a run in both the sixth and seventh innings, knotting the game at 3. Evansville senior set-up man Ryan Brady would relieve Jimmy Ward in the top of the seventh, putting out the fire, keeping the game tied.
However, the Aces would erupt for three runs with two outs in the eighth inning, beginning Tanous, knocking in his second RBI of the day, singling in Beilsmith, giving Evansville back the lead.
"From an offensive standpoint, we had some quality trips to the plate", said Carroll. "To be able to get Andrew Tanous up in a clutch situation right there, with two strikes and two out situation, to be able to take the lead was a big turning point in the game."
Then, freshman infielder Pete Vaccaro came off the bench to stroke a two run pinch hit single to center, pushing Evansville's lead to 6-3.
"Pete Vacarro coming up in a pinch hit situation", said Carroll. "He's a guy I knew was going to give us a scrappy at-bat, a rally clutch two-run knock."
Brady would come back out and close out the win, earning his first victory of the season. Western Illinois reliever Alex Dorethy would pick up the loss for the Leathernecks.
Up next for the Purple Aces is a non-conference showdown with Bowling Green State Wednesday at 3:00 p.m. at Braun Stadium.
Softball claims Hilltopper Spring Fling Championship
Junior Morgan Florey started with a 3-run home run in the bottom of the first inning and finished the job on the mount to pace the University of Evansville softball team to the Hilltopper Spring Fling Championship with a 5-2 win over Austin Peay on Sunday.
Florey's homer was her first of the season while she picked up her third win in the circle. She went the distance, giving up two runs on five hits while striking out 11 batters.
"I am really excited about the way we played this weekend," head coach Mat Mundell said following the win. "Things are starting to come together for this team. We had tremendous pitching and played great defense all weekend."
Just a day after hitting a solo shot in each game, McKenzie Johnson picked up two hits for the Purple Aces (6-12) while Allison Daggett, Mea Adams, and Florey had the other hits.
It was a perfect first inning on both sides for Florey, who sat Austin Peay down in order in the top of the frame before giving UE the lead in the bottom. Brittany Hay walked to lead the innings off before Daggett reached on a bunt single. Eryn Gould had a productive at-bat, sacrificing the runners to second and third.
That brought Florey to the plate and she delivered with a bomb to left center to give the Aces a 3-0 lead. Johnson also added a single in the inning.
Evansville kept the pedal to the metal in the second, adding its fourth run as Mea Adams scored on an attempted sac by Brittany Hay. Hay reached on an error by the pitcher, which allowed Adams to score. Adams added an RBI of her own in the third when her double to left scored Johnson.
APSU threatened in the top half of the third, putting two runners on with nobody out, but Florey was able to pitch out of the jam. The Governors finally got on the board with a pair of runs in the fifth. After getting two quick outs, Florey gave up two scores, but avoided any further damage. She allowed just one baserunner in the final two innings to give the Aces the win and cap off a 4-1 weekend.
The Racer Classic, hosted by Murray State, is next up for the Purple Aces. It runs from Friday through Sunday and pits the Aces against UIC, Kent State, Murray State, and two games versus Oakland.
Gasper records 12th-straight double-figure outing in road loss
In its regular season finale, the University of Evansville women's basketball team was clipped by Southern Illinois, 66-41, on Saturday afternoon in Carbondale, Illinois.
"It's kind of been our luck for things like that to happen, whether its injuries or foul trouble, with the limited bench we have it puts us in a tough spot," said Aces head coach Matt Ruffing. "This is a group that unfortunately we can't get over the hump in those situations and we continue to put ourselves in those spots. I just told them we have one more guaranteed chance to put it together, to put together the effort, the communication, and the togetherness that we need to come out with a victory. Hopefully we can learn from this and hopefully we saved some shots for next Thursday and we have a better performance."
For the 11th time in the last 12 games, junior guard Kerri Gasper paced the Purple Aces in scoring with 13 points, adding seven rebounds and an assist. Graduate guard Hannah Noe and sophomore guard Macie Lively each finished with nine points, as Noe chipped-in three rebounds and an assist while Lively contributed a pair of boards. Nicole Martin led the way for the Salukis with 15 points and seven rebounds, while Abby Brockmeyer and Brittney Patrick added 10 points apiece with Brockmeyer recording a double-double with 10 rebounds.

In the first quarter, Southern Illinois jumped out to a 5-0 lead, forcing an Evansville timeout just 2:50 into the contest. Out of the timeout, the Salukis built their advantage to seven at 11-4, but the Aces responded with a 6-0 run to cut SIU's lead to just one inside the final three minutes of the quarter. SIU closed the half with a pair of layups as the Salukis held a 15-10 lead after the first period.
The Salukis controlled much of the early portion of the second quarter as SIU went on a 10-3 run over the opening 4:32 of the frame to give the Salukis a 25-13 advantage. Layups by Gasper and sophomore guard Macie Lively pushed Evansville back within single digits at 25-17 less than a minute later. After the Aces closed back within eight, SIU held Evansville to just two points over the final 4:49, while the Salukis scored seven of their own to take a 32-19 advantage into the halftime break.
Evansville and SIU found their offensive rhythm in the third period as both sides combined for 20 points in the first 5:29 of the quarter with the Salukis leading 44-27. SIU continued its efficient shooting in the second portion of the third period as the Salukis grabbed a 52-29 lead following the third quarter. In the period, SIU shot 9-15 from the field, while the Aces shot 20% (2-10).
The fourth quarter featured one final push from the Aces as Evansville went on an 8-4 to open the period and cut the Salukis' lead to 19 at 56-37 with 6:25 left to play. SIU responded with a 6-0 run to push its lead back above 20 on three-straight layups. Over the final 4:01, the Salukis built their lead to 27 before freshman guard Kayla Casteel scored her second basket of the game on layup to conclude the scoring as SIU earned the 66-41 win.
Southern Illinois narrowly won the rebounding battle over the Aces, 39-32, but Evansville committed 18 turnovers to three for the Salukis.
The Aces return to action on Thursday in the 2018 Missouri Valley Conference Tournament in Moline, Illinois, as the No. 10 seed and will face the No. 7 seed in a 7:00 p.m. matchup.
Contribute to AceNotes
To have content considered for inclusion in AceNotes, please submit a Marketing Request Form. Deadline for submission to AceNotes is 10:00 a.m. on the requested date of publication. Only articles concerning UE related/sponsored activities will be accepted. Articles submitted to AceNotes may be edited for length and clarity. Submitter contact information is at the end of each article.