| | |
| --- | --- |
| AceNotes Today | Tuesday, February 27, 2018 |
Indiana Virtual Academy ISTEP Testing Scheduled for TOMORROW in Eykamp
The Indiana Virtual Academy has scheduled an ISTEP test on campus in Eykamp 253 for Wednesday, February 28. Check-in is at 9:00 a.m. and testing will begin at 9:30 a.m.
Families attending the testing were not notified of a specific testing location on campus, and the correspondence to them from the Indiana Virtual Academy listed today's date instead of tomorrow's.
If you get questions from families, please help inform them of the correct information.
Please contact Emily Wilderman, interim special events coordinator, at ew159@evansville.edu with any further questions.
Kazees honored with Sagamore of the Wabash Awards and Indiana Senate Concurrent Session Resolution
On February 26, University of Evansville President Thomas A. Kazee and his wife, Sharon Kazee, PhD, were recognized for their years of service as UE's 23rd President and First Lady. The Kazees were each presented with individual Sagamore of the Wabash Awards from Indiana Governor Eric Holcomb and were recognized with an Indiana Senate Concurrent Session Resolution.
According to the State of Indiana's website, "the Sagamore of the Wabash Award is the highest honor which the Governor of Indiana bestows. It is a personal tribute usually given to those who have rendered a distinguished service to the state or to the governor. Among those who have received Sagamores have been astronauts, presidents, ambassadors, artists, musicians, politicians, and ordinary citizens who have contributed greatly to our Hoosier heritage."
Senator Vaneta Becker presented the Sagamore of the Wabash Awards to the Kazees on behalf of Governor Holcomb during a special reception.
Earlier in the day, the Kazees were honored with an Indiana Senate Concurrent Session Resolution. Following a long list of major accomplishments, the resolution concluded that the "Indiana General Assembly honors Dr. Thomas Kazee and Dr. Sharon Kazee upon their retirements as President and First Lady of the University of Evansville and thanks them for their years of service and dedication to the University of Evansville, the Southwest Indiana Community, and the State."
Senator Becker presented the resolution during the Senate session and invited the Kazees and other UE representatives to join her at the podium. In the House, Representative Ryan Hatfield, Representative Wendy McNamara, and Representative Carey Hamilton commented on the Kazees' tenure and the outstanding programs offered at UE. President Kazee also said a few words during the House Session.
This Week in Music: University Choir/Opera
University Choir, conducted by Dennis Malfatti, and UE Opera, under the direction of Alanna Keenan, will offer a combined concert tonight at 7:30 p.m. in Neu Chapel. The program will feature several arias and choruses from well-known operas by Donizetti, Verdi, Bizet, Purcell, Mozart, Strauss, Lehar, and Bernstein. Several students will be featured as soloists, including Griffin Devoy, Darwi Sandleben, Bailee Bostic, Clay Steenbergen, Madeline Cox, Blair Bledsoe, Kathryn Lee, Tyger Lilley, Adam Smith, Isaac Cooper, Rebecca Laskey, and Ivy Benson. They will be joined by collaborative pianist Kristin Jones. The concert is free and open to the public.
For complete program information, visit the music department concert calendar.
Submitted by James Sullivan js820@evansville.edu
Informal Spanish conversation
Spanish students of all levels are welcome to practice with Fulbright Spanish TA Ignacio Benítez. The next session will be Thursday, March 22 at 1:00 p.m. in Room 400, Olmsted Administration Hall. It's a wonderful opportunity to interact informally in Spanish with a native speaker and to meet other students of Spanish. Please contact Ignacio at cl192@evansville.edu if you have any questions. ¡Nos vemos!
Submitted by Ignacio Benitez cl192@evansville.edu
Presentation on depression and anxiety planned for today
Join us today - Tuesday, February 27 - from 6:00-7:00 p.m. in Eykamp 252, Ridgway University Center, for a viewing of "Athletes and Mental Health: The Hidden Opponent," a TED talk by Victoria Garrick, a USC senior volleyball player. Victoria's talk will open up the conversation of ways depression and anxiety often affect body image.
In a discussion following the video presentation, we will explore ways to take control of the symptoms of depression and anxiety rather than letting them control us.
Submitted by Liz McCormick em232@evansville.edu
UE hosting day-long political science mini-conference - March 20
A partnership between the University of Evansville's Patricia H. Snyder Concert and Lecture Series and UE's Department of Law, Politics, and Society will bring to the community a series of stimulating conversations about the contemporary political scene and the challenges it presents. Scheduled events highlighted below will culminate in an evening conversation with Former Indiana Senator Richard Lugar and President Thomas A. Kazee. The day-long series of events are in recognition of Kazee's career as both president and political scientist.
The following events are free and open to the public on Tuesday, March 20:
State of our Union: Insights from Political Science – An American Politics Panel Discussion
2:00 p.m., Eykamp Hall, Room 252, Ridgway University Center, University of Evansville
• Dr. Robert Dion, Chair, Department of Law, Politics and Society, University of Evansville
• Dr. Marvin Overby, Professor, American Politics, University of Missouri
• Dr. Patrick Sellers, Professor, Political Science, Davidson College
Kazee will moderate the panel discussion and contribute his own personal insights as a political scientist. Professors Overby and Sellers are well-regarded scholars of American politics as well as former students of Kazee.

State of our Union: Making Sense of Current Affairs
7:00 p.m., Eykamp Hall, Ridgway University Center, University of Evansville
A keynote conversation between Senator Lugar and President Kazee for the Spring 2018 Patricia H. Snyder Concert and Lecture Series. Seats may be reserved online.
While on campus, Senator Lugar will also engage UE students in an invitation-only session titled, "State of our Union: Leaders of Tomorrow – A Student Conversation with Senator Lugar."
Other events include a conversation between President Kazee and University of Southern Indiana President Linda Bennett at the Rotary Club of Evansville's noon luncheon. The focus will be "The Changing Landscape in Higher Education." Evansville Mayor Lloyd Winnecke will moderate the conversation. Information on obtaining seats can be found online at www.evansvillerotary.com.
The Patricia H. Snyder Concert and Lecture Series was made possible in 1997 through an endowment from the late Patricia H. Snyder, trustee and longtime friend of University, to bring speakers or performers of renown to Evansville at no cost to the public.
For event questions, please contact snyder@evansville.edu.
Counseling services sexual assault survivor art installation
Counseling services, with the support of Albion Fellows Bacon Center, is displaying the "What Were You Wearing?" sexual assault survivor art installation. The display features 10 outfits along with brief stories of the sexual assault. The main goal of the exhibit is to promote awareness about sexual violence and to combat victim-blaming by debunking the myth that a survivor could have prevented their assault had they worn something different.
The display can be seen today -Tuesday, March 13 - outside of counseling services on the second floor of Ridgway University Center. Staff from counseling services as well as Albion will be on hand for support and resources from 10:00 a.m.-2:00 p.m. and the display will be available for viewing all day.
Submitted by Jennifer Hargus jh693@evansville.edu
Evansville to host Gold Medal Squared Volleyball Clinic
One of the top volleyball coaches clinics will make its way to the University of Evansville as the Gold Medal Squared clinic will be held at Meeks Family Fieldhouse from July 20-22.
UE is the first Missouri Valley Conference school to host the clinic and just the second school from Indiana to do so, joining Notre Dame.
Their staff brings 12 NCAA Championships and 6 Olympic medals to the table: an incredibly unique opportunity coming to town for any sport. Beyond volleyball, this is a once-in-in-a-lifetime opportunity for any coach wanting to continue to grow as an educator. This opportunity is tailored for coaches at all levels from youth and elementary to college levels.
This clinic is open to all participants regardless of how much coaching or playing experience you have. UE is one of just 10 universities in the United States to host one of these clinics this year. Among the things the clinic concentrates on will be motor learning, reps, drills and giving feedback.
"This is a great chance to showcase our university, and create awareness towards our program, athletic department, and facilities in general," UE head volleyball coach Manolo Concepcion said. "I want to thank our athletic director Mark Spencer and associate athletic director Sarah Solinsky for their total support in this project."
Among the staff that will be on hand will be Chris McGown (Named the MPSF and AVCA Coach of the Year for BYU), Tom Black (USA National Team coach and University of Georgia Head Coach), Joe Trinsey (Technical Coordinator (Statistician) of the USA National Team), and more.
Conversation about Gun Violence: Tonight at 7:00 p.m.
The campus community is invited to attend a conversation on gun violence in America tonight - Thursday, March 1 - at 7:00 p.m. in Neu Chapel. With this topic being first and foremost in national headlines, our special guest for this event is Gerald Summers, retired law enforcement with EPD and former director of safety and security with EVSC. All are welcome! Refreshments will be served.
Submitted by Keith Turner kt160@evansville.edu
Info sessions for student-run marketing group startup
UE students interested in learning about a student-run marketing group are invited to attend either of two info sessions today, Wednesday, February 28.
4:00-5:00 p.m. in Room 173, Schroeder School of Business Building
6:00-7:00 p.m. in Room 272, Schroeder School of Business Building
Submitted by Cindy Kelley ck116@evansville.edu
Scholars for Syria's 2018 Spring Speaker Series
The topic of the Scholars for Syria's 2018 Spring Speaker Series lecture today - Thursday, April 5 - will be "Immigration and Syria: Foundations and Consequences of the American Ethnic Hierarchy." The lecture begins at 6:00 p.m. in Room 162 in the Schroeder School of Business Building. The event is free and open to the public. The speaker will be UE assistant professor of sociology Rob Shelby.
Shelby will present the idea that Syrian refugees, like many minority groups before, encounter prejudice and discrimination as widespread negative perceptions persist in American social consciousness. Shelby earned his PhD from the University of Louisville in applied sociology, his graduate degrees in sociology from Western Illinois University and communications from Trinity International University. He earned his undergraduate degree in youth ministry and biblical studies from Trinity International University.
The audience will be invited to engage in conversation with Shelby and UE Syrian students in attendance at the lecture.
For more information on the speaker series, contact 812-488-2218.
Eykamp String Quartet performs for "Coffee and Classics" series at Wired
The "Coffee and Classics" Series at Wired continues tonight - Thursday, March 1 - with the Eykamp String Quartet presenting "Quartet Deconstructed." Eykamp Quartet violinists Robert Anemone and Nica Malaimare, violist Emily Brandenburg, and cellist Kirsten Jermé will partner in all possible combinations of duos with each other before closing the program as a full quartet for a performance of Schubert's Quartettsatz. Duos will span an array of eras and styles, including works by Beethoven, Penderecki, Gershwin, Bartók, Handel-Halvorsen, and Kodály.
"Coffee and Classics" is a monthly series at the Wired Venue on select Thursday evenings featuring live classical chamber music in an intimate setting.
Doors to the coffee house will open at 6:00 p.m., and the program will begin at 7:00 p.m. There is no admission charge, but donations are appreciated.
WIRED is located at 111 NW 4th Street in downtown Evansville on 4th between Vine and Sycamore near the Old Courthouse.
Submitted by Kirsten Jerme kj106@evansville.edu
May graduates take note!
This is a reminder to all May graduates that Commencement Central is Wednesday, February 28 from 4:00-6:00 p.m. and Thursday, March 1 from 11:00 a.m.-1:00 p.m., upstairs in Ridgway University Center on the north side. Graduates should attend either of the sessions. During the event you will confirm your graduation status will the registrar's office, meet with the alumni and career planning offices, and purchase your cap and gown. You can also order graduation announcements. Jostens will also be there offering a sale on class rings if so interested. This is a must do event for May graduates.
Submitted by Doug Gustwiller dg57@evansville.edu
Federal loan repayment counseling session for students graduating or transferring
Students who have used federal direct (sub/unsub) loans and plan to graduate in the spring or summer (or transfer after the spring semester) are required to attend a Loan Repayment Counseling Session.
The Office of Financial Aid will hold the first session of the semester on Wednesday, February 28 at 6:00 p.m. in Eykamp Hall, Room 252, Ridgway University Center.
Additional sessions will be held on April 26 at 2:00 p.m. and on May 4 at 11:30 a.m.
Submitted by Amy Sowders as560@evansville.edu
UE alumna and her baby help UE physician assistant students learn new skills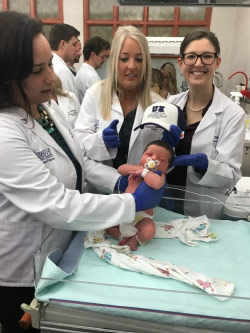 There was a serendipitous meeting of people from the University of Evansville community at Deaconess Women's Hospital last week.
UE alumna Becky Schmidt was in the hospital following the birth of her son, Mason, when Dr. Ron Pyle came to give Mason his newborn exam. He asked if it would be all right to have a group of physician assistant students observe and participate in the examination and take photos for a presentation. She agreed and then discovered the students were from UE. Two of their UE professors were in attendance also.
When everyone realized the UE connection, Mason posed with a University of Evansville hat to commemorate the occasion.
Mason was born Monday, February 19. His grandfather is Tom Ambrose, groundskeeper at the University.
The UE students who participated in the newborn examination were: Amber Anslinger, Joshua Baker, Shelby Clark, Elizabeth Daake, Samantha Dillman, Toni Finegan, Kelsey Hipp, Jamie Logel, Marcus Maier, Melanie Martin, Erin McTague, Matthew Mengel, Hailey Riggs, Sara Skluzacek, Katelyn Tuley, Haley Vos, Sarah Wagner, Peter Wilson, and Cathy Zhang. The professors in attendance were Gina Niemeier, UE director of clinical education, and Jenelle Evernham, UE assistant professor.
2018-19 Margery Florence Kahn Scholarship application now available
Applications for the 2018-19 Margery Florence Kahn Scholarship are now available.
It was the desire of the donor, Margery Florence Kahn, that her scholarship be awarded to "dedicated and conscientious students who exhibit a true passion for their chosen fields of study, and who, in the opinion of the members of the University of Evansville faculty, are likely to bring the same enthusiasm into the performance of their jobs or the practice of the professions which they will pursue following graduation."
All University of Evansville full-time undergraduate students who will be juniors or seniors in 2018-19 may apply. An essay of about 300 words must accompany the application, along with two to five faculty recommendation letters.
Applications are available from the Office of Financial Aid (Olmsted Hall 116). Completed applications and recommendation letters should be returned to the Office of Financial Aid by April 15.
You may also request application materials by e-mailing financialaid@evansville.edu.
Questions may be directed to the Office of Financial Aid via e-mail or by phone at 812-488-2364.
Submitted by Trisha Hawkes th187@evansville.edu
Yazdanparast has paper accepted for publication
Atefeh Yazdanparast, assistant professor of marketing and Mead Johnson Endowed Chair in Business, has had a paper accepted for publication in the Journal of Macromarketing. The paper is titled "Advertising and Pseudo-Culture: An Analysis of the Changing Portrayal of Women in Print Advertising." It follows a content analysis and a semiotic analysis of print advertisements over a period of 48 years and investigates the use of mass media, specifically advertising, in cultural transformation projects to weaken cultures and replace them with a crafted pseudo-culture. Drawing on the theory of pseudo-culture, the research develops a conceptual framework underlying pseudo-culture formation themes and identifies major tools/processes through which pseudo-cultures may be formed, promoted, and/or abolished.
Logan Tsuji wins festival award
Logan Tsuji, junior trumpet performance major, won an Outstanding Soloist Award at the 51st Annual Elmhurst College Jazz Festival on Saturday, February 24. Logan Tsuji's solo work on Duke Ellington's Concerto for Cootie won accolades from the judges at the festival. UE Jazz Ensemble I attended the long running festival and performed several works by noted jazz composers and arrangers.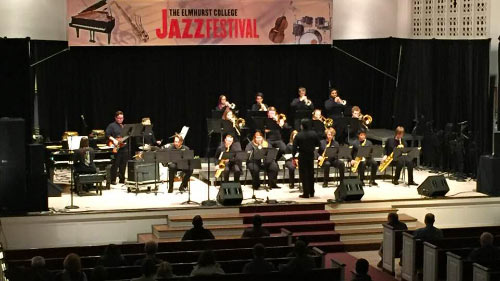 Ryan Taylor earns second MVC Player of the Week nod
For the second time this season, University of Evansville junior Ryan Taylor has been named the Missouri Valley Conference Player of the Week by the league office on Monday.
The unbelievable season continued for Taylor as he averaged 27.5 points per game over the last week for UE. Taylor dropped 30 points on Wednesday at Indiana State, hitting 11 shots while tying his career mark with eight rebounds.
He backed that up with 25 points on 10-of-18 shooting and a 5-of-10 effort from long range in a 75-44 win over Southern Illinois. Taylor averaged 36 minutes per game over the course of the week along with 6.5 rebounds.
Taylor and his squad are preparing for the Arch Madness opener on Thursday against UNI.
Baer publishes "New Jersey Noir"
William Baer, creative writing professor emeritus, has published his first mystery novel, New Jersey Noir. Published by Able Muse Press and available on Amazon, Baer's twenty-second book has been described in reviews as "taut," "complex," "fast moving as a bullet," and "gut-wrenching."
Engineers Week Banquet and awards
The College of Engineering and Computer Science held its annual Engineers Week Banquet on February 21.
Ryan Witters, LEED AP BD+C, of LitCon Group in Washington, DC was the keynote speaker. Witters received a BS in civil engineering at UE in 2011. He spoke to the engineering faculty, staff, students, and special guests about his journey as an engineer leading to his current role as a construction litigation consultant.
Several engineering majors were announced as new inductees in the Tau Delta Kappa engineering honor society by Jared Fulcher, assistant professor of mechanical engineering. Other engineering students were recognized by the college and the Office of Development.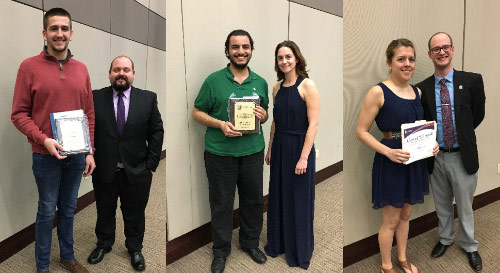 Eric Dodson, a junior mechanical engineering major, received the James M. Hall, Jr. Memorial Award. This award is presented annually to a student of the junior engineering class who is considered by the faculty to be the most outstanding based on scholastic achievement, extra-curricular activities, character, responsibility, attitude, and potential for professional growth. The award is made possible through a generous donation made by Mr. Hall and his wife, Madeline.
Naser Alangery, a senior computer engineering major, received the Paul "PR" Brown Spirit Award. This award is presented annually to an engineering major who has been nominated by the faculty and has completed at least four semesters in good academic standing, who is an encouragement and help to his/her fellow students, and who demonstrates leadership in fostering cooperation and camaraderie among the engineering students.
Alexis Sorrell, a senior civil engineering major, received the Class of 1927 Golden Anniversary Award. This award was established in 1977 by alumni from the Class of 1927. It is presented annually to a student from each college to recognize graduating seniors who display "outstanding academic achievement and exemplary conduct and attitude."
The Engineers Week Banquet was hosted by the UE student chapter of the American Society of Mechanical Engineers and sponsored in part by the CECS Dean's Advisory Council and the local chapter of the Institute of Electrical and Electronics Engineers.
Contribute to AceNotes
To have content considered for inclusion in AceNotes, please submit a Marketing Request Form. Deadline for submission to AceNotes is 10:00 a.m. on the requested date of publication. Only articles concerning UE related/sponsored activities will be accepted. Articles submitted to AceNotes may be edited for length and clarity. Submitter contact information is at the end of each article.