| | |
| --- | --- |
| AceNotes Today | Monday, February 26, 2018 |
Psychology research presentations
Psychology Club will be hosting an event today - February 26 - at 6:00 p.m. in Room 170 in the Schroeder School of Business Building. Professor Stevenson, Tess Hupe, Roopa Pandit, and Jordan Buechler will be presenting their research that has been accepted to be presented at a national psychology and the law conference. There will be two research talks and two research posters presented.
Submitted by Jordan Buechler jb615@evanville.edu
Conversation about Gun Violence: Tonight at 7:00 p.m.
The campus community is invited to attend a conversation on gun violence in America tonight - Thursday, March 1 - at 7:00 p.m. in Neu Chapel. With this topic being first and foremost in national headlines, our special guest for this event is Gerald Summers, retired law enforcement with EPD and former director of safety and security with EVSC. All are welcome! Refreshments will be served.
Submitted by Keith Turner kt160@evansville.edu
Info sessions for student-run marketing group startup
UE students interested in learning about a student-run marketing group are invited to attend either of two info sessions today, Wednesday, February 28.
4:00-5:00 p.m. in Room 173, Schroeder School of Business Building
6:00-7:00 p.m. in Room 272, Schroeder School of Business Building
Submitted by Cindy Kelley ck116@evansville.edu
This Week in Music: University Choir/Opera
University Choir, conducted by Dennis Malfatti, and UE Opera, under the direction of Alanna Keenan, will offer a combined concert tonight at 7:30 p.m. in Neu Chapel. The program will feature several arias and choruses from well-known operas by Donizetti, Verdi, Bizet, Purcell, Mozart, Strauss, Lehar, and Bernstein. Several students will be featured as soloists, including Griffin Devoy, Darwi Sandleben, Bailee Bostic, Clay Steenbergen, Madeline Cox, Blair Bledsoe, Kathryn Lee, Tyger Lilley, Adam Smith, Isaac Cooper, Rebecca Laskey, and Ivy Benson. They will be joined by collaborative pianist Kristin Jones. The concert is free and open to the public.
For complete program information, visit the music department concert calendar.
Submitted by James Sullivan js820@evansville.edu
Informal Spanish conversation
Spanish students of all levels are welcome to practice with Fulbright Spanish TA Ignacio Benítez. The next session will be Thursday, March 22 at 1:00 p.m. in Room 400, Olmsted Administration Hall. It's a wonderful opportunity to interact informally in Spanish with a native speaker and to meet other students of Spanish. Please contact Ignacio at cl192@evansville.edu if you have any questions. ¡Nos vemos!
Submitted by Ignacio Benitez cl192@evansville.edu
Scholars for Syria's 2018 Spring Speaker Series
The topic of the Scholars for Syria's 2018 Spring Speaker Series lecture today - Thursday, April 5 - will be "Immigration and Syria: Foundations and Consequences of the American Ethnic Hierarchy." The lecture begins at 6:00 p.m. in Room 162 in the Schroeder School of Business Building. The event is free and open to the public. The speaker will be UE assistant professor of sociology Rob Shelby.
Shelby will present the idea that Syrian refugees, like many minority groups before, encounter prejudice and discrimination as widespread negative perceptions persist in American social consciousness. Shelby earned his PhD from the University of Louisville in applied sociology, his graduate degrees in sociology from Western Illinois University and communications from Trinity International University. He earned his undergraduate degree in youth ministry and biblical studies from Trinity International University.
The audience will be invited to engage in conversation with Shelby and UE Syrian students in attendance at the lecture.
For more information on the speaker series, contact 812-488-2218.
Presentation on depression and anxiety planned for today
Join us today - Tuesday, February 27 - from 6:00-7:00 p.m. in Eykamp 252, Ridgway University Center, for a viewing of "Athletes and Mental Health: The Hidden Opponent," a TED talk by Victoria Garrick, a USC senior volleyball player. Victoria's talk will open up the conversation of ways depression and anxiety often affect body image.
In a discussion following the video presentation, we will explore ways to take control of the symptoms of depression and anxiety rather than letting them control us.
Submitted by Liz McCormick em232@evansville.edu
UE swim lessons
The UE Swim and Dive team will be hosting its fifth session of swim lessons. The dates are from Monday, April 2 through Thursday, April 26.
An extra 30 minute time slot has been added to allow more pool space due to growing numbers. The times will be from 4:00-5:30 p.m., Monday-Thursday.
For more information, check out the Aquatic Aces Swim and Dive Lessons Facebook page or e-mail Emma Forbes-Milne at ef112@evansville.edu.
Submitted by Emma Forbes-Milne ef112@evansville.edu
May graduates take note!
This is a reminder to all May graduates that Commencement Central is Wednesday, February 28 from 4:00-6:00 p.m. and Thursday, March 1 from 11:00 a.m.-1:00 p.m., upstairs in Ridgway University Center on the north side. Graduates should attend either of the sessions. During the event you will confirm your graduation status will the registrar's office, meet with the alumni and career planning offices, and purchase your cap and gown. You can also order graduation announcements. Jostens will also be there offering a sale on class rings if so interested. This is a must do event for May graduates.
Submitted by Doug Gustwiller dg57@evansville.edu
Federal loan repayment counseling session for students graduating or transferring
Students who have used federal direct (sub/unsub) loans and plan to graduate in the spring or summer (or transfer after the spring semester) are required to attend a Loan Repayment Counseling Session.
The Office of Financial Aid will hold the first session of the semester on Wednesday, February 28 at 6:00 p.m. in Eykamp Hall, Room 252, Ridgway University Center.
Additional sessions will be held on April 26 at 2:00 p.m. and on May 4 at 11:30 a.m.
Submitted by Amy Sowders as560@evansville.edu
Department Of Art wishes Tracy Maurer well in retirement
Tracy Maurer, director of student publications, will be retiring after nearly 23 years at the University. Her last day on campus will be March 1. Tracy has impacted many students academically and personally during her time with the Crescent newspaper/magazine and Linc yearbook. These publications, with Tracy's direction, have gone on to win many national awards. She will be immensely missed. The Department of Art faculty celebrated her retirement with lunch. The department wishes all the years ahead bring her great joy and relaxation! Thank you Tracy for your years of service and dedication to the UE community!
Submitted by Brooksie Smith bs267@evansville.edu
Village Housing request cards available
Students wishing to live in a Village housing unit should pick up and submit their Village housing request cards this week. Cards are available Monday-Friday in the Office of Residence Life from 8:00 a.m.-5:00 p.m. Remember, Village housing request cards are due by 5:00 p.m. on Friday, March 2.
Submitted by Brian Conner bc32@evansville.edu
Call for papers for Andiron Lecture Series 2018-19
UE faculty and administrators as well as members of the Evansville community are invited to submit an abstract for papers on any aspect of their research or expertise for the 2018-19 Andiron Lectures in the Liberal Arts and Sciences. All disciplines and fields of study are welcome to submit proposals.
Please send the following by e-mail:
A 50-word abstract with name, academic affiliation/ occupation, paper title, and contact information to Annette Parks at ap3@evansville.edu (with a Cc to Cheryl Emmons at ce36@evansville.edu). Emmons will forward these to the Andiron Lecture Committee for consideration.
Nominations for off-campus speakers can be sent by e-mail to Parks at ap3@evansville.edu with a Cc to Emmons at ce36@evansville.edu; Emmons will forward them to the Andiron Lecture committee for consideration.
Baer publishes "New Jersey Noir"
William Baer, creative writing professor emeritus, has published his first mystery novel, New Jersey Noir. Published by Able Muse Press and available on Amazon, Baer's twenty-second book has been described in reviews as "taut," "complex," "fast moving as a bullet," and "gut-wrenching."
Engineers Week Banquet and awards
The College of Engineering and Computer Science held its annual Engineers Week Banquet on February 21.
Ryan Witters, LEED AP BD+C, of LitCon Group in Washington, DC was the keynote speaker. Witters received a BS in civil engineering at UE in 2011. He spoke to the engineering faculty, staff, students, and special guests about his journey as an engineer leading to his current role as a construction litigation consultant.
Several engineering majors were announced as new inductees in the Tau Delta Kappa engineering honor society by Jared Fulcher, assistant professor of mechanical engineering. Other engineering students were recognized by the college and the Office of Development.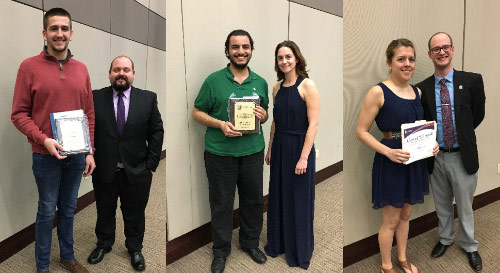 Eric Dodson, a junior mechanical engineering major, received the James M. Hall, Jr. Memorial Award. This award is presented annually to a student of the junior engineering class who is considered by the faculty to be the most outstanding based on scholastic achievement, extra-curricular activities, character, responsibility, attitude, and potential for professional growth. The award is made possible through a generous donation made by Mr. Hall and his wife, Madeline.
Naser Alangery, a senior computer engineering major, received the Paul "PR" Brown Spirit Award. This award is presented annually to an engineering major who has been nominated by the faculty and has completed at least four semesters in good academic standing, who is an encouragement and help to his/her fellow students, and who demonstrates leadership in fostering cooperation and camaraderie among the engineering students.
Alexis Sorrell, a senior civil engineering major, received the Class of 1927 Golden Anniversary Award. This award was established in 1977 by alumni from the Class of 1927. It is presented annually to a student from each college to recognize graduating seniors who display "outstanding academic achievement and exemplary conduct and attitude."
The Engineers Week Banquet was hosted by the UE student chapter of the American Society of Mechanical Engineers and sponsored in part by the CECS Dean's Advisory Council and the local chapter of the Institute of Electrical and Electronics Engineers.
Softball drops weekend finale in extra innings
Another hard-fought contest saw the University of Evansville softball team fight to the finish, however, Chattanooga was able to grind out a 6-5 win over the Purple Aces in eight innings on Sunday at the Frost Classic.
Evansville (2-11) and Chattanooga battled for the duration of the contest, but the winning run scored for the Mocs in the eighth. Brittany Hay picked up two of the Aces four hits on the day while Bailee Bostic hit a home run in the contest. Hayleigh Weissenbach and Emma Sturdivant notched three hits apiece for the Mocs.
Evansville grabbed a 3-0 lead in the top of the first. Elyse Hickey reached on a walk and would later score the first run of the game on a passed ball. Lindsay Renneisen reached base on a fielder's choice before Eryn Gould was walked. Both would score on a Chattanooga error.
The Mocs got the three runs right back in the bottom half of the first with two scoring on an Amanda Beltran single and the final coming across the plate on a hit batter with the bases loaded.
Bailee Bostic broke the tie in the third with a 2-out home run to left to put the Aces back in front, but the bottom of the fourth saw UTC tie it right back up. The back-and-forth action continued in the sixth when Brittany Hay gave UE a 5-4 lead on a single before Chattanooga hit a leadoff home run in the bottom of the frame to knot the score once again.
In the bottom of the ninth, Kacie Lynch singled home Weissenbach for the game-winner.
UE will be closer to home next weekend, playing in the Hilltopper Spring Fling in Bowling Green, Ky.
Men's basketball to open Arch Madness against UNI
With the regular season complete, the University of Evansville men's basketball team has its sights set on Arch Madness where the Purple Aces will open up play against UNI on Thursday in St. Louis.
Evansville clinched the #8 seed in the tournament with a 17-14 overall mark and 7-11 record in the MVC. The Aces are pitted against 9th seed UNI, who went 15-15 overall and had an identical league record of 7-11. The teams will meet at 6 p.m. on Thursday inside the Scottrade Center.
The teams split the regular season series with the Aces grabbing a 57-49 win at the Ford Center on January 31 before the Panthers defended their home court, earning a 47-41 win at the McLeod Center on February 13.
This season will mark the fourth time the teams have met at Arch Madness with UNI taking the first three games. The last meeting came two years ago in the conference championship game with the Panthers taking a 56-54 win on a last-second shot.
Thursday's game will be carried on the MVC Network. The winner of Thursday's game advances to face regular season champion Loyola at noon on Friday.
Track and Field concludes indoor season on second day of MVC Championships
The University of Evansville men's and women's track and field teams wrapped-up their indoor seasons on Sunday afternoon in the second and final day of the 2018 Missouri Valley Conference Championships in Cedar Falls, Iowa.
At the championships, the Aces' women's team recorded one point, finishing in ninth-place of the 10-team field, while Evansville's men's team came in ninth.
The Aces' women scored the first team points in an MVC Championship in program history in the women's 4x400 meter relay. Freshmen Lizzy Walston and Lauren Meyer, junior Sienna Crews, and senior JBess Ruby led the Aces to an eighth-place finish in the nine-team field, breaking the program record by nearly 10 seconds in the process, earning a point for the Aces.
Following up a strong effort by the Aces' women in the 4x400 meter relay, Evansville's men also had success in the relay. The relay team of freshmen Stanley Chepchieng, Ethan Price, Ricky Hendrix, and Ian Alberts earned a ninth-place finish narrowly missing the program record set in 1983 by just seven one-thousandths of a second with a time of 3:34.42. The Aces' time of 3:34.42 was less than 20 seconds out of third place.
In the women's shot put, freshman Brittany Corley was the lone Aces to compete, finishing in 19th with a throw of 8.72 meters. On the men's side, junior Ryan Freeman led the way for Evansville with a 16th-place finish with a throw of 12.72 meters, besting his own program record. Following Freeman was sophomore Chris Zapata with a throw of 11.62 meters, finishing in 17th.
Illinois State swept both the men's and women's MVC indoor track and field championships with Indiana State's men's and women's teams both finishing second and UNI's men and Southern Illinois' women coming in second.
Both men's and women's track and field teams now shift their focus to the upcoming start of outdoor season. The Aces open up their first outdoor track and field campaign in 33 season when they travel to Indianapolis to compete in the Stan Lyons Invitational on March 17 hosted by Butler.
Evansville drops senior day showdown to Valpo, 67-54
On senior day, the University of Evansville women's basketball team fought to keep pace with Valparaiso, but came up short in a 67-54 loss to the Crusaders in the Purple Aces' home finale on Sunday afternoon inside Meeks Family Fieldhouse.
"The third quarter is getting us again and a lot of that comes down to depth and we're playing some players out of position and we're just not as comfortable as we'd like to be because of it," said Aces head coach Matt Ruffing. "We're still battling though. I told our team after the game that the effort is getting there. We're getting close to where our effort level needs to be to where we can now focus on the basketball stuff. I thought we really took a step forward today."
The Aces honored a pair of seniors who each contributed a single season to program in graduate guard Hannah Noe and senior forward Elizabeth Perkins, who were honored in a ceremony prior to tip-off.
"I don't care how long you're on the team whether its four years or, in this case, Hannah has been a part of our team for one year and Elizabeth has been with us for three weeks, no matter the length of time you've been a part of the team, we want to honor them," said Ruffing. "Both of them have been a really big influence on our team and I think their teammates think the world of them. Today's ceremony was for us to be able to acknowledge them and for them to get the respect and applause they deserve and they are certainly worthy of it."
For the ninth-straight game, junior guard Kerri Gasper led the Aces with 13 points, chipping-in seven rebounds, two steals, and an assist. Freshman guard Kayla Casteel also finished in double-figures for Evansville, scoring 10 points, while sophomore center Kaylan Coffman set a new career-high with 10 rebounds to go along with six points and a block. Pacing the Crusaders was Dani Franklin who tallied a game-high 24 points, adding seven rebounds and four steals.
The opening quarter, much like the game, was a story of perseverance for the Aces as UE was tasked with digging itself out of an early hole. After Valpo jumped out to a 14-3 lead with 3:45 remaining in the quarter, Evansville responded with a 12-8 run to cut the Crusader's lead to 22-15 heading into the second period.
In the second quarter, both teams hit a frigid offensive stretch. Evansville and Valpo combined to make just four field goals in the quarter as the Aces outscored the Crusaders, 7-6, in the quarter to trim Valpo's lead to 28-22 at the halftime break.
As has been the case at other points during the season, the third quarter doomed the Aces. After a pair of free throws by Coffman cut the Crusader's advantage back to six at 30-24, Valpo went on a 25-7 run to pull ahead, 55-31. In the third period, Valpo out-shot the Aces, 43.8% (7-16) to 11.1% (2-18), to help build its advantage heading into the fourth quarter.
Evansville found its stride in the fourth period as the Aces made one last push. After the Crusaders' pushed their lead to its largest point of 26 at 63-37, UE manufactured a 17-4 run to close the game. The Aces shot a game-high 50% (8-16) from the field in the final ten minutes, while Valpo cooled off, shooting 33.3% (5-15), as the Crusaders grabbed the 67-54 win.
In the game, Valpo out-shot the Aces, 36.1% (22-61) to 25.4% (15-59), as Evansville was hampered by a cold shooting afternoon from beyond the arc where UE was just 8-35 (22.9%).
The Aces conclude the regular season with a trip to Missouri State on Thursday night before taking on Southern Illinois on Saturday in their final tune-up before MVC Tournament action.
Contribute to AceNotes
To have content considered for inclusion in AceNotes, please submit a Marketing Request Form. Deadline for submission to AceNotes is 10:00 a.m. on the requested date of publication. Only articles concerning UE related/sponsored activities will be accepted. Articles submitted to AceNotes may be edited for length and clarity. Submitter contact information is at the end of each article.