| | |
| --- | --- |
| AceNotes Today | Friday, February 23, 2018 |
UE and Ivy Tech partner for reverse transfer initiative
The University of Evansville and Ivy Tech Community College have partnered to create a statewide reverse transfer agreement for students who have transferred to UE prior to completing their associate degree at Ivy Tech.
"With the increasing need for Hoosiers in the workplace to have a credential, Ivy Tech is excited for this new partnership with the University of Evansville," said Jonathon Weinzapfel, chancellor of Ivy Tech Evansville. "Students will earn the credential they need to grow in their career as they work toward their bachelor's degree."
In order to be eligible for the reverse transfer program, students need to meet the following transfer policies and conditions:
• Students must have completed a minimum of 15 credit hours from Ivy Tech
• Students must be a currently enrolled UE undergraduate
• Students must have no prior degree from Ivy Tech
• Students must have met all admission requirements for UE, including attainment of at least a 2.0 GPA
• Once the student has attained 75 or more total credit hours (including the minimum of 15 from Ivy Tech), they will be notified each semester of their potential eligibility for an Ivy Tech associate degree through reverse transfer until they opt-in or opt-out
"We're excited to provide students with more flexible degree opportunities through this collaboration with Ivy Tech," said Jennifer Briggs, registrar at UE. "This is another avenue for the Ivy Tech student to complete what they need for their associate degree while at the same time working toward their bachelor's degree at the University of Evansville."
Ivy Tech will be responsible for determining, through reverse articulation and transcript review, which UE courses may satisfy the associate degree requirements allowing for the conferral of the degree and the specific degree which the student will be awarded. This process will take place in both fall and spring semesters for previously eligible and all newly eligible students.
Reverse Transfer is designed to assist students in pursuing their career goals. Ivy Tech has partnered with several other institutions to offer reverse transfer, including: University of Southern Indiana, Indiana State University, Purdue University, Ottawa University, Trine University, University of Phoenix, Indiana Tech, Indiana Wesleyan, Western Governors University, Saint Mary-of-the-Woods College, Kaplan University and Grace University.
UE Athletics to host women's basketball tailgate today
The University of Evansville athletics department, partnering with the University of Evansville Student Activities Board, will host a pregame tailgate this evening at 6:00 p.m. for UE students in front of the Carson Center, weather permitting. The tailgate will lead into the University of Evansville's women's basketball team's contest against Loyola tipping-off at 7:00 p.m. inside Meeks Family Fieldhouse.
Tonight's tailgate will feature hamburgers, hot dogs, and soft drinks free for UE students. Non-students are invited to join in the festivities and bring their own food and beverages to the tailgate.
Tickets for non-students can be purchased inside the Carson Center prior to the contest. Adult tickets are $7, while child tickets (under 17) and senior (65+) tickets are $5.
UE to play five games this weekend
Week three of the season for the University of Evansville softball team will see the Purple Aces continue to travel through the southern half of the United States as the squad heads to Chattanooga for the Frost Classic.
Hosted by Chattanooga, the Aces will face IUPUI, Southeast Missouri State, Eastern Illinois, Western Illinois and Chattanooga. UE will take on the Jaguars at 10 a.m. CT today before facing SEMO at 12:30 p.m. Saturday's action will feature another 12:30 game against EIU before playing WIU at 3 p.m. Sunday's finale will pit the Aces against the Mocs in a 10:30 a.m. contest.
McKenzie Johnson has gotten off to a good start in the first two weekends ranking second on the UE squad with a .318 average. Entering the year, she had not recorded a multi-hit game, but she has notched two such outings in 2018. Johnson posted a pair of hits against EIU in the first weekend before having her best offensive effort last weekend against Samford, going 3-3 with a walk and run scored.
Sitting with a 1.05 ERA, junior Morgan Florey ranks 7th in the MVC while her 26 strikeouts is 5th. Florey started last week with a complete game against Winthrop, giving up four runs, just one earned, and fanning six. She tossed two more scoreless frames on Saturday versus the Eagles once again before throwing a 6-inning gem against #17 Georgia; she allowed two runs on five hits and struck out five Georgia batters.
Three freshmen (Eryn Gould, Lindsay Renneisen, Allison Daggett) have started all eight games this season for UE while Elyse Hickey has made four starts and played in six games with Mea Adams seeing time in all eight contests. Jaime Nurrenbern has made three pitching appearances while batting .500 in a pair of plate appearances.
IUPUI comes into the weekend with a 1-4 record while Southeast Missouri State is currently 2-3. Eastern Illinois has gotten off to a 7-3 start, but one of those losses came to the Purple Aces in the Mardi Gras Classic. The Leathernecks of WIU stand at 2-7 while Chattanooga is currently 4-5.
SAB Picnic today before Women's Basketball Game
Join SAB today at 6:00 p.m. in front of Carson Center to support our Women's Basketball team as they take on Loyola at 7:00 p.m. Hamburgers, hot dogs, and soft drinks will be free to UE students! Rain location will be inside of Carson Center.
Submitted by Megan King mk225@evansville.edu
UE Theatre presents "Sense and Sensibility"
The University of Evansville Department of Theatre presents its third production of the season, Kate Hamill's Sense and Sensibility, based on the novel by Jane Austen. This production opened February 16, in Shanklin Theatre. Additional performances are at 7:30 p.m. tonight - February 23 - and February 24, and at 2:00 p.m. on February 25.
Reputation, redemption, and romance - this feisty new play is a fresh and witty take on the Jane Austen story audiences know and love. When the Dashwood sisters suddenly find themselves at the bottom of the social food chain, the quest to claw their way back to the top consumes them. High society and wicked gossip collide in a whirlwind of scandal and passion and betrayal. Oh, my!
Professor of theatre Diane Brewer directs Sense and Sensibility. Elizabeth Tredinnick, a senior from Madison, Wisconsin, serves as scenic designer; assistant professor of theatre Sarah J. Smith is the costume designer; Baxter Pitt, a senior from Dallas, Texas, is the lighting designer; Austin Kuhn, a sophomore from Evansville, serves as sound designer; Jesse Robkin, a senior from Duvall, Washington, is the dramaturg; Jalyn Kowalski, a junior from Lanesville, Indiana, is the stage manager; and assistant technical director Adam Rager serves as technical director.
The cast features junior Alexi Lewis, from Seattle, Washington, as Elinor Dashwood; junior Alexandra Curren, from McKinney, Texas, as Marianne Dashwood; freshman Emma Tolleson, from Temple, Texas, as Margaret Dashwood; freshman Jordan Williams, from Edmonds, Washington, as Mrs. Dashwood; freshman Luke Moran, from Mount Vernon, Iowa, as John Dashwood; junior Matthew McDonald, from Carmel, Indiana, as Edward Ferrars; junior Kathleen Finch, from College Station, Texas, as Fanny Dashwood; junior Marshall Hopkins, from Baldwin City, Kansas, as Colonel Brandon; freshman Jackson Burnham, from Houston, Texas, as John Willoughby; sophomore Luke Lowrance, from Arlington, Texas, as Sir John Middleton; junior Meredith Ham, from Castle Rock, Colorado, as Mrs. Jennings; sophomore Alexis Seay, from Louisville, Kentucky, as Lady Middleton; senior Paige Ward, from Round Rock, Texas, as Lucy Steele; freshman Grace Maddux, from Dubuque, Iowa, as Anne Steele; freshman Evan Lawson, from Arvada, Colorado, as Robert Ferrars; and junior Amanda Suggs, from Cedar Park, Texas, as Lead Gossip/Mrs. Ferrars.
Ticket prices are $18 for adults and $16 for senior adults, students, and UE faculty and staff.
UE students may obtain one free student rush ticket beginning at noon on the day of the performance they wish to attend.
Following Sense and Sensibility, the 2017-18 Shanklin Theatre Season closes with Frank Galati's Grapes of Wrath, based on the novel by John Steinbeck, April 13-22, which concludes the 50th anniversary of Shanklin Theatre.
Tickets may be purchased by calling 812-488–2031, Monday through Friday, noon to 5:00 p.m.
STEEL TOE art SHOW on display in UE's Melvin Peterson Gallery
"STEEL TOE art SHOW," an exhibit by ceramic artists and University of Evansville graduates Matthew Gaddie and Brian Somerville, will be on display at UE's Melvin Peterson Gallery until February 24. On Friday, February 23, there will be a reception at 6:30 p.m., and a lecture by the artists at 7:00 p.m. These events, which are free and open to the public, are part of the Efroymson Family Fund Emerging Contemporary Artist Lecture Series.
Gaddie earned his Bachelor of Fine Arts degree in ceramics from the University of Evansville, and his Master of Fine Arts degree in ceramic arts from Hood College. His studio is located in Bardstown, Kentucky. Somerville earned his Bachelor of Fine Arts degree from UE and his Master of Fine Arts degree from Florida Atlantic University. He lives and creates his art in Nashville.
The Melvin Peterson Gallery is located at 1935 Lincoln Avenue on the corner of Lincoln and Weinbach Avenues in Evansville. Gallery hours are Monday, Tuesday, Friday and Saturday from noon-3:00 p.m., and Wednesday and Thursday from noon-6:00 p.m.
For more information, contact 207-650-6073.
Scholars for Syria's 2018 Spring Speaker Series
The topic of the Scholars for Syria's 2018 Spring Speaker Series lecture today - Thursday, April 5 - will be "Immigration and Syria: Foundations and Consequences of the American Ethnic Hierarchy." The lecture begins at 6:00 p.m. in Room 162 in the Schroeder School of Business Building. The event is free and open to the public. The speaker will be UE assistant professor of sociology Rob Shelby.
Shelby will present the idea that Syrian refugees, like many minority groups before, encounter prejudice and discrimination as widespread negative perceptions persist in American social consciousness. Shelby earned his PhD from the University of Louisville in applied sociology, his graduate degrees in sociology from Western Illinois University and communications from Trinity International University. He earned his undergraduate degree in youth ministry and biblical studies from Trinity International University.
The audience will be invited to engage in conversation with Shelby and UE Syrian students in attendance at the lecture.
For more information on the speaker series, contact 812-488-2218.
Psychology research presentations
Psychology Club will be hosting an event today - February 26 - at 6:00 p.m. in Room 170 in the Schroeder School of Business Building. Professor Stevenson, Tess Hupe, Roopa Pandit, and Jordan Buechler will be presenting their research that has been accepted to be presented at a national psychology and the law conference. There will be two research talks and two research posters presented.
Submitted by Jordan Buechler jb615@evanville.edu
Presentation on depression and anxiety planned for today
Join us today - Tuesday, February 27 - from 6:00-7:00 p.m. in Eykamp 252, Ridgway University Center, for a viewing of "Athletes and Mental Health: The Hidden Opponent," a TED talk by Victoria Garrick, a USC senior volleyball player. Victoria's talk will open up the conversation of ways depression and anxiety often affect body image.
In a discussion following the video presentation, we will explore ways to take control of the symptoms of depression and anxiety rather than letting them control us.
Submitted by Liz McCormick em232@evansville.edu
University Worship in Neu Chapel
The Season of Lent is well under way, and it is a wonderful season to worship in community as we prepare for the upcoming Easter celebration. University Worship this week will focus on the discipline of self-denial for the sake of God and others. All are welcome to join in worship, conversation, and fellowship! As always, Donut Bank donut balls, and coffee are provided before and after the service!
Submitted by Keith Turner kt160@evansville.edu
20 Minute Night Church Service in Neu Chapel
Throughout the season of Lent, there will be a brief, 20-minute Night Church service in Neu Chapel on Sunday nights at 9:00 p.m. These services will be filled with prayers, music, scripture readings, and candle lighting. Everyone is invited to attend these brief but beautiful services!
Submitted by Keith Turner kt160@evansville.edu
Few seats still available for BSU Black History Month Trip to Cincinnati on Saturday
The Black Student Union is planning a trip to Cincinnati, Ohio, this Saturday, February 24 from 7:00 a.m.-7:00 p.m.
The trip will leave at 7:00 a.m. by bus and arrive in Cincinnati, around 11:30 a.m. to visit the National Underground Railroad Freedom Center Museum. From the museum the participants will go to a theatre to see the highly acclaimed Black Panther Movie.
The expense of transportation, the museum ticket, and the movie ticket is covered for all UE students thanks to the generous funding of the Student Government Association. The only expense is lunch and keepsakes.
There are currently six seats still available for the trip. If you are interested, you will need to stop by the Office of Diversity Initiatives in Room 234 in Olmsted Administration Hall and fill-out a registration form and leave a $20 deposit that will be given back on the bus at departure to Cincinnati.
For more information please contact DaLisa McCallum, BSU president, at dm254@evansville.edu.
Submitted by LaNeeca Williams lw161@evansville.edu
Start or join a Relay for Life team
Would you like to start or join a team for the upcoming Relay for Life? If so, go to the Relay for Life Join a Team webpage, click "join a relay," input your zip code, select Relay for Life Vanderburgh colleges, click "join this relay," create an account or log into an already existing account, and then choose an existing team or create your own. The Relay for Life event is planned for April 6-7 from 7:00 p.m.-7:00 a.m. at the USI Physical Activities Center.
Submitted by Katherine Murphy km412@evansville.edu
UE swim lessons
The UE Swim and Dive team will be hosting its fifth session of swim lessons. The dates are from Monday, April 2 through Thursday, April 26.
An extra 30 minute time slot has been added to allow more pool space due to growing numbers. The times will be from 4:00-5:30 p.m., Monday-Thursday.
For more information, check out the Aquatic Aces Swim and Dive Lessons Facebook page or e-mail Emma Forbes-Milne at ef112@evansville.edu.
Submitted by Emma Forbes-Milne ef112@evansville.edu
May graduates take note!
This is a reminder to all May graduates that Commencement Central is Wednesday, February 28 from 4:00-6:00 p.m. and Thursday, March 1 from 11:00 a.m.-1:00 p.m., upstairs in Ridgway University Center on the north side. Graduates should attend either of the sessions. During the event you will confirm your graduation status will the registrar's office, meet with the alumni and career planning offices, and purchase your cap and gown. You can also order graduation announcements. Jostens will also be there offering a sale on class rings if so interested. This is a must do event for May graduates.
Submitted by Doug Gustwiller dg57@evansville.edu
UELA Magnifying Mental Health
UELA Tier III is hosting a Magnifying Mental Health event on March 22 at 6:00 p.m., in Eykamp Hall, Room 251, Ridgway University Center. This event provides students with the opportunity to discuss their mental health through stories, poetry, and music. UELA wants to create a safe, welcoming environment where students can share their experiences. We are looking for volunteers who want to share their story. You can read your own story in front of peers. Also, you can send in your story anonymously and someone will read it for you. You can submit your story here.
Submitted by Katlyn Keele kk273@evansville.edu
Department Of Art wishes Tracy Maurer well in retirement
Tracy Maurer, director of student publications, will be retiring after nearly 23 years at the University. Her last day on campus will be March 1. Tracy has impacted many students academically and personally during her time with the Crescent newspaper/magazine and Linc yearbook. These publications, with Tracy's direction, have gone on to win many national awards. She will be immensely missed. The Department of Art faculty celebrated her retirement with lunch. The department wishes all the years ahead bring her great joy and relaxation! Thank you Tracy for your years of service and dedication to the UE community!
Submitted by Brooksie Smith bs267@evansville.edu
UE surplus property
Good news! Does your department needs something that doesn't have to be brand new like a piece of furniture or equipment? Check out the new surplus (property disposal) website on AceLink Areas at acelink.evansville.edu/Areas/PropertyDisposal/ and let your need be known.
Once on the website, click on the "Wish List Email Request for Surplus Property" link to complete the request, copy and paste it into an e-mail to centralreceiving@evansville.edu. Surplus requests will be matched to surplus property as it becomes available on a first come, first served basis.
Be sure to check out the new website for additional information.
Submitted by Kim Winsett kw83@evansville.edu
Now accepting Global Scholar applications for 2018-19
The Global Scholars Program offers support for faculty engaged in scholarship or curriculum development that helps prepare our students and community for global leadership, citizenry, and success. The Global Scholars Program is administered by the Institute for Global Enterprise and is made possible by the John H. Schroeder Global Scholar Endowed Fund.
Current funding will support 3-4 awards of up to $4000 each. Awards may be used for travel, research materials, conference fees, and/or other related expenses.
The deadline for full consideration is March 16. Visit the Global Scholar webpage for more details.
Submitted by Cindy Kelley ck116@evansville.edu
Call for papers for Andiron Lecture Series 2018-19
UE faculty and administrators as well as members of the Evansville community are invited to submit an abstract for papers on any aspect of their research or expertise for the 2018-19 Andiron Lectures in the Liberal Arts and Sciences. All disciplines and fields of study are welcome to submit proposals.
Please send the following by e-mail:
A 50-word abstract with name, academic affiliation/ occupation, paper title, and contact information to Annette Parks at ap3@evansville.edu (with a Cc to Cheryl Emmons at ce36@evansville.edu). Emmons will forward these to the Andiron Lecture Committee for consideration.
Nominations for off-campus speakers can be sent by e-mail to Parks at ap3@evansville.edu with a Cc to Emmons at ce36@evansville.edu; Emmons will forward them to the Andiron Lecture committee for consideration.
Engineers Week Banquet and awards
The College of Engineering and Computer Science held its annual Engineers Week Banquet on February 21.
Ryan Witters, LEED AP BD+C, of LitCon Group in Washington, DC was the keynote speaker. Witters received a BS in civil engineering at UE in 2011. He spoke to the engineering faculty, staff, students, and special guests about his journey as an engineer leading to his current role as a construction litigation consultant.
Several engineering majors were announced as new inductees in the Tau Delta Kappa engineering honor society by Jared Fulcher, assistant professor of mechanical engineering. Other engineering students were recognized by the college and the Office of Development.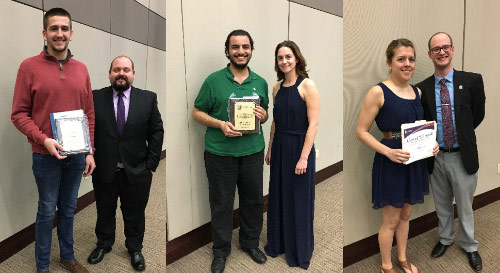 Eric Dodson, a junior mechanical engineering major, received the James M. Hall, Jr. Memorial Award. This award is presented annually to a student of the junior engineering class who is considered by the faculty to be the most outstanding based on scholastic achievement, extra-curricular activities, character, responsibility, attitude, and potential for professional growth. The award is made possible through a generous donation made by Mr. Hall and his wife, Madeline.
Naser Alangery, a senior computer engineering major, received the Paul "PR" Brown Spirit Award. This award is presented annually to an engineering major who has been nominated by the faculty and has completed at least four semesters in good academic standing, who is an encouragement and help to his/her fellow students, and who demonstrates leadership in fostering cooperation and camaraderie among the engineering students.
Alexis Sorrell, a senior civil engineering major, received the Class of 1927 Golden Anniversary Award. This award was established in 1977 by alumni from the Class of 1927. It is presented annually to a student from each college to recognize graduating seniors who display "outstanding academic achievement and exemplary conduct and attitude."
The Engineers Week Banquet was hosted by the UE student chapter of the American Society of Mechanical Engineers and sponsored in part by the CECS Dean's Advisory Council and the local chapter of the Institute of Electrical and Electronics Engineers.
School of Education grad featured on Channel 14 Special Report
School of Education graduate Hannah Sitzman teaches at Cedar Crest Intermediate School in Huntingburg, Indiana. Earlier this week, she was featured on Channel 14's Special Report: School for Skills. Having participated in a Teacher's Manufacturing Boot Camp, Hannah was able to use the skills she learned at UE to actively involve students in learning everything from the importance of proper grammar and punctuation to developing strong project management skills. As a liberal arts college, we applaud Hannah for teaching her students the soft skills they will utilize in their future careers regardless of their future career path.
Submitted by Karen Martin km306@evansville.edu
Contribute to AceNotes
To have content considered for inclusion in AceNotes, please submit a Marketing Request Form. Deadline for submission to AceNotes is 10:00 a.m. on the requested date of publication. Only articles concerning UE related/sponsored activities will be accepted. Articles submitted to AceNotes may be edited for length and clarity. Submitter contact information is at the end of each article.