| | |
| --- | --- |
| AceNotes Today | Thursday, February 15, 2018 |
Help us welcome future Aces during Road Trip 2018!
The Office of Admission will host more than 200 admitted high school seniors this weekend at our annual Road Trip event, February 16-18.
You're invited to help us greet the future Aces as they arrive on campus today from 4:30-7:00 p.m. in the Carson Center Lobby. High school students from across the country will either drive in, fly in, or ride a bus to campus for a fun filled weekend preview of life as a UE student. Come join in on the fun!
RecycleMania 2018 is underway!
The 2018 RecycleMania tournament is underway! The competition goes until March 31, and encourages waste reduction and recycling on campuses nationwide.
UE is one of 297 schools participating in 48 states, the District of Columbia and Canada. UE will compete in several weight-based categories that measure recycling and waste reduction per capita, as well as overall campus recycling weights as a percentage of total waste generated.
RecycleMania is about more than simply winning. It is a time to engage the entire campus community in awareness and action to reduce waste, recycle more and protect the environment. More information can be found at www.recyclemania.org.
So start recycling! Check upcoming AceNotes for more information on UE's results, competition activities and more. For questions, call ext. 2697 or e-mail ae152@evansville.edu.
Submitted by Amber Elkins ae152@evansville.edu
SIAM Math Club introductory meeting today
The UE Chapter for the Society for Industrial and Applied Mathematics (SIAM) will be having an introductory meeting today - Thursday, February 15 - from 12:30-1:00 p.m. in Room 101 in the Koch Center for Engineering and Science.
Come learn about the club and its benefits for students majoring in math, science, engineering, and computer science ... or for anyone interested in math and its applications in the world!
Additionally, there will be FREE pizza and a presentation by senior math major Keenen Cates about his senior seminar research project.
Any questions? E-mail Sam Sheth at ss651@evansville.edu.
Submitted by Samarth Sheth ss651@evansville.edu
Reception for Emily Fiedler planned for today
Please join us to wish Emily Fiedler best wishes as she leaves UE for her new adventure. The Center for Career Development invites the UE community to stop by the Student Life lobby in Ridgway University Center (second floor), between 2:00-3:30 p.m. today - Thursday, February 15. Refreshments will be served.
Submitted by Donna Schmitt ds120@evansville.edu
Happy 164th Birthday to the University of Evansville!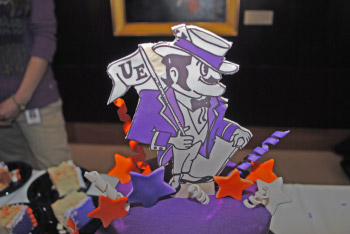 Everyone is invited to celebrate Founder's Day and UE's birthday by having purple cake (while it lasts) with Student Alumni Ambassadors and the Office of Alumni and Parent Relations on Friday, February 16. The event will be from 11:00 a.m.-2:00 p.m. in the Ridgway University Center lobby, across from Rademacher's Cafe by the information desk.
Don't forget to wear your purple in support of Purple Fridays at UE!
Submitted by Nichole Coffey ns50@evansville.edu
Musical Madness during Road Trip Weekend
The Annual Musical Madness performances will be held today and tomorrow during Road Trip Weekend. Tickets are $5 and can be purchased online at tickets.evansville.edu or by paying with cash or check in the Center for Student Engagement.
Submitted by Geoff Edwards ge21@evansville.edu
Need spring break plans?
Venturing Crew is going to Red River Gorge March 3-6 for $130 (nonrefundable.) The group will backpack and go outdoor rock climbing and rappelling. Price includes transportation, food, gear, and climbing/permits. Sign-up next Monday-Wednesday in Ridgway University Center during lunch and dinner hours. Questions? E-mail sw228@evansville.edu.
Submitted by Sydney Winstead sw228@evansville.edu
UE Bookstore Roadtrip Hours & Sale
The UE Bookstore will be offering 15% OFF all clothing and gift purchases today and tomorrow Saturday during Roadtrip Weekend. Hours today are 8:00 a.m.-4:30 p.m. Saturday hours are 10:00 a.m.-2:00 p.m. Stop in and browse.
Submitted by Doug Gustwiller dg57@evansville.edu
UE Habitat Barn Blitz Information Meeting
Due to an overwhelming amount of interest regarding UE Habitat Barn Blitz, there will be two upcoming informational meetings for anyone who would like to participate.
The first meeting will be Saturday, February 17 from noon-1:00 and the second will be Monday, February 19 from 10:00-11:00 a.m. Both meetings will be in Room 250 in Schroeder School of Business Building.
Anyone who is interested or who has questions about how to get involved with the event is welcome to come to a meeting
Submitted by Greta Becker gb91@evansville.edu
Free HIV screening today
Matthew 25 will be at the Health Center today - Tuesday, February 20 - from 9:00 a.m.-noon for free HIV testing. As always the testing is free, confidential, and painless. Call the Health Center at 812-488-2033 or e-mail ac408@evansville.edu to schedule your appointment.
Submitted by Ashley Craig ac408@evansville.edu
SAB pancake artist rescheduled for Saturday
Join SAB Saturday, February 17 from 7:00-9:00 p.m. by the information desk on the first floor of the Ridgway University Center as they welcome pancake artist Dancakes.
Dancakes has been called the first name in professional pancake art. These talented and charismatic artists create portraits and designs out of 100% edible pancake batter for events around the world, bringing joy and laughter wherever they go.
Submitted by Megan King mk225@evansville.edu
This Week in Music: Student Recitals
The following student recitals are planned for Sunday, February 18, in Wheeler Concert Hall:
1:00 p.m. – Carina Wahlstrom (violin) and Griffin Honeycutt (saxophone)
2:30 p.m. – Elizabeth Lung (flute)
4:00 p.m. - Zach Reiff (bassoon)
Submitted by James Sullivan js820@evansville.edu
March 20 Snyder Lecture Series to feature Senator Lugar and President Kazee
The University of Evansville will present a keynote conversation between former Indiana Senator Richard Lugar and UE President Thomas A. Kazee for the Spring 2018 Patricia H. Snyder Concert and Lecture Series on March 20 at 7:00 p.m.
The conversation, titled "State of our Union: Making Sense of Current Affairs," will be held in Eykamp Hall within Ridgway University Center on the UE campus and doors will open at 6:30 p.m.
This event is free and open to the public and guests will be seated on a first-come first-served basis. Reserve your seat online here.
This event is presented in partnership with the University of Evansville Department of Law, Politics, and Society as part of an all-day series of current events and political science events and discussions, in honor of the retirement of Dr. Thomas Kazee and his academic career as a political scientist.
The Patricia H. Snyder Concert and Lecture Series was made possible in 1997 through an endowment from the late Patricia H. Snyder, trustee and longtime friend of University, to bring speakers or performers of renown to Evansville at no cost to the public.
Find this event on Facebook for updates and reminders.
For event questions, please contact snyder@evansville.edu.
UELA Magnifying Mental Health
UELA Tier III is hosting a Magnifying Mental Health event on March 22 at 6:00 p.m., in Eykamp Hall, Room 251, Ridgway University Center. This event provides students with the opportunity to discuss their mental health through stories, poetry, and music. UELA wants to create a safe, welcoming environment where students can share their experiences. We are looking for volunteers who want to share their story. You can read your own story in front of peers. Also, you can send in your story anonymously and someone will read it for you. You can submit your story here.
Submitted by Katlyn Keele kk273@evansville.edu
Attention UE Students: Join in on the Road Trip Fun!
The Office of Admission will be hosting Road Trip today - Friday, February 16 - through Sunday, February 18. Thank you to everyone that has volunteered to assist with the events and hosting this weekend. We have many activities scheduled for the Road Trippers and would like to invite current UE students to take part in the fun. The following activities are open to both Road Trippers and current students:
Friday, February 16:
• 7:30-9:00- Ultimate Trivia - Café Court
• 7:30-11:30- Game Station - 1959 Gallery, second floor of Ridgway University Center
• 9:45-Midnight- Karaoke - Café Court
Saturday, February 17:
• 12:00-5:00 p.m. - Habitat for Humanity Barn Blitz, Small Gym, Carson Center
• 2:30-4:30 p.m. - Historical WWII Tour of Evansville - Dr. James MacLeod (buses will leave at 2:15)*
• 2:15-5:00 p.m. - Mesker Park Zoo and Botanical Gardens (buses will leave at 2:00) *
• 3:30-5:30 p.m. - Bowling at River City Recreation (buses will leave at 3:10) *
• 7:00-9:00 p.m. - WIRED Coffee House and Music Venue (buses will leave at 6:45 p.m. *
• 10:00-Midnight - Hypnotist- Carson Center- Meeks Family Court- Large Gym (Sponsored by the Admission Ambassadors and the Student Government Association)
*Indicated the activity is off campus. Buses will leave from Walnut Street outside Ridgway University Center.
Enjoy the weekend and "Go Road Trip!"
UE Theatre presents "Sense and Sensibility"
The University of Evansville Department of Theatre presents its third production of the season, Kate Hamill's Sense and Sensibility, based on the novel by Jane Austen. This production opened February 16, in Shanklin Theatre. Additional performances are at 7:30 p.m. tonight - February 23 - and February 24, and at 2:00 p.m. on February 25.
Reputation, redemption, and romance - this feisty new play is a fresh and witty take on the Jane Austen story audiences know and love. When the Dashwood sisters suddenly find themselves at the bottom of the social food chain, the quest to claw their way back to the top consumes them. High society and wicked gossip collide in a whirlwind of scandal and passion and betrayal. Oh, my!
Professor of theatre Diane Brewer directs Sense and Sensibility. Elizabeth Tredinnick, a senior from Madison, Wisconsin, serves as scenic designer; assistant professor of theatre Sarah J. Smith is the costume designer; Baxter Pitt, a senior from Dallas, Texas, is the lighting designer; Austin Kuhn, a sophomore from Evansville, serves as sound designer; Jesse Robkin, a senior from Duvall, Washington, is the dramaturg; Jalyn Kowalski, a junior from Lanesville, Indiana, is the stage manager; and assistant technical director Adam Rager serves as technical director.
The cast features junior Alexi Lewis, from Seattle, Washington, as Elinor Dashwood; junior Alexandra Curren, from McKinney, Texas, as Marianne Dashwood; freshman Emma Tolleson, from Temple, Texas, as Margaret Dashwood; freshman Jordan Williams, from Edmonds, Washington, as Mrs. Dashwood; freshman Luke Moran, from Mount Vernon, Iowa, as John Dashwood; junior Matthew McDonald, from Carmel, Indiana, as Edward Ferrars; junior Kathleen Finch, from College Station, Texas, as Fanny Dashwood; junior Marshall Hopkins, from Baldwin City, Kansas, as Colonel Brandon; freshman Jackson Burnham, from Houston, Texas, as John Willoughby; sophomore Luke Lowrance, from Arlington, Texas, as Sir John Middleton; junior Meredith Ham, from Castle Rock, Colorado, as Mrs. Jennings; sophomore Alexis Seay, from Louisville, Kentucky, as Lady Middleton; senior Paige Ward, from Round Rock, Texas, as Lucy Steele; freshman Grace Maddux, from Dubuque, Iowa, as Anne Steele; freshman Evan Lawson, from Arvada, Colorado, as Robert Ferrars; and junior Amanda Suggs, from Cedar Park, Texas, as Lead Gossip/Mrs. Ferrars.
Ticket prices are $18 for adults and $16 for senior adults, students, and UE faculty and staff.
UE students may obtain one free student rush ticket beginning at noon on the day of the performance they wish to attend.
Following Sense and Sensibility, the 2017-18 Shanklin Theatre Season closes with Frank Galati's Grapes of Wrath, based on the novel by John Steinbeck, April 13-22, which concludes the 50th anniversary of Shanklin Theatre.
Tickets may be purchased by calling 812-488–2031, Monday through Friday, noon to 5:00 p.m.
Friday is deadline to register for Collegiate Career Expo
Friday is the deadline to register for Collegiate Career Expo. A total of 130 employers are expected at this free career fair. The event is planned for Thursday, February 22 from 10:00 a.m.-3:00 p.m. (Eastern Time) at the Indianapolis Westin.
The University of Evansville will provide bus transportation. There is a $10 deposit required that will be refundable upon attendance. Reserve your seat now.
Register for this event by Friday, February 16. Fair registration is through UE JobLink (evansville-csm.symplicity.com/). Click the Jobs Tab -> CSM Jobs -> Posting #722253.
Find a list of registered employers here: app.careerfairplus.com/cccc_in/fair/1377
Event sponsored by:
Celadon
FitzMark, Inc.
Freedom Mortgage
GEICO Insurance Company
University of Southern Indiana - Graduate Studies
Submitted by Alison Morris-McDonald am268@evansville.edu
Kopta awarded patent for assessment system in medicine
Professor of psychology Mark Kopta has been awarded a patent by the United States Patent and Trademark Office for the CelestHealth System-MD, an electronic system that assesses the effects of medications across medical visits.
The system allows the physician to understand the treatment outcomes for an individual patient, all patients in the physician's practice, and patients being treated by all medical practices using the system. It can assess medication effectiveness related to, for example, mental health, pain, tumor size, blood chemistry.
Kopta's CelestHealth Research Group continues to test the system at Johns Hopkins University.
UE makes it to final Ashoka round!
After an incredible campus-wide effort for the Ashoka visit back in October, UE has successfully progressed to the final step of the Ashoka Changemaker Campus vetting process. Geoff Edwards, Jill Griffin, and Erin Lewis will travel to Boston on April 3 to make the final presentation and participate in interviews with change leaders from around the country.
Congratulations to the Ashoka Visit Planning Committee, the Change Team, and all the faculty, staff, and students who made the campus visit one of the most inspiring the reviewers had ever seen.
In the Site Visit Report, the reviewers shared the following:
"We sensed that students, faculty and staff felt empowered and were eager to address challenges both on and off-campus. The belief in possibility and transformation was palpable. We are excited about the potential contribution UE could make to the Changemaker Campus Network, the field of social innovation and changemaking in higher education, and a world in which everyone can realize their full potential as a changemaker."
A full version of the report as well as other resources for changemaking can be found on Acelink at acelink.evansville.edu/Areas/Changemaker/.
Submitted by Cindy Kelley ck116@evansville.edu
Deadline today to sign up for BSU trip to visit Freedom Center and see Black Panther movie
The deadline to sign up for the Black Student Union trip to Cincinnati, Ohio, is today - Friday, February 16. The trip is planned for Saturday, February 24.
BSU is hosting the trip in celebration of Black History Month. The group is going to Cincinnati to visit the Underground Railroad Freedom Center and see the Black Panther movie which premieres February 16.
The trip is free for all UE students except for meals and keepsakes, with a $20 deposit returned the day of the trip. Campus members are invited to participate as well but only transportation is provided.
Seating is limited, which is why there is a deadline of February 16 to register for the event. Registration forms can be picked up at the Office of Diversity Initiatives in Olmsted room 234 or from any BSU executive member.
All interested students/campus members should stop by the Office of Diversity Initiatives in Room 234 in Olmsted Administration Hall, to register and pay the deposit.
Submitted by LaNeeca Williams lw161@evansville.edu
UE surplus property
Good news! Does your department needs something that doesn't have to be brand new like a piece of furniture or equipment? Check out the new surplus (property disposal) website on AceLink Areas at acelink.evansville.edu/Areas/PropertyDisposal/ and let your need be known.
Once on the website, click on the "Wish List Email Request for Surplus Property" link to complete the request, copy and paste it into an e-mail to centralreceiving@evansville.edu. Surplus requests will be matched to surplus property as it becomes available on a first come, first served basis.
Be sure to check out the new website for additional information.
Submitted by Kim Winsett kw83@evansville.edu
Still need a textbook for spring?
The UE Bookstore will be starting the return process of all unsold books from the spring semester soon. Used books on the shelf will be the first to be returned. If you still need a textbook you are advised to purchase it soon. If you need one but can't purchase it now, the bookstore staff will be happy to hold one for you until you can purchase the book. Please let us know if this is the case. If you have questions please contact the UE Bookstore.
Submitted by Doug Gustwiller dg57@evansville.edu
UE Ballroom Club hosts successful workshop
The UE Ballroom Club hosted a successful workshop with champion coach Sean Michael Gehlhausen on Saturday, February 10. Congrats to UE Ballroom Club president Audrey Cook. Sean will back in March for another lesson, so stay tuned for that opportunity!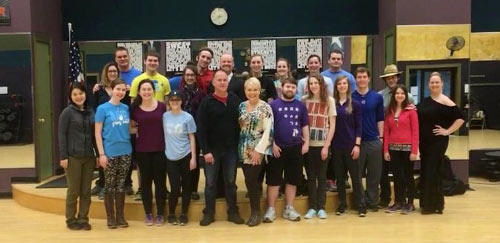 Nicola Boyle to deliver paper at 3rd Academic Archers Conference
Nicola Boyle, teaching fellow at Harlaxton, will be delivering a short paper at the 3rd Academic Archers Conference to be held at the British Library on Saturday, February 17. The Academic Archers Conference is a cross-disciplinary conference that brings together a group of fans of The Archers - the world's longest-running radio soap opera - with an academic interest in the show.
Boyle's paper 'Unique Borsetshire Climate or Exemplary Sun Protection' is a joint paper with Dr. Tanya Bleiker, a clinical vice president of the British Association of Dermatologists. A preview of the paper was in the Sunday Telegraph this last weekend and Harlaxton gets a mention!
Contribute to AceNotes
To have content considered for inclusion in AceNotes, please submit a Marketing Request Form. Deadline for submission to AceNotes is 10:00 a.m. on the requested date of publication. Only articles concerning UE related/sponsored activities will be accepted. Articles submitted to AceNotes may be edited for length and clarity. Submitter contact information is at the end of each article.