| | |
| --- | --- |
| AceNotes Today | Tuesday, February 13, 2018 |
UE's Graduating Class of 2017 Sees Higher Salary, Higher Employment Rate
The University of Evansville's 2017 graduating class has found success after graduation, with 94 percent currently employed or enrolled in graduate school—up from 93 percent last year. The median salary of those employed full-time is $47,750, also an increase from the previous year's salary of $47,500.
The survey was a collaborative effort between UE's Center for Career Development, the Office of Alumni and Parent Relations, the Office of Institutional Effectiveness, and academic departments.
"The active role we take in our students' success and career development is strongly reflected in this survey," said Dr. Thomas Kazee, UE president. "We offer a unique career planning process that begins before they even enroll here, and it continues well after they graduate."
UE's rate stands in contrast to the National Association of Colleges and Employers Career Services Benchmark Survey, which shows 81 percent placement rate nationally for 2016 graduates.
Employers for the 2017 class include Amazon, Rolls-Royce North America, USAA, Berry Global, Honda Motor Manufacturing, KMPG, and more than 230 other employers across the globe.
Other results reported in the survey included:
• 51 percent of employed graduates were working in Indiana.
• 57 percent of those in graduate school were studying in Indiana.
• 28 percent of those not currently enrolled in further education intend to pursue graduate school within three years.
"It's important to note that we received a response from 97 percent of the class of 2017, said Gene Wells, senior director for UE's Center for Career Development. "That participation rate is unheard of at most schools, who are lucky to receive a 65 percent response. This report truly is representative of virtually the entire 2017 graduating class."
UE's Center for Career Development provides comprehensive services to students throughout their collegiate journey and even before they enroll. Through the Career Advantage Program, prospective students have the opportunity to evaluate and test career options by taking a career assessment, meeting with a career advising professional, and developing a career action plan. Prospective students can begin this Career Advantage Program during their very first visit to UE—even before committing to attend the University.
Graduating seniors and new alumni can sign up for the UE Connect program, which is designed to assist students and alumni with career-related needs and connect them with engaged alumni who will support and champion their professional goals. All Center for Career Development services, ranging from resume and cover letter assistance, to mock interviews, to UE JobLink database access, are free to students and alumni.
Help us welcome future Aces during Road Trip 2018!
The Office of Admission will host more than 200 admitted high school seniors this weekend at our annual Road Trip event, February 16-18.
You're invited to help us greet the future Aces as they arrive on campus today from 4:30-7:00 p.m. in the Carson Center Lobby. High school students from across the country will either drive in, fly in, or ride a bus to campus for a fun filled weekend preview of life as a UE student. Come join in on the fun!
Career Day today
Attend Career Day TODAY for access to over 100 employers. The event is from 11:00-2:00 p.m. in Carson Center, Meeks Family Court. See registered employers in JobLink (evansville-csm.symplicity.com/). Don't forget to download Career Fair Plus to view the interactive map and employer information.
Event sponsored by:
Ciholas
Embry Automation & Controls
GE Appliances, A Haier Company
Gibbs Die Casting
Hoosier Wheel
Red Spot
Submitted by Alison Morris-McDonald am268@evansville.edu
Men's basketball travels to Cedar Falls tonight
In a rare Tuesday league game, the University of Evansville men's basketball team looks for its first season sweep of UNI in five years as the Purple Aces take on the Panthers tonight at 7:00 p.m. in Cedar Falls.

Evansville is coming off of a 72-55 defeat on Saturday at Missouri State as Ryan Taylor scored a team-high 13 points while Dru Smith posted 12 in his first game back after missing the previous three. K.J. Riley chipped in nine points for the second game in a row. The Bears led from start to finish, leading by as many as 23 before taking the 17-point win.

Taylor kept his streak alive of scoring in double figures in each game this season. He leads the MVC with 21.2 points per game. Prior to Saturday's game at MSU, Taylor scored 20 or more points in five consecutive games. Riley has also been on a nice streak, scoring nine points in each of the last two games. In the six games before his streak, Riley averaged just 5.2PPG.

UNI stands at 12-14 and 4-10 in the Valley going into Tuesday's game in Cedar Falls. The Panthers has fallen in four of their last five games, including a 57-49 loss to the Aces in Evansville on January 31. Bennet Koch continues to be the top offensive weapon for the Panthers, posting a team-high 12.5 points per game; he has also hit 109 free throws, more than double anyone else on the team. Tywhon Pickford leads UNI with 8.0 rebounds per game.

UE and UNI have split their series with each team winning 26 out of 52 games. Evansville picked up a 57-49 win at the Ford Center on January 31. UNI has won seven of the last ten games overall and four in a row at the MeLeod Center.

Just two weeks ago, the Aces and Panthers met at the Ford Center with Evansville grinding out a 57-49 win. Ryan Taylor led everyone with 25 points while Blake Simmons notched his first double-double with 15 points and 15 boards.
Neu Chapel Outreach Efforts Continue!
The Neu Chapel community is continuing its monthly outreach efforts by partnering with Newman Catholic Campus Ministry in collecting plastic grocery/shopping bags so that they can be made into mats to give to persons in the Evansville community without homes.
These mats ensure body temperatures are kept at a safe level in the cold winter months and Neu Chapel is honored to partner with Newman Center in this important mission. If you would like to contribute to this outreach effort, baskets will be placed on the front steps of the Neu Chapel stage. Simply leave your contribution in the baskets.
For questions and more information, please email Keith Turner, John Wesley Minister and assistant chaplain, at kt160@evansville.edu.
Submitted by Keith Turner kt160@evansville.edu
This Week in Music: Student Recitals
The following student recitals are planned for Sunday, February 18, in Wheeler Concert Hall:
1:00 p.m. – Carina Wahlstrom (violin) and Griffin Honeycutt (saxophone)
2:30 p.m. – Elizabeth Lung (flute)
4:00 p.m. - Zach Reiff (bassoon)
Submitted by James Sullivan js820@evansville.edu
PA Club meeting tonight
Join the PA Club for a panel of graduate students discussing their journey to the PA profession and how to navigate preparing for grad school. Bring your questions! Meeting at 6:00 p.m. in Graves 100 tonight.
Submitted by Haley Vos hv25@evansville.edu
Informal Spanish conversation this afternoon
Spanish students of all levels are welcome to practice with Fulbright Spanish TA Ignacio Benítez. The next session will be this afternoon - February 13 - at 3:00 p.m., at Starbucks in Ridgway University Center. It's a wonderful opportunity to interact informally in Spanish with a native speaker and to meet other students of Spanish. Please contact Ignacio at cl192@evansville.edu if you have any questions. ¡Nos vemos!
Submitted by Ignacio Benitez cl192@evansville.edu
Come to Nerd Wars tonight at 7 p.m.!
Enjoy FREE Papa John's pizza, popcorn, and drinks at Nerd Wars set for tonight - Tuesday, February 13 - at 7:00 p.m.! Come and watch faculty, administrators, and students duke it out in a trivia-style competition.
Bring your cash! Spectators may also win prizes by entering in the ELFFAR game (this is NOT a raffle, it's a game) for the chance to win gift cards to area restaurants, Bluetooth speakers, Bluetooth headsets, a Fitbit-flex 2, a streaming video DRONE, and more! ELFFAR tickets are 50 cents or three for $1.
Proceeds go to the Honors Program community service initiatives.
Questions can be e-mailed to Aditi at as783@evansville.edu.
Submitted by Cherie Leonhardt CL29@evansville.edu
Join us for #HarlaxtonHunt!
Introducing #HarlaxtonHunt!
Now through February 14, the study abroad office will be hiding Harlaxton envelopes around the UE campus. Each morning we will post a clue on our social media (Facebook, Twitter, and Instagram) as to where that day's envelope is, so make sure you're keeping up with us! Every envelope has a specialty item inside, and whoever finds it first gets to keep it. And don't worry - you don't have to have been to Harlaxton to play along!
If you're the lucky person who finds the envelope, make sure to post that you found it using the hashtag #HarlaxtonHunt so we know when it has been claimed.
Happy Hunting!
Submitted by Greta Becker gb91@evansville.edu
Happy 164th Birthday to the University of Evansville!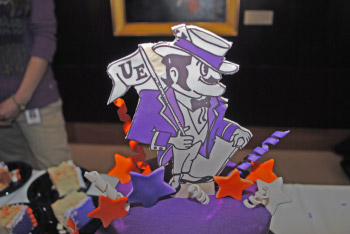 Everyone is invited to celebrate Founder's Day and UE's birthday by having purple cake (while it lasts) with Student Alumni Ambassadors and the Office of Alumni and Parent Relations on Friday, February 16. The event will be from 11:00 a.m.-2:00 p.m. in the Ridgway University Center lobby, across from Rademacher's Cafe by the information desk.
Don't forget to wear your purple in support of Purple Fridays at UE!
Submitted by Nichole Coffey ns50@evansville.edu
SIAM Math Club introductory meeting today
The UE Chapter for the Society for Industrial and Applied Mathematics (SIAM) will be having an introductory meeting today - Thursday, February 15 - from 12:30-1:00 p.m. in Room 101 in the Koch Center for Engineering and Science.
Come learn about the club and its benefits for students majoring in math, science, engineering, and computer science ... or for anyone interested in math and its applications in the world!
Additionally, there will be FREE pizza and a presentation by senior math major Keenen Cates about his senior seminar research project.
Any questions? E-mail Sam Sheth at ss651@evansville.edu.
Submitted by Samarth Sheth ss651@evansville.edu
Neu Chapel begins New Worship Service!
The campus community is invited to join the Neu Chapel community for a new worship service during the season of Lent. Beginning next Sunday, February 18, University Vespers will be offered every Sunday at 9:00 p.m. while the university is in session. These brief 20-minute candlelight services will be filled with beautiful music, spoken prayers, readings, and time for silent reflection and prayer. What better way to prepare for the upcoming week than by praying together as a community? All are invited and welcome!
Submitted by Keith Turner kt160@evansville.edu
Fireside Chats discusses peaceful protesting as a spiritual practice
All are welcome to join this week's Fireside Chat as we discuss "God's Presence and the Peaceful Protest." We will revisit two familiar biblical stories, and consider how peaceful protesting and resistance are important components to spiritual formation and putting out faith into practice. Warm beverages and cookies are provided! The Fireside Chat will be held in Grabill Lounge (downstairs in Neu Chapel) on Thursday at 7:00 p.m.
Submitted by Keith Turner kt160@evansville.edu
Ash Wednesday Service in Neu Chapel
The campus community is invited to Neu Chapel for our annual Ash Wednesday service today - Wednesday, February 14 - at 12:15 p.m.
There will also be "Ashes to Go" available Wednesday afternoon in Ridgway University Center and Carson Center for those unable to attend the service.
Submitted by Keith Turner kt160@evansville.edu
Support for International Projects - Info Session for Faculty/Staff
Are you interested in support for developing an international project or class to help make an impact in the world? Come to an information session today - Wednesday, February 14 - from 12:00-1:00 p.m. in Room 203 in the Bower-Suhrheinrich Library to learn how the Global Scholars program, ChangeLab (formerly GAP), and other resources might help. We can also assist you in identifying other faculty/staff collaborators. Brown bags are welcome
Submitted by Cindy Kelley ck116@evansville.edu
I-Ballroom Valentine's Day Dance Party
Please join us today - Valentine's Day - for a joint event with I-House and Ballroom Dance Club. The event will be in Eykamp Hall, Ridgway University Center, and will begin at 7:00 p.m. We will learn to dance the Tango and there will be snacks provided. We hope you can join us for a night of fun and international dancing!
Submitted by Alexis Whitacre aw339@evansville.edu
UE Connect Lunch and Learn - complimentary lunch
Join UE Connect's Lunch and Learn with JoDee Curtis '85, SHRM-SCP, CPA, presenting: JoyPowered; Intentionally creating YOUR JoyPowered. The event is set for Thursday, February 15 from 12:15-1:15 p.m. in Eykamp Hall, Room 254, Ridgway University Center. Free boxed lunch for all students!
To register for the event, go to the UE Connect Lunch and Learn page. The registration deadline is February 13.
JoDee is the founder of Purple Ink and author of JoyPowered: Intentionally Creating an Inspired Workspace. JoyPowered helps organizations and individuals understand how to structure their relationships and environments to focus on their strengths, bringing out the best in others and themselves. Most people settle for a tolerable workplace, but JoDee challenges you to help make yourself and your workspace JoyPowered! It starts with you, and with understanding your strengths!
Prior to founding Purple Ink in 2010, JoDee spent 21 years in public accounting as a practicing CPA and as a director of HR. She also has experience as a CFO and controller thereby bringing a unique financial and overall business approach.
Submitted by Nichole Coffey ns50@evansville.edu
March 20 Snyder Lecture Series to feature Senator Lugar and President Kazee
The University of Evansville will present a keynote conversation between former Indiana Senator Richard Lugar and UE President Thomas A. Kazee for the Spring 2018 Patricia H. Snyder Concert and Lecture Series on March 20 at 7:00 p.m.
The conversation, titled "State of our Union: Making Sense of Current Affairs," will be held in Eykamp Hall within Ridgway University Center on the UE campus and doors will open at 6:30 p.m.
This event is free and open to the public and guests will be seated on a first-come first-served basis. Reserve your seat online here.
This event is presented in partnership with the University of Evansville Department of Law, Politics, and Society as part of an all-day series of current events and political science events and discussions, in honor of the retirement of Dr. Thomas Kazee and his academic career as a political scientist.
The Patricia H. Snyder Concert and Lecture Series was made possible in 1997 through an endowment from the late Patricia H. Snyder, trustee and longtime friend of University, to bring speakers or performers of renown to Evansville at no cost to the public.
Find this event on Facebook for updates and reminders.
For event questions, please contact snyder@evansville.edu.
Reception for Emily Fiedler planned for today
Please join us to wish Emily Fiedler best wishes as she leaves UE for her new adventure. The Center for Career Development invites the UE community to stop by the Student Life lobby in Ridgway University Center (second floor), between 2:00-3:30 p.m. today - Thursday, February 15. Refreshments will be served.
Submitted by Donna Schmitt ds120@evansville.edu
Health advising workshop: Tips for Writing a Strong Personal Essay for Medical School
Planning to apply to medical school this summer? Come to the health advising workshop, "Tips for Writing a Strong Personal Essay for Medical School," today - Wednesday, February 14. The workshop will begin at 2:30 p.m., in Room 203 (J. Henry Schroeder Boardroom) in the library. We will discuss how to get started, where to find accurate resources for assistance, and the best ways to use UE services to streamline this process.
Please contact the pre-professional health advisor Francie Renschler with any questions.
Submitted by Francie Renschler fr25@evansville.edu
UELA Magnifying Mental Health
UELA Tier III is hosting a Magnifying Mental Health event on March 22 at 6:00 p.m., in Eykamp Hall, Room 251, Ridgway University Center. This event provides students with the opportunity to discuss their mental health through stories, poetry, and music. UELA wants to create a safe, welcoming environment where students can share their experiences. We are looking for volunteers who want to share their story. You can read your own story in front of peers. Also, you can send in your story anonymously and someone will read it for you. You can submit your story here.
Submitted by Katlyn Keele kk273@evansville.edu
UE Health and Fitness Fair
The 2018 Health and Fitness Fair will be held in the Fitness Center gym on Thursday, February 15, from 11:00 a.m.-2:00 p.m. Win prizes, free giveaways and visit local businesses (Body Works Massage, Core Chiropractic, Ultimate Fit, etc.).
Submitted by Lori Adams la87@evansville.edu
Disaster Relief Giveback at Honeymoon today!
If you are interested in giving back to communities affected by the natural disasters of 2017 and need an excuse to treat yourself, stop by Honeymoon Coffee today - February 13. Ten percent of the cost of your purchase will go to UMCOR's disaster relief program. This give-back is sponsored by UE Disaster Relief, a student-led group dedicated to raising money for disaster relief around the world. Honeymoon carries coffee, tea, hot chocolate, and various sweet treats.
Submitted by Katie Brown kb362@evansville.edu
Collegiate Career Expo - Indianapolis
A total of 130 employers are expected at a free career fair in Indianapolis on Thursday, February 22. Collegiate Career Expo - Indianapolis is scheduled for 10:00 a.m.-3:00 p.m. (Eastern Time) at the Indianapolis Westin.
The University of Evansville will provide bus transportation. There is a $10 deposit required that will be refundable upon attendance. Reserve your seat now.
Register for this event by Friday, February 16. Fair registration is through UE JobLink (evansville-csm.symplicity.com/). Click the Jobs Tab -> CSM Jobs -> Posting #722253.
Find a list of registered employers here: app.careerfairplus.com/cccc_in/fair/1377
Event sponsored by:
Celadon
FitzMark, Inc.
Freedom Mortgage
GEICO Insurance Company
University of Southern Indiana - Graduate Studies
Submitted by Alison Morris-McDonald am268@evansville.edu
UE surplus property
Good news! Does your department needs something that doesn't have to be brand new like a piece of furniture or equipment? Check out the new surplus (property disposal) website on AceLink Areas at acelink.evansville.edu/Areas/PropertyDisposal/ and let your need be known.
Once on the website, click on the "Wish List Email Request for Surplus Property" link to complete the request, copy and paste it into an e-mail to centralreceiving@evansville.edu. Surplus requests will be matched to surplus property as it becomes available on a first come, first served basis.
Be sure to check out the new website for additional information.
Submitted by Kim Winsett kw83@evansville.edu
Nursing students participate in mission trip to Jamaica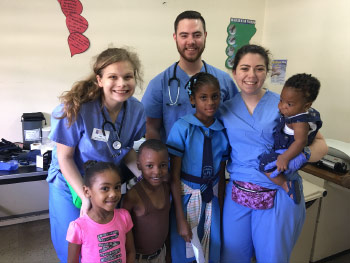 Chair of the nursing department and associate professor of nursing Jerrilee LaMar and junior nursing students Traci Burch, Bailey Rankin and Ally Reagan recently traveled to Jamaica on a one-week medical mission trip with an interprofessional team of health care providers. While there they provided medical care to people in four remote clinics. They helped meet the medical needs of over 250 patients who would have otherwise been untreated.
The nursing program partnered with Deaconess Health System to make this opportunity available.
Submitted by Theresa Price tp86@evansville.edu
Remodeling Kallipolis apps deadline is this Friday!
Kallipolis is a conceptual model of a city/state in Plato's Republic that tests intuitions on the relationship between the individual and the state and develops strategies for transforming a social order from systemic injustice to one that promotes justice for all.
The Remodeling Kallipolis Project seeks to re-model portions of Plato's conceptual model in an agent-based computer system in order to explore the consistency and viability of Plato's ideas. While there are good reasons to think that Plato's idealized city cannot be modeled perfectly in a computer simulation, there is little doubt that the attempt to do so will help students 1) gain a better understanding of Plato's Republic, 2) appreciate the complexity of interacting social forces insofar as they affect both individual and collective life, and 3) become sensitive to some of the regulatory factors that govern social change.
The Cognitive Science Modeling Lab (CSML) at the University of Evansville is currently seeking six students to work as a team on the first phases of this project during this coming Fall (2018). While any UE student is eligible to apply, students in the following areas are particularly suited to work on this project: cognitive science, computer science, computer engineering, criminal justice, economics, education, ethics and social change, international studies, mathematics, neuroscience, philosophy, political science, psychology, sociology, and statistics and data science.
Work on this project will carry three hours of COGS 492 internship credit. While a computer programming background is not required, it is essential that at least three of the team members have some programming experience, preferably with NetLogo or another agent-based programming language. Familiarity with Plato's Republic is a plus.
Selection of team members will be made by way of an application process. If you are interested in working on this project, please send a cover letter outlining any particular qualifications and motivations you have, a resume or CV, and the name of two UE professors who can comment on the quality of your work to professor of philosophy Anthony Beavers at tb2@evansville.edu. The deadline for applications is March 16.
Submitted by Anthony Beavers tb2@evansville.edu
Position transitions announced in development and alumni relations
Abigail Werling, vice president of development and alumni relations, announces the following personnel changes and congratulates Liz Riffert and Sylvia DeVault. Effective February 19, Sylvia DeVault '85, current direct of alumni and parent relations, will begin transitioning to the corporate and foundation relations officer position, formerly held by Jamie Purcell. Liz Riffert '07, current assistant director of alumni and parent relations, is being promoted to director of alumni and parent relations.
Still need a textbook for spring?
The UE Bookstore will be starting the return process of all unsold books from the spring semester soon. Used books on the shelf will be the first to be returned. If you still need a textbook you are advised to purchase it soon. If you need one but can't purchase it now, the bookstore staff will be happy to hold one for you until you can purchase the book. Please let us know if this is the case. If you have questions please contact the UE Bookstore.
Submitted by Doug Gustwiller dg57@evansville.edu
UE Men's Basketball Ticket Requests
UE faculty/staff/administration may now begin requesting their two complimentary tickets for the next men's basketball against Loyola. This game will take place at 3:00 p.m. on Sunday, February 18, at the Ford Center. Please bring your valid UE ID in order to claim your tickets.
Submitted by Scott Peace sp166@evansville.edu
Health tip for flu and cold season: Cover your cough!
Cover your cough! Stop the spread of germs that can make you and others sick!
Here are some ways you can stop the spread of germs:
Cover your mouth and nose with a tissue when you cough or sneeze. Put your used tissue in the waste basket.
If you don't have a tissue, cough or sneeze into your upper sleeve or elbow, not your hands.
You may be asked to put on a face mask to protect others.
Wash hands often with soap and warm water for 20 seconds. If soap and water are not available, use an alcohol-based hand rub.
Submitted by Ashley Craig ac408@evansville.edu
Eryn Gould named MVC Newcomer of the Week
University of Evansville freshman Eryn Gould was named the Missouri Valley Conference Newcomer of the Week as the Purple Aces softball team went 2-1 in the Mardi Gras Classic in Lafayette, La.

"Eryn had a great start offensively to her college career," UE head coach Mat Mundell said. "She showed a lot of poise and approach at the plate. We hope she continues to build off of this."

The first weekend of play for Gould was a good one as she batted .600 while slugging 1.300 in leading the Purple Aces to a 2-1 record in the Mardi Gras Classic. She had six hits in 10 plate appearances while hitting two doubles, a triple and a home run. She had three RBIs and four runs scored while getting on base 63.6% of the time. In the opener against Samford, Gould went 3-4 with three RBI and two runs.

Against nationally ranked Louisiana, Gould posted a hit and scored a run in three appearances. Sunday's finale against EIU saw her go 2-3 with a run scored to wrap up her first week of action.

Next up for Gould and the Aces is a trip to the Black and Red Showcase hosted by the University of Georgia this weekend.
UE Ballroom Club hosts successful workshop
The UE Ballroom Club hosted a successful workshop with champion coach Sean Michael Gehlhausen on Saturday, February 10. Congrats to UE Ballroom Club president Audrey Cook. Sean will back in March for another lesson, so stay tuned for that opportunity!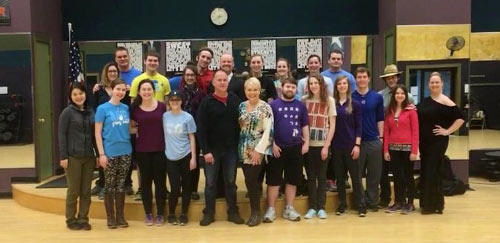 Nicola Boyle to deliver paper at 3rd Academic Archers Conference
Nicola Boyle, teaching fellow at Harlaxton, will be delivering a short paper at the 3rd Academic Archers Conference to be held at the British Library on Saturday, February 17. The Academic Archers Conference is a cross-disciplinary conference that brings together a group of fans of The Archers - the world's longest-running radio soap opera - with an academic interest in the show.
Boyle's paper 'Unique Borsetshire Climate or Exemplary Sun Protection' is a joint paper with Dr. Tanya Bleiker, a clinical vice president of the British Association of Dermatologists. A preview of the paper was in the Sunday Telegraph this last weekend and Harlaxton gets a mention!
Contribute to AceNotes
To have content considered for inclusion in AceNotes, please submit a Marketing Request Form. Deadline for submission to AceNotes is 10:00 a.m. on the requested date of publication. Only articles concerning UE related/sponsored activities will be accepted. Articles submitted to AceNotes may be edited for length and clarity. Submitter contact information is at the end of each article.