| | |
| --- | --- |
| AceNotes Today | Friday, February 9, 2018 |
UE Bookstore Columbia Fleece Sale - 25% OFF
The UE Bookstore is offering 25% OFF all Columbia Sportswear merchandise February 5-11. The reduction is taken off the original price of all items. Items include all men's and women's fleece. Also included are the youth fleece jackets. Sale ends Saturday February 11.
Submitted by Doug Gustwiller dg57@evansville.edu
Join us for #HarlaxtonHunt!
Introducing #HarlaxtonHunt!
Now through February 14, the study abroad office will be hiding Harlaxton envelopes around the UE campus. Each morning we will post a clue on our social media (Facebook, Twitter, and Instagram) as to where that day's envelope is, so make sure you're keeping up with us! Every envelope has a specialty item inside, and whoever finds it first gets to keep it. And don't worry - you don't have to have been to Harlaxton to play along!
If you're the lucky person who finds the envelope, make sure to post that you found it using the hashtag #HarlaxtonHunt so we know when it has been claimed.
Happy Hunting!
Submitted by Greta Becker gb91@evansville.edu
PA Club meeting tonight
Join the PA Club for a panel of graduate students discussing their journey to the PA profession and how to navigate preparing for grad school. Bring your questions! Meeting at 6:00 p.m. in Graves 100 tonight.
Submitted by Haley Vos hv25@evansville.edu
Health advising workshop: Tips for Writing a Strong Personal Essay for Medical School
Planning to apply to medical school this summer? Come to the health advising workshop, "Tips for Writing a Strong Personal Essay for Medical School," today - Wednesday, February 14. The workshop will begin at 2:30 p.m., in Room 203 (J. Henry Schroeder Boardroom) in the library. We will discuss how to get started, where to find accurate resources for assistance, and the best ways to use UE services to streamline this process.
Please contact the pre-professional health advisor Francie Renschler with any questions.
Submitted by Francie Renschler fr25@evansville.edu
Informal Spanish conversation this afternoon
Spanish students of all levels are welcome to practice with Fulbright Spanish TA Ignacio Benítez. The next session will be this afternoon - February 13 - at 3:00 p.m., at Starbucks in Ridgway University Center. It's a wonderful opportunity to interact informally in Spanish with a native speaker and to meet other students of Spanish. Please contact Ignacio at cl192@evansville.edu if you have any questions. ¡Nos vemos!
Submitted by Ignacio Benitez cl192@evansville.edu
UE Health and Fitness Fair
The 2018 Health and Fitness Fair will be held in the Fitness Center gym on Thursday, February 15, from 11:00 a.m.-2:00 p.m. Win prizes, free giveaways and visit local businesses (Body Works Massage, Core Chiropractic, Ultimate Fit, etc.).
Submitted by Lori Adams la87@evansville.edu
Come to Nerd Wars tonight at 7 p.m.!
Enjoy FREE Papa John's pizza, popcorn, and drinks at Nerd Wars set for tonight - Tuesday, February 13 - at 7:00 p.m.! Come and watch faculty, administrators, and students duke it out in a trivia-style competition.
Bring your cash! Spectators may also win prizes by entering in the ELFFAR game (this is NOT a raffle, it's a game) for the chance to win gift cards to area restaurants, Bluetooth speakers, Bluetooth headsets, a Fitbit-flex 2, a streaming video DRONE, and more! ELFFAR tickets are 50 cents or three for $1.
Proceeds go to the Honors Program community service initiatives.
Questions can be e-mailed to Aditi at as783@evansville.edu.
Submitted by Cherie Leonhardt CL29@evansville.edu
UE Theatre presents "Sense and Sensibility"
The University of Evansville Department of Theatre presents its third production of the season, Kate Hamill's Sense and Sensibility, based on the novel by Jane Austen. This production opened February 16, in Shanklin Theatre. Additional performances are at 7:30 p.m. tonight - February 23 - and February 24, and at 2:00 p.m. on February 25.
Reputation, redemption, and romance - this feisty new play is a fresh and witty take on the Jane Austen story audiences know and love. When the Dashwood sisters suddenly find themselves at the bottom of the social food chain, the quest to claw their way back to the top consumes them. High society and wicked gossip collide in a whirlwind of scandal and passion and betrayal. Oh, my!
Professor of theatre Diane Brewer directs Sense and Sensibility. Elizabeth Tredinnick, a senior from Madison, Wisconsin, serves as scenic designer; assistant professor of theatre Sarah J. Smith is the costume designer; Baxter Pitt, a senior from Dallas, Texas, is the lighting designer; Austin Kuhn, a sophomore from Evansville, serves as sound designer; Jesse Robkin, a senior from Duvall, Washington, is the dramaturg; Jalyn Kowalski, a junior from Lanesville, Indiana, is the stage manager; and assistant technical director Adam Rager serves as technical director.
The cast features junior Alexi Lewis, from Seattle, Washington, as Elinor Dashwood; junior Alexandra Curren, from McKinney, Texas, as Marianne Dashwood; freshman Emma Tolleson, from Temple, Texas, as Margaret Dashwood; freshman Jordan Williams, from Edmonds, Washington, as Mrs. Dashwood; freshman Luke Moran, from Mount Vernon, Iowa, as John Dashwood; junior Matthew McDonald, from Carmel, Indiana, as Edward Ferrars; junior Kathleen Finch, from College Station, Texas, as Fanny Dashwood; junior Marshall Hopkins, from Baldwin City, Kansas, as Colonel Brandon; freshman Jackson Burnham, from Houston, Texas, as John Willoughby; sophomore Luke Lowrance, from Arlington, Texas, as Sir John Middleton; junior Meredith Ham, from Castle Rock, Colorado, as Mrs. Jennings; sophomore Alexis Seay, from Louisville, Kentucky, as Lady Middleton; senior Paige Ward, from Round Rock, Texas, as Lucy Steele; freshman Grace Maddux, from Dubuque, Iowa, as Anne Steele; freshman Evan Lawson, from Arvada, Colorado, as Robert Ferrars; and junior Amanda Suggs, from Cedar Park, Texas, as Lead Gossip/Mrs. Ferrars.
Ticket prices are $18 for adults and $16 for senior adults, students, and UE faculty and staff.
UE students may obtain one free student rush ticket beginning at noon on the day of the performance they wish to attend.
Following Sense and Sensibility, the 2017-18 Shanklin Theatre Season closes with Frank Galati's Grapes of Wrath, based on the novel by John Steinbeck, April 13-22, which concludes the 50th anniversary of Shanklin Theatre.
Tickets may be purchased by calling 812-488–2031, Monday through Friday, noon to 5:00 p.m.
Disaster Relief Giveback at Honeymoon today!
If you are interested in giving back to communities affected by the natural disasters of 2017 and need an excuse to treat yourself, stop by Honeymoon Coffee today - February 13. Ten percent of the cost of your purchase will go to UMCOR's disaster relief program. This give-back is sponsored by UE Disaster Relief, a student-led group dedicated to raising money for disaster relief around the world. Honeymoon carries coffee, tea, hot chocolate, and various sweet treats.
Submitted by Katie Brown kb362@evansville.edu
BSU hosts trip to Cincinnati to visit Freedom Center and see Black Panther movie
In celebration of Black History Month, the Black Student Union is hosting a trip to Cincinnati, Ohio, on Saturday, February 24 to visit the Underground Railroad Freedom Center and see the Black Panther movie which premieres February 16.
The trip is free for all UE students except for meals and keepsakes, with a $20 deposit returned the day of the trip. Campus members are invited to participate as well but only transportation is provided.
Seating is limited, so there is a deadline of February 16 to register for the event. Registration forms can be picked up at the Office of Diversity Initiatives in Olmsted room 234 or from any BSU executive member.
All interested students/campus members should stop by the Office of Diversity Initiatives in Room 234 in Olmsted Administration Hall, to register and pay the deposit.
Submitted by LaNeeca Williams lw161@evansville.edu
Free ballroom lesson
The UE Ballroom Club is bringing in American smooth and rhythm champion Sean Michael Gehlhausen for a FREE lesson! This event is planned for Saturday, February 10 from 1:00-2:30 p.m. at Tri-State Athletic Club (555 Tennis Lane). No experience or partner needed, just your UE ID. Bring your friends or a group and e-mail the names of any attendees to Erin Lewis at EL131@evansville.edu. Sign-ups allowed until 5:00 p.m. today - Friday, February 9! Professional demonstrations provided as well.
Submitted by Cindy Kelley ck116@evansville.edu
Softball opens season in Louisiana
The 2018 season is here for the University of Evansville softball team as it heads to the Mardi Gras Classic in Lafayette, Louisiana, to begin the year. Evansville will take on Samford, Louisiana, UIC, Iowa, and Eastern Illinois in the first weekend of action.
"Our team is excited for the season to be here," Aces head coach Mat Mundell said. "I am anxious to see what this team is made of when we go out and play another opponent. This is also a great test to begin the year; Louisiana is one of the toughest places in the country to play."
Evansville returns 11 players from last season and brings nine newcomer into the fray.
Reigning MVC Newcomer of the Year Brittany Hay will have a slightly different role with the Aces this season; after spending her junior year at short, Hay will be in the outfield for UE this season. Hay led the Aces with an overall .309 batting average, but upped that to .372 in Valley play. The native of Georgetown, Illinois, scored 36 runs in 2017, more than double the tally of anyone else on the squad; she was also 16-of-19 in steals.
In the circle, Morgan Florey led the MVC in strikeouts last season and continued to be an offensive force and was recognized by the MVC as she was named a Preseason All-Conference player. Florey was UE's top power hitter, pacing the team with 9 homers and 32 runs batted in; she hit .292 on the season and drew 21 walks, second on the team. In the circle, Florey tossed 172 1/3 innings on her way to a league-leading 194 strikeouts. She went 14-11 on the season and finished third in the conference with a 1.99 ERA.
Friday's opener pits UE against Samford, who went 25-36 last season. On Friday evening, UE takes on defending Sun Belt Champion Louisiana, who is ranked 22nd entering the season. The Ragin Cajuns were 47-8 last season and played in the Baton Rouge Regional of the NCAA Tournament.
Another NCAA Tournament squad is on tap Saturday when the Aces match up against UIC. The Flames went 39-22 in 2017 and won the Horizon League Tournament on their way to the Eugene, Oregon, Regional. In their tournament appearance, they defeated Missouri. Saturday's finale pits UE against Big Ten member Iowa who went 19-32 last season while Sunday's contest has Evansville taking on Eastern Illinois (28-21 in 2017).
The 2018 team preview wraps up today with a look at the infielders.
"We are very excited about this group; they are very young and we will see a whole new starting infield from last season," Mundell said.
Alex Latoria, a redshirt sophomore, will see time at first base while Bailee Porter and Allison Daggett are battling for the second base spot.
"Alex has worked very hard and we are excited about what she brings offensively," Mundell explained. "Both of our girls at second have looked good so far, both will see a lot of playing time."
At short, freshman Lindsay Renneisen will be taking over for Brittany Hay, who makes the move to the outfield. McKenzie Johnson brings experience at third and is battling freshman Elyse Hickey for that position.
"Lindsay brings a calming presence and will have a big impact in our lineup," Mundell added. "The battle at third is also going to be a good one. McKenzie has done well for us in the past and is continuing to get healthy. She and Elyse will each see time at that spot. Overall, this has a chance to be a strong group for us going forward."
Khan talks about stock market
Walayet Khan, professor of finance, was recently interviewed by Channel 14 about the recent volatility in the stock market. Khan told Channel 14 that good corporate earnings and global growth give the market a strong foundation. He is optimistic the market will rise again and that 2018 will be a good year. The entire interview can be seen on Channel 14's website.
H Kent Weldon Scholarship applications available
Applications for the H Kent Weldon Scholarship, awarded by the Independent Colleges of Indiana, are now available. The H. Kent Weldon Scholarship Program was created in memory of the late Kent Weldon by his family and with the support of his higher education colleagues at the Indiana Commission for Higher Education and ICI. To apply, students must be Indiana residents, have financial need, be in good academic standing, and either be a junior or senior during the 2018-19 academic year. The application can be found here.
Submitted by Cathleen Wright cw259@evansville.edu
Krannert Hall of Fine Arts' lobby has a new look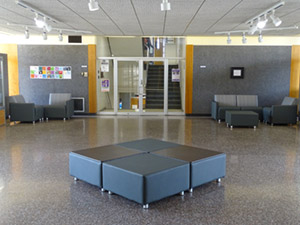 Monday, February 5, was an exciting day in the Krannert Hall of Fine Arts. New furniture was delivered and installed in the lobby.
Special thanks to the Efroymson Foundation for its financial funding of this project.
Please drop by the Krannert lobby and check out the new furniture.
Submitted by Kim Winsett kw83@evansville.edu
RecycleMania and recycling at UE
UE is once again participating in RecycleMania, a recycling tournament for universities. The tournament runs from February through the end of March.
At UE, the following items can be placed in an appropriate recycling bin:
• Empty aluminum and steel cans
• Empty plastic containers and drink bottles
• Paper products such as newspapers, office paper, magazines and empty cereal boxes
• Note: Please place books and used toner cartridges and cardboard next to the recycle bins
Please do NOT put the following items in UE's recycling bins:
• Glass
• Pizza boxes – these can contain food or grease
• Trash such as leftover food and candy wrappers
• Styrofoam
• Partially full or full plastic or aluminum drink containers
• Plastic bags or plastic packing pillows
• Used tissues and paper towels
To find out where to drop off recyclables at UE, why it's important to recycle and more, check out the UE Recycling Guide at AceLink/Areas/Recycling. Call ext. 2697 or e-mail ae152@evansville.edu with questions.
Submitted by Amber Elkins ae152@evansville.edu
Call for papers for Andiron Lecture Series 2018-19
UE faculty and administrators as well as members of the Evansville community are invited to submit an abstract for papers on any aspect of their research or expertise for the 2018-19 Andiron Lectures in the Liberal Arts and Sciences. All disciplines and fields of study are welcome to submit proposals.
Please send the following by e-mail:
A 50-word abstract with name, academic affiliation/ occupation, paper title, and contact information to Annette Parks at ap3@evansville.edu (with a Cc to Cheryl Emmons at ce36@evansville.edu). Emmons will forward these to the Andiron Lecture Committee for consideration.
Nominations for off-campus speakers can be sent by e-mail to Parks at ap3@evansville.edu with a Cc to Emmons at ce36@evansville.edu; Emmons will forward them to the Andiron Lecture committee for consideration.
President Kazee Honored in Washington D.C. Tuesday
In honor of his upcoming departure from the University, UE President Thomas Kazee was recognized in Washington D.C. on Tuesday with a special ceremony and reception. He received an official flag that flew over the U.S. Capitol building and was honored at a reception with many special guests.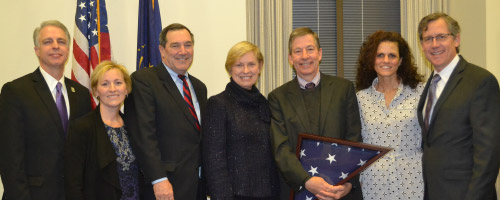 Khan publishes emerging market research
Walayet A. Khan, professor of finance, has published three co-authored research papers all related to the emerging markets:
"The Effect of US Stock Market Uncertainty on Emerging Market Returns." Emerging Markets Finance and Trade.
"Do Islamic Banks Optimally Balance the Trade-Off in Capital Structure Mix? A Comparison Approach." Quarterly Journal of Finance and Accounting,
"Dynamic Co-integration and Portfolio Diversification of Islamic and Conventional Indices: Global Evidence, Quarterly Review of Economics and Finance.
Contribute to AceNotes
To have content considered for inclusion in AceNotes, please submit a Marketing Request Form. Deadline for submission to AceNotes is 10:00 a.m. on the requested date of publication. Only articles concerning UE related/sponsored activities will be accepted. Articles submitted to AceNotes may be edited for length and clarity. Submitter contact information is at the end of each article.