| | |
| --- | --- |
| AceNotes Today | Wednesday, February 7, 2018 |
Health Center closed until Noon
Due to the inclement weather that occurred overnight, all TSCC Health & Wellness Clinics will be CLOSED this morning. This includes the morning operating hours of the UE employee clinic as well as the Student Health Center. Clinics will begin operations at 12:00 p.m. Please be safe in route to your appointments and call if you need to reschedule.
Come to Nerd Wars tonight at 7 p.m.!
Enjoy FREE Papa John's pizza, popcorn, and drinks at Nerd Wars set for tonight - Tuesday, February 13 - at 7:00 p.m.! Come and watch faculty, administrators, and students duke it out in a trivia-style competition.
Bring your cash! Spectators may also win prizes by entering in the ELFFAR game (this is NOT a raffle, it's a game) for the chance to win gift cards to area restaurants, Bluetooth speakers, Bluetooth headsets, a Fitbit-flex 2, a streaming video DRONE, and more! ELFFAR tickets are 50 cents or three for $1.
Proceeds go to the Honors Program community service initiatives.
Questions can be e-mailed to Aditi at as783@evansville.edu.
Submitted by Cherie Leonhardt CL29@evansville.edu
Men's basketball welcomes Valparaiso tonight
Purple Aces junior Ryan Taylor looks for his 5th 20-point game in a row when the University of Evansville men's basketball team welcomes Valparaiso to the Ford Center this evening for a 7:00 p.m. game.
Evansville had its 3-game win streak snapped on Saturday with a 75-71 loss at Illinois State. The Redbirds opened up an early double digit lead, but the Aces rallied back to take the lead early in the second half. Taylor set his season mark with 32 points in the contest while Dainius Chatkevicius posted a career-high of 14 rebounds.
Averaging 28.5 points per game in contests against UNI and Illinois State, Ryan Taylor pushed his season average to a league-best 21.1 PPG on his way to being named the Co-MVC Player of the Week. He started off the week with 25 points against UNI before setting his season mark with 32 at Illinois State. Taylor drained eight 3-pointers against the Redbirds, the most since Colt Ryan had eight triples against Bradley in 2012. The effort marked the fourth 20-point game in a row for Taylor, who has now reached that total in 13 games this season.
Senior Duane Gibson has missed ten games this season due to his knee, but made his return to the floor on Saturday at Illinois State. Gibson played 15 minutes while posting four points, two rebounds and five assists. In an overtime game where every point counted, Gibson scored a season-high of 17 points in the win over Austin Peay on Dec. 16.
Evansville leads the series against Valparaiso by a 67-17 margin. UE has won 20 consecutive home games over the Crusaders; their last win in Evansville came on Feb. 1, 1969 (101-95 score). UE defeated the Crusaders by a final of 75-65 two weeks ago on the road.
Valparaiso enters Wednesday's game with an overall 12-13 record while posting a 3-9 record in its first trip through the Valley. The Crusaders have dropped six of their last seven games with the win coming against Indiana State on January 31. Tevonn Walker is one of two active Crusaders in double figures, notching 15.3 PPG; he led the squad with 16 points last time out at SIU. Bakari Evelyn checks in at 12.1 points per contest.
Informal Spanish conversation this afternoon
Spanish students of all levels are welcome to practice with Fulbright Spanish TA Ignacio Benítez. The next session will be today - February 8 - at 1:00 p.m., in Room 400 in Olmsted Administration Hall. It's a wonderful opportunity to interact informally in Spanish with a native speaker and to meet other students of Spanish. Please contact Ignacio at cl192@evansville.edu if you have any questions. ¡Nos vemos!
Submitted by Ignacio Benitez cl192@evansville.edu
UE Theatre presents "Sense and Sensibility"
The University of Evansville Department of Theatre presents its third production of the season, Kate Hamill's Sense and Sensibility, based on the novel by Jane Austen. This production opened February 16, in Shanklin Theatre. Additional performances are at 7:30 p.m. tonight - February 23 - and February 24, and at 2:00 p.m. on February 25.
Reputation, redemption, and romance - this feisty new play is a fresh and witty take on the Jane Austen story audiences know and love. When the Dashwood sisters suddenly find themselves at the bottom of the social food chain, the quest to claw their way back to the top consumes them. High society and wicked gossip collide in a whirlwind of scandal and passion and betrayal. Oh, my!
Professor of theatre Diane Brewer directs Sense and Sensibility. Elizabeth Tredinnick, a senior from Madison, Wisconsin, serves as scenic designer; assistant professor of theatre Sarah J. Smith is the costume designer; Baxter Pitt, a senior from Dallas, Texas, is the lighting designer; Austin Kuhn, a sophomore from Evansville, serves as sound designer; Jesse Robkin, a senior from Duvall, Washington, is the dramaturg; Jalyn Kowalski, a junior from Lanesville, Indiana, is the stage manager; and assistant technical director Adam Rager serves as technical director.
The cast features junior Alexi Lewis, from Seattle, Washington, as Elinor Dashwood; junior Alexandra Curren, from McKinney, Texas, as Marianne Dashwood; freshman Emma Tolleson, from Temple, Texas, as Margaret Dashwood; freshman Jordan Williams, from Edmonds, Washington, as Mrs. Dashwood; freshman Luke Moran, from Mount Vernon, Iowa, as John Dashwood; junior Matthew McDonald, from Carmel, Indiana, as Edward Ferrars; junior Kathleen Finch, from College Station, Texas, as Fanny Dashwood; junior Marshall Hopkins, from Baldwin City, Kansas, as Colonel Brandon; freshman Jackson Burnham, from Houston, Texas, as John Willoughby; sophomore Luke Lowrance, from Arlington, Texas, as Sir John Middleton; junior Meredith Ham, from Castle Rock, Colorado, as Mrs. Jennings; sophomore Alexis Seay, from Louisville, Kentucky, as Lady Middleton; senior Paige Ward, from Round Rock, Texas, as Lucy Steele; freshman Grace Maddux, from Dubuque, Iowa, as Anne Steele; freshman Evan Lawson, from Arvada, Colorado, as Robert Ferrars; and junior Amanda Suggs, from Cedar Park, Texas, as Lead Gossip/Mrs. Ferrars.
Ticket prices are $18 for adults and $16 for senior adults, students, and UE faculty and staff.
UE students may obtain one free student rush ticket beginning at noon on the day of the performance they wish to attend.
Following Sense and Sensibility, the 2017-18 Shanklin Theatre Season closes with Frank Galati's Grapes of Wrath, based on the novel by John Steinbeck, April 13-22, which concludes the 50th anniversary of Shanklin Theatre.
Tickets may be purchased by calling 812-488–2031, Monday through Friday, noon to 5:00 p.m.
Tonight: Fireside Chat welcomes director of Patchwork Central
#GovernmentShutdown2018 #ReleasetheMemos …
Headlines and social media trendings in recent weeks and months often highlight "political corruption" and political leaders fiercely disagreeing, resulting in a government shutdown. These realities are nothing new, and they even occur in the Bible!
Tonight's Fireside Chat will consider how God might be at work even in the murkiness of political corruption. We will also welcome John Rich, the director of Patchwork Central, who will share with us about doing the work of charity and the work of justice. The Fireside Chat will be in Grabill Lounge (downstairs in Neu Chapel) at 7:00 p.m. Refreshments will be served! All are welcome!
Submitted by Keith Turner kt160@evansville.edu
I-House Peru
Please join us on Wednesday for I-House Peru! Benjamin Venero Concha will be presenting at 7:00 pm, upstairs in Ridgway University Center. Please come out to support your fellow Aces! We hope to see you there!
Submitted by Alexis Whitacre aw339@evansville.edu
UE Bookstore Columbia Fleece Sale - 25% OFF
The UE Bookstore is offering 25% OFF all Columbia Sportswear merchandise February 5-11. The reduction is taken off the original price of all items. Items include all men's and women's fleece. Also included are the youth fleece jackets. Sale ends Saturday February 11.
Submitted by Doug Gustwiller dg57@evansville.edu
Disaster Relief Giveback at Honeymoon today!
If you are interested in giving back to communities affected by the natural disasters of 2017 and need an excuse to treat yourself, stop by Honeymoon Coffee today - February 13. Ten percent of the cost of your purchase will go to UMCOR's disaster relief program. This give-back is sponsored by UE Disaster Relief, a student-led group dedicated to raising money for disaster relief around the world. Honeymoon carries coffee, tea, hot chocolate, and various sweet treats.
Submitted by Katie Brown kb362@evansville.edu
Federal loan repayment counseling session for students graduating or transferring
Students who have used federal direct (sub/unsub) loans and plan to graduate in the spring or summer (or transfer after the spring semester) are required to attend a Loan Repayment Counseling Session.
The Office of Financial Aid will hold the first session of the semester on Wednesday, February 28 at 6:00 p.m. in Eykamp Hall, Room 252, Ridgway University Center.
Additional sessions will be held on April 26 at 2:00 p.m. and on May 4 at 11:30 a.m.
Submitted by Amy Sowders as560@evansville.edu
Free ballroom lesson
The UE Ballroom Club is bringing in American smooth and rhythm champion Sean Michael Gehlhausen for a FREE lesson! This event is planned for Saturday, February 10 from 1:00-2:30 p.m. at Tri-State Athletic Club (555 Tennis Lane). No experience or partner needed, just your UE ID. Bring your friends or a group and e-mail the names of any attendees to Erin Lewis at EL131@evansville.edu. Sign-ups allowed until 5:00 p.m. today - Friday, February 9! Professional demonstrations provided as well.
Submitted by Cindy Kelley ck116@evansville.edu
Lost and Found Auction today
Lost and found items that have not been claimed during the last 18 months will be sold by silent auction. The auction will be today - Thursday, February 8 - in Eykamp Hall, Room 252, Ridgway University Center from 10:00 a.m.-3:00 p.m.
Submitted by Carol Blair cb336@evansville.edu
Career Day set for February 13
We expect over 100 employers for Career Day 2018! Looking for a full-time professional position? Cooperative education opportunity? Internship? Summer job? Make plans to attend Career Day on Tuesday, February 13, from 11:00 a.m.–2:00 p.m. in Carson Center, Meeks Family Court. See registered employers in JobLink (evansville-csm.symplicity.com/). Also, pre-register for the event in JobLink to allow employers to view your resume early!
Download our new app, Career Fair Plus, to view employer details and event layout. Search for Career Fair Plus on the App Store and Google Play Store.
Event sponsored by:
Ciholas
Embry Automation & Controls
GE Appliances, A Haier Company
Gibbs Die Casting
Hoosier Wheel
Red Spot
Submitted by Alison Morris-McDonald am268@evansville.edu
Andiron Lecture: Settler Memory of Indigenous Florida
Kristalyn M. Shefveland will be the speaker for the University of Evansville Andiron Lecture on Wednesday, February 7. The lecture will begin at 4:00 p.m. in Eykamp Hall, Room 252, Ridgway University Center. Shefveland's topic will be "Settler Memory of Indigenous Florida."
Shefveland, an associate professor of history at the University of Southern Indiana, is the author of Anglo-Native Virginia: Trade, Conversion, and Indian Slavery in the Old Dominion, 1646-1722. She has been a contributing essayist to Virginia Women: Their Lives and Times; The Bloomsbury Encyclopedia of the American Enlightenment; and Beyond Two Worlds: Critical Conversations on Language and Power in Native North America. A scholar of the indigenous Eastern Woodlands of North America, her research and publications focus on the intersections of settlers and indigenous peoples in the American Southeast, and she is currently working on a book on historical memory of Florida.
The Andiron Lecture series is sponsored by the William L. Ridgway College of Arts and Sciences. For more information, call 812-488-1070 or 812-488-2589.
Krannert Hall of Fine Arts' lobby has a new look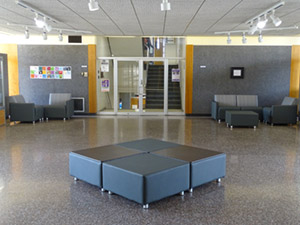 Monday, February 5, was an exciting day in the Krannert Hall of Fine Arts. New furniture was delivered and installed in the lobby.
Special thanks to the Efroymson Foundation for its financial funding of this project.
Please drop by the Krannert lobby and check out the new furniture.
Submitted by Kim Winsett kw83@evansville.edu
RecycleMania and recycling at UE
UE is once again participating in RecycleMania, a recycling tournament for universities. The tournament runs from February through the end of March.
At UE, the following items can be placed in an appropriate recycling bin:
• Empty aluminum and steel cans
• Empty plastic containers and drink bottles
• Paper products such as newspapers, office paper, magazines and empty cereal boxes
• Note: Please place books and used toner cartridges and cardboard next to the recycle bins
Please do NOT put the following items in UE's recycling bins:
• Glass
• Pizza boxes – these can contain food or grease
• Trash such as leftover food and candy wrappers
• Styrofoam
• Partially full or full plastic or aluminum drink containers
• Plastic bags or plastic packing pillows
• Used tissues and paper towels
To find out where to drop off recyclables at UE, why it's important to recycle and more, check out the UE Recycling Guide at AceLink/Areas/Recycling. Call ext. 2697 or e-mail ae152@evansville.edu with questions.
Submitted by Amber Elkins ae152@evansville.edu
UE Men's Basketball Ticket Requests
UE faculty, staff, and administrators may now begin requesting their two complimentary tickets to the men's basketball game against Valparaiso. The game will take place on Wednesday, February 7 at 7:00 p.m. at the Ford Center. Please bring your valid UE ID when picking up your tickets.
Submitted by Scott Peace sp166@evansville.edu
Nominate your co-worker for the March Employee Excellence Award
The University of Evansville, in pursuit of excellence in service, wishes to recognize a non-faculty employee displaying records of achievement as a leader. Leadership may be demonstrated in any of the following areas: service to the University, service to students, job performance and attitude towards fellow employees. To be eligible, an employee must be a full-time member of administration or staff. Nominations for the March 2018 Employee of the Month are due no later than Wednesday, February 14. To nominate someone, please go to acelink.evansville.edu/tools/employeeaward.
Submitted by Lori LeDuc ll138@evansville.edu
Call for papers for Andiron Lecture Series 2018-19
UE faculty and administrators as well as members of the Evansville community are invited to submit an abstract for papers on any aspect of their research or expertise for the 2018-19 Andiron Lectures in the Liberal Arts and Sciences. All disciplines and fields of study are welcome to submit proposals.
Please send the following by e-mail:
A 50-word abstract with name, academic affiliation/ occupation, paper title, and contact information to Annette Parks at ap3@evansville.edu (with a Cc to Cheryl Emmons at ce36@evansville.edu). Emmons will forward these to the Andiron Lecture Committee for consideration.
Nominations for off-campus speakers can be sent by e-mail to Parks at ap3@evansville.edu with a Cc to Emmons at ce36@evansville.edu; Emmons will forward them to the Andiron Lecture committee for consideration.
Khan publishes emerging market research
Walayet A. Khan, professor of finance, has published three co-authored research papers all related to the emerging markets:
"The Effect of US Stock Market Uncertainty on Emerging Market Returns." Emerging Markets Finance and Trade.
"Do Islamic Banks Optimally Balance the Trade-Off in Capital Structure Mix? A Comparison Approach." Quarterly Journal of Finance and Accounting,
"Dynamic Co-integration and Portfolio Diversification of Islamic and Conventional Indices: Global Evidence, Quarterly Review of Economics and Finance.
Lank and Lodato conduct workshops and seminars around the country
R. Scott Lank, artistic director and head of acting in the Department of Theatre, and Patti Lodato (former executive-in-residence in the School of Business) conducted over 48 workshops and seminars throughout the country during the summer of 2017. These workshops were connected to an initiative with Evolent Healthcare located in Alexandria, Virginia.
Workshop topics included unconscious bias, executive presence, creative team-building, presentation skills, and moment-to moment listening/interaction.
Lank and Lodato have also conducted workshops for Koch Enterprises, Atlas Van Lines, Evansville Builders Association, and numerous law-firms around the Tri-State. For more information contact wall4associates.com.
Contribute to AceNotes
To have content considered for inclusion in AceNotes, please submit a Marketing Request Form. Deadline for submission to AceNotes is 10:00 a.m. on the requested date of publication. Only articles concerning UE related/sponsored activities will be accepted. Articles submitted to AceNotes may be edited for length and clarity. Submitter contact information is at the end of each article.